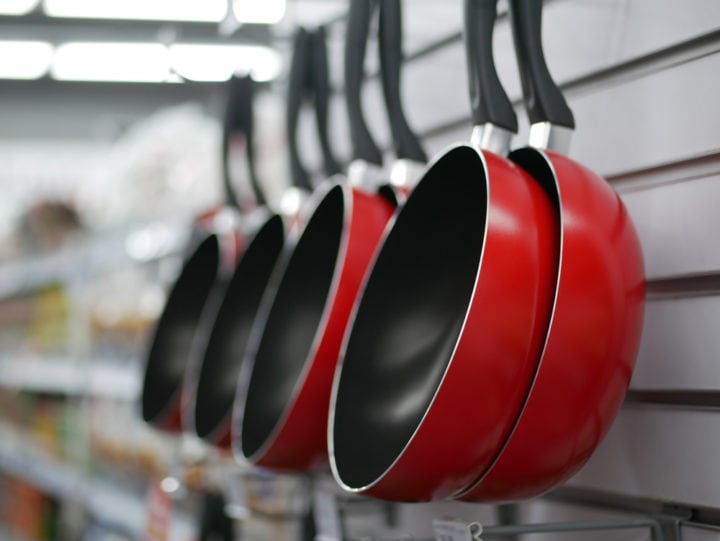 Cooking with a wok can be overwhelming for beginners. Even just the seasoning requirements of a traditional wok can be a pain — how do you season properly, or what's the best oil for conditioning. Not to mention how most good ones aren't dishwasher-safe, and the extreme heat of a traditional wok can be intimidating.
Fortunately, a non-stick wok addresses all of these concerns. They're usually dishwasher-safe, and seasoning isn't necessary. They also heat up steadily. Although that can be an argument against wok cooking techniques that require quick bursts of high heat. Be that as it may, a non stick wok should be perfect for enthusiasts looking to get into cooking with a wok.
If you're in the market for one, we're glad to present our list of the best non stick woks you can buy today! From feature-rich woks to a bowl-convertible option, you're sure to find one that suits your kitchen.
Table of Contents
Best Overall: Calphalon Flat Bottom Wok with Lid, 12", Hard-Anodized Nonstick
SAVE 15%
Calphalon Flat Bottom Wok with Lid
Three layers of nonstick coating make this wok scratch-free.
Pros: Metal utensil safe, multiple layers of nonstick coating, has a handy helper, halogen and oven-safe, comes with a clear lid
Cons: Expensive, not induction safe, heavy
The Calphalon Flat Bottom Wok with Lid is our top pick as the best non stick wok. It is a flat bottomed wok with three nonstick coating layers, making it a metal utensil-safe cookware. At a thickness of 3.6 millimeters, it heats up sufficiently fast. It isn't too thick that it delays heat dispersion, nor is it too thin at the cost of durability.
The entire outer layer base is made of hard-anodized aluminum. Since aluminum has no magnetic properties, you cannot use the wok on an induction hob.
But the advantages outweigh this disadvantage, as you can use the Calphalon wok pan in an oven and a halogen cooktop. The wok can tolerate temperatures up to 500 degrees Fahrenheit, while the tempered glass lid that it bundles with is usable up to a very reasonable 450 degrees Fahrenheit.
Although we do have to mention that this wok is a bit on the heavy side. Even so, the small handy helper opposite the long handle is very useful. Plus, both handles remain relatively cool during cooking.
Overall, we think the Calphalon's price, considering we expect it to last longer than regular woks, is justifiable as the best overall nonstick wok in the market.
Most Innovative Nonstick Wok: HexClad Hybrid Stainless Steel Wok Pan with Stay-Cool Handle
HexClad Hybrid Stainless Steel Wok Pan
An exceptionally contemporary wok sporting a patented design surface that is scratch-resistant.
Pros: Special nonstick coating, metal utensil-safe, comes with a pouch, available in two sizes, dishwasher safe, stovetop compatible
Cons: Extremely expensive, heavy
The HexClad Hybrid Stainless Steel Wok Pan is a contemporary nonstick wok that's also on our list of the best stainless steel woks.
HexClad offers this wok in two sizes, a 12-inch wok and a 14-inch wok, both packed in a pretty lovely pouch. The 14-inch nonstick wok pan comes with a wok cover, too. The lid has a dome shape and is made of stainless steel with glass in the center.
Moreover, the wok boasts an eccentric-design surface that's metal-utensil safe. Yes, you can use a steel wool pad to clean this wok.
Having said all of that, the HexClad has one major flaw. And that is its price. In fact, it sells for at least twice the cost of the other "best" nonstick woks in the market.
But when it comes to feature-rich woks, the HexClad Hybrid Stainless Steel wok certainly has strong arguments. For a comprehensive review of the HexClad wok, check out our 6 Best Stainless Steel Woks list.
Best Value Non Stick Wok: MICHELANGELO Wok Pan with Lid Set 4-Piece, Stainless Steel Wok with Lid
SAVE 5%
MICHELANGELO Wok Pan with Lid Set
A decently priced non stick wok alternative to the HexClad Hybrid Stainless Steel Wok Pan with a handy trick.
Pros: Stovetop compatible, option to buy in a set or as a standalone, made of durable materials, special nonstick coating, dishwasher safe, oven-safe wok pan
Cons: Lid handle needs assembling
The MICHELANGELO Wok Pan with Lid Set is a multi-clad stainless steel wok with a nonstick honeycomb interior. Like the HexClad wok, the MICHELANGELO wok pan also made it to our list of the best stainless steel woks. For a complete review of the wok, check out our 6 Best Stainless Steel Woks list.
This wok pan has a unique pattern and sells in two sizes: 12-inch and 12.5-inch. Many wok pans don't mention their material grades, but the base of this pan has the SUS 304 mark. Other symbols stamped on the bottom of the wok refer to its stovetop compatibilities.
The MICHELANGELO lid's handle is a unique feature as its design allows it to stand upright. This design not only means you save on storage space, but it also means the lid's rim doesn't touch the kitchen top. Although, you will need to do some assembling as the handle isn't attached out of the box.
The MICHELANGELO stainless steel wok is a great value option to the HexClad's nonstick wok pan, even with minor issues.
Most Versatile Nonstick Wok: ItsMillers Chinese Die-Casting Nonstick Wok Scratch Resistant With Lid and Spatula
The ItsMillers Chinese Die-Casting Nonstick Wok is a 12.5-inch aluminum nonstick wok that comes with three handy accessories: a screwdriver, a wok spatula, and a glass lid. The wok's interior has a ceramic coating. It has titanium particle infusions for an enhanced nonstick and scratch-free surface, and a base that is stainless steel 410. Stainless steel 410 has magnetic properties that make this nonstick wok compatible with an induction hob.
So what's the screwdriver for? It is for detaching the single long handle of the wok. And without the handle, the wok transforms into a large bowl you can use on your tabletop. Not to mention the space you save when storing the wok. Probably best to stow them together, though.
And that little embedded red spoon on the handle? It's a novelty that actually has a purpose — you can rest your thumb on it for comfort. Moreover, the handle and lid knob are, in fact, silicone covers with a wooden pattern.
Unfortunately, there are limitations to its uses. You can't use an oven, and you can't cook acidic food. Unless you don't mind metallic-tasting dishes.
But with the flexibility it gives you as a wok and bowl, the ItsMillers die-cast wok is a fantastic addition to both kitchen and tabletop.
Best Small Nonstick Wok: Cooks Standard Flat Bottom With Lid 11-Inch Hard-Anodized Nonstick Wok Stir Fry Pan, Black
SAVE 23%
Cooks Standard Nonstick Wok
This small, flat bottomed, non stick wok is ideal for small groups.
Pros: Hard anodized surface, oven-safe, steam vented lid, toxic-free, suitable for cooking acidic food
Cons: Not induction safe, hand wash recommended, no handy helper
The Cooks Standard Nonstick Wok is a small flat bottomed wok with a diameter of 11 inches, and a base of 6 inches, for a capacity of about two liters. This is a size that's perfect for groups of three to five people.
The entire body of the wok is hard-anodized aluminum with a special non stick surface. As an aluminum-built wok with no magnetic properties, it will not work with an induction coil. There was no mention of the type of coating, though. But we can confirm that the surface is truly nonstick.
Conversely, because the Cooks Standard wok is made of pure metal, it is oven-safe together with its complementary, steam-vented, tempered glass lid. Although, keep in mind that the wok and lid will have varying maximum tolerable temperatures. Specifically, the wok can withstand up to 500 degrees Fahrenheit, while the lid's maximum capacity is 350 degrees Fahrenheit.
But unlike the usual nonstick woks, we do not recommend cleaning the hard-anodized wok with a dishwasher because the cleaning materials and processes may cause the coating to flake off. The wok also has one handle, which might be an issue for some.
Nevertheless, as a small wok, it's pretty light anyway. We think it's the best small nonstick wok available in the market today.
Nonstick Wok Buying Guide
A discussion about non stick woks isn't complete without talking about the types of coatings. Other than that, the factors you'll need to consider when buying a wok pretty much remain the same. Namely, you may want to consider size, material properties, shape, handle, accessories, and price.
Types of Coating
Non stick coatings come in all sorts, including ceramic, Teflon, titanium, diamond, and even a specially engineered coating. They create a nonstick surface. Some of these are metal utensil-safe or scratch-resistant. While most of them are dishwasher-safe, there are also a few exceptions.
Although non stick coatings will work the same — they all work to prevent food from sticking to your wok — it is worth noting that some are infused with harmful ingredients. Best to read the labels and know if you're buying non stick woks with safe ingredients.
Size
Nonstick woks naturally come in different sizes. Assuming the differences in gauge and grades are negligible, smaller woks also have a smaller cooking surface and are relatively lighter. Now, these have both advantages and disadvantages. For example, the frequent tossing of ingredients — necessary for wok hei — is an advantage of smaller woks. On the other hand, the limited serving size can be both an advantage and a disadvantage.
In contrast, larger woks have advantages, too. You can use larger woks for smaller volumes, but not vice versa. And that also usually translates to more weight and a higher price.
Ultimately, the ideal size depends mainly on your intended use. The size of your wok burner, the challenges of cleaning and storing a larger wok, and the ease of using a smaller wok are factors to think about.
Material Properties
When we talk about a "nonstick wok," this refers to the coating on woks built of either aluminum, stainless steel, or two layers of stainless steel with an aluminum core. This distinguishes it from a seasoned cast iron wok and a carbon steel wok with properties that prevent food from sticking.
The mechanical and physical properties of your material are denoted in metal grades. Mechanical properties refer to compressive and tensile strength, elongation, and the hardness of a metal. While physical properties relate to the metal's density, melting point, electrical resistivity, thermal expansion, and conductivity.
304 and 316 are the most common stainless steel grades used in kitchenware. Other than the presence of molybdenum, these two have the same properties. Specifically, molybdenum is in 316 stainless steel, but not in 304. This chemical element reinforces the alloy's inherent abilities to resist corrosion. That, of course, makes 316 more expensive than 304 stainless steel.
Furthermore, the chemical composition of stainless steel is expressed in numbers, where the first and second numbers refer to the chromium and nickel elements, respectively. Higher nickel content means more expensive stainless steel. This is because a high nickel composition makes the stainless steel more durable and shinier.
On the other hand, the widely used aluminum grade for nonstick cookware is the 1100 series, which is a series that contains at least 99% aluminum. Some makers use more expensive alloys of aluminum, magnesium, copper, or iron. As a rule of thumb, more expensive woks tend to be more durable.
Shape and concavity of the bottom and wall
There's a reason a traditional wok has a round bottom and concave walls — the structure makes wok cooking easier. The transfer of heat is easier with round bottoms, while open walls allow uniform heat distribution.
Conversely, modern woks come in flat bottoms to suit different types of stovetops: electric stove, induction coil, and gas stove. Unlike round bottomed woks, a flat bottomed wok does not need a wok ring. The flexibility, though, comes at a price. The flat structure isn't ideal for wok cooking since heat is concentrated at the bottom.
Clearly, these two bottom shapes have their own benefits and drawbacks. Depth is another consideration. Some wok walls are built higher than others. Depending on your cooking style, you may prefer one over the other.
Handle
Nonstick wok handles are either single-handed or double-handed. Some come with detachable handles, too. They may also be wrapped with silicone, bakelite, or bare steel.
Working one-handed can be challenging for some people. If this is you, then a wok with two handles will likely be a better choice. Some handles stay cooler than others, too.
Accessories
Nonstick woks are often sold with useful accessories. The most common ones are a wok spatula and a wok lid. A few also supply us with tools to detach handles.
When choosing the accessories that go with your wok, you'll presumably deliberate lids the most. There are a plethora of choices, owing to differences in shapes, materials, and designs. They can be dome-shaped or flat; stainless steel, glass, or a combination of both; steam-vented or non-steam-vented.
Budget
Nonstick woks are generally more expensive than non-coated ones. Also, expect to pay a premium for higher quality materials or grades and gauges. And, of course, hassle-free maintenance comes at a cost. All of these affect the price, and there is, unsurprisingly, a necessary relationship between the amount you pay and the value you get. Fortunately, many premium options will be worth it.
FAQs
Should I use a non stick wok?
Like many things, the answer isn't as straightforward because each option has its pros and cons. A clear advantage of non stick woks is that your food doesn't stick! They are also typically dishwasher-safe, so maintenance is more manageable. And beginners don't have to worry about seasoning or extreme high heat temperatures.

A significant disadvantage of a non stick wok is that it heats slowly but steadily. For wok cooking techniques that require high heat, this defeats the purpose of using a wok in the first place.
Is it safe to cook food with a wok if the non stick coating is badly scraped?
If the wok's interior shows signs of flaking, we recommend buying another for your safety. Most manufacturing requirements prohibit the use of toxic materials, but that doesn't preclude some makers from violating the rules with creative workarounds. The chipped-off coatings may be harmful to your health. We're going to err on the safe side.
Can you use cooking spray on non stick woks?
Most makers of non stick woks do not recommend the use of cooking sprays. Cooking sprays leave unwanted layers that are hard to wash away. The untreated interior replaces the non stick coating, making food stick to the cooking surface.
How do you remove non stick coating from a wok?
Because non stick coatings are merely layers covering the wok, you can remove them by soaking in soapy water and sprinkling baking soda. Using a scouring pad, scrub until the baking soda disappears. Repeat the preceding steps as desired. Next, apply a thick layer of gel drain opener and allow it to soak for two days. Finally, with protective gear, use your scouring pad once more to remove the non stick coating.