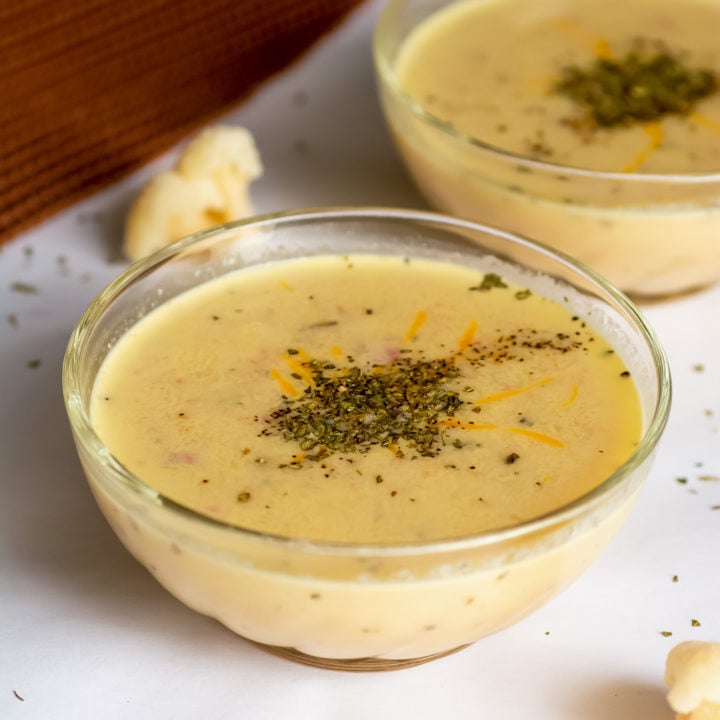 This is the best low-carb cauliflower cheese soup recipe that you'll want to make again and again. It's keto-friendly, cheesy, hearty, and is perfect for both lunch and dinner.
Besides having just 5 g of carbs per serving, this keto soup is also insanely fast to make. So if you have only 30 minutes of free time for cooking available, you can definitely make this low-carb soup.
My favorite soups are the ones made out of lots of cheese. And this keto cauliflower cheese soup has been one of my favorites for quite a long time now since it is both healthy and delicious and has both best of both worlds: lots of cheese and is loaded with cauliflower.
Table of Contents
Is Cauliflower Cheese Soup Keto?
YES, you can have cauliflower cheese soup on keto, but only if it is low-carb. Most of the restaurant cheese cauliflower soups have around 47 grams of carbs per one cup, which is unacceptable for ketosis.
Therefore, you can eat cauliflower soup on keto only if it consists of low-carb ingredients and you definitely know what's in it.
Here's What You Need
It may look like you need a lot of ingredients to make this keto cauliflower cheese soup, but the truth is that all of them are pretty simple and can be found almost anywhere. Here is the list of the ingredients needed for this recipe:
Cauliflower. I used fresh cauliflower and cut it into florets, but for a quicker solution, you can use either frozen steamed cauliflower;
Chicken broth. If you want, you can substitute it with vegetable broth, chicken stock, or bone broth.
Bacon. I like to use regular bacon., fry it on a skillet until completely crispy, and only then chop it up. But if you want to speed up your cooking process, you can use crumbled bacon instead.
Butter. It gives an even creamier texture to the soup, but if you don't like butter for any reason, you can use just olive oil or avocado oil instead.
Onion. This ingredient is optional here. But still, it does offer more flavor for this keto cauliflower soup.
Garlic. I used fresh minced garlic, but you can definitely substitute it with garlic powder.
Heavy cream. To get the needed creamy texture, you need to add some heavy cream. But you can definitely use either cream cheese or coconut milk instead.
Shredded cheese. Well, since this soup is supposed to be cheesy, you should add some shredded cheese to it. I added some shredded cheddar, but you can use either shredded mozzarella or provolone instead.
Dried oregano. This one is totally optional. It's just that when I think of cauliflower soup, this is what reminds me of it the most.
And of course, you should add some salt and pepper to taste once the soup is ready.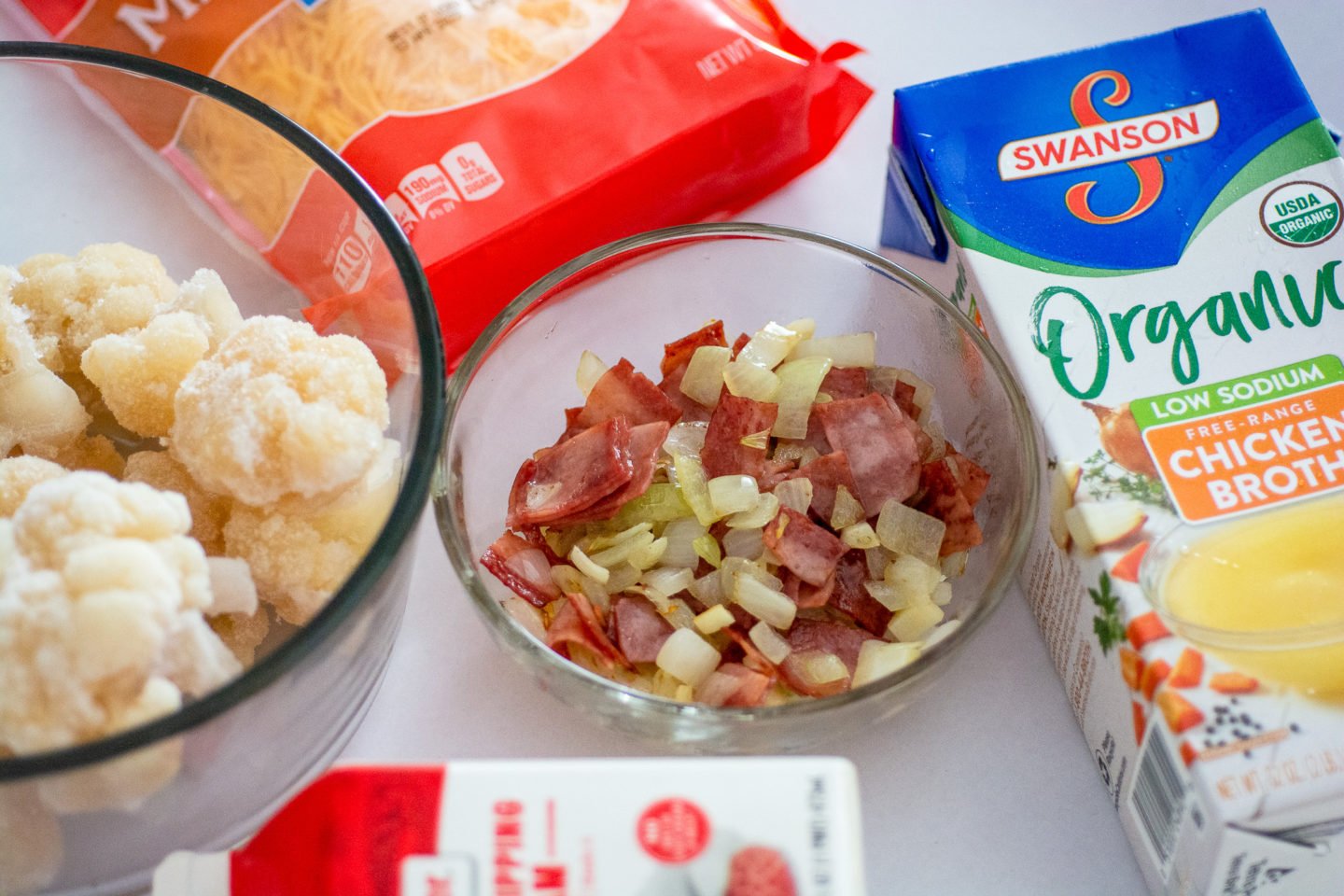 How to Make Low Carb Cauliflower Cheese Soup
Now that you've gathered all the necessary ingredients, you can start cooking your keto cauliflower soup.
There are two main methods of cooking it: in a saucepan or in an Instant Pot. I like both of the methods, so it's totally up to you to choose which one to use.
This time I made it in a saucepan, so if this is the cooking method that you want to go with, then just scroll down to the bottom of the page (there, you'll find the recipe card).
If you want to make it in an Instant Pot, then follow these instructions:
Cook the bacon in the instant pot. For more detailed instructions, click here. Chop up the bacon and set it aside once cooked.
Add the butter into your Instant Pot cooker together with the chopped onions and garlic and cook for 2-3 minutes.
Add cauliflower inside, pour in the chicken broth, and secure the lid. Cook on high pressure for 10 minutes.
Quickly release the pressure, add the shredded cheese, heavy cream, and bacon. Use an immersion blender to blend the keto cauliflower soup.
Just as easy as that, you can use your Instant Pot to cook this creamy cauliflower soup.
You can serve this soup with some dried oregano sprinkled on top of it, smoked paprika, thyme, chopped green onion, or chopped fresh parsley.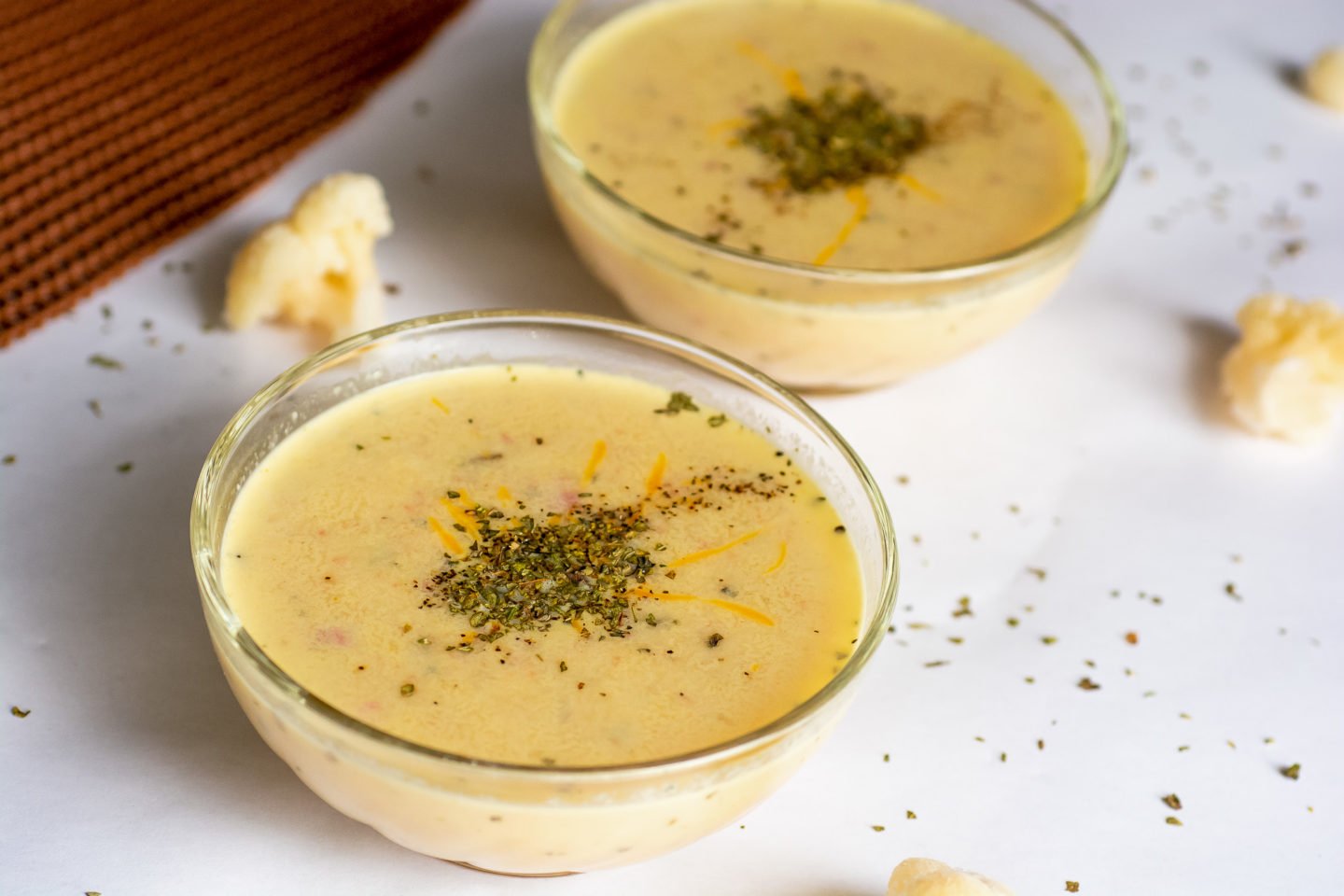 Storing Instructions
You can store your creamy keto cauliflower soup in your refrigerator for up to 3-4 days. Whenever you want to serve it, just pour some of the soup into a bowl and heat it in the microwave.
I do not recommend freezing this soup since it has heavy cream in it.
Recipe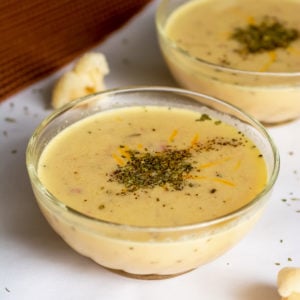 Keto Cauliflower Cheese Soup
This is the best low-carb cauliflower cheese soup recipe that you'll want to make again and again. It's keto-friendly, cheesy, hearty, and is perfect for both lunch and dinner.
Ingredients
1

cauliflower head

cut into florets

4

cups

chicken broth

4

bacon slices

3

tbsp

butter

1

small

onion

chopped

2

garlic cloves

chopped

½

cup

heavy cream

½

cup

cheddar cheese

shredded

½

tsp

dried oregano

salt and pepper to taste
Instructions
Place a large saucepan over high heat. Place the cauliflower florets and garlic inside, and pour in the chicken broth. Simmer for 15-20 minutes (until the cauliflower is fully cooked).

In a skillet over medium heat, fry the bacon slices until crisp. Chop them up and set them aside. Discard the fat from the bacon.

In a skillet over low heat, saute the chopped onion until fully cooked (for about 3-5 minutes). Set aside.

Once the cauliflower is cooked, add the cheese, bacon, onion, heavy cream, salt, and pepper into the saucepan. Using an immersion blender, blend the soup.

Ladle the soup into bowls, sprinkle with dried oregano extra cheese (optional), and serve.
Nutrition
Calories:
211
kcal
Carbohydrates:
8
g
Protein:
8
g
Fat:
17
g
Saturated Fat:
9
g
Polyunsaturated Fat:
1
g
Monounsaturated Fat:
6
g
Trans Fat:
1
g
Cholesterol:
48
mg
Sodium:
774
mg
Potassium:
498
mg
Fiber:
2
g
Sugar:
3
g
Vitamin A:
410
IU
Vitamin C:
58
mg
Calcium:
128
mg
Iron:
1
mg