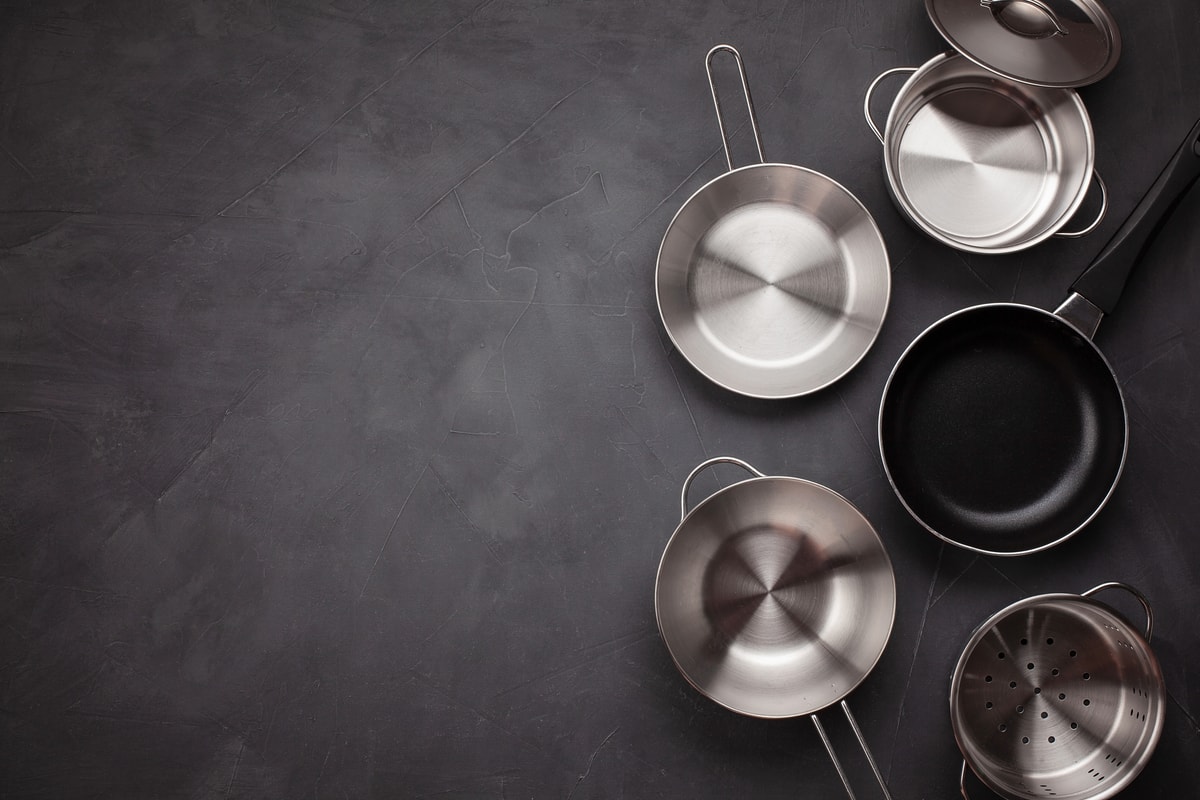 Today, plenty of different cookware materials exist that you can choose from—cast iron, Teflon, ceramic, copper, and more. However, two increasingly popular options have recently taken center stage.
When choosing between carbon steel vs. stainless steel pans, you must understand all the factors. Take a look at my side-by-side comparison below, which considers ease of use, performance, cleaning and maintenance, best uses, and cost.
Table of Contents
Carbon Steel vs. Stainless Steel Pans: What's the Difference?
It's important to know the difference between carbon steel and stainless steel before going into the advantages and disadvantages of each. While you can use both for similar cooking applications, they often have different usage and maintenance needs.
Carbon steel is made of iron and carbon alloy. Because of the iron content, it is susceptible to rust and needs to be cared for to keep it in working order.
When carbon steel pans are new, they have a silver metallic sheen similar to stainless steel. However, they develop a dark brown patina and a smooth nonstick surface once seasoned.
Stainless steel is an alloy of chromium and iron. Its specific composition means that it is resistant to rust and corrosion. Some stainless steel cookware is solid, while some are sandwiched with other materials like copper.
This type of pan comes out of the box with a familiar silver sheen, which it retains throughout its lifespan.
Carbon Steel Pans Pros and Cons
If you're thinking of buying a carbon steel pan, take a look at some of its pros and cons.
Ease of Use
Carbon steel pans are among the most versatile and easy-to-use cookware as long as they're properly cared for. When seasoned, they have a nonstick coating, require less oil when cooking, and can tolerate high temperatures in the oven. They also tend to be more lightweight than stainless steel, making them easier to handle.
However, carbon steel pans also have a few disadvantages when it comes to ease of use. One of them is that their heating surface is less uniform. This uneven heat means that they are a bit more prone to burning food if you're not careful.
The other challenge of carbons steel pans is that they require maintenance to keep them nonstick and rust-free.
Performance
There's a reason why most professional chefs these days prefer carbon steel pans. They are thin enough to heat quickly but also heavy enough to retain heat when used. They're especially useful for stir-frying, grilling, and searing.
The other major advantage is that carbon steel pans have a nonstick surface once seasoned. You can easily cook anything from eggs and meats to fish and tofu without the worry of sticking.
Cleaning and Maintenance
It's the cleaning and maintenance that scares some novice chefs away from using carbon steel pans. While there are some tips to keep in mind, the truth is that it's not too difficult to take care of them.
First of all, thoroughly wash, dry, and coat the pans in oil after use. Doing this protects the pan from rust and also helps develop layers of its nonstick coating.
The other aspect of carbon steel care is seasoning, which entails cooking thin layers of oil into the pan's surface. Seasoning remains a necessary step as it gives the pan a nonstick surface.
There is also a long list of don'ts when it comes to caring for a carbon steel pan. These include soaking, putting it in the dishwasher, cleaning with chemicals or abrasive scrubbers. Generally, only a bit of warm water and a soft sponge are recommended when cleaning carbon steel.
Best for . . .
Carbon steel is a highly versatile cookware material and can be used for most common cooking applications. Frying, baking, grilling, searing, sauteing and more can all be done with finesse. Since it withstands high heat, you never have to worry about hot oven temperatures.
The heat retention and slick surface make carbon steel the best choice for certain cooking applications. Stir-frying is the best example, which is why carbon steel woks are so commonly used among professionals.
You should never use carbon steel pans for cooking dishes that have high acid content. Tomato sauce and dishes with lots of lemon or vinegar should be left for your other pans. These ingredients can degrade the surface of your pan.
Cost
In general, carbon steel pans are more affordable than their stainless steel counterparts. You can expect to spend between $30 and $75 for a medium-sized frying pan. While this is more expensive than Teflon or ceramic, stainless steel has a much longer lifespan than either of these materials.
Stainless Steel Pans Pros and Cons
In the carbon steel vs. stainless steel pan debate, there are plenty of positive things to say about each side. Take a look at some of the unique qualities of stainless steel below.
Ease of Use
While stainless steel cookware isn't used as commonly in commercial kitchens, it's a favorite of home chefs. One of the main reasons for this is that you can use them for just about anything.
Just like carbon steel, stainless steel pans are versatile, meaning you can use them to saute, fry, and bake. And, since they don't have an oil-based coating, using them for boiling or cooking acidic foods isn't a problem. This makes them a perfect choice if you only want to purchase one or two reliable pans.
The tradeoff, however, is that these pans don't have the same nonstick coating as carbon steel cookware. This means you will often find yourself using additional oil to get the results you want.
Also, high-quality stainless steel cookware tends to be on the heavy side. This might not be a problem for smaller pans, but cooking large batches of food may require some serious upper-body strength.
Performance
When choosing between carbon steel vs. stainless steel pans, stainless steel falls behind in performance. Part of the reason is that they are not as good at conducting heat. This means that stainless steel on its own takes longer to heat up and won't cook food as evenly.
However, a solution to this problem is buying bonded stainless steel pans. By inserting a copper or aluminum core into the pan, manufacturers allow it to act almost the same as carbon steel. The only catch is that you'll have to spend a bit more money.
Cleaning and Maintenance
Stainless steel pans are designed to be low maintenance, which is why home chefs love them. Feel free to soak them, scrub with soap, or even clean them in the dishwasher. While food may stick a bit more easily, you won't have nearly as hard of a time scraping it off.
Of course, the other big advantage over carbon steel is that it doesn't need to be seasoned. You can pull a stainless steel pan out of your cupboard, cook with it, and stow it away again once it's clean. You never have to worry about rust or small scratches on your cooking surface.
However, one factor to remember is that scratches on the pan can cause the metal to leach into your food. If not properly maintained, this can alter the taste of your dinner noticeably.
Best for...
Since stainless steel pans are non-food-reactive, you should use them for cooking high-acid dishes. No amount of pasta sauces or dishes loaded with lemon will tarnish its surface.
However, you don't need to limit your stainless steel pan to a single application. You can use it to cook just about anything you want. As one of the most versatile cookware materials available, it's a reliable standby.
Cost
While stainless steel pans can be found across the price spectrum, it's best to be cautious. Generally, less expensive options are made of solid stainless steel. While this may sound good on paper, the fact is that it results in unevenly cooked food.
More expensive options are made with copper cores, which help distribute the heat evenly across the pan. While this will raise their cost well above similarly-sized carbon steel cookware, it is worth the money.
Even though stainless steel pans are on the expensive side, they are also extremely durable. If you're willing to pay $100 for a good one, it should last you years to come.
Choosing Between Carbon Steel vs. Stainless Steel Pans
All things considered, the best cookware material comes down to your needs.
Are you an experienced chef who wants to maximize performance and doesn't mind a bit of extra maintenance? If so, carbon steel is probably the ideal option for you. Just be sure to read up on proper seasoning techniques!
If you're looking for a quality pan that's versatile and low maintenance, stainless steel could be a better option. They are the perfect choice for those who love to use a single pan for various applications. Plus, they make cleanup a sinch.
Frequently Asked Questions
Still not sure whether you prefer carbon steel or stainless steel pan? Learn more about each of them below:
Why do chefs use carbon steel cookware?
There are several reasons why chefs love carbon steel pans. The first is that they have excellent conductivity. This means they heat up quickly, hold heat longer, and evenly distribute heat across their surface.

Another advantage is that they are more lightweight. Since professional chefs spend eight hours or more per day using their pots and pans, this is a major advantage.

From a business perspective, carbon steel cookware is also more affordable. This cost can easily add up for restaurants buying dozens and dozens of pans.
Are carbon steel pans safe for cooking?
Carbon steel skillets and pans are completely non-toxic and safe for cooking. Since it has a protective oil coating, it doesn't leach substances into your food while cooking.
What food should you avoid when cooking with carbon steel?
Because of their oil-based coating, carbon steel pans don't mix well with acids. Tomatoes, lemon juice, and vinegar should all be avoided in large quantities. Also, carbon steel pans aren't good for boiling as the water can seep in and cause rust.
How fast does carbon steel rust?
Rust can begin to form on a carbon steel pan in as little as four to five days. While a small amount of rust isn't a big issue, letting it spread can ruin your pan. This is why it's important to take care of your cookware properly.
How do you keep food from sticking to a stainless steel pan?
Sticking is one of the main downsides of using a stainless steel pan. Luckily, there are a few techniques you can use to help prevent this.

The first is to make sure you use enough oil. An extra bit of olive oil or even butter will help food slide around nicely. It also helps if you wait for the oil to reach a high temperature before adding your food.

Also, pay attention to the food you are adding to your food. Bringing foods to room temperature before adding them to the pan can help prevent sticking. Also, drying the surface of meats can help as well.

Finally, keep in mind that sometimes, sticking is a good thing. Those brown bits on the bottom of your pan can add plenty of flavor to a dish. Just add a bit of acid or other liquid to dislodge it from the pan while cooking.
Do I need to season my stainless steel pan?
Stainless steel pans don't require seasoning, but many top-level chefs choose to do so anyway. The reason is that this gives the pan the same slick coating found on carbon steel.

If you're planning on seasoning your stainless steel pan, keep in mind that means more long-term maintenance. You will have to avoid cleaning it with soap and apply regular coats of oil to it.

To season, simply follow the same procedure as when seasoning any carbon steel pan.