Even if you can get that delicious cold-pressed juice at a store, it's likely to be filled with added sugars and artificial ingredients, and besides, you can save quite a bit of money in the long run if you're making your juice at home.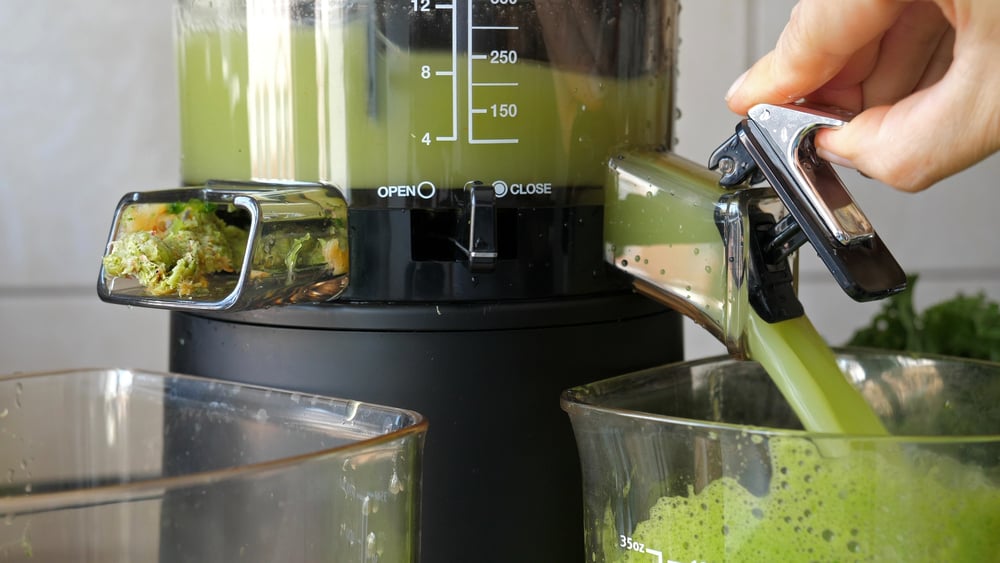 On top of that, it's also better for the environment and will lower your carbon footprint, if you avoid buying all those disposable plastic containers. Cold press juicers are the best type of juicers, and we want to help you find the best of the best. That's why we've made this list and buying guide.
Keep reading to see our best cold press juicers, followed by a budget section and a breakdown of which juicer is best depending on your needs.
Table of Contents
What's the Difference Between a Cold Press Juicer and Other Juicers?
Cold press juicers, otherwise known as low-speed juicers or masticating juicers, are the absolute best quality juicers. They work by gently pressing the fruits and vegetables into a pulp to extract it. There's no heat involved - hence, the term cold press - and the pulp doesn't absorb as much oxygen as it does during other juicing processes. The drawback of this is that it takes a little longer than other juicers, but it also means that nothing is lost on the process. Fruit or vegetable juice from a cold press juicer will retain all of the vitamins and nutrients that were in the actual fruits and vegetables. Masticating juicers will also have a much higher juice yield than other juicers.
The other main type of juicer is a centrifugal juicer, also known as a high-speed juicer. These are essentially the opposite of cold-brew juicers. They work by shredding and chopping your fruits and vegetables with a spinning disc. This creates a lower quality juice that is missing all the nutrients contained in the skin of the fruits or vegetables you used to make your juice. The upside is that it's faster and much more convenient than a slow masticating juicer. Unfortunately, it's also much louder.
If you tend to be on the snobby (er, refined) side about your juice, you'll definitely want a cold press juicer. Good things are worth the wait, and the cold-pressed juice you get from a slow-speed juicer is absolutely top-notch in terms of both taste and health.
What Should You Look for in a Cold Press Juicer?
Well, now we understand what a cold press juicer is, but what separates the good cold press juicers from the bad ones? If this is your first time buying a slow-speed juicer, it can feel overwhelming looking at a bunch of different options and not being sure what's what. Even if you're a juicing pro just looking to update your masticating juicer, it's good to have a written list of what you should be looking for. To help you understand how we came to our conclusion about the best cold press juicers, we've laid out the criteria we used below.
Criteria #1: Juice Yield - Of course, the most important aspect of your new cold press juicer will be the quality of the juice it makes and how much juice it's able to make. Thes best juicers will be able to make a lot of juice out of very few ingredients. We'll primarily be looking at the RPM rate of the juicers' augers to determine whether or not they make high-quality juice and how much juice they'll make. Other factors come into play, such as features like dual-stage mastication extraction and precision extraction.
Criteria #2: Speeds - While juicing is, overall, a field where slow and steady wins the race, we do want the option to go quickly when we want to. Whether you're in a rush, or you're dealing with tougher ingredients that need a more aggressive touch before they start juicing, there will be times when you'll want a faster juicer. Even though we're dealing with slow speed juicers, the absolute best will have options in place to make sure you have the option of picking the speed up a notch.
Criteria #3: Design - This criterion refers to both the physical layout of the juicer as well as its extra features. There are two main types of cold press juicers - vertical juicers and horizontal juicers. Vertical juicers are a little more convenient and tend to be easier to store and find room for. However, they also tend to be on the minimalist side and are lacking in terms of extra features (of course, the best vertical juicers are exceptions to this rule).
Horizontal juicers are by nature bulkier, but they're more likely to have those extra features that really elevate a product from high-quality to top-of-the-line. Some extra features you can expect to look for in your juicer are pulp containers, so you won't have to clean the machine as often, and screens that will control how much pulp is in your juice to give you the perfect texture.
Criteria #4: Price - You don't want to spend your hard-earned money for no reason. Of course, the best juicers will cost a bit more, but we'll help you find the best deals on the market, so you can spend as little money as possible and still get a high-quality masticating juicer. Included in this criterion is also whether or not a juicer comes with a warranty, and if it does, how long the warranty lasts.
Our List of the Best Cold Press Juicers of the Year
Using our criteria, we evaluated the cold press juicers on the market by looking at the officially listed specifications to evaluate their performance. We also looked at a variety of different reviews from blogs and from customers at online stores to make sure that the products performed as advertised.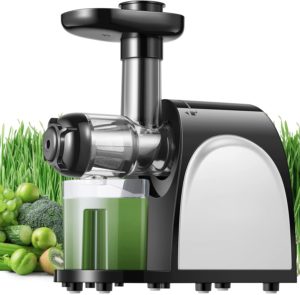 By nature of the better quality juice they put out, masticating juicers are more expensive than centrifugal juicers, which is why the Aicok slow masticating juicer is such a treasure. This BPA-free juicer comes with a unique spiraled auger to increase surface area and make sure that you get as much juice as possible out of your fruits and vegetables. It emits less than 60 decibels of sound, so you'll be able to have a normal conversation over the Aicok. On top of that, it's completely dishwasher-safe and won't give you any trouble when it comes time to clean it.
The big flaw of the Aicok juicer is that it runs at 80 RPM, which is not by any means fast but is much faster than the other juicers that have made our list so far, and this will definitely cause a dip in taste and the number of nutrients in your juice.
Even though we're advertising it as a budget buy, customers had a lot of praise for the Aicok. They pointed out that it's incredibly easy to set up, easy to use, and easy to clean, mentioned the health benefits of having a slow-speed juicer instead of a centrifugal juicer, and of course noticed its cheap price, which is about on par with the mid-range centrifugal juicers.
I can't pretend that this machine is on the same level as the Hurom or Omega juicers higher up on our list, but it's a great masticating juicer that will give you that great cold-press quality every morning. All in all, this is one of the best budget juicers out there, so if you're new to juicing and you're not quite ready to break the bank on a fancy new machine that you might not stick with, or if you just don't like spending a ton of money, the Aicox is a great cold press juicer that outperforms its price.
I mentioned that vertical juicers tend to be a little less diverse. I also mentioned that there are always exceptions to the rule, and our #1 juicer is one of those exceptions. The Omega VSJ84QS can do it all, and its vertical design will fit perfectly in your kitchen, so you won't need to constantly take this cold press juicer in and out of your cabinet.
This Omega juicer boasts a dual-edge auger that guarantees every bit of your ingredients gets juiced to give you a smooth juice with plenty of nutrients. On top of the design of the auger, the auger itself spins at a rate of 43 RPM, so there will be almost no heat buildup. This low speed will put very little strain on the juicer, meaning that it's designed to last longer than the competitors. Plus, the juicer comes with a convenient, closeable, no-drip tap that will make sure your countertop stays sparkling clean.
The real selling point of the Omega VSJ843QS is that it can handle everything. You can get high-quality, nutrient-rich juice from fruits, vegetables, leafy greens, and wheatgrass. You can even make nut milk. This Omega juicer is perfect for anyone who wants to get their nutrients from one convenient juice, anyone on a plant-based diet, or anyone who is lactose intolerant and wants a homemade alternative for their morning cereal or coffee.
The VSJ843QS juicer isn't cheap (and is even used in commercial settings), but it comes with an incredible 15-year warranty, so it may be the last juicer you ever buy. And even without the warranty, you're getting your money's worth, and that's why this juicer earned our spot as the best masticating juicer on the market.
But don't take just our word for it. The customers agree. Users loved this juicer and pointed to its high juice yield and the fact that, due to its removable parts, it's incredibly easy to clean. The 15-year warranty added to their reasons for why this juicer is their favorite.
The Omega juicer is the best deal for your money, but if you're willing to spend a little more and want the best of the best, then you'll be looking at the Hurom Elite Slow Juicer HH-SBB11. This surprisingly compact juicer will cost you a pretty penny, but there's a reason for that. There are a few reasons you might decide to splurge and go with the Hurom juicer instead of our Omega product.
Reason #1 to Choose This Product: The Twin-Winged Auger
This Hurom juice maker comes with a creative twin-winged auger that means the HH-SBB11 will be twice as effective without adding heat or lowering the quality of your juice. Huron claims that the twin-winged auger will extract 35% more juice from your foods than with traditional high-speed juicers.
This juicer can easily process fruits and vegetables, leafy greens, wheatgrass, nuts, and soy to make a variety of juices, milk, sauces, marinades, baby food, fresh soymilk, nut milks, and tofu. (Wow, that was a mouthful!) Basically, whatever liquid you want to make, you can do it with the Hurom juicer thanks to its twin-winged auger. Whether you're using soft or hard ingredients, the HH-SB11 will have no problem delicately extracting nutrient-rich juice from it.
Reason #2 to Choose This Product: No Noise
Running at the same 43 RPM as the Omega juicer, the HH-SB11 is powered by a motor that uses only 150 watts of electricity, which guarantees that this machine will be so quiet, you'll find yourself double-checking that you've turned it on. The motor is also covered by a 10-year warranty, so in the unlikely situation where it breaks, you won't have to worry.
The Huron juicer has the same trim design as the Omega juicer and can also be disassembled for easy cleaning. Plus, it's completely BPA-free. Users loved this masticating juicer, and could really taste the improvement in the rich juice they were getting from it. It's expensive, but if you're a juicing pro and won't settle for anything short of the best, this is the juicer you're looking for.
In terms of size and features, these two juicers are pretty similar, so you're basically paying more just for the twin-winged auger and less noise. But the juicers are close enough in price that you may decide its worth it to splurge for those features. This is especially true of the twin-winged auger, which will give you more juice and more nutrients from your ingredients.
The Hurom HP is, at its core, just a mini version of the Hurom Elite. It has the same 10-year warranty, and the motor runs on the same 43 RPM. Just like its big brother, it can juice just about anything you throw at it, from hard and soft fruits and vegetables to leafy greens and wheatgrass.
The big difference comes in the container, with the Hurom HP having a small, 12-ounce container that's perfect for one person. It's not ideal if you do meal prep or if you plan on juicing for more than one person, but if you aren't really big on meal prep and you want to save space, this is the perfect option.
The nice side-benefit of this smaller juicer is that it's much cheaper than the Hurom Elite. You're paying a reasonable price for a small juicer with the performance of a much bigger one. Good things come in small packages.
Omega is back on our list, and this time it's with the best horizontal, low-speed juicer available. Just like our number one pick, this Omega juicer boasts Omega's industry-leading, 15-year warranty. It features an automatic pulp-ejection function, so you won't be constantly scraping pulp off the sides of this juicer. The J8006HDS will give you the same high juice yield we've come to expect from Omega, and it has four stabilizing feet to keep it in place while it quietly makes your nutritious juice.
As I mentioned earlier, the appeal of horizontal juicers is that they tend to be more versatile, and the J8006HDS really shows that off. This juicer can make everything. Omega touts that with this juicer you can turn nuts into nut butter, extrude pasta, grind coffee and spices, mince herbs and garlic, make baby food and frozen desserts, and whip up soy milk in a flash. At a certain point, it'd probably be easier to write everything this juicer can't do.
The drawback of this horizontal blender is that it's a good amount fast than our other Omega product. With the auger working at a rate of 80 RPM, it's almost twice as fast as the VSJ843QS. And on top of that, it's pretty expensive. Still, if you value versatility over everything, then this is definitely the juicer you'll want for your kitchen.
Variety is the spice of life, and you don't want to have the same boring celery juice every single morning. Mix things up a bit with some homemade cashew milk, or even some toast and homemade almond butter. Your friends will think you're a culinary genius if you buy the Omega J8006HDS.
The horizontal configuration is usually a little harder to make room for, but if you have the right layout in your kitchen, it can fit right in. Even if it is a little bulky, you might decide that it's a cheap price to pay for everything you can make with this high-quality, cold press juicer.
Best Budget Cold Press Juicers
We've offered one budget option in the No products found. and another affordable option in the Hurom HP . However, if you still need to stay on a budget but those juicers weren't for you, you might feel kept out of the loop on the juicing craze. Not to worry. We've added this list of budget options to our list of best masticating juicers so you can save money without settling for anything less than that fresh, healthy, cold-press quality.
The Phillips HR1897/34 Micro Masticating Juicer from the Avance Collection is a lightweight, slow-speed juicer that stays affordable and will get the job done. This machine boasts a high juice yield of up to 90%. It has a sieve-less design that makes sure nothing sticks to the sides fo the juicer, so it'll be as easy to clean as possible, and on top of that, it's dishwasher-safe.
Even though this cold press product is cheap, Philips assures that it will still be able to juice those tougher ingredients like leafy greens and wheatgrass, as well as nuts and seeds, and ginger. The Micro Masticating Juicer uses MicroMasticating technology to open up the plant cells that contain juice, vitamins, and other vital nutrients.
The machine only takes up 4.5 inches, so it'll fit right in no matter how small your kitchen is, and you won't need to constantly store away it while it's not in use. On top of all of this, the Micro Masticating Juicer comes with a free recipe book.
There was a little less feedback from users on this juicer than on our others, but customers were overall very happy with the Philips HR1897/34 cold press juicer. People mentioned that it outperformed its price, and they liked how small it is. Plus, they mentioned that it's incredibly quiet and found it as easy-to-clean as advertised. One user pointed out that this juicer is not ideal for celery, but they said it's great for anything else. This is a top budget option that won't take up space and will give you great nutritious juice every morning.
Comfee's vertical, cold press juicer is a bit bulky, but it comes in at an amazing price that it's much cheaper even than a low-end, centrifugal juicer, and it has a performance that will leave you amazed you spent so little on this cold press.
It works at a slow and steady 55 RPM with a juicing process cycle that lasts 20 minutes, so you can get nutrient-rich juice and take the time that's necessary for really good juice. This juicer also has a great user-friendly design that has two outlets for dry pulp or juice and an adjustable lever to set the juicing type for soft or hard fruit, so you can be prepared no matter what ingredients you're using for your juice.
Now for the real cherry on top. The Comfee' cold press juicer doubles as an ice cream maker. This juicer comes equipped with an ice strainer and filter designed for making ice cream and juice separately so you can make delicious ice cream to go with your nutritious juice without any clean up in between. You can impress your friends with an amazing, restaurant-quality dessert.
The entire machine uses just one simple knob so it'll be easier to use than you can imagine. You won't need to learn your way around any complex machinery. Just pull it out of the box and get juicing. Plus, the juicer has a 3.4-inch wide tube so you won't be constantly chopping and cutting your fruits and vegetables. You can put them in quickly and enjoy your juice that much sooner.
Reviews were a little mixed on this machine, however, users pointed out that it's easy to use and easy to clean. They cautioned that you should chop up any celery you plan on juicing and that the cold press does struggle with tougher ingredients like nuts and ginger. But that's a small price to pay for such a cheap and good juicer. The Comfee' cold press is a friend for anyone looking to save some money while enjoying the great, nutritious juice you can't get from a centrifugal juicer.
Our final budget juicer is just about the cheapest cold press you can find. For that matter, it might be the cheapest juicer you can find of any kind. It's incredibly compact, has a sleek stainless-steel design, and if I'm being honest, is very boring looking.
But looks aside, this juicer has an adjustable reamer with 3 pulp control settings, perfect for giving you juice tailored to your specific tastes, and its extra-long, snap-up spout is perfect for any glass and won't drip at all. This stainless-steel juicer is completely dishwasher-safe, and it has a creative, final-spin feature that extracts every bit of juice from the leftover pulp.
Customers loved this dirt-cheap juicer and mentioned how easy to use it is and how it does a great job of juicing citrus fruits like lemons and oranges. The only downside of this juicer is that it's only designed for citrus fruits, so if you want to juice leafy greens like kale or spinach or tougher produce like nuts or ginger, you're going to have to go with a more expensive option. Our other budget juicers will be able to do that for you, so you still won't have to spend too much.
Verdict: Your Best Cold Press Juicer
If you want the best value for money, pick the Omega VSJ843QS.
Our best juicer for a reason, the Omega VSJ8431QS is incredibly versatile and can juice anything from berries to apples, to lemons and oranges, to spinach and kale and nuts. You can have the perfect nut milk for your coffee or nut butter for your toast and also have amazing, cold-pressed juice to get all of the vitamins and minerals you need from your fruits and vegetables. On top of all that, this Omega juicer is surprisingly affordable, and with its 15-year warranty, it'll last until you move or even after that. There's not a better deal on the market.
If you need versatility over everything, pick the Hurom Elite.
The Hurom Elite cold press juicer is a bit expensive, but if you're going to be juicing everything under the sun, there's no other product for you to look at. The Hurom elite uses its twin-winged auger to press your ingredients as thoroughly as possible and give you the most juice. You can have anything from nutritious celery juice to creamy nut milks to thick nut butter. If you're on a completely plant-based diet, this juicer will let you stay self-efficient and get all your nutrients and milk substitutes at home, freshly made every morning. This expensive juicer is perfect for the absolute die-hard juicers that need everything.
If you want to keep the spending to a minimum, pick the Cuisinart CCJ-500.
We have to say that if you plan on doing a lot with your juicer, you should go with a different option. But if you just need something cheap and efficient to juice your citrus fruits, it doesn't get cheaper than this Cuisinart product. This juicer is perfect for the minimalist who just wants freshly squeezed orange juice in the morning and doesn't want to break the bank.
And that's all the need-to-know information on the best cold press juicers. We know that was a lot to process so we hope our quick recap helped. Remember, if you want the absolute best, go with one of our first two picks. If you want something just for you, buy the Hurom HP. And if you want a diverse, horizontal juicer, you'll need the Omega J8006HDS Nutrition Center. Or you might decide to save a little and go with one of our budget options. Good luck, and enjoy the juice!