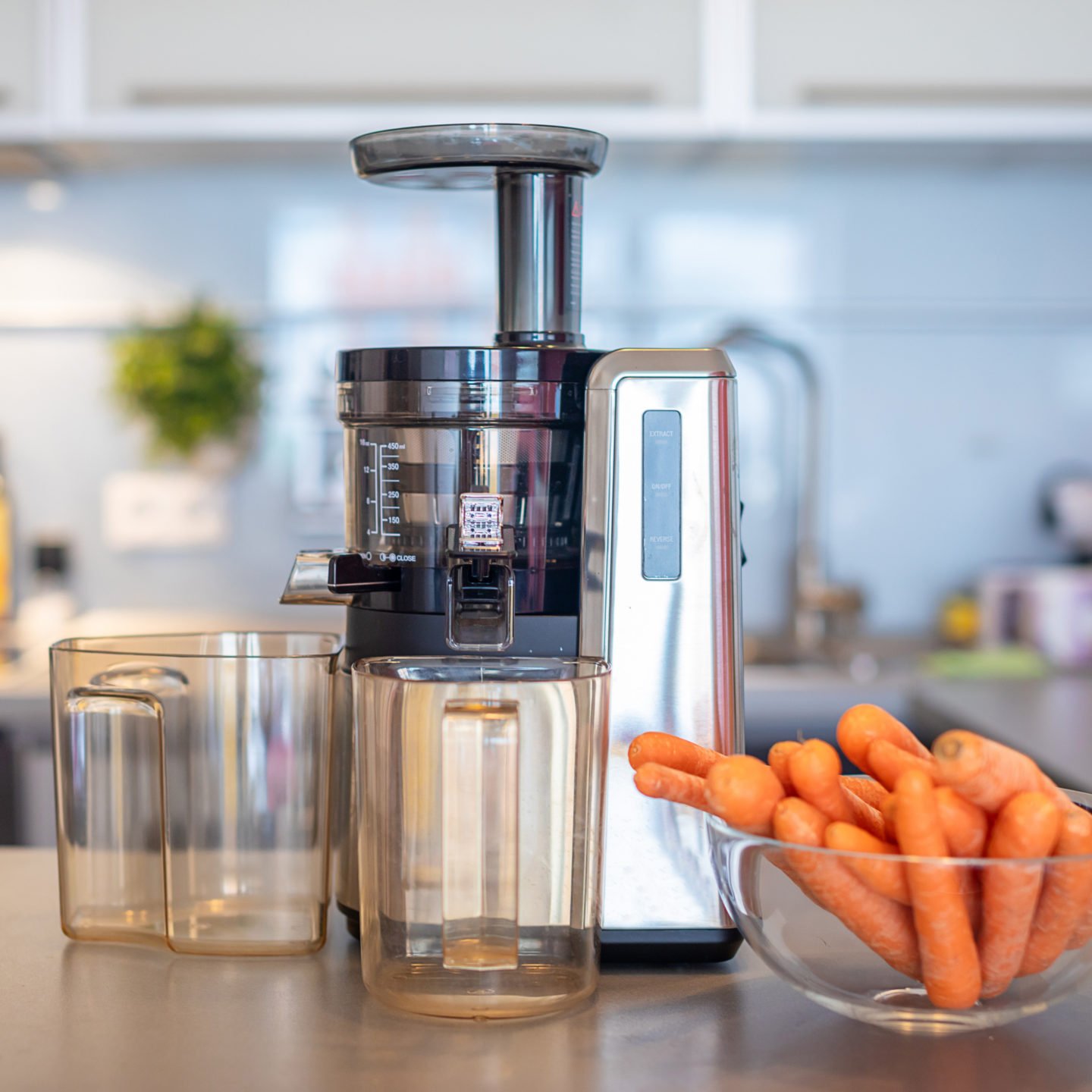 Carrots are loaded with Vitamin A, making them a great way to prevent cancer, diabetes, heart diseases, eye problems, and even immune system diseases. So, carrot juice doesn't only taste good, but it also provides many health benefits.
Since juicing carrots is pretty challenging, you'll need a juicer that extracts the juice without lumps, leaving the pulp dry and compact. Moreover, you will need to consider the chute size, speed, and warranty of the models.
Luckily, juicers have made juicing almost as easy as one, two, three. You might find it challenging to choose the best juice extractor for carrots, but we have prepared a list of top recommended carrot juicers, as well as a buying guide to help you out.
Table of Contents
Overall Best: Tribest Slowstar SW-2000 Juicer
The Tribest Slowstar SW-2000 is our overall best carrot juicer. A slow juicer or a cold press juicer is always a step ahead when it comes to extracting juices. It squeezes out all the liquid in carrots at a slow pace, leaving the pulp dry and compact. While juicing, cold press juicers do not produce heat, which damages protein.
Unlike most carrot juicers, this one features a Duoblade double-edged auger for improved performance, allowing the machine to slice and extract juice twice as well as others. The machine also comes with a juice cup to avoid leaks and drips. Cleanup is also easy—simply close the top and add a little water to pre-rinse it before cleaning it.
Another good quality this juicer offers is its ability to operate in silence. And, with a 10-year warranty, you can be sure that this will last you a long time, especially with its high-quality build.
Aside from its slow pace, other downsides are its price and weight. It weighs 18 pounds, so you should place it somewhere you can readily use it. But if you're after the quality and quantity of juice, this might be the one for you.
Best for Everyday Use: Breville 800JEXL Juice Fountain Elite
The Breville Juice Fountain Elite's 1000-watt motor can reach 13,000 RPMs, producing up to 30% more juice than standard juicers. Over 40,000 filtering pores ensure smooth and delectable results every time, making it a good choice for the best centrifugal juicer for carrots.
The juicer's titanium-strengthened disc and Italian-made micro mesh filter basket are made of stainless steel. While many inexpensive centrifugal juicers are made entirely of plastic, this model's brushed stainless steel chassis should last years of dependable operation without maintenance.
This model also includes a 35.2-fl oz juice jug, a froth separator, and a 3.2-qt pulp container so that you may juice as much as you want. If you live a busy life, you'll appreciate the larger feed tube, which allows you to put in whole hard fruits and hard vegetables.
Reviews on this product are great, but most consumers think the 1-year warranty is too short for a machine. It is also important to note that centrifugal juicers produce less juice than masticating juicers. Nevertheless, if you're someone who likes fresh juice in seconds daily, you might enjoy using this model.
Best Budget Pick: Hamilton Beach Juicer Machine
The Hamilton Beach Juicer is dubbed "Big Mouth" due to its extra-large chute size. Its extra-large feed channel can accommodate a huge carrot, a whole apple, a peeled orange, or a handful of greens without precutting them into smaller pieces.
While other juicers might struggle, this machine's 12,000 rotations per minute can produce fresh carrot juice in seconds. But if you're looking for a versatile juicer, this might not be for you since this comes with a one-speed setting.
Unfortunately, this model doesn't come with a juice jug, which causes mess and extra work. You will have to manually attach a jar to collect the fresh juice from its tiny juice sprout. Also, this model is relatively lightweight, and it wobbles and rattles when in use. Again, this is a centrifugal juicer, and the pulp produced is usually moist.
However, this model comes with a 3-year warranty and is very easy to clean, which are good qualities to look for when you're just starting your juicing habits. Plus, the juicer is budget-friendly.
Masticating Runner-Up: Omega J8006 Juicer
The Omega Nutrition Center Juicer is a modern, fashionable take on juicing and an excellent option for juicing carrots. This machine is simple to put together, store, and clean. Leafy greens, celery, fibrous, and thick veggies, are all extremely simple to juice.
Although it is a slow juicer, the strong engine that powers the dual-stage juicing system guarantees that you get the most nutrients possible. And, because the blades only rotate at 80 RPM, there is almost no nutritional loss due to heating and oxidation.
Compared to the Tribest, this model is cheaper and lighter in weight, making it a good choice for starters. However, some reviews say the augers get easily broken, and the pulp still contains moisture.
Best Self-Cleaning Juicer: Omega Juicer VRT400HDS
The Omega Vertical Low-Speed Juicer, which has a 150W motor and a rotation speed of 80 RPM, is an excellent choice for creating juices and soy milk.
This juicer comes with a 15-year guarantee, and it is simple to build and dismantle. It also comes with a filter and a juice tap to avoid spills on your surface. Furthermore, the strainer holder features two self-cleaning wiper blades, so you won't have to spend much time maintaining this device.
The juicer works well with various fibrous, soft, and hard vegetables and fruits but struggles with extracting leafy green juice. Despite the lack of a blank plate attachment, this device is appropriate for manufacturing peanut butter and sorbets.
Little oxidation occurs because it only rotates at 80 RPM, ensuring that the juice yield will have a longer shelf life. You can clean the machine with flowing water and a brush to remove any stubborn pulp from the strainer.
We also like its reverse setting. This option is used when there's a chunk stuck in your juicer that you need to remove. This feature helps prevent overheating in juicers, which leads to longer machine life.
Best High-End: Tribest GSE-5000 Greenstar Elite Cold Press Juicer
The Tribest Greenstar Elite is the juicer for those serious about getting into juicing. If you want a machine that can take just about everything you can throw at it, this might be the one.
It is a triturating juicer that will extract as much moisture, vitamins, and enzymes as possible from your vegetables. The dual gear mechanism softly yet thoroughly breaks down hard fruit and hard vegetables without adding heat or oxygen, which diminishes nutritional value.
This machine is easy to clean because it has fewer components than a normal triturating or slow masticating juicer. This juicer also has a 15-year guarantee, works at 110 RPMs for speedier but still very effective juicing, and comes with extra attachments to serve as a food processor and homogenizer.
However, this model weighs 24 pounds, so moving this machine around can be a hassle. Since it is designed in an enclosed style, cleaning and assembling this machine might be difficult, especially for those without experience.
Best User-Friendly: JE98XL Juice Fountain Plus
The Breville Juice Fountain Plus is a great way to begin juicing. It has a titanium-reinforced disc and an Italian-made micro mesh filter basket made of stainless steel, making juicing easy for beginners.
The juicer also comes with two-speed options. The lower speed is best for soft fruits and vegetables, while the higher speed is best for firmer or tougher ones. Froth forms when you juice soft fruits and vegetables, but the juice jug contains a froth separator, allowing you to pour less foam and more juice into the glass.
However, if you want to prepare smoothies and sorbets, this juicer might not be the ideal choice.
Overall, this juice extractor is simple to clean. The blade and mesh chamber are the hardest to clean, but you can easily clean them with the included brush. Remember to clean this component after each usage thoroughly. Doing so will keep the blade sharp and the mesh-free of fibers, ensuring that the machine runs properly.
The only issue we have with its features is the 1-year warranty. For novices, it is important to ensure that the device they purchase has a longer warranty, especially with juicers that have many parts that may require repairs or replacements.
Best Small Juicer: Koios Masticating Juicer
The Koios B5100 Juicer is a compact masticating juicer. Despite its small size, it can easily handle hard fruits, soft fruits, and leafy greens. You can choose from numerous settings, depending on what you want to juice.
Because it is a masticating juicer, it features a low-speed juicing mechanism of 80 RPM, which helps prevent nutrient damage and reduces oxidation, giving your juices a longer shelf life. The device is composed entirely of BPA-free removable pieces that can be cleaned in the dishwasher.
This juicer is quiet and comes with a complimentary recipe ebook upon purchase. And juicers say that most juices can be stored for up to 72 hours without deterioration or separation.
The juicer also has a reverse function to prevent clogging, but the manufacturer suggests cutting everything into big pieces rather than using them whole.
Buying Guide
Juicer Types
There are two types of juicers on the market: a centrifugal juicer and a slow masticating juicer, commonly known as a slow juicer or cold press juicer. Centrifugal juicers work fast and will allow you to make a large volume of juice in a short amount of time. But while they're inexpensive and readily available, they produce a lot of noise.
On the other hand, a masticating juicer crushes and squeezes carrots instead of shredding them, providing more juice. However, they're on the expensive side, and juicing takes longer, making them unsuitable for daily juicing.
Durability
Since juicing can be a fairly expensive habit, you'll want to buy a juicer that you won't have to replace for a long time. So, make sure that you are purchasing from a well-known brand with positive client feedback.
Warranty
Warranties typically last 1 to 5 years. In general, the warranty length reveals how much the brand believes in its goods. You must also determine what warranties cover and do not cover.
Feeding Chute Size
A large chute size can help you save a lot of time and effort. Some of the best carrot juicers have a large enough tube to accommodate an entire carrot or beet. It will shorten the processes involved in creating fresh carrot juice every morning.
You don't have to slice the carrot; you may simply split it in half. A juicer with a large feed funnel might help you save time.
Speed
If you don't mind spending much time juicing, you might want to consider purchasing a masticating juicer or slow juicer. It provides more juice than centrifugal juicers.
However, if you don't have much time to spare, you might want to consider centrifugal juicers. You'll have fresh carrot juice to go in seconds, although lesser in volume.
Your Budget
In general, the more expensive the juicer, the more attractive its features. You will receive a juicer with better quality, easier cleanup, and better design. If you want to invest in healthy carrot juice for a long time, we recommend getting the best carrot juicer you can afford.
On the other hand, purchasing a low-cost centrifugal juicer may disappoint you after some time. An inexpensive juicer might be difficult to construct and disassemble or clean, making juicing a monotonous job.
Of course, you don't have to spend a lot of money to acquire an excellent carrot juicer. You can purchase an affordable carrot juicer that will last you up to ten years, as most masticating juicers have a 10 to 15-year warranty. A more expensive juicer is more cost-effective than a cheap juicer in the long term.
Frequently Asked Questions