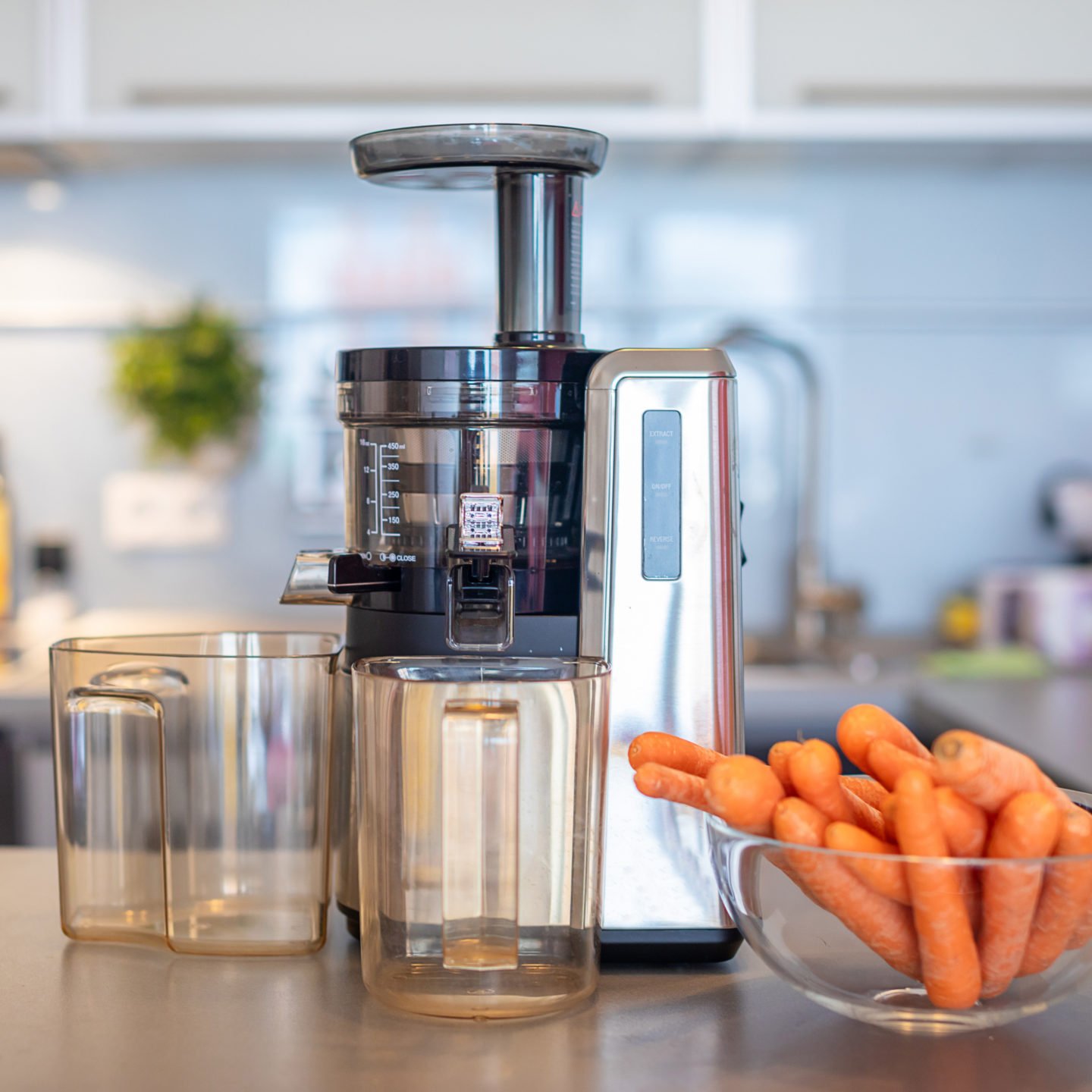 Carrots are loaded with Vitamin A, making them a great way to prevent cancer, diabetes, heart diseases, eye problems, and even immune system diseases. So, carrot juice doesn't only taste good, but it also provides many health benefits.
Since juicing carrots is pretty challenging, you'll need a juicer that extracts the juice without lumps, leaving the pulp dry and compact. Moreover, you will need to consider the chute size, speed, and warranty of the models.
Luckily, juicers have made juicing almost as easy as one, two, three. You might find it challenging to choose the best juice extractor for carrots, but we have prepared a list of top recommended carrot juicers, as well as a buying guide to help you out.
Table of Contents
Overall Best: Tribest Slowstar SW-2000 Juicer
SAVE 6%
Tribest Slowstar SW-2000 Juicer
With this model, you can expect to extract the most carrot juice. Plus, it has a built-in mincer.
Pros: Double-edged auger, extremely quiet, 10-year warranty, quality build
Cons: Very slow juicing, expensive, requires more cleaning time
The Breville Juice Fountain Elite
The Omega Nutrition Center Juicer
The Omega Vertical Low-Speed Juicer
The Breville Juice Fountain Plus
The Koios B5100 Juicer is a compact masticating juicer. Despite its small size, it can easily handle hard fruits, soft fruits, and leafy greens. You can choose from numerous settings, depending on what you want to juice.
Because it is a masticating juicer, it features a low-speed juicing mechanism of 80 RPM, which helps prevent nutrient damage and reduces oxidation, giving your juices a longer shelf life. The device is composed entirely of BPA-free removable pieces that can be cleaned in the dishwasher.
This juicer is quiet and comes with a complimentary recipe ebook upon purchase. And juicers say that most juices can be stored for up to 72 hours without deterioration or separation.
The juicer also has a reverse function to prevent clogging, but the manufacturer suggests cutting everything into big pieces rather than using them whole.
Buying Guide
Juicer Types
There are two types of juicers on the market: a centrifugal juicer and a slow masticating juicer, commonly known as a slow juicer or cold press juicer. Centrifugal juicers work fast and will allow you to make a large volume of juice in a short amount of time. But while they're inexpensive and readily available, they produce a lot of noise.
On the other hand, a masticating juicer crushes and squeezes carrots instead of shredding them, providing more juice. However, they're on the expensive side, and juicing takes longer, making them unsuitable for daily juicing.
Durability
Since juicing can be a fairly expensive habit, you'll want to buy a juicer that you won't have to replace for a long time. So, make sure that you are purchasing from a well-known brand with positive client feedback.
Warranty
Warranties typically last 1 to 5 years. In general, the warranty length reveals how much the brand believes in its goods. You must also determine what warranties cover and do not cover.
Feeding Chute Size
A large chute size can help you save a lot of time and effort. Some of the best carrot juicers have a large enough tube to accommodate an entire carrot or beet. It will shorten the processes involved in creating fresh carrot juice every morning.
You don't have to slice the carrot; you may simply split it in half. A juicer with a large feed funnel might help you save time.
Speed
If you don't mind spending much time juicing, you might want to consider purchasing a masticating juicer or slow juicer. It provides more juice than centrifugal juicers.
However, if you don't have much time to spare, you might want to consider centrifugal juicers. You'll have fresh carrot juice to go in seconds, although lesser in volume.
Your Budget
In general, the more expensive the juicer, the more attractive its features. You will receive a juicer with better quality, easier cleanup, and better design. If you want to invest in healthy carrot juice for a long time, we recommend getting the best carrot juicer you can afford.
On the other hand, purchasing a low-cost centrifugal juicer may disappoint you after some time. An inexpensive juicer might be difficult to construct and disassemble or clean, making juicing a monotonous job.
Of course, you don't have to spend a lot of money to acquire an excellent carrot juicer. You can purchase an affordable carrot juicer that will last you up to ten years, as most masticating juicers have a 10 to 15-year warranty. A more expensive juicer is more cost-effective than a cheap juicer in the long term.
Frequently Asked Questions
What are the advantages of investing in a carrot juicer?
Carrot juice provides a lot of benefits. Investing in a carrot juicer will provide convenience as you don't need to exert force in the process, and you can have a cup of fresh carrot juice within seconds.

Also, they don't only extract carrot juice; you can also use them to create sorbets and nut butter. Lastly, owning a juicer will make juicing more affordable in the long run.
Are higher-priced models more efficient than lower-priced models?
The best way to address this is to know your priorities. Masticating juicers produce more juice, but they are expensive and require more time. Centrifugal juicers cost less, but that doesn't mean they are less efficient. There are a bunch of juicers from trusted brands with a considerable price that performs great.
How do I choose a juicer for commercial purposes?
Commercial juicers are meant to be more powerful, which means that you can easily juice larger quantities of fruits and vegetables.

Before buying, examine the motor's power and select one with a heavy-duty motor and overheating protection. The degree of noise and the juicing speed are two other factors to consider when buying a commercial juicer for carrots.
What fruits and vegetables can I mix with my carrot juice?
Carrots have a mellow, sweet flavor that works well as a basis or complements a variety of other fruits and vegetables. Try juicing oranges and infusing the juice with maple syrup for a great morning juice. If you want more savory flavors, consider adding spinach or kale to improve the nutritional content.

For those who do not like how carrots taste, you can add citrus fruits such as oranges or lemon juice. Some also prefer adding cucumber juice, beetroot juice, and other leafy green juice to add to the nutrient content.
How much carrot juice should I consume every day?
While carrot juice offers countless health benefits, too much of everything can cause more harm than good.

According to the Web MD, drinking too much carrot juice can cause carotenemia, a transitory condition where the skin develops a yellowish tinge due to an excess of beta-carotene in the blood.

Drink no more than half a glass (4 ounces) of carrot juice every day to get the advantages without taking too much vitamin A or beta-carotene.
Healthy, Easy Meals