We're not into "superfoods" as such, but there are scientific facts about wheatgrass that can't be denied. It has iron, calcium, magnesium, and other essential vitamins and minerals, and taking a shot of the stuff in juice form has a weird energy-lifting effect, even if it's nothing more than a placebo.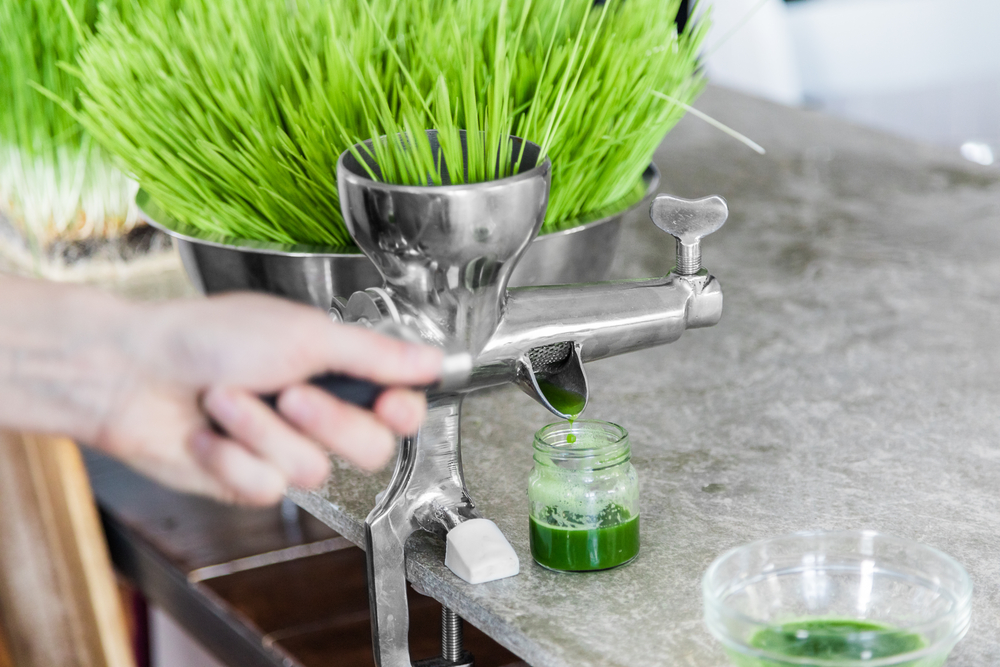 Making wheatgrass juice at home, however, can have negative effects, mainly emotional, as you realize that the cheap juicer you bought gives you a quarter ounce of juice for every 10 minutes of mess cleanup it takes.
That's why we made this list. It's got the top-rated and reviewed juicers for wheatgrass specifically, with tips and guides on how to pick the option that's right for what you want to do.
Keep reading to get our full list of the best wheatgrass juicers available today.
Table of Contents
What Makes a Juicer Good for Wheatgrass Specifically?
A juicer, obviously, extracts juice from your ingredients, which will predominantly be fruits and vegetables. There are two main types of juicers: high-speed juicers and low-speed juicers. High-speed juicers, sometimes called centrifugal juicers, use a spinning disc blade to chop up and juice your fruits and vegetables. This is the quickest way to juice your ingredients, but it's also noisy and creates a lot of heat. These causes produce to lose its natural nutrients, so the juice you get won't have as many health benefits.
Low-speed juicers are also called masticating juicers or cold press juicers. They have a slowly rotating auger that extracts juice from your produce. That's why they generate less heat and save those precious nutrients. This also takes longer, but the machines are much quieter, though they're also more expensive.
Most of the time, people use centrifugal juicers to juice fruits like oranges and apples, as well as vegetables like carrots and tomatoes. They aren't really meant to juice stubborn, stringy, leafy greens like kale, spinach, or, of course, wheatgrass. So it's very unlikely you'll see centrifugal juicers in any conversation about wheatgrass.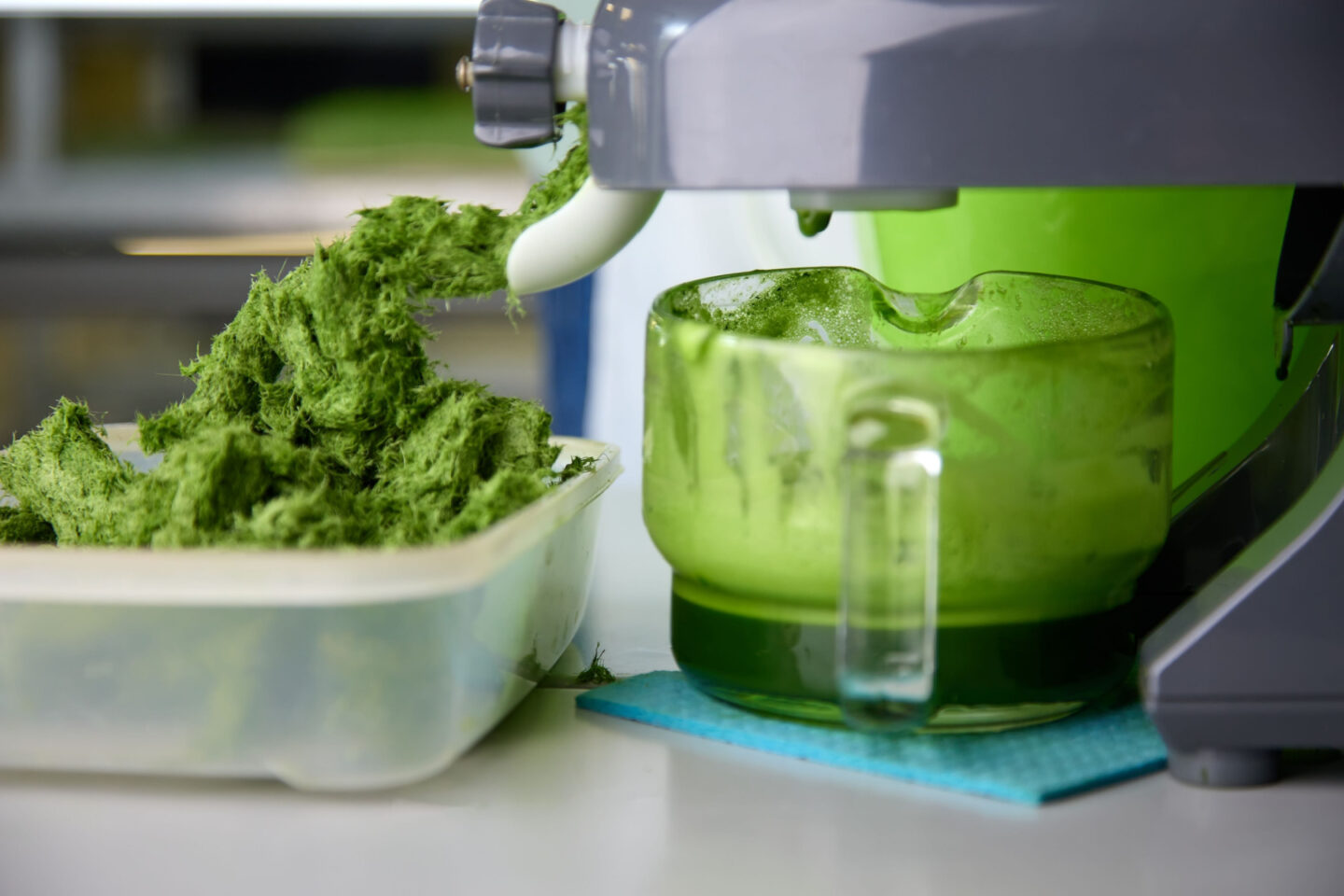 For wheatgrass, you'll want a high-quality, low-speed juicer that can make sure to get every drop of juice out of those stubborn leaves. Besides the higher juice yield, you wouldn't want to waste the nutrients in wheatgrass by putting them in a hot, high-speed juicer.
Not all cold press juicers are created equally, though. The best low-speed juicers are designed to get the best yield from leafy greens and wheatgrass. They also have measures in the juicer's design that prevent the wheatgrass from getting stuck in the auger and clogging the juicer.
Other than our two types of electric juicers, manual juicers also have the capacity to handle wheatgrass and leafy greens. Manual wheatgrass juicers will make you work a bit for your wheatgrass juice, but the reward will be worth it. Their longer feeding chutes can handle wheatgrass. The chutes slow down the process, but that way things are less likely to get tangled up. Plus, these juicers are even cheaper than centrifugal juicers. So, if you want the health benefits of wheatgrass but don't want to break the bank on a fancy low-speed juicer, a manual wheatgrass juicer is exactly what you're looking for.
Here's How We've Determined the Best Wheatgrass Juicer
For this list, we focused on low-speed juicers with a low spin rate (measured in rotations per minute) and other features like specially-crafted augers that maximize juice yield, to make sure you're getting the perfect machine for your wheatgrass. We also looked for juicers that were designed with features that help prevent them from getting clogged. We looked at the official specs given for juicers by the providing brand and checked with different reviews to make sure these products performed as advertised.
And without further ado, here are your best wheatgrass juicers.
Our number one juicer comes in with a spin rate of 80 RPM. This falls somewhere in the medium range among cold press juicers and could be seen as the "Goldilocks zone." If the RPM is too high, you risk heating your fruits and vegetables and wasting nutrients. But if your RPM is too slow, you're just needlessly wasting time juicing when you've long eliminated the concern of creating friction heat. Plus, a juicer whose RPM is too low may have trouble with tougher ingredients. The KOIOS Slow Masticating Juicer has a perfect RPM that will preserve those nutrients without having you wait forever.
This juicer is powered by a nice and patient 150-watt motor, which helps the machine stay quiet. The KOIOS emits less than 60 decibels of sound, which is the average human speaking voice, so you won't have to worry about yelling over this cold press. The KOIOS has two speeds: soft and hard. You can pick the appropriate intensity for your ingredients.
Best of all, a reverse function will help you unclog the machine if anything goes wrong. Thanks to the auger's 7-level spiral system, you'll get the highest juice yield possible out of your ingredients.
The juicer is easily disassembled into its component parts, and every part is dishwasher safe, so this machine will be incredibly easy to clean. Plus, there aren't enough small parts to the machine that you'll be overwhelmed or potentially lose a piece during cleaning.
Watch the video for a quick demo
A small flaw of this machine is that it's recommended you cut your wheatgrass to a 1-1.5-inch length before juicing it so it doesn't wrap around the internal auger, potentially causing damage to the machine. This means there will be some prep involved with this juicer. Also, the parts aren't replaceable, so you'll really want to be careful and avoid breaking them. However, there is a 1-year warranty on the different parts, and a 2-year warranty on the motor, which isn't very long but will give you a little extra peace of mind.
This juicer comes in at a pretty great price, especially compared to the other juicers on the market. Customers were huge fans of the KOIOS, and "easy" was the deal-maker for most reviewers. This juicer is easy to assemble, easy to clean, and easy to use. It can handle all of your tougher produce and stubborn vegetables, including wheatgrass. The KOIOS Slow Masticating Juicer is an amazing combination of price and quality that can't be beaten, and that's why it earned our number one spot as the best wheatgrass juicer.
If you're willing to spend a little more on your wheatgrass juicer, you'll definitely want to consider the Omega NC1000HDC. This Omega juicer is perfect for wheatgrass (and everything else), has the same 80-RPM spin rate as the KOIOS, and is equally whisper-quiet. It's more or less up-hill from there, and there are a few reasons you might decide to splurge a little for the Omega NC1000HDC instead of going with the more affordable KOIOS juicer.
Reason #1 to Choose This Product: Zero Prep
If you tend to be in a bit of a rush or just can't be bothered to prepare a lot before enjoying your nutritious wheatgrass juice, this Omega cold press is perfect for you. Often bought for commercial juicing, comes with an extra-wide feeding chute, which means you won't have to chop up your ingredients before putting them in your juice maker. This will really speed up your juicing process and have you enjoying your juice that much quicker, with even less stress.
On top of the wide chute, the auger of this juicer has a higher torque than the KOIOS, which gives it the extra "oomph" it needs to make sure that wheatgrass doesn't get caught and tangled in the auger and jam your machine. This Omega product also has a reverse function to help with any jamming.
Reason #2 to Choose This Product: Everything but the Kitchen Sink
The "Nutrition System" in this juicer's name hints at the fact that it can handle all of your nutrition-based needs. This juicer is designed to double as a food processor, and if you want to have a full, balanced plant-based diet without ever buying prepackaged foods again, it's the perfect machine for you.
The Nutrition System comes with attachments to help you extrude pasta, grind coffee and spices, make delicious nut butter, make baby food and frozen desserts, mince herbs and garlic, and make some homemade soy milk. Wow, that was a mouthful!
Basically, this machine can make anything you can think of. You'll have plenty of complimentary dishes to go along with your wheatgrass juice. On top of all that, this juicer has 5 different settings to make sure you get the perfect juice yield for your ingredients. The Omega Nutrition Center also has the same 7-level spiral auger as the KOIOS, and it has a special dual-stage extracting process.
Users praised the Nutrition Center for never getting clogged and being easy to clean. You may find the five different settings a little overwhelming. But other than that, there's really no downside to this machine other than the price. If you're a connoisseur willing to pay extra for all the best features, you should definitely buy the Nutrition Center. You'll even get an amazing 15-year warranty, courtesy of Omega. If you want a more affordable, more stripped-down product that still delivers, stick with the KOIOS juicer.
Watch the video for a quick demo
If you need a new wheatgrass juicer but don't want another large machine taking up space in your kitchen, the Happybuy Wheatgrass Extractor Portable Wheatgrass Juicer from VEVOR is perfect for you. As the name implies, it's specifically designed for wheatgrass.
It has a simple design that allows you to mount it on your countertop or other flat surface, and it takes up almost no space. It'll fit right in with the decor and feel more like part of your actual kitchen than an extra appliance. Plus, the all-stainless steel design is sleek, easy to clean, and better for the environment than all that plastic. And on top of that, there won't be any runoff in your wheatgrass juice.
This manual juicer has rubber-protected feet that won't damage your surfaces and keep it stable. Plus, it's incredibly portable. While it's intended only for wheatgrass, it can also handle leafy greens as long as you cut them properly first.
The obvious flaw of this juicer is that it's manual, so it'll take a bit of effort to get your juice, and it does feel a little more expensive than a non-electric juicer should be. However, it does have a high yield. The benefit of manual juicers is that they're incredibly easy to use. There are no buttons or features to figure out.
Watch the video for a quick demo
Users overall liked this product, though some didn't like the manual juicer design. Others thought it was okay in theory but took too much effort in practice. That being said, if you want to save room in your kitchen and don't mind getting a bit of a workout in before having your morning juice, the Happybuy Portable Wheatgrass Juicer is exactly what you need to keep everything in your kitchen nice and organized.
Our next juicer is another standard electric juicer, and it's one of the best affordable juicers on the market. Aicok is known for its cheap products, and their Slow Masticating Juicer is right up there with our other electric juicers. It has the same ideal 80 RPM spin rate and the same reverse feature, and it's just as easy to clean and is also dishwasher safe. On top of that, it has a convenient automatic pulp ejection system to speed up the cleaning. You can really see how dry your pulp is and how high your juice yield was.
The biggest issue with this juicer is that there are claims that it's not very durable. So be cautious of that if you're looking for something that will last. It also has a few more removable parts than our other two automatic juice makers, which could be annoying come cleaning time. However, users were overall very positive about this juicer. They have commented that it's easy to use, easy to clean, and an amazing deal considering how cheap it is.
If you're looking for the best way to save and still have fresh wheatgrass juice in the morning, this budget masticating juicer is one of the best options out there. But if you really want something that will last, you might want to spend a bit more and go with one of the other juicers on our list.
Watch the video for a quick demo
If you really need to save and the Aicok juicer didn't quite fit in your budget, you can cut back even more by purchasing The Original Healthy Juicer. This manual juicer looks as compact as the Happybuy Portable Wheatgrass Juicer. It has the portability that you can't find in electric juicers. That's what's comforting about manual wheatgrass juicers.
With an electric juicer, you can juice even tough foods like wheatgrass and leafy greens. So you might feel nervous going with a cheaper option, even if it claims to be up to the task. But with these manual wheatgrass juicers, that's the whole product. Both The Original Healthy Juicer and the Happybuy Portable Wheatgrass Juicer are specifically designed to handle greens like spinach, kale, celery, and wheatgrass. You can really save money if that's all you're concerned with. And you'll still get the healthiest juice possible from those superfoods.
Because it is so inexpensive, the Original Healthy Juicer is ideal if you already have a juicer and just want something special for your wheatgrass. Reviewers raved about how well this manual juicer handled wheatgrass juicing. They pointed out that it's pretty sturdy, so you don't need to be too nervous about really leaning into it. Plus, you can't beat that price. If you want to save room or money or just like the feeling of physically earning your wheatgrass juice, The Original Healthy Juicer is perfect for you.
Best Wheatgrass Juicers That Won't Break the Bank
With the exception of the Omega Nutrition Center, we've done a pretty good job of keeping the juicers on this list cheap. But they might not have been cheap enough, or they just might not have been what you're looking for.
I definitely understand how it feels to be on a limited budget. Just because you can't or won't spend the big bucks doesn't mean you don't deserve delicious and nutritious wheatgrass juice. This bonus section has all the cheapest juicers on the market. Almost by definition, they'll all be manual juicers. We hope you're able to find the best cheap juicer for your kitchen.
Our first budget manual juicer is a little taller but just as slim as the manual wheatgrass juicers on our main list. And it comes with similar suction protection and a clamp to keep it in place. It also features a sleek stainless-steel design. The extra-long shaft helps you get every bit of juice out of your wheatgrass without doing any cutting in preparation. It's completely rust-proof and easy to clean. The taller design is also nice because it allows you to fit a larger cup under the spout and get more juice per serving.
Our final budget option is the cheapest so far. I'd be genuinely impressed if you could find a cheaper juicer anywhere. This manual juicer has a nice plastic finish with a transparent build. You can literally see the gears turning as you crank for some extra satisfaction. There's something therapeutic about manually juicing your own ingredients, so why not get to see the process? It also has an extra-wide feeding bowl and a long spiral auger to help maximize the juice yield. It looks good, performs well, and costs close to nothing. What else could you ask for?
Verdict: Your Best Wheatgrass Juicer
Best Value
If you want the best value for money, pick the KOIOS Slow Masticating Juicer.
It comes in at a great price and really does it all. With a slow spin rate of 80 RPM, the juicer is sure to get all those amazing nutrients from your wheatgrass. Plus, you won't have to put up with any unwanted noise. It also has an important reverse function to help you deal with any jamming. It's easy to assemble, easy to use, easy to clean, and completely dishwasher-safe. This value buy is a great juicer for anyone new to juicing. It's also perfect for pros looking for something that can handle the wheatgrass juicing process.
Space-saver
If you need to save space, pick the Handy Pantry HJ Hurricane Stainless Steel Manual Wheatgrass Juicer.
In such an automated world, it's easy to be a little off-put by manual juicers and view them as outdated or primitive, but there are a lot of benefits to these self-use machines. You might find that putting in some physical effort to get your juice is surprisingly satisfying. A big benefit of manual juicers is that they take up less space. And no manual juicer takes up less space than the Handy Pantry HJ Hurricane.
This manual juicer will help you keep things organized. And you won't have to feel like your kitchen is getting crowded while you get down to juicing a glass of nutritious wheatgrass. It clamps on to your counter, and with its sleek stainless steel design, it'll fit right in with any modern kitchen and begin to feel like part of the decor.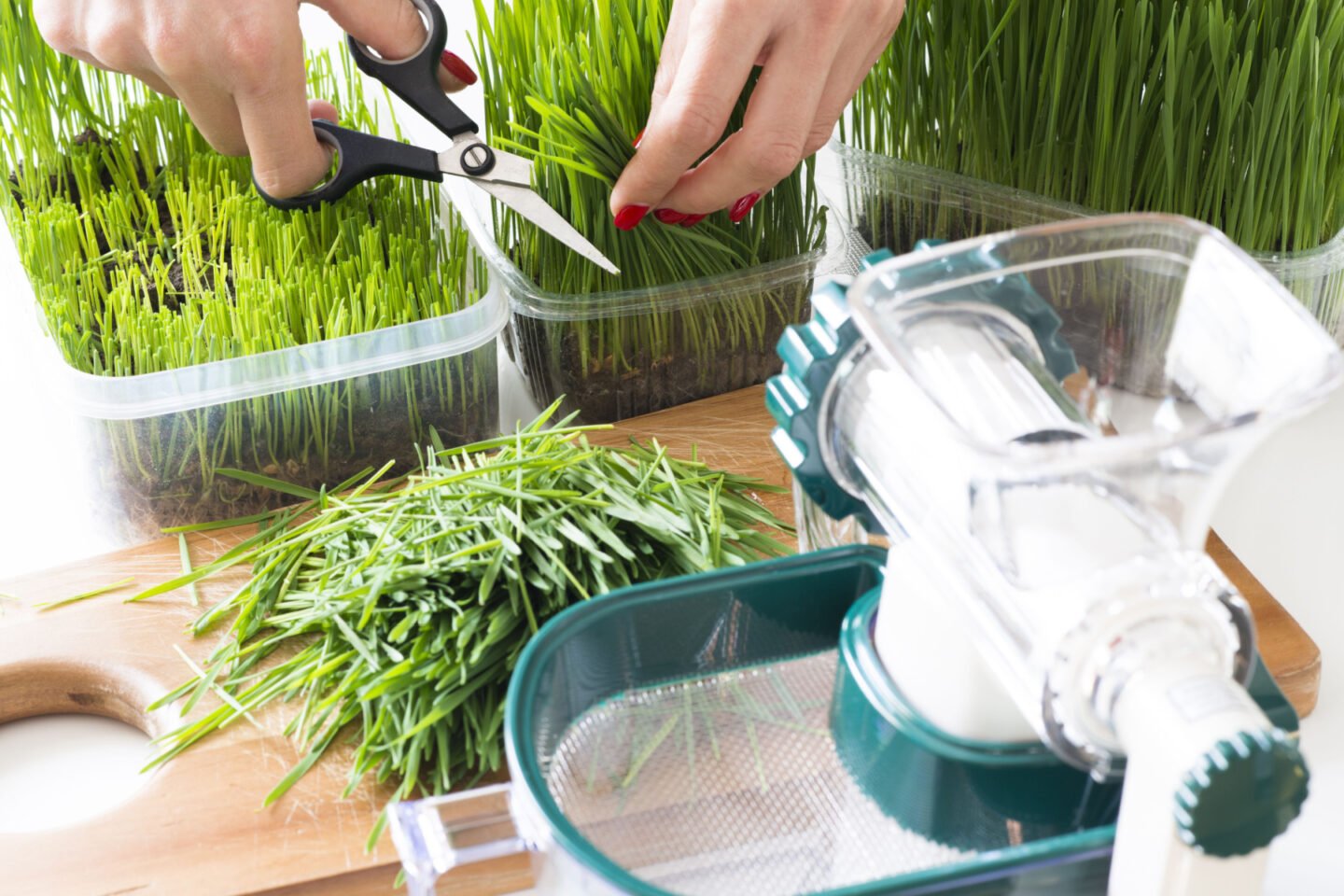 Cost-efficient
If you want to keep the spending low, pick the The Original Healthy Juicer.
Manual juicers are just cheaper by default than their electric counterparts, and this Mueller manual juicer is the cheapest of the cheap. Despite its price, it has a nice design with a visible gear system that will help you notice any problems. It has an ergonomic handle that will fit well in your hand. It will give you the leverage to really crank that crank and get your juice quickly.
Final Words
Wheatgrass is a superfood, but it doesn't seem to want to give you its rich nutrients too easily. No matter what juicer you get, you might find that wheatgrass gives you some trouble. A common lifehack is to juice your more stubborn ingredients, like leafy greens and wheatgrass, in between easy-to-juice fruits or vegetables like apples, oranges, or carrots. So, you should definitely consider trying this at some point while you're working with wheatgrass. In terms of which juicer to buy, you'll need either a manual juicer or a low-speed electric juicer.
You might want our number one juicer for its great price-to-quality ratio, its low motor speed, and its easy-to-use and easy-to-clean design. Or you might want the simplicity of one of our manual juicers. You also might want the Omega juicer, which doubles as a food processor and offers everything under the sun.
Of course, you also might want to do your own research and find your own wheatgrass juicer. In which case, I hope the information we've provided helps you in your search. It doesn't matter which machine you choose to buy for your wheatgrass juicer needs. You'll surely be satisfied with your purchase. You'll enjoy some amazing, nutritious wheatgrass juice that will help you start your mornings off on the right foot.