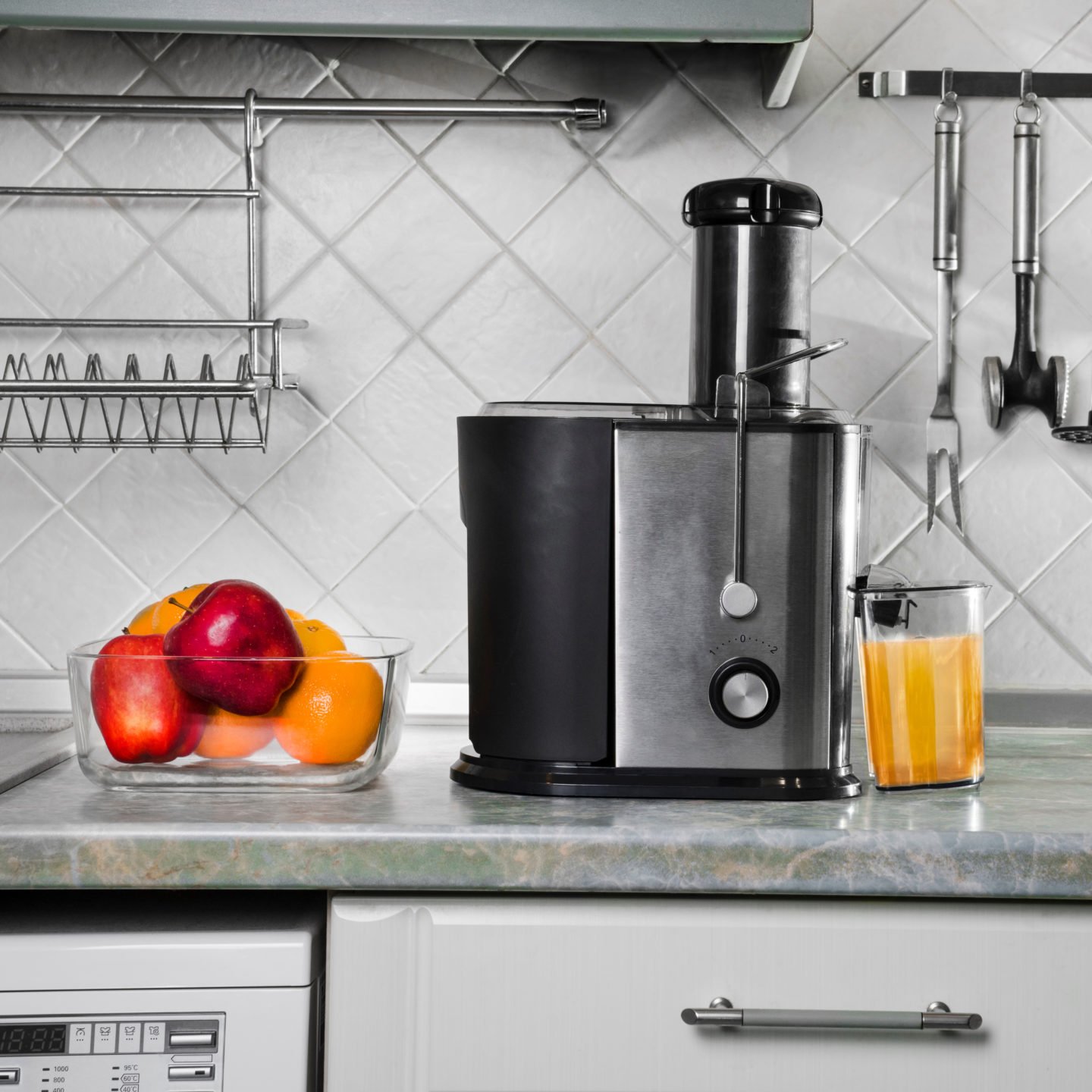 We all love things that make our lives easier. Of course, we want to keep ourselves healthy despite our hectic schedules. Instead of preparing and eating fruits and vegetables, which can take a lot of time, juicing is a more convenient way to keep our bodies in optimum health.
Although useful, many complain about most juicers' size and weight. Some of the most trusted masticating juicers weigh up to 24 pounds and occupy considerable space in the kitchen. If you're someone who wants to keep everything tidy and minimalist, then you might want to consider purchasing a small or mini juicer.
Small, compact, or even mini juicers save you space and cost less than traditional, huge juicers. Of course, those big machines have advantages and other attachments, but in this article, we will be presenting our top small juicers that are best in performance, quality, and price.
Table of Contents
Overall Best Compact Juicer: Hurom Hp Slow Juicer
Hurom Hp Slow Juicer
This compact juicer's squeezing screw is made up of Ultem, which is eight times tougher than typical plastic and can last a lifetime.
Pros: Aesthetic; easy and quiet operation; more juice yield; comes with a magazine-type juicing recipe book
Cons: Cleaning might be a little challenging; narrow feeding chute; expensive for a compact juicer
The Hurom Hp Slow Juicer is undoubtedly our top compact juicer for its premium elegant aesthetic design and high extracting performance. The auger spins at 43 rotations per minute, squeezing all the liquid out from the pulp instead of shredding it and leaving the pulp without moisture.
This masticating juicer comprises several pieces, the most important one being the robust body composed of impact-resistant ABS plastic. The chamber is made from tough Tritan, while the squeezing screw and filters are made of Ultem, which is eight times tougher than typical plastic.
The pieces might be confusing to put together at first, and cleaning might be tricky, even taking more time than the juicing process itself.
Since it's a masticating juicer, making nut butter and making milk from beans are much more efficient. To top it all, the juice extracted using this small juicer is expected to have at least 72 hours of shelf life, which centrifugal juicers can't offer.
Overall, this machine is worth every dollar spent for its quality and desirable results.
Best For Everyday Use: Breville BJE200XL Juice Fountain Compact Centrifugal Juicer
Breville Juice Fountain Compact Centrifugal Juicer
With a 3-inch chute, less preparation time is required, making this perfect for everyday use.
Pros: Speedy extraction; nutrient-filtering system; large chute; pulp collector; has a safety lock that secures parts in place
Cons: Darker-colored, frothy juice due to oxidation; loud
Because it is a speedy and powerful machine, the Breville Juice Fountain Compact Centrifugal Juicer will appeal to anybody who values their time. The juicer features an extra-large, 3-inch feeding tube on the top that can fit whole fruits. This reduces the amount of preliminary work necessary before you begin juicing.
Inside, a stainless-steel cutting disc surrounded by a micromesh filter aids in high-speed juice extraction. Because of its design, the small juicer extracts 30% more healthy juice and up to 40% more vitamins from the fruits. Also, the Breville Juice Fountain features non-slip feet and does not move around much when in use.
However, one disadvantage of this small juicer is that it lacks a separate pulp container. The pulp accumulates within the machine, and you must open the juicer and remove the pulp if you juice for a long time. To minimize splashing, just keep the feed chute covered during juicing.
Because of the speedy rotations, heat accumulates in the machine, causing oxidation and shortening the juice's shelf life. However, if you plan to drink the juice immediately, we highly recommend Breville Juice Fountain Compact.
Best Juicer for Value: Bagotte Compact Juice Extractor
Bagotte Compact Juicer
With a 2-speed setting and stainless steel exterior, this centrifugal extractor will help you enjoy juicing without breaking the bank.
Pros: Highly affordable; automatic heat regulator; safety lock; very easy to use; relatively quiet
Cons: Internal parts made of plastic; no warranty
If you're after affordability, the Bagotte Compact Juicer is the one for you. With a 400-watt machine and its two-speed setting, juicing both soft and hard fruits and vegetables can be done in seconds. Unlike other small juicers in the same price range, this machine brings more to the table in terms of results.
Some of the features that we appreciated in this compact juicer are the safety lock and anti-overloading mode. The juicer automatically turns off when overheating, so we recommend this model for beginners who prioritize savings and safety.
However, you can't fully expect an all-steel part at this price. Some of the machine parts are made of plastic.
Also, some might not like the automatic overheating feature, as it stops the juicer entirely. The juicer might take a while to cool down, prolonging juicing time. Nevertheless, trying it out will be a good experience for its very affordable price.
Best Juicer in Size: Dash Compact Cold Press Juicer
SAVE 17%
Dash Compact Cold Press Juicer
This very small and lightweight cold-press juicer provides the best quality healthy juice for a very affordable price.
Pros: Maintains juice quality; space-saving; user-friendly; affordable
Cons: Small pulp exit hole; has difficulty juicing more fibrous produce like pineapple and celery; longer preparation and juicing time
We recommend the Dash Compact Cold Press Juicer if you want a small yet aesthetically pleasing juicer. It's a handy juicer weighing only 3.4 pounds and occupying only 5 inches of space. Not only that, but this model is a masticating juicer, which assures less damage to the proteins and other nutrients in the juice.
This compact machine is designed for heavy-duty use, with a reverse button to help release particles that might get stuck in the auger. Reviews on this product also claim this to be a good choice when making nut butter. The machine also comes with a pulp collector, juice jug, and a cleaning brush for convenient cleaning.
However, our main concern with this product is its incompatibility with fibrous fruits and vegetables, including some of the most famous juiced produce — pineapple and celery. Also, this comes with a 1-year warranty, which we think is too short.
But overall, if you're after a masticating juicer that saves you both space and money, we would still recommend the Dash Compact juicer.
Best Compact Masticating Juicer: Kuvings Whole Slow Juicer
SAVE 14%
Kuvings Whole Slow Juicer
This masticating juicer will bring you quality juice for years.
Pros: Minimizes oxidation; wide feeding chute; premium design; 240-watt motor
Cons: Quite expensive; heavy for a compact juicer; longer extraction time
Kuvings Whole Slow Juicer is the juicer to get if you want premium quality, performance, and results. This compact juicer can make juices, smoothies, and sorbets at 60 rotations per minute, ensuring every drop of juice yield is collected from the pulp.
We appreciate the design of this model, made to fit in a 10-inch space. Plus, the body is transparent with a translucent chopper, which lets you view the whole extraction process. A built-in juice jug is attached to the body with a smart cap to prevent leakage. This machine is also very quiet, and if you're the type who doesn't want to disturb the whole household, you might want to try this one.
However, this being a slow juicer means it takes more time to juice than centrifugal juicers. Also, this model has a narrow chute, which will require you to slice your produce into little chunks. Nevertheless, this model is our pick for the best masticating juicer and is worth the investment.
Best Juicer for Speed: Cuisinart CJE-500 Compact Juice Extractor
Cuisinart CJE-500 Compact Juice Extractor
The 19,000 RPMs produce juice within seconds—perfect for your daily morning routine.
Pros: Large chute; fast extraction technology; high-capacity pulp and juice collector; budget-friendly
Cons: One-speed setting; causes oxidation
The Cuisinart CJE-500 Compact Juice Extractor is the one to have if you want an affordable, speed compact juicer. At only 8 pounds, this machine is a powerhouse that can rotate up to 19,000 times a minute and shred hard fruits and vegetables within seconds, perfect for those who are always in a hurry.
The compact design with its black finish and silver/chrome ornamentation is quite appealing. It might be compact, but it holds a large pulp collector that can catch up to 40 ounces and a juice jug that can hold up to 16 ounces of juice.
Aside from those, this machine is straightforward to assemble and operate, and all removable parts of this machine are dishwasher-friendly.
However, if you're after the longevity of the juice yield, you might want to reconsider. This is a speedy machine, and oxidation takes place with speed. Since the juice produced by this machine only has a 24-hr shelf life, you should consume it immediately.
Best Lightweight: Mueller Austria Juicer Ultra Power
SAVE 29%
Mueller Austria Juicer Ultra Power
With a 1,100-watt motor, this 2.2-pound centrifugal compact juicer extracts juice in seconds.
Pros: Two-speed setting; large pulp collector; safety lock; noise reduction system; affordable
Cons: Juice has a short shelf-life; does not catch all the pulp
We recommend the Mueller Austria Juicer Ultra Power if you want something handy. This 2.2-pound lightweight centrifugal juicer may appear light-duty, but it has a 1,100-watt motor that can shred even the toughest fruits and vegetables.
An Italian micro-mesh filter surrounds the stainless steel cutting plate, extracting a lot of juice while keeping the nutrients. However, some of the excess pulp goes into the juice and can bother some people.
Like other centrifugal juicers, this model also turns off to avoid overheating, which can be a hassle to those in a hurry. However, if you want a handy juicer for out-of-town getaways, this is what we recommend.
Best Juicer for Compact Design: Hamilton Beach HealthSmart Juicer
Hamilton Beach HealthSmart Juicer
This elegant-looking 5.9-pound compact juicer has a 400-watt motor and is a crowd favorite.
Pros: Elegant-looking; very affordable; produces juice in seconds; dishwasher-friendly parts
Cons: Loud; Not for juicing soft fruits and extracting green juice; not heavy-duty
Despite its elegant design, Hamilton Beach HealthSmart Juicer is surprisingly one of the most affordable small juicers in the market. With its 400-watt motor, this machine can produce juice within seconds.
The matte-finished exterior is made of plastic, and the machine comes with an external pulp collector, giving you an uninterrupted juicing experience. It does not come with a juice jug out of the box, but you can always use a tall glass as a substitute.
When it comes to performance, this compact juicer does well with tough produce, but it might not be ideal for people who want to produce green juice and soft juice fruits.
Also, because it is mainly made of plastic, most of the complaints about this model are its fragility as it chips and gets broken easily. However, the machine does come with a 3-year company warranty.
Best Juicer for Leafy Greens: Hamilton Beach Juicer Machine
SAVE 19%
Hamilton Beach Juicer Machine
This 800-watt compact machine allows quick juicing of leafy greens without any complications.
Pros: Extra-large pulp collector; beginner-friendly; very easy to clean
Cons: Does not appear compact due to its features
If you're into juicing greens, Hamilton Beach Juicer Machine is a powerful tool since it contains an 800-watt engine that can quickly transform leafy greens into juice.
Its extra-large pulp bin allows you to juice many fruits and vegetables without worrying about the pulp. The only drawback to this large bin is that it increases the size of the juicer, but the advantages far exceed this minor drawback.
We also like this compact juicer for its 3-inch chute, which allows you to put even whole apples in it. This feature helps consumers cut preparation time in half and proceed to juicing right away.
However, this is a centrifugal juicer, which operates loudly and causes some oxidation. Nevertheless, this is the best seller in Amazon's centrifugal juicers section.
Best Compact Juicer for Celery: Omega Vertical Low-Speed Juicer
SAVE 11%
Omega Vertical Low-Speed Juicer
The dual squeezing technology of this compact juicer lets you extract all the liquid in celeries.
Pros: Froth-free juice; dual squeezing mechanism; promises a nutrient-rich juice
Cons: Cleaning the parts is tedious; squeezing screw is easily stained
Since juicing celery is a challenge, we recommend the Omega Vertical Low-Speed Juicer. This slow masticating juicer sucks the celery to its auger, so you won't need to push it. With its low-speed (80 RPMs) squeezing, you can easily extract all the juice from the fibrous stalks of celery.
The main feature of this Omega juicer is its dual-squeezing mechanism, as it squeezes the pulp one last time before pushing it out to the pulp collector. This assures that consumers get all the juice, leaving the pulp without moisture.
However, cleaning the parts might be a struggle for beginners, as the major concern of most users is the staining. Since celery is known to leave green or brown stains, cleaning the auger and the rest takes so much time.
Overall, the only drawback of this compact juicer is the staining, and we still like its performance.
Best Affordable Citrus Juicer: Black&Decker CJ625 Compact Juicer
Black&Decker CJ625 Compact Juicer
This citrus juicer weighs only 2 pounds but does a marvelous job juicing citrus fruits with its auto-reversing technology.
Pros: Extremely affordable; very easy to use; auto-reversing cone for maximum juice with less effort; readable printed measurement on the juice container
Cons: Can be very loud; plastic material can be chipped easily
The Black&Decker CJ625 Compact Juicer is a low-cost, high-performance citrus juicer that can juice everything from tiny limes to giant grapefruits. With a 30-watt motor and an auto-reversing reamer, it makes quick work of your juicing needs.
It has a shallow basket that collects the pulp, and it comes with two cones. The smaller cone is for juicing small fruits like lemons and limes, while the bigger cone is for juicing larger fruits such as oranges and grapefruit.
An auto-reversing reamer is a helpful tool that aids this citrus juicer in extracting the most juice from your fruit. Some owners have claimed that the auto-reverse function operates too frequently, but owner evaluations are mainly good overall. It does become rather hot when juicing massive amounts, so the best suggestion is to give this small machine a break every now and then.
If you're planning to make large quantities of citrus juice, you will enjoy the 32-oz capacity of this model. However, this citrus juicer is on the loud side.
Compact Juicer Buying Guide
Storage and Size
Size must be a major consideration when purchasing a compact juicer. The smaller and lighter it is, the better, especially if you plan to store it when not in use.
In this review, we had the Dash Compact Cold Press Juicer for the best size and the Mueller Austria Juicer Ultra Power in lightweight. You can always choose small juicers if you wish to prevent them from blocking the design of your minimalistic kitchen.
Speeds
In general, a cold-press juicer and a twin gear juicer operate slower than centrifugal juicers, allowing them to extract more juice from fruits and vegetables. This is the reason it's known as a healthy juicer.
On the one hand, this results in a higher yield with more nutrients. On the other hand, it increases the time commitment required for juicing. When deciding which juicer is ideal for you, consider this: would you rather get more healthy juice or have that healthy juice quickly?
Centrifugal juicers might work for you if you're after speed over quantity. You can choose from the centrifugal juicers that we reviewed above.
Level of Noise
Loud electrical equipment can be annoying, especially if you have kids or neighbors who might complain. As a result, it is critical to select a juicer with a low noise level.
In general, the quicker the juicer, the noisier it is. This is why centrifugal devices are louder than slow juicers.
Among masticating juicers, the ones with the lowest RPM are likely to be the quietest. For the most peaceful experience, search for a product with an RPM that doesn't go much higher than 100.
Cleaning
Almost all juicers are difficult to clean, and the higher-end versions that produce the most juice tend to be the worst in this respect.
If easy cleanup is important to you, consider how many distinct parts the juicer has and whether or not they are dishwasher safe. The more pieces you have, the more cleaning you will need.
In our experience, slow juicers come with more complex parts, which might mean a longer cleaning time.
Price
As with other household equipment, the initial cost of a juicer may affect the quality of your juicing. Many higher-end machines will produce more juice and retain more nutrients, but some more affordable ones may suffice for the average juicing enthusiast with modest expectations.
Keep in mind that juicing may become a costly habit if done daily. Expect to buy a lot of fruits and vegetables to make a small amount of juice. If you plan on juicing more than a few times per week, a more costly juicer's increased yield might be worth it.
Frequently Asked Questions
Why do I need separate equipment for juicing oranges?
Oranges may be juiced using most juicers, but you must peel them first. However, the best orange types to juice (Valencias, Salustianas, Delta Seedless) are also the most difficult to peel. So if you want citrus juice daily, it is typically more convenient to use citrus juicers as the only preparation required with a citrus juicer is to cut the fruit in half.

There are two types of citrus juicers: a manual citrus juicer and an electric citrus juicer. You can manage your pace with the manual citrus juicer, but it can be a tedious job. If you'd prefer to juice a citrus fruit quickly, go for the electric citrus juicer.
Is it best to use a slow masticating or centrifugal juicer?
Both of these juicers have advantages and disadvantages. Most masticating juicers require you to cut fruits and vegetables into small bits before juicing them. They do produce more juice with a high concentration of nutrients, but they take a very long time to do so.

On the other hand, centrifugal juicers can rapidly produce a large amount of juice, and some can even juice whole fruits and vegetables. However, they produce less juice and nutrients.
Is it okay to put frozen fruits (like berries) in a compact juicer?
It is okay to juice frozen fruits and vegetables. When they're completely frozen and stiff, you can let them thaw first before juicing them. That way, your juicer won't have as much trouble.

If you wish to make smoothies, frozen or cold fruits are an excellent way to go.
Do I need to clean my compact juicer immediately after use?
Yes, juicers are meant to be cleaned and washed after every use. Most fruits and vegetables have staining abilities that can damage your juicers' appearance. Moreover, some fruits are acidic, and not cleaning your juicer after use can lead to rust and dirt build-up, which is hard to remove.
Is a compact juicer the best juicer to buy for home use?
This is all based on your needs. If you have a big family, a bigger juicer might suit you. But if you live alone, a compact juicer is best for you. It's relatively cheaper, does not occupy much space, and produces good quality juice like the larger ones.