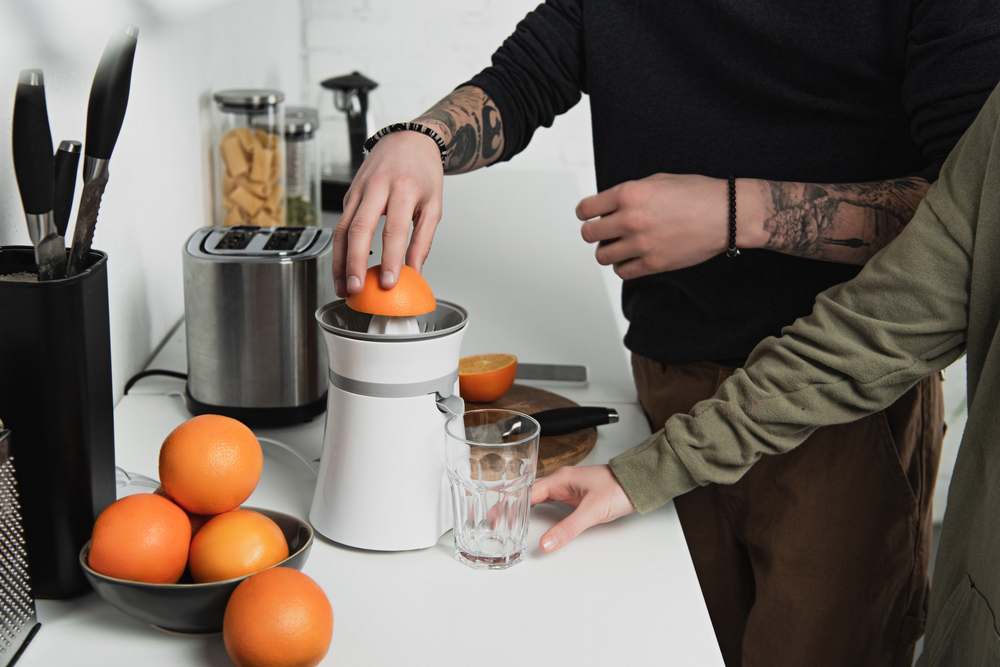 Do you want to get into juicing but feel that all of the juicers are way outside your budget? Trust me, I get it. Kitchen appliances can get pretty expensive, and it's daunting to blow money on a product when you're not sure you'll get your use out of it, especially if you're not familiar with the market and might be nervous that you're getting ripped off.
That's why we're here to walk you through the process and make sure you're able to get a juicer that gets the job done and fits in your budget. We've written this article about the best affordable juicers to help you get started on that healthy diet without completely breaking the bank.
Keep reading to see our full list of the best affordable juicers, followed by a breakdown of what sets each juicer apart. Or, skip to our number one budget juicer on Amazon by clicking here.

Table of Contents
What's the Difference Between the Two Types of Juicers?
There are two main types of juicers - high-speed juicers and low-speed juicers. High-speed juicers, which are also known as centrifugal juicers, unsurprisingly give you your juice much quicker than low-speed juicers do. They work by using a fast-spinning disc blade and a strainer to cut and mash your fruits and vegetables. This gets the job done quickly, but it also creates a lot of friction heat, which causes your ingredients to oxidize. This means that your juice will be missing a lot of the healthy nutrients that were originally in the fruits or vegetables you used as your ingredients. Because of their stronger motor, centrifugal juicers also tend to be much louder than slow juicers, though they're also cheaper.
Slow juicers, also known as masticating juicers or cold press juicers, use a slowly rotating drill or auger to extract juice from your ingredients. This takes much longer than the centrifugal juicer juicing process, but it generates much less heat and yields a fresh juice that's rich in vitamins and nutrients. Masticating juicers are also much quieter than centrifugal juicers, but they're also much more expensive.
When you're looking for affordable juicers, you'll mostly want to focus on centrifugal juicers, and though we included a few masticating juicers, this list will mostly contain faster juicers, more by consequence than by design.
What Should You Look For in an Affordable Juicer?
While assessing affordable juicers, we focused not just on finding you the cheapest juicers on the market, but cheap juicers that actually perform well. We used the following criteria to evaluate the overall quality of a juicer.
Criteria #1: Speed - What constitutes a good speed will depend on which type of juicer you're looking at. If we're discussing a centrifugal juicer, then we know you've already accepted that you may not be getting the healthiest juice possible, and we'll want to focus on speed more than anything. The main indicator of a juicer's speed will be the strength of its motor, which is measured either in watts or horsepower.
With slow juicers, it's a bit more complicated. We want a slow juicer that will give you that superfood-level healthy juice, but we don't want you to buy a machine that takes an unnecessary amount of time to get anything done. The speed of slow juicers is measured in RPM (rotations per minute), and 40 RPM is considered the golden ratio of speed-to-quality in a masticating juicer. That being said, most slow juicers will probably have an RPM that's somewhere between 80 and 120 RPM.
Criteria #2: Design - This final criterion is a bit of a large tent. First, there's the actual shape of the juicer. Both fast and slow juicers come in two main shapes - vertical and horizontal. Vertical juicers are more compact, and typically cheaper, but are more minimalist and don't usually have any extra features. Horizontal juicers are a bit bulkier but have those extra features that might tip the scale in their favor.
Aside from the shape, we'll want to check the size of a juicer's feeding chute. (A large feeding chute will save you a lot of time by giving you less prep work to do.) We'll see if the juicer has multiple speeds and if it has a reverse function to help unclog itself if something goes wrong. In addition to that, a juicer may have a larger pulp container, to save you from constantly cleaning up, or multiple screens, so you can choose exactly how much pulp you want in your juice. Of course, we'll also want a machine that's easy to use and easy to clean. There's no real reason to give an objective measurement on the design of a juicer, but we'll try to give you all the relevant information, so you can make your own decision.
Our Top 5 Best Affordable Juicers of the Year
Using the criteria above, we looked for the cheapest quality juicers on the market by comparing their price to their listed specifications. We also read multiple reviews to make sure that these products performed as advertised.
And without further ado, here are our best affordable juicers.
Our list starts with the Aicok Juice Extractor, and trust me, this will not be the last Aicok product on our list. When it comes to affordable juicers, it's no exaggeration to say Aicok is the king of the hill. This juicer is powered by an 800-watt motor and has two speeds, so you'll get some versatility and the option to be slow if you want to be when you're juicing more delicate soft fruits and vegetables.
You're getting a great juice yield and more nutrients than you do from most centrifugal juicers too. Aicok boasts that "compared with the 2018 version of the juicer, at the same price, it has a higher yield, extracting up to 10% more juice and 15% more vitamins and minerals than before."
On top of the fast speed and high juice yield, this machine is well-designed and incredibly easy to use. The Aicok Juice Extractor has a convenient 3-inch wide feeding chute that's wide enough to fit a whole apple without any recutting. Even with extra-large produce, you'll only need to cut your ingredients in half once before shoving them right into your juicer and letting Aicok do the rest of the work.
Plus, the juicer comes with a large 37-ounce juice jug so you can get a large serving out of one juicing session and not be constantly running back to your juice maker. This is perfect if you plan on coming back for seconds or having guests over.
Reviewers raved about this juicer, specifically pointing out its cheap price. Customers loved how easy to assemble and easy to clean the Juice Extractor is, and also pointed out that it's surprisingly quiet even with its stronger motor.
Aicok really knows how to make good products that don't cost an arm and a leg. With this juice maker, you're getting an affordable product that will give you good juice quickly, and it won't even make a lot of noise or give you a hard time during cleanup. This centrifugal juicer is our number one affordable juicer.
Here you get a cold-press juicer instead of a centrifugal juicer, for a fairly similar price.
As a slow juicer, it's going to be more expensive than the standard Juice Extractor in #1, but it's still pretty cheap. There are a few reasons (besides the healthier juice) you might decide it's worthwhile to spend more for the Slow Masticating Juicer.
Reason #1 to Choose This Product: Versatility
With its two speeds, our centrifugal Aicok Juice Extractor is pretty versatile in comparison to other fast juicers. It can juice apples and oranges with no problem and still handle more stubborn vegetables like celery and kale.
But slow juicers are just a different ballgame when it comes to versatility, and the AMZCHEF slow juicer is on the more versatile end even compared to the tougher competition. Just by being a slow juicer, it can handle apples and other fruit with no problem and give you a much better yield on celery, wheatgrass, and other produce than the faster juicers can.
This juicer has a smaller feeding chute than the our number one product, but it comes with an amazing ice cream extension, so you can make delicious, creamy, homemade sorbet in your kitchen. It can even make baby food, so you'll be able to forget about that food processor you wanted to buy, and get all of your homemade juice, ice cream, and baby food from one cheap machine.
Reason #2 to Choose This Product: Simplicity
You don't need to be a rocket scientist to operate the AMZCHEF juicer. It comes apart neatly into different components, is completely dishwasher-safe, and has a reverse function to help deal with clogging. It only has one speed, but since, as a masticating juicer, it's already more flexible than our number one pick, this just means fewer options you need to worry about. It even comes with a recipe book, so the actual juicing will be just as easy as using the machine.
You're paying more for this juicer, but it's still one of the cheaper slow juicers on the market. And for its affordable price, you're getting a machine that gives you the healthiest juice while emitting almost no noise. It can handle all of your fruits and veggies and leafy greens.
Another benefit of slow juicers is that the juice stays fresh for longer than the juice from centrifugal machines. The juice from this model stays fresh for up to 72 hours.
Reviewers really raved about this product. They talked about how easy to use and easy to clean it is and how well it handles everything from fruits like apples and oranges to leafy greens and vegetables. Plus, they loved the large chute and the ice cream attachment and pointed out that this juicer is a great deal for its price.
The choice between our first two juicers is clear, depending on what you're looking for. If you tend to be in a rush, don't want to wait for your juice, and don't mind getting a little froth, then the Aicok centrifugal juicer is definitely what you want. You'll even save some money. But if you want the healthiest option and the ability to juice all of your fruits and vegetables, plus the option to make ice cream and baby food, you'll definitely want to go with this slow juicer from AMZCHEF.
#3:
No products found.

(Cheapest Centrifugal Juicer)

No products found.

Our first non-Aicok product and the cheapest centrifugal juicer on our list is the Fochea Juice Extractor. This fast juicer costs almost nothing and is an amazing option if you're looking to save as much as possible or want something smaller for your kitchen. Whether its because you have less room, or because you want something personal for yourself, this smaller juicer's 450-milliliter tank is perfect for single-serve use.

One advantage this machine has over our top centrifugal juicer is that it comes with a 1500-milliliter pulp container to save you some effort on cleanup later. That being said, with only 400-watts, its motor is half as strong as the Aicok juicer's motor. This shouldn't cause you any problems, and juicing those softer fruits and veggies won't be an issue, but you'll probably have to wait a bit longer to get your juice.

The feeding chute is also a little smaller - about 2.5 inches compared to the 3-inch chute of the Aicok product. That's still decently wide though, and while you may have to do some cutting as prep work, you won't be sitting there chopping your ingredients into tiny pieces before you're ready to juice them.

The Fochea Juice Extractor has three speeds compared to the two-speed Aicok juicer, but the Fochea product's fastest speed, which is listed as a pulse setting, is only intended to be used to unclog the machine. This is a very straightforward juicer to help you get a nice drink in the morning, and its size makes it great for a smaller apartment or anyone living alone.

Some reviewers reported issues of this machine breaking, though it does come with a two-year warranty so hopefully this won't be an issue. Besides that, reviews were overall very positive. Customers called this juicer easy to use and a great value for its price.

If you're torn between this juicer and our centrifugal juicer from Aicok, think about what it is you want from your juicer. If you're just looking for the cheapest possible option, then it's an open and shut case for Fochea. Price aside, you might like the smaller size of the Fochea model and its pulse speed for unclogging the machine. You might also be won over by its pulp container. Or you might want to spend more for the bigger Aicok machine and its motor that's twice as strong as that of our Fochea juice maker. Either way, you're walking away with a rock-solid centrifugal juicer that comes at a great price.
#4:
No products found.

(Cheapest Slow Juicer)

No products found.

Aicok is back on our list, and this time it's with the cheapest masticating juicer that you're likely to find. Seriously, if you find a cheaper one please tell me. This Aicok model comes with a 7-level spiral auger that juices your fruits and veggies in 7 different stages to maximize juice yield and minimize oxidation.

It runs at the same quiet hum as our main masticating juicer, emitting less than 60 decibels of sound, which is the volume of an average speaking voice, so you won't have any problem hearing yourself over this machine. It has an automatic pulp ejector to help you out with the cleanup effort. This juicer runs at a spin-rate of 80 RPM, which is 10 RPM faster than the Aicook model, so there may be some loss of nutrients, but the honest truth is you probably won't notice a difference.

There's not much else to say about this juicer that wasn't covered in our review of the Aicook product. The two juicers are very similar, with this Aicok model being cheaper and just a bit smaller and less powerful. Reviewers loved it just the same, pointing to its price and easy-to-use design for why this is a great slow juicer for your kitchen.

The choice between the two budget masticating juicers on our list is a simple choice following a cost-benefit analysis. Do you think that the difference in price is worth taking a slightly worse product? Or would you rather splurge a little, still without paying all that much in total, and get a better juicer? At this point, you're mostly paying for the lower RPM found in the Aicook model, and for the extra ice cream attachment, so if those are deal-breakers for you then definitely spend the extra money. Otherwise, you might find that you won't miss the difference, if you decide to be frugal and buy the cheaper juicer.
Manual juicers are the cheapest juicers on the market, and I really don't think you can find a cheaper manual juicer than Mueller Manual Juicer. If you don't mind getting your hands dirty and sweating a little for your juice, you may want to think about choosing a manual juicer for your kitchen. Remember, there are actual benefits to going with a manual juicer over an electric juicer other than the price.
Manual juicers are incredibly small and more versatile even than some masticating juicers. The Mueller juicer can handle basically any type of produce you can think of. It can juice all of your fruits and vegetables, including fruits like apples and oranges, vegetables like celery, and those tougher leafy greens and wheatgrass which give a lot of electric juicers a harder time. Plus, its size, in tandem with the fact that it doesn't run on electricity, means it's completely portable. You can bring this juicer with you when you go camping, or for a picnic in the park, or even just make yourself a batch of fresh juice during your lunch break.
All of the parts to this manual juicer are completely detachable, which will be great when it's time to clean up, and each part is dishwasher-safe. The Mueller manual blender has a sleek transparent design so you can literally see the gears turning while you crank away for your juice. Besides looking nice and being pretty satisfying to watch while you work for your juice, this will come in handy if there are ever any jams because you'll be able to see exactly where the problem is.
If you have any disabilities or just want the convenience of an automatic machine, then this manual juicer is probably not for you. But if want the option to be able to juice anything under the sun, and you want to be able to have your own homemade juice wherever you go, this portable, man-powered machine is a great purchase for your kitchen or wherever else you decide to bring it.
Verdict: Your Best Affordable Juicer
If you want the best value for money, pick the No products found..
This juicer is one of the best budget juicers out there, with its 800-watt motor that will give you your juice as quickly as possible. That, combined with its larger size, makes this juicer amazing for entertaining a few guests. You'll be able to make a lot of juice, and you'll be able to do it quickly. Plus, it has a wide feeding chute that means you won't have to waste time cutting up your ingredients. Reviewers even said it was quiet, despite its strong motor. This is the best budget juicer on our list.
If you need the healthiest juice, pick the No products found..
Slow juicers are a health nut's best friend. These machines will help you get all of the nutrients you need for your strict diet in one convenient juice. And this Aicook product is probably the best deal you'll find for a slow juicer. It works at a slow 70 RPM to give you the best possible juice. It even comes with an attachment to let you make baby food and homemade sorbet or ice cream. Plus, this machine has a simple keypad to operate it, and with only one speed, the juicing process has never been simpler. This juicer is a must for anyone who needs a simple way to get healthy juice without spending too much.
If you want to keep the spending to an absolute minimum, pick the Mueller Manual Juicer.
In a list of budget juicers, this manual, crank-operated juicer is the cheapest of the cheapest. But don't be fooled into thinking you're buying a piece of junk that won't last. This is a great portable alternative or specialty juicer for all of those more stubborn ingredients like leafy greens and wheatgrass. The Mueller juicer is a great purchase if you just need a little something extra for when you're traveling or for specific ingredients. It's still reliable as your go-to juice maker.
That's it for our list, but remember, there are affordable juicers that we didn't list in our article that you might find out there. If none of the juicers we discussed were quite what you're looking for, it'd be worth it to know which brands to check out. I'd specifically recommend Aicok, Hamilton Beach, and Oster if you're looking for cheap juice makers for your kitchen.
As far as our juicers go, the choice might seem difficult, and it's important to think about what you're looking for. If you want the absolute cheapest option or something that's portable, then you'll need the Mueller manual juicer. If you know you need the healthy juice that only comes from a slow juicer, but you don't want to spend too much money, you should consider the Aicok Slow Masticating Juicer Extractor. And if you need the convenience of a centrifugal juicer but really want to save every penny you can, definitely look into buying the Fochea centrifugal juicer. We hope that this list has helped you save some money while you join the juice trend and we hope you enjoy the delicious juice!