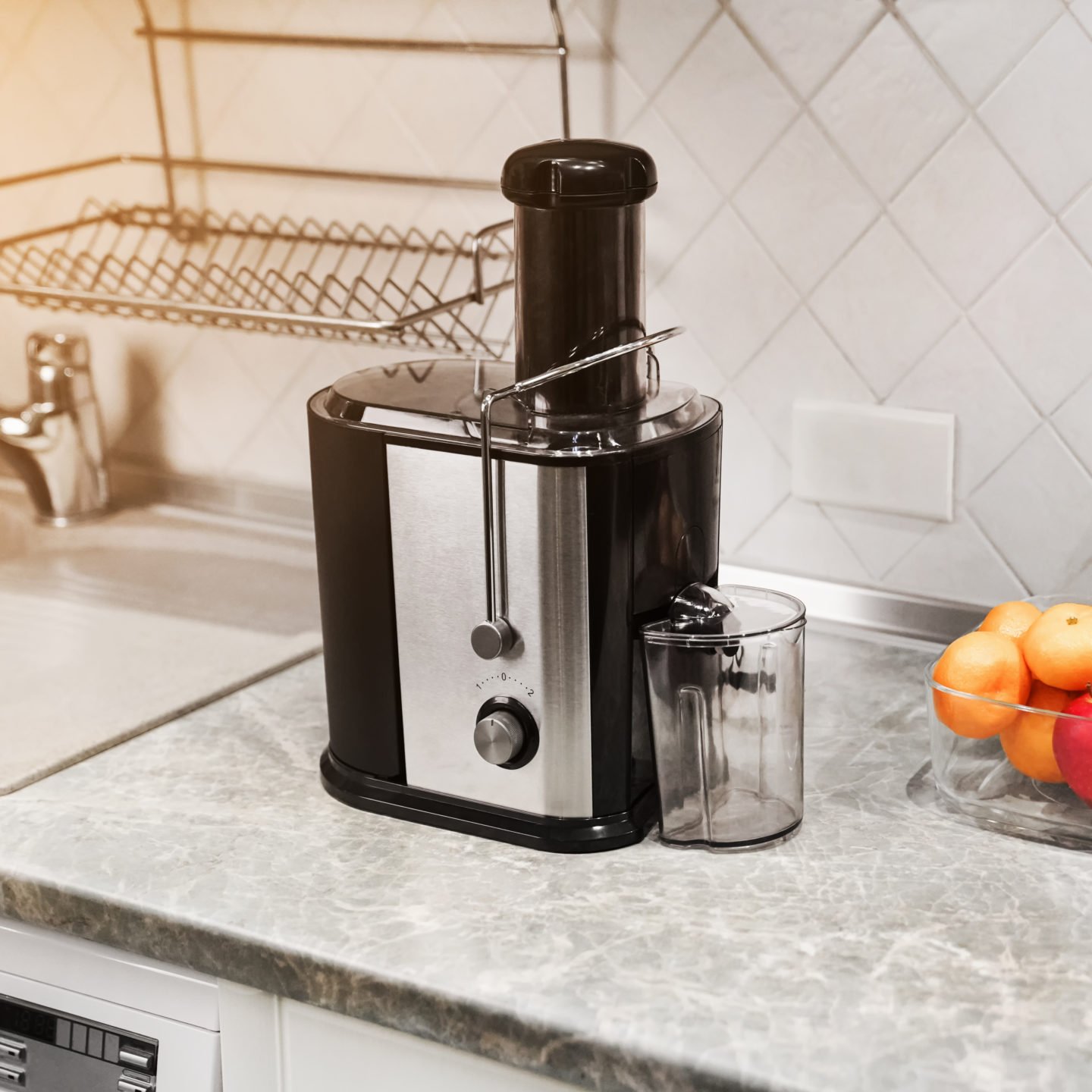 Juicing is one of the trends that has proved beneficial in many ways, especially when it comes to efficiency. With juicing, you get all the nutrients from fruits and veggies while saving time and energy in the process. However, juicing is relatively expensive, so you'll want to invest in the best juicer you can afford.
Of course, expensive juicers come with numerous attachments and other technology, but some beginners want to start with more affordable options. Affordable doesn't necessarily mean cheap build and low quality, though. The brand, type of materials used, and even the motor power all contribute to the price of a juicer.
In this article, we will provide information on the most affordable juicers in the market and help you decide which one is the best budget juicer for you.
Table of Contents
Best Overall: Breville BJE200XL Juice Fountain
The Breville BJE200XL Juice Fountain is our top pick as it is perfect for everyday use, has a titanium build, micro-mesh filter, and a froth separator that gives you clearer juice. This machine also has a 3-inch chute, making the whole process easier.
This juicer has non-slip feet that do not move around much when in operation. However, one downside is that it has a built-in pulp collector. The pulp builds up within the juicer, and you will need to open the juicer and manually remove the pulp after some time. To avoid splashing, just cover the feed tube while juicing.
Moreover, heat generates in the machine due to the fast rotations, which causes oxidation in the juice output and reduces the shelf life of the items. However, if you want to receive nutritious beverages that you can drink right away on the go, we recommend the Breville Juice Fountain Compact.
Best For Everyday Juicing: Hamilton Beach Juicer Machine
We recommend the Hamilton Beach Juicer Machine for everyday juicing. With its 800-watt motor operating at 12,000 RPMs, juicing becomes an effortless task, perfect for a daily routine.
Dubbed as "Big Mouth," this machine has a very wide chute, which lets you feed an entire apple, peeled orange, and more fruits and vegetables without the need for prior cutting. This means cutting the preparation time by half when using this juicer.
Moreover, this juicer comes with an extra-large pulp collector, allowing you to juice for longer periods without worrying about removing the pulp. All the parts easily come together and are dishwasher friendly, making it a perfect companion for everyday juicing.
However, this juicer has only a one-speed option, which means its capabilities are limited to juicing hard produce and is not suitable for juicing greens and making nut butter and sorbets.
Still, if you want to make fruit and vegetable juices, this will be a good choice for you. With its three-year warranty, this affordable juicer is also great for beginners.
Best Masticating Juicer: Hurom Hp Slow Juicer
The Hurom Hp Slow Juicer is, without a doubt, our best affordable masticating juicer. This Hurom HP Slow Juicer earns the top rank in our review, from its premium attractive aesthetic design to its excellent extraction performance. The auger, which spins at 43 revolutions per minute, squeezes all the liquid out of the pulp rather than shredding it, conserving every juice drop and leaving the pulp dry.
This masticating juicer has various parts, the most essential of which is the sturdy body, which is constructed of impact-resistant ABS plastic and weighs the most. The chamber is constructed of robust Tritan and the squeezing screw and filters made of Ultem, which is eight times stronger than standard plastics.
However, the components may be challenging to put together at first, and cleaning may take longer than the juicing process itself.
While masticating juicers produce a high juice yield, they might not be a choice for busy people who are always in a hurry as the cleaning process also takes time. But if you're after a long-lasting juice with little to no oxidation, we recommend this model for you.
Best For Citrus: Black&Decker CJ625 Compact Juicer
The Black&Decker CJ625 Compact Juicer is a low-cost, high-performance citrus fruit juicer capable of juicing everything from tiny limes to massive grapefruits. With a 30-watt motor and an auto-reversing reamer, it gets the job done quickly.
It consists of a shallow dish with a pointed cone or reamer and two cones. The smaller cone is for juicing tiny fruits such as lemons and limes, while the larger cone is for juicing larger fruits such as oranges and grapefruit.
The auto-reversing reamer is a useful feature that helps this citrus juicer extract as much juice as possible from your fruit. However, due to its rapid rotations, the machine can accumulate heat, and it might need to rest from time to time.
This budget-friendly citrus fruit juice extractor retails for a very affordable price. It has a jug that can hold up to 32 oz of juice, but it can be loud.
Best For Juicing Celery: Aeitto Celery Juicer
The Aeitto Celery Juicer is a good choice if you want to produce celery juice, which is one of the toughest vegetable juices to extract. Most centrifugal juicers have a hard time juicing celery as it is fibrous and can cause blockage in the blades. However, the Aeitto Juicer is a slow masticating juicer that extracts all the celery juice, leaving the pulp dry.
Its two-speed setting caters to both soft and hard produce, the first setting spinning at 100 RPMs while the second setting spins at 110 RPMs. This machine is also easy to disassemble and clean, with its one press disassemble button and dishwasher-friendly parts.
However, unlike most masticating juicers, this model comes with a limited 1-year warranty which we don't recommend for beginners. A longer warranty period is essential for masticating juicers as their parts are equally important.
Best Heavy Duty: Cuisinart CJE-500 Compact Juice Extractor
The Cuisinart CJE-500 Compact Juice Extractor operates at 19,000 RPMs, producing juice within seconds. Its feeding pusher and juice jug are fit tightly to the body to assure no leakage, with a safety bar that secures the parts in place.
The small size, black finish, and silver/chrome accents are appealing. Although it appears compact, it has a big pulp collector that can take up to 40 ounces of pulp and a juice jug that can hold up to 16 ounces of juice. On top of that, this machine is simple to install and operate, and all replaceable parts are dishwasher-safe.
However, if the juice shelf life is crucial to you, you may want to consider other juicers. This is a fast machine, and oxidation occurs when juicing. The juice extracted by this machine only has a 24-hour shelf life, so it should be drunk right away.
Best Affordable Centrifugal Juicer: BLACK+DECKER Fruit and Vegetable Juice Extractor
If you want to start your juicing experience but are on a very tight budget, we recommend the BLACK+DECKER Fruit and Vegetable Juice Extractor for you. This 400-watt powered machine has a compact design and cord storage that saves space in your kitchen.
Despite its compact form, this machine comes with a 28-oz pulp collector for continuous juicing and has a slip-on lid for easy access and maneuver. The steel blades and strainer help separate the pulp and juice efficiently, while its non-slip feet prevent the machine from moving around and making loud noises.
Furthermore, this juicer's removable parts are dishwasher-safe and easy to assemble, which is good for beginners.
However, the cover does not fit tightly with the body, and spillage might occur when in use. The machine might also heat up frequently, requiring breaks in between. Despite these, user reviews on this product are overall good considering its very affordable price.
Best Lightweight: Mueller Austria Juicer Ultra Power
The Mueller Austria Juicer Ultra is one of our favorite juicers in terms of affordability and quality. As one of Amazon's best sellers, this machine boasts a wide 3-inch chute that accommodates large chunks of tough fruits and vegetables, turning them into juice within seconds.
The stainless steel design is visually appealing, and the dual-speed functionality allows you to switch between two separate speed settings. The starting speed is adjusted between 12,000 and 15,000 RPMs, suitable for any soft fruit. On the other hand, the following speed level ranges between 15,000 and 18,000 RPMs, ideal for harder fruits and vegetables.
Moreover, this model has a 68-oz pulp collector and a juice jug that can hold up to 34 oz of liquid. Its non-slip feet also help its performance, preventing the machine from moving around or producing a loud noise when in use.
However, this juicer's main disadvantage is that it tends to overheat when juicing hard and thickly cut produce due to its capacity to rotate at a fast speed. When your juicer overheats, you simply cannot continue the operation since it might harm the equipment. As a result, when this machine overheats, it must be cooled down before you can use it again.
Best Compact: Breville JE98XL Juice Fountain Plus
The Breville Juice Fountain Plus is a great way to begin juicing. It's manufactured with a titanium-reinforced disc and a stainless-steel micro-mesh filter basket made in Italy.
It also comes with a two-speed setting; the lower speed is suitable for delicate fruits and vegetables, while the higher speed is suitable for harder ones. Aside from that, the juicer contains a froth separator, which allows you to pour more juice into the glass and leave more foam behind.
Overall, this juice extractor is easy to clean. The blade and mesh chamber are the hardest to clean, but the included brush helps make it easier. Remember to clean thoroughly after each usage to keep the blade sharp and the mesh clear of fibers, ensuring the machine works like new for years to come.
It is also important to note that this model comes with a limited 1-year warranty, but you can still contact the company and order spare parts from them past the warranty period.
Best For Juice Yield: Omega Compact Slow Speed Multi-Purpose Nutrition System Juicer
The Omega Compact Slow Juicer is affordable, reliable, easy to assemble, store, and clean. Leafy greens, celery, fibrous and thick vegetables, such as carrots, are easy to juice using this model.
This multipurpose juicer operates at 80 RPMs and not only yields high juice content but can also make sorbets, nut butter, pasta, or ground coffee and beans.
It has an automatic pulp ejector, which makes assembly and cleaning much easier. However, it is a masticating juicer, which means a longer juicing time.
Best Budget Juicer Buying Guide
Speed
If you don't have much time to dedicate to juicing, consider buying a centrifugal juicer. In exchange for some juice and nutrients, you can have your fruit or vegetable juice in a few minutes. The strength of a juicer's motor is the primary indicator of its speed.
On the other hand, if speed is not a priority, you'll want a slow juicer that will provide you with superfood-level nutritious juice. Of course, the masticating juicer should still provide you with juice at a reasonable pace. The speed of slow juicers is measured in RPM (rotations per minute), with 40 RPM being the ideal speed-to-quality ratio in a masticating juicer.
Price
Considering your budget is also one of the keys to finding the right juicer for you. Your juicer doesn't have to be expensive, but of course, costly models come with some perks.
Most centrifugal juicers are more affordable than masticating juicers, mainly because of their function. Centrifugal juicers produce juice within seconds while masticating juicers have a high fresh juice yield with a longer shelf-life. If you're after speed and affordability, you can check out the centrifugal juicers that we listed in this article.
Materials Used
The materials used are one indicator of the machine's longevity. Machines primarily made from plastic tend to chip off easily and change shape in the presence of heat, while metals tend to last a long time.
Some centrifugal juicer models are built with titanium micro-mesh filters that last longer than stainless steel. Other masticating juicer models have Ultem plastic as a squeezing drill that is eight times tougher than regular plastic. Noting these features will help you save money in the long run, as you won't need to replace your juicer often.
Design
When thinking of the design, you'll want to look at the size of the feeding tube on a juicer. A big feeding chute will save you time by requiring less prep work. Some juicers also have a reverse setting, which unclogs when the pulp or chunks get stuck in the blades or augers.
A juicer may also feature a larger pulp container to save you time or numerous screens so you can control how much pulp is in your juice. Of course, you'll want a machine that's simple to operate and clean.
Frequently Asked Questions