While most of us grew up using the hand juicers for lemons, when machine juicers became prevalent in the average home, it was a game-changer for making juice accessible. Today, instead of having to spend hundreds at the store per month to satisfy your juice needs, you can simply make your own.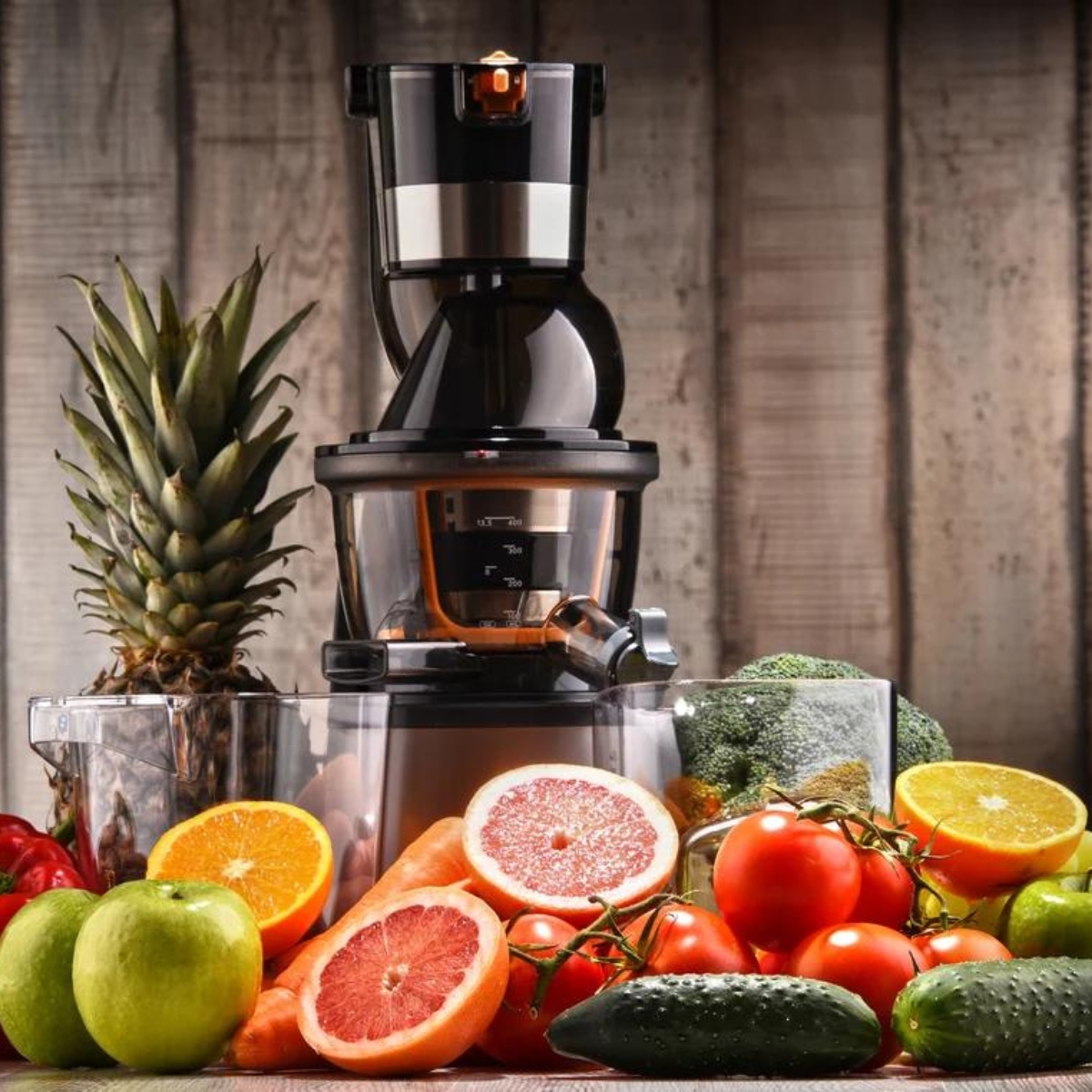 Centrifugal juicers, while definitely the cheapest home juicers on the market, have an unfortunate tendency to rapidly oxidize and overheat the juice due to the way it extracts juice from the pulp. The centrifugal juicing process makes juice that tastes old and under-extracted, leaving much in the pulp and producing a half-full glass of warm, frothy juice where there could have been a full glass of smooth deliciousness. The masticating juicer is a qualitatively better functioning machine than the centrifugal, in this article, we'll discuss all the pros and cons of a masticating juicer, as well as the top brands so that you can decide which is the best juicer for you.
Table of Contents
The Winner
One of the lower-cost models in the vaunted Omega juicer range, the MM900HDS is a workhorse. Working at a slow 80rpm, the juice from this machine lasts longer in storage without losing taste. It has a special end cap just for juicing celery (if you're into that?) and it's got the longest warranty you'll find on a masticating juicer, at 15 years (parts and performance).
Want to see how it compares to other models? Get all the details below.
The Best Masticating Juicers Ranked
The following is a completed list of the 7 best masticating juicers on the market, as well as some of the more popular budgeting models. I compiled this list by finding a bunch of different models from different brands. Then, I researched each model and, once I was satisfied with my information base, eliminated based on perks and functional add-ons, as well as poor reviews and poor long-term performance.
#1: Omega MM900HDS (Best Performance for Price)
The Omega MM900HDS is a silver juicer weighing 17.16 lbs. and is a convenient setup allowing for maximum juicing efficiency. Rubber feet keep this masticating juicer from shifting around too much during juices, and the machine is built to be efficient at juicing both soft and hard materials. Unique to the Omega, this slow juicer comes with two end caps, one for celery and one for other fruits and veggies. Whether you're getting a juicing machine for the health benefits of celery juicing or generally great-tasting beverages, the Omega is exactly designed to satisfy your needs.
Functioning at 80 RPMs, the Omega's single auger slowly revolves, thoroughly crushing your veggies and extracting maximum moisture. The slow process breaks down the cell barrier more thoroughly, allowing more nutrients, flavor, and vitamins to enter into the juice, instead of remaining stored in the fibers. Additionally, the slow rotation means there is no heat build-up affecting the flavor of your juice. Even if the research on centrifugal juicers is quite mixed about whether the heat generated is enough to affect the enzymes within the juice, it is certainly more pleasant to drink a colder rather than warmer beverage.
The two end caps are specifically designed to target different levels of hardness and pulp. The celery end cap has a very narrow mouth, allowing for high juice yield. The other end cap has a wider mouth, allowing larger, pulpier fruits through. In both cases, the juice emerges minimally oxygenated, which preserves the juice for longer and makes it taste better. This same deterioration process is seen when fruit gets exposed to air. That brown discoloration that happens to a bitten apple left out is the same process only further exacerbated in oxygenated juice.
The motor is quiet and the feed shoot is on the larger side for a cold press juicer, shortening prep time and making it more convenient to use. For my celery fanatics, the Medical Medium endorses this juicer on his website, saying that it has no equal in celery juice extraction. Designed to be used in North America, the Omega company is easily reached, as their headquarters are based within the USA, making contacting them a breeze.
Omega juicers offer amazing coverage, guaranteeing their product with a 15-year warranty on parts and performance. In addition to all these other pluses, the Omega is sold at a very reasonable price point, making easily slow-pressed juice an affordable commodity.
Widely reviewed, the Omega MM900HDS was found to be very high quality and quiet with an excellent quantity yield and great tasting product. The one detraction was the comment that it did not have the best cleanup process, as the mess could be difficult and some pulp could get caught in the works. Overall, people remained very pleased with this purchase. Anyone looking to find a great, standard masticating juicer with reliable performance, will be completely satisfied with the Omega.
When it comes to state-of-the-art juicers, the PURE Chef Edition takes the cake in stainless steel, streamlined assembly. Elegant and deceptively simple, PURE Chef parts that come in contact with your produce are all food-grade stainless steel. Included with your purchase are many complementary accessories as well as lots of potential for future add-ons, making it ideal for the individual (or commercial kitchen) looking to grow in their juicing endeavors. Taking the classic "cold-press" term quite literally, the PURE implements a two-step juicing process.
Coming with a supply of cloths and bags that can last anywhere between three to six months depending on how frequently and how much you juice, the PURE first grinds the fruits and vegetables into a wet pulp, releasing the enzymes and allowing all the vitamins to intercalate thoroughly. Next, the pulp is wrapped in a cloth and is pressed between two plates, thoroughly extracting all the juice and effectively producing heat-free juice that lasts longer, tastes better, and is froth-free.
While this process is slightly more hands-on than the service the Omega provides, the PURE is unequaled in quality, and the heatless process allows for longer-lasting juice. Additionally, the PURE Chef capability is much more varied than the Omega, providing many additional functions like making baby food, sorbets, nut butters, jams, grated cheese, and even ground coffee. This is made possible by the two-step process, allowing you to stop after the first step when your pesto has been freshly ground and before it's been juiced (an unpleasant thought).
In addition to diverse production capability, the PURE Chef can be tailored based on preference. The standard is the PURE Company's stainless steel straight blade, but for an additional fee, the PURE can be bought with an upgraded stainless steel serrated blade, which is more efficient with leafy greens and holds its edge for longer.
That said, the PURE offers complimentary knife sharpening every two years, as a way of showing appreciation and ongoing support for its customers. In addition to being highly effective at extracting maximum juice levels, the PURE Chef is also easy to clean, with a seamless stainless steel exterior and mechanical pieces that are easily detachable. Everything having been carefully considered, the maple wood pusher is a nice accessory to a high-end, smoothly running machine.
With a clear nod to practicality, the smooth exterior is protected by the Silicone front bumper, preventing scuffing by over-eager bowls. Finally, the PURE Chef comes with an expansive 54-page manual detailing proper use, tips for juicing, as well as company policy and assembly.
Providing maximum bang for your buck, the PURE Chef is a pricy piece of equipment, which is legitimized by all the functions it provides, as well as the seamless delivery. Additionally, the 12-year warranty makes this a product well worth the investment, as the American-based company promises full support and great customer service. The PURE Chef has amazing reviews - people saying that they love using their PURE juicing machine and can never go back to the other brands.
For the person looking for quality, with a high juice yield from produce, and wanting to branch out into other things in addition to majoring in celery, this is the ideal juicing machine. While the Omega promises great celery juice and can do other fruits and veggies, there is nothing the PURE can't press. Tough nuggets like coconut and nuts are part of the PURE's repertoire, and the varied end products make this the ideal buy for someone wanting to make all sorts of things, not just juice.
The Hammacher Schlemmer Masticating Juicer is much more similar in design to the Omega than the PURE, as it minimizes the amount of involvement instead of requiring more hands-on. A much simpler machine, the Hammacher is slate grey with a black plastic feed chute.
Functioning on the slow-crush single auger method, the Hammacher works to fully extract the taste, enzymes, minerals, and vitamins from the fibers. While most masticating juicers require some solid prep time to chop the raw materials, the Hammacher has a unique design with a wider feed chute, accommodating larger chunks and even whole foods like apples or tomatoes. This significantly cuts down on the ordeal of juice-making and changes the process from an activity to a quick morning routine.
Another aspect of the Hammacher Schlemmer Juicer is that it produces slightly more juice, as none of the juice is lost on the cutting board when slicing into your produce. An employee-owned company, Hammacher Schlemmer products are made with the care reflected in each employee's vested interest in the product. 18 lbs. with small dimensions, the Hammacher Juicer is one you can slide onto the counter and forget about until you're ready to juice. Not large or flashy like the PURE, the Hammacher is one meant to blend, which accounts for its low decibel motor allowing loved ones to sleep in, and nondescript coloring.
The Hammacher Schlemmer Juicer is comparatively affordable and comes with a lifetime guarantee. This means that for the life expectancy of the juicer if any parts malfunction Hammacher Schlemmer accepts full responsibility and costs. Favorably reviewed, critics commented that this juicer performed better than more expensive models that they purchased in the past. For the working person wanting to incorporate juice into their daily life but caught up on the time investment required, this machine is a much better option than the PURE, as it has less prep time and requires less involvement during the process.
The Tribest Greenstar Elite GSE-5050-B is a white chrome number with a great exterior and killer proficiency. One of the horizontal masticating juicers, the Tribest Greenstar, in line with its white stormtrooper color scheme, has some black accessory accents and a small red switch for off, on, and reverse. The Tribest is definitely on the heftier side compared to its slimmer juicing friends and comes with all sorts of additional pieces like multiple filters, juice pitcher, strainer, plungers, and most interestingly, breadstick adaptive parts for making breadsticks directly from the juicer.
With its built-in pressure adjustment knob, the Tribest has two large ceramic twin gear augers that turn slowly, masticating the produce and delivering a high juice yield. Tribest Greenstar Elite Juicer, while falling within the category of masticators, actually has a unique design that attempts to mimic natural biological mechanisms. Both twin gears have subtle divots, that are mirrored on the other with convex structures, meaning that the fruits and veggies get chewed up thoroughly like in human mastication, before getting spit out the front. Not as aggressively large as the average gear, these twin gears are mostly shaped like augers that turn in tandem with each other, perfectly breaking down the internal structure of the plant and rendering the maximum amount of enzymes, minerals, and vitamins in your food.
Tribest Greenstar Elite employs magnetic and bioceramic engineering, helping to prevent oxidation, frothing, and lending to a better-tasting beverage. Tribest also has lots of add-on capability, making it possible to prepare pasta, in addition to breadsticks for the classic Italian-themed evening. Due to all of these manifold attractions, the Tribest is a bit of a price up-tick from the Hammacher Schlemmer, as it provides way more versatility in function than the Hammacher does. Not anywhere close to the most expensive model out there, the Tribest is an affordable appliance that provides high-quality service and greater versatility.
Tribest Greenstar Juicer is covered under a 12-year warranty, insuring your buy for plenty of time to reap the benefits with none of the fiber. Additionally, the Tribest has UL, CE, and TUV certifications which means that it has been tested and meets the standard for safety internationally. Customers were enthusiastic, saying the Tribest was efficient, meticulous at slow juicing, and very easy to use, producing great tasting juice with no sediment. For the person searching for a juicing machine that can tackle all the fruits and veggies, and more, the Tribest Greenstar Juicer is the ideal choice for you.
#5: KOIOS (Best Customer Service Reviews)
The KOIOS Masticating Juicer is white and made from stainless steel, blending easily in any kitchen setting, and is BPA-free. A horizontal design, the KOIOS is a great addition to any home, rendering yummy tasting juice and dry pulp, effectively giving you good quality for your money. The KOIOS has two speeds as well as a reverse setting, making it easy to juice hard and soft produce, and clearing the mechanisms easily. The KOIOS parts are dishwasher safe making clean up a breeze, and the machine sound is under 60 decibels, making the KOIOS a polite flat-mate and one you can use while loved ones and kids are sleeping.
Operating like the other designs, included in the purchase is the plastic pusher, for more effectively pushing your produce through the mouth of the machine. The KOIOS is significantly cheaper than the other models on the list, making it an excellent option for someone looking for a trusty juicer on a budget. Additionally, the 10 year warranty on the motor and 3 year warranty on parts make the KOIOS a guaranteed purchase, one that will be backed by the company until it performs satisfactorily.
However, it is the company's customer service reputation that catapults it into the list of worthwhile household staples. With a policy of lifelong customer service and support, KOIOS reviewers were specific in saying that the response time and problem-solving was incredible and that the company was very attentive to their needs. Additionally, the consumer opinion on the juicer itself was very good, with people commenting that the KOIOS was easy to clean, quiet, and for the price, an extremely quality buy. Anyone looking for a masticating juicer with a demand for customer service that is easy to get ahold of and interact with will be very satisfied with the KOIOS Juicer.
While the KOIOS is a significant money saver for my friends looking to cut costs, the AMZCHEF is the ideal juicer for those on a tight budget. Providing function and consistency, the AMZCHEF is nevertheless one of the cheaper models available on the market today. While not having some of that big brand name recognition, the AMZCHEF is a great machine that performs well and gives you great tasting juice.
Available in three colors - black, grey, and white, the AMZCHEF functions much like the other models, with a single auger slowly turning and thus crushing the produce, the resulting juice having a better taste than the over-oxygenated centrifugal juicer's product.
10.7 lbs., the AMZCHEF is made of food-grade materials, meaning that it's safe for prolonged use for you and young family members, and is dishwasher safe. This gives you an easy clean-up process, as well as low effort, always important for the religious juicer holding down a job. The small display on the side of the AMZCHEF is LED-backlit, a small feature making the AMZCHEF a convenient juicer to use.
With soft and hard modes, this masticating juicer is more than capable of tackling the tough fruits and is shown to have 90% juice extraction, leaving your pulp nice and dry to the touch, indicating that all the good juice has been broken down through mastication. The juice cup itself comes with an ergonomically smart silicone lid, making your juice easy to store and improving its longevity, and included in your purchase are two 500 mL reusable bottles for easy juice transportation and storage.
Like the KOIOS, the AMZCHEF has a low decibel output, with the motor only going as high as 60 dB, so that in the early hours before work or even late at night, you can juice without fear of waking up a spouse or the kids. Included within the AMZCHEF design is the reverse function for clearing up any possible blockages, and with one button disassembly, this juicer is quick, efficient, and easy to use.
The AMZCHEF is covered under a 2 year warranty and promises lifetime customer service. Additionally, the company assures a response within 24 hours of inquiry, so that your time will not be unnecessarily wasted on waiting for a response. However, the 2 year warranty is a serious consideration in the purchase. Trident Greenstar and Omega both provide warranties with much more long-term coverage, which makes sense considering the significant price gap between these two models and the AMZCHEF.
For those seeking more long-term accountability from the company, and affirmation that they are making a long-term investment, the AMZCHEF is not the best decision, as its warranty is meant to get you through the honeymoon phase and then leave you to your own devices. However, for those whose main priority is juicing on a budget, there is nothing that beats the AMZCHEF for quality at its price point.
Highly and widely rated, the general opinion was that for a budget buy, the AMZCHEF is great, tackling and managing big juicing assignments with ease. A great affordable buy, for those who want a juicer that won't over froth the juice, this is the best masticating juicer for you.
Last but not least, the Kuvings Masticating Juicer is a great way to squeeze juicing into your everyday routine. While not as budget-friendly as the AMZCHEF, the Kuvings is an affordable masticating juicer, and more than satisfies all your juicing needs.
A chrome exterior with a domed shape, the Kuvings looks nondescript enough to blend with any kitchen environment and is noteworthy due to all the extra functionality it brings to your kitchen. In addition to being a slow juicer, carefully masticating the produce much more thoroughly than a centrifugal juicer, resulting in a much better end product, the Kuvings comes with seven nozzles, which shift its use. In addition to juice, this trusty machine can make pasta, grind coffee, mince herbs, and make soy milk.
Not the heaviest model, the Kuvings has a solid weight of 15.4 lbs. With a motor speed of 80 RPM, the Kuvings is in line with the typical model and design of a slow juicer. Included in your purchase are the standard pieces of equipment, and a recipe book for a nice touch, helping the new juicer-enthusiast to ease into the world of juice and all its possibilities.
The Kuvings provides a 5 year warranty, which while certainly not the longest, is significantly more than the AMZCHEF. For those needing a little more security than the AMZCHEF provides, as well as wanting a ton of versatility in terms of usage from their juicer, the Kuvings is the best masticating juicer choice. With a very affordable price, the Kuvings is great for people wanting to ramp up their capabilities in the kitchen and incorporate lots of minerals and vitamins into their diet.
Customer reviews were good, saying they would recommend the Kuvings to other shoppers, and that it was great to use. While not as widely rated as the other more recognized models like PURE Chef or Hammacher, the Kuvings was well received by those who bought it.
The Top 4 Masticating Juicers Side by Side
The Best Cheap Masticating Juicers
In any market, there are versions of a product that vary widely in price. While some are expensive and have shiny descriptions, others are cheap and have equally stellar reviews.
When researching the many different models, the main variant I could see generally had to do with longevity and convenience. The more expensive machines are made with more care, so the designs are slightly easier and more well-laid out. The cheaper models are less put together and seem to cause more issues over time in terms of blades or blockages.
Additionally, for the more expensive models, the cleaning was easier and small hardware was more efficient, while in the cheaper ones those smaller parts seemed to be fussier. Finally, cheaper products tend to have shorter warranties, which we can take to mean that the companies don't expect these specific products to last as long, due to the materials and the lack of care in construction. That said, of the cheaper models available on the market today, I compiled a list of three that while not long-term investments, for the person wanting to get their sea legs in home juicing, these are great alternatives to more long-term, higher-quality juicers.
The AICOK Slow Masticating Juicer is a fun juicer, spicing up the atmosphere with its bright coloring in blue or red, in addition to the more standard white, grey, and black. On the smaller side, this juicer is only 8.3 lbs., making it easy to move around and store. The parts are dishwasher safe so cleanup is easy, the motor moves at 80 RPM satisfying all the requirements of a slow juicer, and it doesn't surpass 60 decibels.
In short, this has many of the specs that we see from the more expensive models. With great customer reviews saying that this masticating juicer didn't clog up and made juicing easy, the only difference I could find between this brand and the more expensive ones is the life expectancy, indicated by the warranty.
Offering coverage for three years, AICOK juicers offer lifelong customer service so that questions and concerns can always be directed at the company. However, the 3-year insurance indicates that this is not a machine with the expected longevity of models like the Omega and the PURE, which are insured for 10+ years, expected to stand the test of time. That said, for anyone looking for a shorter-term and lower investment, this is a great machine that had lots of positive feedback from consumers.
Cherry red with a unique, triangular shape meant to catch the eye, the Aobosi is slightly larger than the AICOK and is made up of all food-grade materials. Additionally, with features like the 80 rpm, 60 dB limit, and 1 button disassembly, the Aobosi falls squarely into the category of trusty masticating juicers that make great juice.
While the very low price is certainly appreciated, the Aobosi, unfortunately, does not come with a warranty, instead an assurance of lifelong technical support and 24 hour response time. While both are nice, it is disconcerting that the Aobosi does not offer any assurance that their product will survive.
This doubt is offset by the truly enthusiastic reviewers, who said that the Aobosi was quiet, didn't clog, and made yummy juice. For those getting into juicing but not necessarily in it for the long haul, this could be a great machine for you.
JOCUU kind of breaks the pattern of cheap juicers not meant to last long term. With a standard look and the option of monochromatic or a blue splash, as well as dishwasher safe, two modes for hard and soft produce, the two-speed settings dependent on the incorporated substances, reverse function, and all the right materials, the JOCUU is covered for 10 years on the motor, and 3 years for accessory parts.
Additionally, the JOCUU had over 1,000 consumers and the response was very pleased. Within the last year, however, the consumer response has been less upbeat, with comments that it slows down quickly over time and gets very difficult to clean. On the whole, many people were very satisfied with this order, and people looking for a budget option providing service for longer, the JOCUU is an excellent choice. Additionally, shoppers commented that the JOCUU, specifically, had great customer service, letting you know that the company can be trusted and cares about its brand.
Comparing The Top 3 Budget Models
No products found.




No products found.




No products found.


Aobosi
$129.99

JOCUU
$119.99
Speed
80 RPM
Adjustable
50 - 110 RPM
Baby Food
No
Yes
No
Pasta
No
No
No
Celery Juice
Yes
Yes
Yes
Pulp Ejection
Yes
Yes
Yes
Wattage
150W
Adjustable based on the country
150 W
Weight
8.23 lbs.
65 lbs.
10.28 lbs.
Dimensions
16.1 x 7.9 x 11.6 inches
15" x 15" by 16 ½"
12 x 18 x 6 inches
Warranty
3 years
12 years from the date of purchase
with complimentary knife sharpening
every two years
10 years on motor and 3 years on accessory parts

No products found.

Check Price on Amazon
Check Price on Amazon
How to Make Your Choice
A tough decision, concentrating on your priorities will help you understand which masticating juicer is ideal for you.
For those who want a generally good juicer that provides the best value at an affordable price, the Omega is your ideal choice. With its two nozzles, specializing in celery and other leafy greens, this juicer is certain to give you all the juice necessary for satisfied, clean, healthy living.
For those who can afford to spend a little more and love their juice, the PURE is a great buy, coming with every accessory necessary for perfectly cold pressed and thoroughly masticated juice.
Finally, for those looking for some money-saving options, the AICOK is the perfect balance of quality and price, as it produces great juice and also provides a respectable warranty, covering your use for years after your purchase.
What's So Good About Masticating Anyway?
To understand the benefits of the best masticating juicers, we'll need to first clarify what each juicer does. As exciting as the idea of a juicer is, it doesn't help to be told all the masticating functions when you have no frame of reverence - no way to compare the function of the machine against that of another. Through a better understanding of the other types of juicers, the unique features of the masticating juicer can be fully appreciated. So let's discuss - centrifugal, masticating, and cold press.
The centrifugal juicer has a wide mouth and is best for large fruits and vegetables. The mouth allows you to shove large pieces directly in with shorter prep-time, and the centrifugal generally has fewer moving parts. Pushing the fruits or veggies into a mesh chamber, sharp knives lie in wait ready to chop up the produce. At the same time, the whole chamber spins rapidly, separating the pulp from the juice. The process is very quick, but the high speeds mess with the juice, making it emerge too frothy, and leaving a lot of the juice behind in the pulp. Unfortunately, the over-oxidation can make the juice taste less than perfectly fresh. It also reduces how long the juice will last stored.
A masticating juicer functions very differently. Managing soft or hard fruits and vegetables, as well as leafy greens, the masticating juicer is also known as a slow juicer. It works by turning an auger (a helical shape that spirals, drilling and moving loose matter around at the same time). The fruit is crushed by the auger, and the juice flows out through a screen while the pulp gets pushed through the front of the machine.
This is a much slower process than centrifugal juicing, however, this means that the juice does not get hot or foamy, improving the taste and giving you a much better final product. Additionally, the masticating juicer is much more efficient than the centrifugal juicer as the extraction is more complete in the masticating juicers than in the centrifugal ones. The centrifugal juicing process produces wet pulp, which means that a lot of the juice has remained in the pulp, depriving you of the complete flavor and meaning you use more fruits and vegetables for the same juice yield. The masticating juicer is significantly more efficient, and the dry pulp emerges as proof of the more effective juice extraction.
Masticating juicers became quite popular about 5 years ago when cold-pressed juice took off as the latest craze. Marketed under the much more appealing moniker 'cold-pressed juice,' the cold press label applies to any juicing process that generates zero to negligible heat. While different types of masticating juicers function differently, "cold press" is actually a vague term, referring to a process that slowly processes the fruits and vegetables, yielding the most juice from the supplied materials.
What to Look For in a Masticating Juicer
Once you've stumbled onto the concept of a masticating juicer and have realized that your intense juice-needs necessitate one in your home, the problem boils down to identifying the best masticating juicer for you. Within the categorization of juicers, there is some variation, and the price range makes understanding these differences paramount to getting the best masticating juicer for your buck. Although we'll delve much further into the performance of individual juicers, the eliminating and illuminating criteria boil down to cost, function, appearance, warranty, and ratings.
#1. Cost: The cost varies depending on the size of the machine, the brand name, and any additional features included. Depending on what you need, some add-ons could be excessive while others necessary, so having a good understanding of what the juicer provides will go a long way towards making sure you don't spend more than you should.
#2. Function: Some juicers are optimized for celery juice, others are general use, while still others branch out and make sorbets. The ease of assembly and disassembly, the incorporation of a slow speed and fast speed setting, as well as the cleaning process, are things that factor into the function and what is best suited for you.
#3. Appearance: Depending on how frequently you plan to make juice, as well as how much cabinet space you have, odds are that your juicer is going to sit out on the counter a lot, so considering its appearance and how it will look in your space will go a long way to saving you from dissatisfied frustration in the long term.
#4. Warranty: Not all companies provide a warranty, but the ones that do stand head and shoulders above their competitors, as they show that theirs is a product they intend on supporting, and that they believe in its performance. While not all machines on this list have a warranty, the ones that do will get a special mention for providing extra assurance on giving a quality experience.
#5. Ratings: Our most honest critics, the reviewers help to give us some on the ground data for how the machines perform in the real world, out of our carefully optimized settings. Ratings tell us how quickly the machine performs, how loud it is, and how much juice extraction there is. Additionally, the reviewers give us an idea of how the product performs long-term, not just upon initial purchase. For this reason, the ratings are a valuable resource and one that we rely on heavily for collecting data.
How Easy Is It To Clean a Masticating Juicer?
[TOP]
Cleaning a masticating juicer is generally very straightforward. Most models are built for easy disassembly. With the main parts being the auger, strainer, end cap, and feeding tube, once you've taken apart all your pieces, most can be thrown straight into the dishwasher.
This is notably different from a centrifugal juicer that comes with nooks, crannies, and internal spaces where pulp and residue can get stuck.
Most masticating juicer models include a brush for the strainer to get rid of any stuck-on pulp. And as long as you do that little bit of cleanup right after your finished juicing (trust me that day-old, dry stuck-on pulp is harder to remove than the fresh stuff) it's not a chore to keep your juicer running cleanly and smoothly.
How to Build Juice Recipes to Maximize Deliciousness
Now that we've covered the intricacies of masticating vs. centrifugal and how both machines operate, let's take the time to discuss how to even use your machine to make yummy juice. Growing up in my mother's kitchen, I regret to announce that not everyone has an ingrained ability to make tasty juice. I remember a few colorful years in middle school where I discovered that juice did not always equate to appealing, yummy, and refreshing. That said, juicing is an acquired skill, like any other, and requires some basic understanding of the rules before they can be properly harnessed to your will.
First, it's important to understand that the ratios for smoothies and juices are not the same. While a smoothie has the whole of the fruit mashed up inside, the juice is only the extracted liquid, meaning that less of the flavors translate over depending on the type of fruit and how juicy it is. For your juice to taste well balanced, a good rule of thumb is to cover all your taste bases, which are sweet, tart, earthy, herby, or spicy.
Your sweetness comes from any of the obvious fruits, among them apples, mango, pineapple, and oranges, which should be balanced by a tart flavor like lemons or lime. Next, you'll need something that makes a lot of juice, like cucumbers or melons. Finally, an earthy flavor like leafy greens or a root vegetable, and end with spicy or savory like mint and basil, or ginger and pepper. Adjust the intense ingredients according to your personal preference, but as long as all these are present, your juice will be plentiful and well-rounded.
In terms of what tastes will work together, think about a salad bowl - if they don't belong there, they don't belong in a cup together. While this one might sound self-evident, it's an important reminder. If you're putting in a strong flavor make sure to add something with a lot of liquid so that the flavor is mellowed by the quantity. Important to remember that unlike a smoothie, juice is liquid and so can be stirred and adjusted. If you want to check ratios, take a taste. If it needs more tart or more sweetness, juice it up and stir it in, until the taste is just right.
When juicing, removing or adding the peel is key to the resulting taste of your juice. Produce with soft, thin skins can be thrown in as is, however, waxed, hairy, or bitter peels should be tossed, as they will greatly affect the flavor of your juice. Peels like citrus can technically be eaten, but they add an overload of zest and citrus oil, which while very good for you, is extremely bitter.
In terms of the order of your juicing, try to put hard to juice things like leafy greens between the easier stuff, like apple and carrot, so that the machine can squeeze out as much as possible. A handy trick to getting more juice from your leaves is to scrunch them up in tight tubes so that your machine has more to grab onto. Additionally, make sure to end a juicing session with a high yield vegetable like cucumber, to really flush out the juicer and get as much juice as possible from your produce.
How Long Can Juice Stand?
This depends on the type of machine you're using to juice. Most people agree that centrifugal juicing only lasts up to a day, degrading already within the first hour. Opinions vary widely on how long masticated juice can stand, with the quote ranging anywhere between 2-5 days in the refrigerator.
A few tricks to helping preserve your juice for longer are to keep your produce as cold as possible and return the juice to the fridge as soon as viable after juicing, securely covered in an airtight container. This juice can last up to five days, although it will taste better the sooner you drink it. Finally, it's a handy trick to know that slow-pressed juice can be frozen and it can keep this way up to six months. Enjoy!
Tip:

Juicing & Food Prep Are Best Buddies

You get by now that prepping food is half the work of making juice each day. This is true whatever kind of juicer you have.

For this reason, doing food prep in batches - freezing what you don't use that day - is so helpful in making fresh juice a part of your life.

For example, on a Sunday or Monday, after you've got all your gear out (cutting board, knife, peeler), prepare a batch of your most common ingredients like carrot, cucumber or celery - enough for 4 or 5 juices - at the same time, putting one juice's worth in the fridge for today, and storing the rest in a ziploc bag in the freezer for the rest of the week. At below zero temperatures and sealed in tight to prevent exposure to oxygen, the quality and quantity of the juice from these ingredients won't be compromised. I was skeptical about this the first time we stuck a bag of limes in our freezer, but when it came time to juice them up, I couldn't believe how tart and fresh the juice still tasted. (apparently, the texture of the pulp does taste different after freezing... but this is juicing. The pulp is all discarded!)

If you want to get ultra Type-A about food prep and juicing, you store your prepped ingredients in individual bags or containers as individual servings of juice. So for example, one freezer bag contains 1 carrot, 1 cucumber, 5 mint leaves, 2 limes, etc. and each night, you take one bag out of the freezer into the fridge for your fresh juice the next morning. This also prevents wastage, since you're only ever defrosting the quantity you'll consume on one day.

Efficient nutrition every day. Winning