Advocaat is a Dutch liqueur made from brandy, vanilla, eggs, and sugar. It has a custard-like flavor that's smooth, creamy, and rich. This liqueur makes an excellent aperitif or digestif and is commonly used in the Fluffy Duck and Snowball cocktail.
If you can't get your hands on a bottle or you want something a little different then keep reading. We've created a handy list of advocaat substitutes so that you can make any cocktail without it.

Table of Contents
What can I use instead of advocaat?
To replace advocaat, you're best to use eggnog with a shot of brandy. Other useful options include Rompope, Irish Cream Liqueur, or Tom and Jerry Batter combined with rum or brandy.
1. Alcohol-free eggnog
The easiest way to replace advocaat is to use eggnog. It's found in most grocery stores, or you can make your own with a few simple ingredients.
Advocaat has a thicker texture than eggnog and has a richer flavor. You'll notice the difference if you drink them straight, but once mixed into a Canary Flip or Beach Blonde the result should please.
If you buy no-alcohol eggnog from the store, mix in your favorite alcohol of choice. Brandy, Cognac, dark rum, or a bourbon like Jim Beam are all great choices. A good ratio is two tablespoons of eggnog mixed with ½ teaspoon of alcohol, but if you decide to nudge up the liquor content, we won't hold it against you.
2. Alcoholic eggnog
If mixing up regular eggnog with a spirit sounds like too much hard work, then buy it ready-made. Pennsylvania Dutch Eggnog combines fresh cream with rum, whiskey, and brandy. Add your favorite festive spices like nutmeg and cinnamon, or don't. You're in charge.
Another excellent alcohol-based eggnog is Evan Williams Eggnog Bourbon. It's thick and creamy, like advocaat with a slightly smoky flavor thanks to the addition of Bourbon.
Either of these bottles is perfect for sipping neat or making cocktails like the Crème Anglaise or Fluffy Duck.
3. Rompope
Rompope is a Mexican festive eggnog that is commonly made using eggs, cream, sugar, and rum. It's a sweet, eggy drink that makes an ideal advocaat alternative for topping desserts or adding to other drinks. Keep in mind it isn't as thick as advocaat, but this shouldn't be a deal-breaker.
Other similar style alternatives: Ponche Crema is a Venezuelan variety of alcoholic eggnog while Cola de Mono is a Chilean variety. They are available from well-stocked liquor stores or online.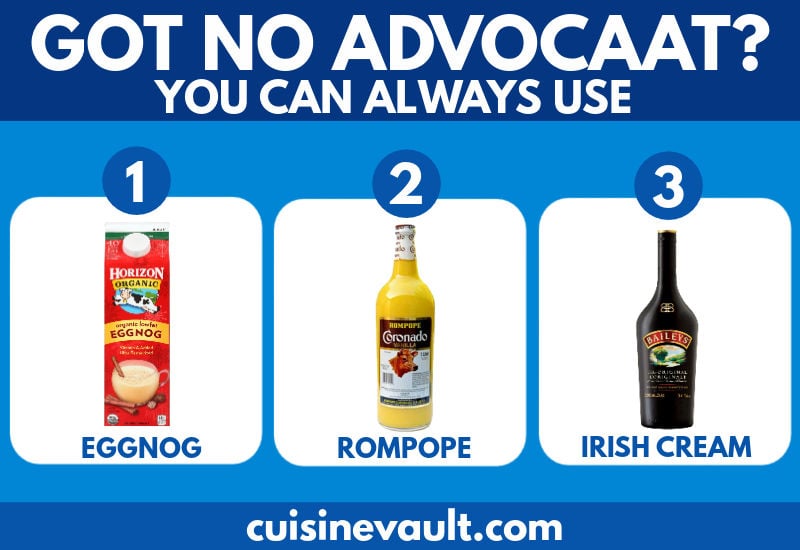 4. Irish cream liqueur
In a pinch, you could try Irish Cream. This drink combines whiskey, cream, and additional flavorings to make a silky cream liqueur. You'll find this is a much runnier consistency than advocaat and doesn't have the same eggy undertone. Instead, you'll get a sweet, mild chocolate flavor with a whiskey undertone. Use it in desserts, drink it straight, or mix up a White Russian.
5. Tom and Jerry batter
A Tom and Jerry cocktail is similar to eggnog, except it's served warm and has alcohol added. Why not make life easy and buy a pack of Trader Vic's Tom and Jerry Batter? It can be mixed with hot water and rum or brandy to make the traditional T&J cocktail. You could also use it to make advocaat cocktails like a Fluffy Duck or Apple and Custard.
6. Cherry advocaat
If you like advocaat but want to try something a little different then a cherry variety may work well. This substitute has the same thick and creamy texture with the addition of fruity cherry flavor.
Cherry advocaat is great added to desserts, baked goods, and cocktails. It is also tasty poured over waffles, pancakes, or ice cream.
Feeling thirsty? Cherry advocaat is delicious in a glass, topped with whipped cream. Otherwise, mix it into a Bombardino or Snowball cocktail.
7. Plant-based custard and brandy
For vegans and vegetarians, the best way to replace advocaat is to make up a batch of thick vanilla custard. Once it's cooled, slowly add brandy until you're happy with the consistency and alcohol strength.
8. Eierpunsch
Eierpunsch is a German egg punch that is popular at Christmas markets in Germany. It starts with basic eggnog, then adds extra ingredients like citrus juice, white wine, and a mix of festive spices. It's a good option for people that want something with a little more flavor punch (excuse the pun).
Although it's possible to buy bottles of ready-made Eierpunsch, they're not common in the United States. But that doesn't need to stop you from finding out why Germans love this beverage. You can make your own using this recipe.
Also worth a try: Eierlikör.
9. Rumchata Horchata Cream Liqueur
If you're looking for a creamy liqueur without the eggs you may also like RumChata. This drink combines rum, cream, cinnamon, and vanilla. It is ideal for shaking into cocktails like a Snowball or Creamsicle.
10. Make your own advocaat
Making homemade advocaat is surprisingly easy and requires ingredients that are easy to find and low-cost.
Ingredients
Method
Add all ingredients to a blender and process for about 30 seconds until everything is incorporated.
Pour liqueur into a glass bottle or jar and seal the lid securely. For improved flavor and color, refrigerate for 7-10 days before drinking.
Give the advocaat a quick shake before serving.
Tip: You can improve homemade advocaat by making your own vanilla extract.
Related reading: What is a useful vanilla extract substitute?
Summary table of substitutes
| Substitute | Comments |
| --- | --- |
| Alcohol-free eggnog | Easy to find in supermarkets, not as thick. Add brandy for a closer replacement. |
| Alcoholic eggnog | An easy replacment option using brands like Evan Williams or Pennsylvania Dutch. |
| Rompope | A Mexican version of advocaat that is very similar. |
| Irish Cream Liqueur | An easy to find alternative for those who don't want eggs in their drink. |
| Tom and Jerry Batter | Mix into your favorite cocktail or hot beverage. |
| Cherry advocaat | Ideal for those who enjoy creamy, fruity drinks. |
| Vegan custard and brandy | A handy plant-based advocaat substitute |
| Eierpunsch | A German type of advocaat, but hard to find. |
| RumChata Horchata | Rum-based drink. Similar type of drink to advocaat. |
| Make your own | A perfect replacement but requires waiting time. |
Commonly asked questions
Can you buy advocaat in America?
Advocaat is a fairly common liqueur in the United States and can be purchased from liquor stores or online. Some popular brands to search for include Dalkowski, Verpoorten, Bols, Warninks, Bak's, and Zwarte Kip.
How do I drink advocaat?
Advocaat is popularly served with ice or straight-up with whipped cream. It is excellent poured over desserts or added to cocktails like the Snowball, Zabaglione, and Dutch Courage.
Fast facts
In Europe, advocaat is commonly eaten with a spoon as it is so thick. The U.S. product is a little runnier as different ingredients are used.
A Dutchman named Johannes Cooymans is believed to have invented advocaat around 1825 when he was experimenting with brandy and eggs. Source.
The Dutch traditionally drink advocaat at Easter and Christmas.
In Germany, they have a similar style of drink called Eierlikör which translates to egg liqueur.
Summing up
If you need advocaat for a recipe or cocktail then it's a relatively easy liqueur to replace. Certainly, a lot easier than Crème de Violette or Italicus.
The best substitutes for advocaat are eggnog mixed with brandy or a similar drink like Rompope. Irish Cream Liqueur is an easy-to-find bottle if you're in a pinch or you don't want the eggy flavor.