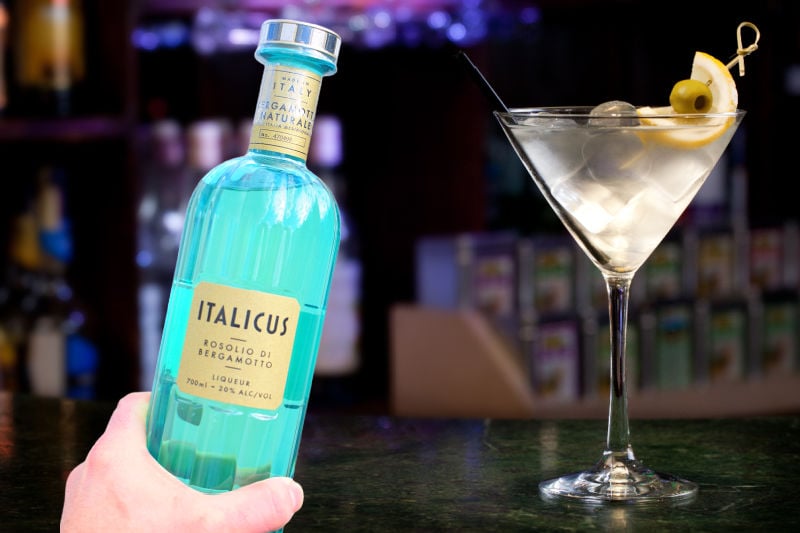 Italicus is a modern style of Rosalio, a traditional Italian liqueur that was sipped for centuries by their royalty. It combines a mélange of ingredients like bergamot peel, lavender, lemons, roses, and combines them with a neutral grain spirit. The result is a citrusy drink with a mix of floral and herbaceous notes.
If you don't have any Italicus in the liquor cabinet then keep reading. Although you'll never perfectly mimic the taste, we've created a list of Italicus substitutes that are your next best options if you can't get the original. They're excellent sipped as an Aperitivo or added to your next Martini.

Table of Contents
What can I use to replace Italicus?
To replace Italicus you can try a more traditional bottle like Quaglia Liquore di Bergamotto, Rosolio al Fico D'India, or Ortolan Rosolio Liqueur. You could also try Drillaud Rose Liqueur with a squeeze of citrus like yuzu, bergamot, or lemon.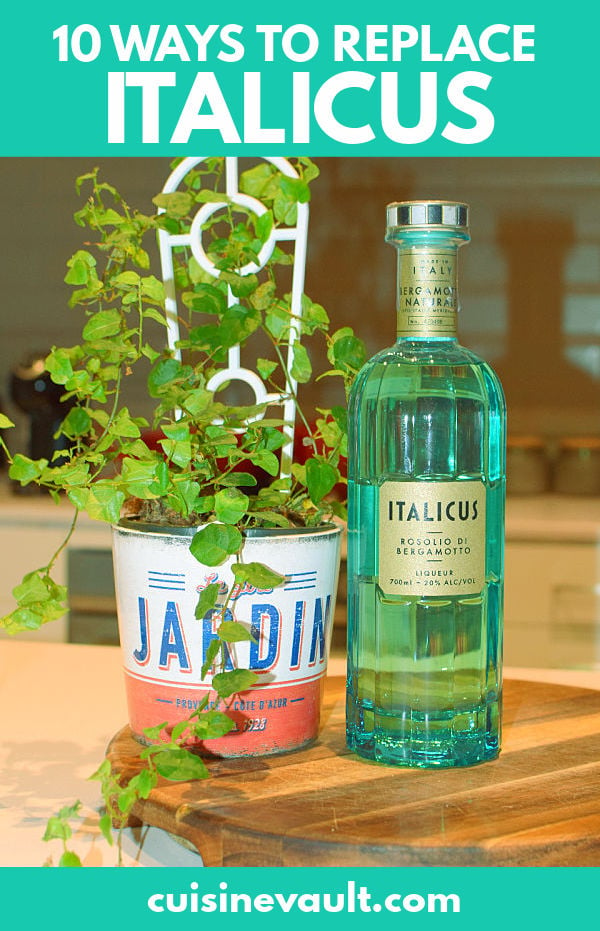 1. Quaglia Liquore di Bergamotto
To get the closest taste to Italicus, we suggest looking for Liquore di Bergamotto. Produced by powerhouse distiller Antica, this is another Italian liqueur that features the bergamot orange.
It has a zesty, bittersweet flavor with hints of vanilla and Earl Grey tea.
Enjoy a refreshing summer spritz? Quaglia is perfect combined with Prosecco to make a Gallicus cocktail. You can also sip this liqueur as a digestif.
Like Italicus, you may not find it easy to track down a bottle of Quaglia Liquore di Bergamotto at your local liquor store. Depending on where you live you should find it online without too much trouble.
2. Rosolio al Fico D'India
If you're looking for a cleaner, less complex rosolio liqueur then the Fico D'India is worth a try. Instead of the bergamot flavor you get from Italicus, you'll notice a distinct prickly pear taste. It also lacks the lavender and rose, potpourri fragrance. For some, this will be a positive.
Cocktail makers should keep in mind that Rosolio al Fico D'India is an orangish-red shade while Italicus is clear. This may not work for the visual look you're going for.
3. Ortolan Rosolio Liqueur
For an American take on the Italian liqueur, Ortolan Rosolio is well worth testing. This Californian product takes 25 different heirloom roses and combines them with several botanicals. The result is a floral, citrusy liqueur with a mélange of additional flavors and aromas.
Drink Ortolan on its own or with a slice of orange peel. Poured from the bottle, it's an amber shade; but once a little acidity like lemon juice is added, you'll see it transform into a brilliant pink color. This is a natural reaction with rose petal pigmentation. We think Ortolan is worth a try just for the color transformation alone.
4. Hotel Starlino Rose Aperitivo
Hotel Starlino Rose Aperitivo takes spirit and blends it with citrus peels and rose wine. A botanical combination includes thyme, savory, elderflower, wormwood gentle, and more. This bottle has some different flavor notes, but it's handy for most Italicus applications.
Related reading: What are some good St Germain substitutes?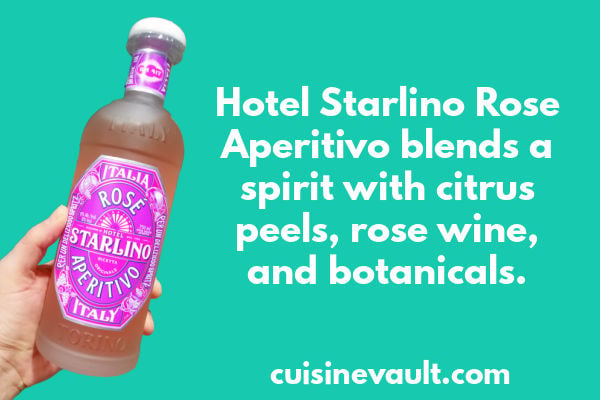 5. Drillaud Rose Liqueur
Drillaud produces a low-cost rose liqueur which will work if you're in a pinch or simply want a low-cost alternative. This vivacious pink French drink has a fragrance of fresh flowers and a floral taste.
Adding a squeeze of your favorite citrus will take you closer to Italicus. But it'll certainly lack the spicy depth of flavor that comes from the original drink.
6. Bergamot Castro liqueur
Getting back to the bergamot theme, you can buy a Greek bottle of Bergamot Castro liqueur. It's fruity and aromatic, with a touch of bitterness that makes a useful substitute for Italicus. Drink it on the rocks or with a splash of lime juice in cocktails. It also makes a delicious addition to coffee, tea, or hot chocolate.
7. Pampelle Ruby Apero
Pampelle is a bittersweet aperitif that's a reasonable Italicus replacement. This liqueur from Corsica is made with Ruby Red grapefruits that have a similar feel to the bergamot oranges. Other key ingredients include botanicals like yuzu, gentian bitter, and quinine.
It's a more bitter drink than Italicus, but you can create similar types of drinks. Make a spritz, Negroni, Ruby Rose, or drink it with tonic.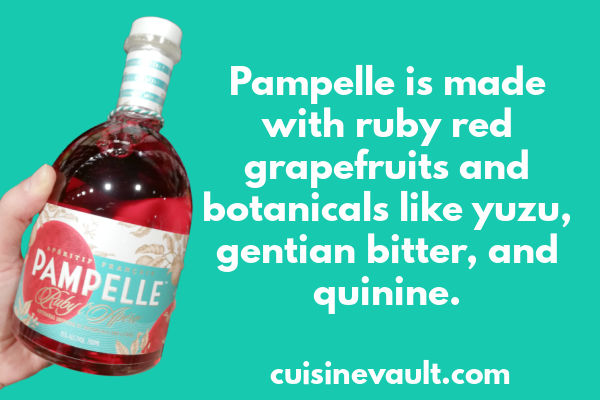 8. Meyer Lemon and Ginger Liqueur
There is a range of different ginger liqueurs on the market, but we like Meyer Melon and Ginger Liqueur. This product hand blends an organic sugarcane distillate with Meyer lemons and spicy ginger. With a bottle of this liqueur, you're ready to make a French 75 or Moscow Mule.
9. Lillet Rose
Lillet Rose blends a range of white grape varietals with liqueurs that have been flavored with sweet and bitter orange peel and Lillet Rouge for rose color. It has a pronounced bitter flavor thanks to the addition of quinine; a refreshing drink to make a Spritz, Martini, or Sweet Charity. You can also check out our Lillet Blanc substitutes here.
10. Crème de Violette
Crème de Violette has a slightly sweet, floral flavor that makes a great Aviation cocktail. We threw this option into the mix as it's a lesser-known liqueur that has a cleaner flavor profile than Italicus. If you want to add a unique blue shade to drinks then this is a good choice – consider adding citrus for some added bitter flavor.
Related reading:
What can I use to substitute Limoncello?
What's a good Benedictine substitute?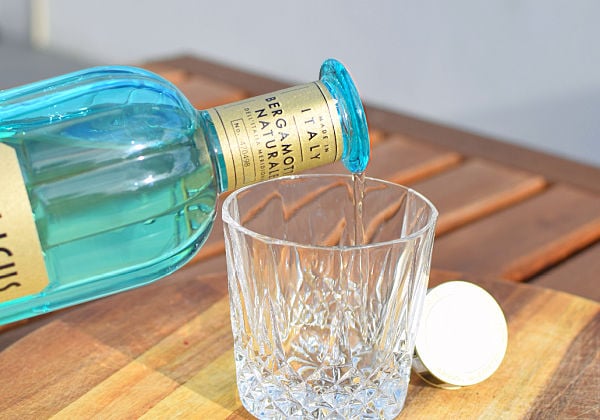 Fast facts
Italicus was invented by Giuseppe Gallo, a world-class bartender who is well known for his love of Italian spirits like Vermouth and Amaro.
It is a contemporary type of rosolio, which was originally made by Italian nuns and drunken by the Italian royal family.
Italicus includes gentian, chamomile, roses, lemons, and Melissa balm with bergamot peel.
Summing up
Italicus is one of those drinks that's hard to replace. However, if you're okay with some additional flavors, then try Quaglia Liquore di Bergamotto, Rosolio al Fico D'India, or Ortolan Rosolio Liqueur.
Thankfully for Italicus lovers, finding a bottle has become easier over the last couple of years as its popularity grows. If you aren't in a hurry, then you can easily find Italicus online.