Jim Beam is one of the most popular brands of bourbon in the world. But that doesn't mean you have to buy it. Maybe you need an alternative for cooking? Perhaps you're a patriotic American looking for a U.S.-owned alternative? Whatever your reason, we've got some excellent Jim Beam substitutes for any situation.
Bourbon enthusiasts can jump down the page for some American-owned alternatives to JB.
Table of Contents
Jim Beam substitutes in cooking and cocktails
Bourbon is versatile in the kitchen, perfect for adding flavor to meat like ribs, chicken, beef cheeks, and brisket. Puddings, cakes, pies, sauces, and marinades also benefit from a splash of this liquor. Of course, it's a hugely popular choice for cocktail making too.
If you've got no Jim Beam for cooking, brandy, cognac, or rum will both work just as well in any recipe using the same quantities. For a low-alcohol option, try a bourbon extract.
1. Brandy
While brandy will vary in flavor by brand, it generally has a slightly fruity, citrusy undertone that lends itself well to desserts. Tarts, creams, and baked goods are excellent with this liqueur. Savory recipes like steak sauces, gravies, and even lobster bisque also benefit from it.
Compared to Jim Beam, you'll find brandy is sweeter. If the recipe includes any sweetener like sugar or honey, reduce it to help balance the flavors.
2. Cognac
Cognac is a French liqueur that is well-suited to cocktail recipes that call for Jim Beam. It is also suitable for flambéing if you like flaming theatrics in the kitchen. Other good uses for cognac include flavoring chocolate desserts and adding depth to sauces.
Cognac gets its taste variations by aging in a barrel for at least three years. On the other hand, Jim Beam may only be aged for 3 months. This is one of the reasons that cognac will have a richer depth of flavor than Jim Beam. Although cognac won't taste the same as Beam, many would argue it'll be an improvement.
3. Rum
Rum has a bit more spicey, molasses-like flavor than Jim Beam, but it has proven to be a winning drop in food recipes and cocktails. It makes desserts like rum balls and coffee mousse or can be mixed into classic cocktails like a Highball. BBQ ribs smothered in a rum marinade is sure to please the crowds.
Rum is usually sweeter than bourbon, but it won't be a deal-breaker. It'll still work well as a Jim Beam replacement and can be used where ever you choose.
4. Bourbon extract
Need an alcohol-free mocktail or want to cook without the taste of alcohol? There are some handy bourbon extracts on the market that will allow you to make a Manhattan or Kentucky Sunrise without the side effects of alcohol.
Extracts are good for adding to ice cream, pies, cookies, and cupcakes. Add tasty warmth to your next stew or soup, with a splash of this flavoring.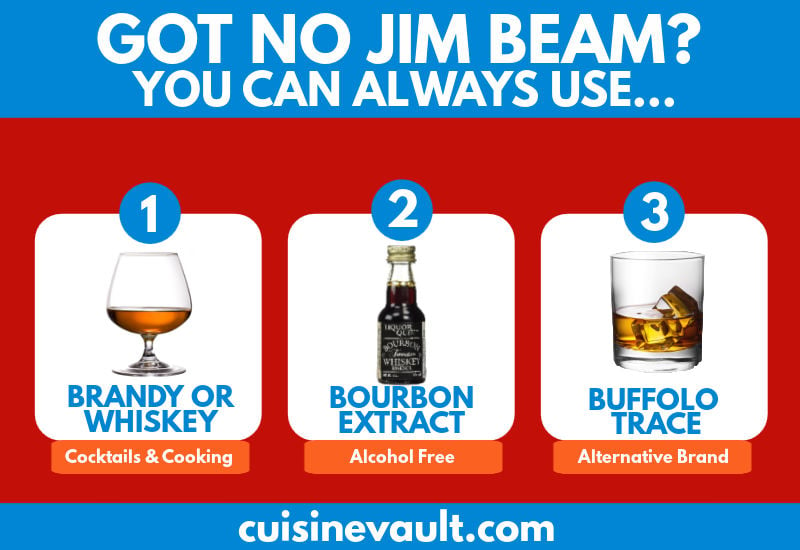 Related reading:
What are some tasty cooking sherry backup options.
How do I replace Chambord in drinks and recipes?
What are some good lillet blanc substitutes?

Best Jim Beam substitutes for American patriots
For decades, Jim Beam has been an iconic centerpiece for Americana. But in 2014, Japanese company, Suntory, acquired the brand as part of a massive $16bn buyout. If you prefer supporting locally owned products, then some great options are Buffalo Trace, Woodford Reserve, or Evan Williams.
1. Buffalo Trace
Owned by: the Sazerac Company, New Orleans, Louisiana
For over 200 years, the Buffalo Trace distillery has been producing award-winning bourbon whiskey, including the coveted Pappy Van Winkle Family Reserve. For an easier-to-find, more affordable bottle, try Buffalo Trace, which is a complex mix of toffee, candied fruit, and vanilla.
2. Woodford Reserve
Owned by: Brown-Forman Corporation, Louisville, Kentucky
Made in a distillery from the Civil War era, Woodford Reserve is steeped in history. It is the official bourbon of the Kentucky Derby and is a popular choice of drink across the United States.
Woodford Reserve is deliciously smooth and easy on the palate with a gentle finish. Excellent sipped neat or added to cocktails.
3. Evan Williams
Owned by: Heaven Hill Distilleries, Bardstown, Kentucky
For a decent budget option, we suggest a bottle of Evan Williams bourbon. It's a rich, smooth whiskey that can be savored on its own or added to classic drinks like a Whiskey Sour or Kentucky Mule.
Fun fact: In 1783 Evan Williams built a distillery on the Ohio River. It was the first distillery in Kentucky.
4. Jack Daniels
Owned by: Brown-Forman Corporation, Louisville, Kentucky
While Jack Daniels doesn't consider their product a bourbon, it isn't far off one. This spirit provides a smoky sweetness that's smooth on the palate. JDs is mellower than Jim Beam and doesn't have the brandy flavor that you get from JB.
Summary of Jim Beam alternatives
| Substitute | Suggested Use |
| --- | --- |
| Brandy | Cooking and Cocktails |
| Cognac | Cooking and Cocktails |
| Rum | Cooking and Cocktails |
| Bourbon Extract | Alcohol Free Flavoring |
| Buffalo Trace | Alternative bourbon brand |
| Woodford Reserve | Alternative bourbon brand |
| Evan Williams | Alternative bourbon brand |
| Jack Daniels | Alternative whiskey |
Tips for cooking with bourbon
Bourbon adds flavor to meat and also helps to break down the connective tissue, resulting in a more tender cut. It pairs well with soy sauce, cinnnamon, olive oil, brown sugar, shallots, and seasoning.
Avoid exposing bourbon to an open flame as some are highly flammable. That is unless you intend to flambe your food.
To rehydrate dried fruits, mix water and bourbon in equal ratios. You can then add this mixture to cupcakes, cakes, pies, and other desserts.
Interesting reading:
How do I replace Vermouth?
How can I substitute Drambuie?
Commonly asked questions
Will bourbon burn off when heated?
The alcohol content in dishes that are cooked will reduce over time. After slow-cooking food for 3 hours, most of the alcohol will have been cooked out, though it won't be alcohol-free.
What bourbons are good for baking?
Much of the flavor gets disguised in cooking, so we recommend choosing an affordable bottle like Four Roses or Wild Turkey.
What's a good bourbon replacement in pecan pie?
If you need to replace two tablespoons of bourbon in pecan pie use two teaspoons of vanilla extract or bourbon extract. If you're okay with adding alcohol you can use brandy, cognac, rum, or whiskey in similar amounts as what the recipe calls for.
Summing up
Jim Beam is easy to replace in cocktails and recipes. Use brandy, cognac, or rum if you're okay with consuming alcohol. If not, a bourbon extract will be fine. Keep in mind some brands have a small amount of alcohol content, while others have none.
For anyone feeling patriotic and wanting to support a bourbon brand that's American-owned, consider Buffalo Trace, Woodford Reserve, or Evan Williams. These bottles are made in distilleries that have long histories of producing quality bourbon.