It's no secret that the path to better health can be costly, and we're not just talking about home gyms or gym memberships here. Many people who embark on a healthy lifestyle buy a juicer, and these kitchen appliances can cost a lot of money.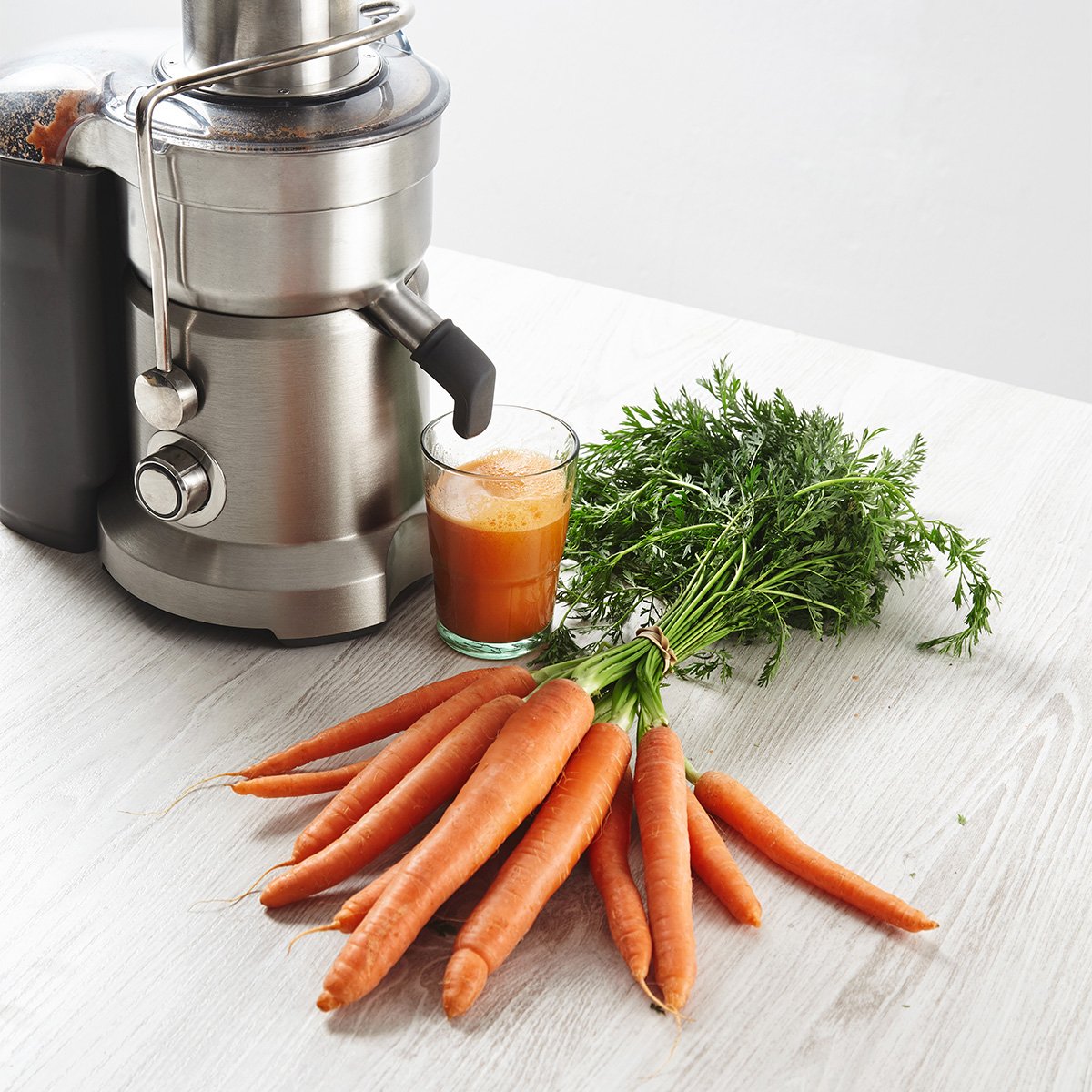 But while Breville does offer several expensive juicers in its lineup, it also has a few less expensive models, such as the Breville JE98XL.
====>> In a rush? Click here to see the current price for a Breville JE98XL Juicer on Amazon
If you have a few minutes and want to know more in-depth info about this juicer simply use the table of contents below:
Table of Contents
What Interesting About the Breville JE98XL Juicer?
Here are its more notable features:
The pulp container is quite large, with a 2.5-liter capacity (2.64 quarts).
The feed chute measures 3.3 inches wide. That means you won't have to cut up large fruits first before you feed them to the juicer. This should speed up your juice preparation considerably.
The cutting disc is made from stainless steel. It's so effective that compared to other juicers, it can get 30% more juice. More to the point, you get 40% more of the vitamins and minerals from the produce.
It comes with a safety lock mechanism that keeps the unit from working if it is overloaded.
The body is made from heavy-grade polymer, which is much stronger than your usual plastic materials.
The juice jug has a 1-liter (1.1-quart) capacity, and it comes with a froth separator so you don't have to pour out the foam with your juice.
It has a micro-mesh filter basket, and your purchase includes a cleaning brush to clean the filter basket.
It measures 16 inches wide, 9 inches deep, and 17 inches tall.
It's made in Australia.
Watch this quick video to see how the Juicer performs in real life!
Is the Breville JE98XL a Masticating Juicer?
No Breville JE98XL review will claim that it's a masticating juicer. A masticating (also known as cold press) juicer works much more slowly. Instead, this is a centrifugal juicer that blitzes through fruits and vegetables at a much greater rpm for the cutting disc.
A masticating juicer comes with a much less powerful motor, and it offers an 80 rpm speed that simply looks sluggish compared to the 12000 rpm you can get from the JE98XL. But that's by design. That's because some experts point out that the dizzyingly fast cutting disc speeds may generate enough heat that can destroy the nutrients you're trying to consume from the fruit and vegetable juices. By juicing much more slowly, you can preserve the nutritional benefits of your ingredients.
On the other hand, the slowness of the masticating juicer may not be practical in a fast-paced world. The JE98XL can offer you a drink in a matter of minutes. With a masticating juicer, your wait may extend to several hours. For people who want their drinks in the morning before they go to work, such a long wait doesn't make any sense at all.
How Do You Clean the Breville JE98XL?
For the most part, cleaning the JE98XL is a breeze. Here are some tips that can help you:
You should clean as you go so the juice and pulp residue won't dry up. Rinse the removable parts in hot water to get rid of the wet pulp.
The cleanup is much simpler if you line the pulp container with a produce bag.
You can just wipe down the motor base with a soft, damp cloth. Never ever immerse the motor base in any liquid whatsoever.
The dishwasher-safe (top shelf only) components include the filter bowl surround, the juicing jug and lid, the pulp container, and the stainless steel filter basket. The food pusher and the juice cover are not dishwasher-safe.
You should make sure that you thoroughly clean the stainless steel filter basket. That is so you can get consistently good juicing results. You can clean it manually with the cleaning brush, along with some hot soapy water and maybe a10% lemon juice solution to clear out any blockages in the mesh holes. But the faster and more efficient way is to just use your dishwasher. Just don't soak the stainless steel filter basket in bleach or other abrasive cleaners.
You can also use the lemon juice solution to remove any discoloration of the plastic when you juice fruits and vegetables with bright colors.
The manual has a lot more instructions regarding proper care and maintenance, so you should consult it regularly.
What Do Reviews of the Breville JE98XL say?
By and large, the reviews for the JE98XL are really positive. What pleases a lot of people is that the JE98XL is very straightforward, so you can get your drink very quickly. It won't take you more than 15 minutes to get what you need, and that time frame includes the cleanup as well. It's just so incredibly efficient and hassle-free.
Some even mention that it's not quite as noisy as some of the more powerful juicers out there. This is important when you're trying to get your health juice early in the morning, and some other members of the household are still asleep. At least your dedication to healthy living won't annoy them at all.
People like the simplicity of just having 2-speed options, so they don't have to overthink it. They just use the slow setting for soft fruits and the faster setting for the harder fruits. That's it. Once they're done, they can then quickly disassemble the thing and use hot water to clean the parts.
It is also remarkably durable. Many customers who have submitted updated reviews report that their units have been used every day, and yet they still work well after 2 or 3 years. It doesn't move on the countertop when it's operating, as it is quite stable and secure.
How Does the Breville JE98XL Compare?
Let's take a look at how the JE98XL fares in head-to-head comparisons with other popular juicers in the market today:
Breville JE98XL vs. 800JEXL
These two are very similar, and that's because the JE98XL was tweaked to produce the 800JEXL. The 850-watt motor of the JE98XL became 1000 watts, the high setting increased from 12000 rpm to 13000 rpm, plastic parts were replaced by stainless steel, the cutting disc was reinforced with titanium, and the pulp container grew to 3.2 quarts. That also means the 800JEXL is the more expensive version. In fact, on the official site, it's twice as expensive as the JE98XL.
Breville JE98XL vs. BJE200XL
This matchup may seem a bit strange since the BJE200XL features a less powerful 700-watt motor than the Breville JE98XL 850-watt juice extractor. Yet the BJE200XL has only one setting and it's at 14000 rpm, while the JE98XL's high setting is only at 12000 rpm. What this means is that with the JE98XL you can rub the juicer for a longer period of time without worrying about overheating.
The JE98XL looks better too, and its heavy-grade polymer material is sturdier than the simple plastic found on the BJE200XL. And the JE98XL is also much easier to use. Unlike the BJE200XL, you don't have to disassemble the unit to empty the pulp container.
Breville JE98XL vs. BJE510XL
Most sellers offer the BJE510XL at a higher price point, although usually you only have to spend more. That money pays for the extra settings available on the BJE510XL, which offers 5 speeds compared to the 2 on the JE98XL. These settings range from 6500 to 13000 rpm, with three more settings in between the two high and low settings.
The BJE510XL also offers a slightly larger pulp container at 3 liters, as the JE98XL pulp container can only hold 2.5 liters.
Breville JE98XL vs. BJS600XL
This isn't really a fair matchup, since the two are different types of juicers. The BJE200XL is a masticating juicer that turns much more slowly on its 24-watt motor. So what it does is slowly and methodically squeeze the last bit of juice from the produce. It also produces less noise than your usual centrifugal juicer, like the Breville JE98XL juicer.
On the other hand, if you're in a hurry then the JE98XL is a much better choice. It can take a very long time to get a drink with the BJS600XL, and that can be annoying if you're trying to produce lots of juice for parties.
vs. JE95XL
These are 2 very similar juicers. That's only natural since the JE98XL is an upgraded version of the JE95XL. The JE95XL doesn't have the juice pitcher with the froth separator. Also, it doesn't have the new LED overload protection that prevents the motor from being overloaded.
vs. Omega J8006
Again, we have a centrifugal vs. masticating juicer matchup. You'll want to get the J8006 (or even better, an NC800) if you're going to use your juicer a lot for wheatgrass and leafy greens, or if you're planning on making nut butters. For these purposes, the JE98XL is much less effective.
The J8006 is also made from better material, although, of course, its motor with its 80 rpm speed setting doesn't really compare with what the JE98XL has to offer. But it does come with an impressive 15-year warranty, while the Breville only comes with its standard 1-year warranty. It's also much quieter.
However, the JE98XL really offers a much speedier juice production. It's not just because its "slow" setting is at 6500 rpm. It's also the fact that it offers a much wider feed chute opening, so you won't have to cut up your produce to juice it.
vs. Omega J8005
The J8005 is just the less advanced version of the J8006, so again, we have a centrifugal vs. masticating comparison here. The same differences apply, although this time the J8005 comes only with a 10-year warranty. Also, the J8005 measures 14.5 by 6.5 by 15.5 inches, so it's smaller than the JE98XL.
Again, you can use the J8005 in ways for which the JE98XL won't work. You can use the J8005 to extract juice from wheatgrass and leafy greens, J8005, grind coffee beans and whip up soy milk.
vs. Omega VRT350
The VRT350 is also a masticating juicer from Omega and just in case you've forgotten, the JE98XL is not—it's a centrifugal juicer. So the differences are again obvious in terms of speed and power, with the JE98XL offering more watts and greater rpm. But that's not always an advantage, because some proponents of masticating juicers say that juicing the produce too quickly can cause heat that can diminish the nutritional benefits of juicing produce in the first place.
The VRT350 is very expensive, and it will take a lot of time to produce the drink you need. For those in a hurry or limited by a budget, it may not be the most practical option.
vs. Omega BMJ330
While the Breville brand has come up with several models to challenge the Omega in the masticating juicer niche, Omega has offered the BMJ330 to offer an alternative to Breville in centrifugal juicers. But Omega seems to have a different mindset compared to Breville.
The BMJ330 features a 375-watt motor, and that's impressive when you compare it with the other Omega motors. But it doesn't quite match the 850 watts found in the JE98XL, even if it can produce a juicing speed of 11000 rpm in its one and only setting. Still, the motor does operate more quietly, although that kind of power may not suffice for hard fruits and veggies.
And while it matches the 3-inch feed chute of the JE98XL, it offers something you won't find in any Breville juicer (so far). The BMJ330 comes with a 10-year warranty, which positively outmatches the paltry 1-year warranty you'll find in Breville juicers. But it doesn't come with a juice jug or a cleaning brush; there's no juice spout cover that prevents dripping, and its juice has a lot of foam.
vs. Cuisinart CJE-1000
These two offer many similar benefits for users. They feature powerful motors and 3-inch feed chutes, so you won't have to cut up the product first before you juice them. The CJE-1000 may offer a 1000-watt motor, but that may be too much (and too noisy) for some folks. Also, while it offers 5 settings comparted to the 2 in the Breville, this can make things more complicated for some people.
What's The Best Price for the Breville JE98XL and Where Can I Buy It?
You can get the Breville JE98XL online, particularly on e-commerce websites. You can purchase it at the official Breville website, or you can also visit Amazon or eBay.
On the official website, you can get one for $149.99, but that comes with free shipping, which you may not get from other sellers. So make sure that what you pay for shipping is less than the savings you enjoy with any supposed discount. And if you're buying off an e-commerce site, make sure that the site is reputable and that it screens its sellers.
You may end up with a defective or refurbished version, and then you're out of luck even with a supposed Breville JE98XL best price. You can try the Breville RM-JE98XL, which is a certified refurbished model with a 6-month warranty, but if you're really serious about juicing, then the discount on the cheaper model may not be worth it.
If you're looking for the best price, though, head on to Amazon.
Just make sure you click this link to see today's deal on Amazon.
Verdict: Is This Juicer For You?
With the Breville JE98XL Juice Fountain Plus, you get a no-frills juicer, which is perfect for those who don't want to be bothered by unnecessary details. It's very easy to use and to clean, and it doesn't even cost a lot of money.
On the other hand, if what you're after is a juicer that can retain as many nutrients from each product as possible and give you high-quality juice that can last for days when refrigerated, then a masticating slow juicer may be what you need. Sure, they cost more and require more prep time, but if you don't mind these nuances, you really get more health benefits with a slow juicer.