Hot or cold, black or drowning in milk foam, with or without chocolate and syrups, coffee is a must for most of us to get up and get going.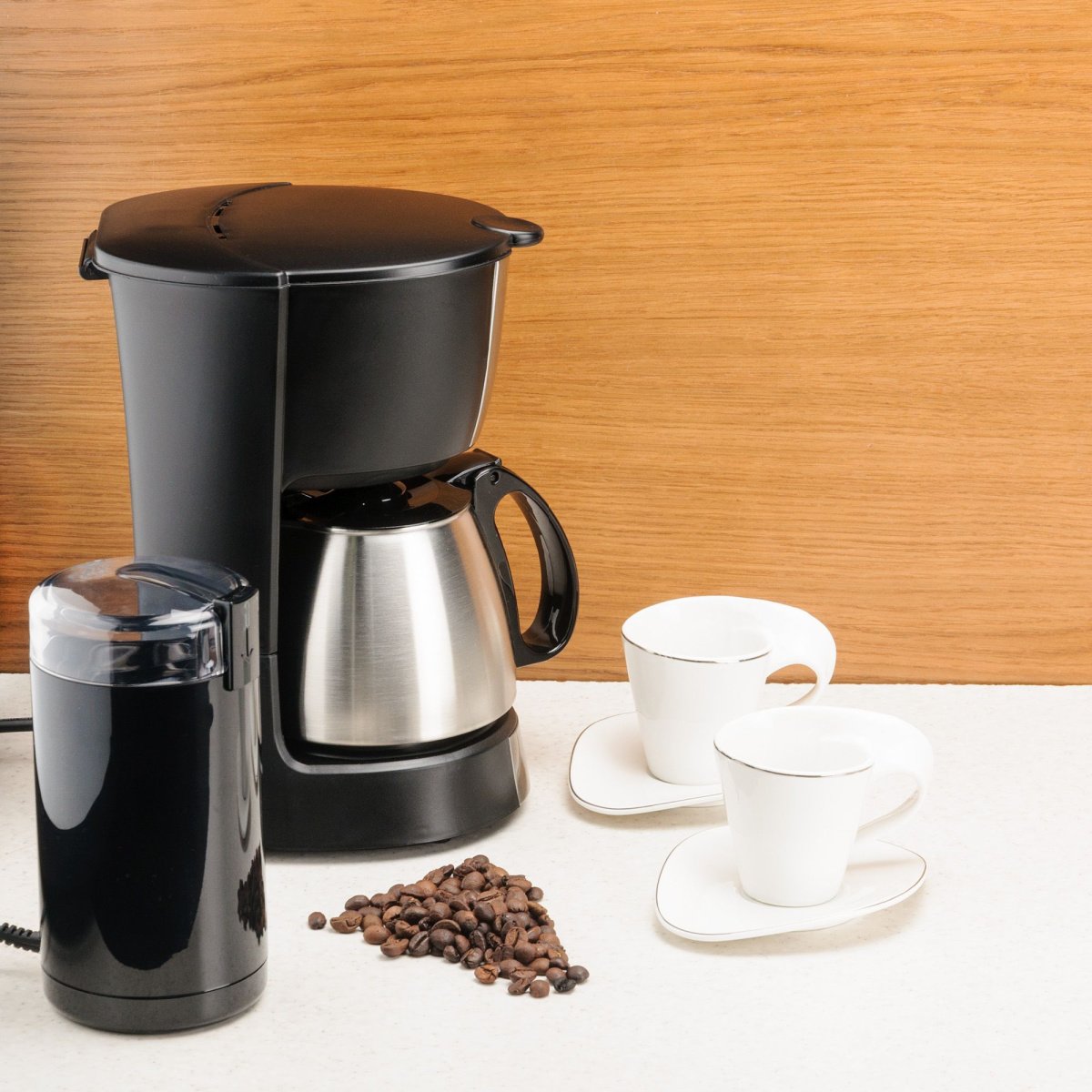 Unfortunately, brewing coffee in a glass coffee maker has one huge problem. Once the coffee is brewed, it needs an outside heat source to keep it from going cold. This means coffee continues to brew, becoming overcooked (AKA disgusting) and eventually burnt.
A stainless steel coffee maker makes burnt coffee obsolete. The insulated stainless walls keep the coffee warm without the risk of over brewing the coffee.
Stainless steel is virtually unbreakable, unlike glass carafes, which are fragile. They're also easy to keep clean and bacteria-free, plus stainless steel coffee makers look great.
In our quest for the perfect tool to make the perfect coffee, we've tested the best contenders to help you find the stainless steel coffee maker that makes the best coffee with minimal fuss.
Table of Contents
Best Overall: Breville Precision Brewer Thermal Coffee Maker
SAVE 20%
Breville Precision Brewer Thermal Coffee Maker
Every control option on the market, combined with the most advanced carafe design, makes this machine the best you can get without opening up a coffee shop.
Pros: Precision temperature control and brewing time, giant 60 oz thermal carafe, six customizable brewing type presets, adjustable temperature, multiple flow rates, rated "SCA Standard"
Cons: Non-removable water tank, does not retain heat as well as some of the competitors, has to be descaled often
The Breville Precision Brewer Thermal Coffee Maker features a thermo-coil heating and pump system with PID digital temperature control to produce that elusive perfect cup brewed at the ideal temperature.
You can produce authentic artisan-style coffee by choosing from six brewing settings and hundreds of adjustment options to the temperature, water flow speed, and coffee cone shape. You also have options for cold brew, pour, or good old drip.
Use the included pour-over adapter to adjust the coffee bloom time to your preference. Breville Precision Brewer can make up to 12 cups of coffee at a time.
Breville Precision Brewer is not a small unit; it's about 16 inches tall by 12 inches wide. It creates a surprising focal point in our kitchen with a modernistic George Jetsons look. When operating, it's surprisingly quiet, and the pour-over coffee we produced using it was easily the smoothest we've ever had.
Best Value: Mr.Coffee Optimal Brew Thermal Coffee Maker
Mr.Coffee Optimal Brew Thermal Coffee Maker
Perfect brewing temperature, brew strength selector, and no-fuss operation make this the ideal choice for those who want a great cup of coffee but don't have the time to make it.
Pros: Water filtration function, removable water reservoir, strong brew selector, cleaning cycle, double-walled thermal carafe, high-temperature brewing (205 degrees Fahrenheit), programmable timer
Cons: Built-in water filer has to be cleaned every couple of months
The Mr. Coffee Optimal Brew Thermal Coffee Maker is a much less complicated design than most other coffee makers capable of delivering the same quality of coffee. The higher brewing temperature produces smoother, less acidic coffee faster. Thanks to the double-walled thermal carafe, you won't need a warming plate either.
The delay function lets you wake up to coffee already brewing, and the Grab-a-Cup Auto Pause function enables you to sneak a cup before the whole batch is done.
The built-in filtering system is a bit of a hassle, but a "change me now!" warning sign popping up when it's due for a refresh helps. The water filtering system does keep the minerals from the rest of your system, cutting down on cleaning and improving the taste.
Best for the True Connoisseur: Wolf Gourmet Programmable Coffee Maker System
Wolf Gourmet Programmable Coffee Maker
This coffee maker offers you control over every variable that, working together, produces the best coffee you've ever had.
Pros: Truly a superior tasting coffee, built-in grounds scale, programmable brew strength and temperature, removable water reservoir, thermal carafe
Cons: The brewing temperature is only 195 degrees Fahrenheit
The Wolf Gourmet Coffee Maker System started as an authentic commercial coffee setup, and its origins easily shine. This coffee maker is designed for a coffee enthusiast unwilling to compromise on even the slightest aspect of drink preparation.
In the manual mode, you can control the brewing temperature, extraction method, and the time that water and coffee stay in contact. The Accu-brew mode weighs the grounds as you pour them to ensure the perfect water-to-coffee ratio.
A 10-cup thermal insulated carafe allows you to make enough to get through a long day while keeping your java nice and warm. Plus, coffee is easy to load thanks to the front slide-out basket. The water reservoir is also removable, allowing you to refill it without moving the whole setup.
This machine is definitely on the more complicated side. It took us a bit to get a handle on all the programming and brewing options, but the resulting cup of coffee is top-notch. And if something goes wrong in all this industrial complexity, Wolf offers a 5-year warranty.
Best for Making Iced Coffee: Zojirushi EC-YTC100XB Coffee Maker
SAVE 19%
Zojirushi EC-YTC100XB Coffee Maker
Make excellent quality coffee in a coffee maker that's designed specifically for those who enjoy iced coffee drinks.
Pros: 200-degree brewing temperature, removable water tank, 10-cup thermal carafe, reusable and washable stainless steel coffee filter
Cons: No way to adjust the brewing temperature
This coffee maker meets the golden standard 200 degrees Fahrenheit brewing temperature. Its pre-infusion cycle wets the grounds and lets the coffee bloom before extraction. Then, a top-notch insulated carafe keeps the coffee warm for up to 8 hours.
Time-saver mode allows you to get a single cup brewed in a hurry. If you plan to make iced coffee, a unique measuring system allows you to increase the concentration to avoid having watered-down coffee.
Running the Zojirushi Coffee Maker, we registered a temperature in the coffee ground bed of 202 degrees Fahrenheit—perfect for a high-quality brew. The pot took less than 10 minutes to brew, and the coffee came out smooth, without too much bitterness.
Best Stainless Coffee Maker and Grinder Combo: BLACK+DECKER 12-Cup Thermal Coffeemaker
SAVE 7%
BLACK+DECKER 12-Cup Thermal Coffeemaker
A grinder and an excellent carafe design make this machine a great option for people who appreciate freshly ground beans but don't have counter room for a coffee maker with a built-in grinder.
Pros: 12-cup thermal, double-walled carafe, brew size and strength selector options, Evenstream showerhead to evenly distribute water over coffee, no-drip spout, matching stainless steel coffee grinder
Cons: Like some competitors, the coffee filter basket is made of plastic mesh instead of steel
Freshly ground coffee is more robust, more aromatic, and less acidic. This Black and Decker coffee maker with the grinder saves time, money, and effort spent looking for a stand-alone grinder.
It makes 12 cups of quality coffee, and the thermal carafe keeps it hot for hours. Customizing the strength and size of your brew is a sinch, and the new showerhead allows coffee to bloom and develop better flavor. The big, offset opening on the top of the machine lets you get all the water into it without spills. The water amount indicator helps determine if you need to add more.
We liked the improved carafe with a locking lid. There's also a button on top of the handle that you need to press before pouring the coffee. Spilling hot coffee on your lap while trying to pour yourself a cup is only funny in the movies.
Best Stainless Coffee Maker with a Built-in Grinder: Cuisinart DGB-400 Automatic Grind and Brew
SAVE 21%
Cuisinart DGB-400 Automatic Grind and Brew 12-Cup Coffeemaker
It has a set-it-and-forget-it option for those of us who appreciate fresh ground coffee but don't want to deal with all the work it takes to make it.
Pros: 24-hour programmability, automatic grinder, brew pause feature; 12-cup carafe with a dripless spout, charcoal water filter, washable coffee filter
Cons: The water tank is not removable
The Cuisinart Automatic Grind & Brew Coffeemaker lets you enjoy freshly ground coffee without the hassle of using and cleaning a separate grinder. A built-in blade grinder automatically grinds beans as part of the brewing process. The best part is that you can program Cuisinart to turn on up to 24 hours in advance, so you can wake up to freshly ground and brewed coffee.
The Brew pause feature lets you pour yourself a cup without waiting for the whole pot to finish. And, if you're looking to use preground coffee, the Grind-off feature will let you take the grinder out of the equation.
Because of the built-in grinder, the cleaning process is more complicated than with other coffee makers. However, cleaning doesn't take much time, thanks to all five pieces being removable.
Best Single-Serve Coffee Maker: Cuisinart Single-Serve Coffee Maker
Cuisinart Single-Serve Coffee Maker
This machine provides fast, top-quality coffee with a hot water option and a programmable setup in a single cup size.
Pros: 3 serving sizes, includes travel mugs, can be used with any brand single pod or reusable filter cup, 72 oz water reservoir, fully programable; hot water dispenser
Cons: Not Wi-Fi compatible
The Cuisinart Single Serve Brewer lets you choose between 4, 6, 8, and 12 oz cup sizes. A huge, 72 oz water reservoir cuts down on the number of times you have to refill it.
The hot water function makes this machine much more versatile, allowing you to use it for tea, cocoa, soups, etc. Plus, it's fully programmable with adjustable temperature to make that perfect cup of coffee you've been craving. A removable water filter will let you keep the undue minerals from your coffee, and with a reusable coffee filter, you'll never buy paper filters again.
On our test run, an 8-ounce cup of coffee went from power off to a delicious, hot cup of coffee in less than a minute. The water temperature averaged around 198 degrees Fahrenheit, just 2 degrees of the gold standard.
Finally, cleaning the machine is a breeze, thanks to the removable water tank and drip tray.
Best Wi-Fi Enabled Stainless Steel Coffee Maker: Cafe Specialty Coffee Drip Maker
SAVE 18%
Café Specialty Drip Coffee Maker
Gold Cup certified and fully WI-FI enabled, Cafe Speciality Drip Coffee Maker delivers artisanal quality coffee with a push of a button on your phone.
Pros: SCA Gold Cup certified performance, Wi-Fi enabled, 10-cup insulated carafe, programable brew strength, adjustable brew temperatures
Cons: Carafe will only keep coffee hot for about 2 hours after it's brewed
For those of us who need to be able to start the car, send out a text and turn on the coffee maker from the same device, the Café Specialty Drip Coffee Maker is the cure to our disease. It delivers top-of-the-line, SCA-certified, barista-quality coffee in your own home. The machine gets paired up with your smartphone using the SmartHQ app. You're in charge of temperature, strength, and size from anywhere as long as you have your phone.
Cafe Specialty Drip Coffee Maker will brew up to 10 cups of coffee at a time. You can choose from four brewing modes to get the perfect Gold Cup standard cup of coffee every time. The auto brew feature will turn the machine on daily with preprogrammed brew settings.
Your preferences are stored, so you don't have to make those same decisions every morning. On the other hand, if you want to jump in and take the reigns of control, the temperature can be precision controlled from 185 to 205 degrees and meets the requirements of the Speciality Coffee Association.
Cafe Specialty Drip Maker produces top-of-the-line coffee, as you would expect from a Gold Cup-certified machine. The only downside we observed is common to all programmable coffee machines—if you're grinding your coffee beans 24 hours in advance, they're going to lose some of the freshness.
Stainless Steel Coffee Maker Buying Guide
Type Of Carafe
You'll be choosing from two types of carafe—glass and stainless steel. Glass is pretty, and you can see how much coffee is left in it, but glass breaks easily. Coffee is an acidic liquid that also stains glass pretty fast.
With stainless carafes, it pays to pay careful attention to how well-insulated the carafe is and if the lid has a built-in lock to prevent spills. It's also a good idea to develop a general notion of how much coffee you need to get through the day. Purchasing a bigger model and having to dispose of leftover coffee is a waste.
Brew Strength Control
If you're the type that often wonders, "Why is this coffee so weak and watery?" after buying a cup at the coffee shop, the brew-strength control feature is a must-have.
It allows you to adjust the strength of your coffee, whether you're looking for a bit more bite and caffeine or prefer a smoother, less acidic drink. It's also a big help in making iced coffee drinks. You can make your coffee a bit stronger to compensate for the extra water the ice cube will add once it melts.
Pause And Serve Function
It takes, on average, 10-12 minutes to brew 12 cups of coffee. A pause function allows you to pour yourself a cup after a minute or two and spend most of that time with a cup of coffee in your hand.
Built-In Grinder
If you came to appreciate the difference freshly ground coffee beans make in the taste of your java, look for a built-in coffee bean grinder. Note that this makes the machine quite a bit larger and heavier.
Water Filter
Chlorine in tap water will affect the taste of the coffee you brew, so it pays to look for a model with a charcoal filter for the water. Minerals in tap water also make cleaning coffee makers more complicated and frequent.
Brewing Temperature
The temperature of the water you're using is second only to the quality of the beans in creating the flavor in your cup. The best temperature to brew coffee is between 200 and 205 degrees Fahrenheit. Look for a model that states the brewing temperature in that range or, better yet, one with adjustable temperature.
Frequently Asked Questions (FAQs)
Are all stainless steel coffee makers BPA-free?
Most coffee makers today are BPA-free, but it pays to read up on the particular model you're considering. Some coffee makers might have plastic parts that don't qualify.
How long does a coffee maker last?
The average lifespan of a good-quality coffee maker is between 5 and 10 years. Staying on top of the cleaning schedule will ensure you'll enjoy coffee out of your machine for many years.
How do I clean my coffee maker filter?
First, wipe off the residual coffee grinds and toss them in the garbage. Once clean, soak the filter in 50/50 water and vinegar solution overnight.
Can mold grow in a coffee maker?
Yes, mold can grow in a coffee maker. Mold needs warmth and moisture to grow, and coffee makers provide both. It's less of an issue with stainless steel coffee makers, but regularly cleaning your water reservoir will ensure that does not happen.