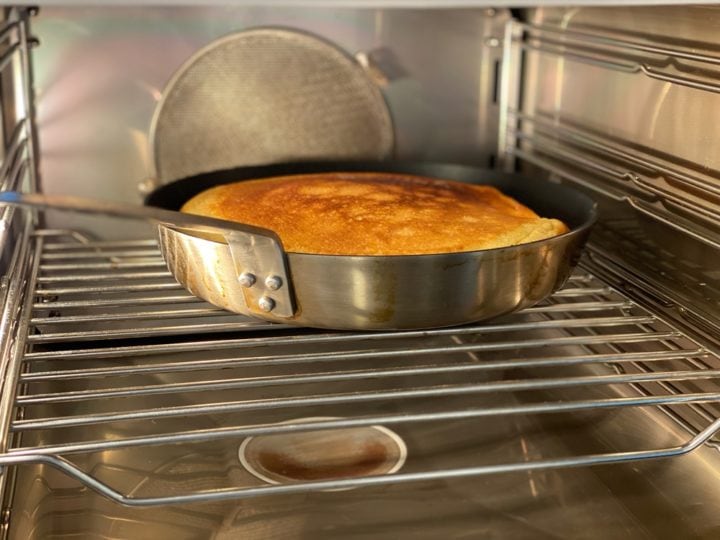 Today, stainless steel is one of the most common types of materials used for kitchen cookware. After all, it is stain-resistant, bacteria-resistant, and corrosion-resistant, too. All of these qualities make stainless steel a fantastic option for cookware.
Yet, people may have this recurring question of whether stainless steel can go in the oven. The direct answer is yes, you can put stainless steel in the oven. But, you need to opt for grade 304 or 400 stainless steel. It should also not have any wooden or plastic handles.
Moreover, using stainless steel in the oven comes with its benefits, limitations, and risks that I have covered in this extensive guide.
Table of Contents
Is Stainless Steel Oven-Friendly?
In practical use, you may have noticed that anything that contains non-metal elements isn't oven-friendly. It is because those materials, such as plastic, don't have a high melting point. Thus, if you put them in the oven at a high temperature, they will melt. Additionally, they may even add toxic chemicals to your dish, leading to health issues.
Now, let's talk about stainless steel. Stainless steel typically consists of elements, including silicon, nickel, chromium, manganese, with a bit of nitrogen and carbon. So, you can consider it as a type of metal alloy.
Due to stainless steel's metal properties, it has a high melting point, which makes it oven-safe. For instance, grade 430 stainless steel has the highest melting point, around 2597 to 2750 degrees Fahrenheit.
The table below also demonstrates the melting point of various stainless steel types:
| | |
| --- | --- |
| Stainless Steel Grade | Melting Point (In Fahrenheit) |
| 301 | 2552°F to 2588°F |
| 303 | 2552°F to 2588°F |
| 304 | 2552°F to 2642°F |
| 310 | 2552°F to 2642°F |
| 316 | 2507°F to 2588°F |
| 321 | 2552°F to 2588°F |
| 430 | 2597°F to 2750°F |
How To Use Stainless Steel In Oven Safely?
As you can see, stainless steel has an extremely high melting point compared to other materials, like plastic (between 320 and 410 degrees Fahrenheit). But, there are still a few more things to consider before using your stainless steel cookware in the oven.
After all, you wouldn't want to end up having a cooking disaster. Or, much worse, have toxic chemicals in your prepared dish. So, to avoid that follow these instructions:
Tip 1: Check The Handle
Although stainless steel has an excellent melting point, your cookware may still have a few elements that don't. For instance, most people face problems with their stainless steel cookware handles.
Most stainless steel cookware might come with a plastic or wooden handle. Thus, as we saw earlier, plastic has a low melting point, and so does wood. So, when you keep your stainless steel pan with a plastic or wood handle, it may end up melting and destroying not just the expensive cookware but your dish too.
Thus, before popping your stainless steel mixing bowl or dutch oven into the oven, always check if the handle is oven-safe, too, or not.
Note: You can use stainless steel with a plastic handle if you keep the oven temperature below 350 degrees Fahrenheit. Similarly, for a silicone handle, keep the temperature below 400 degrees Fahrenheit.
Tip 2: Take Care of The Quality
Another thing you need to keep an eye out for is the quality of stainless steel. Note that its metal composition makes a huge difference here.
So, whenever you're buying a new stainless steel bowl, there are two things you should look for:
Stainless Steel Grade
The stainless steel grade talks about its durability, temperature resistance, and quality, too. As mentioned above in the table, several stainless steel grades are present. But, not all are meant for the oven.
For instance, grades 304 and 430 have high melting points, making them ideal for oven cooking. On the other hand, grade 316 won't be nearly as good as it has a slightly lower melting point than the other grades.
Also, both 304 and 430 stainless steel grades are cheaper, as opposed to 316. So, that's a big plus, too.
Stainless Steel Quality
Although stainless steel grade talks about the overall quality, it's not enough to gauge the quality or type of metals used in the cookware. Therefore, if you buy a stainless steel pan from a random vendor, you have to be careful.
Thankfully, there are a few ways to know if your stainless steel pan is of high quality or not. For instance, you can check its color (look for a clear silver finish or a slightly greenish finish) or conduct a magnet test.
If you find your stainless steel cookware of low quality, avoid using it in the oven. Heat may release toxic and cheap materials into your food.
Tip 3: Wrap a Kitchen Towel Around the Handle
Many chefs and bakers use stainless steel pans that have metal or steel handles. It is because when you take the cookware out of the oven, it's going to be extremely hot at times. So, to avoid getting any burns, this method might help.
All you need to do is take a thick, heat-resistant kitchen towel, cover the handles with it, and keep the cookware in the oven. Then, when you want to take it out, simply hold the towel-wrapped handle for safe use.
Tip 4: Don't Go Above 500 Degrees Fahrenheit
Although stainless steel can endure extremely high temperatures, it's best to prevent going above 500 degrees Fahrenheit.
Otherwise, if you expose a stainless steel pan to extremely high temperatures, it may start distributing the heat unevenly.
Tip 5: Keep An Eye On the Oven
This goes without saying, but if you have currently bought new stainless steel cookware, keep an eye out on it while keeping it in the oven.
If it's accidentally of low quality, it may get damaged if you put it in the oven for too long. So, try to stay attentive if you're using a stainless steel pan in the oven for the first time.
Benefits of Using Stainless Steel In Oven
If you plan to use a stainless steel bowl or pan in the oven, you may get several benefits. These include:
1. Proper and Even Baking
When it comes to baking, even heat distribution and cooking are two significant prerequisites. If you're trying to bake, an even heat is needed to get the perfect base. On the other hand, uneven heat can cause your entire dish to get ruined.
Thus, stainless steel is one of the best options here. First of all, stainless steel absorbs heat quickly and adequately. Secondly, it also offers a homogeneous surface that ensures an even heat distribution.
Note that it is best to preheat your stainless steel pan for even better heat distribution. We will also go through that in the next section.
2. Extremely Long Lasting
Another great benefit of using stainless steel in the oven is its long-lasting nature. As mentioned earlier, this material is highly corrosion-resistant, temperature-resistant, and scratch-resistant, too. All of these qualities allow you to use the material for a long period.
Usually, stainless steel can last for more than a decade or two if you use and maintain it in the right way. Also, as it is oven-safe at most times, it won't get damaged in that case either.
So, you may consider investing in stainless steel if you're looking for good value for money.
3. Easy to Clean and Maintain
Baking has a lot of amazing things going for it, like the delicious aroma of baked goods or the perfect rise of bread. However, there are a few tiring parts, such as cleaning utensils.
But, if you often feel tired when cleaning utensils post-baking anything, stainless steel cookware is the best option.
So, if there's some burnt residue on your stainless steel pan after baking, you just need to soak it in the sink and then scrub away the dirt. Sounds easy, doesn't it?
4. Highly Non-Reactive and Non-Toxic
One of the major concerns of cooking with any type of material is toxicity. For example, cooking materials containing plastic can interfere with your food composition. Therefore, you might be ingesting harmful chemicals if you're cooking in plastic cookware.
Now, you cannot say the same for a high-quality stainless steel utensil. It's because stainless steel is highly non-reactive and inert. In short, it won't react with your food or add toxicity to it.
5. Lightweight
If you have ever tried baking with a cast iron, you may already know how heavy it is. And well, if, in that case, you are looking for a reasonably lightweight bakeware, then stainless steel is worth considering.
Stainless steel is lighter than cast iron and helps with maneuverability.
6. Aesthetic Appearance
A lot of people focus on aesthetics if they're planning to bake anything in the oven. Thankfully, stainless steel, with its clear silver finish, can go with any modern theme.
So, if you don't want to remove the dish from the pan, a high-quality stainless steel pan can offer a delightful appearance on the dining table. Moreover, stainless steel utensils also come in various styles and designs. Thus, you can find which one suits your type and get that one.
Owing to the benefits given below, you can consider using stainless steel in the oven if you follow all precautions.
Limitations of Using Stainless Steel In Oven
Although using a stainless steel bowl or pan in the oven offers several benefits, there are a few limitations you need to stay aware of as well. These include:
1. Food May Stick
Whenever you're baking anything using any type of utensil, food sticking to your bakeware and equipment is a major problem, unless it has a nonstick surface. However, it seems to intensify if you're using stainless steel as it's not nonstick cookware. So, in this situation, you need to prepare everything well.
For instance, try to use proper non-stick practices, like using parchment paper, greasing the utensil with butter or oil, etc., to prevent the food from sticking.
2. Discoloration Issues
Keep in mind that stainless steel has a high melting point, and it's also non-reactive. But still, if you expose stainless steel to extremely high heat, it may cause discoloration. Now, this won't cause a huge problem unless you want to maintain the overall aesthetics.
Stainless Steel Vs. Aluminum: Which One Is Better For Baking?
Aluminum is one of the most common oven safe cookware materials people use for baking. But, today, many people are shifting towards stainless steel cookware as well. So, which one is better and why? Let's understand the differences between these two for a better idea:
1. Heat Retention
Heat retention is one of the main differentiating factors between stainless steel and aluminum. Additionally, it also holds a lot of importance in baking.
Note that both stainless steel and aluminum cookware have excellent heat distribution. But, stainless steel retains heat for an extended period, whereas aluminum retains it for a shorter time. Also, stainless steel takes more time to heat, whereas aluminum heats up very quickly, too.
So, if you're short on time, it's best to use aluminum cookware for baking.
2. Oven Safety
Both aluminum and stainless steel are oven safe. But, stainless steel can endure up to 500 degrees Fahrenheit, whereas aluminum can endure up to 450 degrees Fahrenheit.
3. Weight
Although stainless steel pans and skillets aren't as heavy as cast iron skillets, they're still quite heavy. Therefore, they're heavier than aluminum pans. Moreover, it's also true that aluminum is ⅓rd the weight of stainless steel.
Due to this reason, aluminum is generally lightweight and easy to carry around.
4. Health Concerns
One major benefit of stainless steel over aluminum is that it's non-toxic. Moreover, it won't react with any type of food either, as it is inert.
On the other hand, aluminum is considered unsafe at times, and it can also react with acidic foods.
5. Cost
Stainless steel cookware is typically more durable, but is somewhat expensive. Alternatively, aluminum is inexpensive, but less durable than stainless steel.
6. Cleaning and Maintenance
Stainless steel is typically easier to clean and also dishwasher-safe. On the other hand, aluminum isn't usually dishwasher-safe and requires more cleaning effort.
Related Questions
Will Stainless Steel Melt In Oven?
The answer is no. Stainless steel won't melt in the oven due to its high melting point. But, it is oven safe, mainly up to 500 degrees Fahrenheit. If you go beyond that, you may ruin your stainless steel utensil.
Can You Put Stainless Steel In a Microwave?
It is best never to put stainless steel in the microwave. Note that even if a stainless steel pan is oven safe, it doesn't make it microwave-safe automatically.

There are several reasons behind it. For instance, metals like stainless steel absorb microwave heat instead of reflecting them. Therefore, it may lead to fire hazards and sparks, too.
Is Stainless Steel Good For Baking?
As stainless steel can endure high temperatures, spread heat evenly, and is non-toxic, it is definitely suitable for baking. You just need to ensure that your stainless steel utensil is high quality and doesn't contain a plastic or wooden handle. Also, take proper measures so that your food doesn't stick to the cookware.
Why Does Food Stick To Stainless Steel?
A stainless steel pan may cause the food to stick due to tiny pores on its surface. Therefore, the pores shrink when you heat the pan, causing the food to get stuck between the entire surface area.
Can 18/10 Stainless Steel Go In The Oven?
Yes, as long as your 18/10 stainless steel cookware doesn't have a plastic or wood handle, it's safe for the oven up to 500 degrees Fahrenheit.
Final Thoughts
Stainless steel is an excellent choice for baking in the oven. From enduring high oven temperatures to spreading heat evenly, it can help you bake the perfect cake or anything else!
Moreover, although a bit expensive, it can last long for years to come if you follow this guide and the information mentioned above.