Electric water kettles don't have to be dull and ordinary-looking. There are many stylish, modern, or retro kettles on the market and we've found the most beautiful ones.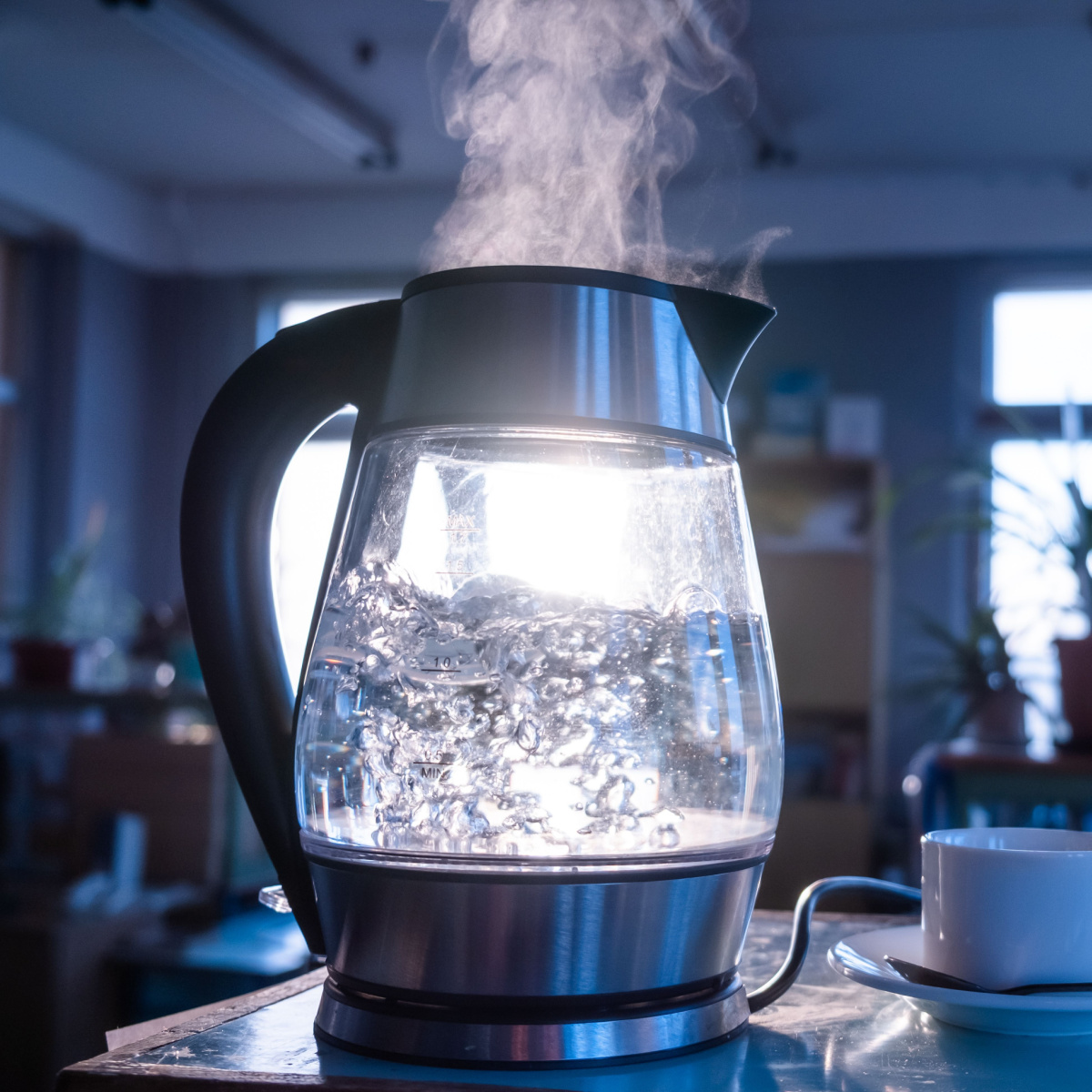 If you buy through the links on this page, we will get a small commission at no charge to you. Thank you for supporting our website.
Make sure to also check out 15+ Unique & Clever Looking Teapots
Table of Contents
1. Pukomc Retro Electric Kettle Stainless Steel
This lovely double-layer kettle is made of food-grade 304 stainless steel. It also comes in green and black versions. This retro kettle is designed with a 45-degree angled spout, which is not only beautiful but also better for easy filling.
2. QCUQ Gooseneck Kettle
Every barista knows the brewing temperature matters. QCUQ variable temp kettle can sense 1°F change and provide you to-the-degree control. Simply turning the dial, you can select your preferred temperature ranging from 100℉ to 212℉. It's also available in white.
3. Viante Electric Water Kettle
This design award-winning kettle incorporates the latest trends in product design. Its minimalistic appearance looks simply amazing in any modern kitchen. It also uses innovative materials in its construction, like its polycarbonate acrylic handle, which gives it a unique appearance never seen in other kettles.
It's also safe to the touch as it never gets hot on the surface.
4. ASCOT Electric Kettle
Available in 5 beautiful colors, this BPA-free electric kettle comes with a 100% stainless steel interior, so the water in the kettle doesn't come into contact with any plastic.
It takes only 4 minutes to boil the water, has a wide pour spout like most traditional stovetop kettles, and has a small base that doesn't take up an excessive amount of countertop space.
5. Smart Tea Maker and Kettle
This smart kettle can be temperature adjusted from 104°F to 212°F. It has 9 temperature presets for a quick start—200°F for roast coffee, 175°F for green tea, or 115°F for baby formula. Adjust ±1°F to meet personal taste.
All materials are 100% BPA-free, and it comes with a 2-years warranty.
6. Bodum Melior Gooseneck Electric Water Kettle
This simple kettle is made of attractive, durable stainless steel and natural, sustainable cork. It's complementary with Bodum's pour-over coffee maker with a fine mesh stainless steel filter that eliminates the need for paper filters.
Check out this bundle: a gooseneck kettle with a pour-over brewer set!
7. ASCOT Electric Tea Kettle
Another Ascot on our list; this one's made of glass and comes in six different colors. I prefer this gold one the most, but you may have other preferences.
8. Ovente Electric Water Kettle
I'm in love with this stylish Ovente copper-colored kettle. It also comes in black and brushed designs. The material is stainless steel, of course. The kettle will look beautiful in any kitchen, for sure.
9. Aroma Surgical Grade Kettle
This Aroma stainless steel kettle has a stylish, quilted design that adds a touch of elegance to your home and is sure to be a talking point. Style meets quality design as the interior is made from 316 surgical-grade stainless steel, so not only will your kettle never tarnish, but you can be sure of the safety of your beverages.
10. Bodum Ottoni Electric Water Kettle
If design, good looks, and quality are what you are looking for in a water kettle, you need the Bodum Ottoni model. This classic and stylish water kettle with a capacity of 1.0 L is one of the best-looking appliances to have on the countertop of your kitchen.
11. Brewista Artisan 1.0L Electric Gooseneck Kettle
This little gooseneck kettle is available in seven colors, but I prefer this one, matte black with brown accents.
12. Dezin Electric Kettle
Dezin illuminating kettle is designed with a bicolor, changeable LED system. The blue light will gather and swirl in the water when it heats up, and the green light will be turned on along with the keep-warm function.
The keep-warm function provides the right temperature for your tea and coffee and helps their flavors come out fully brewed, so that brings you a more authentic taste.
13. BLACK+DECKER Honeycomb Collection Rapid Boil
This beautiful kettle is part of the Honeycomb Collection. It has a premium textured finish and stainless steel accents that make it a nice addition to your kitchen.
14. DmofwHi Gooseneck Electric Kettle
This retro kettle is made of stainless steel and has a perfect gooseneck for precise pouring. It's also available in a copper design, if you prefer that.
15. KRUPS BW801852 Smart Temp Digital Kettle
This sleek kettle logs temperature in real-time and has 5 preset temperatures designed to bring out the best flavors in tea and coffee:
105°F for Warm
155°f for White Tea
175°F for Green Tea
195°F for Oolong Tea and Brewing Coffee
212°F for Boil, Black and Herbal Tea
16. Capresso 259 Water Kettle
This stainless steel dome heater is highly efficient and boils water faster than a stovetop kettle. It's an unusual design that comes in polished chrome and black.
17. MEISON Electric Kettle
I love this color. It adds a beautiful accent to your kitchen. This kettle comes with food-grade 304 stainless steel (no rust risk) inside the inner pot, inner lid, spout, and rim. No plastic comes in contact with hot water.
18. Elite Gourmet EKT-1203W
A stylish platinum design featuring a BPA-free stainless steel interior with a stainless steel handle will make your life easier and add a touch of elegance to your kitchen.
19. Gootrades 0.7L Portable Electric Travel Kettle
We have a small, portable tea kettle with a button that lets you change the temperature of the water to suit your needs. It's convenient for camping or to bring to a hotel if you have a phobia of hotels' kettles.