Juice is all the rage these days, and coffee shops aren't just coffee shops anymore. You can't go into a Starbucks or local cafe without seeing fresh juice on the menu, and I've even seen sit down restaurants offer fresh juice as a drink or a dessert. If you're opening a cafe or restaurant, you'll need to invest in a juicer.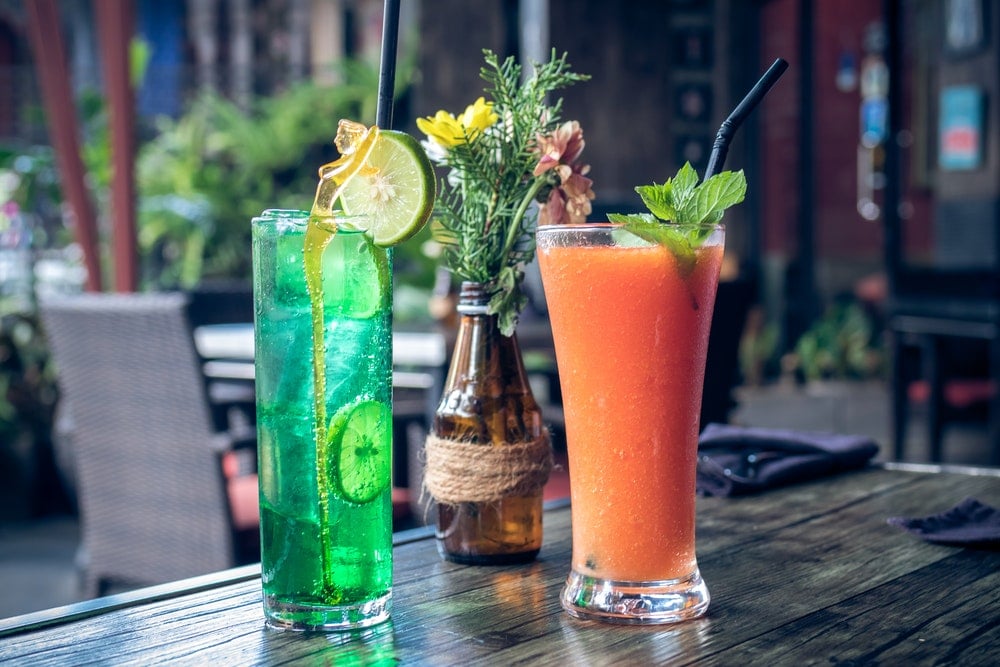 Naturally, you'll need a different juicer than someone would want if they're just buying it for homemade juice in their personal kitchen. That's why I've made this list just for you of the best commercial juicers, so you can find the perfect juice maker to help you get started on your new business venture.
Keep reading to see our list of the best commercial juicers, followed by a breakdown of who would want each specific juicer. Or, skip. to our number one commercial juicer on Amazon with the link below.
Table of Contents
What Should You Look For in a Commercial Juicer?
Here are the most important criteria that should inform your decision.
Criteria #1: Juice Yield - Different juicers will give you different amounts of juice from your ingredients. We obviously don't want you to waste money buying a bunch of fruits and vegetables that will end up giving you a low juice yield, and we don't want you to waste time juicing more ingredients than you have to. The mechanism a juicer uses for its juicing progress will contribute to the juice yield and so will the physical design of the juicer.
Criteria #2: Size - If it were just you and a friend, maybe a juicer that can only fit one 8-ounce cup at a time would be okay, but you might get some large orders at your restaurant or cafe, and you need to make sure your juicer can handle them.
You'll need a juicer that's ready to take enough ingredients to spit out enough juice for an entire family. So, if you get multiple orders of the same juice, you won't get slowed down by going through multiple juicing sessions.
Criteria #3: Design - Juicers come in two main shapes - vertical and horizontal. Vertical juicers take up less space and are cheaper, but they tend to have fewer extra features. Horizontal juicers are a little bulkier and more expensive, but they're more likely to have those extra features that let you make nut butter, nut milk, sorbet, and even pasta. Which one you want will depend on how much room you have in your kitchen, what your budget looks like, and how big a part juice will be of your restaurant's menu.
If juice is just going to be a side perk of your establishment, a vertical juicer will probably be the better option. But if juice is going to be your main attraction, you'll have to think about going all-out and buying a fancy horizontal juicer that can do it all. Aside from the shape of your juicer, you should look for a juicer that's easy to use so you don't have to waste time showing every trainee (who ends up quitting after a week) how to use it.
Criteria #4: Price - Unfortunately, the best juicers get pretty expensive. If you're looking for a juicer big enough and powerful enough to serve as the centerpiece of your business, you might have to splurge a little bit. That being said, we'll help you make sure you're getting your money's worth. More important than the raw number of the price, we looked for juicers that outperformed their cost, even if their cost is high.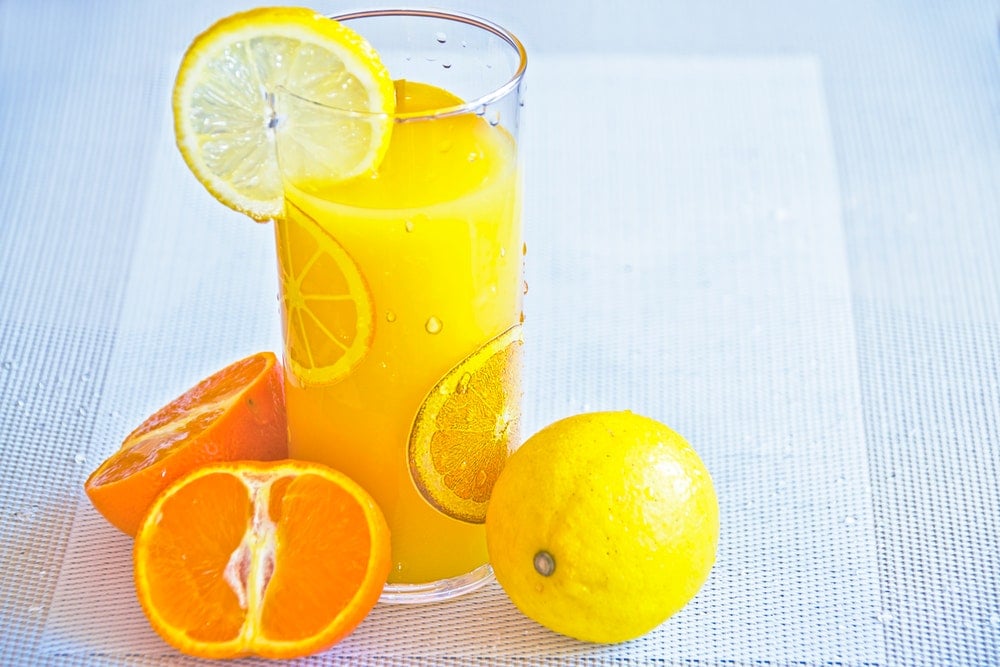 Here's How We've Determined the Best Commercial Juicer
We used the criteria above to research the best commercial juicers based on listed specifications online. We also gathered information from blog reviews and customer reviews to make sure these products performed as advertised.
And with that, here are our best commercial juicers to help you start your local business.
When it comes to budget juicers, very few brands are on the same level as Hamilton Beach, and while no commercial juicers are really cheap per se, the Hamilton Beach Commercial Otto is probably the closest.
This commercial juicer is far more affordable than the competition, but you still get a high-quality juicer to help you get your restaurant off the ground.
This high-speed, centrifugal juicer has a volume of 11 liters (2.9 gallons), so you won't be running back and forth to use it all the time throughout the workday.
It has a powerful 1200 watt motor that's sure to chew up your ingredients in seconds and give your customers that delicious juice they ordered in record time. To put that massive size into perspective, personal juicers tend to have a volume that's 1-2 liters at most.
Besides the large size and strong motor, this juice maker is specifically designed to be as comfortable and easy to use as possible. It has a wide 3-inch feeding tube that means you won't have to waste time cutting up your fruits and vegetables before juicing them. It comes with a plastic plunger that fits neatly in the machine to help you get those more stubborn ingredients down the chute.
This high-volume juicer also has a lightweight lid, that won't be annoying to constantly remove, and a dual-fan cooling system that will help this Hamilton Beach product run all day.
On top of all of that, this juicer has a nozzle that can be completely rotated on a 360-degree axis, allowing you to pour at some tricky angles if things in the kitchen are getting a little hectic. You can get the perfect angle to avoid any spillage. But no worries if you do spill a little bit. The juicer comes with a drip tray that can hold up to 8 ounces. The tray is removable, making it incredibly easy to clean.
The Hamilton Beach Commercial Otto is certified by the NSF, ETL, CE, and the RoHS so you know it's up-to-code and ready for any health inspection. It also has three safety features in place to make sure you don't have any spills or accidents in your kitchen.
The first safety measure is that the lid automatically locks until the motor has completely stopped. The second measure is that the touch-operated buttons on the machine are sealed and waterproof. Finally, this juicer has an automatic overheating prevention system.
The Otto comes with a 2-year warranty and has a sleek design that comes from a mixture of stainless steel, aluminum, and plastic parts. It was reviewed well for being easy to assemble and easy to use, and for its myriad of certifications.
A noteworthy critique of this juicer was that the plastic parts are not as durable as the stainless steel and aluminum parts. That being said, this juicer has a motor that can handle anything, a cooling system that won't quit, and a high-volume tank that will help you keep all of your customers satisfied.
At its affordable price, this juicer is perfect for local cafes and juice bars that are just starting out, and its cost-to-quality ratio forced us to give the Otto our number one spot as the best commercial juicer.
How Does it Clean Up?
Because it's made up of a lot of different parts, the Hamilton Beach Commercial Otto will give you much less trouble come clean-up time than more solid juicers.
Just take the juicer apart and wash each piece one at a time instead of trying to dig your hand into those tight spaces while the machine is whole. Of course, just by virtue of being a bigger commercial juicer, it will gather up residue pretty quickly, and you'll need to make sure to clean it often. But what's really important is that whoever's in charge of cleaning up finds it easy enough to get done. That's certainly the case here.
Our second commercial juicer, the Nutrifaster N450 Multi Purpose Juicer, is a centrifugal juicer just like the Hamilton Beach Commercial Otto. This juicer has a sleek polished aluminum design that will look right at home in any cafe or coffee shop kitchen. The Nutrifaster N450 will cost you a pretty penny, and its 1000-watt motor is a little weaker than that of our number one juicer, but there are a few reasons you might decide to go with this juicer over the Otto.
Reason #1 to Choose This Product: Pulp Ejection
This Nutrifast juicer comes with an automatic pulp ejection system that means much less clean-up per hour. The 18-inch discharge tube (which is the only part of the juicer that's made from plastic) can drop pulp directly into a bin if you position it right, and it's long enough that you don't need to worry about it overflowing or getting clogged.
The juicer is equipped with a stainless steel mesh wastebasket designed to catch smaller pieces of pulp.
Between the ejection chute and the mesh pulp catcher, you won't have to worry about those dry bits of food at all, and there'll be absolutely zero pulp in your juice, giving your customers the smoothest and most refreshing juice on the market.
Reason #2 to Choose This Product: Versatility
High-speed juicers are mainly intended to be used only for easy-to-juice fruits, like apples and pears, and certain vegetables, like carrots. Usually, if you plan on juicing a lot of leafy greens or wheatgrass, you'll want to use a slow juicer.
But the Nutrifaster N450 juicer has two different blade systems - a 16-blade cutter and a shredder. This gives the juicer a little more versatility than your typical centrifugal juicer.
While you still shouldn't be feeding it kale and spinach all day, it can definitely handle leafy greens better than other high-speed juicers, giving you the option to put some kale juice on your menu as a temporary special.
Besides the two selling points we've mentioned above, this juicer can run continuously for 45 minutes before you need to shut it off and let it cool off for 15 minutes. Shop owners and reviewers loved this juicer. It's earned praise for being powerful and easy to use, so you won't need to babysit the new employee their first few times juicing.
The only problem customers had with this juicer was that it's a bit of a pain to clean. And, as we've mentioned, it's expensive, which is mainly what kept the Nutrifast from earning our number one spot. But it's strong and easy to use, and the pulp ejection and versatility are definitely worth investing in, if that's what you're interested in. Or you could go with the cheaper option in the Otto, which will also give you a slightly stronger motor, those great safety features, and the drip tray. Whichever product you decide to buy, you'll have a great commercial juicer for your business.
How Does It Clean Up?
The Nutrifaster N450 Multi-Purpose Juicer is a bit of a mixed bag in terms of clean-up. Like our top-ranked commercial juice machine, you can take it apart to make cleaning it a bit easier, and it's made of stainless-steel parts that are nice and durable so you don't really have to worry about anything breaking during the disassembly process.
However, some reviewers have claimed that it's a bit of a hassle to take this commercial product apart. That being said, once you're able to do that, the rest should be a breeze, and a little scrubbing with soap and water should really be all it takes to get this machine sparkling clean, just like the day you bought it.
Comparison Table: #2 Nutrifaster N450 Vs #1 Hamilton Beach Otto
Our first slow juicer on the list, the Tribest GS-P502 is the best commercial juicer for anyone trying to prioritize a healthy menu at their establishment. The Greenstar Pro Commercial Cold Press is a triturating juicer, which means it uses two augers to slowly press your fruits and vegetables and squeeze the juice from them. This creates very little friction heat, which in turn causes less oxidation.
This preserves the nutrients in your ingredients to give you that superfood juice your health-conscious customers are looking for.
This low-speed juicer has a spin rate of 40 RPM (most personal low-speed juicers have an RPM closer to 80 RPM or even more) which will make sure absolutely no nutrients are lost in the juicing process. On top of that, the Greenstar Pro Commercial has magnetic and bio-ceramic technology that prevents further oxidation.
This Tribest juicer also has an automatic pulp ejection system to make your life a little easier, so all you need to do is find a pulp container, and clean up will be a breeze.
It comes with three different screens - one to make your juice completely smooth, another to give it some pulp, and a third for making ice cream. This means you can give your customers the amount of pulp they want no matter what, and you can even use this machine for your dessert menu.
The Tribest juicer is perfect for soft fruits, and as a low-speed juicer, it's better suited for leafy greens than the first two options on our list. Reviewers said it didn't handle wheatgrass very well, which is a little disappointing from a cold press machine.
The feeding chute of this product is only 2 inches wide, so you might have to cut your ingredients a bit before you get started juicing. There have been reviews saying that this machine struggles with high volume loads. The biggest issue with this juicer, and really cold press juicers in general, is that it takes a long time to get your juice.
On the other hand, this juicer is clearly labeled and very easy to assemble and easy to use. Its uses are incredibly diverse, with the ability to make baby foods, breadsticks, nut butters, pâtés, and frozen fruit sorbets.
As a slow machine, you shouldn't get this juicer for your shop unless you're ready to brand your cafe or juice bar as a slower-paced establishment that specializes in healthy options. If that's what you're looking for, then this is the perfect choice for you.
However, if you want to keep up with the hustle-and-bustle of big chains, you'll want to go with one of the high-speed juicers on our list. You could also always buy this low-speed commercial juicer as a side option and offer cold press juice as a separate selection on your menu.
How Does it Clean-Up?
Because it has a lot of angled corners and doesn't come apart into as many parts, a few customers have complained that this juicer is a bit harder to clean than some other ones. Of course, all commercial juicers are somewhat of a task to clean up, but the Tribest GS-P502 Greenstar Pro Commercial Cold Press is on the wrong end of that spectrum. That being said, depending on how well-staffed your establishment is, having a high-end slow juicer for that top-quality juice can definitely still be worth it if you have someone on hand who can make sure that this juicer stays clean and ready to go, especially if you want to be able to boast having the most nutrient-rich juice in town.
Finding up-to-code, budget juicing machines for your new juice bar or cafe is a pretty daunting task, and that's what makes the FDA, ETL, CE, and RoHS certified Vitalisci Masticating Slow Juicer such a gem. Just like our last juicer, the Vitalisci is a low-speed juicer, but it's a standard single-auger juicer, not a twin gear machine. This commercial juicer runs at the same slow 40 RPM as the Tribest, giving you the absolute best high-quality juice.
It emits a low 40 decibels of sound while running. To put that into perspective, the average human speaking voice is about 60 decibels. So if you're just talking normally, you should have no problem hearing yourself over this juicer, which is a big plus for a hectic restaurant kitchen to not have one more device (or person) you need to yell over.
With a wide feeding chute that has a diameter of more than 3 inches, you can easily fit entire uncut apples or oranges into this machine, saving you a lot of time on preparations.
Another huge selling point of the Vitalisci Masticating Slow Juicer is that it has a self-cleaning feature that just requires you to pour water into the machine and turn it on. Plus, this juicer has a reverse function to help unclog the machine if something gets stuck. All of this comes together to give you a juicer that's incredibly easy to use, and that lets you spend your time juicing and not cutting, cleaning, or fixing.
The main flaw of this slow masticating juicer, just like with our triturating juicer, is that it takes a while to give you your juice. The benefit is that the juice is much healthier than the juice you get from high-speed centrifugal juicers, and it'll be better for juicing those stubborn leafy greens. But as we've mentioned, in a demanding setting like the food industry, sometimes it's just speed over everything.
Just like with Tribest's triturating juicer, I'd recommend this product for your establishment if you're going to brand your juice bar as a more low-key location that specializes in healthy options.
The Vitalisci juicer does come with two different pulp strainers and an ice cream strainer, so there is a versatility it offers that centrifugal juicers tend to lack. Because it's so cheap, its a much more viable option than the Tribest juicer as a secondary juicer to help you make ice cream or to give your more health-conscious customers the option to specifically order cold-pressed juice.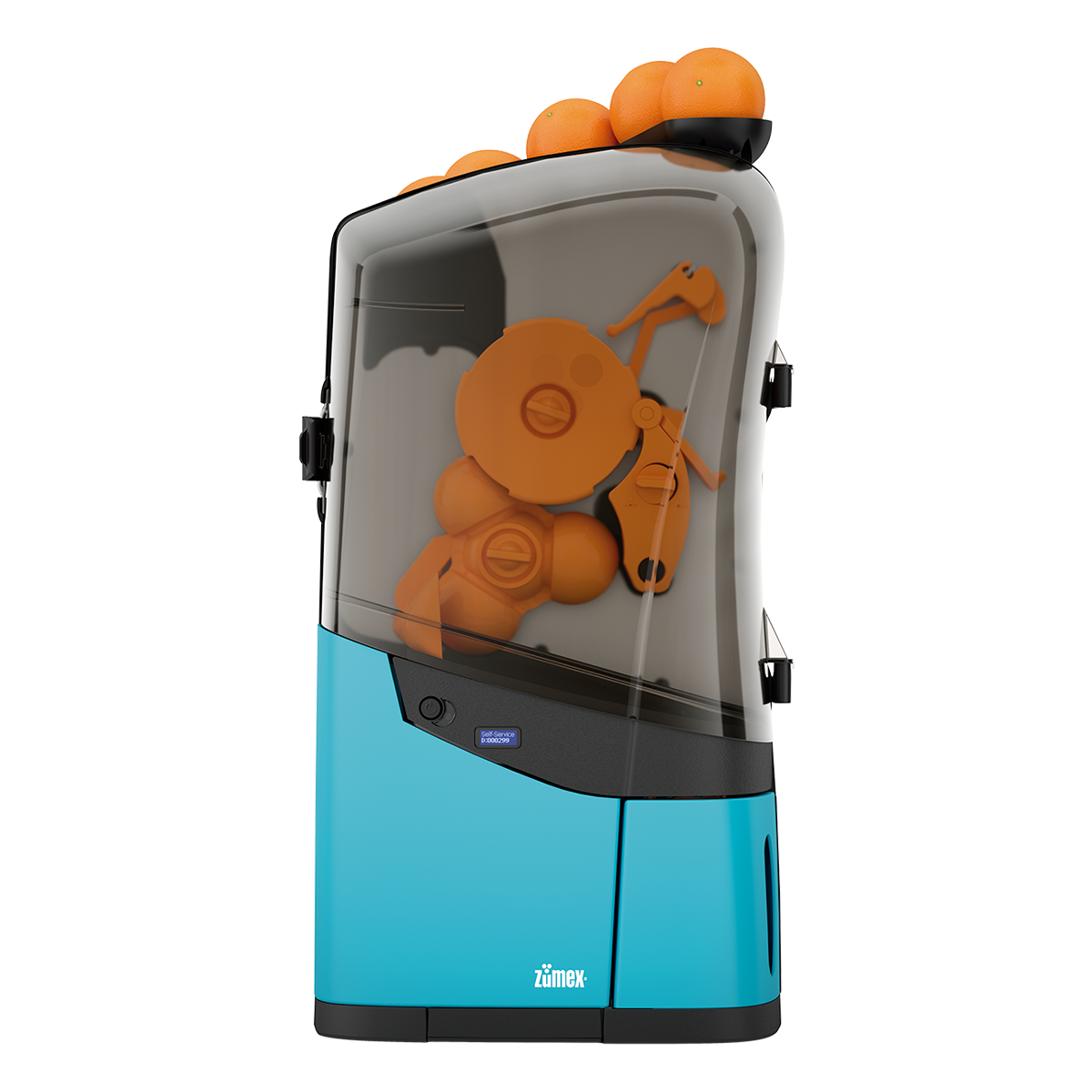 Sure, you can usually manage with juicing oranges in a centrifugal juicer or a masticating juicer, but if you want to offer the best orange juice or lemonade at your establishment, you'll need a heavy-duty commercial citrus juicer for all those citrus fruits.
A lot of citrus juicers are either manual or semi-manual, but this automatic Zumex juicer will juice your oranges or lemons all by itself, leaving you free to take care of more pressing issues in the kitchen. As a commercial juicer, it's obviously a bit larger than a juicer for home use, but this machine has a more compact design that will still fit neatly in your cafe's kitchen, and it's certified by the NSF, ETC, and CE.
This juicer is as easy to use as possible. There's one button on the entire machine, and that's it. If any of your trainees have trouble with this machine, they might not be cut out for the restaurant business.
It juices 13 oranges per minute with a diameter of between 2.5 to 3 inches, so unless your orange juice is really flying off the shelves, you should be able to keep up with the demands of your customers. The holding capacity is adjustable from 1 to 6 or 7 oranges at a time, so you can be flexible on how much orange juice you make at a time.
Plus, the juice is all placed neatly in a side container of the juicer for you. You have the option to replace this container with a single-serve glass if things are a little slower.
The juicer has a stainless steel body with removable plastic parts. It comes in different colors, which is great if you're going to house the Zumex juicer somewhere the customers can see it. You can make sure it fits in with the decor, no matter what. Finally, the juicer is completely dishwasher-safe.
Though it costs a pretty penny, this machine could really bring your juice menu to the next level. Some reviewers have said that it's not great for large establishments, but if your business is just starting out, it could be a great choice. Even if your restaurant is already off the ground and is bigger, this juicer really should be able to keep up with your workload, unless every single customer is ordering a different citrus juice.
Maybe if your shop specializes in citrus juice, you might want a bigger juicer, but otherwise, this is a great choice. It's completely automatic, easy to use, easy to clean, and will fit well in any space. The Zumex Minex Commercial Citrus Juicer justifies its price and then some.
How Does it Clean Up?
Very little is mentioned about this juice maker in terms of the cleaning process, which is definitely something I chalk up as a con and not a pro. Additionally, this juicer comes in very few parts, so you won't really be able to take it apart easily and get into all of the corners like you can with most competing products. Definitely proceed with caution with this citrus juice maker if you're especially focused on getting a machine that won't be a hassle to clean during a busy shift at your new juice bar.
If you want to be able to boast the best homemade-quality orange juice or lemonade at your business, you'll need a hand-operated juicer for that finishing touch to make your juice taste like it was made by grandma. If that's what you're looking for, the fine folks over at Hamilton Beach have you covered with their 932 Commercial Citrus Juicer. This manually operated machine boasts an acid resistance finish and an arm that exudes up to 2,000 pounds of pressure to extract the best and purest citrus juice from lemons, limes, oranges, and grapefruits. This Hamilton Beach product also features sure-grip feet that will keep everything in place so the new guy doesn't knock anything over while he's still getting the hang of things. Plus, this citrus juicing machine also features a drip-cup with a swing-out arm that will help you make sure there's absolutely zero spillage from this juicer so you have that much less to clean up after a long and busy shift.
Perhaps the best part of this juicer is that, like all Hamilton Beach products, it borders on what can only be described as insanely cheap. There is not another commercial-grade juice machine that is this cheap. Of course, this is mostly because it's a relatively small product and it's hand-operated, but that extra saving can go a really long way.
And there are other benefits to a hand-operated machine, such as cutting back on electricity and avoiding any loud machinery. I will point out that it's just impossible to keep up the same workload with a hand-operated machine that an automatic machine can handle. That means that it's best not to rely on this product too much to be the focal point of your menu, so I would strongly recommend against buying it if any citrus juice product is going to be your big specialty. But if you just want to add some perhaps temporary or time-restricted diversity to your menu, the Hamilton Beach 932 Commercial Citrus Juicer is an amazing way to do just that while spending less than one shift's worth of money, and it's efficient and durable enough that it should last for years on end.