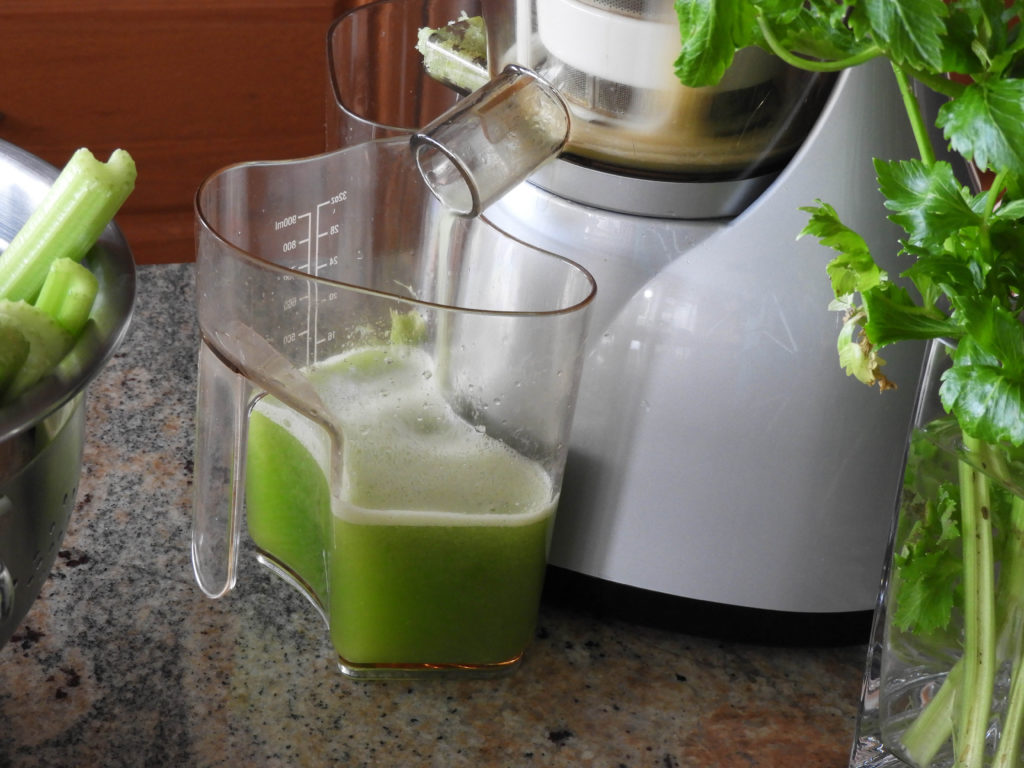 Celery juice provides many health benefits, including rehydration, good digestion, liver purification, cancer prevention, blood pressure control, better skin and brain health, and weight loss.
If you've been juicing for a long time, you will know that celery is one of the most difficult to juice. It may avoid mastication or even stubbornly retain its juice despite getting crushed, which is why having the best celery juicer is important.
Overall, we've found that the best celery juicer is a slow juicer. Not only does it thoroughly masticate celery, but it also produces high-quality juice while doing so. However, if you need a fast juicer, even at the expense of some juice, then you might want to get a centrifugal juicer instead.
Below, we have included both types of juicers so you can choose based on your preferences.
Table of Contents
Best Overall: HUROM H-AA Slow Juicer
SAVE 9%
Hurom H-AA Slow Juicer
It's versatile, incredibly efficient, and stylish. Plus, it allows you to include pulp in the juice if you want to.
Pros: BPA-free; automatic cleanup system; quiet operation; 72 hours juice shelf life
Cons: Expensive; narrow feeding chute
The Hurom H-AA Alpha Series Vertical Slow Juicer is our top pick for cold press juicers. It's ideal for making celery juice and is also versatile. It can juice fruits, vegetables, nuts, and soybeans to produce nutritious juices, milk, tofu, and more.
This product's primary feature is Hurom's Slow Squeeze Technology (SST), which produces fresh, natural-tasting juice. It achieves the maximum yield by carefully pressing the produce and expelling dry pulp as it juices.
Additionally, it produces little foam and improves the overall flavor. As a result, the juice is high in minerals, antioxidants, and vitamins, in addition to having a delicious taste. Furthermore, the lever allows you to manage the amount of pulp in your drink.
This juicer is indeed an improvement over Hurom's prior models. It also comes with a 10-year warranty.
Best Masticating Juicer: Omega MM900HDS
SAVE 34%
Omega MM900HDS Celery Juicer
It has a special adjustable end cap made especially for celery!
Pros: Optimized for making celery juice; 72 hours of juice shelf-life; easy to wash; smooth and quiet operation
Cons: Strictly for juicing; not suited for processing soft fruit; slow juice extraction time; narrow chute, which requires chopping your celery into small pieces
The Omega MM900HDS is a dependable heavy-duty juicer. Its most important feature is a customized end cap built specifically for celery. The other end cap is made for fruits, vegetables, and other thick food. These two features add to the quality of your celery juice extract: a regular one for fruits and vegetables and a tight end cap designed to boost the efficiency of celery juice extraction.
There aren't many juicers that compare to Omega MM900HDS in terms of versatility. It has a larger funnel design, a larger and stronger screen casing, a powerful motor, and BPA-free materials. It also has a handle that makes it easier to move around. In addition, the feeding chute is significantly larger than that of some comparable devices, which allows larger fruits and vegetables to fit through.
The powerful 2-horsepower motor is responsible for the high juice yield. And, for better nutrient retention, the product runs at a low speed. Therefore, you need to be patient in waiting for your juice.
The MM900HDS is a relatively simple product. All you have to do is put together six parts to get started juicing. It also comes with a 15-year warranty, providing value for your money.
Most Easy to Clean: AICOK Masticating Celery Juicer
AICOK Masticating Celery Juicer
Its components are dishwasher safe—need I say more?
Pros: Able to juice dense fruits and vegetables and leafy greens; slow juicer retains more nutrients; 72 hours of juice shelf-life; low noise level; BPA-free parts
Cons: Produces less yield; not very efficient at juicing
The AICOK AMR521 celery juicer is not only budget-friendly but also dishwasher-friendly. After you've finished juicing, you can simply place the detachable components in the top rack of your dishwasher.
This juicer spins at 80 RPM, faster than other masticating juicers, but not fast enough to cause overheating. It performs a fantastic job juicing leafy greens, but it will have difficulty processing hard fruits and veggies.
This machine is also solely a juicing machine. You might need to run the pulp through the machine twice to extract as much juice as possible, which can be inconvenient. Additionally, preparation time will take longer since you must cut your fruits and vegetables into tiny pieces.
It comes with a three-year warranty and is an excellent all-around juicer that is easy to clean and budget-friendly. Given its affordability, it would be difficult to find a much better juicer on the market.
Most Budget-Friendly: Jocuu Slow Masticating Juicer
SAVE 55%
Jocuu Slow Masticating Juicer
This juicer offers additional features without breaking your bank.
Pros: Reverse function to release clogs; free of BPA; safe dishwasher parts; automatic shutoff when overheating
Cons: Narrow chute; juice contains some pulp
One of the Jocuu Slow Masticating Juicer's main features is its two-speed regulation. This feature allows you to choose a mode for soft and hard ingredients, ensuring it produces high-purity juice and minimizes oxidation. It also has a reverse function that minimizes jamming while juicing.
However, you'll have to spend a little more time preparing before you can juice your ingredients. You'll have to cut them into smaller chunks, scrape any seeds, and remove harder peels because of the narrower funnel.
Fortunately, cleanup is relatively simple. After washing away the pulp, the juicing body detaches with the push of a button. You can wash it using the included brush or simply place it in the top rack of the dishwasher.
The machine's modest price may make you doubt its long-term dependability, but the motor does come with a 10-year warranty.
Most Compact: Omega VSJ843QS Slow Speed Mini Masticating Juicer
SAVE 24%
The Omega VSJ843QS is small and compact, having dimensions of 15.51 x 6.97 x 15.47 inches and weighing only 11.5 pounds. It saves a lot of space while providing you with the nutrients you need. Another key feature is the no-drip juice tap, which can be opened and closed at will.
This product includes a Dual-stage twin winged Ultem auger that strains more juice. It rotates at 43 RPM to extract the maximum nutrients and antioxidants from each celery strand. There's no chance of heat-related damage to the liquid at that speed, but it will take longer than other juicers.
For those on the go, this may be the product for you. It has an auto-cleaning mechanism, which means you won't have to waste time cleaning the model after each usage. However, you will need to wash some parts manually, such as the filter and juicer processing compartment.
Additionally, the juicer has a narrow chute. You will need to cut giant celery sticks or veggies into small pieces before juicing.
Best Multipurpose: Breville JE98XL Juice Fountain
Breville JE98XL Juice Fountain
The 3-inch extra-wide feeding chute eliminates the need to cut fruits and vegetables before juicing.
Pros: Powerful 2-speed motor; large juice and pulp container; faster celery juicing; built-in froth separator; wide chute; able to extract juice from hard vegetables
Cons: Noisy; juice contains more pulp
The Breville JE98XL Juice Fountain is a savior for those who want a flavorful twist, particularly those new to drinking celery juice. You can juice celery with other vegetables, such as carrot, ginger, or beetroot, to make the juice taste good. And, unlike other slow-masticating juicers, the top-rated Breville JE98XL Juice Fountain won't take a long time extracting juice from heavy vegetables.
Additionally, the powerful 13,000 rpm engine in this 850-watt Breville Juice Fountain Plus can juice whole fruits and vegetables without the need for pre-chopping or pre-cutting. A two-speed electronic control allows you to adjust the speed for soft and hard vegetables. Thus, this is ideal for busy families with children.
It's a big, sturdy machine made from stainless steel and high-quality polymer. As a result, you can use it for longer. It's also easy to operate, producing a large amount of juice in a short amount of time.
Although centrifugal juicers cannot create nutrient-dense juice, they are naturally more efficient. Overall, this juicer is the ideal combination of quality, ease of use, and price, making it a top pick for celery and carrot juice.
Best Personal Juicer: Hurom HP Slow Juicer
Hurom HP Slow Juicer
This petite cold press juicer is excellent for single servings or smaller meals.
Pros: Most affordable Hurom Slow Juicer; counter space friendly; 11.8 oz (350 ml) juicing chamber with silicon juice cap; automatic cleanup system; process all types of produce; able to make soy and almond milk
Cons: extra preparation time; single-servings only; slow processing
This Hurom HP Slow Juicer fits perfectly into the small space in your kitchen. It's simple to put together, although slightly heavier than others at 15.9 pounds (7.2 kilograms).
Because of its small chute, you should cut your produce into thinner, smaller bits. If you're juicing celery, make sure the chunks aren't more than an inch long. The long fibrous particles may become entangled in the auger.
It also features Hurom's unique Slow Squeeze Technology, designed to replicate hand squeezing to reduce juice damage. Also, unlike centrifugal juicers, which leave wet pulp, it produces the maximum juice while leaving dry pulp behind.
This juice press can handle many vegetables, including dense fruits, citrus fruits, leafy greens, legumes, and nuts. You can also use it to produce soy and almond milk.
Best Portable: Mueller Masticating Slow Juicer Manual
Mueller Masticating Slow Manual Juicer
Detachable parts make this our top pick for health enthusiasts who love to travel.
Pros: Durable quality, BPA-free parts; parts are detachable for easy storage in your travel bag; handheld juicing process; well-suited to juicing celery; able to preserve the most nutrients
Cons: Breaks when juicing hard vegetables and fruits; time-consuming
The Mueller Masticating Juicer is portable and eco-friendly, designed with travelers in mind. It's made of rigid materials but is surprisingly light and takes up little space. It's small and easy to carry, and you can use it anywhere without the need for a plug.
It features built-in suction grips that firmly stick to all types of surfaces. Cleaning is a breeze because each piece is detachable and dishwasher safe.
It's a great portable celery juicer for road trips and travel. This juicer allows the creation of a 16-oz cup of juice in seconds with little foam. The juice also retains most of its nutrients as manual juicing releases no heat in the process. However, manual juicers do not use electricity to generate juice; instead, they rely on your physical strength.
Premium Pick: Kuvings EVO820
SAVE 10%
Kuvings EVO820
Aside from its design, the multiple food processing functions are enough to know this is a premium pick.
Pros: 10% bigger feeding chute; safer, especially for children; 72 hours juice shelf-life; silent operation; BPA free parts; ability to mix juices
Cons: Costly; not dishwasher safe; not as efficient for leafy vegetables compared to horizontal masticating juicers
The Kuvings EVO820 continues to lead the pack in technology and design. This juicer machine features the largest feeding chute and a new drum mechanism for safer operation, especially for kids. Plus, you can turn your machine into a standalone electric citrus juicer if you only wish to juice citruses.
Slow juicers usually need a longer preparation time, but the Kuvings EVO820 is the exception. The extra-wide feeding tube allows larger chunks and volumes of produce to be fed all at once, which helps expedite the juicing process.
It is also multifunctional. The Kuvings Evolution Whole Slow Juicer can juice all vegetables, including soft and dense produce, leafy greens, citrus fruits, beans, and nuts. This machine can also puree soft fruits like grapes, blackberries, mango, melon, papaya, tomato, peach, avocado, kiwifruit, strawberry, pomegranate, and cranberries.
You can also use this juicer type to make nut-based milk substitutes, sorbet, and other frozen delicacies. Although it will take some effort to clean the Kuvings Evolution Cold Press Juicer as it is not dishwasher-safe, you can wash it manually in 5 to 10 minutes.
Best Vertical Juicer: Tribest Slowstar Vertical Slow Juicer and Mincer
SAVE 14%
Tribest Slowstar Vertical Juicer
This 2-in-1 slow juicer is a space saver that produces high-quality juice every time.
Pros: High juice yield; dry pulp; strong GE Ultem Auger; good build quality; easy to clean; BPA-free components
Cons: Expensive; not dishwasher safe; slow in operation
Because the Tribest Slowstar Vertical Juicer assures that the operation is by gravity. This juicer type puts less strain on the machine's motor and requires less pressing effort on the user's part.
Its dual-blade auger juices fruits and vegetables twice as fast as a standard single auger rig. The auger is made of Ultem, making it far more durable than plastic augers. A 200-watt engine also powers the juicer, so you can be sure it can juice whatever you put into it.
This silent juicer machine produces little heat, extracts a juice full of nutrients and flavor, and keeps celery juice fresh for up to several hours, thanks to its low speed of 47 rpm.
Celery Juicers Buying Guide
Juicing celery does not have to be complicated. By now, you must know that the best celery juicer for you depends on your needs. How you will use it, where you will be bringing it, and your daily activities all play a part in your choice. Here are some essential tips for celery juice enthusiasts.
The Types of Juicers
Centrifugal and Masticating Juicers
Slow juicing reduces heat and minimizes oxidation, resulting in a juice that retains the most nutrients. A slow masticating juicer is preferable for juicing celery since it works slower and produces cold-press celery juice. Although it is quieter, it will take some time to prepare your juice.
However, busy people will prefer the centrifugal juicer. It works faster, producing healthy celery juice in minutes.
Horizontal and Vertical Juicers
Because celery has stringy fibers and makes a dirty, tangled pulp when juiced, you'll want something easy to clean. Vertical juicers have narrow pulp exits prone to clogging from the collected pulp. Because of this, horizontal juicers are easier to clean than vertical juicers.
However, horizontal juicers take up more space than vertical juicers do. We recommend checking your kitchen space before deciding what celery juicer to buy.
Twin Gear Juicers
A twin gear juicer is a fantastic choice for quickly juicing celery. Twin gears have two lengthy gears that rotate in opposite directions, breaking down the celery into tiny pieces, then crushing these pieces against a screen to extract as much juice as possible.
However, you should remember that twin gear juicers are significantly more expensive than other types. Indeed, they can cost up to three times as much as a masticating juicer.
Efficiency
When buying a new juicer, it's crucial to think about efficiency. If the pulp that comes out of the juicer is dry, the juicer performed a fantastic job extracting every last drop of juice. Reversely, it didn't work so well if the pulp was still moist.
You'll need a juicer with a lot of power because you'll be juicing celery, which is one of the most challenging vegetables to juice. Otherwise, the amount of juice produced from a bundle of celery will likely disappoint you.
Speed
Another factor to consider is the juicer's speed. Masticating juicers work significantly more slowly, leading to a dryer pulp and better juicing results. However, a masticating type takes longer than a centrifugal model to juice the same amount of celery. Ultimately, your choice will depend on whether you prioritize speed or efficiency more.
Centrifugal juicers can produce a fresh glass of juice in a matter of seconds. However, the heat generated during the process may damage vitamins and lower the total nutritional content of your juice.
Ease of Cleaning
If you juice frequently, you'll want a machine that's easy to clean. Some juicers may take a longer cleaning time, while others contain dishwasher-safe parts.
Noise Level
Working with a noisy juicer might be inconvenient, especially if you live in an apartment or have kids. Although centrifugal juicers are infamous for their loudness, a few models produce bearable noise.
Warranty
Again, celery is one of the most challenging vegetables to juice. Both masticating and centrifugal juicers need to put in a lot of effort while juicing celery. As a result, problems like motor failure and clogging may occur. This is why the juicer you're buying must come with a solid guarantee.
FAQs
What makes celery juice nutritious?
A single cup of celery juice contains only five grams of carbohydrates and almost no fat. It's an excellent method to quench your thirst, as celery also contains vitamin C, vitamin K, vitamin A, and minerals such as natural sodium, iron, and magnesium.
Why should you drink celery juice?
The nutrients you can get through celery juice are far greater than what you can get from raw celery. As a result, juicing it will help you get the most nutrients out of it.
How much celery is needed for juice?
This will vary depending on the size of your juicer, but a celery bunch should give roughly 16 ounces of juice, which is a sufficient yield.
Can I blend celery instead of juicing it?
What separates juicing from blending is what is left out of the process. Juicing eliminates all the fiber elements from fruits and vegetables, leaving only the liquid. Blending gets you everything, including the pulp and fiber that bulks up the produce.
What is the shelf life of cold-pressed juice?
Like all handmade juices, cold press juice will not last as long as store-bought juices do. Keep in mind that most cold press juices can only last 3-7 days, depending on the acid level.
How do I preserve its freshness?
Your cold press juice will only last if you store it properly. Place your cold press juice in a well-sealed container as soon as your cold press juice is ready. Doing so reduces the chances of its natural sugars spoiling from air exposure.
When and how much celery juice should I drink?
Drink 16 ounces of pure celery juice every day, on an empty stomach, first thing in the morning. Additionally, you should wait 30 minutes after drinking celery juice before eating.
Is it possible to consume too much celery juice?
If you drink a lot of it, you can get gastrointestinal troubles like diarrhea. If you're concerned, consult your physician first.
How do I make celery juice taste better?
Experts and doctors recommend various methods and recipes for making fresh celery juice more appealing. For instance, you can add an apple, carrot, or cucumber to the juice. Another option is to add some citrus to help with the bitterness.

Of course, you can experiment with various veggies, fruits, herbs, and recipes until you get your desired taste. However, to get the most benefits from celery juice, it's best to consume it without extra ingredients.