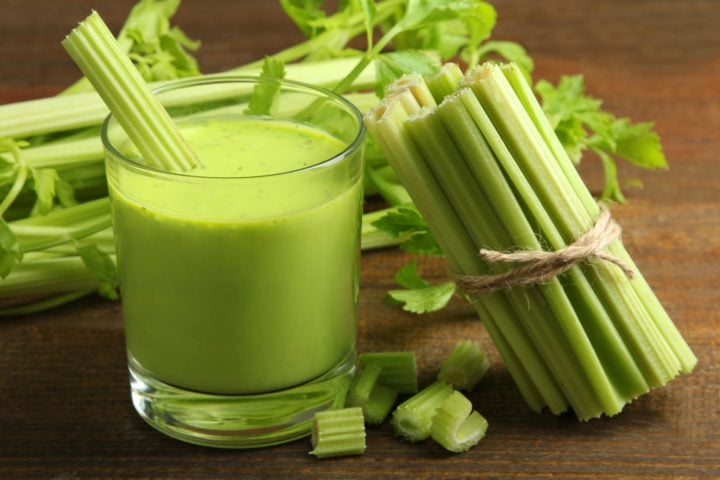 Nowadays, juicing has become a more convenient way for ingesting fruits and vegetables. With the correct equipment and knowledge, one can take advantage of the benefits of juicing, especially when combined with fruits and vegetables suited to your goals and health needs.
One great greenery to be considered is celery. Claimed to be a "superfood," celery, a herbaceous plant in the Apiaceae family, is closely related to carrots and parsley. Over the years, celery has earned a massive promotion from the stalks being used to flavor soups and stocks and as a low-carb snack to now becoming one of the most famous go-to juices when considering cleansing. Thanks to their low calorie and high water content, they are perfect for hydration, weight loss, and more benefits that will be further discussed individually.
Table of Contents
Celery, Your New Best Friend
Celery was first grown in the Mediterranean, and ancient civilizations employed it as a medicine long before being widely used as food. Many people enjoy eating the raw stalks as a low-calorie snack today, but the juice of these vegetables is also becoming increasingly popular as a health trend.
A superfood indeed, all the parts of the celery offer numerous health benefits.
Celery Leaf Stalk
The most significant part of the plant, holding 95% water, is a nutrient pack when looking for a perfect plant to juice. It boosts hydration and is low in calories and carbohydrates.
Celery leaves
Celery leaves are high in nutrients and can help you stay healthy. Celery leaf extract is low in calories and high in vitamin K, minerals, fiber, and micronutrients, making them suitable for weight loss programs.
Celery Roots
It's high in antioxidants and nutrients, and it has a long list of health advantages, including improved digestion, bone and heart health, and anticancer properties. Celeriac is a healthier, lower-carb alternative to potatoes and other root vegetables that may be eaten raw or cooked.
Celery Seeds
Despite their size, celery seeds are high in calcium, manganese, magnesium, and phosphorus that are essential for bone health. Non-heme iron is abundant in celery seeds. Iron-rich foods aid in the production of red blood cells and may assist in preventing anemia. Celery seed extract is also known to have antibacterial, anti-diabetic, and are rich in antioxidants!
And you know what's better? With juicing, you can incorporate all the parts into one drink and get the full benefits from each of them!
10 Top Benefits Of Celery Juice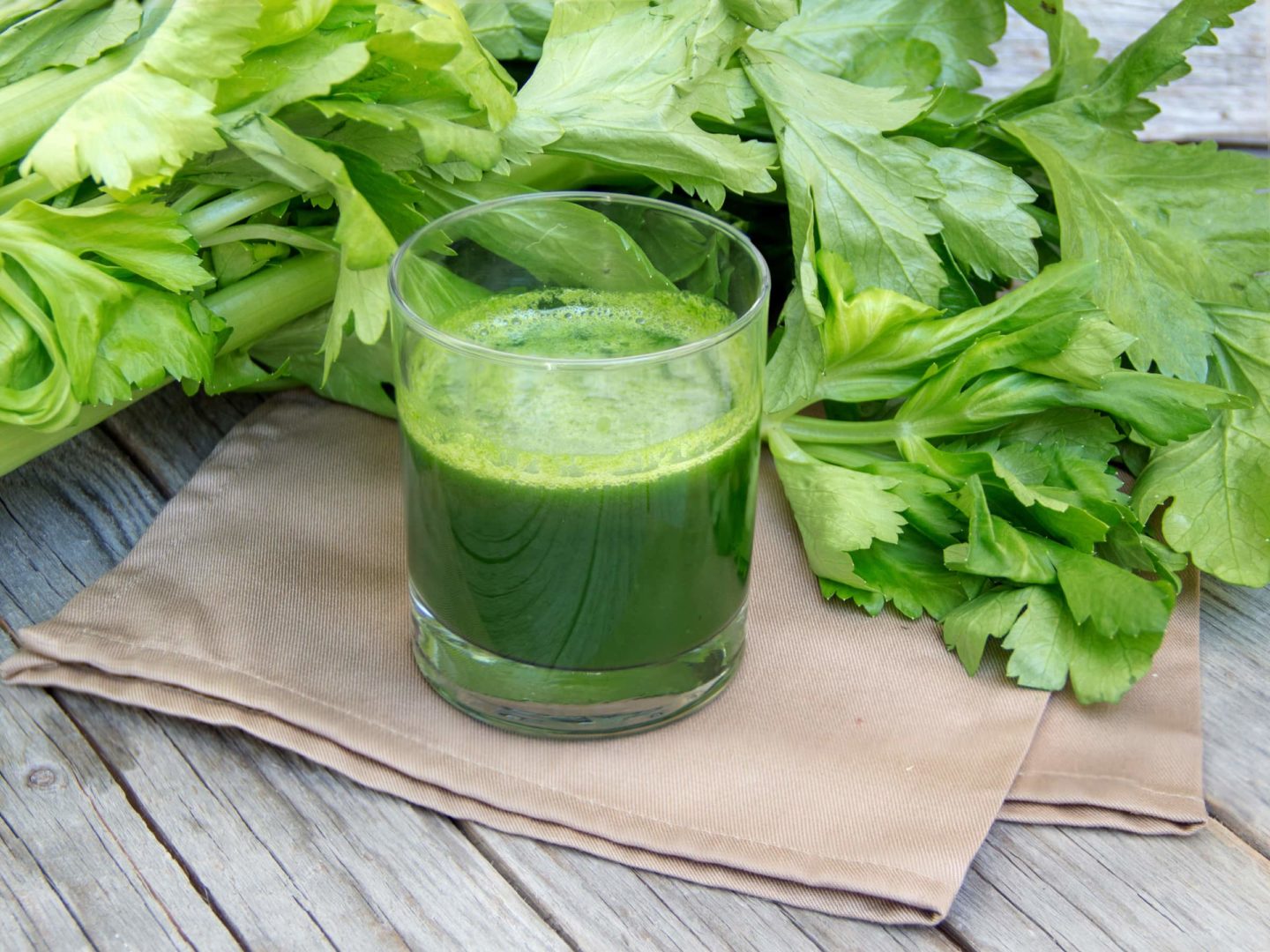 One might think that because it is mainly composed of water, celery doesn't do much. Wrong! Celery is a powerhouse of benefits that are immensely significant to one's health. Due to its content, celery has been proven beneficial to many clinical conditions. You better get your celery juice ready while we discuss the long list of benefits you can get from it.
1. A Nutrient Pack
Simple as it may seem, celery is brimming with nutrients. According to the US Department of Agriculture, a cup (236 g) of celery juice contains the following vitamins and minerals:
225 g of Water
33 kcal of Energy
1.63 g Protein
7.0 g Carbohydrate
3.78 g of Fiber
3.1 g of Sugar
94.4 mg of Calcium
0.5 mg of Iron
26 mg Magnesium
56.6 mg of Phosphorus
614 mg of Potassium
189 mg of Sodium
0.118 mcg of Selenium
0.9 mg of Vitamin C
10.6 mcg of Folate
6.5 mcg of Vitamin A
79.6 mcg of Carotene
83.5 mcg of Lutein
8.6 mcg of Vitamin K
Not only that, the flavonoid compounds like luteolin, apigenin, and chrysoeriol, as well as the phenolic acids chlorogenic acid, cinnamic acids, coumarins, and their glycosides, have been found in celery studies. The flavonoid compounds mentioned are great antioxidants capable of removing free radicals and have been found to be effective in preventing cancer and cardiovascular diseases.
Moreover, cluster salt, which is derived from the sodium in celery, is beneficial for increased healing and has been known to remove toxins in the liver while being a nutrient in itself.
2. Hydrates the Body
When we think of celery juice benefits, hydration doesn't sound very appealing but is actually really important. Our body is made up of 60% water. Needless to say, hydration is one of the body's non-negotiables. Dry skin, lips, and eyes, lightheadedness, and tiredness are the most common symptoms of dehydration. And even without having anything other than hydrogen and oxygen, three days without water can cause severe damage to the organs.
It is generally advisable to drink at least 8 glasses of water. And because celery is composed of 95% water, hydration becomes extra-nourishing from all the nutrients you get along with it.
3. Great Source of Antioxidants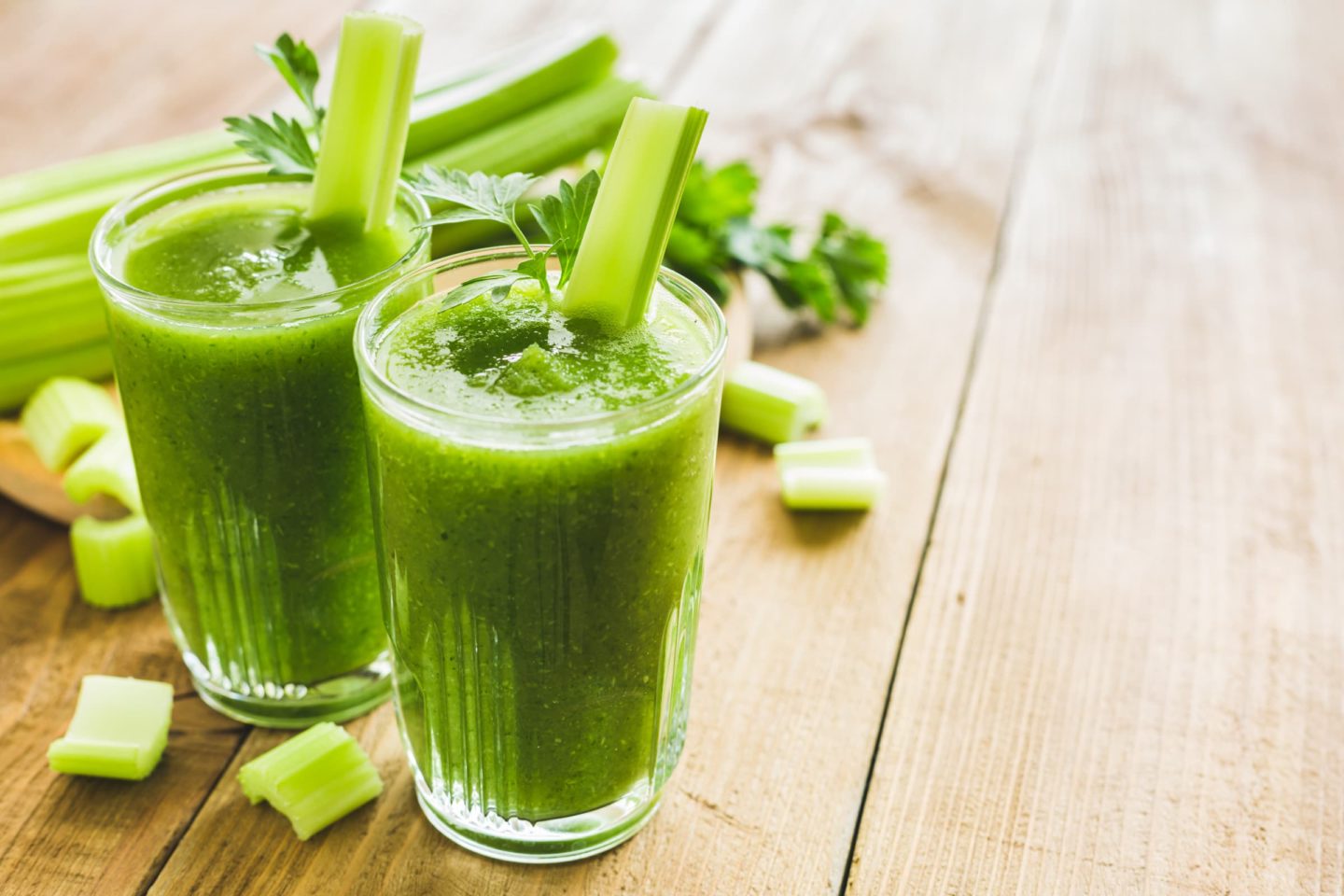 With the lifestyles that most of us have, it is expected that our body suffers from oxidative stress that leads to the most dangerous diseases. It is vital that we incorporate foods high in antioxidants into our diet, and celery wins in this area. This green juice, especially the celery leaf extract, contains whopping amounts of vitamins and minerals and is also rich in antioxidants.
What are these antioxidants, and what do they do? Here's a quick guide for you.
Imagine getting all of these good deals by just drinking celery juice! Amazing, right? And it just keeps getting better!
4. Diabetes Prevention and Management
Diabetes is one of the most common lifestyle-related diseases which is incredibly preventable. When left untreated, diabetes may cause nerve damage, kidney damage, eye damage, cardiovascular diseases, and even Alzheimer's disease. Although medication for its management is well-established, celery juice is one natural way of managing diabetes while getting all the other benefits.
According to a study on 16 pre-diabetic patients, ingestion of a 250 mg celery capsule thrice a day significantly decreased their glucose levels after 12 days. Although changes in insulin levels were not noticed, the decrease in sugar levels was observed both before and after meals, demonstrating the power of celery in lowering blood sugar levels.
Moreover, the antioxidants in celery juice protect the pancreas from oxidative stress that may damage the organ. Once the pancreas is damaged, there will be decreased insulin production, responsible for lowering blood sugar levels.
5. Lowers Blood Pressure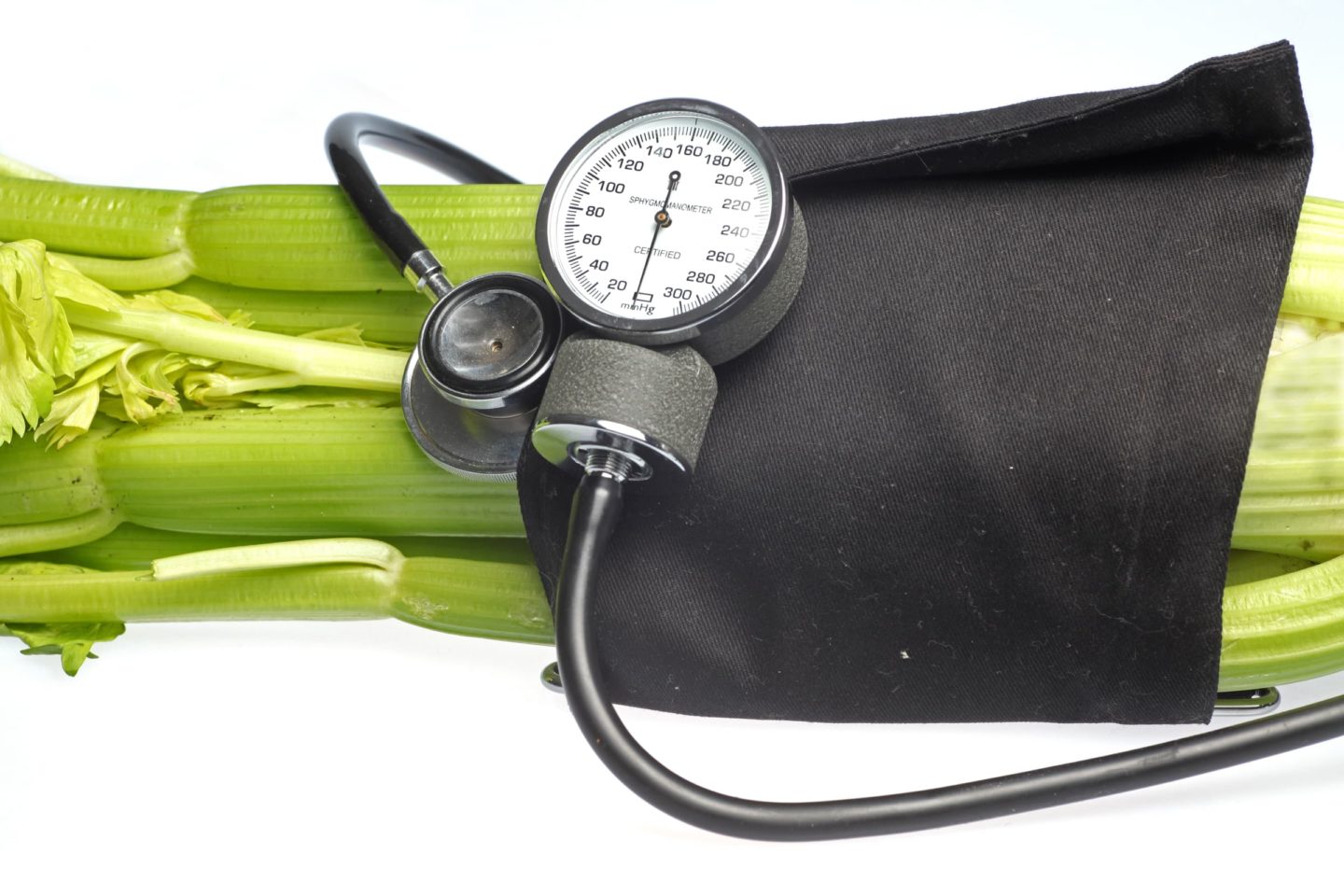 47% of Americans have hypertension. If this isn't scary enough, 7.6 million die of hypertension each year. If your blood pressure is too high, it might harm your blood vessels, heart, kidneys, eyes, and brain. It can also increase your chances of developing coronary artery disease, stroke, heart failure, and blindness.
Common causes of hypertension include a high-salt, high-fat, and high-cholesterol diet, kidney and hormone disorders, diabetes, and excessive cholesterol. Genetics also plays a role when it comes to hypertension. This means that when your parents are hypertensive, you have a risk of developing it as well.
While there are synthetic medications to lower blood pressure, they come along with a bunch of side effects like nausea, headache, weakness, cough, and even kidney problems when you are dehydrated.
Celery is an excellent natural remedy to combat hypertension. According to a study by the Natural Medicine Journal, among 30 mild to moderate hypertensive patients who ingested 150 mg/day of celery for 6 weeks, both systolic pressures (from 139 to 131) and diastolic pressures (85.4 to 76.9) were significantly decreased.
Another proof of celery's wonder against hypertension is the study on an elderly male with an initial blood pressure of 150/80. The study design took 6 months and lowered the man's blood pressure to 118/82 after consuming celery juice daily.
This phenomenon is due to the following:
A phytochemical present in celery called phthalides, which relaxes the walls of the arteries, promoting increased blood flow.
High potassium levels in celery juice counteract sodium, maintaining normal blood pressure.
6. Relieves Arthritis
If you're experiencing a lot of pain and stiffness in your joints lately, you may want to get that checked with your doctor as you may be suffering from arthritis. While many factors cause arthritis, the most common type is osteoarthritis, which is caused by a tear or wearing out of the cartilage over time.
But worry no more, as celery seed extract has proven to be as effective as your over-the-counter pain relievers such as aspirin, ibuprofen, and naproxen, as reported in a study by the National Center for Biotechnology Information.
As mentioned earlier, celery is rich in flavonoid with great anti-inflammatory properties.. In this case, quercetin, a type of flavonoid, is found in celery extract and is known to reduce pain by counteracting the inflammatory effects of the fat in the body.
Antioxidants present in celery also help with this by preventing oxidative stress that results in chronic, severe inflammation.
7. Prevents Cancer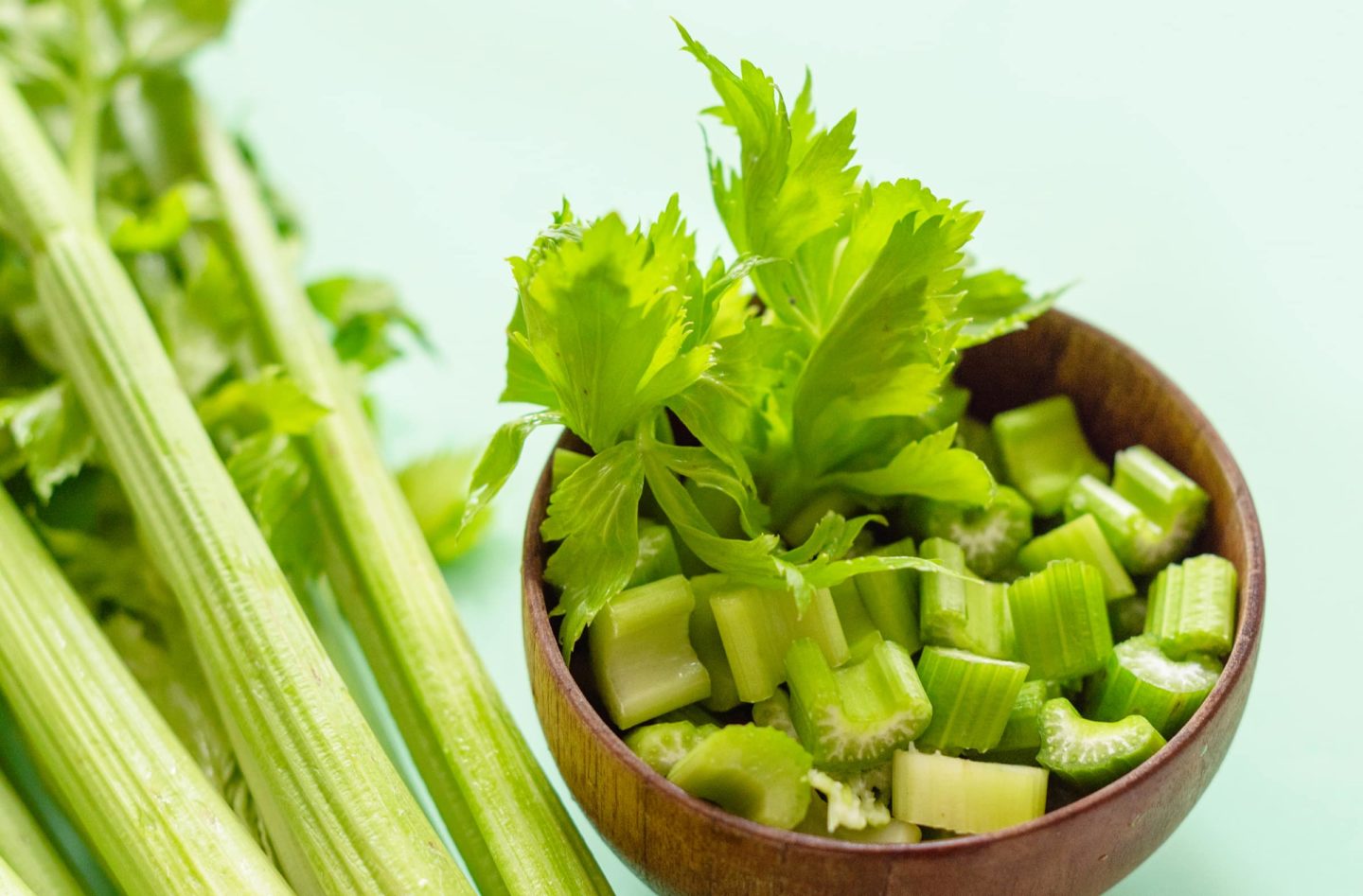 The World Health Organization reported nearly 10 million deaths in 2020 due to cancer, making it the leading cause of death worldwide. And we all know that chemotherapy causes not only many side effects, but also weakens the immune system.
Celery, which is rich in flavonoids, specifically apigenin, can help prevent cancer cell production. Apigenin acts as a stopper to the cancer cells while strengthening the immune system. It also promotes autophagy, or the "eating up" of cancer cells and apoptosis, or the programmed cell death of the cancer cells.
Not only that, this vegetable is rich in Vitamins C, K, and A and has tons of other nutrients that boost immune response. Its ability to prevent oxidative stress is also one of the top reasons celery is definitely a go-to friend for cancer prevention and treatment.
8. Brain Booster
Not only does it contain a lot of vitamins and minerals that are good for the brain, but eating celery also has the potential effect of combating a brain injury. This action is due to its component luteolin. Luteolin, like quercetin, is a flavonoid, which means it fights aging in all of our cells and has been linked to a reduced risk of cancer and heart disease.
Flavonoids protect cells in the brain from aging by lowering inflammation. Other neurological illnesses, such as diabetic neuropathy and multiple sclerosis, have also been studied with luteolin; however, further research is needed.
While research on this subject is mostly performed on mice, luteolin does not cause any side effects to humans and is entirely safe to add to your diet.
9. Supports Weight Loss
So, does celery juice also help you lose weight? Scientifically, the answer is no. Celery juice contains no ingredient that magically burns fat. But, this doesn't mean it cannot aid weight loss. As revealed earlier, a cup of celery juice contains around 4 grams of fiber. And what does fiber do that may help you when you're trying to shed off extra pounds? Satiety. This means feeling full after ingesting something.
Feeling full results in decreased food intake and less chances of you giving in to your food cravings. Fiber is also necessary for easy food digestion and healthy bowel movements. Having enough fiber in your diet is a great way to prevent constipation and maintain a healthy gut.
Moreover, celery juice contains only tiny amounts of sugar and carbohydrates. This, combined with its fiber content, will help you remove an inch or two from your waistline while eliminating toxins from your body.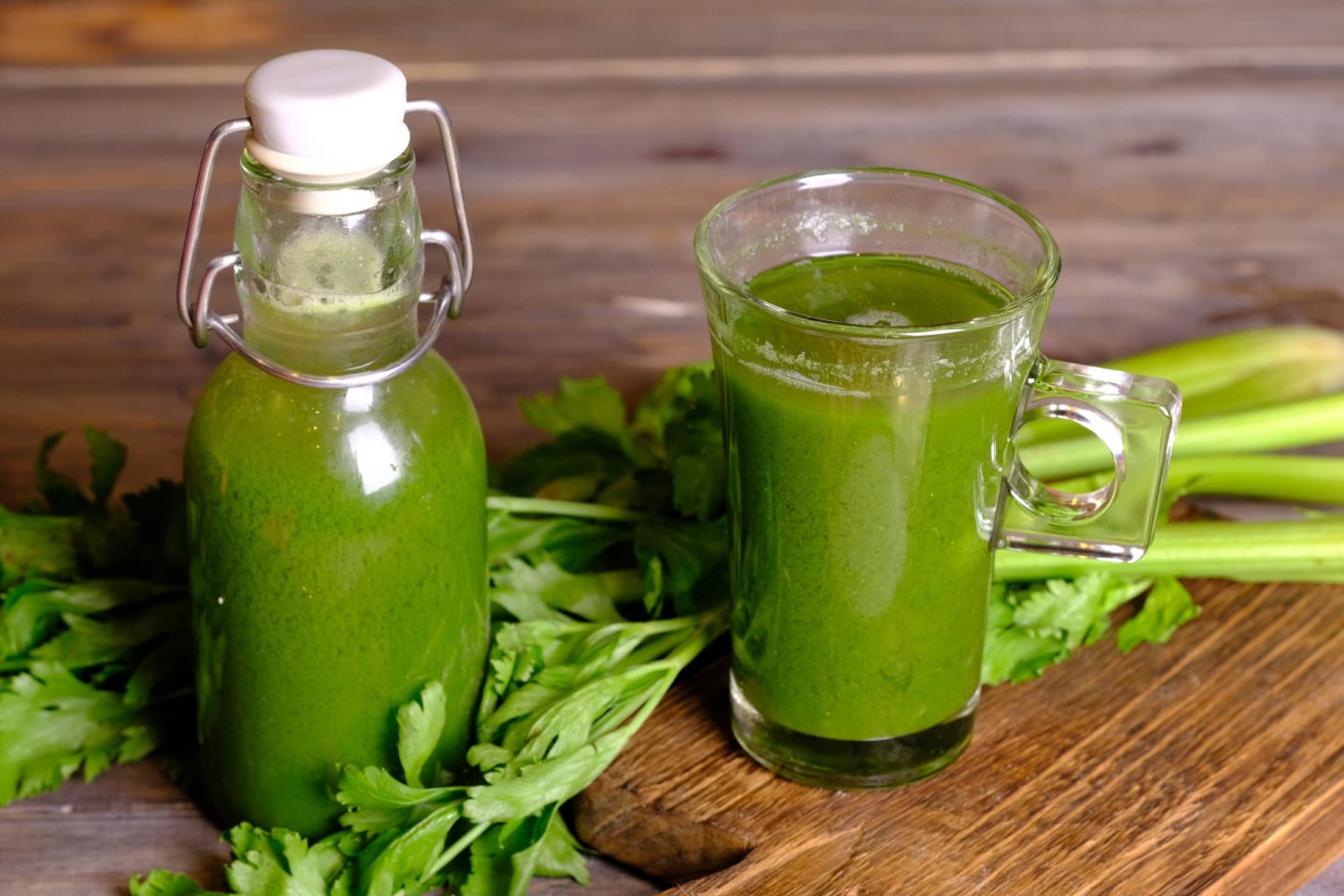 10. Improves Eyesight
Toxins that medical research and science aren't aware of interfering with eye health are a problem. Toxic heavy metals are one of the most obnoxious irritants for the eyes. Mercury is one to be significantly considered. There's mercury in our water, mercury in our fish, and everywhere.
Eating celery is one of the most effective ways to improve vision and eye health. It compares to and even outperforms wild blueberries, which are the only other food on the planet that can protect your eyes to this extent.
One of the benefits of this vegetable is that it aids in the removal of harmful copper from the body. Trace minerals for the eyes, such as trace zinc and trace copper, are found in sodium cluster salts.
Lutein and vitamin A present in celery juice also aid eye health by acting as antioxidants that relieve inflammation and prevent oxidative stress in the eyes.
11. Prevents Birth Defects
Celery is a folate-rich vegetable. What role does folic acid play in the prevention of neural tube defects? During pregnancy, your body requires folate to create red and white blood cells and aid in the growth of your baby. Folate also reduces the likelihood of neural tube disease (NTD) in your unborn child. NTDs are a collection of significant birth disorders that affect an infant's spine, brain, and skull.
Spina bifida is the most frequent neural tube abnormality. When a portion of the baby's spinal cord remains outside the body, this occurs. The baby's legs may be paralyzed at first, but they may recover later.
The fiber in celery also helps in preventing hemorrhoids and constipation during pregnancy. It also helps in making you feel full and avoiding overeating, which leads to controlled sugar levels. In addition, drinking celery juice provides a lot of nutrients that will be beneficial for the mother and child.
12. Promotes Alkalinity
Celery is alkaline, which means it helps to neutralize gastric acids while also balancing the body's pH levels. As a result, celery juice is known to offer potent anti-inflammatory properties as well as a stomach-calming impact. It also appears to aid in the recovery of the stomach after a variety of diseases such as acid reflux.
13. Prevents Insomnia
Ever felt anxious and sleepless lately? This vegetable might be the key! Magnesium, which is found in high levels of celery, helps relieve stress. In contrast to melatonin, magnesium enables you to sleep longer, while melatonin helps you fall asleep faster.
Tips on Choosing and Storing Celery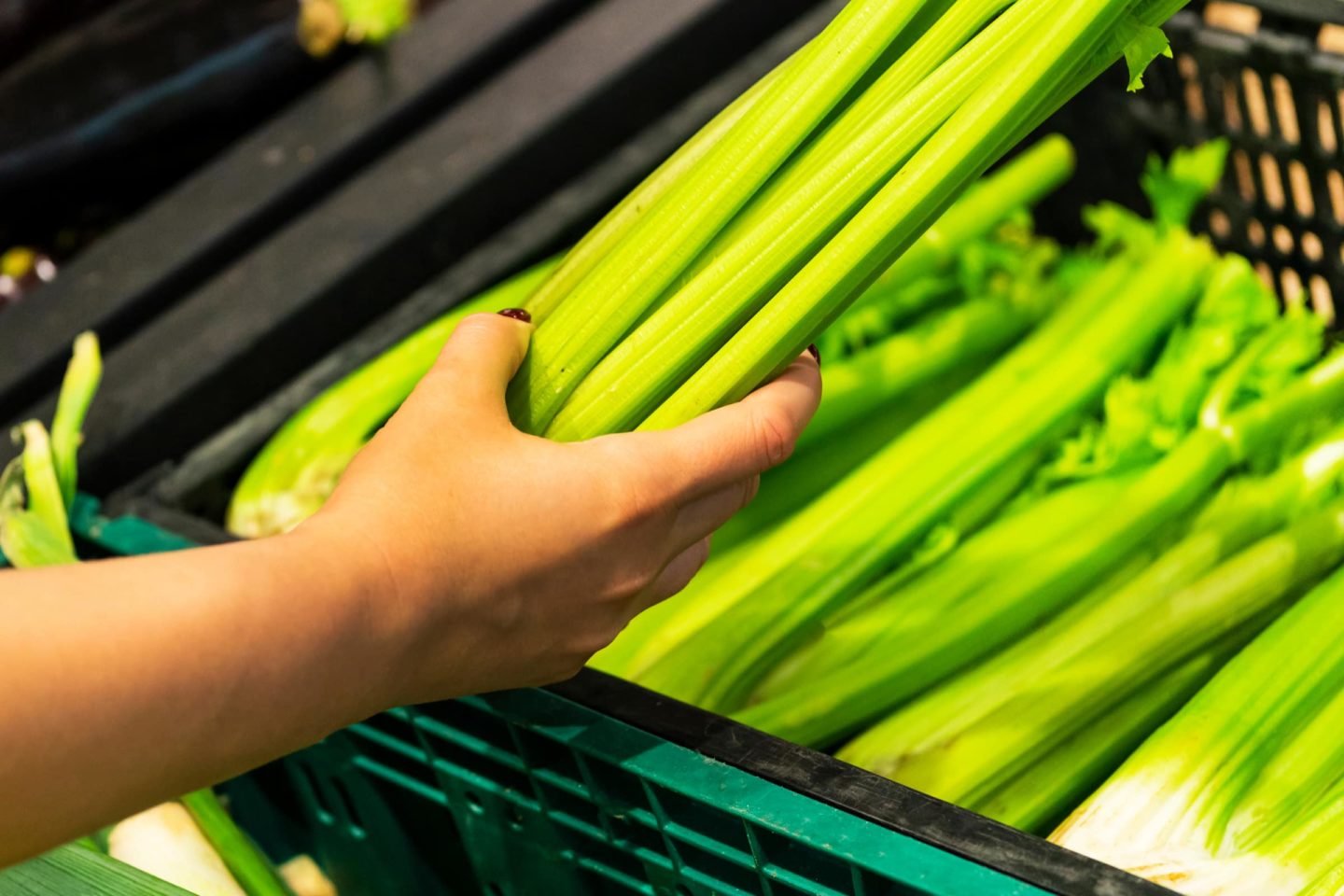 Choosing
Choosing celery should not be taken lightly as all of the parts are beneficial. But worry not, because we have made you a list of tips on picking fresh celery.
When purchasing celery, look for the following:
Stalks that are firm and firmly packed
They should be moderately thick with crisp ribs that break easily.
There are no rubbery stalks.
Examine the leaves to ensure they are not wilted and have a bright green hue.
There is no discoloration or spots.
Stalks should not be spread out too much.
Look for several thin stems in the center.
Pro tip: Make sure that you buy organic celery that is free from pesticides and insecticides.
Storage
Keep celery heads whole, wrap them tightly in aluminum foil, and store them in the refrigerator crisper drawer as normal for the best results. Celery stalks can be stored in this manner for two to four weeks and still be fresh.
Your celery's plastic bag traps the ethylene it releases, hastening its vegetative end. It was discovered that aluminum foil is the ideal storage solution for this vegetable since it allows the gas to escape, keeping your celery fresh for a longer period of time.
5 Easy Celery Juice Recipes
Some people might not be able to tolerate celery's taste. So, we have made a list of cool, easy, and helpful recipes for juicing celery that will surely excite you!
Fresh Apple-Celery Juice with Ginger and Parsley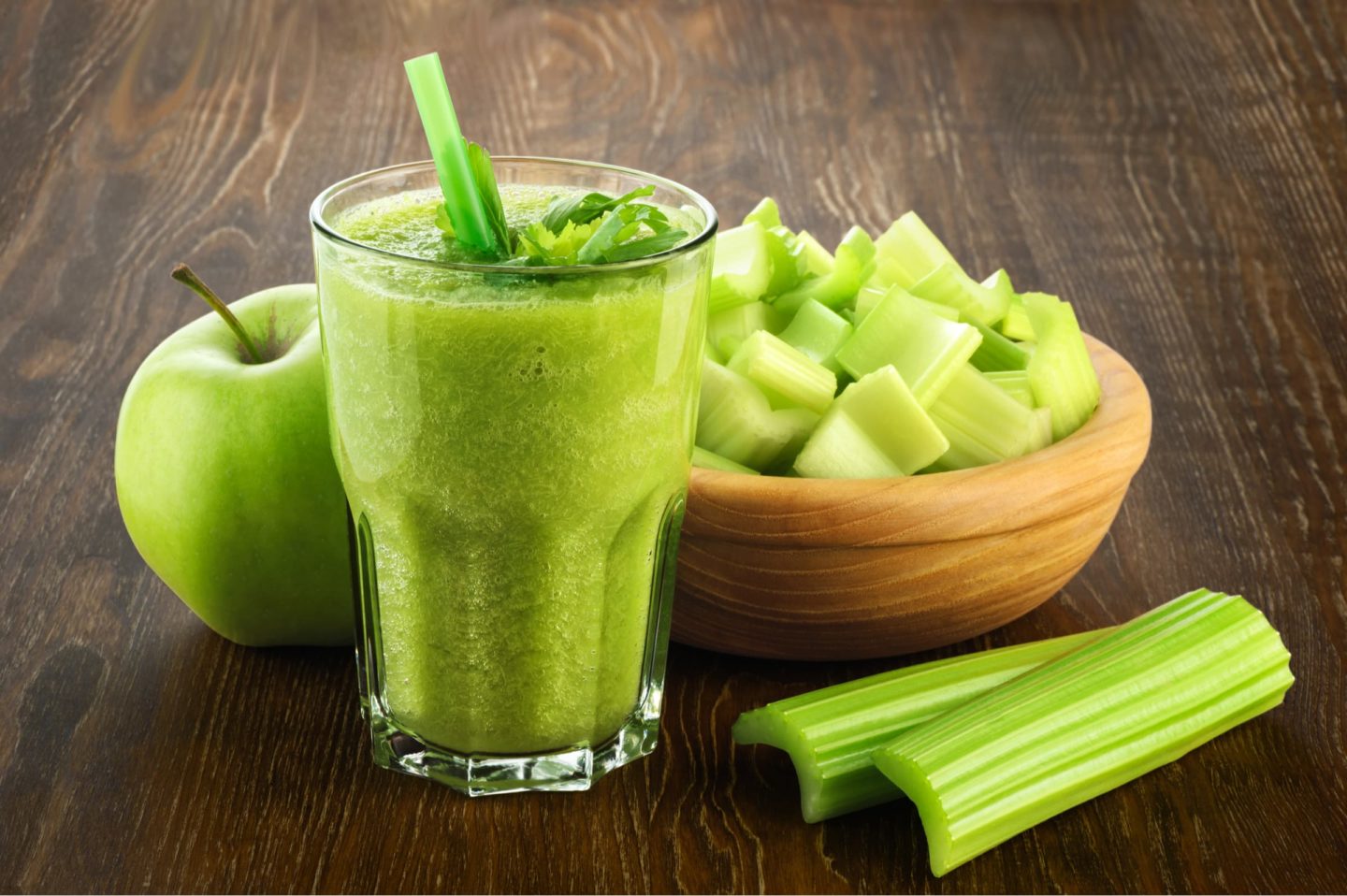 Ingredients:
2 fresh celery ribs, cut into 3-inch lengths
1 Granny Smith apple — halved, cored, and cut into large chunks
One 2-inch piece of fresh ginger, peeled
½ medium bunch of parsley with stems
1 ½ tablespoons fresh lemon juice
Directions:
In an electric juicer, juice the celery with the apple, ginger, and parsley.
Stir in the lemon juice.
Recipe source: Food and Wine
Carrot and Celery Juice Recipe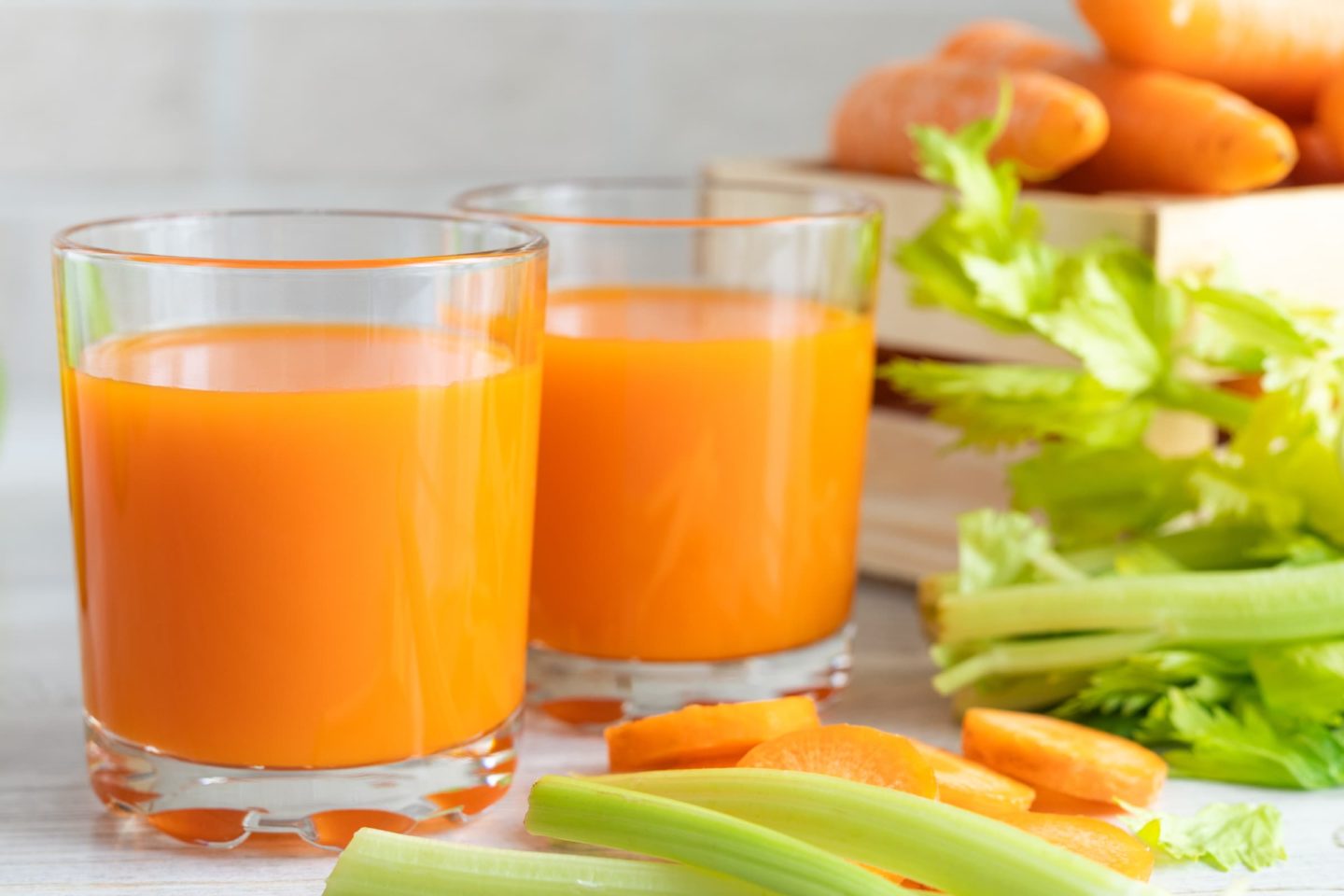 Ingredients:
8 fl oz apple juice from 16-18 oz red apples
2 fl oz celery juice from 4-6 oz celery
5 oz ginger
10 fl oz carrot juice from 20-25 oz carrots
2 tbsp lemon juice
6 mint leaves
2 tbsp sugar
2 cups ice
Directions:
Juice the vegetables and fruits: Since we already have carrot juice on hand, we only need to cut the apples and celery into chunks and feed them into the running juicer along with the ginger knob. If you haven't had carrot juice, prepare around 20-25 oz of carrots and add them to the juicer as well.
Mix: After getting the juice from the carrots, celery, apples, and ginger, transfer it into a large pitcher. Add lemon juice and sugar, and stir for around 1-2 minutes or until all of the sugar is dissolved.
Serve: Add ice to the pitcher and serve with four tall glasses. Add mint leaves to the pitcher to decorate and to add a refreshing aroma.
Recipe source: Healthy Recipes 101
Refreshing Celery and Cucumber Juice with Lemon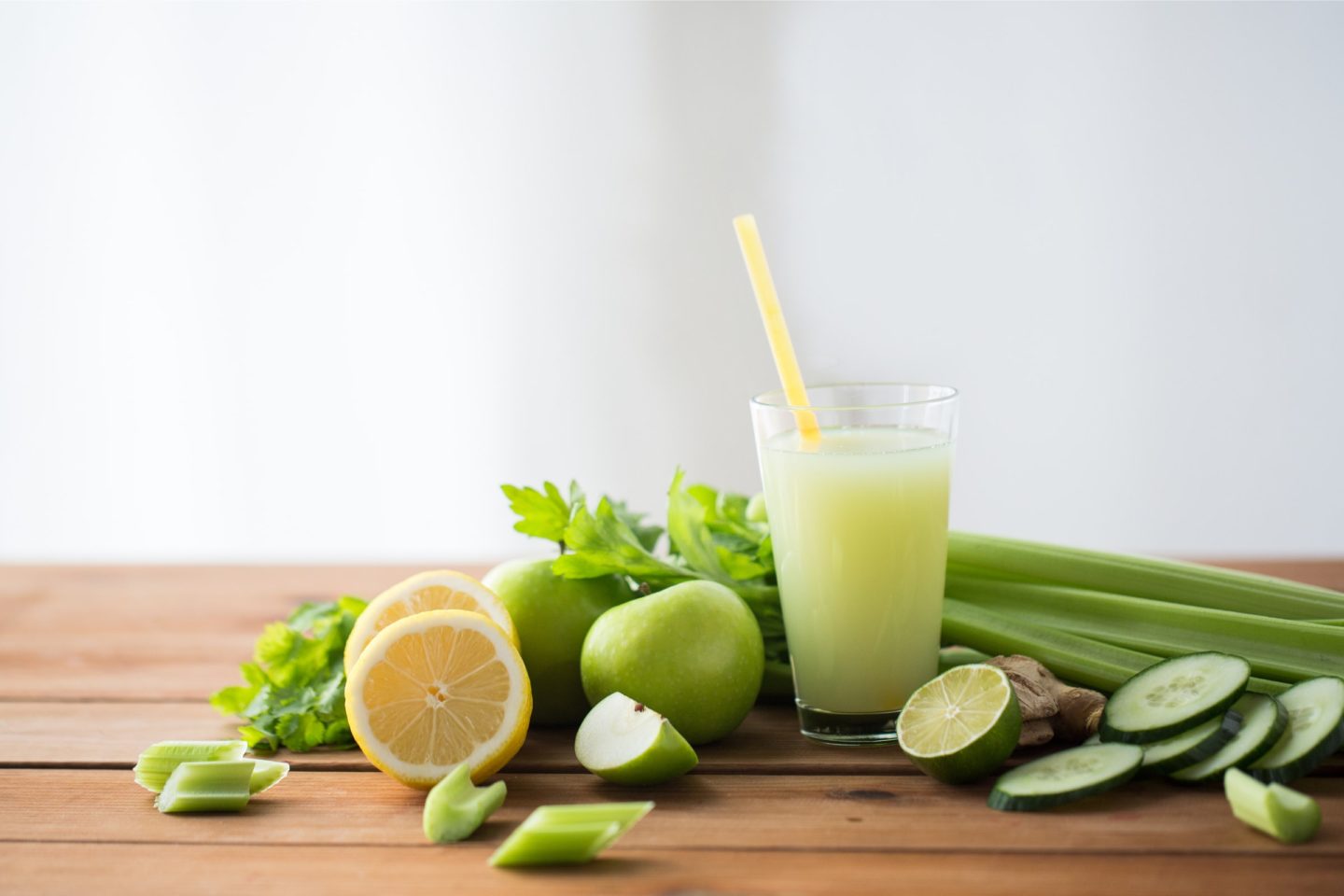 Ingredients:
1 medium to large cucumber
6 small stalks celery ends removed (or 3 large stalks)
1 apple cored (optional but recommended)
1 lemon cut into wedges (or to taste)
Directions:
Juice cucumber and celery in a juicer. If using, juice the apple as well.
Pour into 2 glasses and add squeezes of lemon wedges to taste. (If you're adding the optional apple, you may prefer no lemon at all.)
Note: If the celery flavor is too intense for you, add a splash of cold water and/or serve on ice.
Recipe source: Cardy's kitchen
Glowing Skin Green Juice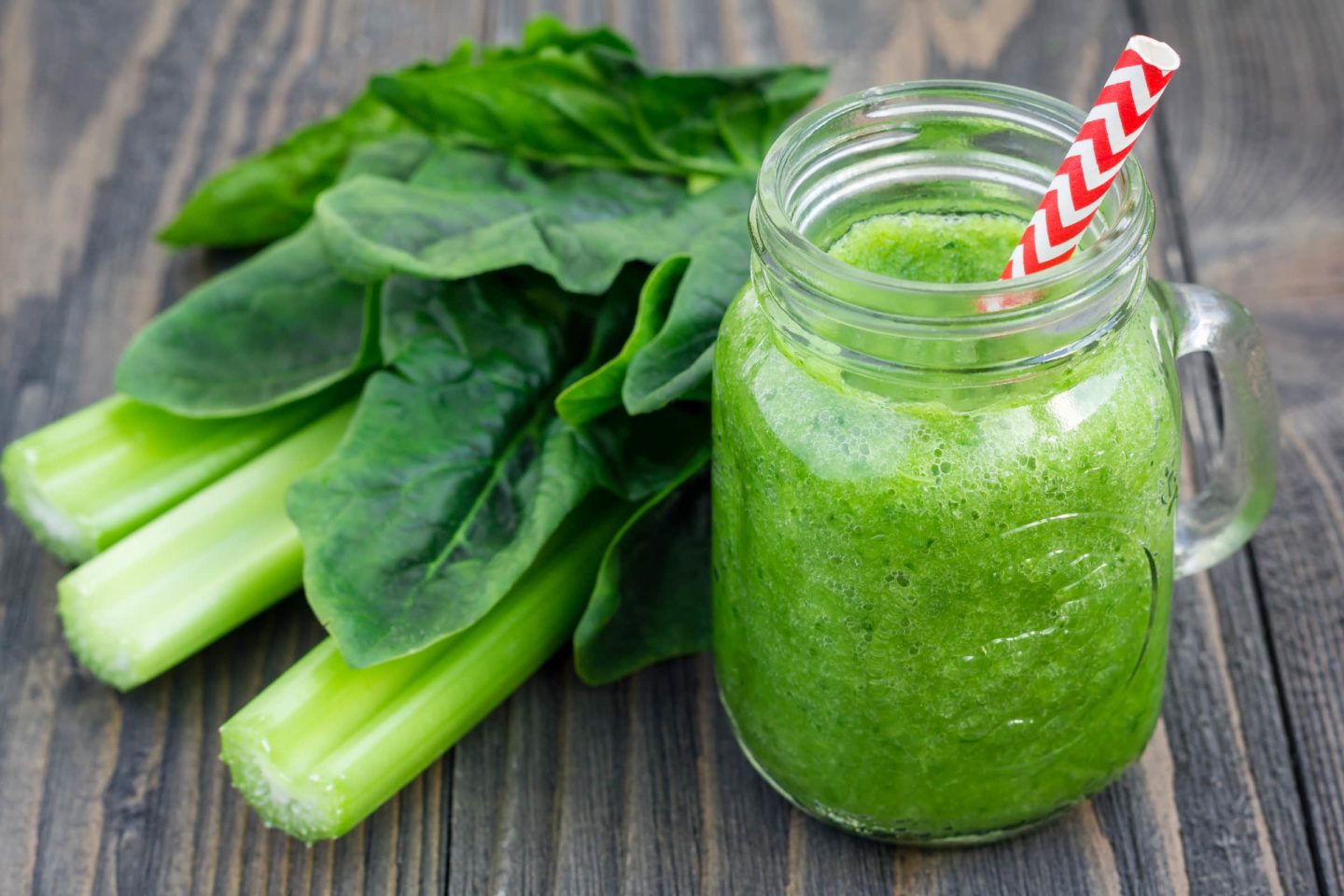 Ingredients:
4 Large Apples
6 Celery Stalks
2 Kale Leaves
Directions:
Wash the ingredients under running water.
Core the apples. De-stem kale leaves. Throw them in a juicer altogether with celery stalks that have been cut into smaller pieces.
The juicing takes literally a minute or two.
Once juiced, pour into glasses and serve right away!
Recipe Source: Happy Foods Tube
Best Healthy Celery Juice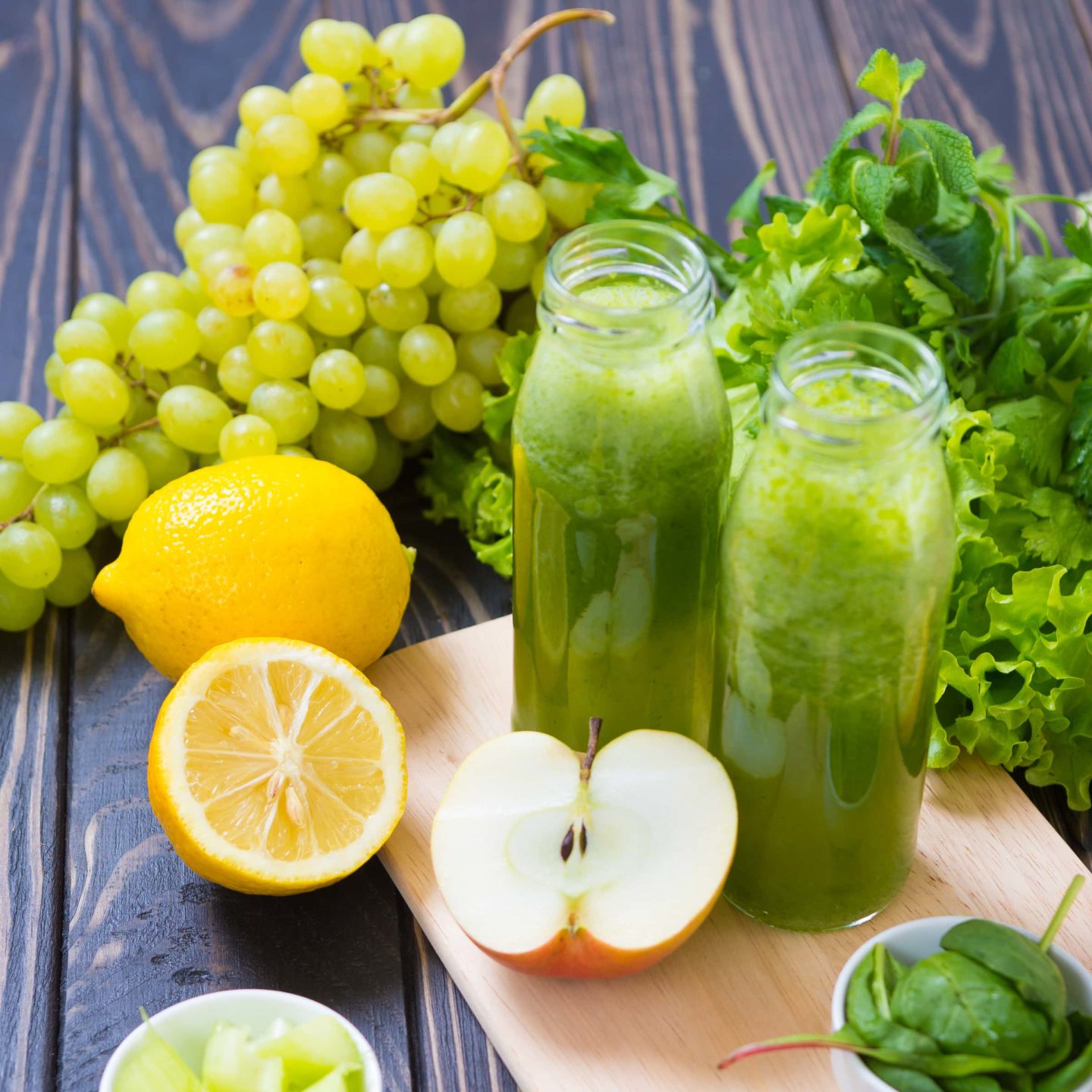 Ingredients:
4 fl oz celery juice from about 3 oz celery stalks
10 fl oz green apple juice from about 12.5 oz apples
6 oz green grapes
2 tbsp sugar
1 tsp lemon juice
6 mint leaves fresh
2 cups ice cubes
Directions:
Use a sharp knife to core the apples and cut them into medium chunks.
Run apple chunks, celery, and green grapes through a juicer and collect the juice in a pitcher.
Add lemon juice and sugar. Use a spoon to stir until all the sugar has dissolved.
Pour the juice into glasses over ice. Garnish with fresh lemon slices and mint leaves. Serve.
Recipe source: Healthy Recipes 101
Precautions
Pregnancy and Breastfeeding
Celery oil and celery seeds are likely unsafe when consumed by mouth in therapeutic amounts during pregnancy and breastfeeding. Celery in large amounts might cause the uterus to contract, resulting in a miscarriage. When it comes to the safety of celery oil and seeds while breastfeeding, there isn't enough credible information. To be on the safe side, avoid using it.
Allergies
People who are allergic to certain other plants and spices, such as wild carrots, mugwort, birch, and dandelion, may experience allergic reactions to celery. The "celery-carrot-mugwort-spice syndrome" has been coined to describe this phenomenon.
Bleeding Disorders
When used in medicinal doses, celery has been linked to an increased risk of bleeding. If you have a bleeding issue, avoid celery.
Sun Sensitivity
Psoralen, a chemical compound found in celery and other fruits and vegetables, can cause phytophotodermatitis, a condition where the skin develops blisters and patches when exposed to the sun for longer periods of time. Consuming celery juice in massive amounts might increase the risk of this.
Takeaway
Although the benefits of celery juice seem overwhelming, precautions should still be observed. Overall, celery juice offers a lot of nutrients and minerals that contribute to its overall greatness. Indeed, it deserves to be called a "superfood."
However, as always, approval from your medical practitioners is necessary, especially when considering celery juice as a daily habit. But once you get their consent, have that vegetable and juicer ready and enjoy juicing celery and reaping the benefits of this superfood!