Are you looking to impress your friends and ramp up your coffee game? Having an espresso machine is a dream for any coffee lover who wishes to make decadent espresso drinks at home.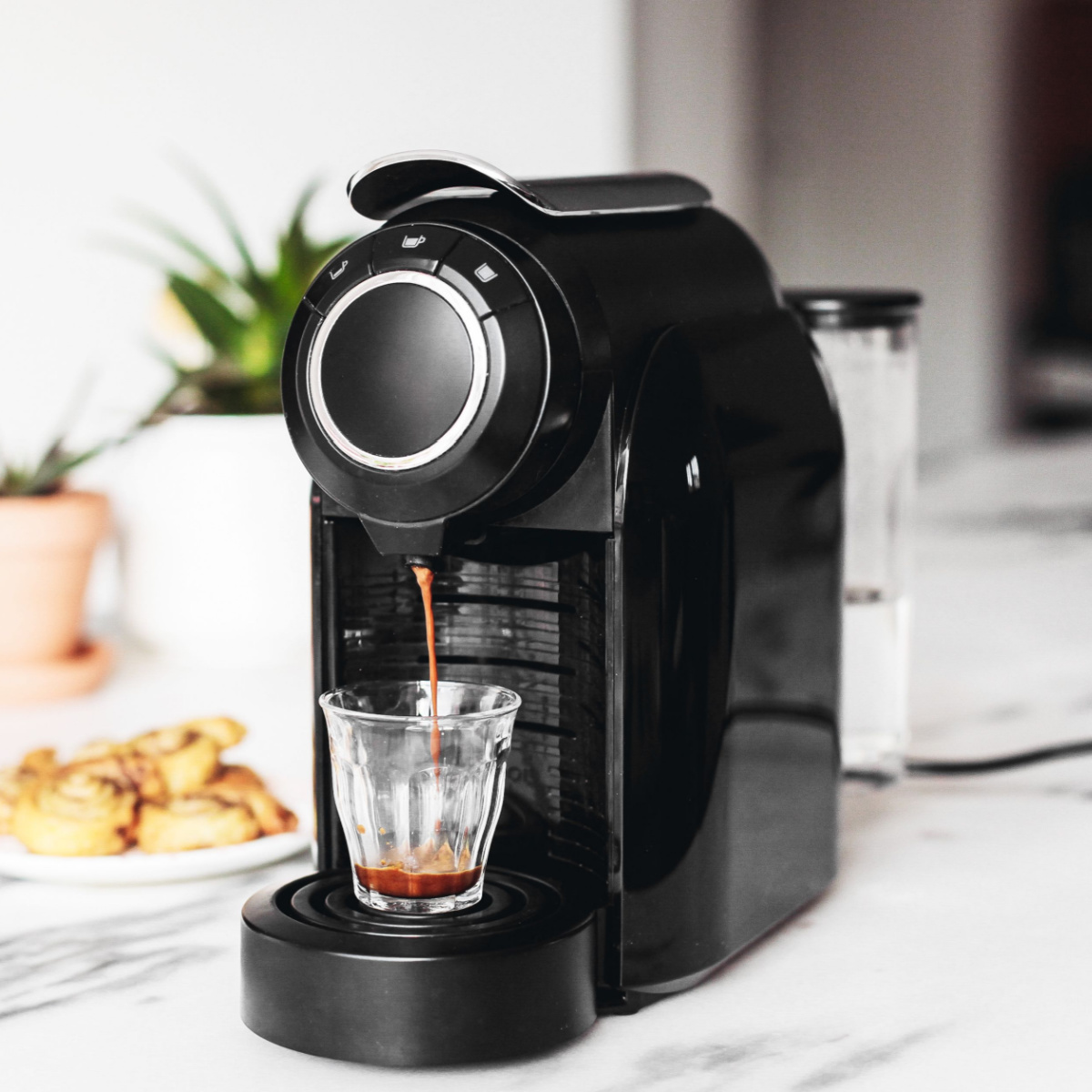 Plus, coffee runs are getting increasingly expensive. A daily coffee run can put a lot of wear on your pocket.
You may assume getting a home espresso machine will cost a small fortune, but we are here to inform you that tons of budget options are available on the market. The best budget espresso machine for you should have the features you need, be able to make the drinks you want to make, and deliver the experience you want.
Here we'll walk you through everything you need to know about purchasing your espresso machine, along with our top picks!
Table of Contents
Best Overall: Breville Bambino Plus Espresso Machine
Breville Bambino Plus Espresso Machine
The Breville Bambino Plus Espresso Machine is ideal for those who want to balance making quality espresso at an affordable price. This is not the most inexpensive machine on this list, but it is a machine that will grow with you.
Pros: Quick to warm up, automatic coffee grinder, high-quality parts, automatic microfoam texturing
Cons: No automatic cleaning function, water filter is complicated to replace, no automatic mug warmer
We love that the Breville Bambino Plus Espresso Machine automatically grinds and doses coffee grounds and has adjustable foam settings. This makes it ideal for those who love cappuccinos and those who wish to try their hand at latte art.
There is still a bit of a learning curve with this machine, but it is made with high-quality parts and truly is an espresso machine that can grow alongside you.
Best Budget-Friendly: De'Longhi Stilosa
De'Longhi Stilosa Espresso Maker
This De'Longhi Stilosa Espresso Maker is ideal for those wanting to flex their barista skills at a very affordable price. This machine will pull great espresso shots using 15-bar pressure and has a steam wand for making cappuccinos and lattes.
Pros: Very inexpensive, has a steam wand, can hold different sizes of coffee cups
Cons: Grind of beans needs to be perfect, comes with a plastic tamper, takes practice to get used to
We love the De'Longhi Stilosa Espresso Maker because it allows you to try your hand at making espresso beverages without the hefty price tag. However, this machine can be difficult to use because it doesn't have an automatic grinder. You must get the grind size correct; otherwise, your espresso shots may not pull properly.
If you're an experienced barista, you most likely will not be impressed by the plastic tamp. However, high-quality metal tampers are available for purchase online and in stores. However, note that there are multiple sizes of tampers, and this machine requires a 51 mm-sized one.
Best For Small Spaces: STARESSO Portable Espresso Machine
STARESSO Portable Espresso Machine
If you don't have the counter space but still crave a high-quality espresso, the STARESSO Portable Espresso Machine could be the solution you are looking for.
Pros: Doesn't take up counter space, great for traveling, quick and easy to use
Cons: Doesn't have a steam wand, is very different from the traditional espresso machine experience, does not heat up the water, doesn't grind beans
The STARESSO Portable Espresso Machine is an affordable way to get delicious and rich espresso shots in a small apartment with limited counter space. Plus, its compact size means you can bring it with you on trips. We love that it can tuck away in a drawer while it isn't in use.
We do love the portability and user-friendly design of this espresso machine. But this may not be the best option if you're looking to hone your home barista skills.
Best For Beginners: Gaggia Carezza De LUXE Espresso Machine
SAVE 12%
Gaggia Carezza De LUXE Espresso Machine
The Gaggia Carezza De LUXE Espresso Machine balances affordability, versatility, and features in this beautiful traditional Italian design.
Pros: Immersive experience, small, easy to clean
Cons: Takes practice, no automatic grinder, height not adjustable
The Gaggia Carezza De LUXE Espresso Machine is ideal for beginners who want a machine to grow into. Although this machine will take time to master, most home baristas find themselves making impressive espresso shots quickly.
We also love the retro and traditional Italian design of this machine. It is a stylish and modern espresso maker that looks great and is sure to impress your friends and family.
Best Manual: Flair Espresso Maker PRO
Flair Espresso Maker PRO
The Flair Espresso Maker PRO balances a fresh and modern design while integrating true coffee science. Unique from some of the others on this list, this machine is completely manual.
Pros: Stylish design, integrated thermometer, easy to clean, has intuitive functions
Cons: No steam wand or grinder, takes practice
The Flair Espresso Maker PRO is great for home baristas who love playing with the science of coffee. With full manual control of pressure and temperature, users can compare shots brewed differently.
Although this machine is great for those hoping to impress espresso lovers and delve deep into the science of crafting the perfect shot, this machine is only great for pulling espresso shots.
For those who just want to sip doppios, americanos, and iced lattes—this machine is a fun and immersive experience.
Best With an Automatic Grinder: Breville Barista Touch Espresso Machine
SAVE 9%
Breville Barista Touch Espresso Machine
The Breville Barista Touch Espresso Machine may come in at a bit of a higher price tag than some of the other options on this list, but this higher price is matched with features and versatility.
Pros: Intuitive touchscreen design, integrated temperature control, automatic grinding
Cons: Expensive, not a traditional experience, finicky temperature control
The Breville Barista Touch Espresso Machine takes the guesswork out of crafting your favorite espresso beverages. This machine gives users full versatility between the automatic grinder, touch screen interface, automatic micro-foam milk texturing, and quick heat-up time.
While this machine is jam-packed with features and innovations, it can be tough to learn the ropes of crafting the perfect espresso beverages manually.
Overall, this machine is ideal for those who want to have the ability to take a hands-off approach and still create decadent and delicious espresso beverages.
Most Authentic Traditional Experience: Rancilio Silvia Espresso Machine
Rancilio Silvia Espresso Machine
For those wanting to bring a taste of Italy into their homes, the Rancilio Silvia Espresso Machine provides a traditional Italian experience to home baristas.
Pros: High quality, comes in several stylish colors, integrated shot timer and temperature control
Cons: Expensive, no automatic grinder, learning curve
The Rancilio Silvia Espresso Machine is ideal for those who have a passion for home espresso and want to ensure they get the highest quality espresso beverages every time.
The higher price point is reflected in the machine's high-quality parts and inner workings. This means that you won't get a touchscreen display and automatic features. Thus, crafting the perfect drinks will take time and practice.
Depending on what kind of home barista you are, this could either be frustrating or exactly what you're looking for. Either way, this machine brings the highest quality espresso and the most authentic Italian way.
Buying Guide
Here is everything you should know while you are looking for the best budget espresso machine for your home:
Experience
What experience are you hoping to gain from your espresso machine? This is the most important question you should ask yourself while shopping for your ideal budget espresso machine.
If you are just shopping around to save cash on your coffee runs in the mornings and want the best-tasting espresso with the least amount of work, try looking for an automatic espresso machine.
However, if you're in the market for an espresso machine you can learn and grow with, try finding a machine that gives you the greatest learning experience. Crafting the perfect shot is a delicate process with many variables that can change.
Between getting the grind of your coffee beans perfect, tamping with the ideal pressure, using the right temperature water, and pulling the correct length of an espresso shot, the whole experience can take some knowledge and practice.
Do you want to learn and potentially have some bitter shots and curdled milk along the way? Or do you want to take the science out and craft a perfect cup automatically?
Features
Similar to the question above: what features are most important to you? For some, having an automatic grinder frees up counter space and makes crafting espresso shots quicker and easier.
Other home baristas will know they are in a crunch for time trying to get kids out the door and in the car on time. This may mean it will be important for a semi-automatic and quick process. For others, it is about learning the science and craftsmanship of the perfect espresso shot.
Regardless of whether or not you want automatic features, manual control, or simply the most authentic experience—there is an ideal espresso machine for you.
Drinks You Want To Make
What kinds of drinks do you want to make? Not all espresso machines will do the same thing. If you love lattes and cappuccinos, finding an espresso maker with a high-quality milk frother can make or break your coffee-making experience.
On the contrary, if you are a lover of americanos, affogatos, and straight doppio espressos, pulling rich and decadent shots will be your top priority.
FAQ
What coffee beans should I use?
Truly the kind of coffee beans you choose will change the overall taste of your final product. While some coffee beans specifically say they are "espresso roasts," this does not mean you just have to use these blends.

Remember that the grind size will also dramatically change the flavor notes in your final product as well. There are truly no limits to what kinds of beans you can experiment with.
What is bar pressure?
Bar pressure is the number one factor that sets espresso machines and coffee makers apart. Coffee makers use gravity and time to extract flavors and caffeine. They can take up to several minutes to brew.

Espresso makers are so quick and rich because of bar pressure. Technically, the ideal sweet spot for brewing the best espresso is at around 9 bars of pressure. So while you see plenty of budget espresso machines boast 15 and 19 bars of pressure, these added bars may be to compensate for lower quality components that lead to pressure loss in the brewing process.
Why are espresso machines so expensive?
Espresso machines have dozens of moving parts and pieces that go into crafting incredible espresso shots. Some commercial machines can cost thousands and even tens of thousands of dollars.

These machines are built for commercial-level production and need top-quality pieces to last years. Of course, home espresso machines still require high-quality parts to expertly traverse the intricate process of crafting excellent espresso shots.

This is a complicated process that requires high-quality components.
How do I care for my home espresso machine?
While different espresso machines will have different factory recommendations for caring for your unique machine, there are some standard practices to be aware of.

First, if your machine has a steam wand, you'll always want to purge it before and after use to keep it free of blockages and buildup. Next, after brewing an espresso shot, you will always want to run the hot water through another brew cycle to flush the group head.

And finally, always ensure you only use quality filtered water in your machine. Tap water contains minerals that cause build-up in your machine that can clog it over time. Not only will the quality of your water significantly change the taste of your espresso, but it can also damage your machine.