Chambord is a black raspberry liqueur that has a fruity, semi-sweet flavor and a luxurious consistency. Its vibrant purple color and premium ingredients make it perfect for an after-dinner aperitif. This drink is also excellent mixed into cocktails like Martinis.
Although Chambord can easily be found online or at any well-stocked liquor store, it's expensive and not everyone enjoys its flavor profile. If you need a Chambord substitute then keep reading, we've created the ultimate list of alternatives.

Table of Contents
What are the best substitutes for Chambord?
Whether you are making a cocktail or drinking it straight, if you need to replace Chambord then use Dekuyper Razzmatazz, Crème de cassis, or Di Amore Raspberry. For a non-alcoholic alternative try raspberry extract or syrup in mocktails and desserts.
Quick tip: Do you want to avoid buying a whole bottle of Chambord when all you need is a little? Instead of looking for a replacement, why not buy a 50ml sample-size bottle? A good solution for one-off dessert recipes or for mixing one or two cocktails.
1. DeKuyper Razzmatazz
Razzmatazz is a raspberry liqueur that makes the ideal substitute for Chambord. They taste similar and once mixed into cocktails like Martini, Kir Royale, The Hollywood, Espresso Martini, or Raspberries and Cream, few could tell the difference.
While they have a similar alcohol content and taste, you'll find Razzmatazz is much cheaper. You can pick up a bottle from Walmart for under $10 while Target has Chambord for double the price and half the bottle size.
The price difference reflects the superior ingredients used to make Chambord. Sipped neat, you'll certainly notice the difference. Razza is made to be mixed; it's sweeter with a syrupy consistency. Chambord has a more complex flavor profile so don't pull out the Razzmatazz for a digestif if you're trying to impress your French inlaws!
2. Crème de cassis
Creme de cassis is a blackcurrant liqueur that's bursting with sweet, fruity flavor. It originated in Dijon around 1841. There are no laws on how much or what quality fruit must be used to make Creme de cassis, so the flavor will vary by producer. We suggest you try Drillaud, Hiram Walker, Massenez, or Lejay – all respected brands.
Creme de cassis is a delicious match for sparkling wine or stirred into Sangria. Mix it with dry white wine to make a Kir or champagne to create a Kir Royale cocktail. If you enjoy sweet drinks, Creme de cassis is also fine for drinking on its own.
If you're cooking in the kitchen, Creme de cassis is an excellent alternative to Chambord. Its flavor lends itself to sorbets and ice cream or it can be poured over fruit salads.
Also try: Crème de Mure.
3. Di Amore Raspberry
Di Amore Raspberry is an Italian liqueur that tastes of sweet, black raspberries. A considerably cheaper option, it tastes a lot like Chambord with a little less vanilla flavor and not quite as smooth.
You may find it a challenge to locate a bottle near you. This product is showing up less on shelves than it used to, but we discovered it is still available from online retailers and some liquor outlets in the United States.
Di Amore Raspberry is a refreshing summer beverage with a splash of quality dry gin or vodka or as a Cosmopolitan ingredient. The easiest option is to sip it on its own from a cordial glass.
Home cooks who have stumbled onto a dessert recipe that uses Chambord can use Di Amore Raspberry in similar ratios. Use it wherever you please, but this liqueur is amazing in chocolate dips and brownies.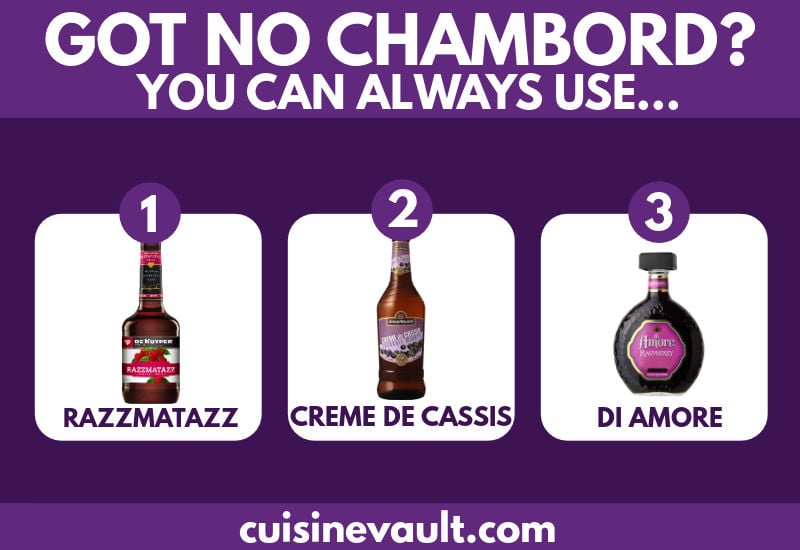 4. Raspberry extract
Not everyone wants to consume alcohol. To replace Chambord in mocktails and sweet treats, use raspberry extract. You'll get a similar fruity flavor without the alcohol content - ideal for your next Raspberry Mojito.
There is a range of products on the market but Amoretti produce a high-quality extract, ideal for muffins, pastries, chocolates, cakes, and beverages.
Extracts have much more flavor intensity so always use in moderation. We suggest adding one teaspoon of extract for every two tablespoons of Chambord. If possible, taste test and add more if you think it needs it.
Other no-alcohol options: Raspberry juice concentrate or raspberry syrup (often found in the dessert toppings aisle) are also great backup ingredients.
5. Framboise
Another raspberry liqueur is Framboise which has an intense and sweet in flavor. You'll notice it doesn't have the same silky mouthfeel as Chambord, but in most applications, it will barely be noticeable.
Framboise is great added to a Bourbon Blush or Floradora cocktail. You can also use it to macerate fruit or mix it into homemade jams and jellies.
Try a bottle of Mathilde Liqueur for a hand-crafted French spirit. It has a lighter, fruity flavor and will cost less than Chambord.
6. Ole Smoky Blackberry Moonshine
Let's start by saying Ole Smoky Moonshine doesn't have the same flavor as Chambord. This is a good substitute for people that want something a little less French. Need a fruit-themed drink without a hint of pretension? Try Ole Smoke Moonshine.
Made in Gatlinburg, Tennessee, this blackberry-infused spirit is excellent poured into a cup on its own, or drunken with lemonade. Chambord's alcohol content is 16.5% ABV while Ole Smoky raises the bar a little to 20%.
We also like how Ole Smoky package their drinks in a Mason jar. It's novel, and you can re-use the jar to make homemade mason jar ice cream!
7. Giffard Blackberry Liqueur
Giffard Blackberry (Muroise aux Baies Rouges) Premium Liqueur is a premium replacement for Chambord. This brilliant ruby drink is the option for anyone who can't get their hands on Chambord and doesn't want to sacrifice quality.
The Giffard Blackberry Liqueur only uses Muroise du Val de Loire. A special variety of blackberries that are gentle, aromatic, and continue to develop flavor after being macerated in alcohol. The judges at the Beverage Testing Institute Chicago were also impressed, presenting it with a Gold Award.
Based on price, we wouldn't suggest using this liqueur in cooking. However, it's perfect for any cocktail that calls for Chambord, like a Raspberry Margarita, French Manhattan, Daiquiri, and Grateful Dead.
8. Pama Pomegranate Liqueur
Pama Pomegranate Liqueur is made in the United States and combines pomegranate juice with vodka and tequila. It is only 17% ABV so it won't hit you like a regular bottle of vodka or tequila would.
Although some liqueurs can be sickly sweet, Pama is a refreshing balance of sweet and tart. Drink it with cranberry juice or add a shot of rum, gin, or vodka. For Raspberry Russian cocktail lovers, Pama is a useful substitute for Chambord.
Uses for Pama in cooking include flavoring panna cottas, cheesecakes, cakes, and any baked goods.
Related reading:
What is a good lillet blanc substitute?
What are some tasty Amer Picon alternatives.
What can I use as a substitute for Pernod?
Commonly asked questions
Is Creme de Cassis the same as Chambord?
Crème de Cassis is a dark, syrupy liqueur made with blackcurrants and tends to be quite sweet. Chambord is also a French liqueur, but it is made with raspberries, blackcurrants, blackberries, cognac, Madagascan vanilla, and more. Chambord has a more complex, less sweet flavor profile and is usually a higher-end product than many Crème de Cassis brands.
Why is Chambord so expensive?
Chambord is made with premium ingredients including select berries and XO Cognac. These ingredients and a slow steeping process that takes six weeks mean a higher-priced bottle.
Can you drink Chambord straight?
Chambord makes an excellent aperitif or digestif, commonly drunk before or after a meal. Unlike some liqueurs, it isn't overly sweet or cloying, making it suitable for drinking on its own. Chambord's vibrant color and flavor also make it a good addition to cocktails.
Should you refrigerate Chambord?
Chambord doesn't need to be stored in the refrigerator. It is suitable for storing in the cupboard or any cool, dry area away from direct sunlight. To enjoy Chambord for 12 months after opening, always ensure the lid is tightly sealed before putting the bottle away.
What are the ingredients in Chambord liqueur?
Chambord is made using black raspberries, blackberries, blackcurrants, XO Cognac (cask-aged for at least 6 years), Madagascan vanilla, Moroccan citrus peel, honey, aromatic spices including ginger, cloves, nutmeg, and cinnamon.
Did you know? Chambord is made in Loire Valley, France, and is based on a local recipe dating back to the late 17th century.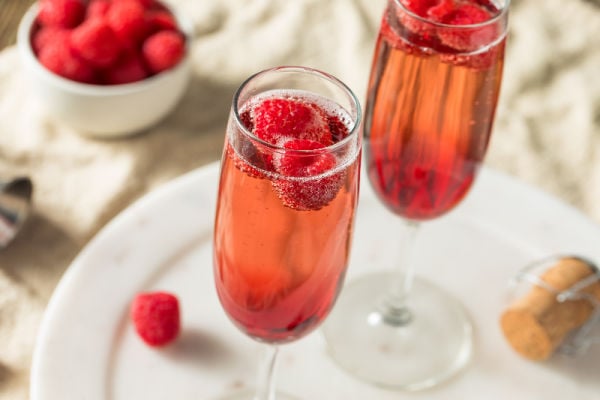 Summing up
If you love purple, fruit-flavored cocktails, then Chambord is an excellent choice; that is if you're not concerned about price. For everyone else, liqueurs like DeKuyper Razzmatazz, Crème de cassis, and Di Amore Raspberry make handy Chambord substitutes. They each have unique flavor profiles, but for most uses, the difference is barely noticeable.
For non-alcoholic drinks and cooking, try a good quality raspberry extract. It's easy to find a bottle online, at specialty cake supply stores, or in the baking section of well-stocked grocery stores.