Crème de Mure is a French blackberry liqueur that has a fruity, sweet flavor with a subtle tart undertone. Its luxurious, velvety consistency makes it perfect for adding to cocktails like the Bramble or sipping as a digestif.
If you've got none in the liquor cabinet or you'd like to try something with a slightly different taste then keep reading. We've created an essential list of Crème de Mure substitutes to suit any application.

Table of Contents
What can I use instead of Crème de Mure?
To replace Crème de Mure try a bottle of Crème de Cassis, Chambord, or Crème de Framboise. Those looking for a no-alcohol mocktail can use a blackberry syrup or cordial. For the best flavor, try making your own by macerating vodka with red wine, sugar, and blackberries for 2 days.
1. Creme de Cassis
A bottle of Crème de Cassis will make a useful alternative and it's relatively easy to find in store. This liqueur is made from black currants rather than blackberries, but they both have a similar sweet, berry flavor with a subtle tang.
Choose a good brand with plenty of berry flavor like Drillaud, Hiram Walker, Massenez, or Lejay. They're all perfect for making drinks like the Kir Royale or Black Demure.
2. Chambord
Chambord is a premium raspberry liqueur that is well-respected by bartenders around the world. Use it as a substitute in cocktails such as the Wibble, Apple and Blackberry Spritz, or Berry Flip. It's also great in a Manhattan or Margarita.
The best quality black and red raspberries are infused with ingredients like XO cognac, Madagascan vanilla, blackberries, and herbs. This gives the liqueur a unique taste with more complexity than Crème de Mure.
You'll also find Chambord has a thinner texture, is sweeter, and doesn't have the same punchy blackberry flavor. To compensate, try adding extra, and reducing any sweeteners like Agave syrup.
3. Creme de Framboise
If you enjoy raspberry flavor then a bottle of Creme de Framboise makes sense as a substitute. Although the flavor won't be the same, you'll create a brighter, slightly tangier drink.
Use Creme de Framboise in any cocktail that calls for Crème de Mure, including a Godfrey, Pontberry Martini, or Black and White Daiquiri. This liqueur is also handy for sweet recipes that need a boost of berry flavor.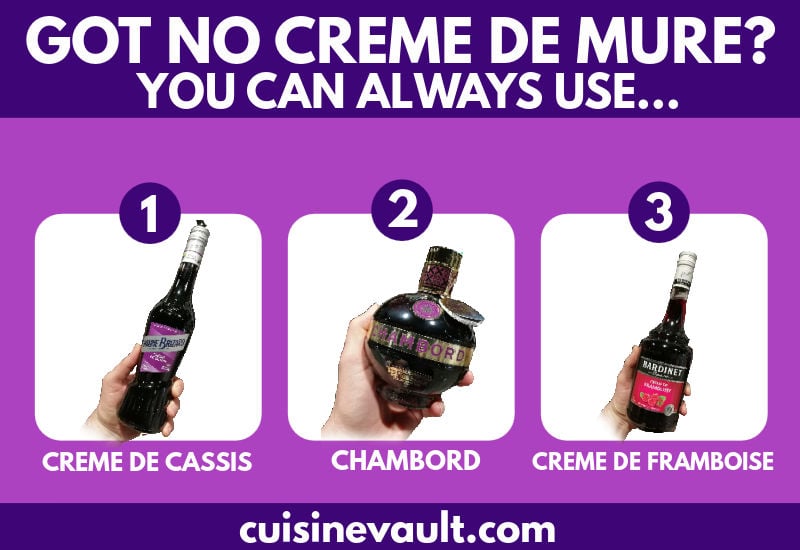 4. Blackberry syrup
For non-drinkers and kids, blackberry syrup or cordial makes an excellent Crème de Mure replacement. It has a pronounced blackberry taste, but it's also very sweet. Reduce the amount by roughly half to allow for this sweetness.
5. Blackberry puree
Are you in the kitchen looking for a decent alternative in your next pudding, cake, or pie recipe? Add a cup of fresh or thawed blackberries to a bowl and muddle them with a tablespoon of sugar. Once pureed, it's perfect for adding berry flavor to food.
A blackberry puree won't be suitable for making your next Uncle Vanya or Blackberry Martini. The texture will be off.
6. Blackberry brandy
Although not ideal, blackberry brandy will work in drinks if you're in a pinch. Add a reduced amount to drinks like a La Rosa Margarita, London Scramble, or Moraldo.
You'll want to do a taste test first to make sure the flavor is right before serving it to others. If you're making a Bramble, the brandy will easily overpower the gin, reducing the drink's refreshing quality.
7. Homemade Crème de Mure
Making blackberry liqueur at home takes a couple of days, but it's the best way to get the authentic flavor of store-bought Crème de Mure. This recipe is simple to make and you'll save some money if the berries aren't out of season.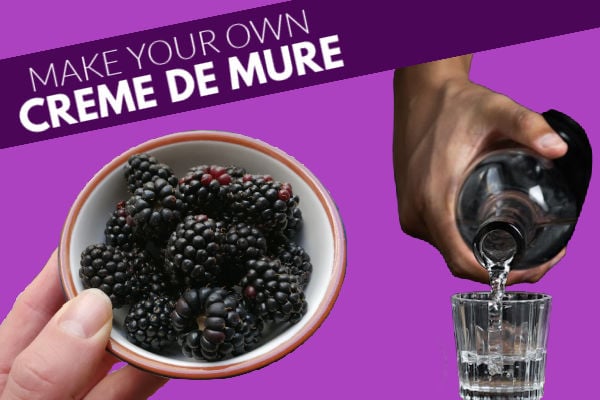 Ingredients
10 cups blackberries
2 bottles red wine
3 cups white sugar
1 cup vodka
Method
Add the blackberries and wine to a large bowl and muddle (gently crush) the berries with a potato masher.
Cover the bowl with a towel and position it in a cool place out of direct sunlight. Leave for 2 days to macerate, giving the berries a quick mix twice a day.
Strain the liquid through a sieve and discard the solids. Pour it through a cheesecloth or coffee filter to remove any remaining solids like seeds.
Combine the berry-wine liquid and sugar in a large saucepan and heat on medium until simmering. Continue to simmer, stirring occasionally for 10 minutes.
Remove from stovetop and stir in vodka, then allow to cool. Pour into sterilized bottles or jars, then consume or store until needed.
Recipe notes
Berry choice: You're best to use in-season berries when they're full of flavor and cheap. Frozen berries will also produce a delicious liqueur.
Wine: Good red wines for making Crème de Mure include shiraz, merlot, or Nebbiolo.
Liquor: If you've got no vodka then gin can be used instead. Avoid the flavored gins.
Temperature: If your house gets very hot and there's nowhere cool to macerate the liqueur, then leave it in the fridge.
Related reading:
What can I use instead of Creme de Violette?
How do I replace Creme de Cacao?
What are some easy Lillet Blanc substitutes?
What's a useful substitute for Creme de Banane?
Commonly asked questions
Where can I buy Crème de Mure?
Although Crème de Mure is readily available in European countries, it isn't as mainstream in the United States. Daveco advised they don't stock the product, although you'll find it at some of the other major online liquor retailers like BevMo. A popular bottle is Giffard Crème de Mure which is priced around $30 in America.
What are some good brands of blackberry liqueur?
There are plenty of delicious blackberry liqueurs on the market. Marie Brizard, Bols, Drillaurd, and Giffard all produce respected products.
How do I drink Crème de Mure?
Crème de Mure is a bold and bright, sweet drink perfect sipped as a digestif or aperitif. It is best known for starring in the Bramble cocktail. Other drinks you can mix it into include the Martini, Allegheny, Dramble, Apple Black Royal, and The Ridgwell.
How do I make Bramble cocktail?
Fill a cocktail shaker with ice and add 50ml gin, 1 Tbsp sugar syrup, and 30ml lemon juice. Shake vigorously then pour into a tumbler and drizzle Crème de Mure over the ice, allowing the liqueur to bleed into the glass. A garnish of blackberries and a lemon slice finish this drink deliciously.
More substitutes:
How can Orgeat be replaced in drinks?
What are the tastiest Amer Picon alternatives?
Summing up
Replacing Crème de Mure isn't a big challenge. Use a substitute like Crème de Cassis or Chambord, both readily available in liquor stores. Blackberry syrup is the best choice for non-drinkers and cooking.
If you have a few days spare, make Crème de Mure at home using basic ingredients like vodka, sugar, red wine, and blackberries. It's a simple, fail-safe way to get authentic blackberry liqueur at a cheaper price.