Creme De Cacao is a liqueur primarily made from cacao beans, vodka, and vanilla. It has a sweet, chocolate flavor with a vanilla undertone that's perfect for making cocktails like a Grasshopper or Brandy Alexander.
If you've got none in the bar cabinet, then keep reading as we reveal some delicious Creme De Cacao substitutes. They're all excellent alternatives for cocktails or dessert recipes.

Table of Contents
What can I use to replace Creme De Cacao?
To replace Creme De Cacao your best options are chocolate liqueur, Mozart Chocolate Spirit, or Kahlua. For a no-alcohol option, use a chocolate syrup or extract. Otherwise, an authentic alternative is to make a homemade version; it's quick, easy, and cheaper than a store-bought product.
1. Chocolate liqueur
Your best option is to find a bottle of chocolate liqueur from your liquor store. They come in a range of brands but a popular one is Trader Vic's. This drink is a medium-dark liqueur with hints of vanilla, a lot like Crème de Cacao. Other chocolate liqueurs worth trying include Bols, Godiva, Marie Bizard, De Kuyper, or Hiram Walker.
Whatever bottle of chocolate liqueur you choose, you'll find that Crème de Cacao is a little less sweet and syrupy – it has a cleaner flavor. That shouldn't stop you from making a delicious Brandy Alexander or Chocolate Martini. You can also use chocolate liqueur in baked goods and other desserts.
To vary the flavor, try an almond, hazelnut, or coffee liqueur.
2. Mozart Chocolate Spirit
We've previously mentioned the virtues of Mozart Rose Gold Chocolate Cream as a useful Rumchata replacement. This Austrian brand also makes Mozart Chocolate Spirit which has an intensive chocolate flavor. It's also not too sweet as no sugar is added during production. Mozart is a clear liquid, making it a useful replacement for white Crème ds Cacao.
Keep in mind, that Mozart is 40% ABV while Crème de Cacao is only 20% ABV.
3. Chocolate syrup
Seasoned bartenders, look away now. This suggestion may not be sanctioned by mixologists, but for the average person just wanting to add some chocolatey flavor to their drink, chocolate syrup isn't a bad idea.
Products like Hershey's chocolate syrup are easy to find in supermarkets. They're also a great alternative to Crème de Cacao if you want a mocktail for non-drinkers.
Also try: Coffee syrup.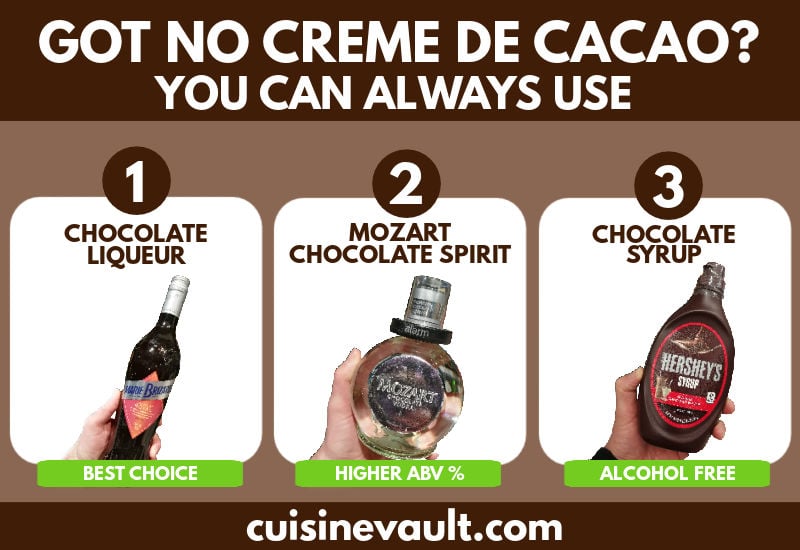 4. Kahlua
If you're in a pinch, then consider using Kahlua as a substitute. This Mexican liqueur may be best known for its use in cocktails like Espresso Martini and Black Russian. Its thick consistency and prominent coffee flavor set it apart from Crème de Cacao, but it'll still work in most cocktails.
They're both sweet liqueurs with a subtle vanilla undertone. You may also want to experiment with Kahlua Chili Chocolate which has a subtle taste of chocolate and an added spicy punch. Perfect for an edgy cocktail that gives your Bushwacker or Golden Cadillac cocktails a new spin.
5. Chocolate extract
Chocolate extract is surprisingly useful in cocktail making. The biggest hurdle with this substitute is that it isn't the easiest ingredient to find. Although you probably won't pick up a bottle at the grocery store, if you're not in a hurry then buy it online. You can try this in your next Magic Potion, China White, or Bloody Aztec.
6. Baileys Chocolate Luxe
Baileys Chocolate Lux is a rich and luxurious liqueur. It combines smooth Irish whiskey with dairy cream and Belgian chocolate. The result is a creamy chocolate liquor that is excellent sipped with ice or added to cocktails like Chocolate Martini. If you're making a dessert, then Baileys makes the Grasshopper Pie of your dreams.
Make your own
If you're looking for a low-cost way to get dark Crème de Cacao then try making your own. This homemade version is easy to make and is perfect for your next Leite de Onca, Pink Squirrel, Polar Bear, or Vaina cocktail.
Ingredients
1 cup cacao nibs
1 ½ cups vodka
1 vanilla bean, sliced lengthways
3 tsp vanilla extract
1 ½ cups water
1 ½ cups sugar
Method
Add the cacao nibs, vodka, vanilla bean, and vanilla extract to a large jar or bottle and shake vigorously. Place out of direct sunlight and allow to sit for two weeks, shaking every two days.
Strain the liquid through a cheesecloth or coffee filter and discard the solids. Set aside the liquid.
Add water and sugar to a small saucepan and heat on medium, stirring occasionally until the sugar dissolves. Remove from heat and allow to cool before pouring into the vodka. Allow sitting for 2-3 days before drinking.
-Store refrigerated for at least one year.
-To make white Crème de Cacao replace the cacao nibs with 10 ounces of cocoa butter.
-If you're feeling motivated, why not make your own vanilla extract too?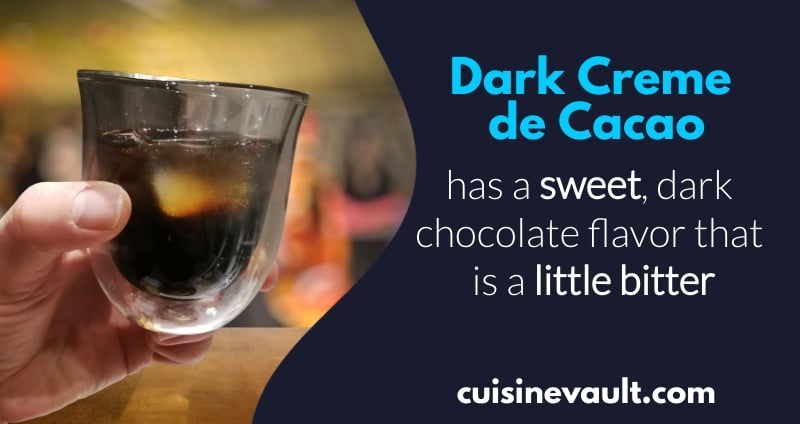 What's the difference between dark and white Crème de Cacao?
Dark Crème de Cacao is made by percolating cacao beans with alcohol while the white variety is the result of distilling cacao then macerating with other ingredients. Dark Crème de Cacao has a sweet, dark chocolate flavor that is a little bitter; white Crème de Cacao is a clear liquid and has a softer, milk chocolate taste with stronger vanilla flavor and less sweetness.
Can dark and white Crème de Cacao be used interchangeably?
While both varieties have subtle differences in flavor, you'll find they are similar, and swapping one for the other will work. Keep in mind that one is clear and the other looks more like coke.
Fast facts about Crème de Cacao
Although the drink's history isn't clear, most believe it was invented by the French in their monasteries.
Despite the name, there is no cream used in Crème de Cacao. The word crème refers to a sweet liqueur.
It can be sipped as an aperitif or digestif although some may find the dark variety too sweet. Balancing it out with a bitter drink like Amaro or coffee is a good option.
Crème de Cacao is great in drinks like Panama, Grasshopper, Martini, or Alexander. In a 20th Century cocktail, it is delicious with gin, Lillet Blanc, and lemon juice.
Related reading:
Best Midori substitutes for your next drink.
What is a good advocaat substitute?
How to replace Mezcal in a cocktail.
Our recommended Crème de Violette substitutes?
Summing up
Finding a Crème de Cacao substitute isn't a huge challenge. There are plenty of other drinks you could buy like chocolate liqueur, Mozart Chocolate Spirit, or Kahlua. For a no-alcohol option, you can use a chocolate syrup like Hershey's which can usually be found on the grocery store shelf.
If you're in no hurry, try making your own Crème de Cacao at home. You just need some cacao nibs or cocoa butter, vanilla, and a bottle of vodka. Allow a couple of weeks for the flavor to come through.