When you first open up the menu at your local steakhouse, you might be a little intimidated. With so many different cuts of meat, it can be hard to know where to start. And if you're looking for something beyond the typical cuts like New York strip and fillet mignon, it can be even more of a challenge.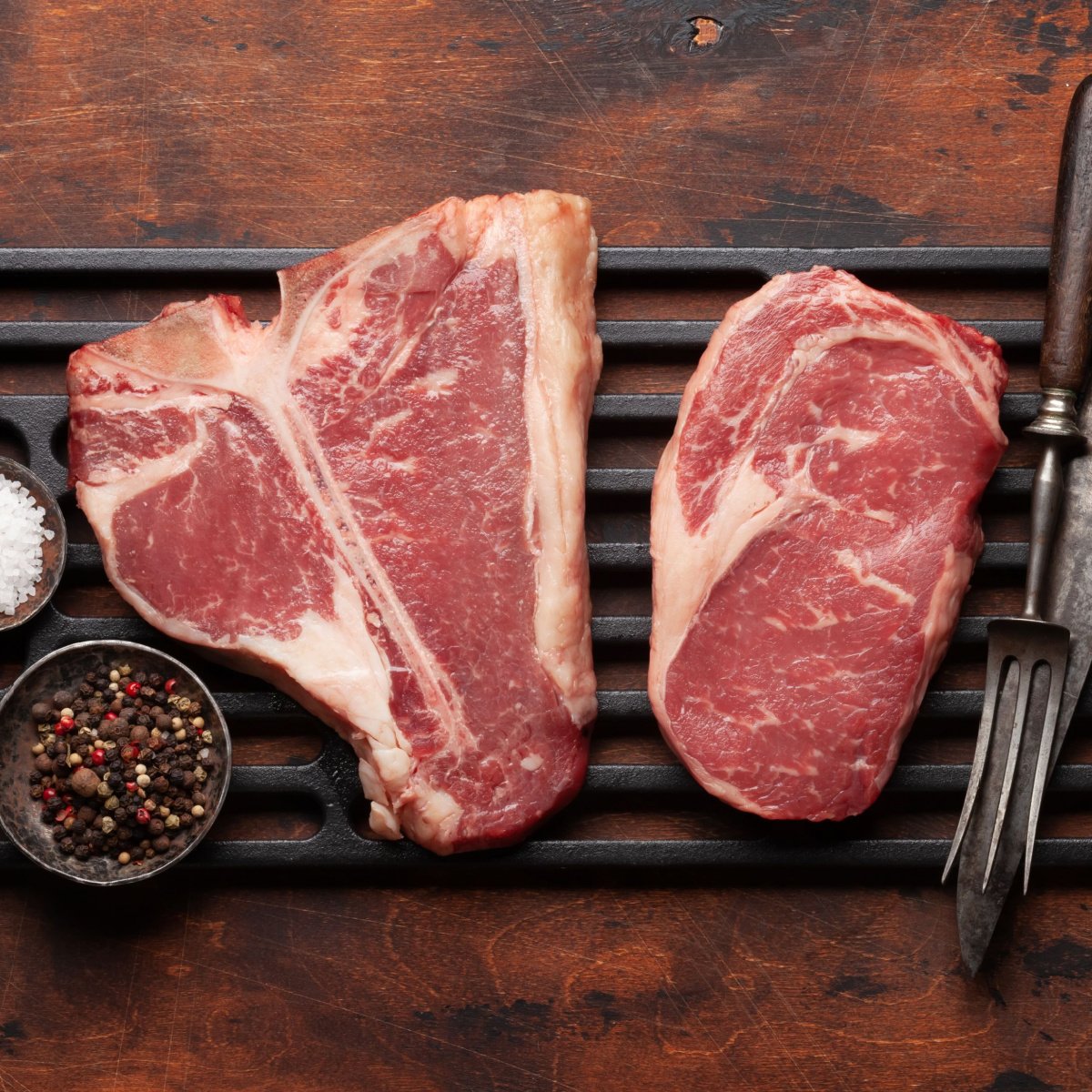 If you want a quality cut of meat with character, either a porterhouse or ribeye can be a good bet. The main difference between porterhouse and ribeye is the part of the cow each is taken from. The porterhouse is taken from the area where the top loin and tenderloin connect, whereas the ribeye comes from the rib's primal cut.
Learn more about these two cuts of beef below.
Table of Contents
What is a Porterhouse?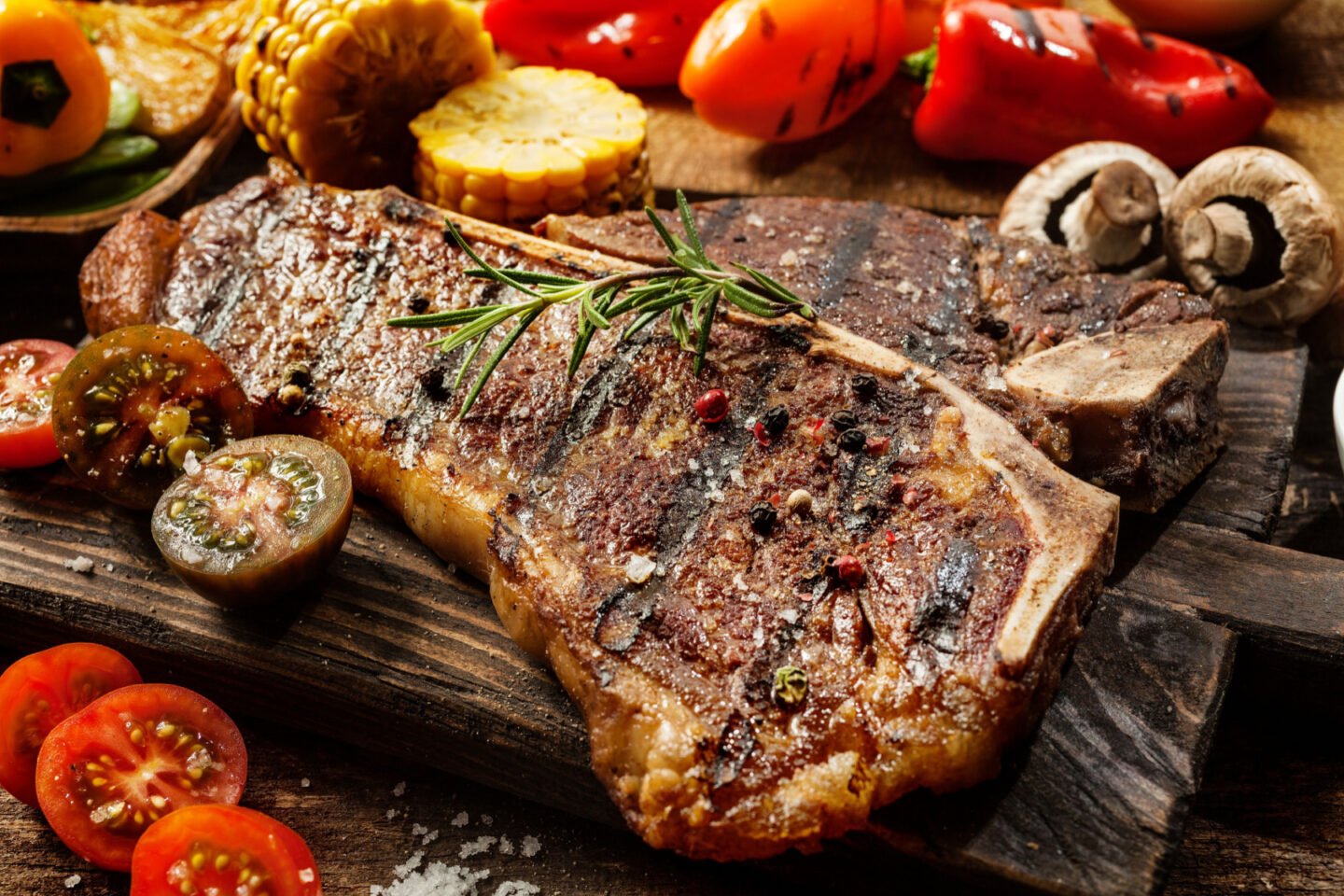 The porterhouse is known as the "king of the steakhouse," both because it's delicious and because it's a large cut of meat. Since it weighs up to two pounds, it is usually enough to feed two separate diners.
Simply put, the porterhouse is two steaks in one. If you remove the bone and separate the steaks, you'll end up with a New York strip and a tenderloin steak.
The sirloin is another cut of steak that has much in common with the porterhouse. Learn more about it in our complete guide.
What is a Ribeye?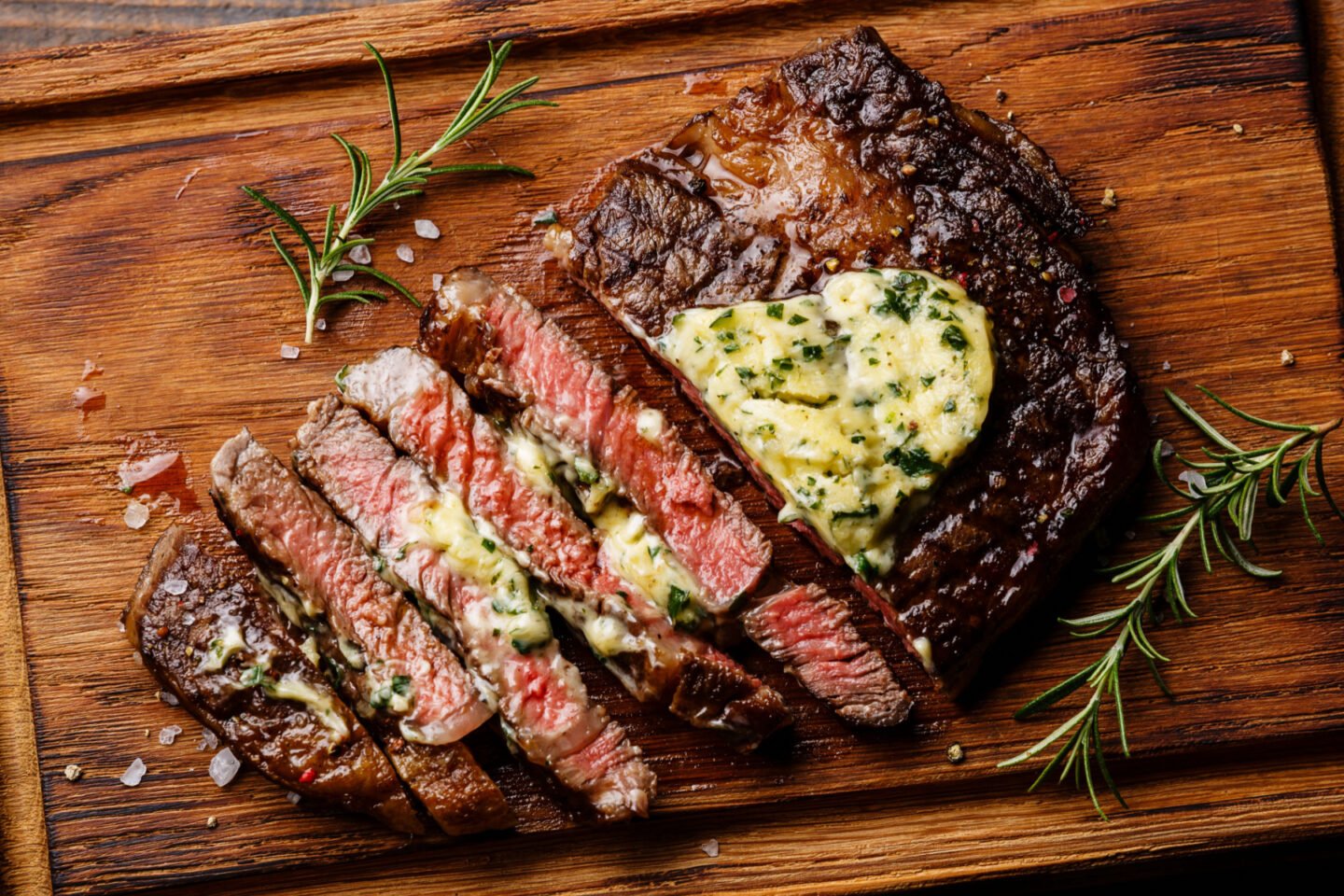 Ribeye steaks have their own reputation and are known for their tenderness, good fat content, and rich taste. It comes from the rib's primal cut and is packed full of flavor, which comes from its fat marbling.
You can find ribeyes with or without bones, depending on your preference. Keeping the bone in is a good way to add flavor and texture, while taking it out can cut down on cook time.
Porterhouse vs. Ribeye: A Side-by-Side Comparison
The truth is, there are more similarities than differences between these two cuts of meat. However, red meat enthusiasts will appreciate the details that make each one distinct.
Appearance
It might be hard to tell these two cuts of beef apart if you don't know what to look for. They come from similar places on the cow, meaning their grain and fat marbling should be similar at first glance. However, looking at the overall shape should give you a clue as to which is which.
As mentioned above, porterhouse steaks are actually made of two separate steaks, separated by a bone in the middle. Porterhouse, on the other hand, has no bone but a thick strip of fat separating the upper third of the steak from the rest.
Fat Content
Even though the porterhouse and ribeye steaks look similar from the outside, their fat content is surprisingly different. This results from the way the cow uses its muscles as it moves around.
The ribeye has a higher level of fat, giving it a stronger beef flavor. You can actually see a thick strip of it running down the middle, which helps keep the meat tender and prevents it from drying out while cooking.
The porterhouse actually has two different tenderness profiles as it contains two separate steaks. The New York Strip portion of it has a medium fat content, while the primal rib cut has a relatively higher fat content. This may make it a bit more of a challenge to cook properly for novices.
Flavor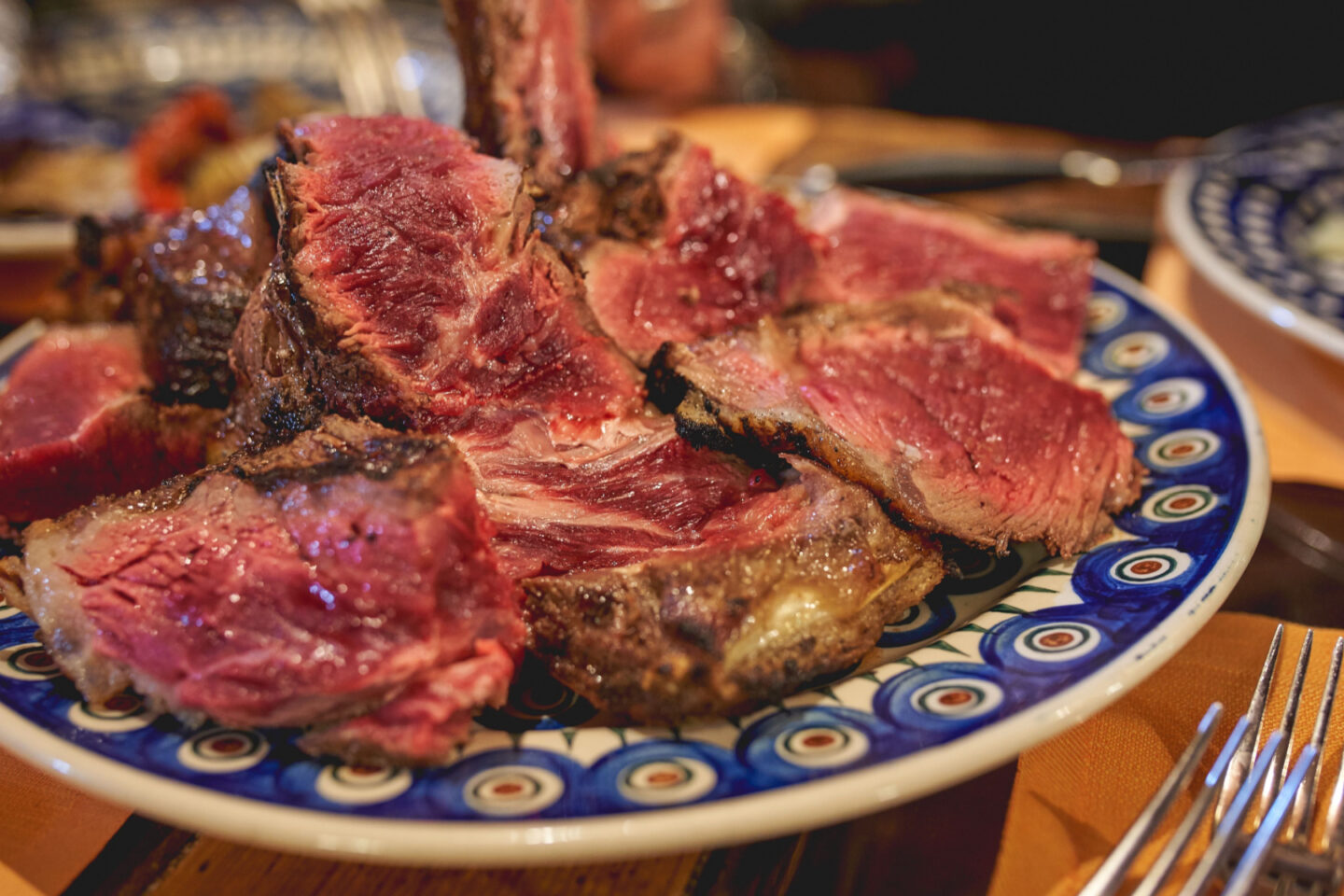 Rich, buttery, and deeply beefy are words that have been used to describe ribeye steak. This makes it a favorite among steak lovers. While any of the most popular steakhouse cuts will give you a good meal, this one is considered by many to be the cream of the crop. The combination of rich flavor and tender, melt-in-your-mouth texture makes it hard to compete with.
While the porterhouse isn't quite as beloved as the ribeye for its flavor, it has still attracted a following all its own. Since it contains a primal rib cut and a strip, there's more variety and texture to go around. Plus, it still has a deep, rich flavor that will satisfy your beef craving.
Cost
Both cuts tend to ask for the same price, especially if you're ordering off a steakhouse menu. The ribeye costs between $14 and $15 per pound, while the porterhouse is $13 to $14 per pound. Keep in mind, however, that a porterhouse can be nearly twice as heavy as a ribeye, so expect to pay more overall.
Another factor to consider is the bone. Porterhouse steaks always have a large bone in the middle, while ribeye steaks can come with or without a bone.
Preparation
If you're planning on cooking one of these steaks at home, it's worth planning your preparation ahead of time. The reason is that both of these steaks need to be prepared differently to take full advantage of their unique qualities.
The porterhouse is an ideal grilling steak. Because of its large bone in the middle, it's not ideal for pan-frying, as the bone will make it more difficult to give it a perfect sear. The grill, on the other hand, will ensure it gets a deep char without drying it out.
A ribeye steak is a bit more versatile, especially when it contains no bones. While it can be grilled, some people tend to shy away from this method as the steak's high fat content can cause flare-ups. Instead, pan-frying can be a safer option, where you can get a deep sear and retain full control over the process.
You can also try cooking either of these steaks in a convection oven to give them a crisp and tender flavor.
How do I choose a good porterhouse or ribeye steak?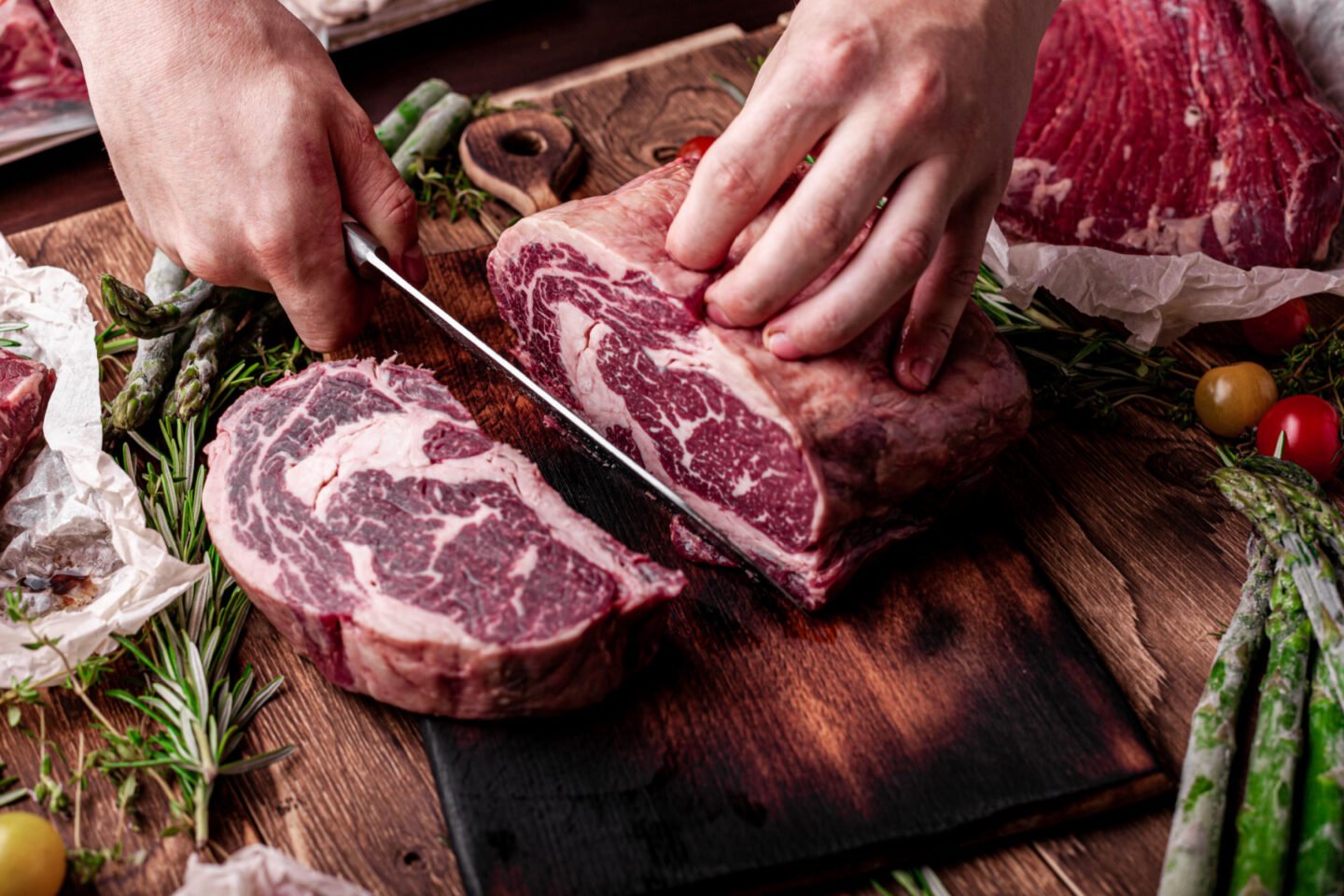 No matter what kind of steak you're eating, there are a few tips that can ensure you get the most tender and flavorful experience possible. Make sure to keep all of the following in mind when picking yours:
Thickness
With steak, thicker is usually better. Porterhouse and ribeye steaks benefit from thicker cuts, which can allow you to sear the outside while leaving the inside tender and juicy. When buying yours, look for at least 1.5 inches of thickness.
Bright Color
A good rule of thumb is that if a steak doesn't look fresh, it probably isn't. Grey or brown beef, when raw, should be avoided whenever possible. Instead, look for steaks that have a deep red color with the marbling clearly distinct.
Choose Your Butcher Carefully
Grocery store steaks can sometimes do the trick, though you're better off going with a butcher you trust. They usually have a better selection of beef, and you can get a better idea of where the beef came from and how old it is.
Go for Prime Grade Beef
Did you know there are different grades of beef? Three, to be exact. Specifically, prime, choice, and select. You'll commonly find them at your local butcher and grocery store.

When you're buying a steak to enjoy on its own, you'll want to go for either prime or choice grades, as these are the highest. Select beef is more common in the grocery store but is better used in stews, chili, and other similar dishes.
Frequently Asked Questions
Is a porterhouse the same as a T-bone steak?
Both the porterhouse and T-bone have a large T-shaped bone in the middle, which is why many people often confuse them. However, they are two completely different cuts of steak, with the porterhouse coming from a part of the cow closer to the tenderloin.
Is a porterhouse steak too much for one person?
Since a porterhouse steak actually contains two steaks in one, it can often end up weighing as much as two pounds in total. For this reason, couples most commonly split it between them. However, if you have an extra-big appetite, it may be the perfect size.
What is a poor man's ribeye?
The chuck-eye steak is sometimes known as the poor man's ribeye. They're taken from the same part of the cow as the ribeye, the upper rib cage, specifically from the fifth rib. They are generally more affordable than ribeye steaks.

What distinguishes a chuck-eye steak from a rib-eye is in its flavor and texture. Since this area is closer to the shoulder of the cow, it gets much more exercise. This makes it leaner and, therefore, less flavorful and a bit tougher. Still, when prepared properly, it can make a delicious meal.