Since it's so flavorful and readily available, flank steak has become a favorite for meat lovers worldwide. Though when the butcher's out of your favorite cut, it pays to have a backup in mind. Make sure to have a flank steak substitute ready for when you need it most.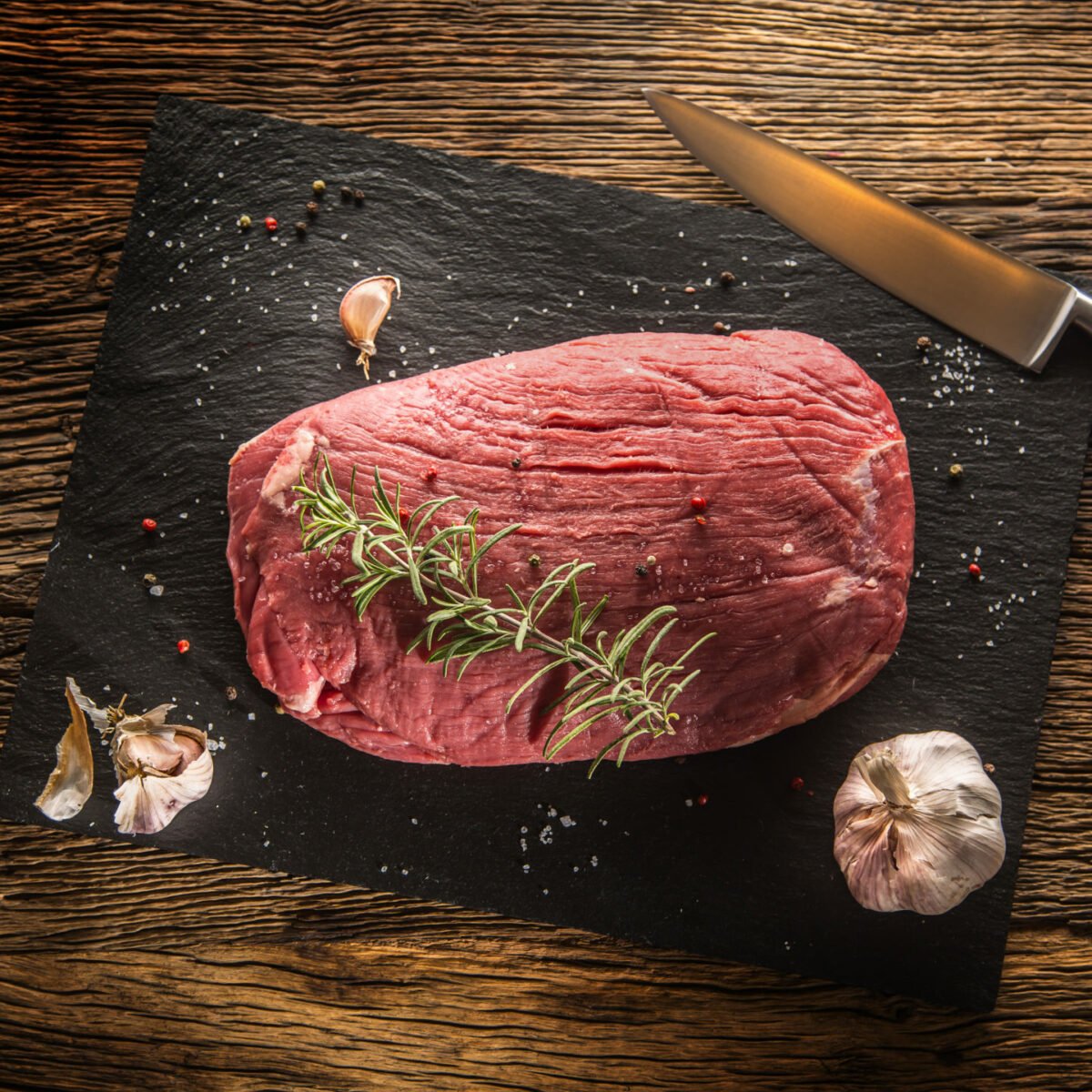 While there are many cuts of beef to choose from, skirt steak is undoubtedly the best alternative for most uses. Or, if you're looking for a non-beef alternative, you might be surprised at how well portobello mushrooms can simulate the flavor and texture.
If you need a different flank steak substitute, you can try top round, hanger steak, tri-tip steak, top sirloin steak, flat-iron steak, flap steak, ground beef, tofu, chicken breast, tuna fillet, or cauliflower. Each substitute offers something a little different, so take a look at them all to see what they can bring to your table.
Table of Contents
Best Flank Steak Substitutes
1) Skirt Steak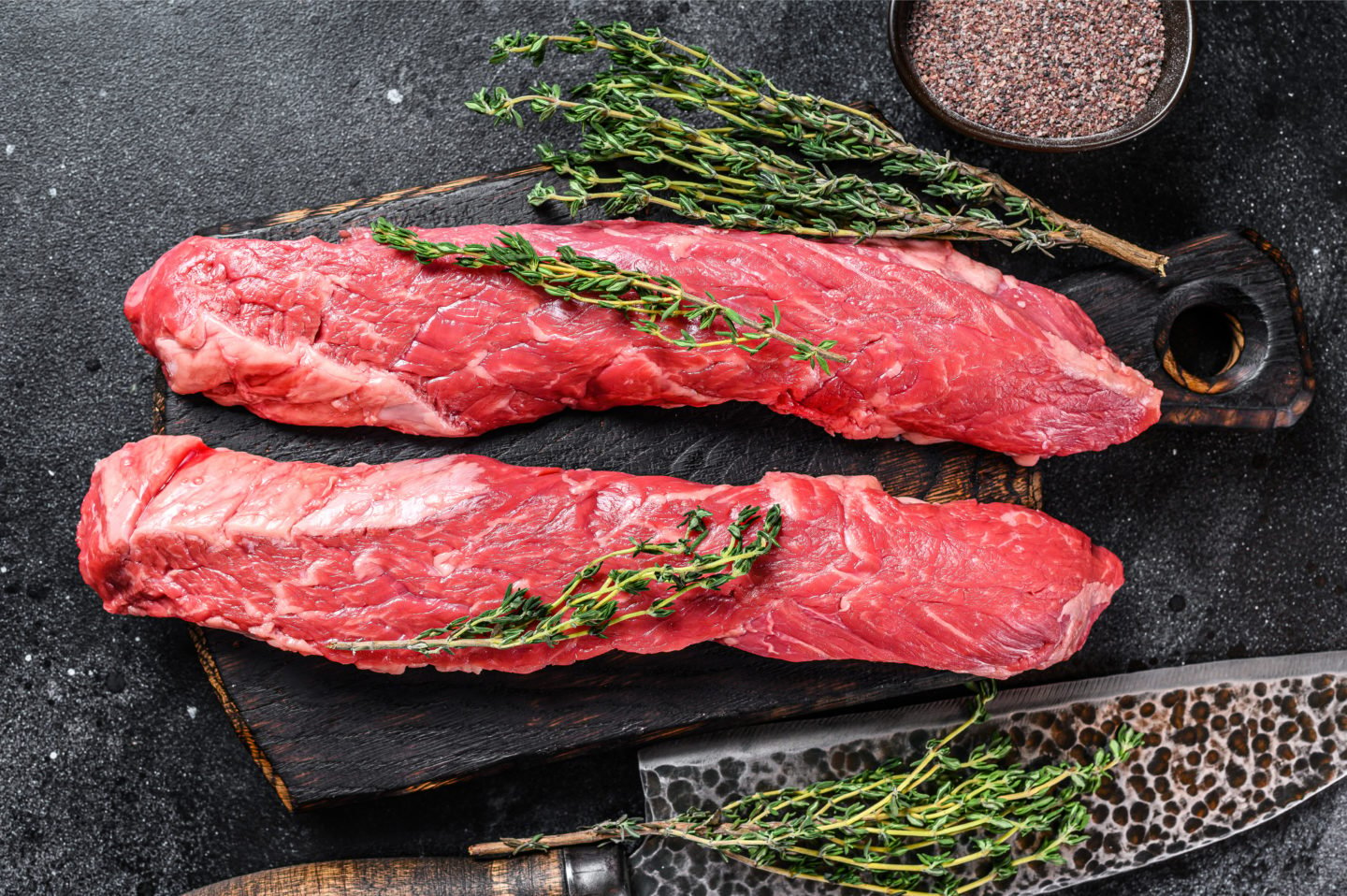 Of all cuts of beef, skirt steak is probably the most similar to flank steak. It's a thin cut that can be sliced across the grain for excellent fajitas or stir fry. You can cook it similarly as flank steak, too, with just a few minutes on a grill or pan over high heat.
One key difference of skirt steak is that it is a bit fattier than flank steak, meaning it is more tender and less prone to drying out. Still, it's an easy cut to overcook, so take care. An acidic marinade can be a good way to tenderize it before cooking.
2) Top Round Steak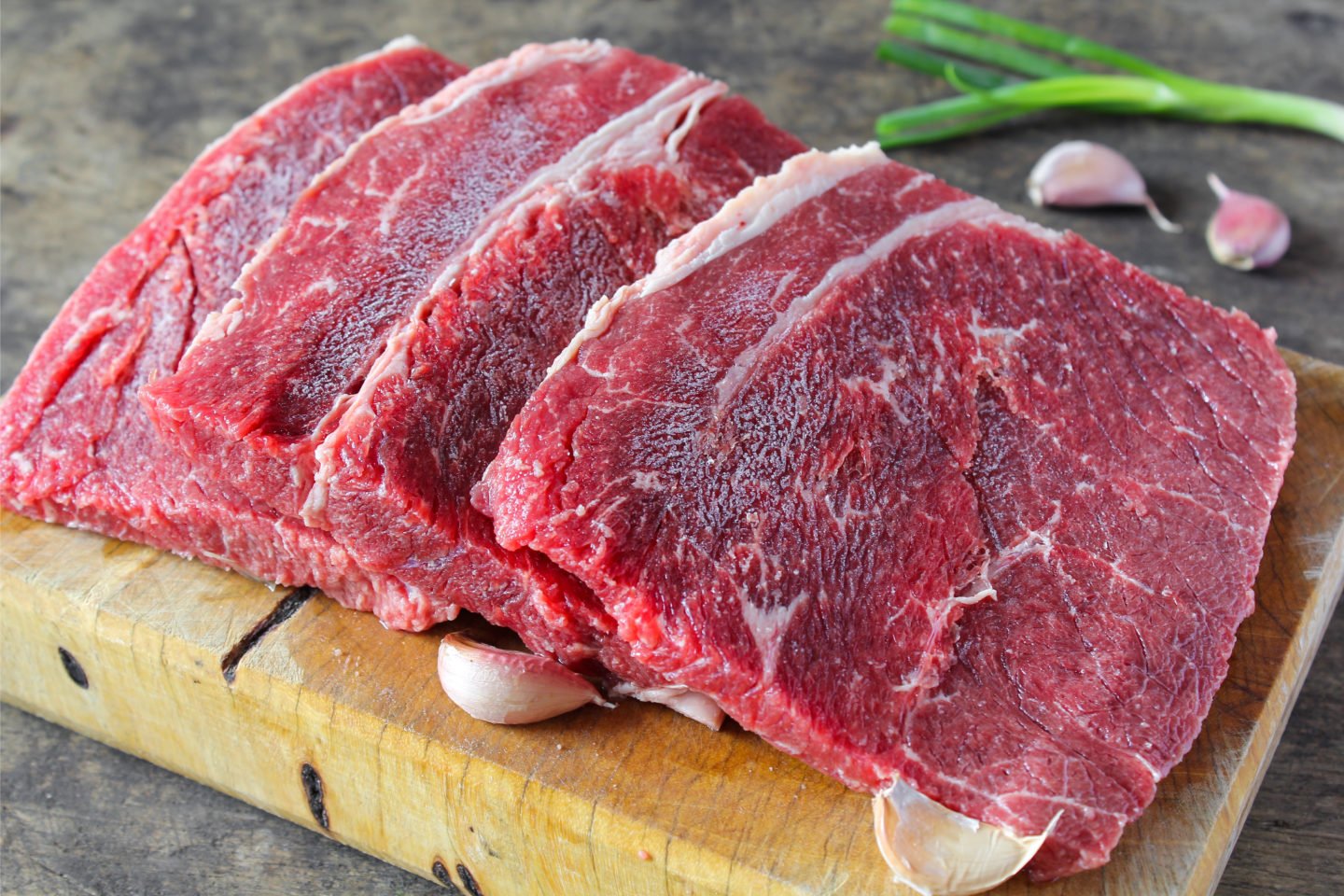 This cut comes from the top rear of the leg, which makes it a bit tough, just like flank steak. That means all your favorite flank steak marinades will work perfectly with it. As a bonus, it also tends to be relatively inexpensive. You can use a tenderizing hammer to give it flank steak's flatness.
Like flank steak, top round often goes by the name London broil. But don't be confused, as this term actually refers to the style of cooking.
3) Hanger Steak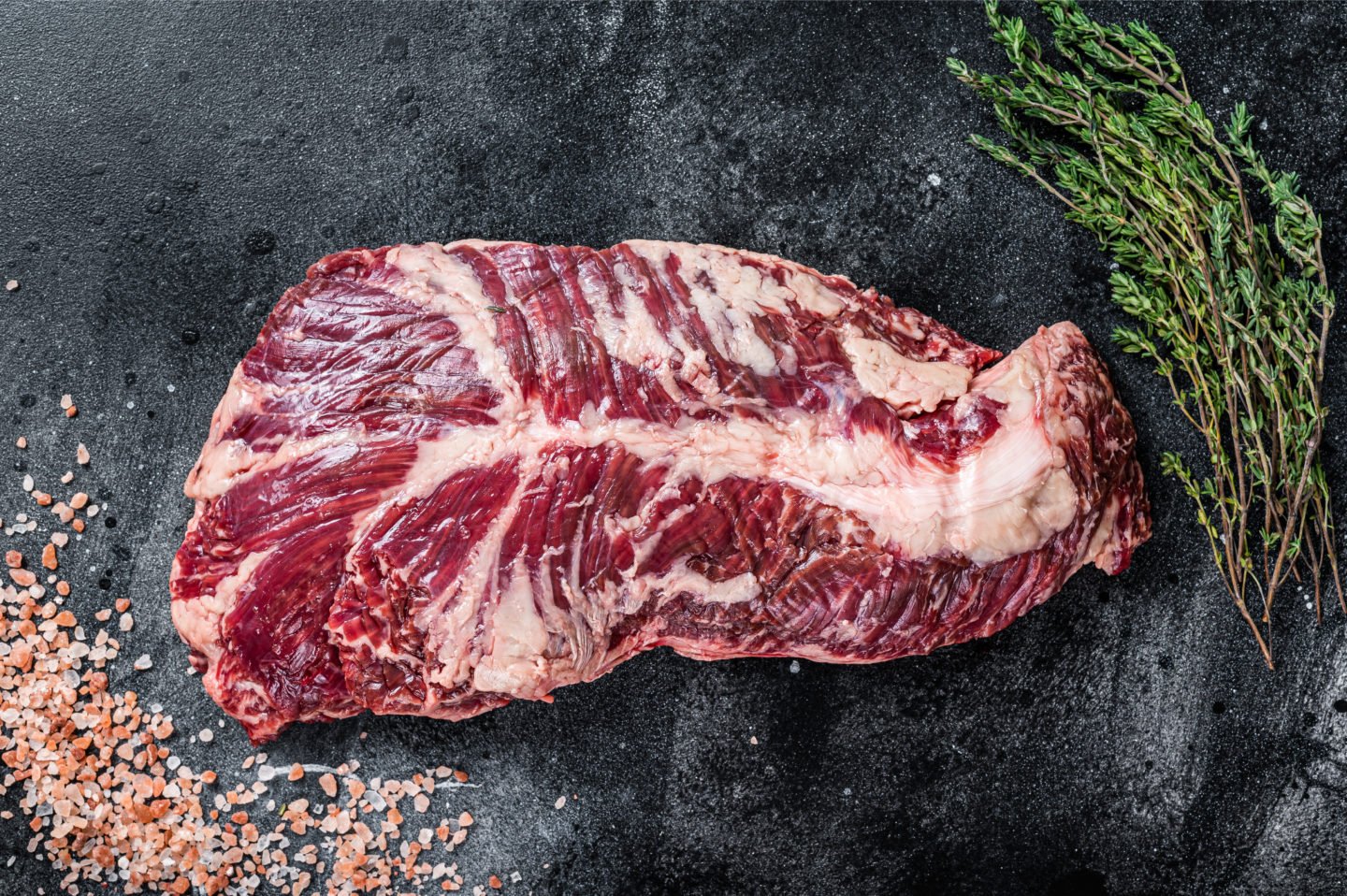 This cut comes from the underside of the cow, around the loin area, which makes it fattier and more tender. While this gives it a slightly different texture than flank steak, it is still close enough in flavor to make a good substitute.
It also has a similar shape to flank steak—flat and wide. This shape makes it a good choice for fajitas, as it is easy to cut into strips.
When grilling, it is crucial to avoid overcooking hanger steak. While it does have a higher fat content, its thinness dries out easily, causing it to go tough when overcooked.
4) Tri-tip Steak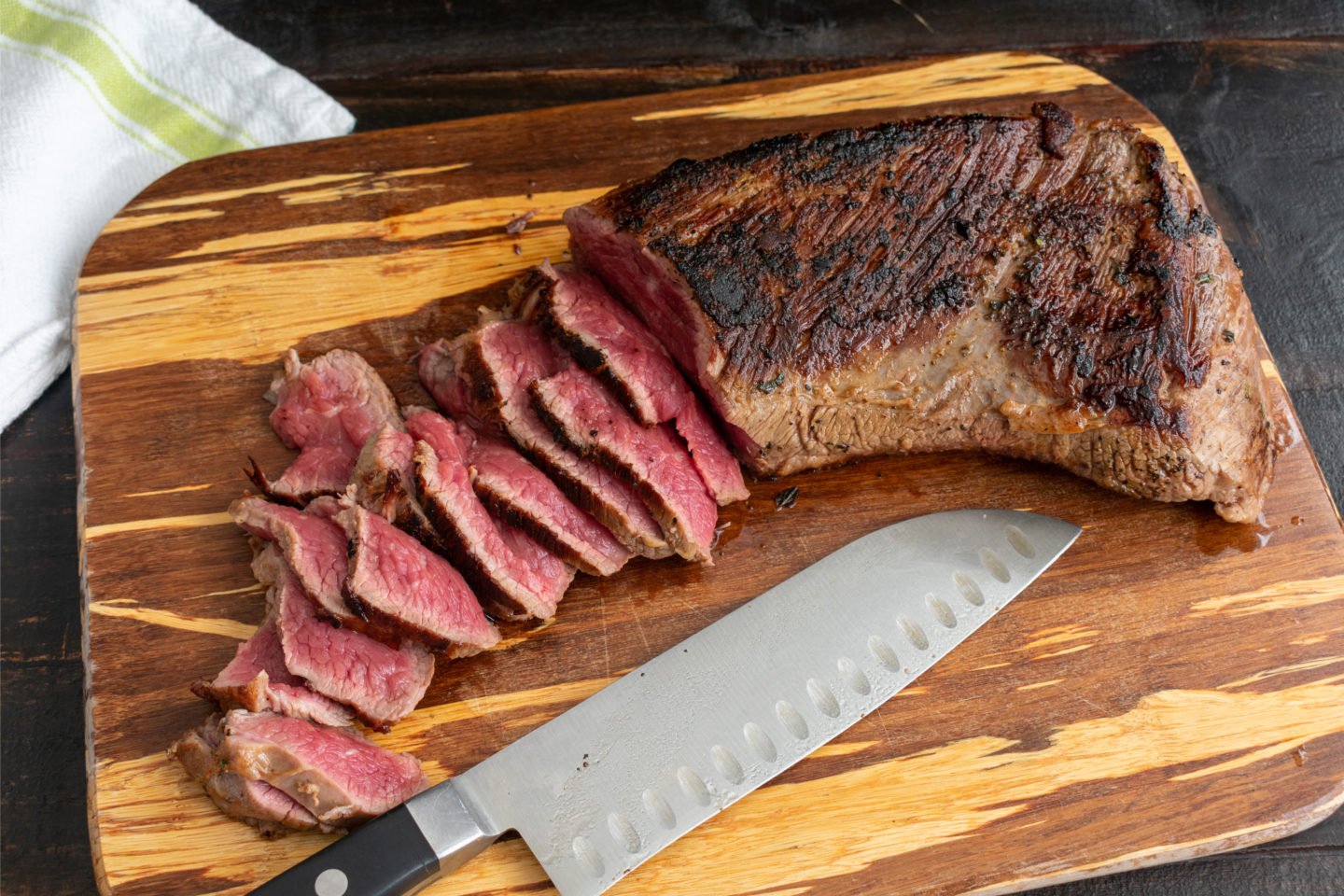 This boneless cut comes from the bottom of the sirloin and is sometimes known as triangle steak. It's easy to prepare as much of its fat is located in a single strip on the side. It's best to leave this strip on when cooking and then cut it off before serving.
When prepared with its fat on, it stays nicely juicy during cooking but can simulate flank steak's leanness once cut. This gives you the best of both worlds and makes for a versatile cut of beef.
5) Top Sirloin Steak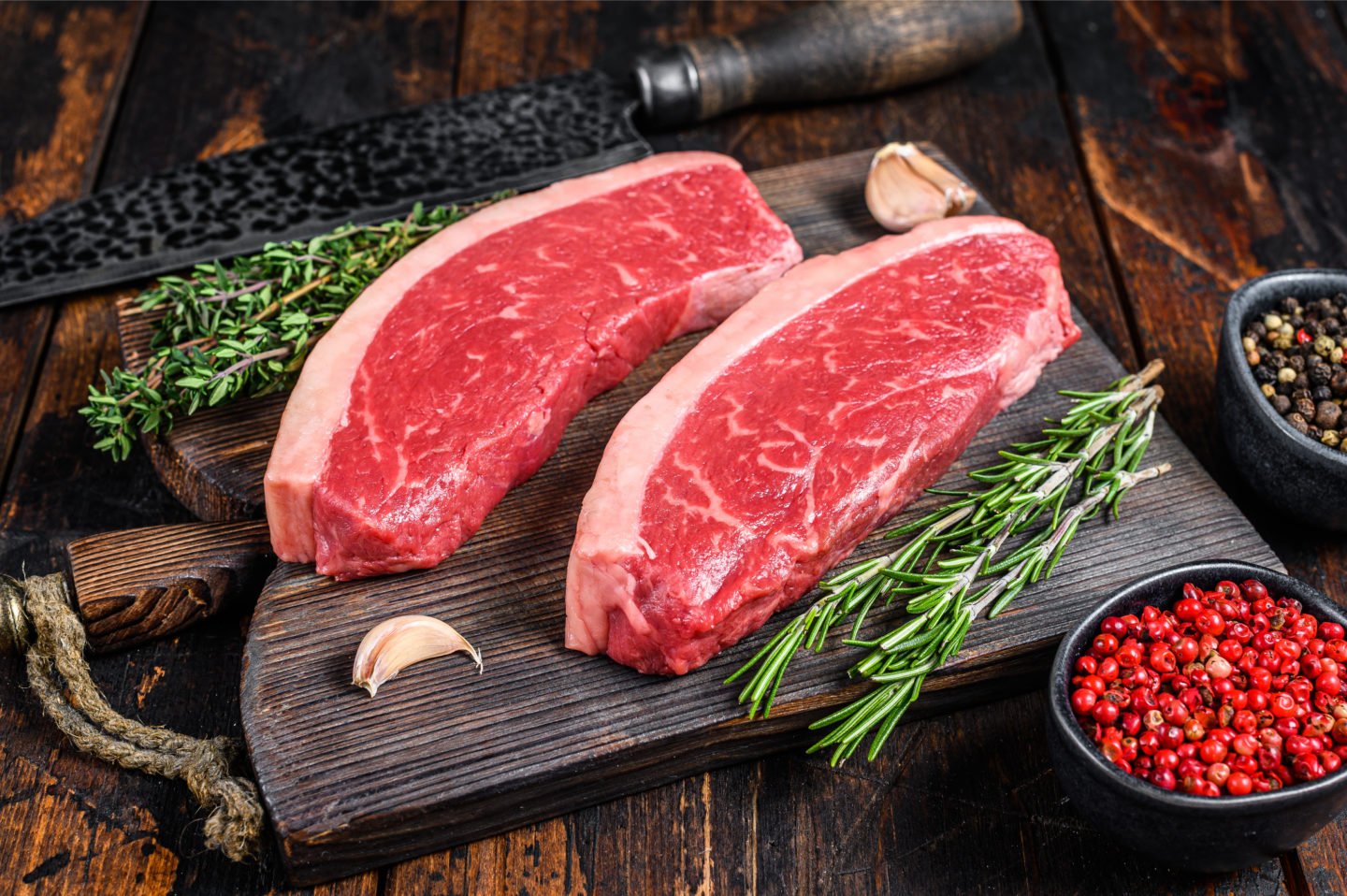 Top sirloin is the counterpart to tri-tip and has a somewhat similar flavor and texture. However, it is much fattier and more tender. This makes it a good choice for grilling or sauteing and can develop a thick sear without drying out. Its tenderness makes it distinct from flank steak, though it still brings plenty of flavors.
The best way to enjoy top sirloin steak is grilled medium rare, set to rest, and cut into strips along the diagonal.
6) Flat-iron Steak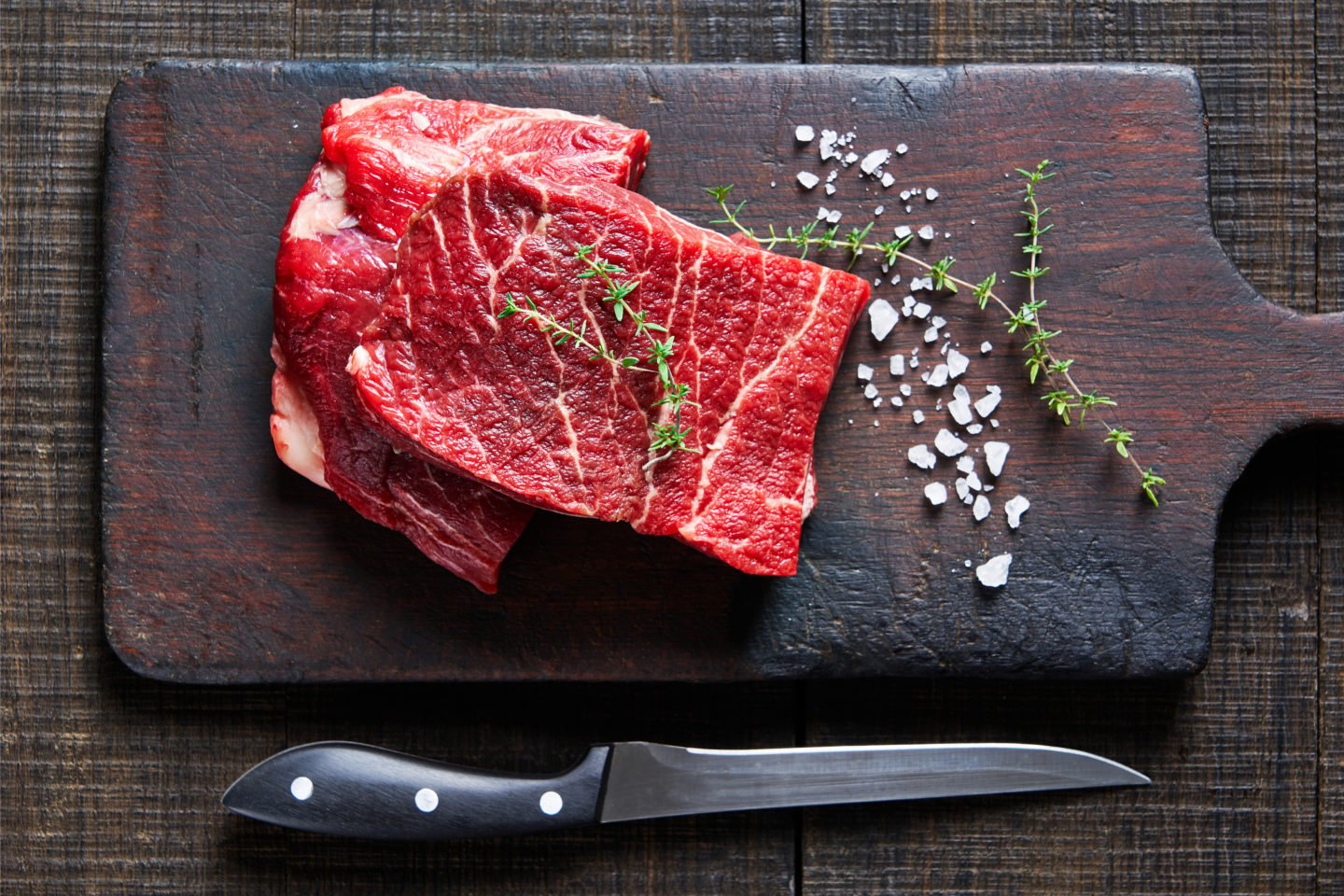 The flat iron steak comes from the shoulder of the cow and is packed full of flavor. Its meat is filled with fine marbling, allowing it to be cooked medium rare with relatively little risk of it drying out. While it may not fool anyone into thinking it's flank steak, it's still a good choice for both fajitas and stir-fry.
You may also find this cut under the name butler steak. However, it is a bit less common than flank steak and is often more expensive.
7) Flap Steak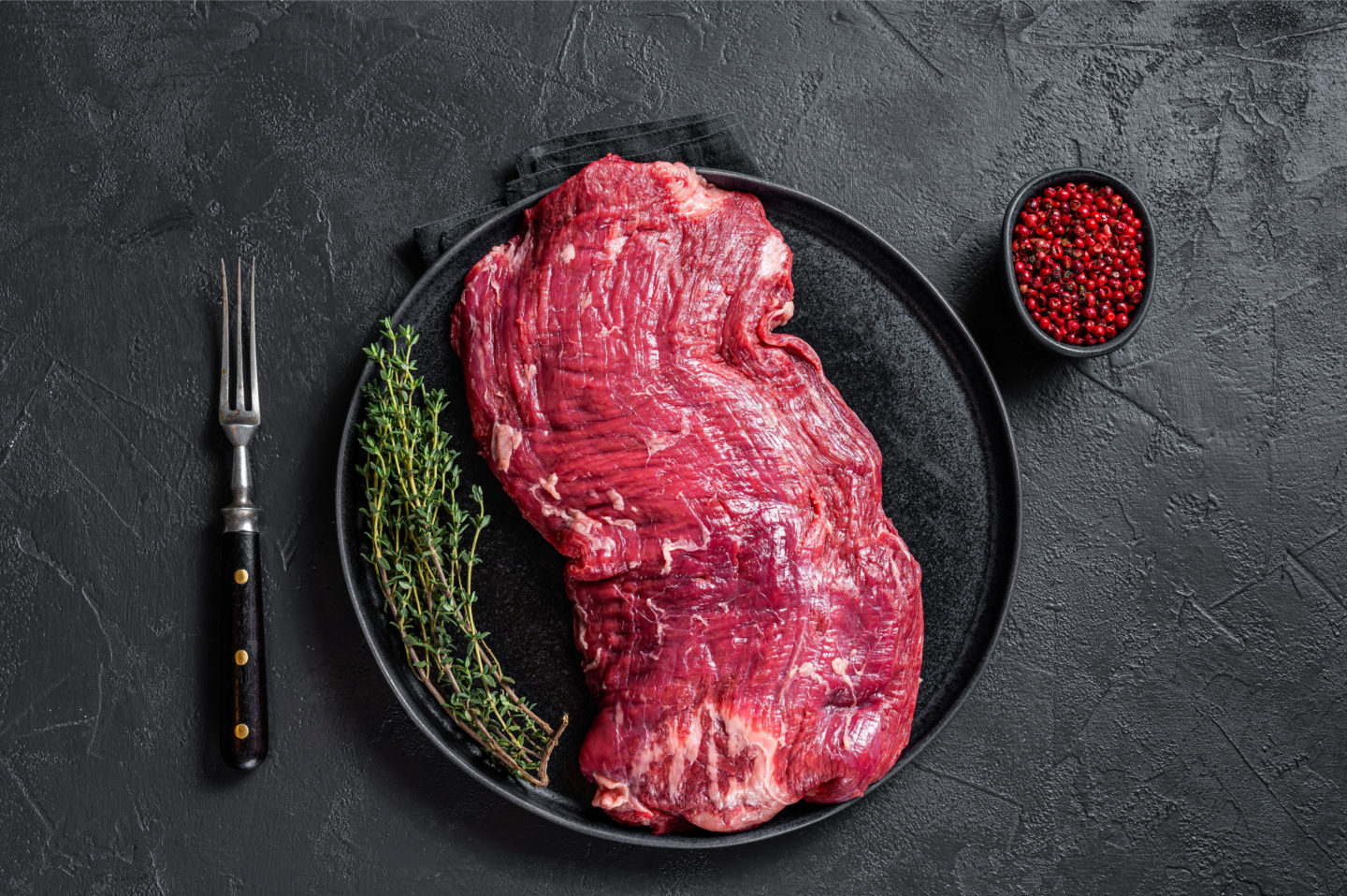 Flap steak has long been used as a flank steak alternative, as it has a thin cut and similar shape. Just like flank steak, it's relatively lean, comes from the belly of the cow, and has a coarse grain. It's an excellent choice for grilling as its thin edges char and crisp up nicely, adding extra texture and flavor.
While it has its good points, be aware that flap steak can be temperamental. It tends to be chewy when undercooked and too dry when overcooked.
8) Ground beef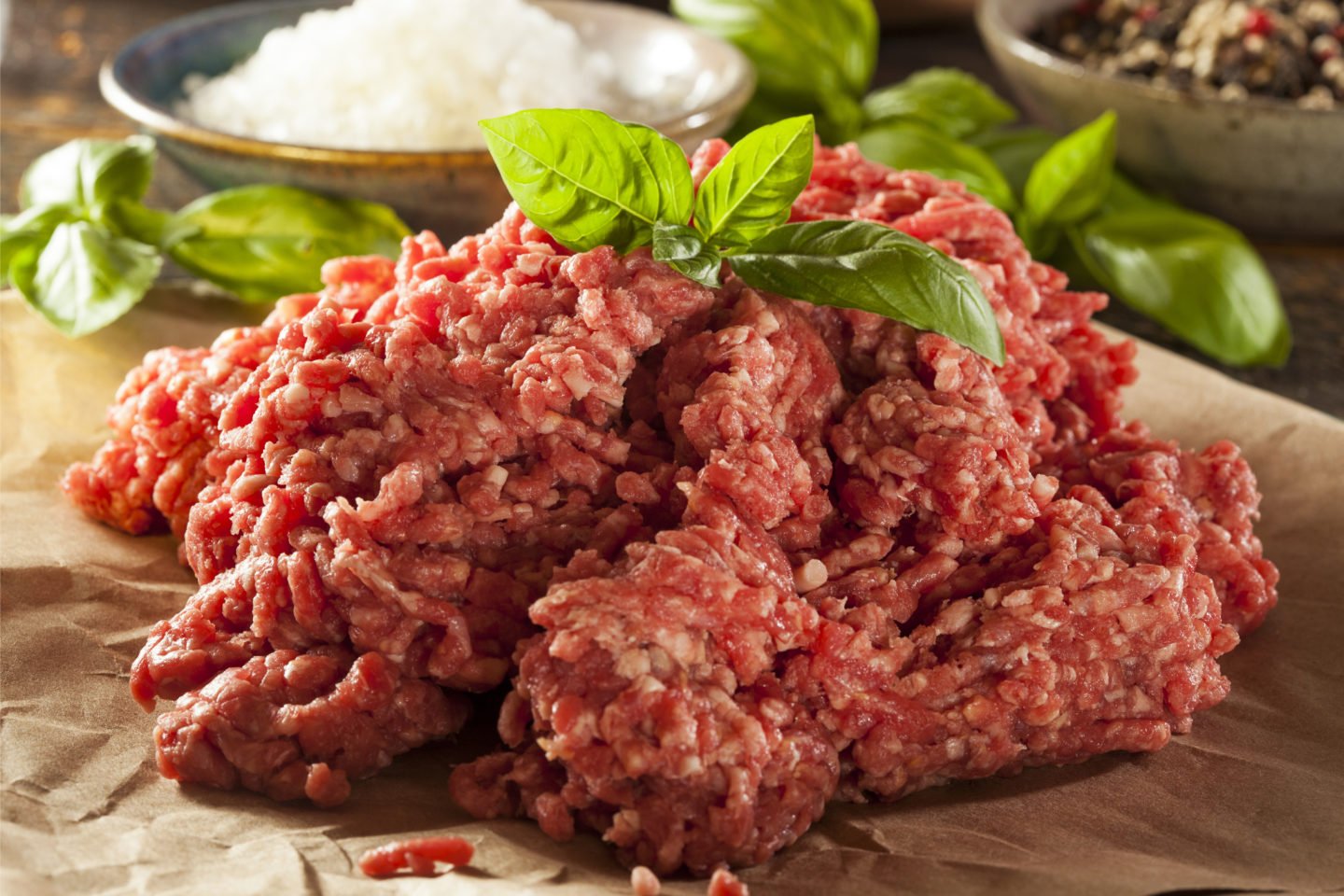 Depending on the recipe, plain old ground beef may be all you need to add the flavor and texture you're looking for. While it won't bring the natural grain of flank steak, it's not too different in taste and brings a texture all its own. Plus, it can make taco filling that rivals any traditional fajitas.
Maybe the best thing about ground beef is that it's one of the most versatile meat products available. Burgers, chili, meatloaf, and more are made easy with just a pound or two. And of course, you can find it in any grocery store, so it's always readily at hand.
9) Tofu
While tofu might not seem like the ideal flank steak substitute at first glance, it can play a starring role in stir-fry dishes. The key to tofu is cooking and seasoning it properly. With just a bit of attention, you can mimic the flavor and texture of your favorite cut of beef.
Try cutting into slices and brushing with a soy-based marinade or any of your regular flank steak marinades. Then, bake at 350 degrees Fahrenheit for 30 minutes. It will have a tougher texture, brown color, and meat-like flavor when you take it out.
10) Chicken Breast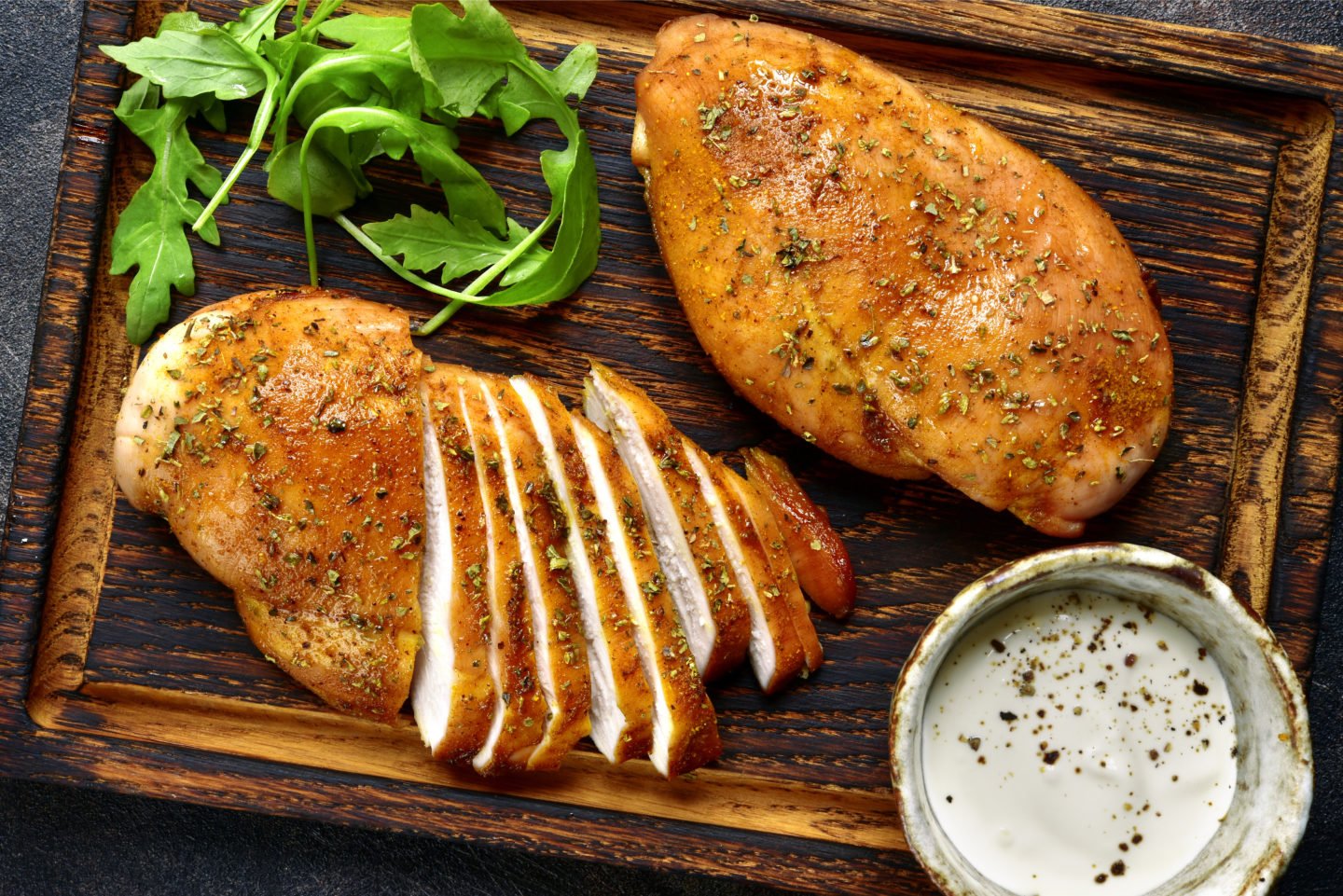 You probably won't fool your family into thinking chicken breast is flank steak, but it can be a good option if you're searching for a last-minute dinner alternative. It has a similarly coarse grain to flank steak and a similar fat level if you stick with white meat. If you're worried about it drying out, a chicken thigh can be an even better option.
Marinades are key if you want to take your chicken dinner to the next level. You can use most flank steak recipes for a similar flavor or search for ones specialized for chicken.
11) Portobello Mushrooms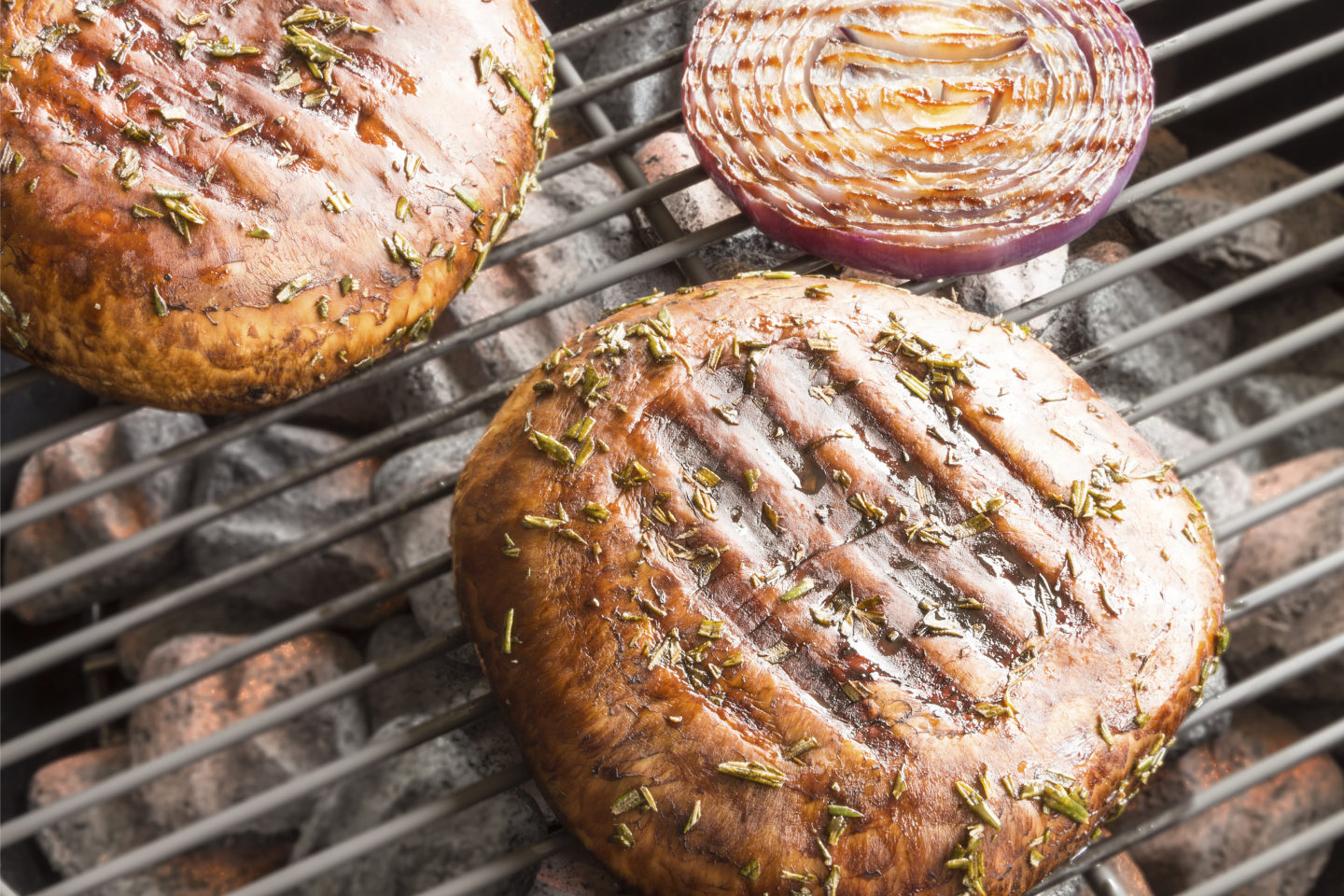 While mushrooms don't offer the same protein or fat as meat, they are surprisingly similar in flavor, which is why they are often eaten together. If you want to get a close visual match, portobello mushrooms are the way to go. Their larger size allows you to cut large steaks, which you can bake, grill, or pan fry.
You can even marinate portobello mushrooms using your favorite flank steak marinade. Since they're similar in flavor, most steak or chicken marinades will be a close match.
Keep in mind that most types of mushrooms have high water content. That means you need to cook them thoroughly to get that toothsome, meaty bite. They will shrivel and brown once their water has been drained, which should get you the ideal texture.
12) Tuna Fillet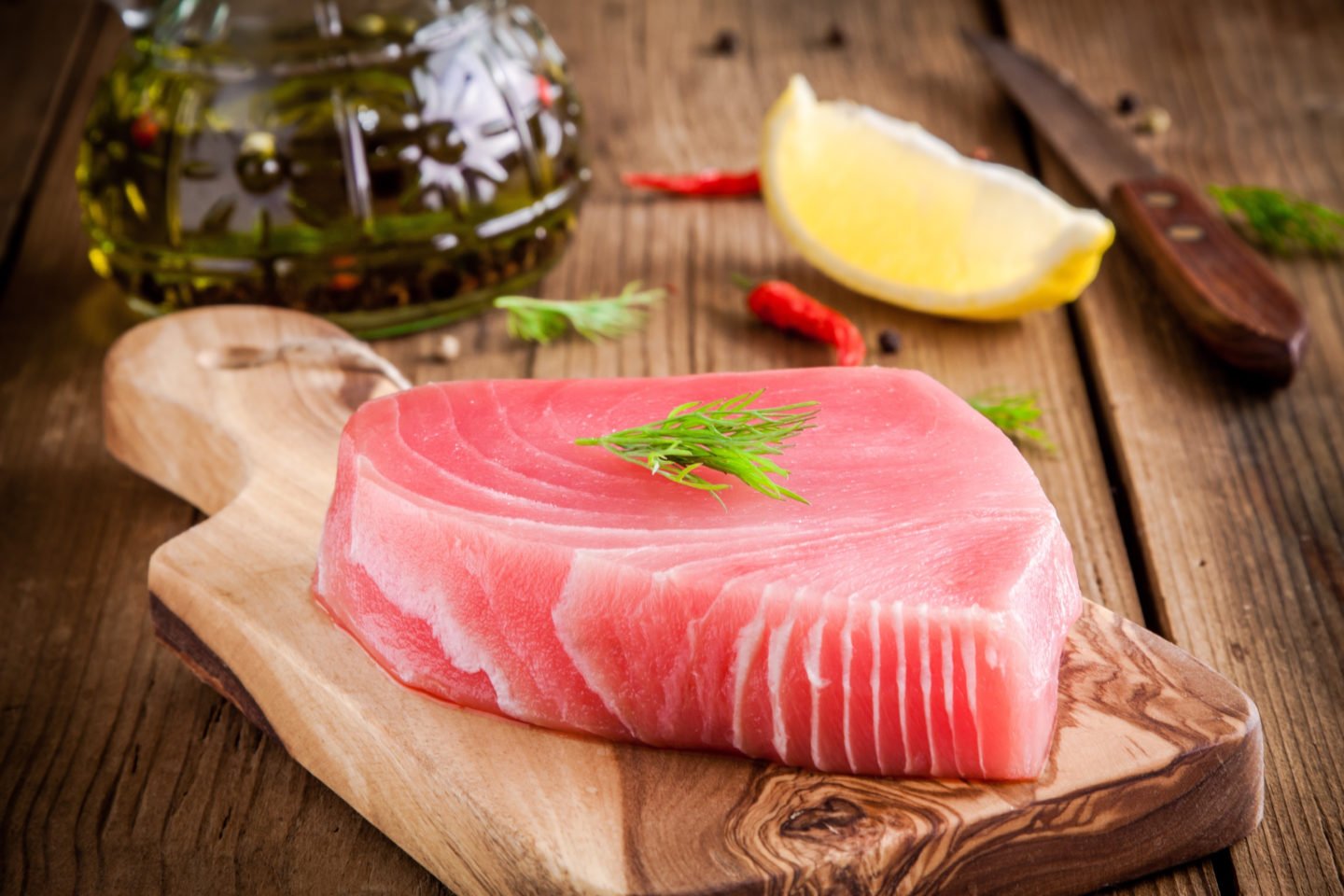 While many consider fish at the opposite end of the protein spectrum as red meat, the right variety and preparation can get you similar flavors and textures. Try cooking a thick tuna filet in a pan, searing it thoroughly on each side until it has a crisp exterior. If you leave the middle pink, you'll be able to cut thin strips that are not unlike flank steak.
Of course, fish will always have a more delicate texture than red meat, so don't expect it to be an exact match. Overall, this is a good flank steak alternative for tacos or any recipe where flavor plays a starring role.
13) Cauliflower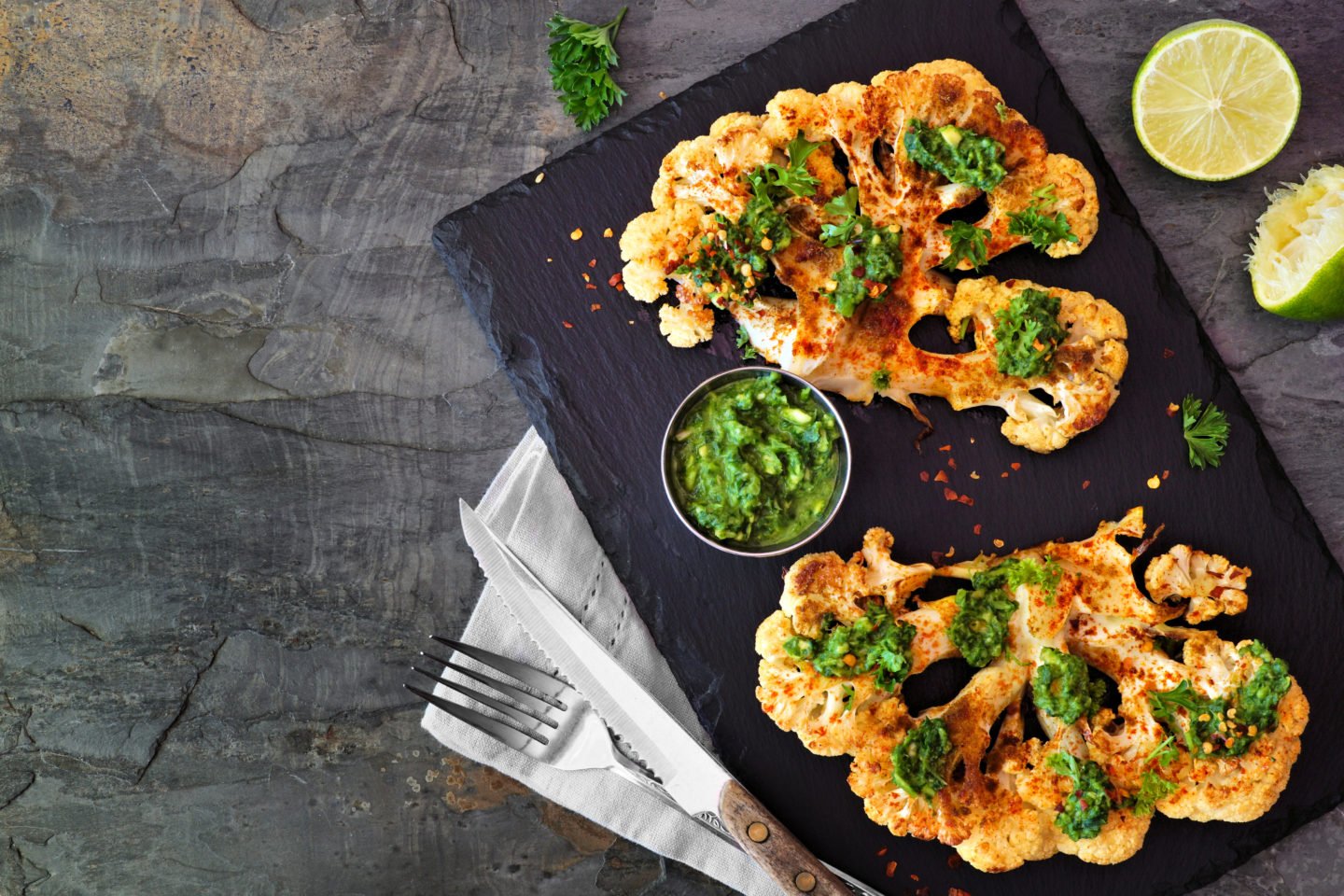 Many people value flank steak for the flavors it develops on the grill. If those classic char stripes are what you're after, don't forget that you can get a similar effect with most vegetables. Cauliflower is a great option as it can be cut in wide slices and thrown on the grill easily.
As with mushrooms, marinades are everything here. There are many options, but starting with soy sauce or Worcestershire will help develop those crucial umami flavors.
Summary Table
| Substitute | Notes |
| --- | --- |
| Skirt Steak | This cut is so similar to flank steak that they're often confused. |
| Top Round Steak | Lean and mild, it's a great alternative when using a marinade. |
| Hanger Steak | A bit more difficult to find, it makes a great meal with bold flavor and tender texture. |
| Tri-Tip Steak | This more affordable option is a great choice for quick cooking. |
| Top Sirloin Steak | More tender compared to bottom sirloin, it's delicious as long as it's not overcooked. |
| Flat-Iron Steak | Rich and flavorful, this is a good substitute when grilling. |
| Flap Steak | This thin cut looks and tastes very similar to flank steak though it takes a careful hand to cook right. |
| Ground Beef | While it doesn't have the texture of flank steak, it can add the right flavor to many dishes. |
| Tofu | A bit of baking and marinating your tofu can go a long way toward simulating flank steak. |
| Chicken Breast | A good non-steak alternative, especially when marinated and pounded flat. |
| Portobello Mushrooms | These larger mushrooms can be sliced thin and cooked for a surprisingly close alternative. |
| Tuna Fillet | Much more delicate in texture, it captures some of flank steak's red meat flavor. |
| Cauliflower | Cauliflower and other large vegetables can be sliced thin and baked to create mock-steaks. |
Related Questions
What makes flank steak different from other cuts?
Flank steak is a wider, thin cut that is great on the grill, roasted, or sauteed. Because it has a lower fat content, it needs to be prepared carefully for the best flavor and texture. However, when prepared right, it is packed with a beefy flavor.
What is another name for flank steak?
In some grocery stores, flank steak is called London broil. However, if you're thinking about choosing this cut of steak, make sure it is what you're looking for. Top round can also be called London broil.

In France, flank steak also goes by the name bavette steak. The two terms are completely interchangeable.
How is flank steak prepared?
Flank steak is a relatively lean cut, which means it can be a bit tough if not prepared correctly. One prep key is to make sure you're cutting it across the grain to help break down the meat fibers. An acid-based marinade can also help tenderize it.

Another sure-fire way to make your flank steak easy to eat is to tenderize it with a meat mallet. It is already quite thin, so it only takes a bit of pounding to get it just right.
Is flank steak expensive?
Despite its delicious flavor, flank steak is quite inexpensive. The reason is that it is a bit leaner and tougher than other cuts, meaning it takes a bit of extra preparation. This makes it a great option for those who want to enjoy a nice steak without blowing their budget.