People often confuse prime rib and ribeye steaks. Though they come from the same cuts of beef, certain differences put these two apart!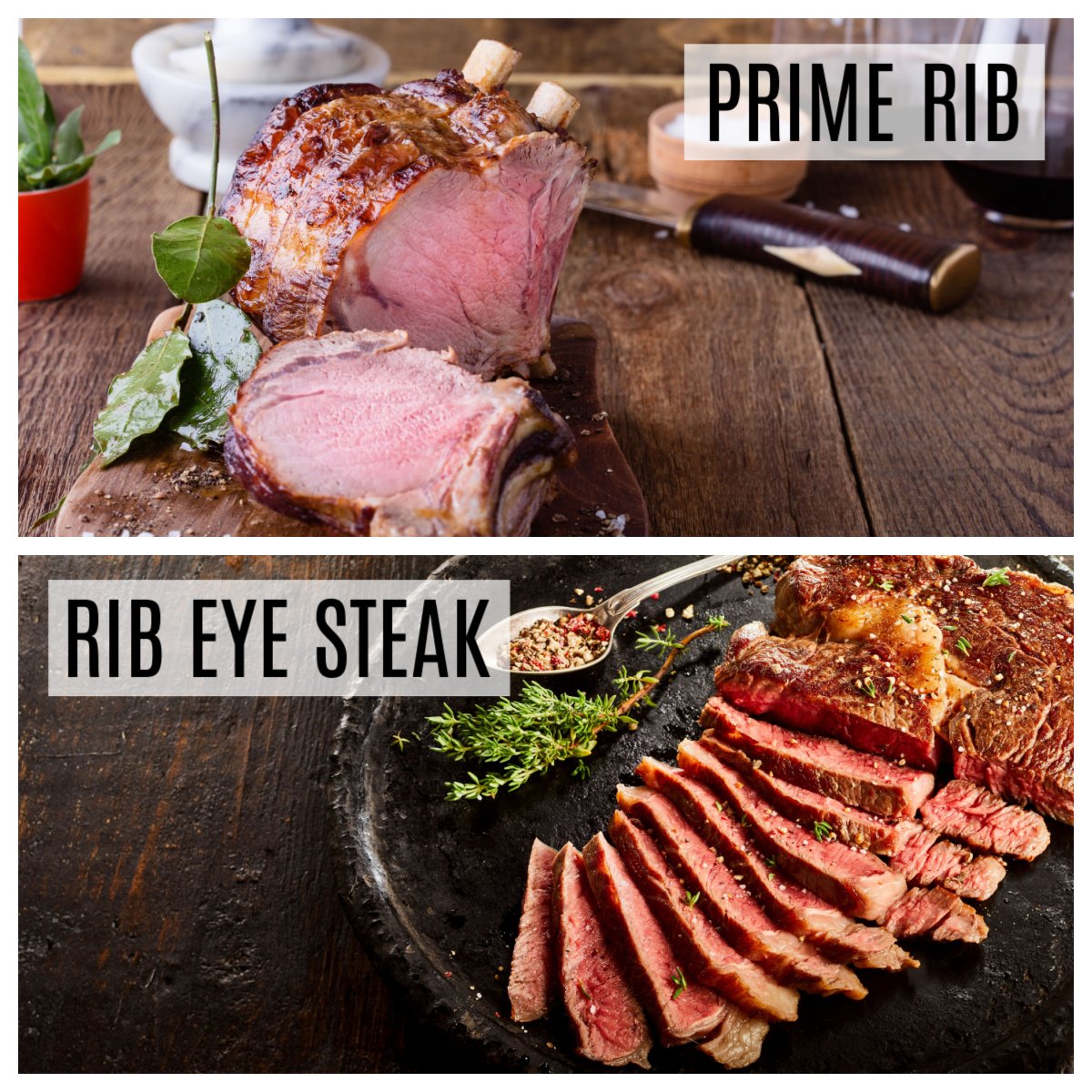 The main difference between prime rib and ribeye is how you cook them. As prime rib is high in fat, you need to slow-cook it for increased tenderness. On the other hand, ribeye requires fast cooking with high heat.
Let's take a closer look at the aspects that differ between these two primal cuts of beef in this detailed article.
Table of Contents
What is Prime Rib?
Also known as standing rib roast, prime rib comes from the primal rib section of a cow.
Prime rib shows excellent marbling, which implies a high level of fat. This allows the meat to taste juicier. Further, this piece stays tender when cooked in a "jus" to an appropriate temperature. You can also maintain the rareness of the meat by cooking it in its juices.
Usually, people cook prime ribs whole in an oven. Later, you can cut them into pieces to serve them at the perfect doneness. This large portion of meat contains seven ribs in total. So, you can get at least seven ribs separately after cooking.
Butchers usually offer the option of bone-in or boneless meat. However, most people prefer the bones to be intact for the best flavor.
Keep in mind that when the bone still remains, prime rib is referred to as a steak!
What is Ribeye?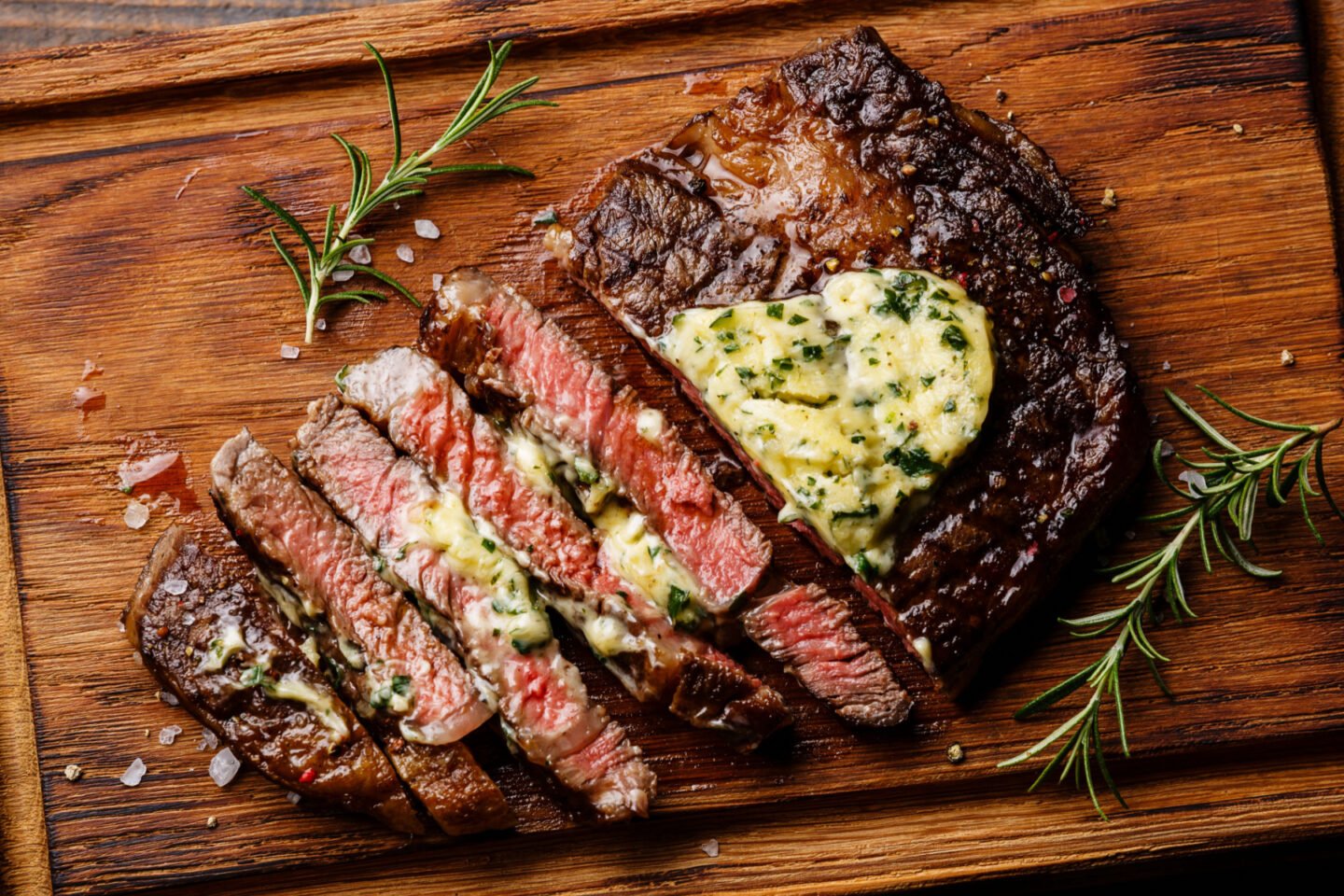 Ribeye also comes from the same rib portion as prime rib. In this case, you will receive cut pieces before the meal itself. So, one prime rib can become seven ribeye steaks. The same cooking method will not apply to a ribeye.
These steaks do not give the same results when cooked in an oven. Therefore, it is best to cook them on a high-temperature grill.
Ribeye steaks have a rib cap that is immensely flavorful. While many grocery stores do not sell these separately, a local butcher may do it for you. However, this meat will cost more than a single ribeye.
The marbled look on the ribeye steaks indicates the presence of fat. So, these pieces remain tender when cooked to the level of doneness needed.
Thus, to put it in easy words, ribeyes come from a whole prime rib before being cooked. Also, in these cases, the underlying bone is removed and sold as a ribeye steak.
Comparison Table: Prime Rib Vs Ribeye
| | | |
| --- | --- | --- |
| Category | Prime Rib | Ribeye |
| Average Weight | 12-16 lbs | 8-15 oz |
| Cooking Method | Slow Cooking | Fast Cooking |
| Ways to cook | Oven | Grilling |
| Temperature | Low | High |
| Cut | Whole | Pieces |
| Bone/Boneless | Bone-in | Boneless |
| Cost | High | Higher |
Differences Between Prime Rib and Ribeye
Prime rib and ribeye come from the same cut, and this automatically causes people to wonder if there is any difference at all between the two cuts. On the contrary, certain differences set these two popular meat cuts apart!
1. Cut
Prime rib and ribeye are cut from the same region of the cow, which is the rib portion. However, once the meat is taken out, further processing defines the main difference between the two.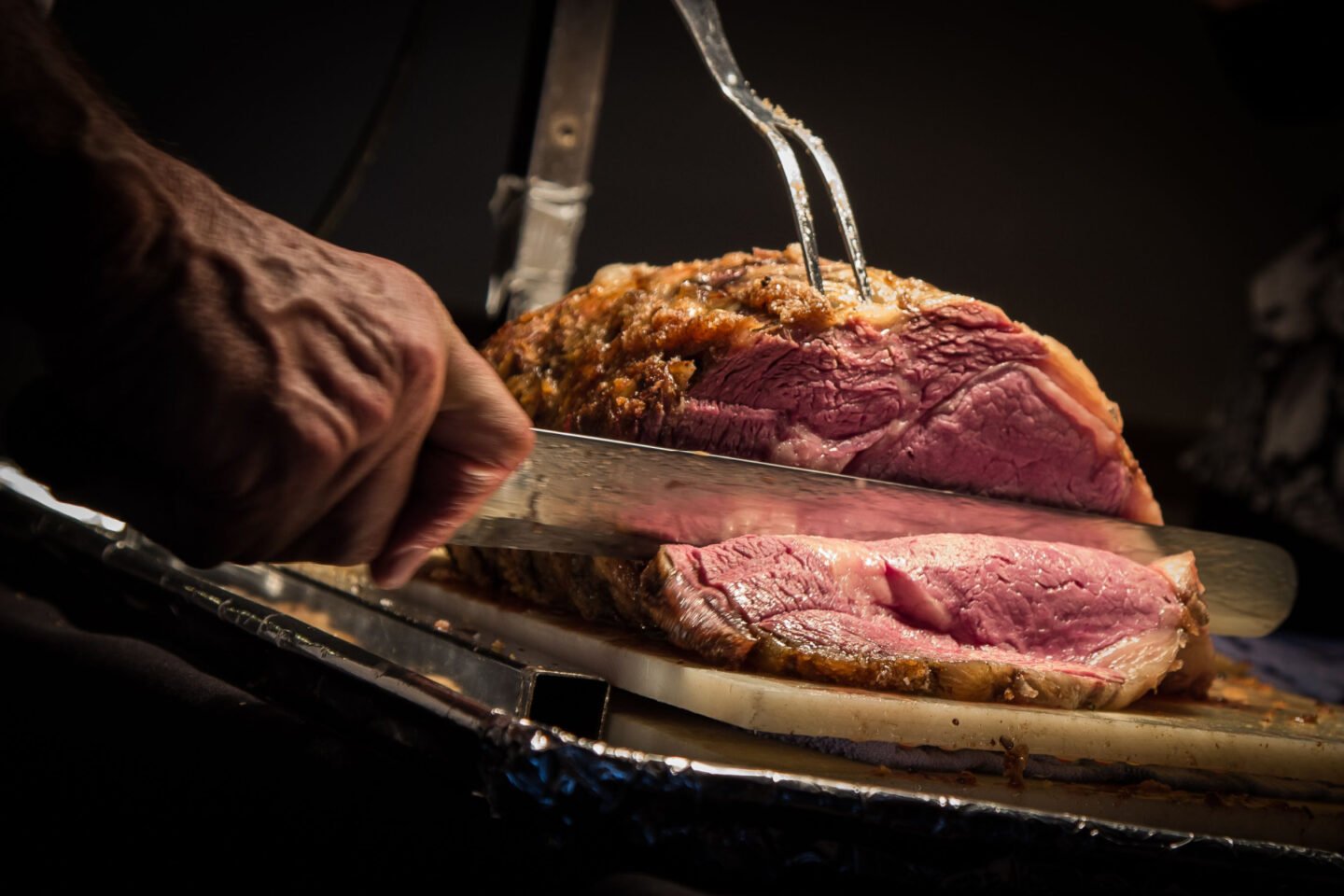 Prime rib is the meat part that grocery stores, supermarkets, or butcher shops sell as a whole portion. Thus, people resort to cooking the prime ribs as a whole in the recipes they prefer. On the other hand, butchers cut the prime ribs into different ribeye steaks before selling them.
Thus, ribeye steaks are byproducts of prime rib. Then, they are cooked according to the method that makes them just right.
2. Cooking Method
The next visible difference between prime rib and ribeye meats is the cooking process involved. Typically, prime ribs take more time to cook than ribeye steaks. This is simply because of the cut size when purchased.
Prime ribs come as a whole, and obviously, when pushed through faster cooking times, the meat will tend to dry out and taste chewy. So, when making recipes with prime ribs, you have to use a slow-cooking method like an oven to get a perfect roast and bring out the strong beef flavor.
On the contrary, ribeye steaks don't require a longer time since they come boneless and in small pieces. So, this meat is best for cooking over a pan or grilling, as it has a lovely charred taste.
Furthermore, ribeye meat is best cooked at higher temperatures. Keep in mind that since ribeye is a thicker piece of meat than the rest, you may need to sous vide or oven roast it at a lower heat and then finish it off in a pan to maintain the tenderness.
In short, you can choose prime ribs when your guests love an earthy and beef-filled flavor. But when time is a problem, go for the ribeye ones!
3. Texture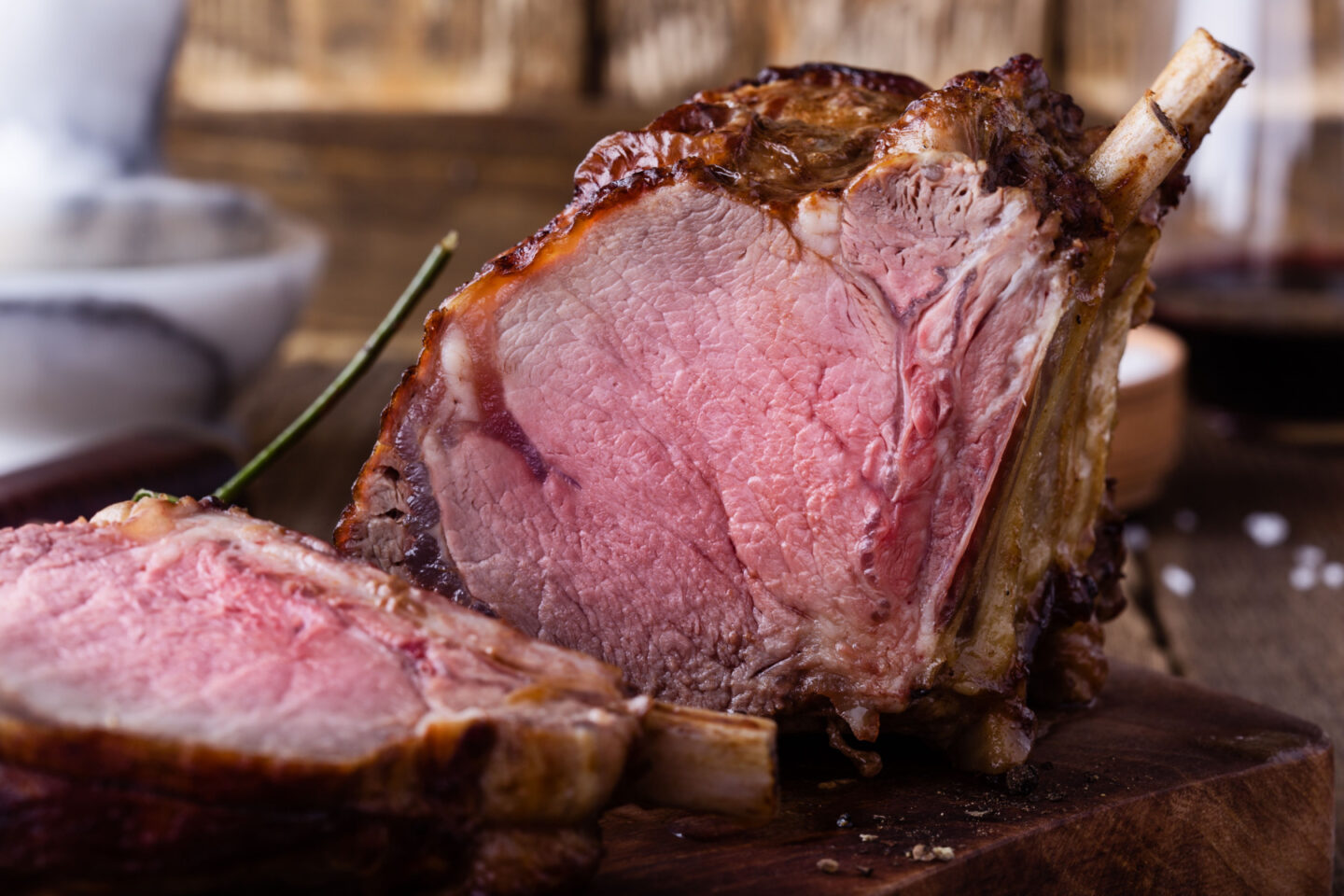 Since both cuts come from the same portion, the cooking method and temperature will differentiate the texture between the two. For example, when cooking ribeye steaks at high temperatures, it is natural that the crust forms faster and with more crunchiness.
Prime rib, on the other hand, takes a long time to cook. The meat near the bones has more juiciness and tenderness as the bones act as a form of insulation for better and even cooking. Prime ribs need an oven for the cooking process. So, the texture will vary greatly when compared to a ribeye.
4. Taste
Prime ribs have more fat and connecting tissue. This definitely has the edge in terms of flavor since the bones are left as they are. Ribeye steaks are usually cooked boneless and have a milder flavor when compared to prime rib.
While prime ribs have a stronger beef flavor, ribeyes have a rich, buttery flavor. This buttery flavor comes from the marbling in ribeye steaks, which melts right away to make a natural basting when the steaks are pan-fried.
5. Size
Naturally, prime ribs weigh more and are bigger. They are sold whole and do not undergo any butchering after being cut from the cow's rib. On average, prime rib weighs between 12 and 16 pounds.
Ribeye pieces come from prime ribs and weigh around 8 to 15 ounces. They have a usual size of about 2 inches thick.
So, when serving a big family dinner or party, it is easier to cook a prime rib beforehand to save on the number of times ribeye steaks need to be cooked.
6. Cost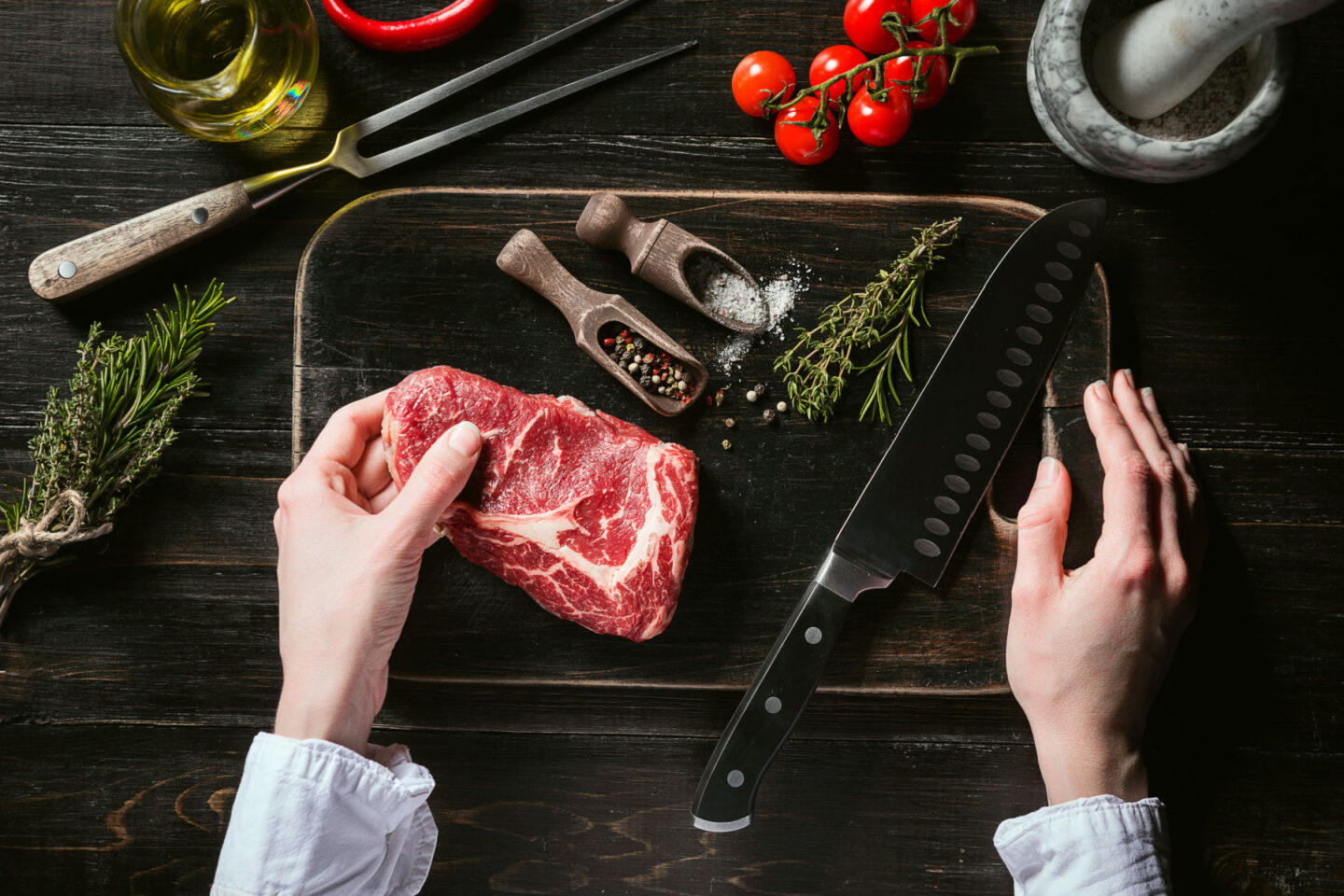 People usually think that prime rib will cost more since they are buying a large portion of meat. However, this is not true. You end up spending more for a ribeye as there are several cutting processes involved, making it an expensive choice.
Prime ribs do not need any trimming, as they come bone-in with all the muscle and fat. Although ribeye steaks have a much leaner look than prime ribs and are usually sold boneless. With so many techniques needed, ribeye steaks cost more than prime rib in all ways.
However, if you are buying just a single ribeye steak, then obviously, a prime rib will be more expensive than the former.
You can get a fair idea from the following cost options:
Prime Rib Bone-In - $17
Ribeye Boneless - $25
These considerations come after taking each cut of meat pound-wise. Also, these are average values and might differ as per the supermarket, grocery store, or butcher shop in your area.
Final Thoughts
Prime rib and ribeye are from the same part of a cow's rib. The key difference kicks in only when they are further butchered. Prime ribs go to the markets as a whole, whereas ribeye is further cut into pieces.
To keep their tenderness, prime ribs need to be cooked slowly, while ribeye steaks need to be cooked quickly at high temperatures.
Besides these main differences, there are also differences in taste, texture, cost, and size. You can select the cut that best suits your needs and prepare delicious dishes with either of these cuts.