If you're an adventurous eater who's been to a high-end restaurant recently, you may have considered ordering the bone marrow. While it might sound strange to some, the dish actually has a long history and a flavor that many people find delicious. But exactly what does bone marrow taste like?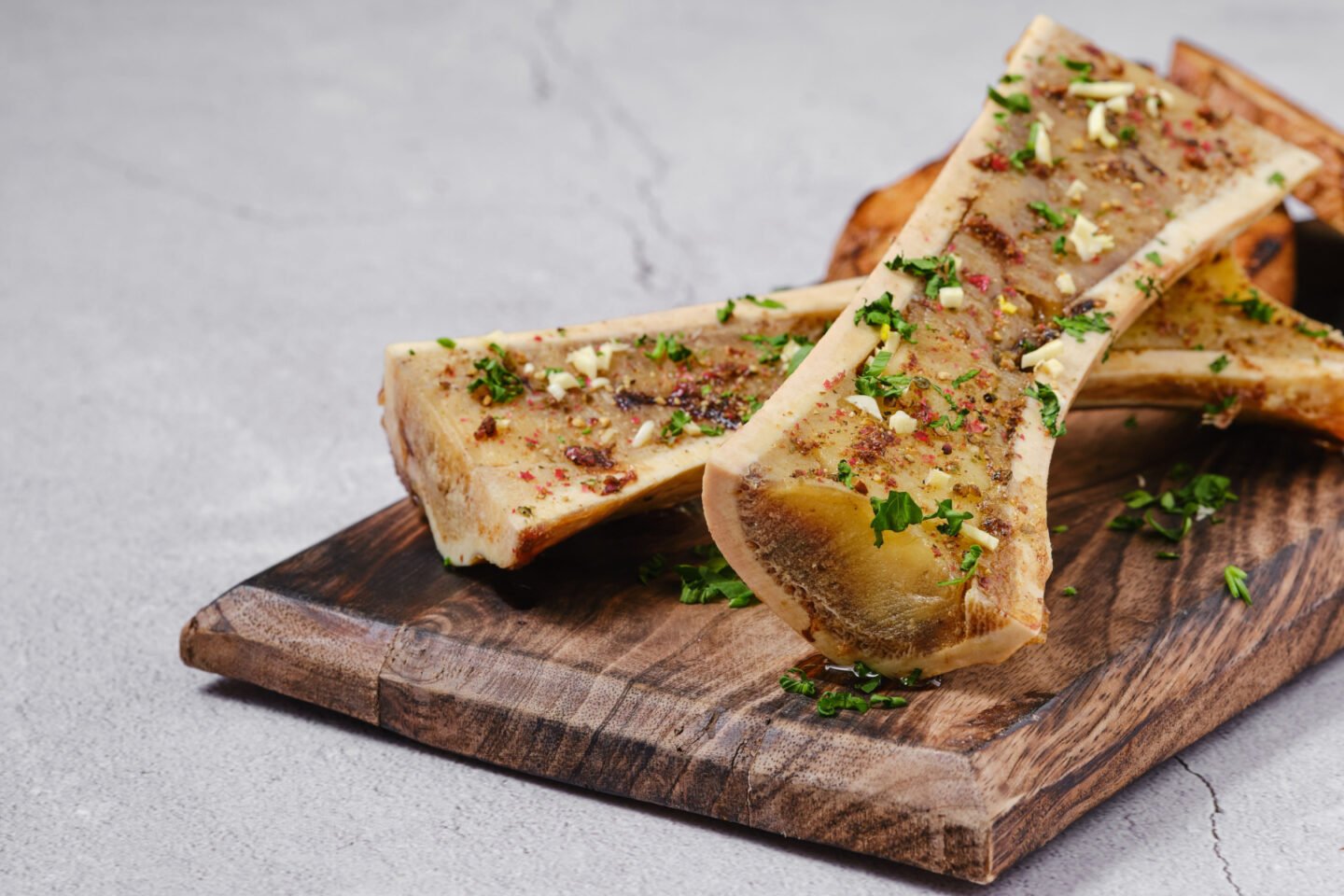 You might be surprised to learn that bone marrow actually has a rich and buttery flavor infused with hints of beef. When cooked properly, it can even have slightly sweet notes that make its deep umami taste stand out.
If you're still curious about trying bone marrow for yourself, take a moment to learn more about it, so you'll be fully prepared when it's delivered to your table.
Table of Contents
What is Bone Marrow?
Bone marrow is actually the spongy part of bones underneath the hard exterior. While it might not sound the most appetizing at first, that may only be because you haven't tasted it. Bone marrow has been enjoyed in countries all around the world and is actually one of the most ancient foods we still eat today.
While the marrow of many animals has been enjoyed, the kind that is most commonly enjoyed today comes from cows. Their large bones, especially the femur, have enough marrow to make a meal or an appetizer.
So What Does Beef Bone Marrow Taste Like?
Some people expect bone marrow to be flavorless or chalky since that's the way bones taste when they encounter them in ribs or chicken drumsticks. However, beef bone marrow actually has a surprisingly strong taste.
Of course, it tastes similar to beef, with rich umami notes that are more full-flavored than pork or chicken. However, what differentiates marrow from the rest of the cow is that it is much more buttery and creamy, much like beef fat. This shouldn't be surprising, as bone marrow is actually high in fat content. In addition to the other flavors, it also has a slightly sweet taste.
Is Bone Marrow Nutritious?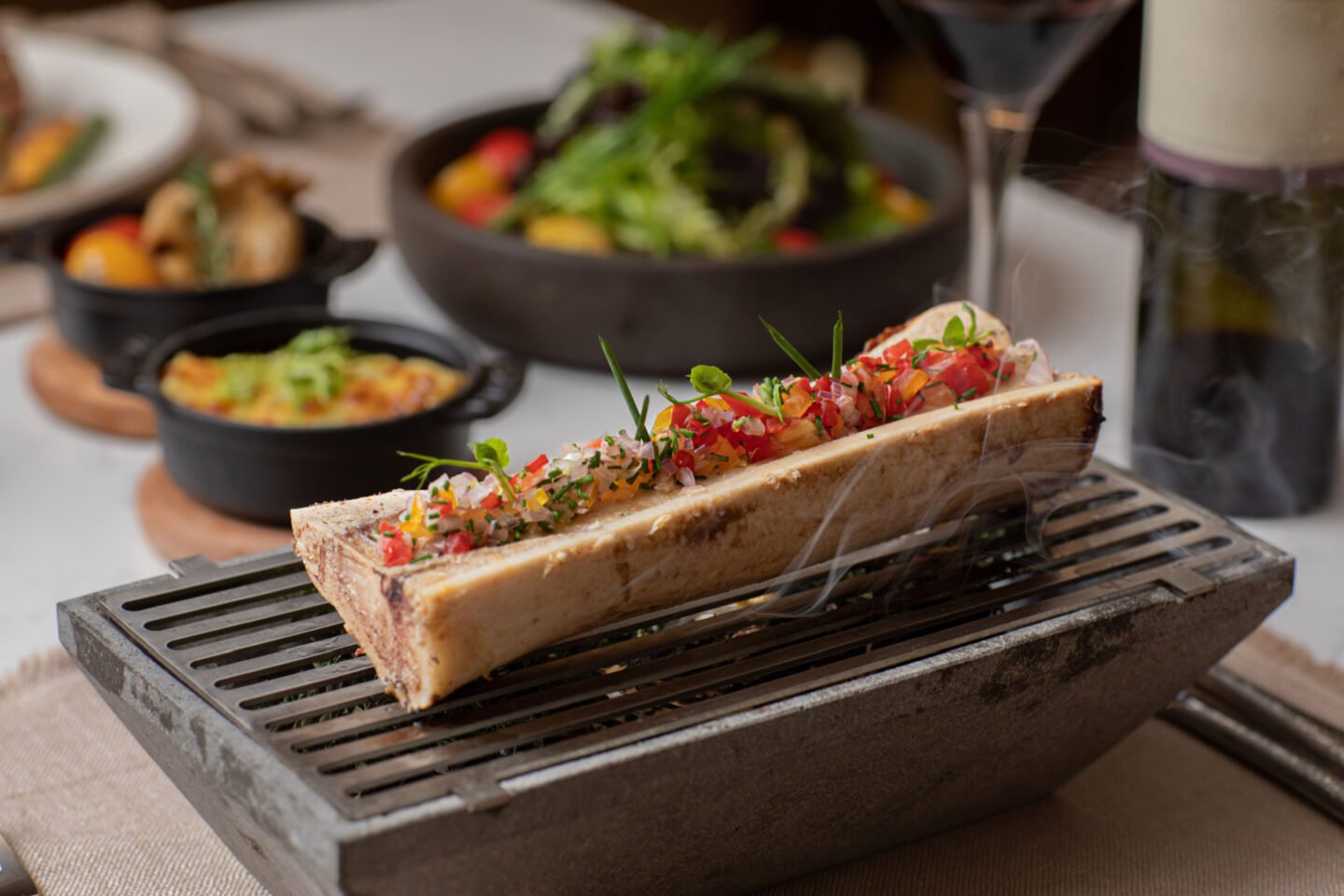 Bone marrow is surprisingly nutritious and full of essential vitamins and minerals. While it's also high in fat and calories, enjoying it in small quantities can be a good way to give your body an extra boost of nutrition.
Bone marrow contains the following nutrients per serving:
25% of your daily value of iron
14% of your daily value of protein
7% of your daily value of vitamin B12
It's also full of collagen, which helps your body maintain the health of your skin and joints. This means it can be a particularly good choice for those suffering from arthritis.
Learn more about the unique health benefits of beef here.
Enjoying Bone Marrow
When your bone marrow dish is first set down on your table, it might not be immediately obvious how to go about eating it. After all, the bones are usually left on the plate!
Bone marrow is soft and spreadable, so it is almost always served in the bone it was cooked in. This serves as a natural dish for the marrow, making it easier to enjoy. The hard exterior of the bone can be ignored completely, as it is inedible. Instead, use a spoon to remove the soft and creamy marrow.
Sometimes, the marrow is spread on a piece of toast, while other dishes cover the bone in other foods that can be spooned along with the marrow and eaten plain.
No matter how it's served, preparation is everything when it comes to bone marrow. When improperly prepared, loose bits of the hard bone can come loose, making for an unpleasant dining experience for those who try to chew it. It's always best for diners to be careful; otherwise, they may chip a tooth.
Cooking With Bone Marrow at Home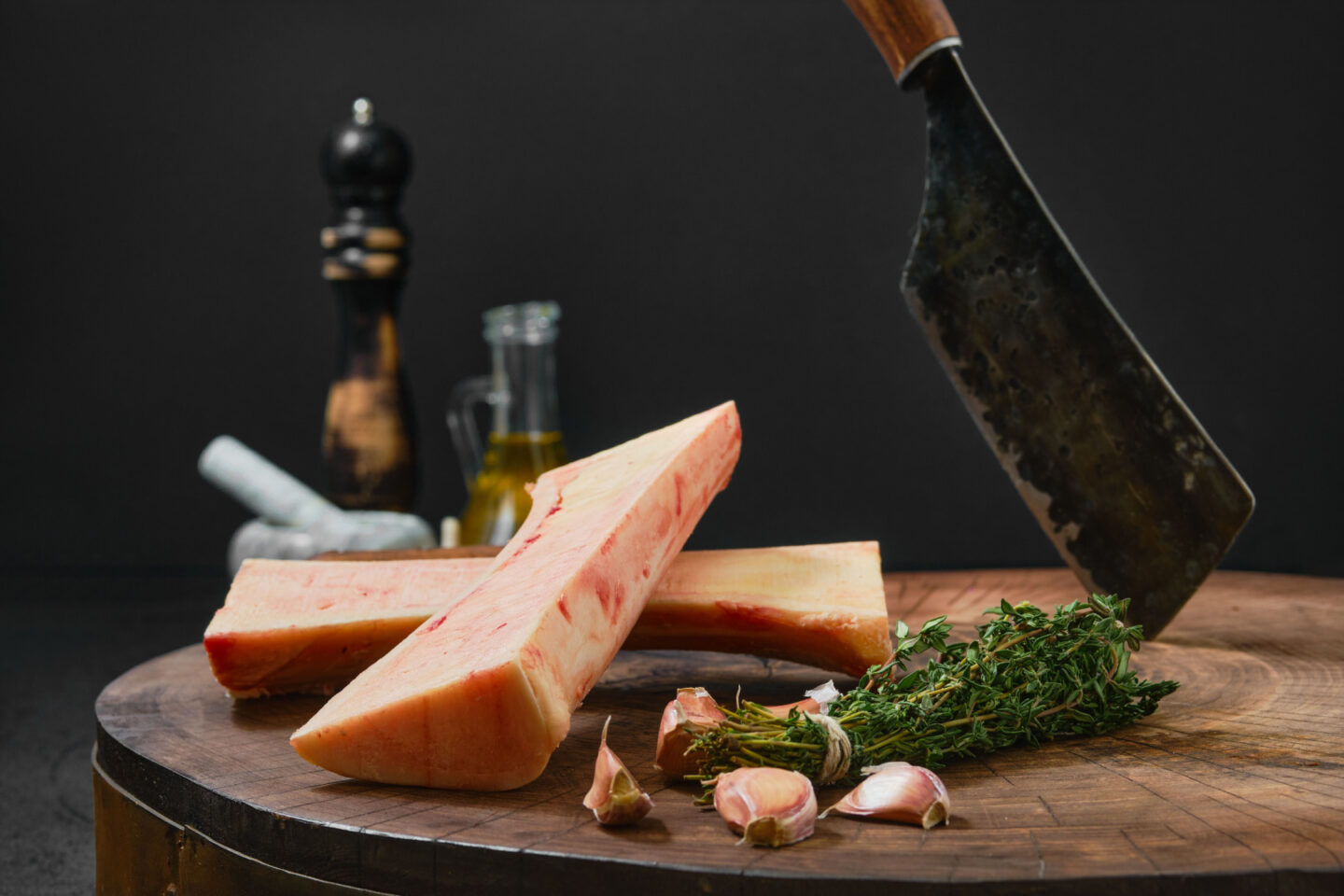 You're not likely to find beef bones sold separately at your local grocery store, so you'll have to visit a specialty butcher who can prepare them for you. In this case, it will pay to call ahead to ensure that they offer this service.
Preparing Bone Marrow
Bone marrow requires a bit of preparation before it can be properly enjoyed. To start, you need to soak them in a salt brine for 24 hours in the refrigerator. To make the brine, dissolve 60 grams of salt in 1 liter of water. Once the salt is fully dissolved, submerge the bone, cover it loosely, and set it in the refrigerator.
Soaking them for 24 hours at minimum is a must, though you can soak them longer to remove excess blood from them, making them look and taste cleaner. During this phase, you'll also want to remove any excess meat that may still be on the bones.
Roasting Bone Marrow
The most common way to enjoy bone marrow is by roasting it. This will cook the fats and proteins in the marrow, giving it a creamy, spoonable texture.
The process is simple; just start by preheating your oven to 425 degrees Fahrenheit. By now, your bones should have been soaking in a brine for at least 24 hours. As your oven preheats, remove them from the brine and pat them dry.
Next, coat a baking sheet with sea salt and arrange your bone marrow, skin side up. Once your oven is preheated, put them in the oven and bake for 25 minutes.
You'll know your bone marrow is done once it starts to bubble. Be sure not to leave it in the oven too far past this point, as the marrow will melt and drip out of the bone completely. Once it's done, wait five minutes for it to cool, and then plate and enjoy.
Boiling Bone Marrow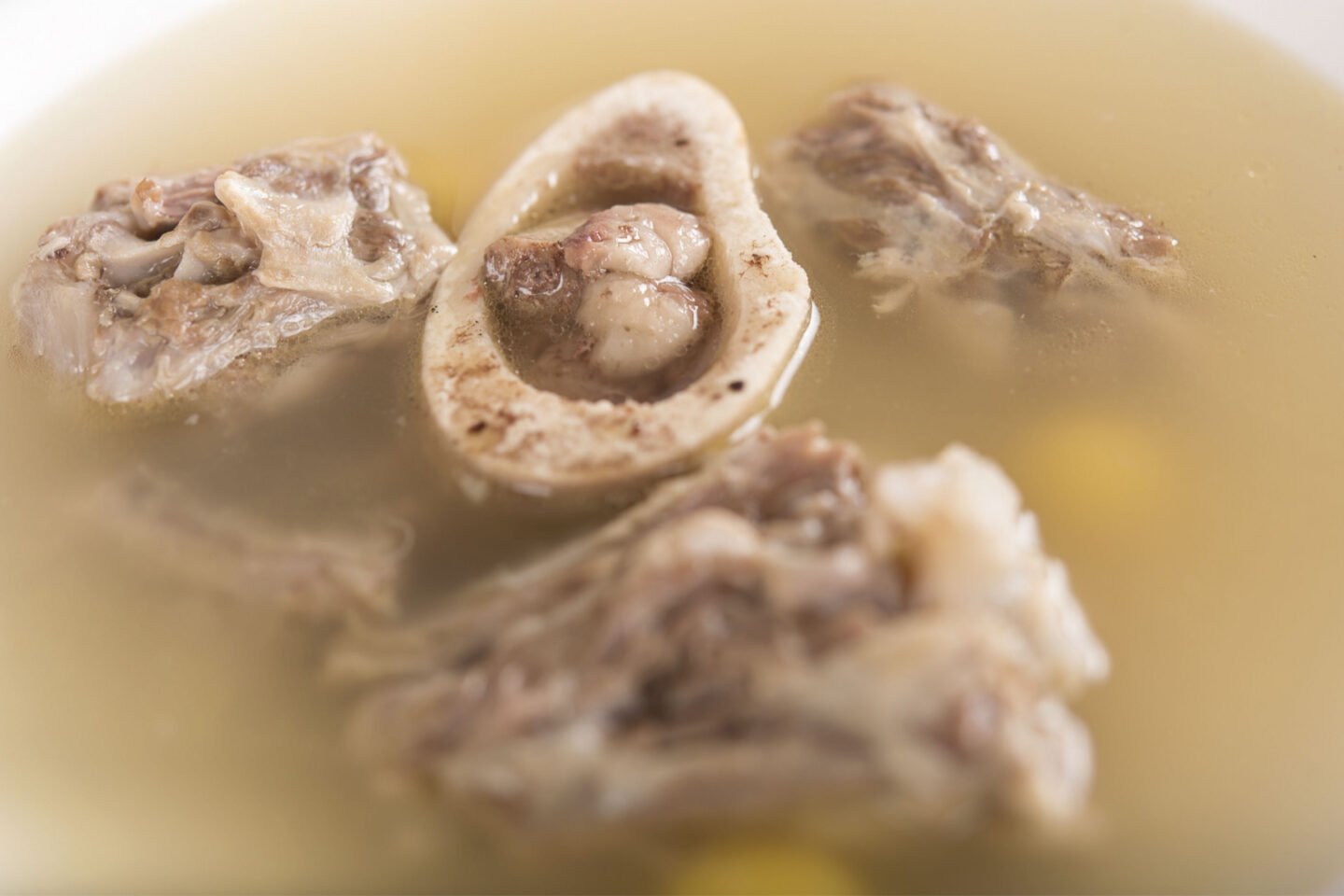 You can also use bone marrow to flavor soups, and the process is even easier than roasting a bone marrow appetizer. By boiling bone marrow in water for several hours, you can extract the nutrients and flavor, making a rich and tasty bone broth.
To start, line the bottom of a thick soup pot with bones, marrow side up. Then, fill the pot nearly to the top with water and set over high heat. Wait until the water is nearly boiling, and then reduce the heat until the water simmers.
Continue to simmer the water for at least six hours, skimming any foam that rises to the top. The water will reduce during this time, which is a good thing as it will result in a more concentrated flavor. Though if the water reduces to more than a quarter of its original volume, fill the pot halfway with water and continue.
Once your bones have boiled for six to eight hours, the broth should have a rich, umami flavor. You can add salt and other seasonings to the broth and then add whatever ingredients you like to make a flavorful soup.
If you're looking for a good substitute for beef broth, bone broth might be just the thing.