Thailand has various age-old legacies in the form of religion, culture, etc. Along with this, the country has a specific cuisine that serves some lip-smacking and wholesome noodle dishes that have a separate fan base all over the world. Out of this lot, Pad Thai and Pad See Ew top the chart among noodle lovers!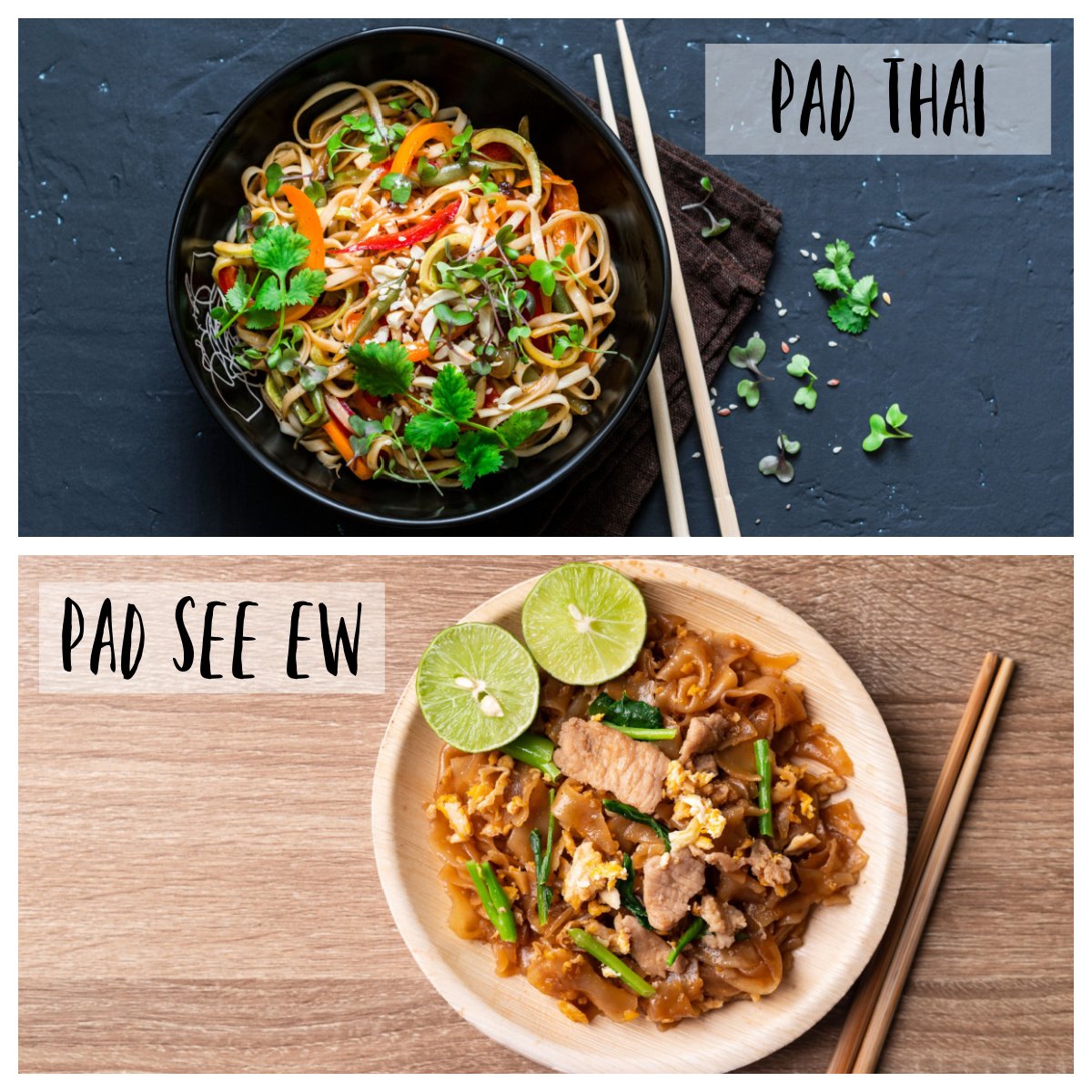 While food enthusiasts know the difference, first-timers may need more information before trying a bowl of earthy and warm Pad Thai or Pad See Ew. The main difference between Pad Thai and Pad See Ew is the type and size of noodles used. Pad See Ew has flatter and wider noodles, whereas Pad Thai has thin rice noodles.
Let's have a closer look at these noodles in terms of taste, sauces used, and nutritional value.
Table of Contents
What Is Pad Thai?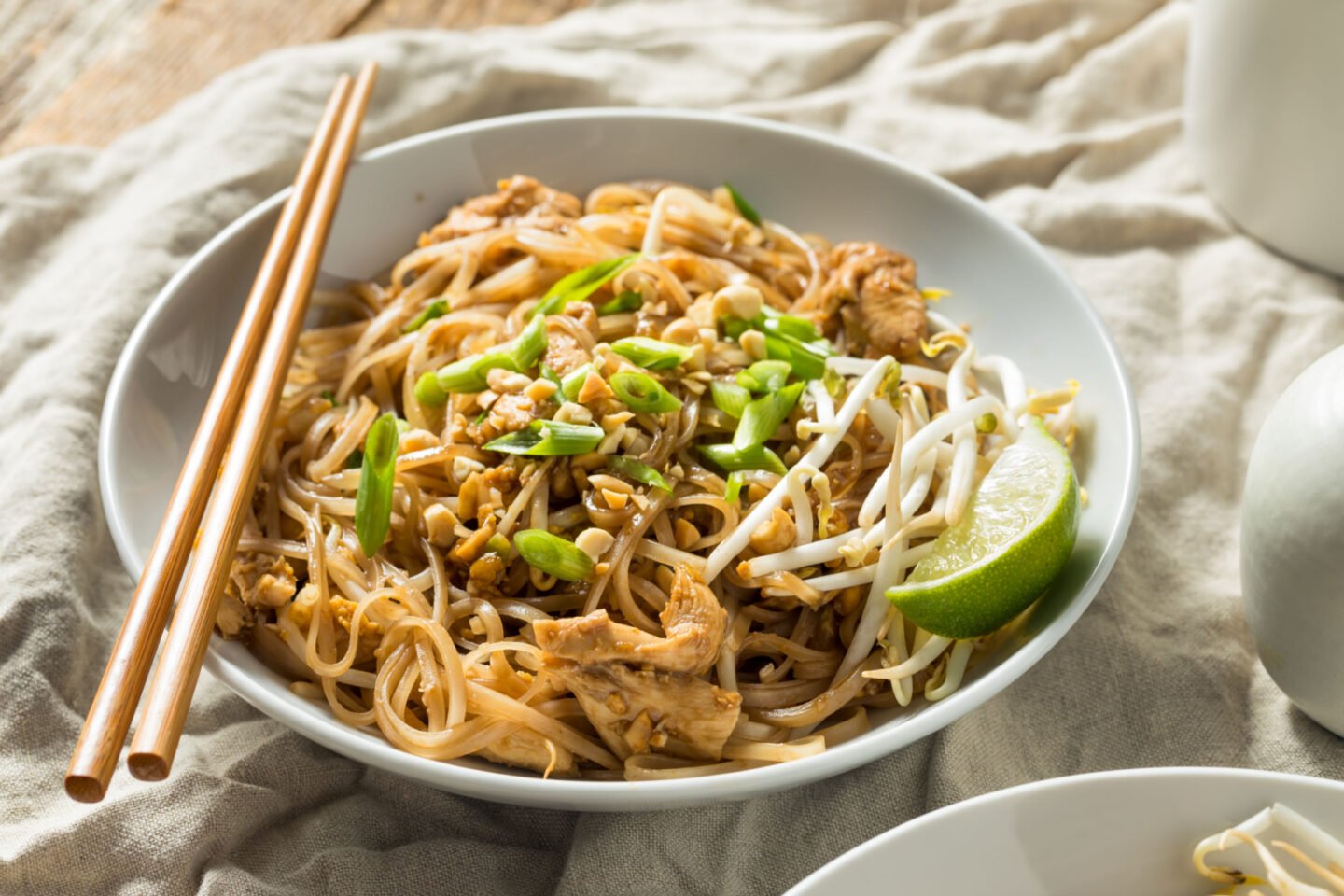 One of the most famous noodle dishes in the world is Pad Thai. So, it doesn't require any special introduction. This dish comes from China and is a favorite of many because it has a lot of ingredients that make it taste good.
It is thought to be Thailand's national dish. It has shrimp, rice noodles, and vegetables in a sauce made from tamarind. You can also add fried peanuts as a topping to add a crunch to this delicacy.
Moreover, you can replace shrimp with chicken too. Further, vegetarian and vegan lovers can try tofu as the primary protein in a bowl of Pad Thai noodles.
You can find many flavors in this bowl as crushed flakes help increase heat. To improve the taste, some changes include using umami soy, brown sugar, and fish sauce. A dashing of lime juice will make the dish sublime!
What is Pad See Ew?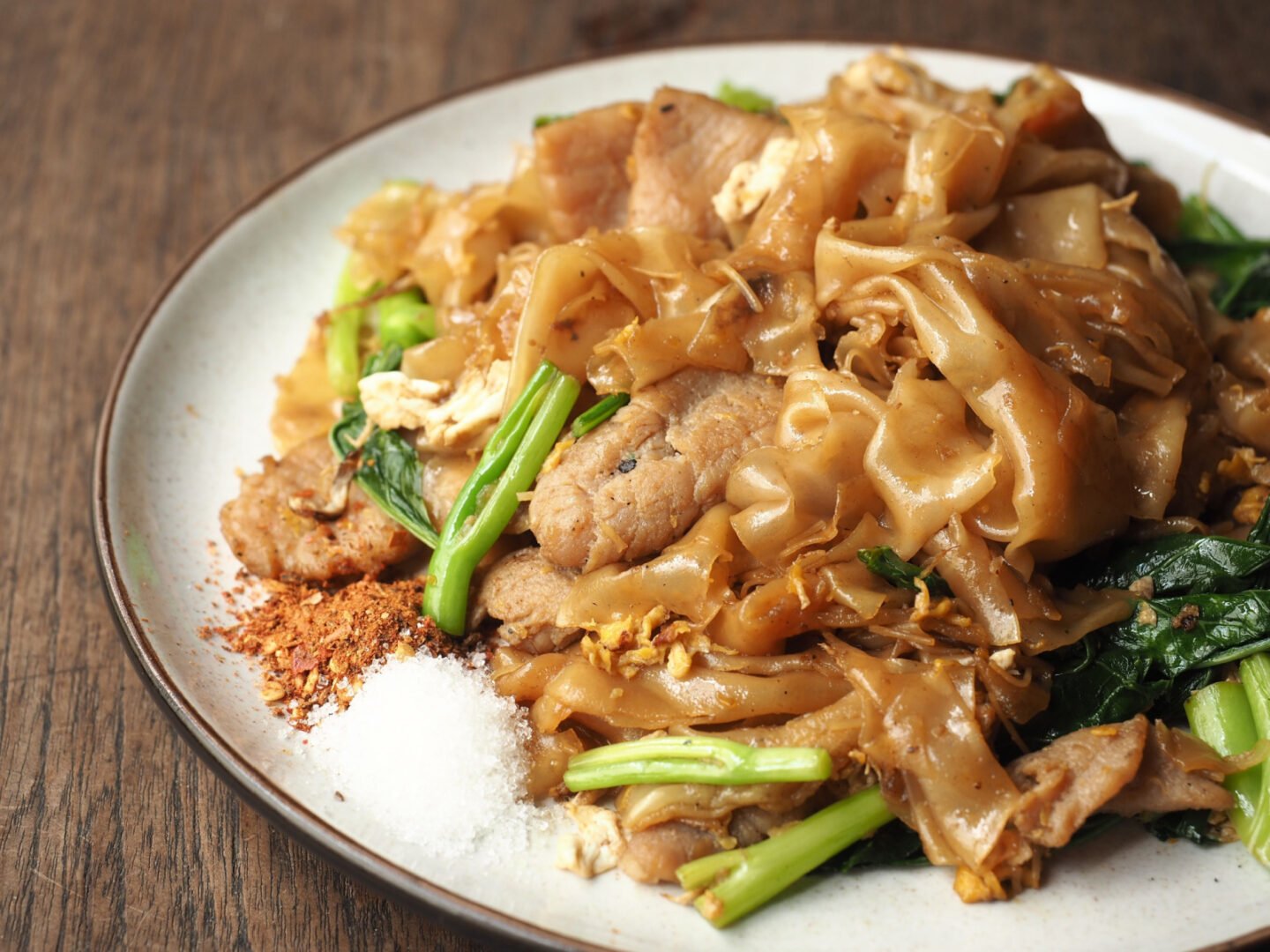 The meaning of the dish Pad See Ew is "fried with soy sauce," and this shows that the main ingredient in Pad See Ew is soy sauce when compared to the tamarind sauce seen in Pad Thai. Also, the type of noodles used here is thicker and wider. So, this has a chewy taste, but it is no less tasty.
Here too, for protein, chefs use meat in combination with vegetables and other ingredients. Note that it comes out as a fried noodle dish as it is mainly cooked in a wok.
Pad See Ew is usually made with broccoli, but in some versions, mushrooms are also added.
Today, the most preferred topping seen in Pad See Ew is scrambled eggs, as this elevates the dish to a new level.
Quick Comparison Table: Pad Thai vs Pad See Ew
| | | |
| --- | --- | --- |
| Category | Pad Thai | Pad See Ew |
| Type of Noodles | Thin Rice Noodles | Flatter and Thicker Rice Noodles |
| Sauce Used | Tamarind Sauce | Soy Sauce |
| Meat Used | Shrimp, Chicken, Tofu, etc. | Shrimps, Prawn, etc. |
| Toppings | Fried Peanuts | Scrambled Eggs |
| Taste | Sweet and Sour | Salt and Savory |
| Vegetables | Bean sprouts | Chinese Broccoli |
Differences Between Pad Thai and Pad See Ew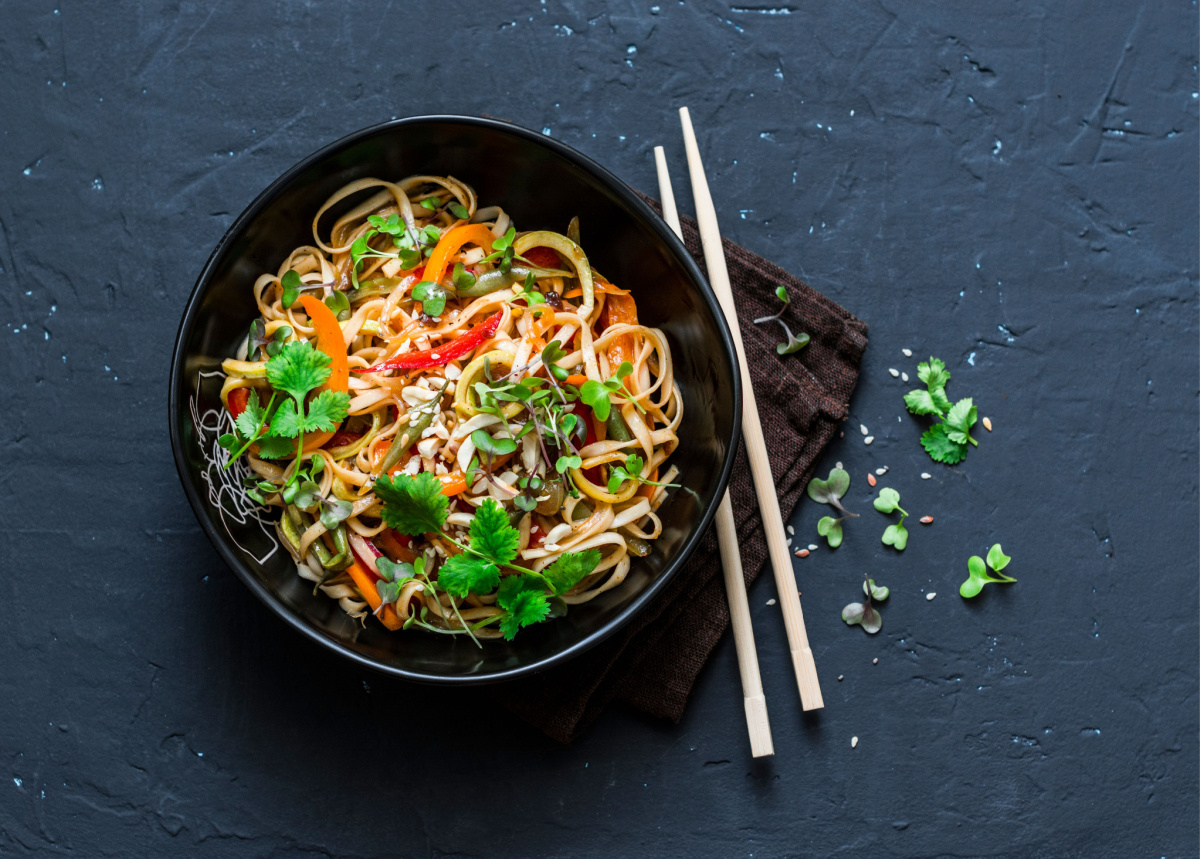 The above table highlights the noteworthy differences between the two dishes. However, because both are staple Thai dishes, let's take a closer look at some of the differences that set them apart.
1. Taste
Pad Thai uses tamarind sauce, which gives it a tangy taste. To balance it out, chefs add a bit of brown sugar, which in turn makes it a sweet and savory dish. The fried peanuts added on top of the dish give it a lovely crunchiness.
The fried shrimp or tofu adds an earthy flavor as well as a salty flavor. Also, the addition of chili flakes further improves the dish's taste!
In the case of Pad See Ew, the main distinction is the use of soy sauce. This dominates the flavor profile and makes it saltier than Pad Thai. However, to add sweetness to the dish, sweet oyster sauce is sometimes added to the noodle dish.
For umami lovers, choose beef as the staple protein. The beauty of Pad See Ew is that it uses a variety of proteins, each with a unique flavor and taste profile.
In the case of toppings, an earthy taste comes from the scrambled eggs, and the crunchiness here comes from the use of Chinese broccoli.
2. Ingredients Used
Some of the basic ingredients used here in Pad Thai dishes are tamarind sauce, brown sugar, chili, shallots, shrimp or prawn, thin rice noodles, and crushed peanuts as toppings.
On the other hand, ingredients in Pad See Ew are flatter and thicker rice noodles, shrimp (or sometimes chicken, beef, or tofu), sweet oyster sauce, soy sauce, Chinese broccoli, and scrambled egg as a topping.
3. Nutrients Present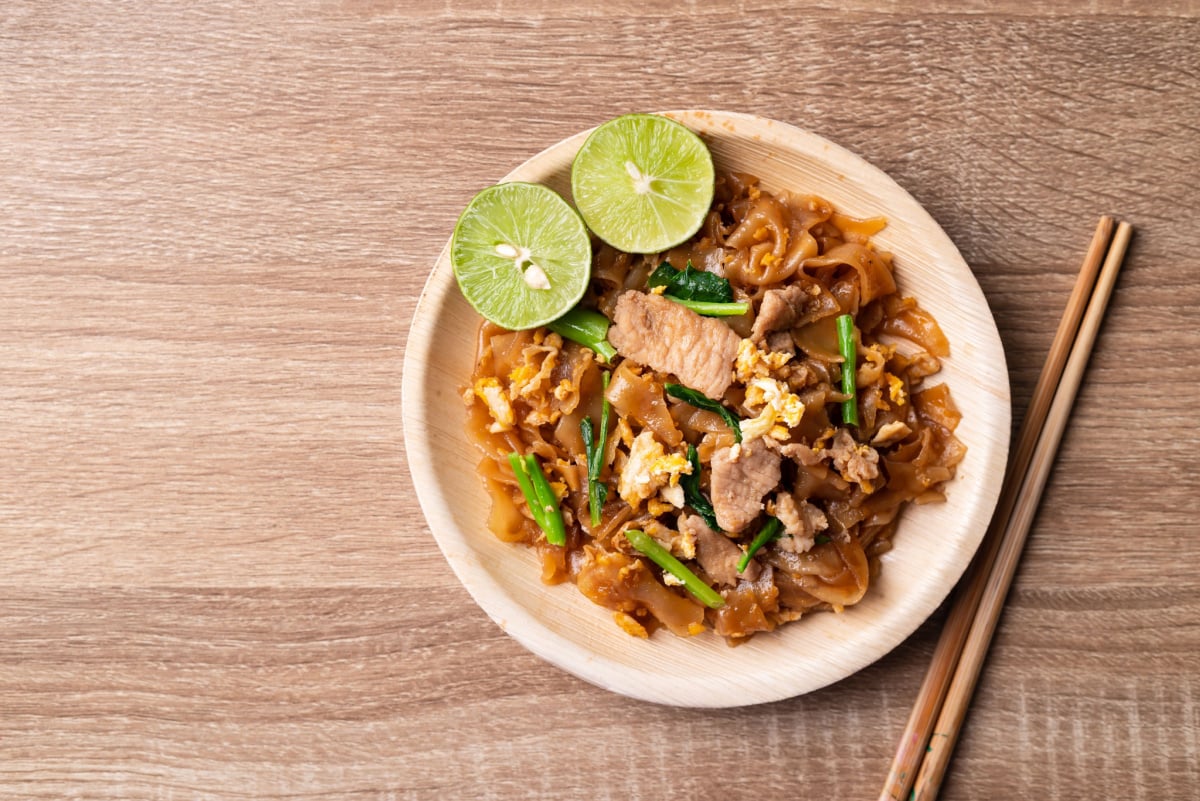 Both dishes are rich in carbohydrates, but, from a tiny perspective, Pad See Ew has fewer calories than Pad Thai. Typically, Pad Thai contains around 350 calories per bowl. On the other hand, Pad See Ew has only 255 calories per bowl. It has a variety of nutrients like sodium, fats, fiber, sugar, and protein.
However, it will again depend on the ingredients added by chefs to each dish. If you prefer to increase your flavor profile and make it tastier, the number of ingredients and calorie count of these ingredients may vary.
The above count holds only for the traditional preparation of Pad Thai and Pad See Ew. From the nutrient perspective, Pad See Ew has various minerals and vitamins along with magnesium, selenium, and zinc.
4. Toppings
The most popular topping used is fried peanuts to improve the flavor profile of Pad Thai. This brings the necessary crunch that makes you want another bite every time.
Similarly, scrambled eggs are the best Pad See Ew topping to date. The yolk and flavor of the egg white, when put on a bowl of hot stir-fried noodles, take it to the next level.
5. Origin
Pad Thai originated in Thailand and is one of the most popular street foods in Thailand. However, the origin of Pad See Ew is from China, and many centuries ago, this dish found prominence in Thailand. Though Pad See Ew has some Chinese influence, its roots are in Thailand.
6. Type of Noodles
You can consider this the major difference between Pad Thai and Pad See Ew. The size of the noodles is the first difference that you would notice when you picked up two bowls of these dishes.
Chefs cook Pad Thai with thin rice noodles, while the noodles seen in Pad See Ew are flatter and wider. This gives Pad See Ew a thicker texture, and most of the sauces used to make it are soaked up by the noodles themselves.
Related Questions
What is the basic difference between Pad Thai and Pad See Ew?
While many differences separate these popular Thai dishes, the most basic difference comes in the size of the noodles eaten. For Pad Thai, you will use a thin variety of rice noodles, and for Pad See Ew, you will see a variety of wider and flatter noodles.
Why does Pad Thai taste sour?
The major ingredient that separates Pad Thai from Pad See Ew is the tamarind sauce. This tanginess gives way to the noodles tasting sour, but you could use a dash of brown sugar to bring down the saltiness.
Why is Pad Thai served with lime?
Usually, tamarind sauce brings a sour taste to Pad Thai noodles. However, tamarind sauce may also add sweetness sometimes, and in restaurants or street shops, you may get a piece of lime with this noodle bowl to cut the sweetness.
Final Thoughts
The guide above gives a detailed and informative outlook on two of the most popular noodle dishes from Thailand. Even though the process of cooking remains the same, the primary difference that separates Pad Thai from Pad See Ew is the size and type of noodles used.
Pad Thai comes with thin noodles, and Pad See Ew has flatter, wider noodles. Also, the variation in the sauce used differs in taste to a great extent. Both of these dishes are crowd favorites in Thailand, and many street vendors include some new ingredients, like the choice of protein and additional sauces for added taste.