Whether you're ordering takeout or picking up a few new Thai recipes, these two dishes should be at the top of your list. Pad See Ew and Pad Kee Mao practically define Thai noodle dishes, delivering distinctive flavors that will keep you coming back for more.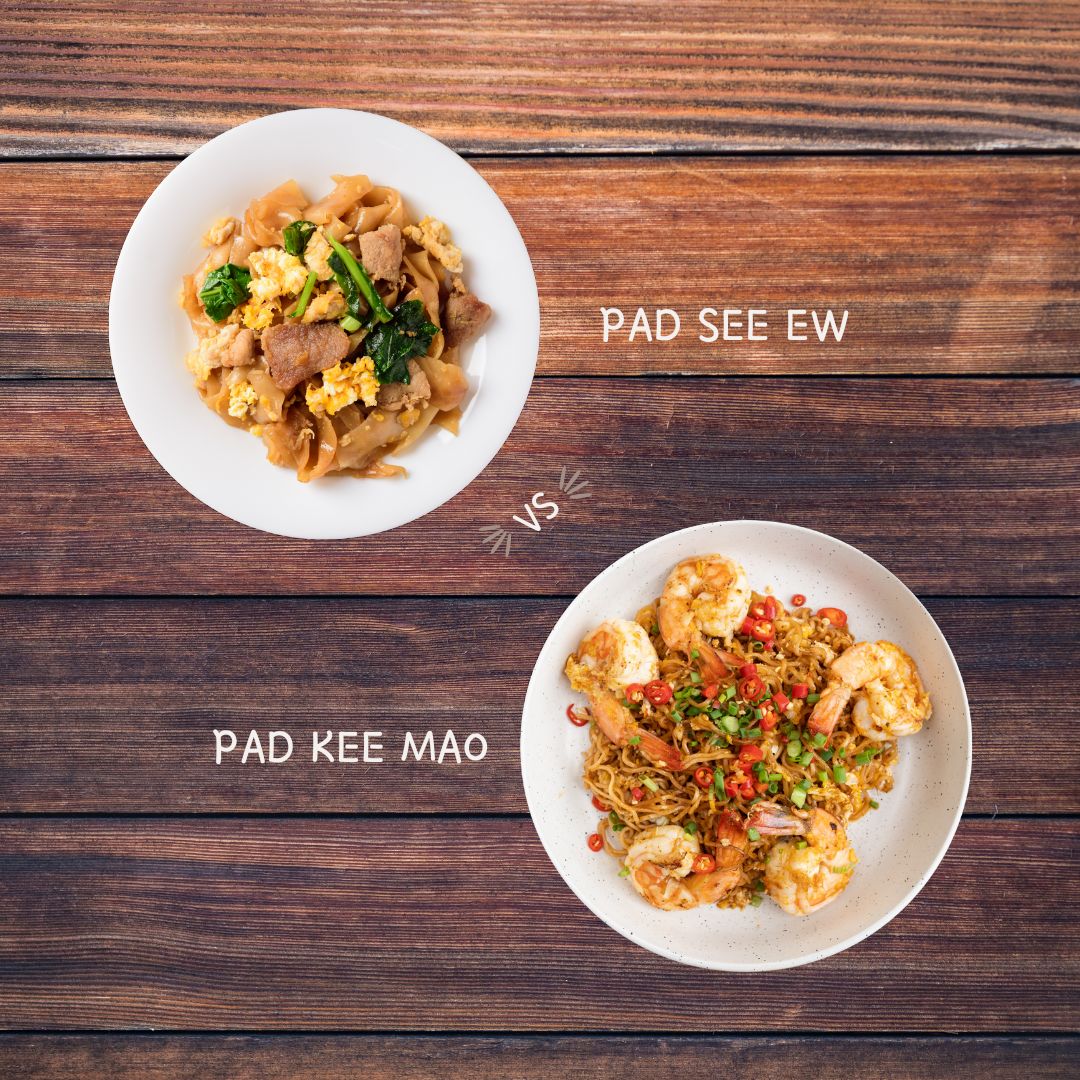 The main difference between Pad See Ew vs Pad Kee Mao is that while Pad See Ew is dark and rich, Pad Kee Mao is comparatively lighter, with a fresh and spicy taste. Which of them you enjoy more is a question we'll leave to you.
There's plenty more to learn about Pad See Ew and Pad Kee Mao. Learn more about each of these dishes below.
Table of Contents
What is Pad See Ew?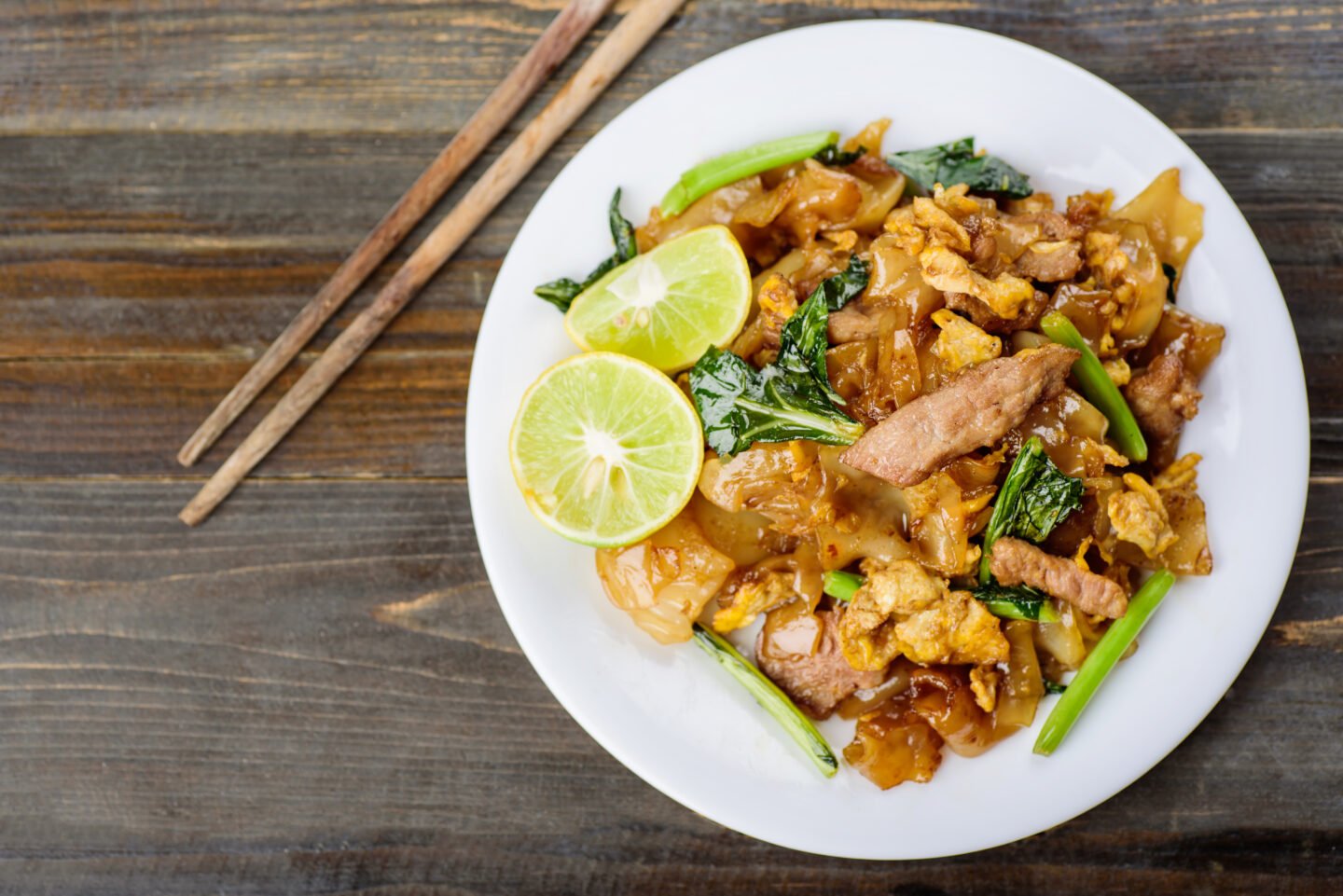 Pad See Ew is one of Thailand's most famous delicious noodle dishes. Made from flat, wide noodles, it delivers a distinct chewy texture and a bright and bold flavor. It's a great choice if you're looking for a Thai option that isn't spicy.
There are many ingredients in Pad See Ew, but a few of the standout ones include dark soy sauce, Chinese broccoli, and mushrooms. It has a deep, rich flavor that will satisfy even serious hunger.
What is Pad Kee Mao?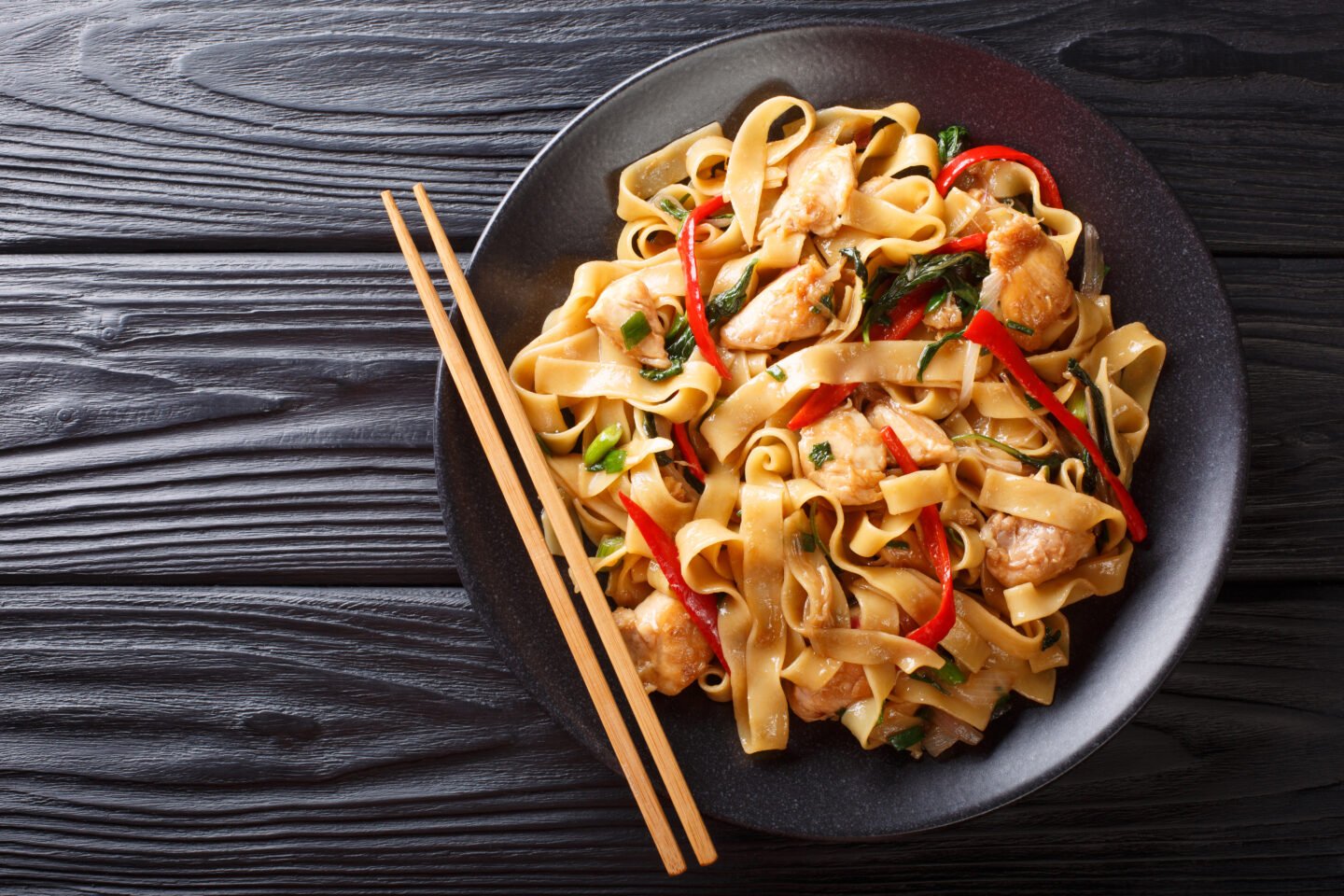 Also known as Drunken Noodles, Pad Kee Mao has everything you're looking for in a Thai noodle dish. It's similar to Pad See Ew but uses thinner, chewy noodles to give it a nice texture. One of their differences lies in the sauce, which includes garlic, oyster, soy, and fish flavors.
The nickname Drunken Noodles comes from the dish's role as a late-night snack made for partygoers. Another theory is that the dish's spicy flavor makes diners sweat, leading to dehydration. Whether or not you consider it spicy is a matter of personal taste.
The dish is lighter in color and flavor than Pad See Ew but has additional spice.
Pad See Ew vs Pad Kee Mao
Once you dive into these dishes, you'll see that they have many similarities and differences. See how they stack up against each other below.
Sauce
The biggest difference between these two dishes is definitely in the sauce. The two are quite similar, except for one crucial ingredient.
Pad See Ew sauce is made of thin soy sauce, dark soy sauce, brown sugar, rice vinegar, and fish sauce. The combination of different sauces makes for a balanced flavor, whereas the dark soy sauce adds a vibrant character. The dish's brighter notes come from fish sauce and rice vinegar, both staples in Thai cooking.
Pad Kee Mao sauce contains all of the above ingredients, with the addition of oyster sauce. Oyster sauce is a thick brown sauce that adds a deep umami flavor. While it might seem like a subtle difference, the end result is miles away, making the dish much heavier, with a stronger seafood flavor.
Vegetables
As with any good stir fry, the vegetables are just as important as the other ingredients, especially in Thai noodle dishes. The vegetables are carefully chosen for both of these classics to complement the sauces' flavors.
Pad See Ew is ordinarily made with Gai Lan, a type of Chinese broccoli. Compared to American broccoli, it has a thicker stem and smaller florets. It tastes similar to the broccoli you are probably used to, with a crunchy texture and slightly bitter flavor.
Pad Kee Mao has a wider variety of vegetables, including Thai basil, mushroom, onions, and bell peppers. Thai basil often appears in Thai cooking and is especially important in this dish. It has a sweet flavor, similar to anise. The mushrooms are typically oyster mushrooms, which have a meaty texture.
Protein
The use of meat and other proteins can vary in both Pad See Ew and Pad Kee Mao, depending on preference. While there is plenty of variation, some options are more common or more traditional than others.
Pad See Ew is typically made with shrimp, chicken, or beef. Shrimp and chicken are both lean options with a mild flavor, allowing the taste of the sauce to stand on its own. The shrimp also pairs particularly well with the lighter flavor of the sauce. Beef is a heartier option, though one that pairs with the rich taste of the soy sauce.
Pad Kee Mao is usually made with pork, chicken, or tofu. Chicken and tofu are used to provide a light flavor that allows the other flavors in the sauce to come through. Pork is another ingredient common in Thai food, with a slightly richer flavor.
Noodles
Both of these dishes take advantage of the chewy texture of rice noodles, though the exact kind differs somewhat. Keep in mind that it's not uncommon to see either dish or other noodle varieties.
The noodles in Pad See Ew are very thick, maximizing their chewy texture. The noodles are called sen yai (or ho fun in Chinese) and are seen in many other Thai noodle dishes. They are perfect for soaking up the sauce.
Pad Kee Mao, on the other hand, uses sen lek traditionally. These are the same noodles used in Pad Thai, which are thinner but have the same chewy texture as they are made from glutinous rice flour. Sen lek noodles are a bit more delicate in texture than sen yai.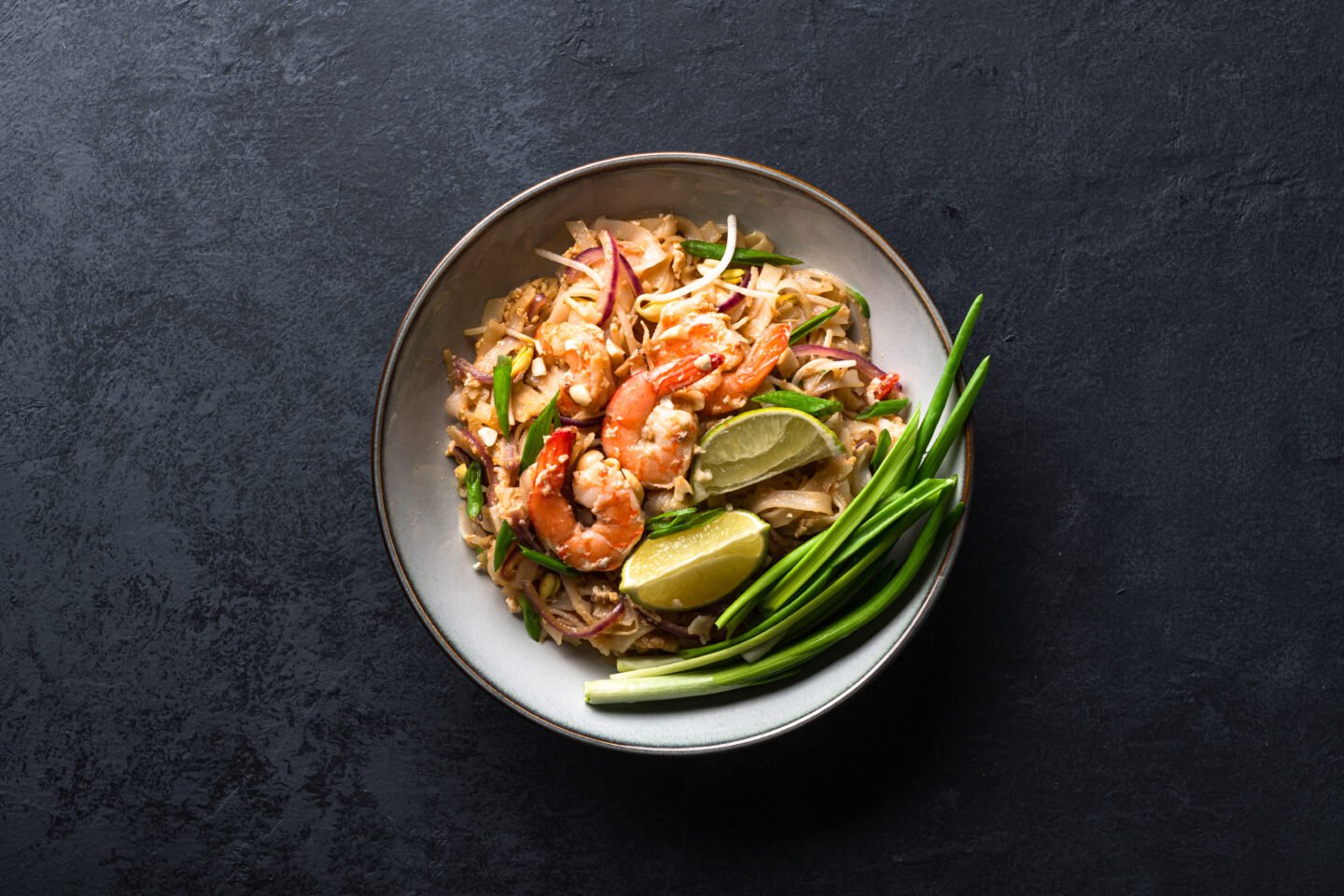 Are They Similar to Pad Thai?
Of these two dishes, Pad See Ew is probably more similar to Pad Thai in flavor, while Pad Kee Mao uses similarly shaped noodles. Though they might have some superficial similarities to the king of Thai cuisine, Pad Thai has its own character.
This is mainly due to the use of tamarind in Pad Thai, which gives a brighter flavor than soy sauce. Pad Thai also includes lime and peanuts as well.
Better than HelloFresh!