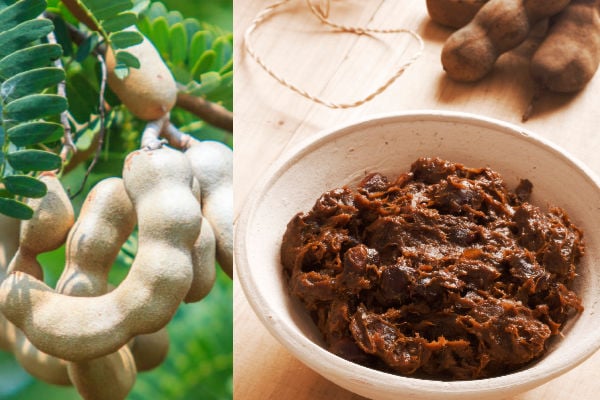 Tamarind paste is often used in Asian, Indian, and Middle Eastern cooking. It provides a potent burst of sweet and sour flavor with a citrusy undertone. Pad Thai, crab curry, and beef Rendang all taste better with a squeeze of this paste. The sour flavor can help balance a hot, spicy curry just as well as it adds sweetness to a Thai stir fry.
Tamarind paste can usually be bought from the Asian section of your supermarket or an Asian grocer. If you can't get your hands on any then you'll need a tamarind paste substitute that works as well as the original ingredient.

Table of Contents
What are the best alternatives to tamarind paste?
To replace tamarind paste in a recipe, the best option is to combine Worcestershire sauce with water, lemon juice, brown sugar, and tomato paste. You can also try using pomegranate molasses, or a mixture of lime juice and brown sugar.
1. Worcestershire sauce
Tamarind paste is sometimes used in Worcestershire sauce so it's a good starting point. But you'll need to combine it with some additional ingredients to make it work. Combine the following in a small bowl.
3 Tbsp Worcestershire sauce
2 Tbsp water
3 Tbsp lemon juice
2 Tbsp brown sugar
½ cup tomato paste
Use fresh lemon juice instead of the bottled type as it has better flavor. You can replace the lemon juice with lime or apple cider vinegar if needed.
2. Pomegranate molasses
This option is probably the second best choice for matching the flavor. Pomegranate molasses is a thick, dark syrup that's made from reducing pomegranate juice. It provides a combination of sweet and sour along with an astringent undertone making it a good option for cooking both Indian and Asian cuisine.
Use molasses in equal quantities as tamarind paste.
3. Lime juice and brown sugar
This will be an appealing option for many as the ingredients are readily available. Lime juice provides a hit of tart taste whilst the sugar provides some sweet balance. You won't get the same flavor that tamarind paste offers but in many dishes most wouldn't even notice the difference.
Use this lime and brown sugar in equal quantities. If the recipe calls for 1 Tbsp of tamarind paste then use equal quantities of this backup mixture.
Psst.. want the easy option? Simply buy Tamarind Paste from Amazon. It's also available from your local Asian grocer and some supermarkets.
4. Dried fruit and lemon juice
Combining equal parts of chopped prunes, dates, apricots, and lemon juice then adding to a small bowl of water is your first option. Cover the bowl and allow the fruit to soften for 20-30 minutes before straining out the water. Finally, blend the fruit and use equal quantities as tamarind paste.
The texture of the fruit is similar to tamarind but you won't quite achieve the same burst of tart that you get from the original ingredient.
Note: Raisins and lemon juice can also be used if you don't have any prunes, dates, and apricots.
5. Rice vinegar
If you have rice vinegar or white wine sitting around at home then combine equal parts of this with brown sugar. You'll achieve that combination of sour and sweet that'll allow you to finish your recipe without the tamarind paste.
Try to avoid using those cheap bottles of white vinegar as they have a harsh flavor that will easily overwhelm the food you're cooking.
Use this vinegar or white wine in equal quantities as tamarind paste.
Related reading: What is the difference between rice vinegar and mirin?
6. Marmalade
Whilst not a close match in flavor, a good quality citrusy marmalade can be used in equal portions in the dish. Marmalade has astringent, bitter and sweet notes that'll help provide depth of flavor to your next meal.
Use marmalade in equal quantities as tamarind paste.
7. Amchur powder
Amchur powder is the product of unripe mangoes and it is a popular ingredient in the North of India. It provides a combination of fruity, acidic, and sour flavors, similar to tamarind. Amchur is aromatic and tends to work best as a tamarind paste substitute in Indian cooking.
To achieve a paste consistency, mix equal parts of water and powder before using it in your cooking. Amchur paste should be used in equal quantities to tamarind paste.
8. Tamarind pulp
If you have a local store that sells tamarind pulp then you can create an authentic paste with it. Try to get your hands on the pulp without seeds; if not, you'll need to remove the seeds and separate the pulp as you make the paste.
Combine 2 Tbsp pulp with a half cup of warm water and let the pulp soak until soft. Then simply rub the pulp through your hands to create a paste. If your pulp has seeds, remove them at this stage. Once the pulp looks more like paste, strain out the water.

Interesting reading:
A comparison of fish sauce and stock.
Did you know? The tamarind tree produces fruit that look a lot like broad beans in their pods.
Frequently asked questions
Are tamarind paste and concentrate the same thing?
Tamarind paste and concentrate have similar flavors but the concentrate has a less fruity undertone and a more intense color. In general, using a lesser amount of concentrate will allow you to substitute concentrate for paste.
What is the ideal tamarind paste substitute in Pad Thai or Sambar?
The best substitute for tamarind paste in Pad Thai 2 Tbsp water, 3 Tbsp lemon juice, ½ cup tomato paste, 3 Tbsp Worcestershire sauce, 2 Tbsp brown sugar. Any paste you don't use can be stored in the fridge for up to a week.
Conclusion
Finding an exact substitute for tamarind paste is a challenge; the paste has a unique flavor that's both sweet and tart at the same time. It's usually combined with other ingredients so you can often get away with using an alternative.
The above eight alternative options are mostly common ingredients that you may already have in the kitchen. Whipping up a "quasi tamarind paste" should be quick and easy.
The best option, if possible, is to simply buy Tamarind Paste from Amazon. It's also available from your local Asian grocer for a more authentic taste. Many local supermarkets will also stock this product so see what you can find.

Cuisinevault.com is a participant in the Amazon Services LLC Associates Program, an affiliate advertising program designed to provide a means for sites to earn advertising fees by advertising and linking to amazon.com.