When browsing the takeout menu of your favorite local Chinese place, the long list of foreign dishes might make you feel dizzy. While you might be able to name all the main ingredients of your longtime favorites, it can be easy to mix up some of the others. Chow fun and mei fun are two types of Chinese noodles that are commonly confused—exactly what is the difference between them?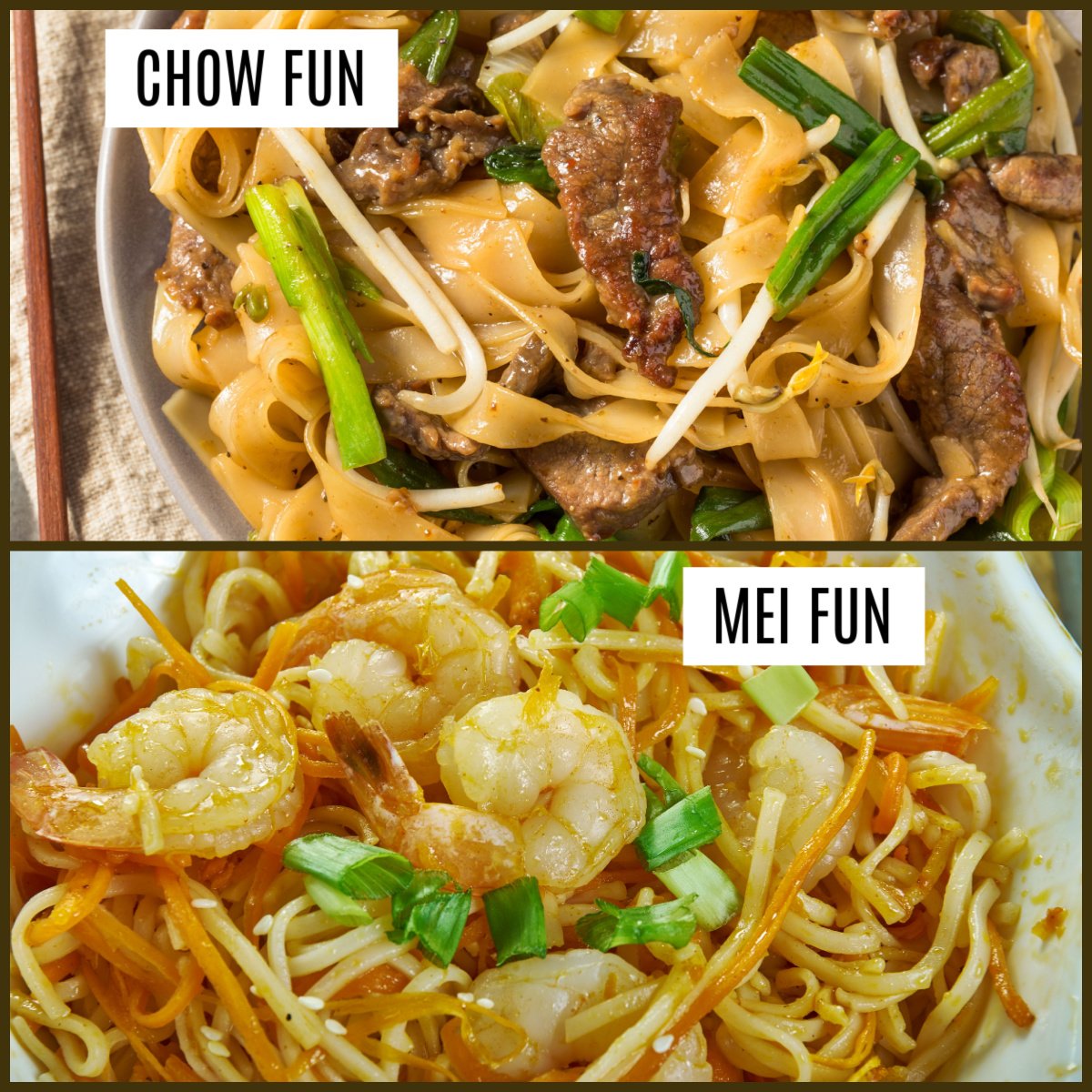 The main difference between chow fun and mei fun is thickness. Chow fun is wider, thicker, and chewier, whereas mei fun is thinner, similar to angel hair pasta. While it may appear to be a minor distinction, it makes a significant difference in the texture and applications of each type of noodle.
There's plenty to appreciate about each style, but to really know which you prefer, you'll have to learn more about what makes each of them unique.
Table of Contents
What is Chow Fun?
Chow fun has been enjoyed in China for decades, if not centuries. However, it is not known exactly where the popular dish got its start. What makes the noodle distinct is its wide shape, and it is found in a variety of different stir-fry dishes and soups.
Is Chinese food a good option for those with heartburn? Find out here.
Shape
Chow fun is probably most similar to the Italian pasta, fettuccine, which is known for its wide shape. However, what makes chow fun different from fettuccine is that it is generally thicker. Most chow fun is about 1 inch wide, though wider varieties are not unheard of. This wider shape makes the noodle chewier than others and also gives it more surface area to hold the sauce.
Texture
The extra thickness of chow fun gives them their own unique texture, which can change the way they are used in dishes. The most common ways to eat them are either boiled or fried.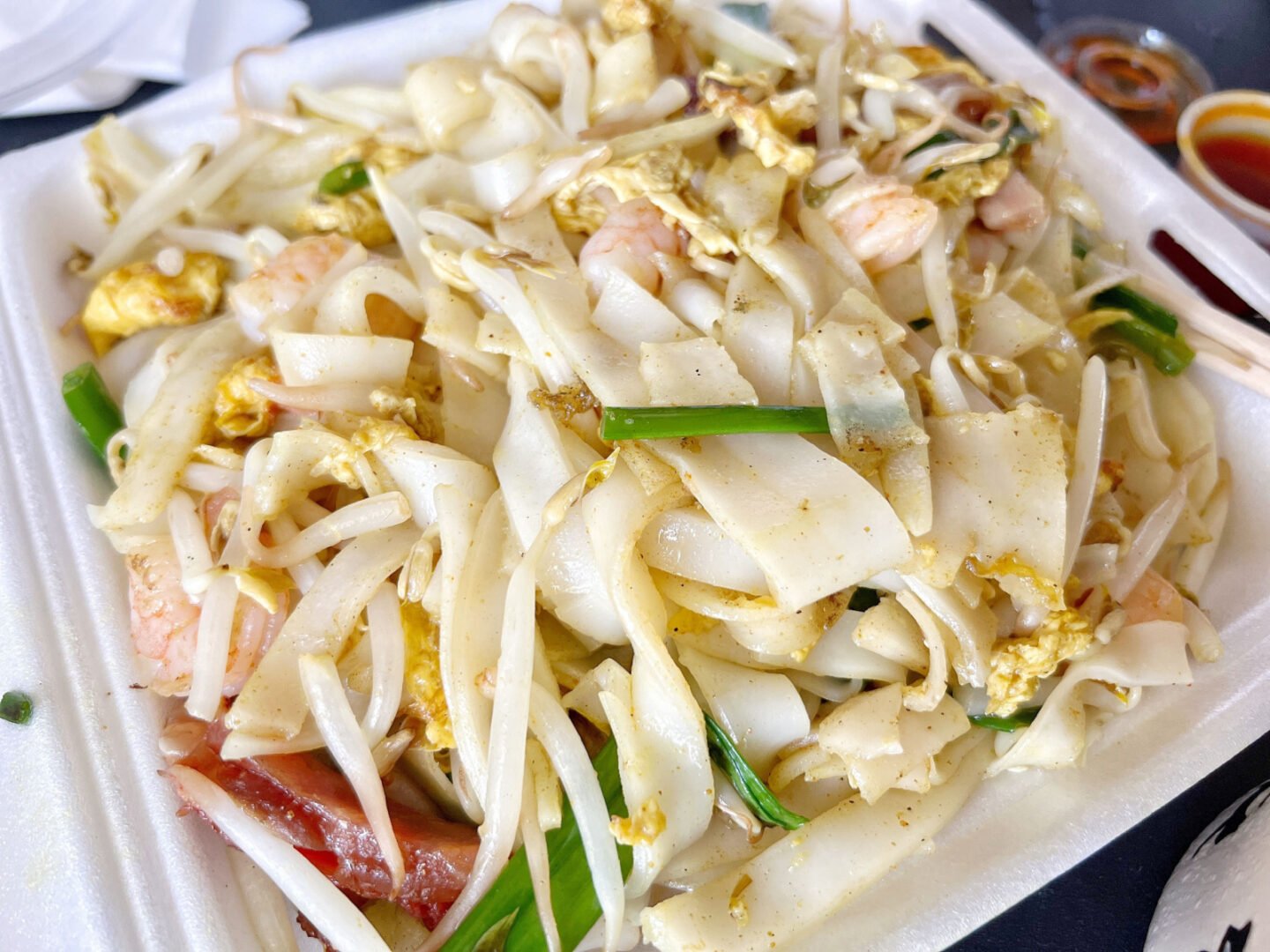 When boiled, chow fun noodles are at their softest and chewiest, taking on a dumpling-like quality. They can be added to soups and stews, or the water can be drained and they can be used like Italian pasta. However, unlike pasta, the fact that these noodles are made of rice gives them a slightly more delicate texture.
When fried, chow fun becomes a bit more crispy while still retaining much of its chewiness. The frying process removes some of the moisture from the noodles, making them less delicate. They are often cooked alongside meat and veggies in a stir-fry preparation.
Cooking with Chow Fun
One of the best things about chow fun is how versatile it is, and there are countless classic Chinese dishes that place it in a starring role. Between all these recipes, there are two main ways to prepare chow fun—wet frying and dry frying.
The most common way to cook chow fun is by "wet-frying," in which the noodles are cooked with other ingredients in a thick sauce. The sauce is thickened with cornstarch or flour so that it coats the noodles as they cook.
Dry fried chow fun is similar, but rather than using a thick sauce, it relies on thinner seasoning sauces like rice vinegar and soy sauce. These liquids absorb into the noodles without leaving any excess moisture in the final dish.
If you're not sure what sauce to use in your next chow fun dish, have you considered hoisin sauce or oyster sauce?
What is Mei Fun?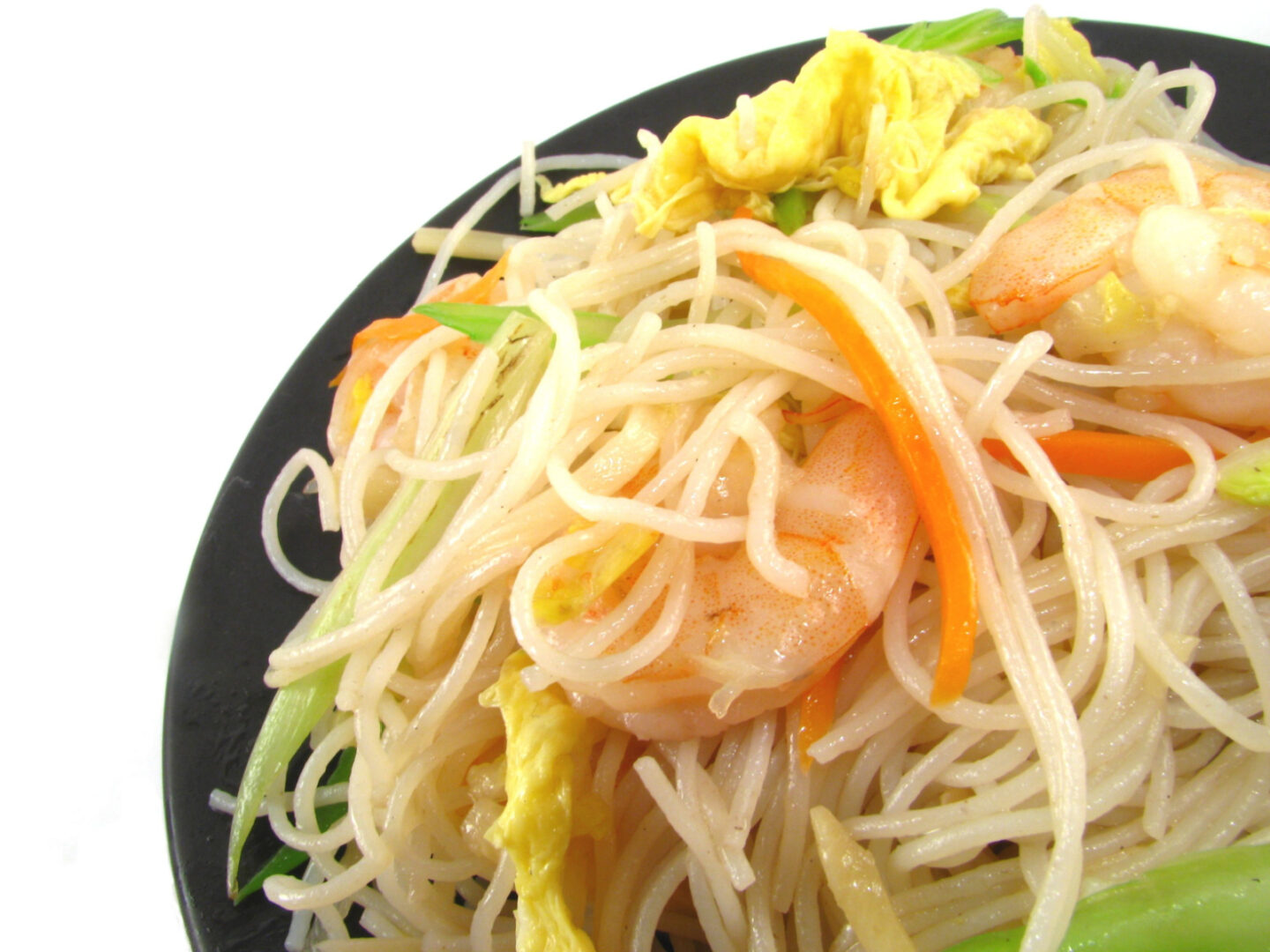 Mei fun is the polar opposite of chow fun, showing off exactly how diverse Chinese noodles can be. Unlike the thick and chewy chow fun noodles, mei fun is thin and delicate. Sometimes known as rice vermicelli, they are sometimes confused with cellophane noodles, which use mung beans instead of rice flour.
Shape
Mei fun noodles are most likely related to Italian angel hair pasta. They are very thin, even thinner than spaghetti, and are usually served with lighter sauces and small-chopped ingredients. The main difference they have compared to angel hair is that they are much more delicate and need to be handled carefully.
Texture
Just like chow fun, mei fun noodles are made of rice flour. While in chow fun, this gives the noodle a squishy, chewy texture, it hits the palate slightly differently in mei fun. In this thinner form, they are very light and delicate.
In some cases, mei fun noodles are deep-fried, completely transforming their texture. Rather than being light and delicate, they become as crunchy as potato chips. Since they're so thin, they can still be chewed easily, resulting in a satisfying snap with each bite.
Cooking With Mei Fun
Since mei fun has such a unique size, shape, and texture, there are plenty of surprising ways to incorporate the noodle into dishes. This is probably why they crop up so commonly across many different East Asian cuisines. You can find them in Chinese, Japanese, Malaysian, Indonesian, Vietnamese, Thai, and Cambodian dishes.
The most common ways mei fun is served are stir-fried, chilled, and deep-fried.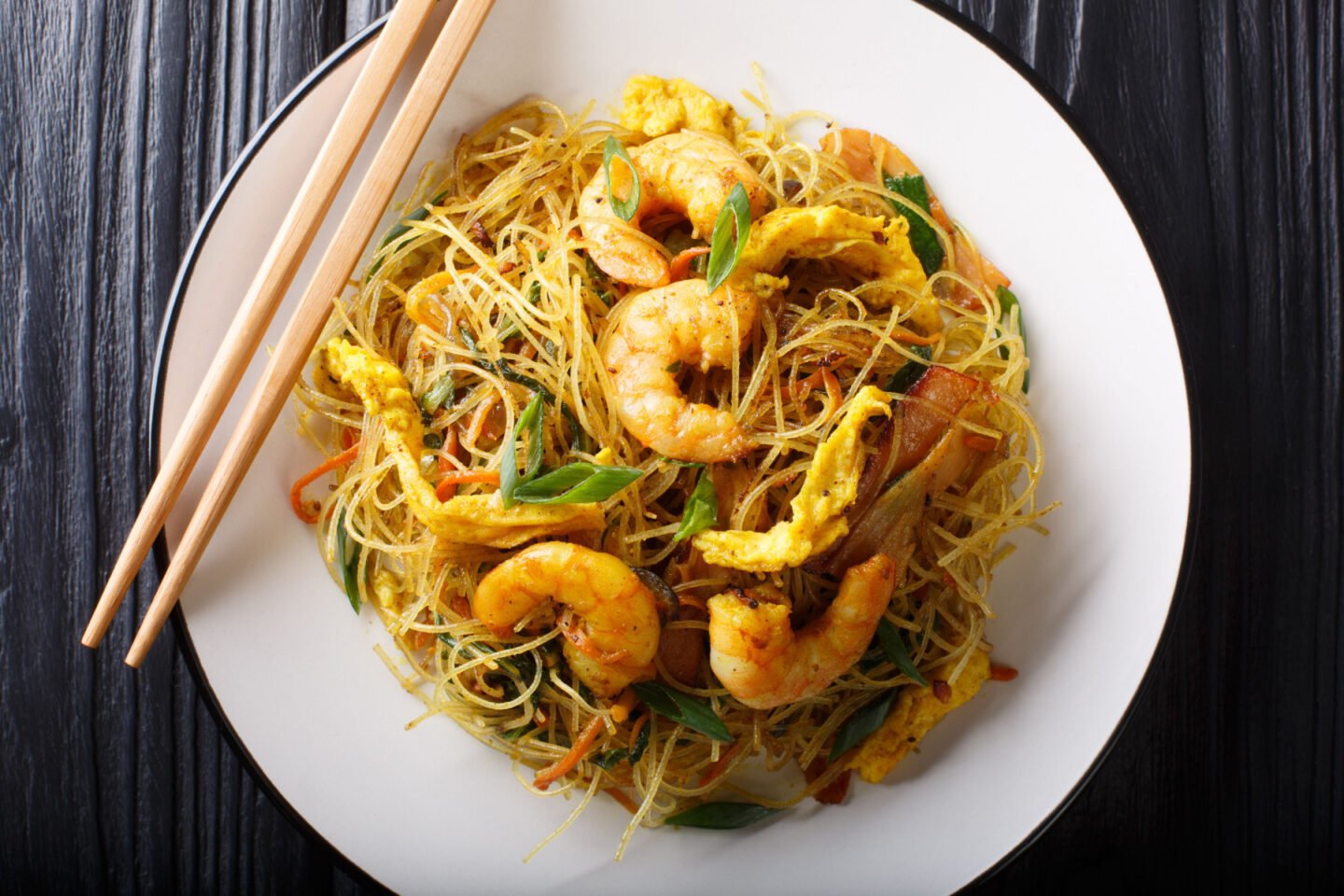 Stir-frying is definitely the most common way to serve these noodles, and it is the way it is most often used in Chinese and Japanese cuisine. Here, the noodles are pre-soaked to soften them up. And then, they are thrown into a hot pan along with meat, vegetables, and sauces. The noodles soak up the sauce quickly and are usually fully cooked in a span of a minute or two.
Aside from being served in more traditional noodle dishes, mei fun can also be incorporated into salads. In these cases, they are often chilled to pair better with the crunchy texture of raw vegetables. To get the right texture, the noodles are soaked in hot water. And then, they are returned to the refrigerator until they reach the right temperature.
Finally, mei fun can also be deep-fried to give the noodle a light and crispy texture. Just like in the other two methods, the noodle is soaked in hot water to make it soft. However, once they're ready, they're then added to hot oil for a short time until they are dark brown and completely stiff. Mee Krob is one famous Thai dish that uses deep-fried mei fun.
Frequently Asked Questions
Do I need to boil rice noodles?
Whether you're cooking chow fun or mei fun, you do not generally boil the noodles. Boiling rice noodles will tend to break down their starches too quickly, literally dissolving the noodle in your pot. Instead, simply soak them in hot water until they are pliable enough to add to your hot pan.
What dishes use chow fun?
Hundreds of dishes use chow fun as a main ingredient, but the most popular is the classic Cantonese beef chow fun. In this dish, the noodles are covered in a thick beef sauce and served alongside large chunks of meat.
What dishes use mei fun?
Mee krob is a popular Thai dish that takes full advantage of the thin shape of mei fun noodles. It involves deep-frying them until they are completely stiff and crispy and then covering them in a sweet sauce.