Shrimps are highly nutritious seafood that many people love worldwide. They're low in calories, high in protein, and provide healthy fats, vitamins, minerals, and antioxidants. They make for healthy meals, but they're a delicious delicacy, too. So, it's no wonder that shrimps are the most popular type of seafood.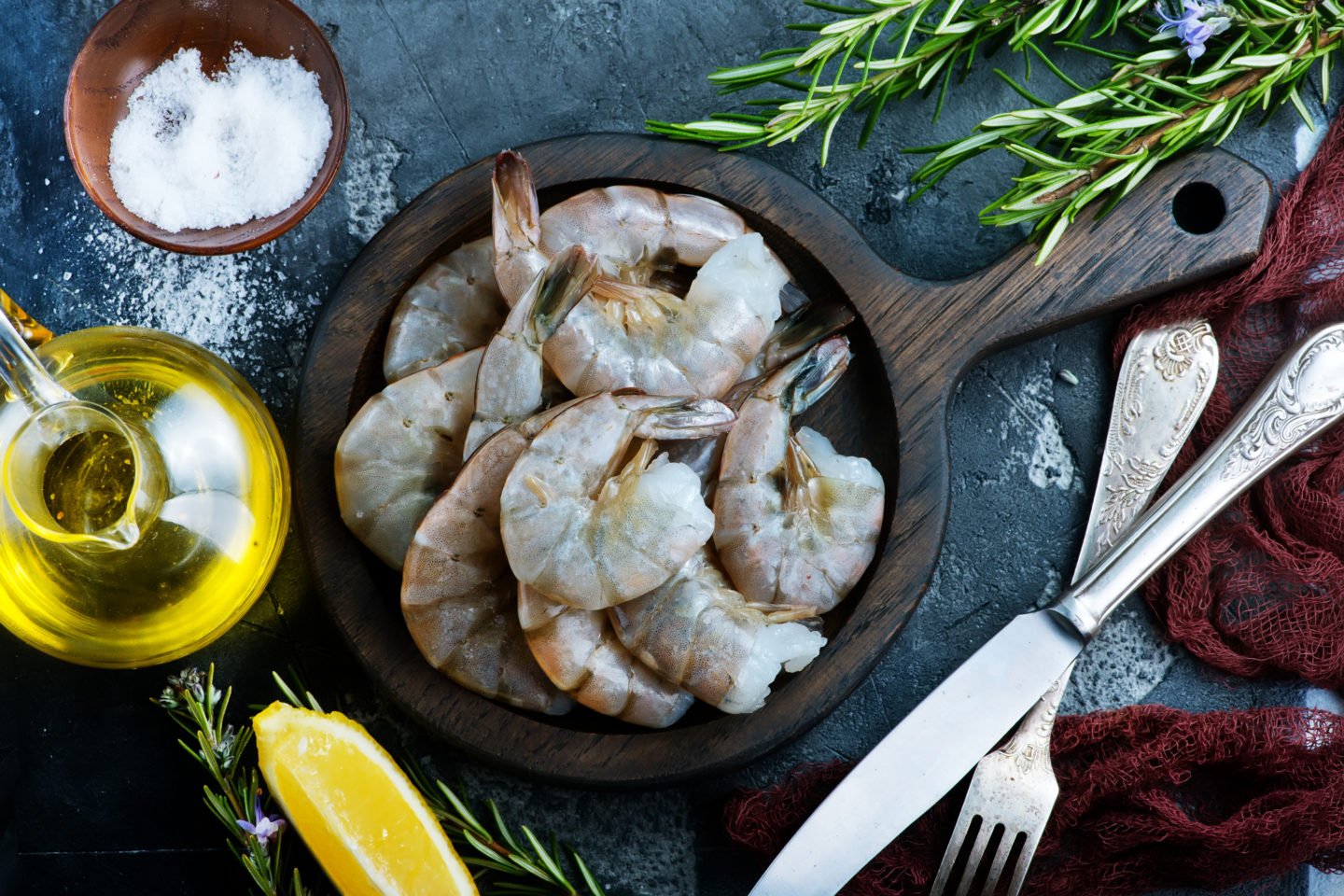 While shrimp serve as the main ingredients in many cuisines, many people believe they cannot be eaten raw. That is because shrimp are bottom feeders, and their diets consist of algae, bacteria, other microorganisms, and even dead fish, shrimp, and plants. Thus, like all raw food, raw shrimp may contain bacteria, viruses, and even parasites, causing food poisoning or illness.
You can eat raw shrimp, but it is not always safe. This article will list everything you need to know before eating raw shrimp, including its risks, health benefits, and a guide on choosing shrimp and preparing it for raw consumption.
Table of Contents
Types of Shrimp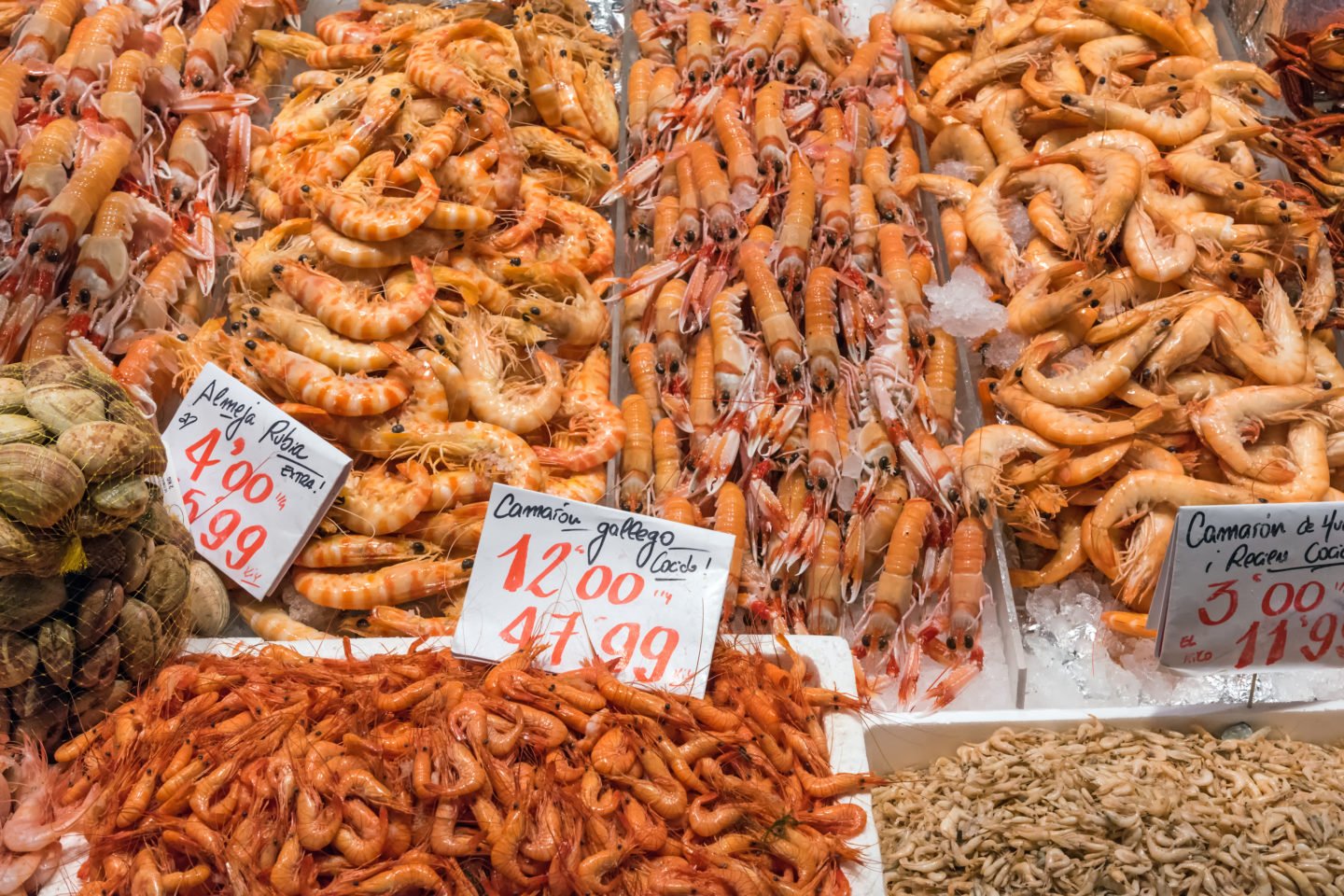 There are hundreds of species of shrimp known today, but only a small portion are commercially available. The term "shrimp" refers to similar-looking shellfish with long bodies and ten legs. These crustaceans primarily reside at the bottom of the sea.
They live in saltwater and freshwater, but most shrimp available for culinary use come from farms. Coldwater shrimps are typically small, while the biggest freshwater shrimp can grow up to 19 inches long if measured, including its claws. Coldwater shrimps are caught in the oceans, while warm water shrimps can be caught in tropical areas.
The most common types of shrimp are pink shrimps, white shrimps, rock shrimps, brown shrimps, red shrimps, and tiger shrimps.
What is the difference between a prawn and a shrimp?
Prawns are crustaceans that often get confused for shrimp. They can be used interchangeably in the kitchen, and both are found in warm and cold water. However, shrimps live near the bottom of the water since they carry their eggs, while prawns settle on plants and rocks in calm waters where they can lay theirs.
Generally, these similar-looking crustaceans are called shrimps in America, while bigger ones are called prawns.
Meanwhile, in Europe, the term more often used to call them is "prawns." Prawns are generally larger than shrimp, but some shrimp varieties can grow just as big as prawns.
Aside from their appearance, culinary use, and habitats, prawns and shrimps also have similar nutritional profiles. Both provide healthy amounts of protein, vitamins, minerals, and antioxidants.
Shrimp Sizes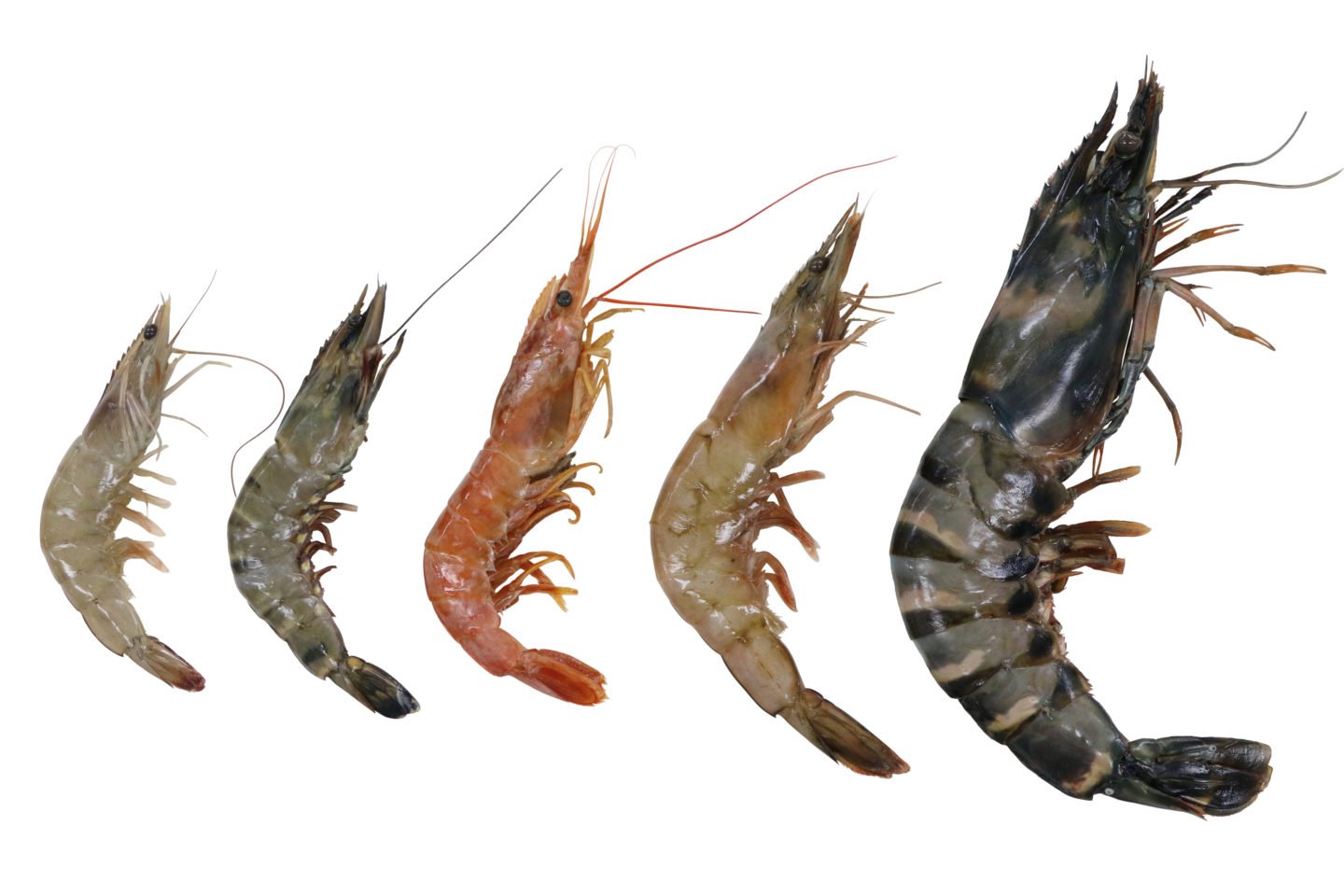 Shrimp can be as small as a few millimeters and grow to about 8 inches. On average, shrimp measure 1.5 to 3 inches long, while larger crustaceans are called prawns in the United States.
Shrimps come in various sizes, and another way to tell what size it is is by its count per pound. The more shrimps needed to make up a pound, the smaller the size of the shrimps. Stores may differ in which shrimps they size as "Large" or "Medium," so the best way to tell the shrimp size is to look at the count per pound rather than the written size.
| | |
| --- | --- |
| Size | Shrimp Count Per Pound |
| Extra Colossal | U/10 |
| Super Colossal | U/12 |
| Colossal | U/15 |
| Extra Jumbo | 16/20 |
| Jumbo | 21/25 |
| Extra Large | 26/30 |
| Large | 31/35 |
| Medium Large | 36/40 |
| Medium | 41/50 |
| Small | 51/60 |
| Tiny or Extra Small | 61/70 |
To understand these counts per pound, simply read the "U" in the colossal shrimp sizes as "under" or "less than." If the shrimp count per pound says 41/50, there should be 41 to 50 of that shrimp size per pound.
Is it safe to eat raw shrimp?
Raw shrimp may contain bacteria, viruses, and parasites that could lead to food poisoning or illnesses. Although many believe that you can only eliminate harmful bacteria through high-heat cooking, raw shrimp can be safe to eat when prepared properly.
Like all food, there is a risk of food poisoning or other foodborne illness, but you should be safe as long as you choose the shrimp correctly and take enough precautions. To avoid contamination and disease, you should never consume raw shrimp that has not been properly prepared.
Do people actually eat raw shrimp?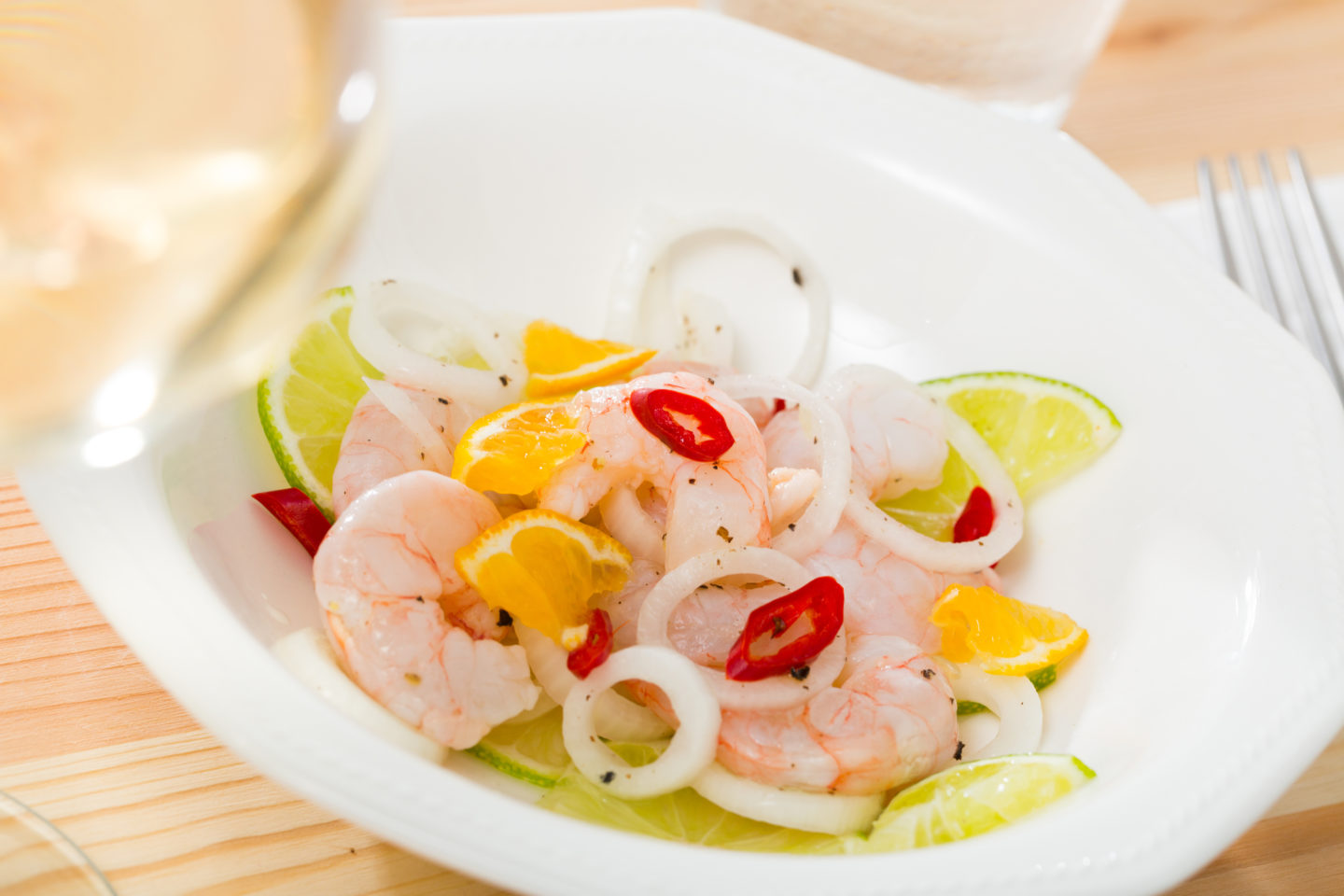 Many people eat raw shrimp worldwide. In fact, raw shrimp is a popular delicacy in many countries.
Japan is one example, where you can often find fresh shrimp sashimi, shrimp nigiri, and shrimp sushi made with uncooked shrimp. In China, people eat drunken shrimp or drunken prawns, which can be eaten cooked or raw.
Many people also enjoy shrimp ceviche worldwide, which originated in Peru. Shrimp ceviche is typically made with raw shrimp, lime or lemon juice, herbs, onion, and other optional ingredients.
Who should not eat raw shrimp?
Raw shrimp can contain viruses and harmful bacteria, so those with weaker immune systems should avoid eating raw shrimp. The Food and Drug Administration (FDA) warns pregnant women, young children, the elderly, and those who are immunocompromised against eating raw seafood. This is to help them avoid food poisoning and other foodborne illnesses.
Shrimp sashimi may be a delicacy, but those who aren't entirely healthy should avoid eating raw shrimp. Of course, individuals with shellfish allergies must also avoid eating shrimp.
What are the potential dangers of eating raw shrimp?
Experts advise against eating raw shrimp because they can contain harmful bacteria, viruses, and even parasites. Ingesting these could lead to illness and, in severe cases, death.
Pregnant women, children, the elderly, and other individuals with weakened immune systems should always take extra care to avoid eating raw and undercooked shrimp. Of course, those with a shellfish allergy must also avoid eating any kind of shrimp, whether raw or cooked.
Food poisoning, vibriosis, and cholera are just some of the potential dangers of eating raw shrimp. Many other foodborne illnesses can be caused by eating raw shrimp that has not been properly prepared.
Food Poisoning
Foodborne illness, more commonly referred to as food poisoning, is one of the biggest potential dangers of eating raw shrimp. It is a common illness caused by the infection or irritation of one's digestive tract. The symptoms of food poisoning may include nausea, vomiting, diarrhea, stomach cramps, and fever.
Food poisoning is often caused by consuming contaminated food and drinks that contain bacteria, viruses, or parasites. In 2015, the World Health Organization (WHO) estimated that over 90% of food poisoning cases are caused by Salmonella, Vibrio, and E. coli, which can all be found in raw shrimp.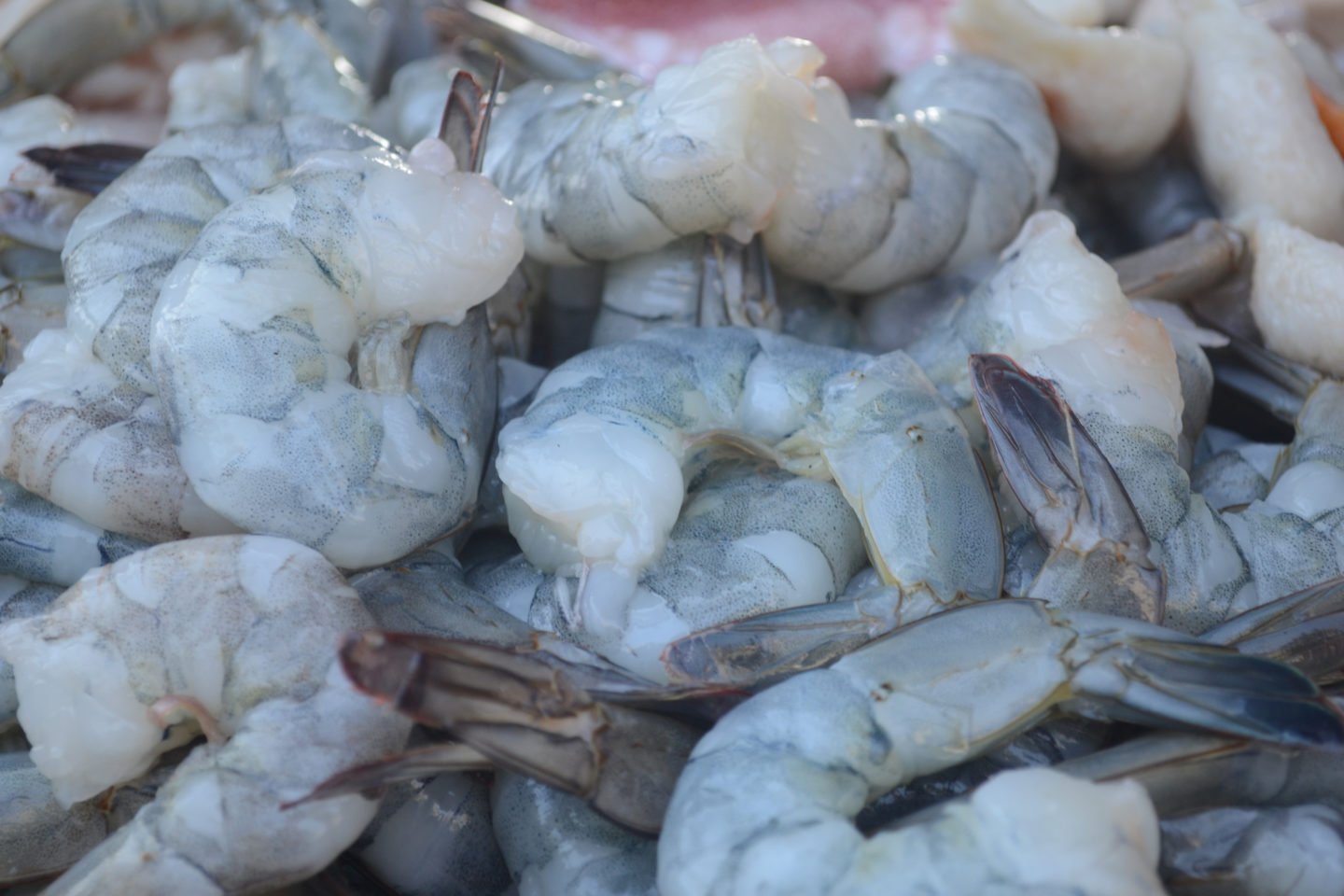 Vibriosis
Vibrio infection, or vibriosis, is another potential danger of eating raw shrimp. It is an illness caused by ingesting the Vibrio bacteria. One of the 70 species of Vibrio is the Vibrio vulnificus, most often found in seafood, particularly in raw oysters and other raw shellfish, including shrimp.
One can get infected by this pathogen when eating uncooked or undercooked seafood. However, you can also get vibriosis if an open wound comes into contact with raw or undercooked seafood, its juices, or contaminated water that contains the Vibrio bacteria.
Vibriosis symptoms may include watery diarrhea, fever, chills, nausea, vomiting, and abdominal cramps. Symptoms may start within a day of infection and last 2 to 3 days. Vibriosis is generally mild to moderate, but hospitalization may be needed in severe cases.
In addition, a 2015 study showed that 75% of 100 Vibrio strains found in raw shrimp are resistant to antibiotic treatment. As such, not even farmed shrimp treated with antibiotics are completely safe to eat raw.
Cholera
Cholera infection is an illness that occurs when the Vibrio cholerae bacterium infects the intestines. Once inside the body, the bacterium produces a toxin in the small intestine that causes watery diarrhea. This can lead to a rapid loss of body fluids and electrolytes.
Individuals with cholera often experience mild to no symptoms, but it can also be severe and lead to dehydration and death. These symptoms include watery diarrhea, vomiting, abdominal pain, fatigue, thirst, and leg cramps. According to the Centers for Disease Control and Prevention (CDC), Cholera is very rare in the US, but people can still get it.
Cholera is a potential danger when eating raw shrimp because the bacteria survive by attaching to the shells of shrimp and other shellfish. Thus, eating raw or undercooked shellfish could lead to cholera if it's contaminated with cholera bacteria.
Are there any benefits to eating raw shrimp?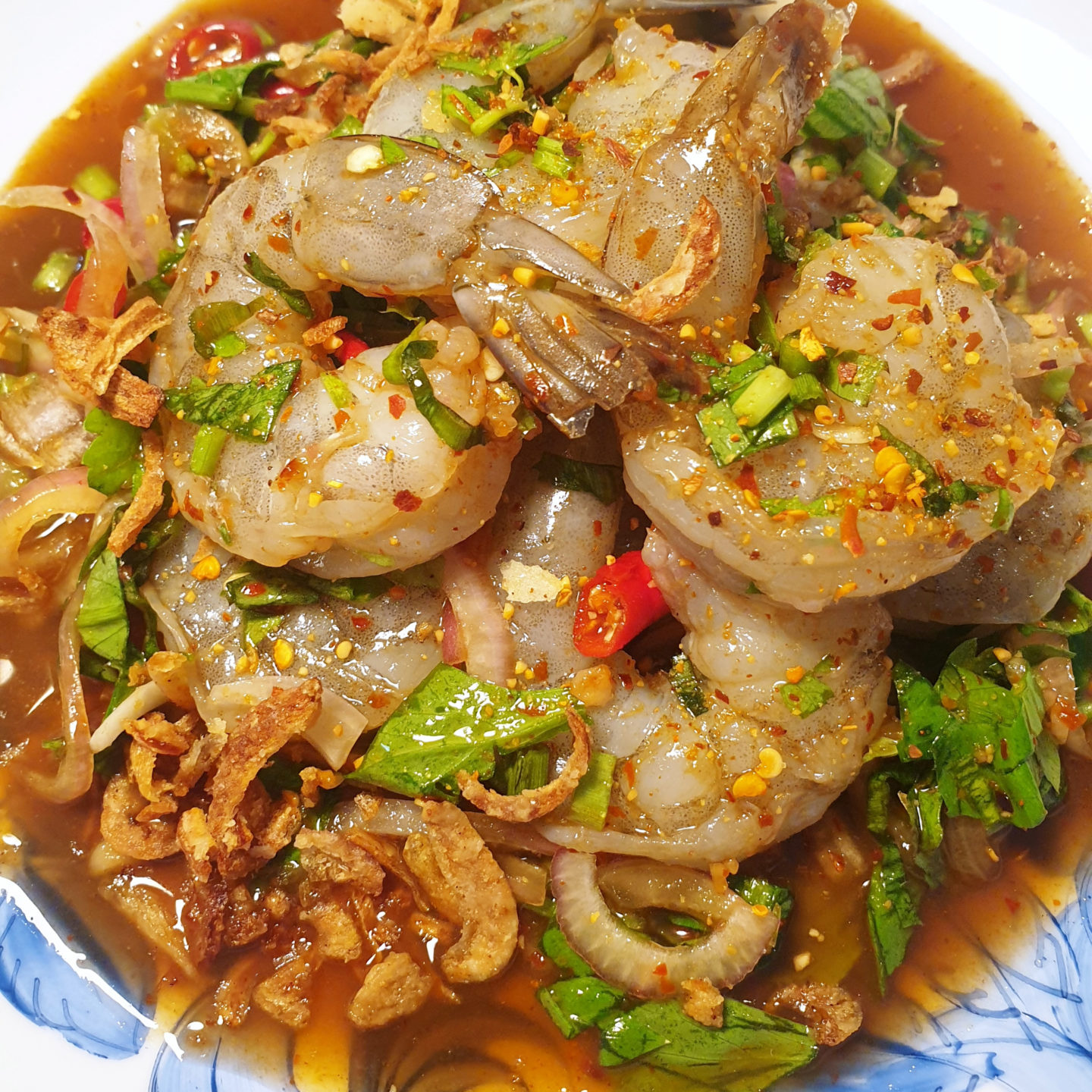 Since eating raw shrimp may lead to food poisoning or other illnesses, why do people continue to eat raw shrimp? Raw shrimp is actually nutritious; it is a good source of protein, vitamin B12, and phosphorus. Raw shrimp also contains a healthy amount of the antioxidant selenium and omega fatty acids. However, note that raw shrimp has a high cholesterol content.
Another reason people continue to eat raw shrimp and consider it a delicacy is its taste and texture.
Raw shrimp can be tender, firm, or crisp but soft, depending on the variety. Raw shrimp typically tastes sweet, but some varieties may have other subtle tastes shining through. Shrimp sashimi brings out the natural flavors of raw seafood, which is another reason many consider it a delicacy.
As long as the shrimp is chosen, stored, and prepared correctly, healthy people are at low risk of getting seriously ill from eating raw shrimp.
What can you do about food poisoning caused by shrimp?
In most cases, symptoms are mild and will go away within a couple of days. However, vomiting and diarrhea could cause a rapid loss in body liquids, leading to dehydration. In this state, the body will find it more difficult to get rid of the infection. Thus, dehydrated individuals may need to go to a hospital to get an IV drip.
If you or anyone you know has food poisoning, here are a few things you can do at home until the symptoms go away on their own.
Drink plenty of water, broth, or electrolyte drinks to replace the fluids you lose through vomiting and diarrhea. You can also suck on ice chips if you cannot stomach too much liquid.
Avoid eating anything until your stomach settles down. That may take a few hours.
Avoid eating fatty foods. Stick to bland, low fat, low-fiber foods such as bread, rice, applesauce, toast, bananas, oatmeal, porridge, and plain crackers.
If you can help it, avoid taking any over-the-counter (OTC) medicines to stop your vomiting or diarrhea. That is how your body flushes out the harmful bacteria, virus, or parasite that caused the infection.
If mild symptoms last more than three days, you need to see a doctor. However, if you experience the following, seek medical help immediately. These are serious symptoms that may lead to further complications.
Dizziness
High fever
Extreme thirst
Muscle weakness
Paralysis
Severe abdominal pain or cramps
Bloody stool or vomit
If high-risk individuals get food poisoning, they should see a doctor immediately. High-risk individuals include the elderly, infants and small children, people with chronic illnesses, people with weak immune systems, and pregnant women.
How to Choose Shrimp Properly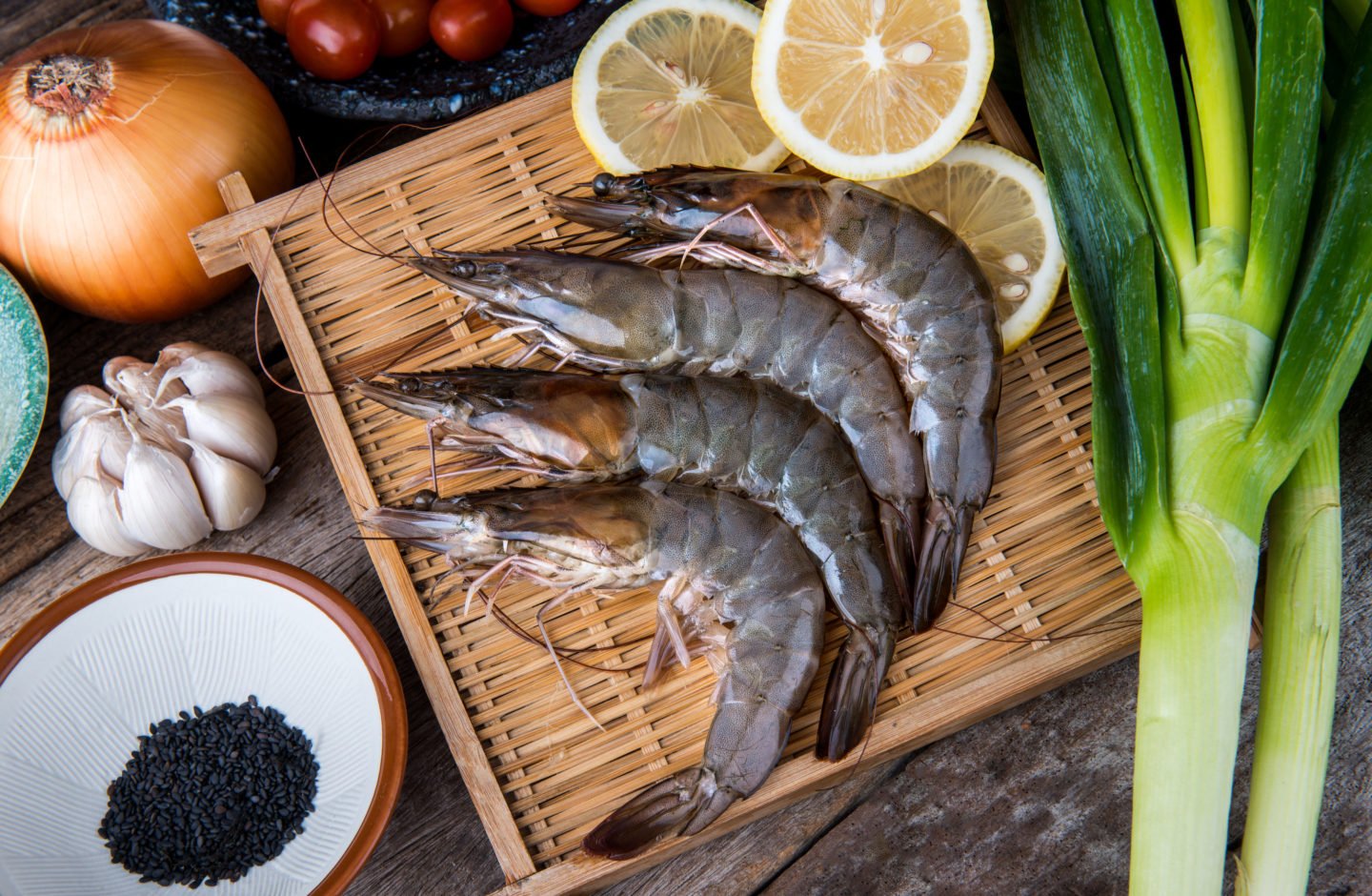 If you plan to eat raw shrimp, you should buy sushi-quality shrimp from reputable sources. You will significantly lessen the health risks from eating raw shrimp as long as you choose and prepare your shrimp properly. Below are some tips for choosing the best shrimp to eat raw.
1. Always buy fresh shrimp.
When buying shrimp to eat raw, the best place to go is a local port or fish market that sells sashimi-grade shrimp. To minimize the risk of food poisoning, make sure that the shrimp has undergone the following process listed by the FDA when buying shrimp to eat raw:
Freeze and store the shrimp at -4 degrees Fahrenheit or lower for 7 days.
Freeze at -31 degrees Fahrenheit or lower until solid, then store at -31 degrees Fahrenheit for 15 hours.
Freeze at -31 degrees Fahrenheit or lower until solid, then store at -4 degrees Fahrenheit or lower for 24 hours.
According to the FDA, this is how to kill parasites found in fresh shrimp.
If you have no way of buying fresh shrimp, your next option is to go to delis or seafood stores. Some may sell Individually Quick Frozen (IQF) shrimps, which are frozen a short while after they are caught. This method also preserves the quality of fresh shrimp well.
However, if you cannot buy fresh shrimp, you may be better off cooking it. When stored properly, block-frozen shrimps can last for several months, so there is no way to guarantee how fresh the frozen raw shrimp is when you buy it. Never eat block-frozen shrimp raw.
Shrimps bought from the supermarket or grocery store are the same. You will be unable to tell how long they have had the shrimps. Only buy fresh, live, or frozen sashimi-grade shrimp if you plan to eat raw shrimp.
How to Know If the Shrimps are Fresh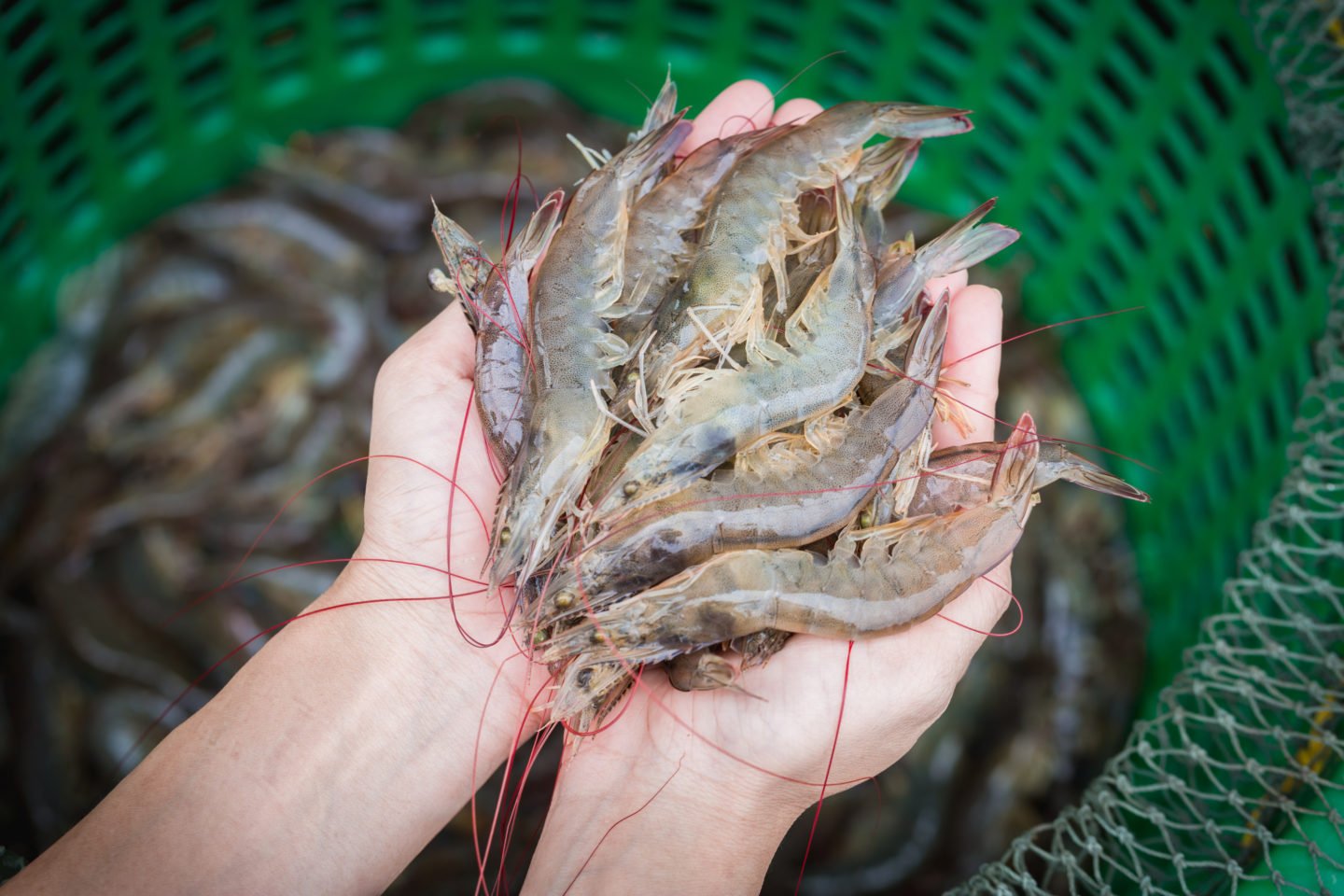 When buying fresh shrimp, look at the shrimp shells and pay attention to the following:
Fresh shrimp should have firm, shiny, and translucent shells. If the shrimp shell has been removed or is not intact, do not buy it.
The shrimp's shell should not be discolored. Any sign of discoloration may mean that its meat has gone stale.
Smell the shrimp to know if it is fresh. Truly fresh shrimp should smell very mild and slightly salty but never fishy.
If you spot any black spots on the shrimp, move on. Black spots may be a natural and harmless enzymatic reaction, but they can also be a sign of improper harvesting or processing.
2. Store your shrimps properly.
You should consume fresh shrimp within two days of purchase. However, if you don't plan to consume your shrimps the same day you buy them, rinse them thoroughly under cold, running water, then pat them dry. Place them in an airtight container or loosely wrap them with wax paper before placing them in the coldest part of the refrigerator.
You can keep your shrimp in the fridge for a night or two. Make sure that the temperature in your refrigerator is 40 degrees Fahrenheit or below. Otherwise, you should place them in the freezer. Note that thawing shrimps will make them lose some of their texture.
If you bought frozen shrimp, you could simply place them in the freezer. However, remember that you should never eat raw frozen shrimp. Always remove the shrimp head before freezing. You can also remove the shells or keep them on until you decide to cook the shrimps.
You can also store cooked shrimp in the freezer, but it will gradually lose its flavor and texture. Always store your shrimp properly to prevent bacteria from growing and reduce the risk of getting food poisoning.
3. Keep up-to-date about the condition of the water.
Always know the water condition to avoid buying or consuming potentially contaminated seafood. In particular, algal blooms produce harmful biotoxins that can sicken or kill animals and even humans. Algal blooms can be locally known as "red tides" or "brown tides."
According to the CDC, the marine biotoxins produced by algal blooms cannot be destroyed even by freezing or cooking. So always take extra precautions to avoid potentially contaminated seafood.
How to Prepare Raw Shrimp Safely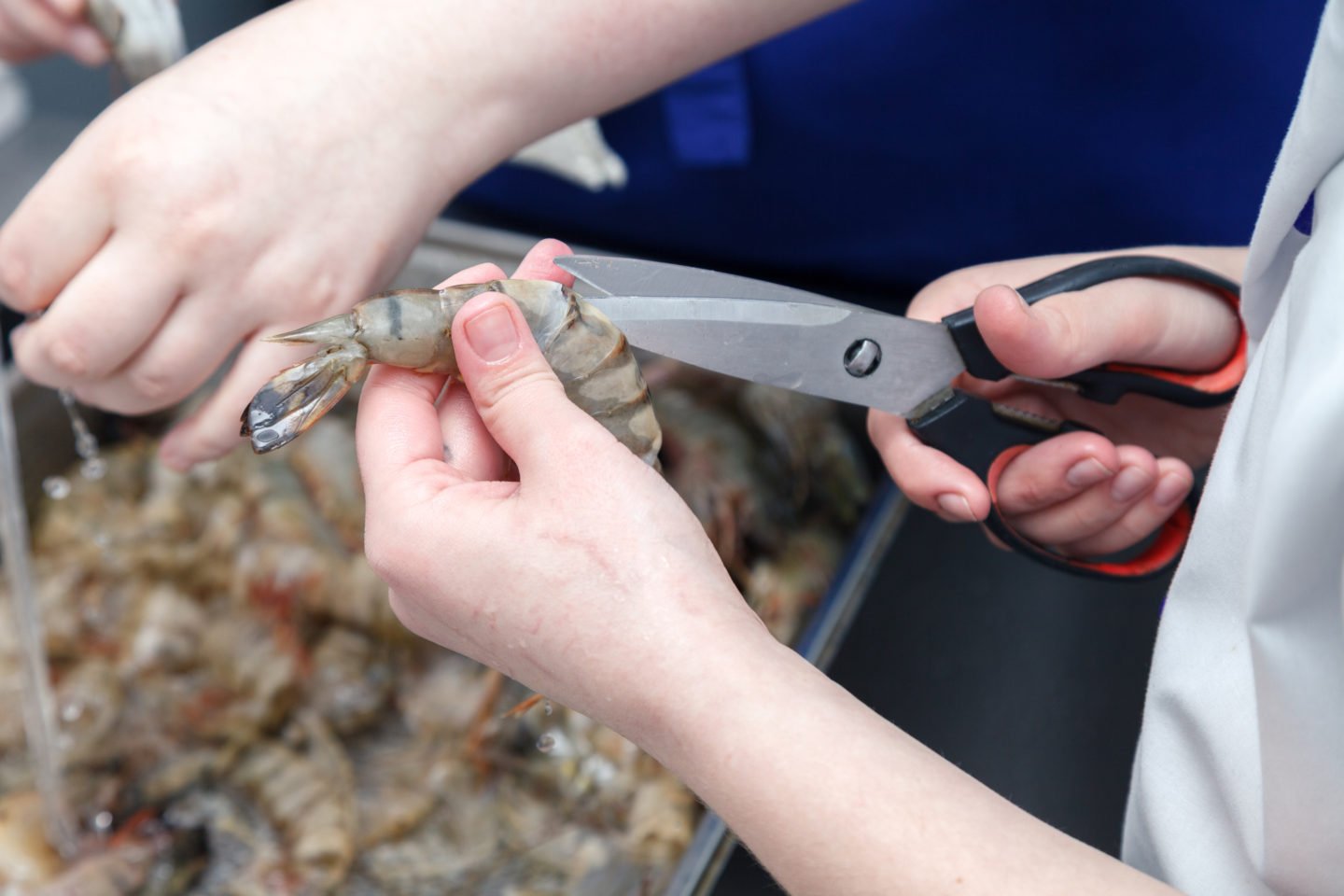 Once you have the fresh or live shrimp in hand, wash it thoroughly. Doing so will remove any dirt and visible harmful agents from the shrimp, but simply washing cannot kill any parasites in the shrimp.
You can only get rid of the parasites by cooking or freezing the shrimp at a specified temperature for some time. If you bought fresh or live shrimp, make sure to follow the guidelines set by the FDA to get rid of any parasites in the shrimp.
On the other hand, if you bought sushi-quality shrimp, you can simply wash it, peel it, pat it dry, then serve it.
Keep the raw shrimp separate from any other food to avoid food contamination. Afterward, wash the cutting board, plates, utensils, and anything that touched the raw shrimp with soap and hot water.
While you can lower the risk of food poisoning, eating raw shrimp will always have this risk. Only by cooking shrimp thoroughly will any bacteria and viruses present be killed. So if you have any doubt, consider cooking your shrimp before eating it.
Related Questions
How long can you keep uncooked shrimp outside?
You should never leave raw shrimp out of the refrigerator for more than two hours. If temperatures are above 90 degrees Fahrenheit, place it in the refrigerator before an hour is up. Harmful bacteria can grow quickly on raw food at warm temperatures.
Can you eat raw shrimp that was left out overnight?
No. If you have left uncooked shrimp or other perishable food out of the refrigerator for more than two hours, consider them unsafe to eat. This time shortens to one hour on warm days (90 degrees Fahrenheit).
Can you get food poisoning from cooked shrimp?
Yes, you can still get food poisoning from eating cooked shrimp and any other food. Cooked food can lead to food poisoning if it is contaminated. If you are unsure how long it has been sitting unrefrigerated, throw it out.
Is it safe to eat raw shrimp ceviche?
Yes, it can be safe to eat raw shrimp ceviche. As with eating shrimp sashimi, you can eat raw shrimp ceviche safely as long as professional chefs have prepared it.
How do you know if shrimp has gone bad?
Fresh shrimp should be firm, translucent, and have a mild smell. If it has a fishy smell, smells like ammonia, is slimy or mushy, or looks faded, it is most likely spoiled shrimp. If your shrimp seems bad, do not taste it to check if it is still good. Throw it out immediately.