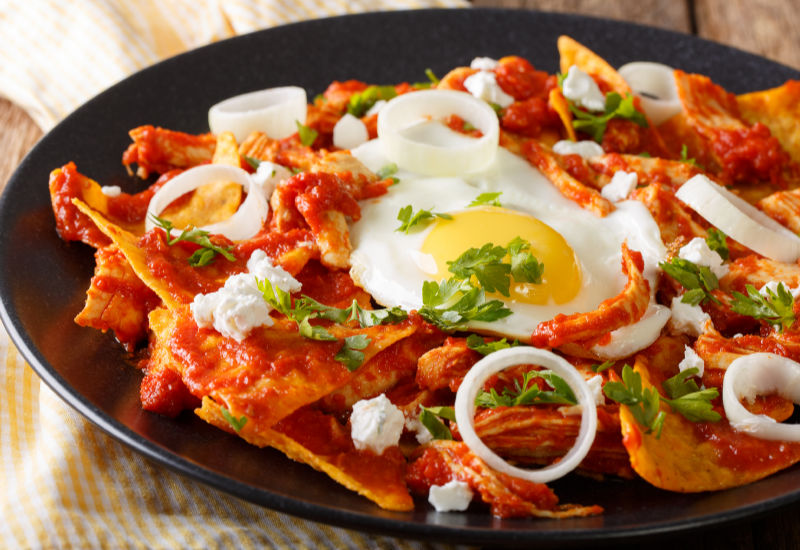 Unless you're familiar with Mexican breakfast foods, you may not know the similarities and differences that Migas and chilaquiles (pronounced "cheelah-kee-les") hold. They are both common Mexican dishes with similar ingredients and cooking methods, however, they do carry a few subtle differences. In this article, we'll be discussing the differences between migas and chilaquiles, and hopefully, by the end of it, we might just have the pronunciation of the latter down pat!

Table of Contents
How migas and chilaquiles differ
Ok, let's get down to the nitty-gritty of it. Migas and chilaquiles are the Tex-Mex version of an English bubble and squeak. Both contain a handful of the same base ingredients: cheese, onion, tomato, chili, egg, and tortillas or corn chips, usually leftover from dinners prior. Depending on family recipes and regional differences, these ingredients can vary slightly; some of the more adventurous recipes may even call for additional, non-traditional ingredients. But all in all, the similarities are noticeable.
Migas will generally involve the base tortilla bread or corn chips roughly crushed and scrambled with a mix of egg, chili, and tomato, topped with salsa, refried beans, and cheese (or a similar variation of this). Chilaquiles, however, tend to have their corn chips soaked and fried in salsa (to achieve that crunchy goodness) before being topped with more salsa, chili, refried beans, fried eggs, and chicken or beef to complete the dish.
You're going to find that migas will have a softer texture than chilaquiles. They call for fried corn chips, rather than mixing them in with the scramble. However, the taste will generally remain similar if the same base ingredients are used (chili, tortillas, or corn chips and eggs). The dish will vary according to whatever ingredients you choose to add in.
Have you ever wondered where these breakfast dishes originated? Somebody, a long time ago, decided they were going to be super thrifty and take some of their leftover ingredients, throw 'em in a pan, and create a delectable breakfast feast. Honestly, we're not sure what came first, the migas or the chilaquiles. Many do speculate that it was chilaquiles though. If you do know, shout out in the comments.
No article explaining the difference between migas and chilaquiles would be complete without a recipe for either one of them. On that, we deliver!
Useful reading: Huarache vs. sope - what's the difference?
Tex-Mex Migas Recipe
Serves: 2. Prep time: 5 minutes. Cooking time: 10 minutes.
Ingredients
½ onion, diced
1 chili, diced
2 cloves of garlic, diced
6 cherry tomatoes, halved
1 green pepper, diced
2 eggs
A small bag of corn chips
½ cup shredded cotija cheese
½ avocado, diced
Cilantro, to garnish
Method
Sauté the onion, chili, garlic, tomato, and green pepper in a deep fry pan until they are golden brown and aromatic.
Whisk the eggs together in a separate bowl, then pour over the sautéed mix in the fry pan. Stir until scrambled.
Toss in the corn chips and cheese, stirring until combined. Cook until you're happy with the consistency of the eggs.
Remove from heat and add avocado and cilantro to garnish, then scoop onto a plate of your choice. Enjoy the perfect Tex-Mex breakfast migas!
Quick Tip:
If you don't have any authentic cotija cheese at home, choose one of these alternatives.
Fast Facts
Migas means "crumbs" in Spanish. This refers to the fact that migas are a mix of leftover ingredients, including potentially stale crushed tortilla bread and/or corn chips.
Chilaquiles were introduced to America in 1898 via "The Spanish Cook" by Encarnación Pinedo.
Both migas and chilaquiles are highly significant to Mexican culture and cuisine. Their staple ingredients tortillas and chili are both two of the most prominent ingredients used in Mexican meals. They signify the vast versatility of Mexican foods and the adaptability of Mexican people and their culture.
Related articles you might enjoy:
What do nopales taste like?
Fajita vs taco seasoning - what is the difference?
Need a substitute for hominy? We've got four of the best.
How to replace epazote in cooking.
4 must-try Mexican snacks
1. Chili
Chili beans and rice is the perfect dish for a cold, winter's night! The chili sure packs a punch, but you can turn down the heat by reducing the amount of chili included if your taste buds aren't up to the challenge.
2. Tamales
Tamales are a type of Mexican wrap, similar to tortillas, tacos or burritos. Instead of a bread-based wrap, tamales use corn husks to give a nice warm hug to the delicious fillings of ground beef, vegetables, cheese, or whatever you so desire. Got leftover tamales? Check out how to reheat them here.
3. Tortillas
Tortillas are a super versatile, super simple Mexican recipe that can be whatever you want them to be. Stuff these bread wraps with vegetarian or vegan options or create a full-on meat fiesta! The power rests completely in your hands (or your hungry belly).
4. Tacos
Tacos are one of the most well-loved Mexican foods in history, and it's easy to see why. They're easy to make, versatile, and just plain delicious! It doesn't matter if you're a hard or soft taco fan, what matters most is simply that you love them! Find out more about tacos and burritos here.
Final Thoughts
We're just about finished up here with this article highlighting two of the greatest breakfast food options to come out of Mexico. Regardless of the differences and similarities between migas and chilaquiles, I think we can all agree that they are a delicious breakfast mix and match, perfect for sharing with friends and family wherever you may be!
Migas will usually have the bread or chips crushed and scrambled while chilaquiles have the corn chips soaked and fried for extra crunchiness. Their flavors for either of these dishes will vary depending on the region of Mexico that the food is made, and also what's leftover from the previous night's meal. The beauty of making either dish is that there are few rules - creative ingredients are perfectly okay.
So, which of these two Mexican breakfasts do you prefer? Honestly, I'm with the Old El Paso girl on this: "¿Por qué no los dos?" ("Why not both?").
Let us know your thoughts about migas and chilaquiles in the comments below.