The main difference between fajita and taco seasoning is their taste. Fajita seasoning has a natural smoke flavor, giving it a smoky taste, while taco seasoning has more chili peppers, tomatoes, and oregano, giving it an earthy and warm flavor profile.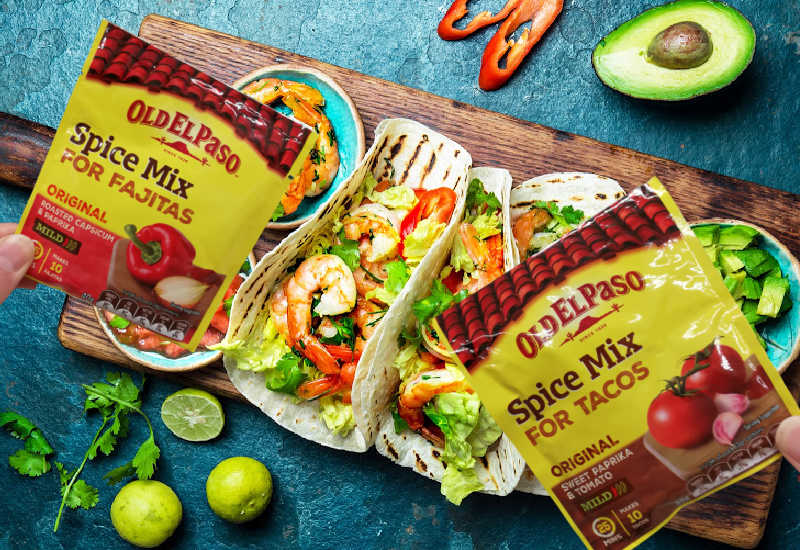 It's not uncommon to see a selection of random seasoning sachets lying around in the pantry, which leads to a common question: if you're making tacos, can you get away with using a fajita flavor sachet? Will a sneaky switch or flavoring ruin the dish? Read on to learn the differences and similarities between these two seasonings.
Table of Contents
What's the difference between taco and fajita seasoning?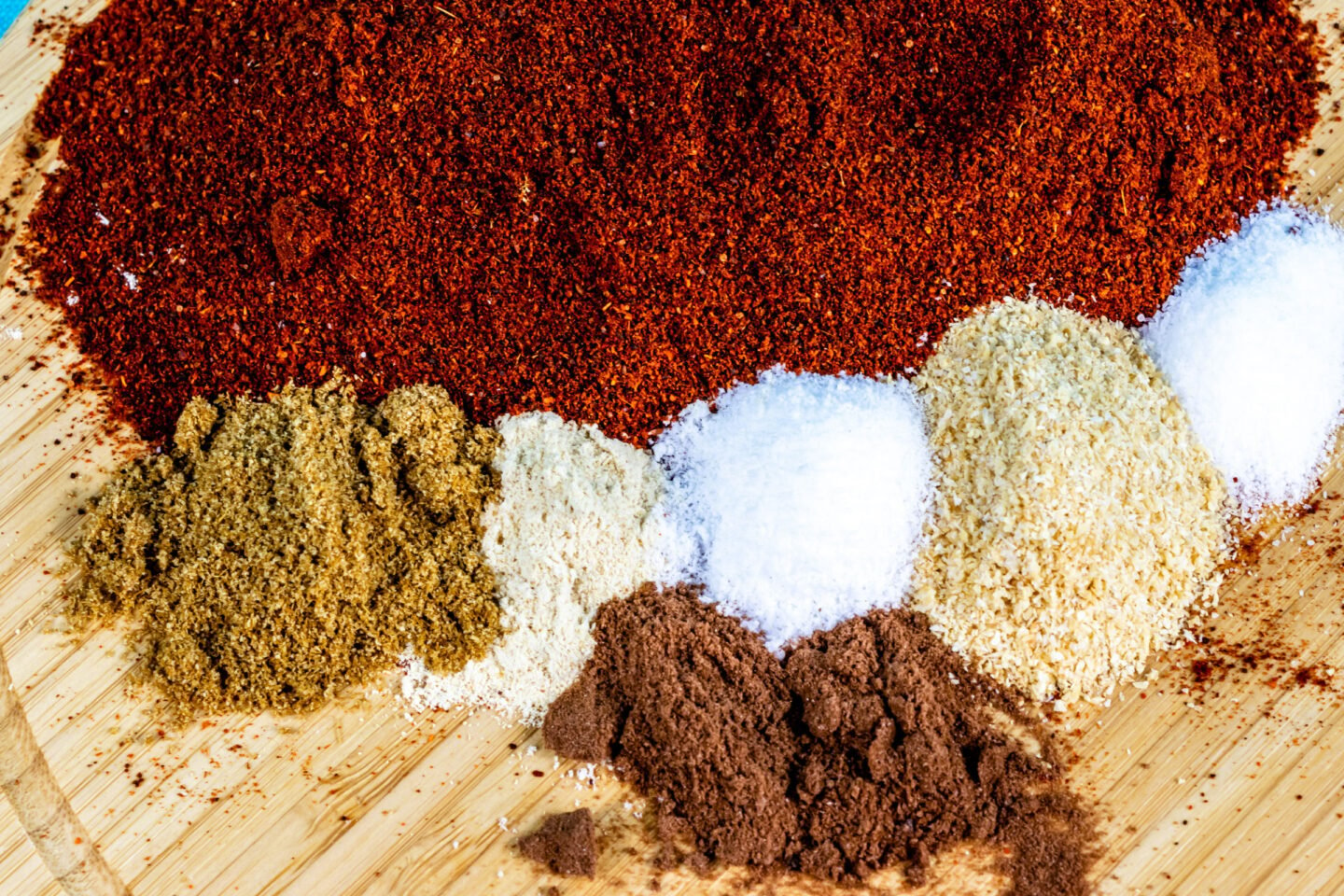 Taco and fajita seasonings are both Mexican spice combinations used to add spicy flavor to fillings like ground beef, chicken, or fish. Whether you use a fajita or taco flavor sachet in your next dish, the end result will be very similar. There are small differences between each brand, but both types of seasoning have the same amounts of cumin, paprika, and chili. Use taco and fajita seasonings interchangeably in your cooking without fear of recipe failure.
Although both seasonings are very similar, they have a few differences. We took the most popular brand on the market, Old El Paso, and summarized how their sachets differ in the table below.
| | Fajita Seasoning | Taco Seasoning |
| --- | --- | --- |
| Description from the manufacturer | "A smoky blend of paprika, sweet red peppers and onion. Sensational with strips of beef or chicken to create sizzling Fajitas." | "A rich blend of tomatoes, cumin and garlic combine to create everyone's favorite Mexican flavor." |
| Total cook time | 25 minutes | 25 minutes |
| Flavor | Roasted capsicum and paprika | Sweet paprika and tomato |
| Spice level | Mild | Mild |
| Ingredients: USA | Corn Starch, Maltodextrin, Salt, Sugar, Sea Salt, Spice, Chili Pepper, Vegetable Oil, Citric Acid, Artificial Color, Yeast Extract, Onion Powder, Silicon Dioxide, Natural Smoke Flavor, Garlic Powder. | Chili pepper, Maltodextrin, Salt, Onion Powder, Spice, Corn Starch, Sea Salt, Vegetable Oil, Silicon Dioxide, Citric Acid, Sugar, Natural Flavor. |
| Ingredients: Australia | Sugar, Rice Flour, Capsicum, Soy Sauce Powder, Salt, Onion, Paprika, Garlic, Oregano, Parsley, Citric Acid, Vegetable Oil, Black Pepper, Natural Smoke Flavor, Silicon Dioxide, Cayenne Pepper. | Sugar, Maize Flour, Salt, Garlic, Paprika, Cumin, Tomato, Onion, Citric Acid, Oregano, Chili, Silicon Dioxide, Paprika Extract, Ground Bay Leaves. |
| Intended use according to packet | Fajitas, enchiladas, burritos. | Tacos, burritos, enchiladas |
The Official Response from Old El Paso
We decided to reach out to customer support at General Mills, the company that makes the Old El Paso range, to see what their response was. Here's what they had to say below. They didn't bring much extra to the table, but at least we got a response.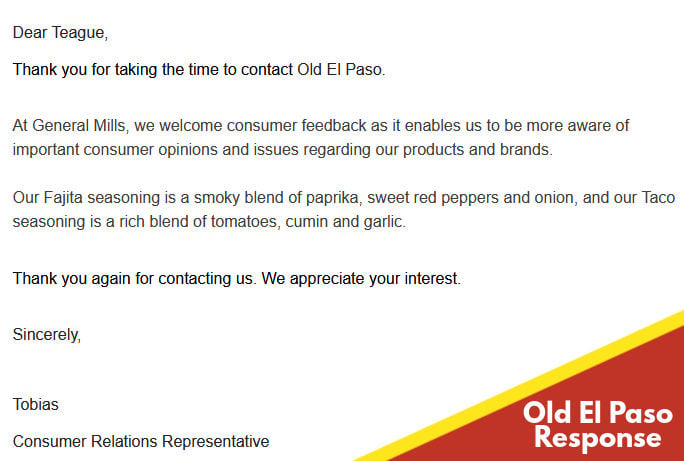 Comparing the Ingredients
The ingredient lists of Old El Paso fajita and taco seasonings are similar, but there are a few variations worth pointing out.
Fajita seasoning has more citric acid so the meal will have a slightly sour, acidic taste to it.
Fajita includes garlic powder, but tacos don't. If you're making fajitas but only have a taco mix, then crush one or two garlic cloves and cook with the meat.
Fajita has yeast extract, which is responsible for intensifying the savory, salty, umami flavor of the dish. If you're making fajitas but only have a taco mix, then add a splash of Maggi Seasoning to get similar results.
Fajita seasoning has artificial color to help turn the strips of meat a vibrant red shade when served up. You won't get the same color from a taco mix.
Fajita blends dial up the earthy cumin taste while tacos use more chili powder to create a bolder tasting dish.
Once you put these minor differences aside, you'll find that they are much the same.
Did you know? The Spanish term "fajita" doesn't describe a type of flavoring. Instead, it refers to a cut of beef known as skirt steak. This meat is cheap to buy in stores and is relatively tough. It was sliced into thin strips to make chewing a little easier. Today, fajita is a generic Tex-Mex term used to describe grilled meat like chicken, seafood, or beef served with a flour or corn tortilla.
Infographic Summary: Fajita vs Taco Sachets

How do fajita and taco seasonings differ in flavor?
Both seasoning options bring a flavor-packed, spicy, slightly acidic taste to food. Store-bought taco and fajita seasonings will vary from mild through to hot and spicy. There are also various flavor variations now being produced by manufacturers. In addition to the standard mixes, there are also chicken, low sodium, and other options.
When comparing homemade fajita and taco recipes, they tend to use similar ingredients, so the flavors are likely to be comparable. Fajitas traditionally used tougher skirt steak, so Mexican cooks would use acidity from lemon or lime juice in marinades to help break down the muscle fibers. In today's commercial seasonings, you may notice the use of citric acid, useful for mimicking the flavors of the original recipe.
Note: Most taco and fajita seasoning packets don't go into detail of what spices they use to make the product. However, they generally use a standard mix of cumin, paprika, chili, and maybe Mexican oregano for some extra pungent, earthiness. If you're not familiar with Mexican oregano, check out our guide which compares Mexican and regular oregano.
Can fajita and taco seasoning be used interchangeably?
You can easily swap one sachet for the other, and most guests at the dinner table wouldn't know any better. Fajita powder has a little more acidity though so:
if you decide to use a fajita mix for tacos then you could tone down the acidity with a little sugar or baking soda.
if you use taco mix for fajitas then add a squeeze of lime juice or a little vinegar.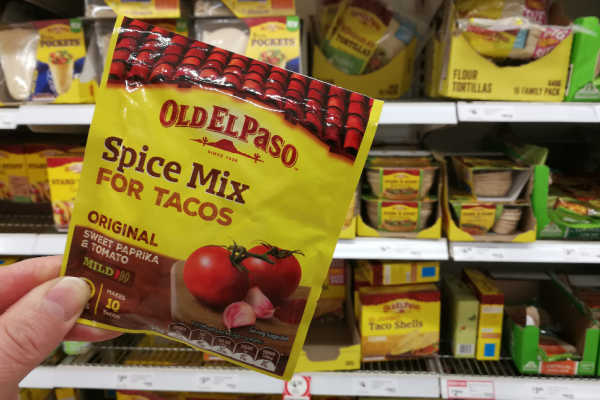 While there are no hard and fast rules on how to use each mix, fajita flavoring is excellent for making enchiladas, burritos, and, of course, fajitas. The flavors you get from a fajita mix are excellent for dishes that benefit from acidity. Fish is a good example.
Taco seasoning is more of an all-purpose spice blend that is good for tacos, burritos, enchiladas, beans, and for use in breading and dry rubs. Use it as a delicious alternative to Cajun, adobo, or Creole seasoning.
Related reading:
How do a taco and burrito differ?
How do Migas and Chilaquiles compare?
What are the best skirt steak substitutes?
What is the best method to reheat tamales?
Summing Up
A common question people ask is "is a fajita mix and taco mix the same thing?". While there are some subtle differences, next time you're cooking the family dinner, or have friends over, don't worry if you decide to use one in place of the other.
From a nutritional viewpoint, they're also very similar with each option containing 15 calories per 2tsp serving and no saturated fat.
What is your favorite Mexican dish that you enjoy cooking at home? Please let us know in the comments below.