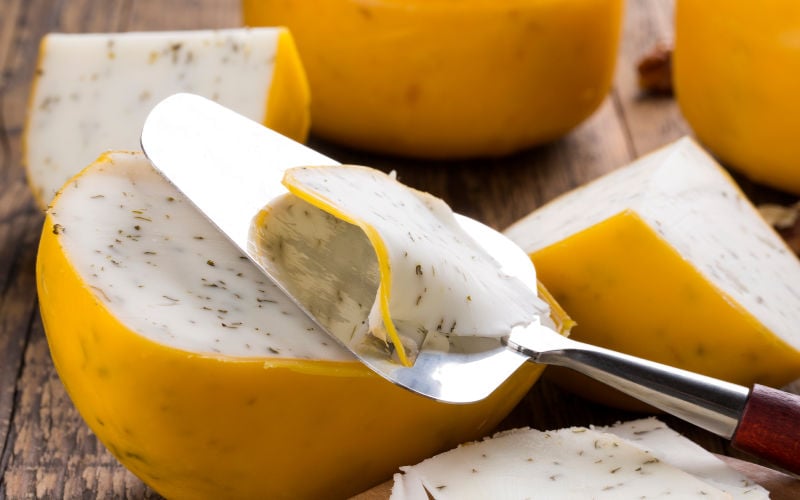 Cheese makes everything better. To achieve the perfect slice every time, a cheese slicer is required. They're one of those kitchen tools that you don't know how useful they are until there's one in the kitchen. We've done the research to bring you the best cheese slicer currently on the market. Once you've read this page, you'll be a guru of cheese slicing gadgetry.
Okay, let's dive straight in and highlight the best three cheese slices we tested.

Table of Contents
The best cheese slicer - top 3 options
1. Best premium – Winco TCT-375 Cheese Slicer

The Winco TCT-375 takes care of all your cheese cutting needs with this solidly constructed cast iron and stainless steel cheese slicer. This tool not only slices but also cubes and will also slice through fruit, veges, eggs and practically anything else.
2. Best Mid-Range - Wusthof Gourmet Cheese Plane
The long standing tradition of Wusthof quality lives on with this cheese plane that's extremely sharp and built to get the job done. This durable tool will provide years of loyal service to its owner.
3. Best Budget - Bellemain Adjustable Cheese Slicer

This Bellemain Cheese Slicer may cost less than others on this list but it still is impressive in looks and functionality: good slice quality, adjustable thickness and a sleek design.
Why you need a cheese slicer
Buying block cheese that you slice yourself is cheaper than the pre-sliced product.
Sliced cheese from the store has more surface area exposed which causes the cheese to go off faster.
Using a knife is slower, less precise and more likely to result in injury.
A cheese cutter can be used for other jobs in the kitchen like preparing cucumber.
The two main types on the market
1. Handheld cheese slicers
This model is similar to a manual potato peeler. It is hand held and slices off cheese in two ways: a blade or a wire.
2. Slicers with a base
The slicer is attached to a solid base commonly made of wood or marble. Instead of using a blade, they usually have a wire that does the cutting. These models are well suited to soft cheese, especially blue cheese, which tends to become quite messy when cut using other tools.
A marble base is a good option if you plan on slicing a lot of soft cheese. Cleaning this hard surface is easy and no odors are absorbed. In addition to functionality, marble is visually appealing and makes an excellent showpiece in the kitchen.
What to consider before buying a cheese slicer
Quality and Performance
As with any kitchen appliance or utensil, the quality of materials used and the design are key considerations. A well built slicer will be easy to use, shear through cheese like a knife through butter, and feel solidly built.
Uniform slices are also really important. If you're going to pay money for this tool, it needs to consistently produce slices that are exactly the same. Otherwise, you may as well be using a knife.
Price
You don't want to spend more that you can afford. But saving a few dollars up front may cost you more over the long term because you need to keep replacing low quality products that break.
As a general rule, products are priced higher because better quality materials are used and the designs are superior. It's best to check customer reviews though as this isn't always the case!
Versatility
You'll find that some models are designed for cutting hard cheese like Pecorino or Parmesan; others are better suited to soft blue cheese, mozzarella and similar cheese types. Some of the better models will do a great job of processing any cheese consistency.
You should also look for models that offer a variety of slice widths. The ability to slice very thin through to thick slices is handy feature that you'll be thankful to have.
Durability
Choose a slicer that is made from stainless steel to avoid the frustration of rusting. Cheaper plastic products will tend to break within the year as they struggle with the hard life a slicer gets put through.
Look for brands that include an extra wire as this is the most common component that breaks.
Size
If you have a small condo or limited cupboard space then a handheld option may be more suitable as it easily stores away in the utensil drawer.
Warranty
A warranty will provide peace of mind. Manufacturers will offer a warranty based on their confidence in the product's durability. A slicer that comes with no warranty may be a red flag that it's not going to last over the long term.
Ease of cleaning
It's often not a major consideration, but cleaning kitchen tools can be a huge hassle. A well thought our product should be easy to clean with no "difficult to reach" spots. Being dishwasher safe is an excellent feature to look for.
Methodology
We spent 10 hours researching the top cheese slicers online to compile a short-list of the best options currently on the market.

Following that, we purchased (or borrowed) the best options and used them to slice a range of cheeses: Camembert, Cheddar and Romano.

Finally, we reached out to our network via email and also created surveys on Facebook groups to gain further feedback.
4 Quick Buying Tips
Slicers with a serrated edge cut fine ridges into the cheese which isn't desirable.
A good quality, large handle makes slicing a much easier job.
A longer blade is preferable as it can cover wider wedges with one swipe.
When choosing a handheld slicer, a flexible head is easier to maneuver.
Now, let's take a look at all the slicers we reviewed in more detail.
The top 11 cheese slicers
We've compiled eleven very impressive cheese slicers that will impress. We didn't rate each one because that'd be impossible. They're all different, and they all suit different purposes. Instead, we've provided the pros and cons of each and we'll let you decide what works best for you.
1. Winco TCT-375
The Winco TCT-375 isn't cheap, but it should be high on the priority list for the cheese fanatic. It's best suited to those that slice a lot of cheese in one session. If you only need the occasional slice for lunches this model would be overkill. Washing this intricate device after a small job would become frustrating.
The Winco is constructed with cast aluminium that's built to last, yet not overly heavy. You can cut ⅜" thick slices of soft or hard cheese. Cubes can also be chopped with this gizmo.
Pros
Premium model
Lightweight and durable cast aluminium
Cut multiple slices in one go
Cuts soft through to hard cheese
Cons
Slice thickness isn't adjustable
Messy to clean
2. Wusthof Gourmet 4 ¾" Cheese Plane
The Wusthof Gourmet cheese plane is an excellent mid-range cheese plane that's manufactured in Germany and built to last. Wusthof have a long history of producing quality kitchenware that are built for purpose.
Keep in mind that the reference to 4 ¾" is referring to the length of the entire tool, not the width of the blade. The blade is 2 ¼ " which is more suited to smaller cheese blocks.
The Wusthuf is simple to use with no adjustments required or tightening of wire. Simply slice in a similar way to peeling a potato. The handle has a traditional look to it and is super comfortable in the hand.
Pros
Quality German manufacture
Easy to clean with no hard to reach areas
Durable thanks to a simplistic design
Sharp cutting blade
Cons
Not suitable for soft cheese
Can't adjust thickness
Not dishwasher safe
3. Bellemain Adjustable Thickness Cheese Slicer
The Bellemain Cheese Slicer is a sleek looking slicer that's made to last. This model is heavy duty, cast from one piece of zinc alloy. With so few parts and a stainless steel cutting wire, it's destined to be bring years of cheese slicing joy.
This hand held slicer will allow you to cut thick ¼" chunks for crackers all the way down to fine slices, ideal for topping pasta.
Perhaps the best part about this product is the price, relative to other similar models.
Pros
1 year warranty for peace of mind
Includes a spare wire in case of breakage
Ergonomic, solid handle for easy use
Affordable option
Cons
When the handle gets wet it's difficult to grip
The wire will struggle to deal with hard cheese like Romano or Pecorino
4. Mundial 5628 Cheese Slicer
This is a beast of a blade that makes easy work of the largest, hardest cheese. With quality stainless steel materials and an ergonomic, non-slip handle this tool is suitable for at-home use as well as for commercial application. Check out the
Mundial 5628 Cheese Slicer price here.

This tool is massive. 16" of hard stainless steel blade with handles on each side to make slicing easy. However, the beauty of this tool is not in its size; it's the simplicity of design that makes it virtually unbreakable.
Pros
Can be used for more than just cheese – think meat and melons
Slice through hard and soft cheese, even cheese bricks
The handle has anti-microbial properties
High quality stainless steel blade
Cons
May be overkill for some home kitchens, especially small ones. It spans almost 26" in total.
Relatively high in price.
5. Westmark Fromarex Cheese and Food Slicer
Westmark have been churning out kitchen tools since 1956 so they know how what they're doing. The Westmark Fromarex is super-sharp and cuts through any type of cheese with ease.
A dial allows the user to easily adjust the thickness of the slice.
If you're time poor and love to toss everything in the dishwasher after use, you'll be disappointed with the Fromarex. The soap used in dishwasher soap can corrode the blade.
Pros
A five year warranty will leave the buyer dripping in peace of mind
Blade is constructed with high quality stainless steel
Use this slicer for soft and hard cheese, fruit, vegetables, salami and more
Thickness of slice can be adjusted
Rubber feed prevent any slippage
Cons
Plastic base
Not dishwasher safe
6. OXO Good Grips Wire Cheese Slicer
Oxo introduced their Good Grips model into the market back in 2006 and has built a solid reputation as a mid-range slicer. It isn't a cheaply made product, but it isn't overly fancy either. If you want a simple unit that's functional then this may be a good option.
The Oxo cheese slicer is at home slicing thicker chunks of cheese; however, if you need very thin slices it can be a challenge. Instead of adjusting a dial to adjust the thickness level, you adjust the angle of your wrist. Not ideal if you need to slice a lot of cheese all the same size. For the occasional user needing a slice of cheese for sandwiches, this model will be fine.
This model is made from die cast zinc with a stainless steel wire cutter. The soft handle is comfortable to handle and solidly built.
Pros
Dishwasher safe
A spare cutting wire is included
High quality die-cast zinc construction
Ability to cut thin and thick slices
A comfortable handle that's easy to grip
Cons
Struggles to cut uniform thin slices
Tension wheel is susceptible to breakage
7. Fox Run Marble Cheese Slicer
The Fox Run cheese slicer board is an eye catching tool that'll look great in any kitchen. Made from natural marble, it offers a major advantage over many other models – it will help keep the cheese cool on those hot days.
The Fox Run Marble Cheese Slicer has an excellent cutting wire – cutting soft through to hard cheese is made easy. Hard cheese like Machego, Coteja and Padano are no match for this tool. You can place a decent sized wheel on the base for slicing as it measures 8" x 5" x 2". If you need to cut larger bricks you may want to consider the Mundial (see above).
Pros
2 replacement wires
Solid marble construction
Washing up is simple
Rubber feet protect table and counter tops
Cuts soft and hard cheese
Cons
A space hog
Not dishwasher safe
8. Norpro Stainless Steel Cheese Plane
The Norpro Stainless Steel Cheese Plane is a more traditional looking utensil, something commonly found in the 70's. But that doesn't make it any less of a contender on this list. The beauty of the Norco is that it doesn't have any wires that can potentially come loose or break. Just a solid blade that's 2" wide (about half a sandwich wide).
It's worth pointing out that the slice thickness isn't adjustable. The thickness is quite thin – less than the thickness of sliced cheese you'd buy in the supermarket. So if you like thick slabs, this may not be the best option for you.
This Norpro is extremely affordable making it a popular option for many cheese lovers. Keep in mind that you don't need to stop at cheese prep; this plane will shave chocolate, vegetables or fruit easily. It's a multi-purpose gadget that provides amazing bang for buck.
Pros
Easy to use
Stainless steel construction
Very affordable
Dishwasher safe
Durable – no hassle with broken wires
Cons
Can't adjust thickness of slices
Slices are a little uneven
Wafer thin slices aren't possible
Not suitable for soft cheese
9. Messermeister Pro-Touch Cheese Knife
Although not strictly a cheese slicer, the Messermeister Pro-Touch Cheese Slicer had to be included in this list as an alternative to traditional slicers. But wait you ask, it's just a knife? This utensil is more than a blade – it's a purpose built knife designed for cutting soft cheese the way it's meant to be cut.
Cutting soft cheese with a normal knife can result in the cheese sticking to the blade. The end result is unpleasant looking, squashed cheese. The Messermeister solves this problem by placing holes in the blade. The end result, smooth, precision cutting.
This knife also works brilliantly for slicing tomatoes and other soft fruit and vegetables that need to be sliced perfectly.
Pros
Lifetime warranty
Quality German manufacture
Knife tip designed for picking up cheese easily
Holes in blade prevent cheese from sticking
Stainless steel blade
Cons
Difficult to cut uniform slices
10. Prodyne 805B Thick Beechwood Cheese Slicer
The Prodyne 805B Cheese Slicer is unique on this list thanks to its beechwood base. Don't just slice with this model. Take it one step further and place it on the table when entertaining guests to present the cheese.
Soft and hard cheeses are no match for this model thanks to a solidly built unit with a sharp, stainless steel wire cutter. If you have any issues with the wire breaking there's a lifetime warranty on the wire cutter so you get full peace of mind.
Pros
Lifetime warranty
Cuts very thin slices
Replaceable wires
Rubber feet to stop slippage
Lightweight for a model with a base
Cons
Uses up space in the kitchen
Not dishwasher safe
11. Westmark Germany Cheese Slicer
The Westmark Germany Heavy Duty Wire is an extremely popular brand thanks to its solid cast aluminium handle and a stainless steel wire cutter. This is a heavy duty utensil that should last many years.
Instead of adjusting a dial, you can vary the slice thickness by adjusting the angle of your wrist. This isn't exactly precise so if presentation is high on your list, the Westmark may not be your best option.
The Westmark can cut through soft and hard cheese. However, the handle is relatively small making it a challenge to easily cut through hard cheese like Parmesan or vintage Gouda.
Pros
5 year warranty
Affordable
Dishwasher safe
Quality German construction
Cons
Can't adjust slice thickness
Quick Tip: Never cut different cheese with the same knife. You don't want to mix the flavors and aromas of different cheeses.
A summary of brand by type
| Brand | Type |
| --- | --- |
| Winco TCT-375 Cheese Slicer | Wire cutter with base |
| Wusthof Gourmet Cheese Plane | Handheld plane |
| Bellemain Cheese Slicer | Handheld wire cutter |
| Mundial 5628 Cheese Slicer | Handheld blade |
| Westmark Fromarex Cheese Slicer | Blade with base |
| OXO Good Grips Wire Cheese Slicer | Handheld plane |
| Fox Run 3841 Marble Cheese Slicer | Wire cutter with base |
| Norpro Stainless Steel Cheese Slicer | Handheld plane |
| Messermeister Cheese Slicer | Cheese knife |
| Prodyne 805B Cheese Slicer | Wire cutter with base |
| Westmark Germany Cheese Slicer | Handheld plane |
FAQS
What is the best way to eat a cheese platter?
To fully appreciate a cheese platter, start with the softer varieties such as Camembert or Brie and gradually work your way towards the stronger tasting cheese types. This will allow your palate to adjust to the increasing flavor. By eating a strong flavored cheese at the beginning, you will have difficulty tasting the flavor of mild cheese.
Mild tasting fruit are an excellent way to cleanse the palate after eating each type of cheese. Pear or apple are both good options to serve with the cheese board.
What wine goes well with cheese?
A good rule of thumb match a light, fruity wine with milder cheese then introduce full bodied red wines like Shiraz to pair with strong, bitey cheese such as Cotija or Pecorino.
When pairing beer, start with lighter pilsners and lagers then finish with ales and stout beers that can hold their own against the stronger flavored cheese types.
Why does a cheese knife have prongs?
The prongs on the end of a knife are used to pick up the cheese and move it to another plate without touching it.
What is the difference between a cheese wire and a plane?
A cheese wire is a fine, very tense wire that is especially effective at cutting through soft cheese; a plane is usually a sharp blade attached to a handle that can shave off thin slices of cheese. A cheese plane is a utensil that is very similar to a potato peeler.
Final Words
If you're searching for the best cheese slicer currently available, you need to start by looking at your budget. If money is no object then consider the Winco TCT-375 as a good investment.
For a good quality, mid-range option, the Wusthof is a top option for home use. It isn't perfect, but it is certainly built for purpose. Put another way, it gets the job done.
If you really aren't interested in splashing out big coin for a slicer, then it's hard to beat the Bellemain adjustable slicer. A simple, affordable utensil that does a much better job of prepping cheese than a knife could ever do.
Cuisinevault.com is a participant in the Amazon Services LLC Associates Program, an affiliate advertising program designed to provide a means for sites to earn advertising fees by advertising and linking to amazon.com.