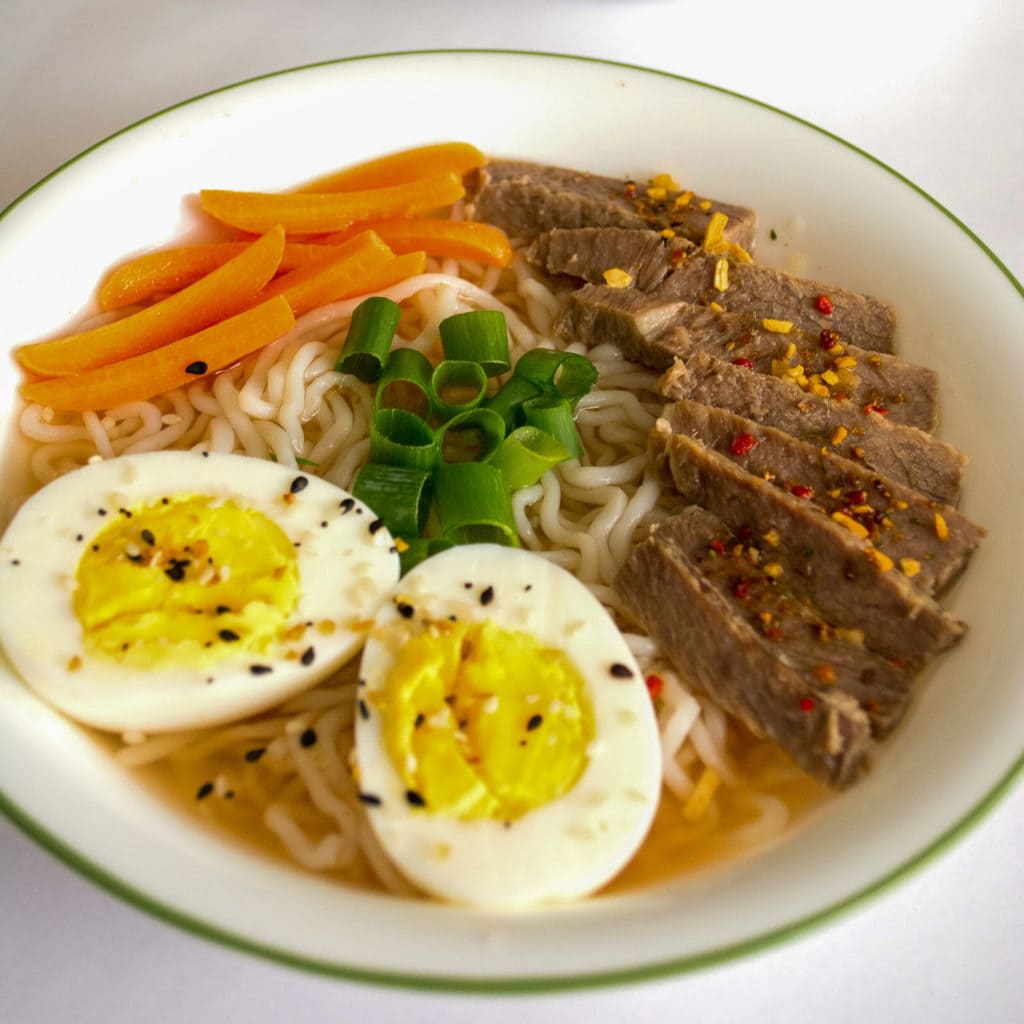 This keto ramen is loaded with flavor and toppings. Since the usual ramen has lots of carbs, creating a low-carb version was tricky. But after a few tweaks, I've finally created the perfect keto ramen recipe.
You can enjoy a bowl of ramen with your favorite topping and not even worry about the number of carbs and calories. One bowl of this low carb ramen has only 6 grams of carbs and 363 cal, which is perfect for a delicious lunch or dinner.
You can use this keto ramen recipe as the base and mix and match different ingredients to create a differently flavored ramen every time. You can use beef, chicken, seafood, and a great variety of vegetables for your ramen.
Table of Contents
Is Ramen Keto Friendly?
No, unfortunately, the usual ramen is not keto-friendly since it has pasta listed as one of its main ingredients. And most of the pasta is made of carb-heavy wheat flour. But luckily, there is a way out since you can use low-carb noodles instead (shirataki noodles, for instance).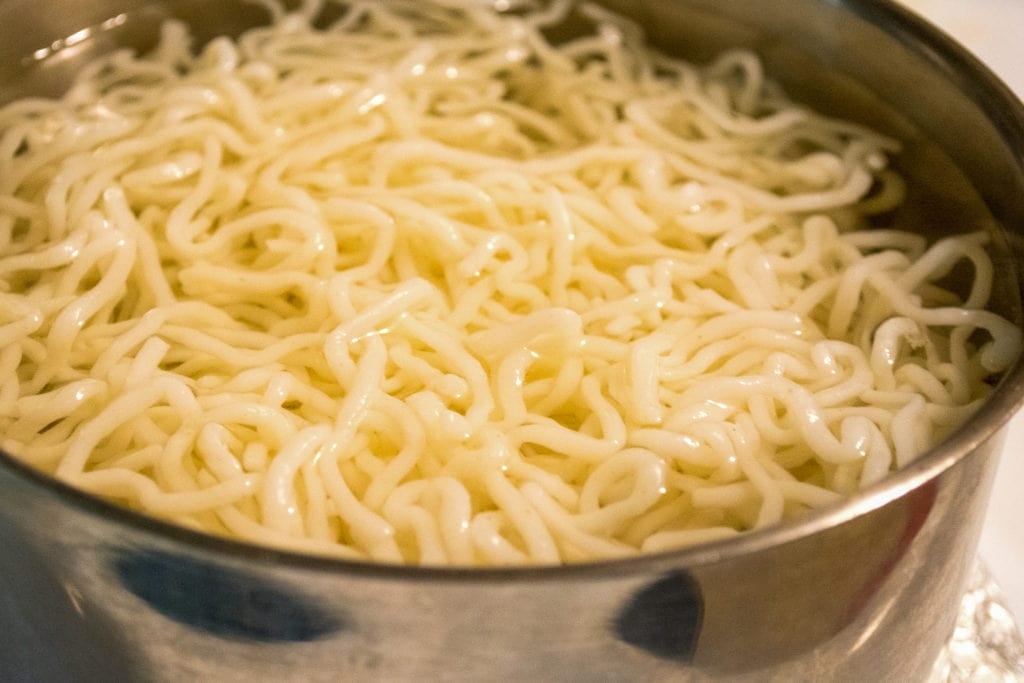 How to Cook Shirataki Noodle
Shirataki noodles are the perfect substitute for the usual wheat flour pasta that is used for ramen. And since it is mainly made up of water, fiber, and some protein, fat, and calcium, it makes them a perfect fit for a keto-friendly ramen recipe.
These noodles are sold ready, so you can just rinse them, drain, and eat them straight from the package. But they do have a slight odor and flavor if served like that. So, it is best to do this before serving the shirataki noodles:
Rinse the shirataki noodles and drain.
Place them in a pot and fill them with water and a dash of vinegar (this will help to get rid of that weird flavor). Put the pot over medium heat and cook the noodles for about 3-5 minutes.
Then drain the noodles again and place them on a skillet.
Fry the shirataki noodles in the skillet for about 5 more minutes and then serve.
This way, all that terrible odor will be gone, and you'll be able to enjoy your ramen with delicious noodles.
Keto Ramen Bowl Ingredients
The ingredients that you use for your keto ramen depend on your preferences. You can use practically anything as long as that ingredient is keto-friendly.
For this low carb ramen, I use the following ingredients:
Shirataki noodles. Since these are zero carbs, I thought that they would be the perfect option for keto ramen noodles. If you want, you can use kelp noodles, heart of palm noodles, or zucchini noodles (but they won't taste as good as the ones in ramen).
Eggs. I can't imagine ramen without eggs, so I recommend you add them too.
Chicken stock. If you want, you can substitute it with either beef stock or bone broth.
Beef. Basically, you can use almost any kind of meat for keto ramen. If you want, you can use either chicken, pork, beef, or even seafood.
Carrot. I like to put some fresh carrots into my ramen. If you want, you can either skip them or fry them together with the noodles.
Scallions. Just chop up some scallions to sprinkle over your ramen.
Garlic. You'll need a few garlic cloves to add some aroma to your ramen.
Sesame oil. If you don't like the taste of sesame oil, you can use olive oil, avocado oil, or any other oil type that you prefer.
Fish sauce. This is a salty and savory ingredient that will enhance the overall taste of your ramen.
Soy sauce. This is perfect for ramen since it also adds to that salty and, at the same time, sweet flavor.
If you want to add some spices or seasonings, you can definitely add salt and pepper. Also, I like to add Everything Bagel Seasoning and some red pepper flakes to give my ramen some heat (or even some chili sauce). A nice idea is to also add some onion powder, garlic powder, or ground ginger.
Storing Instructions
It is best to serve your keto ramen right away. Or you can store it in your refrigerator for a few days. But it all depends on the ingredients that you use in your ramen.
And don't even try freezing the low-carb ramen. The shirataki noodles will turn into a huge mess after freezing.
Recipe
Keto Ramen
Enjoy a bowl of this keto ramen with your favorite topping and not even worry about the number of carbs and calories you consume. One bowl has only 6 grams of carbs and 363 cal, which is perfect for a delicious lunch or dinner.
Ingredients
5

ounces

shirataki noodles

2

large

eggs

cooked and halved

4

cups

chicken broth

4

ounces

beef chuck roast

1

small

carrot

cut into strips

1

scallion stalk

2

cloves

garlic

minced

1

tbsp

sesame oil

1

tsp

fish sauce

2

tbsp

soy sauce

red pepper flakes

salt and pepper
Instructions
Season the beef with salt and pepper and cook it in a skillet over medium heat for about 2-3 minutes on each side (or boil it in some salted water instead). Slice the beef.

Rinse the shirataki noodles. Fill a pan with water and add a dash of vinegar, place the noodles, let the water boil, and cook them for about 3-5 minutes. Drain the noodles. Heat a skillet over medium heat, add the noodles, soy sauce, fish sauce, garlic, and fry everything for about 5 minutes.

Bring the chicken broth to a simmer in a pot. Transfer the noodles and the sauce from the skillet into the stock.

Pour the noodle mixture into two bowls. On top of the noodles, place the beef, egg halves, carrot strips, and chopped scallions in the middle. Top each bowl off with Everything Bagel Seasoning and red pepper flakes.
Nutrition
Calories:
300
kcal
Carbohydrates:
9
g
Protein:
22
g
Fat:
19
g
Saturated Fat:
6
g
Polyunsaturated Fat:
5
g
Monounsaturated Fat:
8
g
Trans Fat:
1
g
Cholesterol:
225
mg
Sodium:
3097
mg
Potassium:
789
mg
Fiber:
1
g
Sugar:
2
g
Vitamin A:
4524
IU
Vitamin C:
36
mg
Calcium:
89
mg
Iron:
4
mg