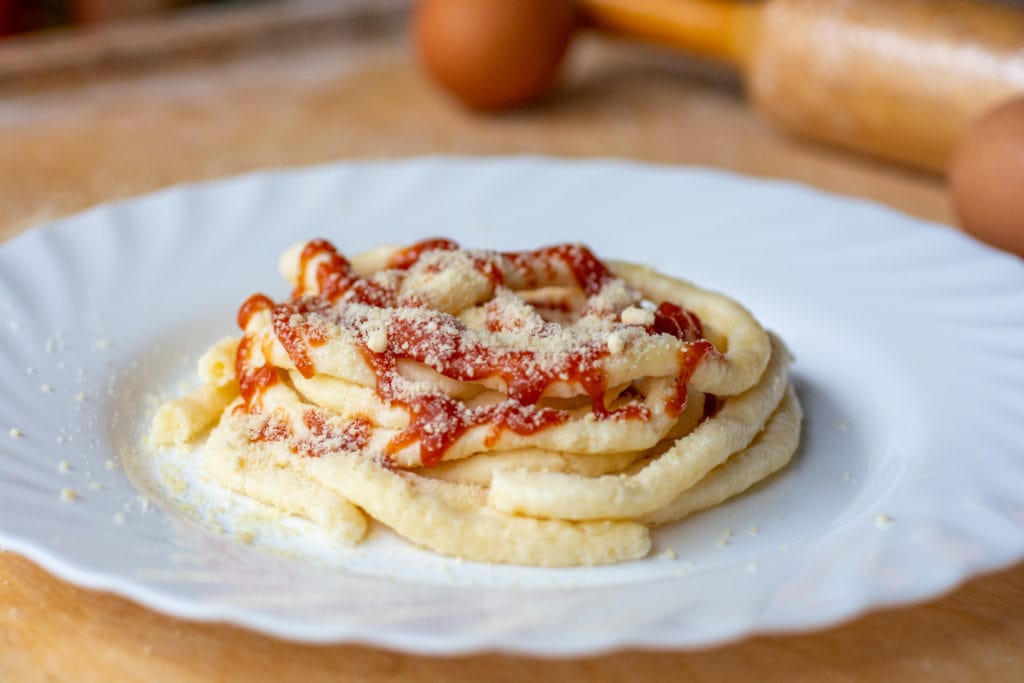 If you're in search of a keto egg noodles recipe that doesn't have zucchini or squash listed as an ingredient, then you've come to the right place. These homemade noodles are as close to the traditional pasta as they can get!
This low carb egg noodle recipe consists of 4 simple ingredients and takes only 15 minutes to cook. Moreover, one serving of such keto pasta has just 4 grams of carbs. Another thing that you should know is that these egg noodles are both keto-friendly and gluten-free.
You can serve this low carb pasta any way you like: with some meat on top, loaded with your favorite sauce, use it for chicken noodle soup, or even use this dough for lasagna.
Table of Contents
Are Egg Noodles Keto Friendly?
Since the traditional egg noodles are made of egg yolks and flour, it's obvious that they're loaded with carbs. So when following the keto diet, such noodles are NOT an option.
Luckily, with a few adjustments, it's possible to make keto-friendly egg noodles. Read on to find out all the ins and outs of making them.
How to Make Keto Egg Noodles
With the right ingredients and cooking technique, making keto egg noodles can be even easier than making regular pasta. And the best thing about this keto pasta recipe is that you don't need who-knows-how-many complicated ingredients.
Here's what you should prepare for making low carb egg noodles:
Shredded mozzarella cheese. Fresh mozzarella balls are not an option here. You should use only low-moisture mozzarella. You can buy it in a block and shred by yourself or get the pre-shredded kind. Either of them is okay.
Egg. A large chicken egg (if to be more specific).
Almond flour. To avoid gritty egg noodles, choose only ultra-fine almond flour. Ideally, the only ingredient of such flour should be blanched almonds.
Xanthan gum. This ingredient serves as a thickening agent in this recipe. It is necessary here, since otherwise, the dough won't hold together.
If you want to change the taste of your egg noodles, you can throw in some spices into the dough. For example, you can add dried oregano, basil, garlic powder, or some Parmesan cheese.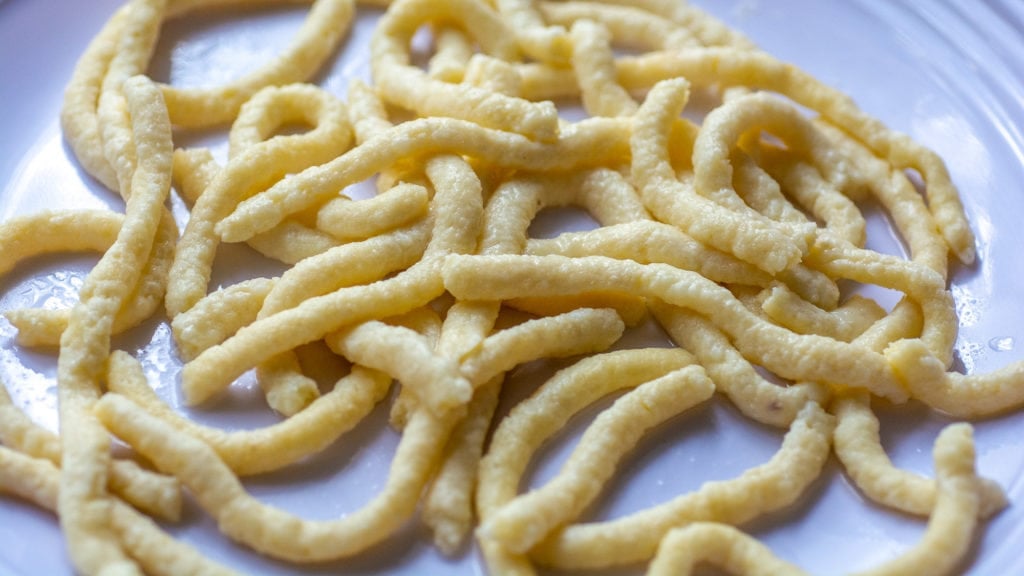 Now that you know what ingredients to prepare, let me walk you through the cooking process:
Make the dough. Melt the mozzarella cheese in the microwave, in a separate bowl, whisk an egg, and in another bowl, combine the almond flour with xanthan gum. Then, stir all of the ingredients together to form the dough.
Transfer it into a plastic bag. Prepare a hard-to-tear plastic bag (zipper bag, for instance). Place the pasta dough into the plastic bag and move it onto one side of the bag (near the end).
Boil water. Pour water into a pot and place it over medium heat to make it boil.
Cook the noodles. Make a small cut at the tip of the plastic bag to let the dough through. Squeeze the noodles directly into the pot with boiling water. Use kitchen scissors to cut the noodles into the needed length (depending on the size and form of the hole, you can make either spaghetti or noodles).
Remove the noodles. The noodles should cook for about 2-3 minutes. Then take them out with a strainer spoon.
Keep in mind that it is best to serve these keto egg noodles right after you take them out of the boiling water. It's not recommended to reheat them since they'll lose their texture.
Alternative Cooking Method
If you don't feel like cooking this pasta in water, you can bake it in your oven instead. All that you need to do is to adjust this recipe slightly — skip the xanthan gum, add ½ cup of cream cheese, and two more eggs into the dough.
Place all of the ingredients into a bowl and mix everything with an immersion blender. Then preheat your oven to 350 degrees F and prepare a baking sheet by laying a piece of parchment paper. Spray the parchment paper with some cooking oil and pour out the dough. Then use a spatula to spread the dough evenly.
Bake it in the oven for about 8-10 minutes, then let it cool completely and cut with a knife.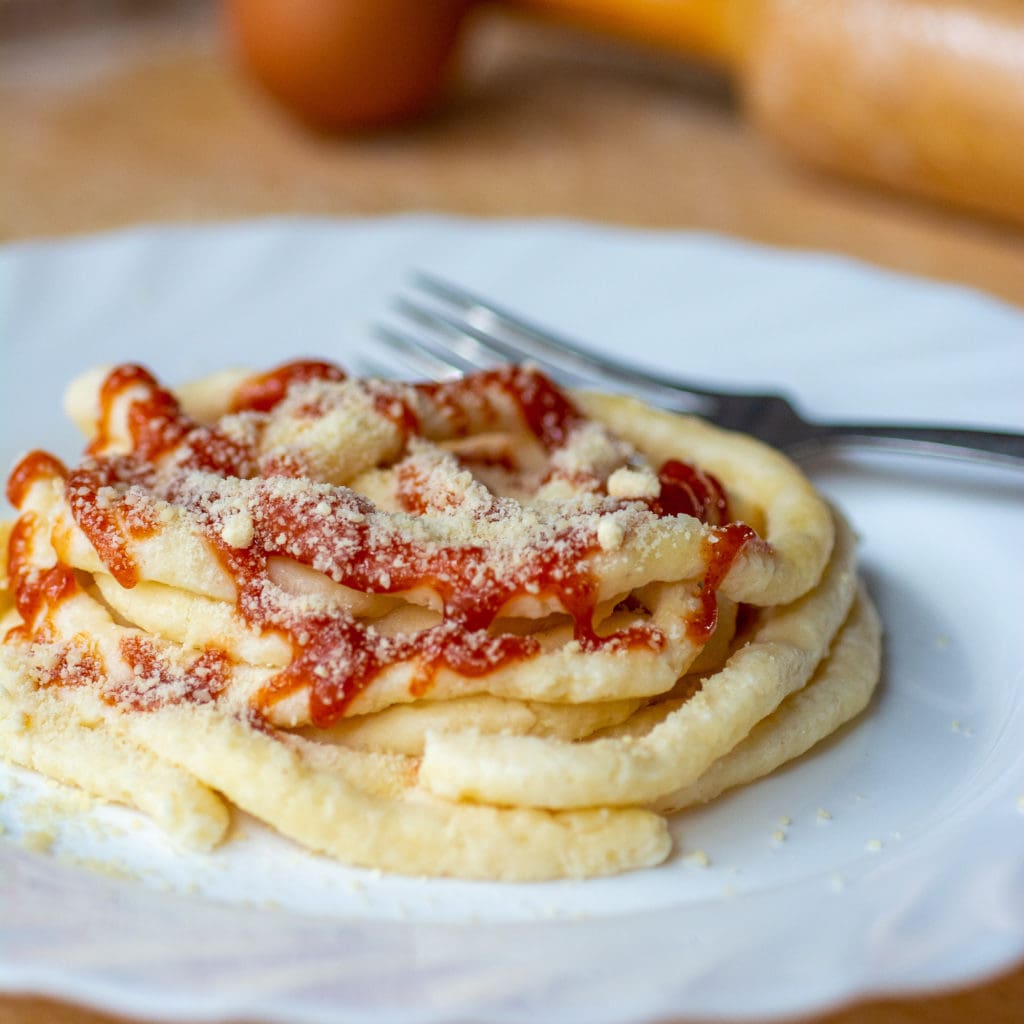 Serving Ideas
Not sure how to serve your low carb noodles? Here are a few low carb ideas that will taste perfectly with them:
Or, you can add your favorite pasta sauce: carbonara, bolognese, pesto, marinara, alla norma, or any other sauce that you prefer.
Storing Instructions
Unfortunately, keto egg noodles are not okay to reheat. If you try to do it, you'll just end up ruining them. So, it's best to serve them right away.
Also, these egg noodles (or any other low-carb egg noodles) are not freezer-friendly, so don't even try stashing them in your freezer.
Recipe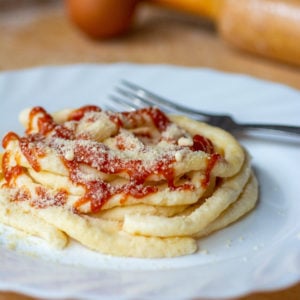 Keto Egg Noodles
This low carb egg noodle recipe consists of 4 simple ingredients and takes only 15 minutes to cook. Plus, one serving has just 4 grams of carbs! Moreover, these egg noodles are both keto-friendly and gluten-free.
Ingredients
1

cup

mozzarella cheese

shredded

1

large

egg

4

tbsp

almond flour

½

tsp

xanthan gum
Instructions
Crack the egg in a small bowl and whisk it.

In a separate bowl, combine the almond flour with xanthan gum.

Place the shredded mozzarella cheese in a microwave-safe bowl and melt it in the microwave for about 30 seconds. Then stir the cheese and melt it for another 30 seconds.

Let the cheese cool for about 1 minute, then stir in the whisked egg and the almond flour with xanthan gum.

Place the dough in a zipper bag (make sure that it isn't easy to rip). Make sure that all of the dough is at one end of the bag. Twist the bag to make it easy to squeeze the dough out of it through the end.

Put a pot filled with water over medium heat. Wait for it to boil, make a small cut at the end of the bag, and start to squeeze the dough out directly into the water. As you squeeze the dough out, use your other hand to cut the noodles to the needed length with kitchen scissors.

Cook the noodles for about 2-3 minutes. Use a strainer spoon to take out the egg noodles.
Nutrition
Calories:
285
kcal
Carbohydrates:
5
g
Protein:
19
g
Fat:
22
g
Saturated Fat:
9
g
Polyunsaturated Fat:
1
g
Monounsaturated Fat:
5
g
Trans Fat:
1
g
Cholesterol:
137
mg
Sodium:
408
mg
Potassium:
79
mg
Fiber:
2
g
Sugar:
1
g
Vitamin A:
514
IU
Calcium:
326
mg
Iron:
1
mg