All Breville espresso machines are designed with a water filter to remove minerals from the water, ensuring a delicious, flavorful cup of brewed coffee every time. However, all the minerals can accumulate in the machine's heating elements, so it's important to descale it regularly.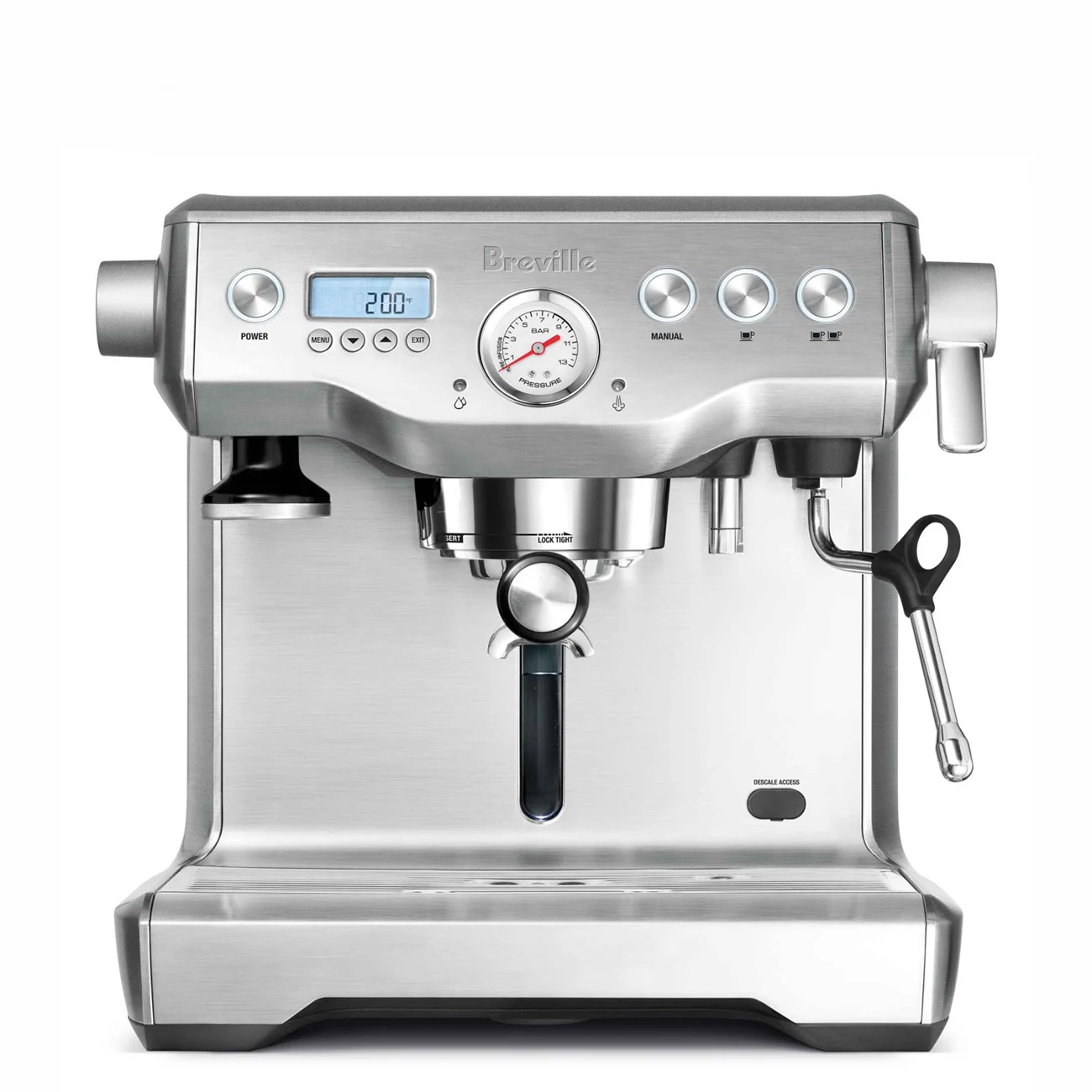 To descale your Breville coffee maker, fill the reservoir with water and vinegar mixture. Let the machine sit for around an hour, and then run a few 'Descale' cycles. Fill it again with fresh water and run water cycles until no vinegar odor or taste is left.
Before you start descaling your Breville coffee maker, pick up some vinegar or descaling solution. Premade solutions or homemade ones using water and vinegar both work for descaling.
Table of Contents
How To Descale Breville Coffee Maker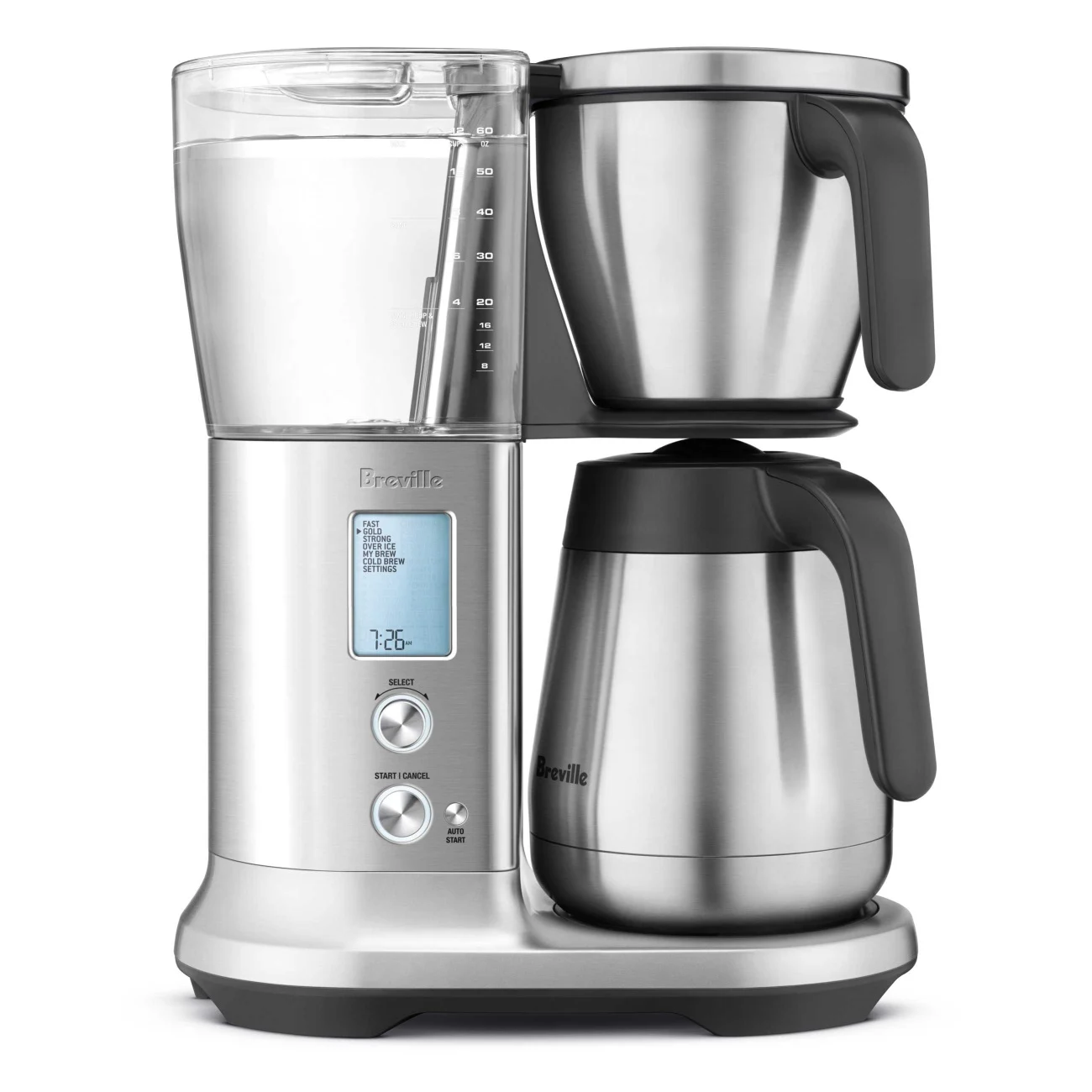 As the water heats up and passes through your coffee machine, it leaves magnesium and calcium deposits behind. This can obstruct the water channel and prevent the coffee grounds from getting the right amount of hot water.
Water that slowly trickles in can't create an energizing, great-tasting brew. For this reason, it's crucial to descale your Breville coffee maker and remove all the hardened mineral deposits. Here's what you need to do:
Step 1: Fill the Reservoir
Before you start descaling, unplug your Breville coffee maker. Then, open the water reservoir and pour four cups of white vinegar into it. Next, fill the reservoir with warm water.
If you own a smaller coffee maker, add equal parts water and vinegar (four cups for both). For a larger machine, like a 12-cup coffee maker, use eight cups of white vinegar and four cups of water.
Once you've poured the solution, plug in the machine and turn it on.
Step 2: Rinse the Coffee Maker
Let the vinegar-water mixture sit in your coffee machine for around an hour. This will help break down all the hard mineral deposits that have accumulated over time.
Step 3: Start and Run a Descaling Cycle
Depending on your Breville coffee machine, you might have a descale setting. Hold down the 'Strength' button, and the screen should read 'Descale.' If there isn't any special function, switch on your machine and brew the vinegar solution the same way you would brew coffee.
Run the machine until it empties the water and vinegar solution into the coffee pot. The solution will run through the coffee machine and clean out all the hardened mineral deposits.
This step takes around three minutes but can take longer, depending on your coffee machine and the amount of mineral buildup. Next, pour fresh water into Breville's water reservoir. Hold the "Strength" button and activate the "Descale" mode again.
This cycle should remove the taste and smell of vinegar from the machine. Keep brewing until the reservoir is empty.
If you haven't descaled your Breville in a while, you might want to run another cycle of the water and white vinegar mixture. Doing a second run will clean out any scale buildups that didn't get removed the first time. Once the reservoir becomes completely empty, it's time to rinse.
Step 4: Repeat if Necessary
Empty out the water and vinegar mixture from your coffee maker, and fill the reservoir with fresh water. Run a water cycle through the machine, and keep doing this until your coffee maker stops emitting a vinegar odor. After, you can continue making your espresso or coffee as usual.
How To Descale Breville Espresso Machine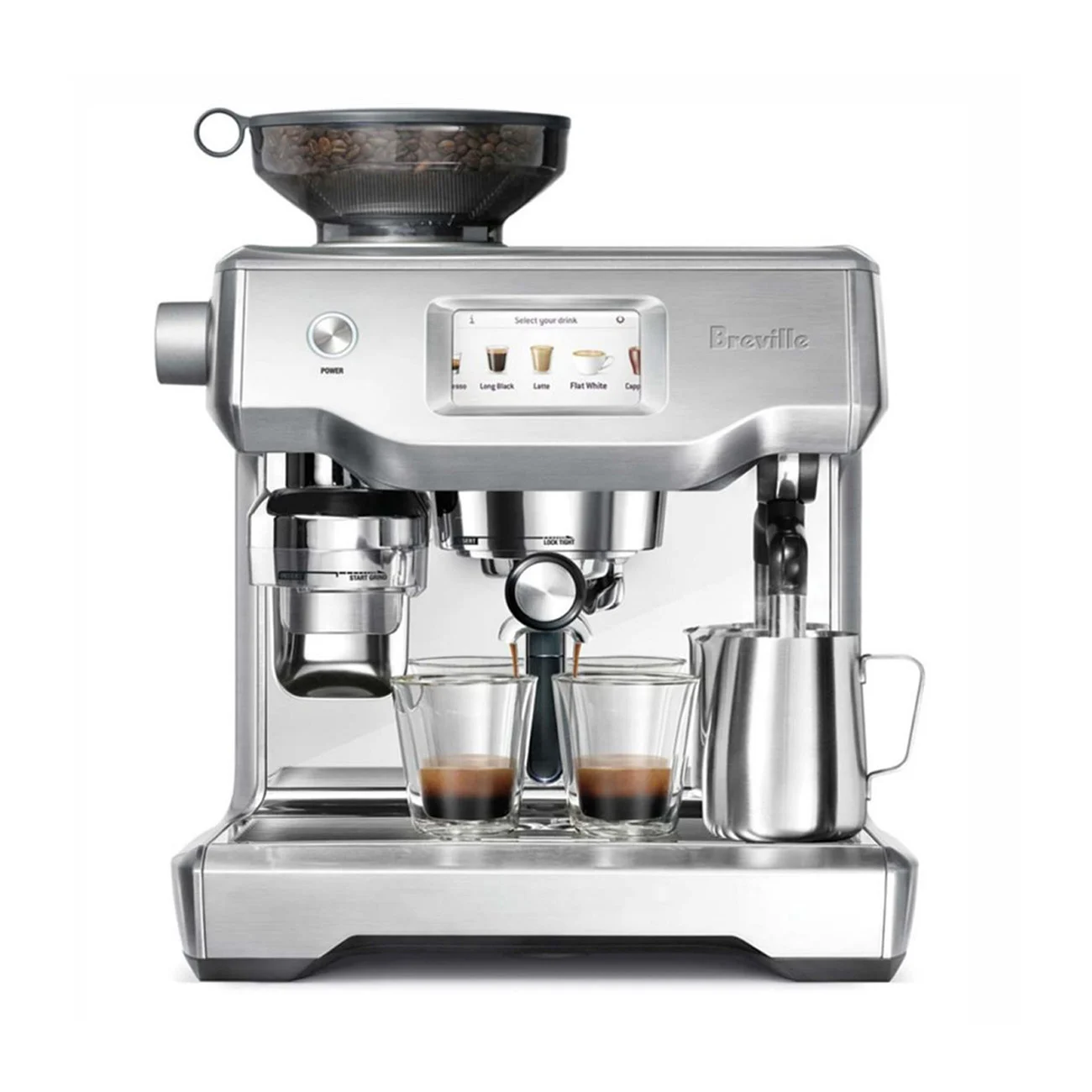 A different approach might be needed if you have a Breville espresso machine, like the Breville Barista Express or the Breville Barista Pro. Here are the steps you need to follow:
Step 1: Remove Your Machine's Components and Add the Descaling Solution
Empty the water tank and drip tray and remove the water filter. Add a packet of Breville's descaling solution into a liter of warm water. Pour the solution into your machine's water tank and re-insert it into the machine.
Step 2: Activate the 'Descale' Mode
Make sure the machine is turned off. Then, simultaneously hold down the 'power' and '2-cup' buttons to activate the descaling mode. The machine will start heating up during this step, and the power button will flash continuously.
Keep an eye on the 'power' button, '1-cup' button, 'hot water/steam' indicator, and 'clean/descale' indicator. Once they light up, your coffee machine is ready for descaling.
Step 3: Descale the Machine's Coffee Component
Place a two-liter container under the steam wand to catch the solution. Press the '1-cup' button to descale your machine's coffee component. This step should take around 25 seconds, and the button should flash continuously.
Step 4: Descale the Hot Water and Steam Components
Manually turn your coffee maker's steam dial to the left or towards the steam icon. Then, wait around 13 seconds for the machine's steam component to descale.
Next, turn the steam dial towards the right or the water icon. Wait around eight seconds for the water component to descale. Make sure you turn the dial back to its initial position once you're done descaling the water components.
Step 5: Repeat Until You've Completely Flushed Out the Descaling Solution
At this point, only half of the descaling solution should remain in the water tank. Repeat all the previous steps until the descaling solution has been completely removed through the steam wand.
Step 6: Flush Your Coffee Machine With Clean Water
Remove your coffee maker's water tank and rinse it thoroughly. Refill the tank with freshwater up to the max line and reinsert it into the machine. Repeat all the previous steps with fresh water to remove any residue left from the descaling solution.
Make sure there isn't any scent left from the descaling solution, and the rinsed water is completely clear.
Step 7: Descale Your Espresso Maker Every Three to Six Months
Make sure you descale your Breville espresso machine every couple of months to avoid water or clogging issues. Some Breville coffee makers even come with a descale/clean light that illuminates automatically when it's time to descale the machine.
If you have the machine in your office and use it up to six times a day, it's best to descale it every three weeks to maintain your espresso's great taste and quality.
How To Clean a Breville Espresso Machine With Vinegar?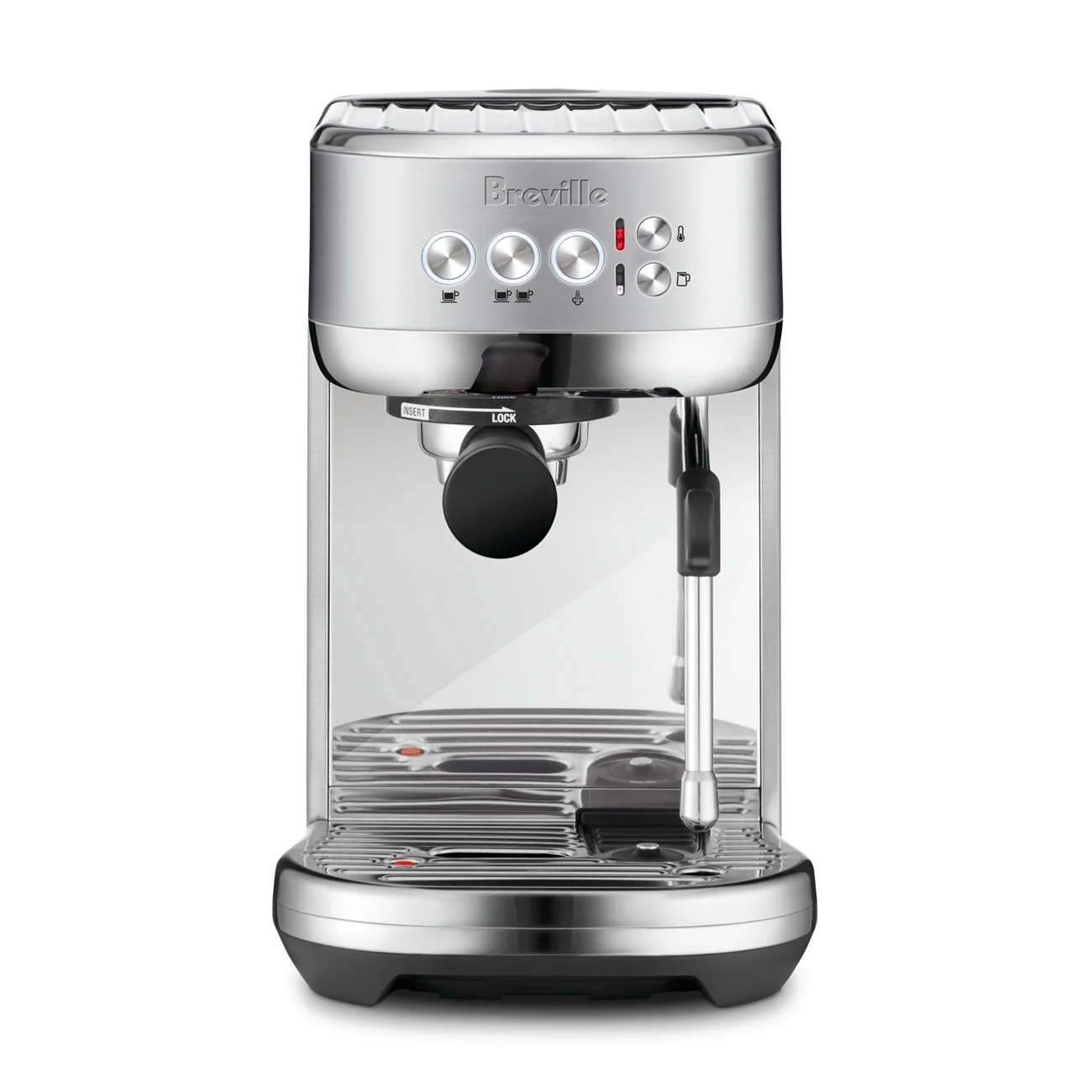 There are a lot of conflicting opinions on whether it's safe to clean your Breville espresso machine with vinegar. Generally, vinegar is a safe cleaning solution, but it's always better to consult your machine's safety manual.
Below are the detailed steps:
Mix 4 cups of water and 4 or 8 cups of vinegar (depending on machine size) in a large enough amount to completely fill the water reservoir. Other solutions like lemon juice or citric acid work too.
Run a few brew cycles until you completely flush out all the solution.
Fill the reservoir with fresh water.
Run four to five brew cycles using only fresh, cold water. This step will help ensure you get great, flavorful coffee during your next brew. Although the descaling solution isn't harmful, it can ruin the taste of your coffee, so don't skip this step.