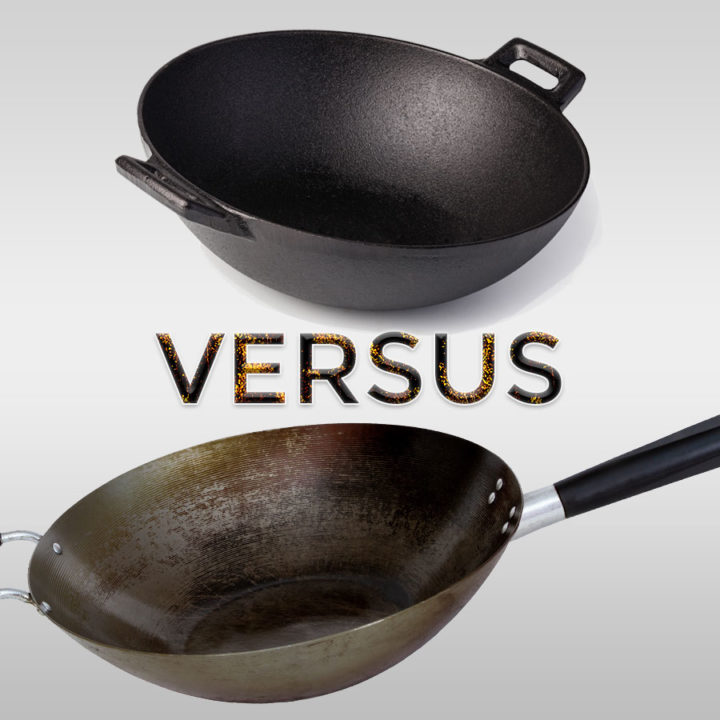 The main difference between a carbon steel wok and a cast iron wok is that carbon steel woks are lightweight and easy to heat, while cast iron woks are generally heavier and take longer to heat up. Of course, both are highly durable materials and can last for years as long as they are properly maintained.
A carbon steel and cast iron wok are both good choices when choosing a wok to buy. But each type has its own advantages, so which one you buy ultimately depends on what food you usually cook.
In this article, we'll compare the carbon steel wok and cast iron wok to find out which is better for you.
Table of Contents
Performance
When cooking in a wok, heat distribution and retention are key. Both cast iron and carbon steel wok pans have their own advantages in this area.
Carbon Steel
When it comes to performance, the advantage of carbon steel is all about heat distribution. They are lightweight and slim, meaning they heat quickly and evenly. After just a few seconds over a hot burner, they are ready for stir-frying.
On the downside, this may mean carbon steel wok pans are prone to developing hot spots. Though if you're mostly stir-frying, you'll be keeping the pan in motion anyway, so it shouldn't impact your cooking.
Cast Iron
Cast iron wok pans are generally heavier and bulkier than carbon steel ones. However, this extra weight has a purpose: storing and retaining heat. Once a cast iron wok is up to temperature, it can hold heat for quite a while, even after removing it from the burner.
This excellent heat retention makes cast iron wok pans a good choice if you want even heat. However, it's not good if you're going to switch rapidly between temperatures.
Non-Stick
No matter what kind of cooking you're doing in your wok, it's important to keep food from sticking. This makes it easier to keep food in motion while cooking and also simplifies cleanup.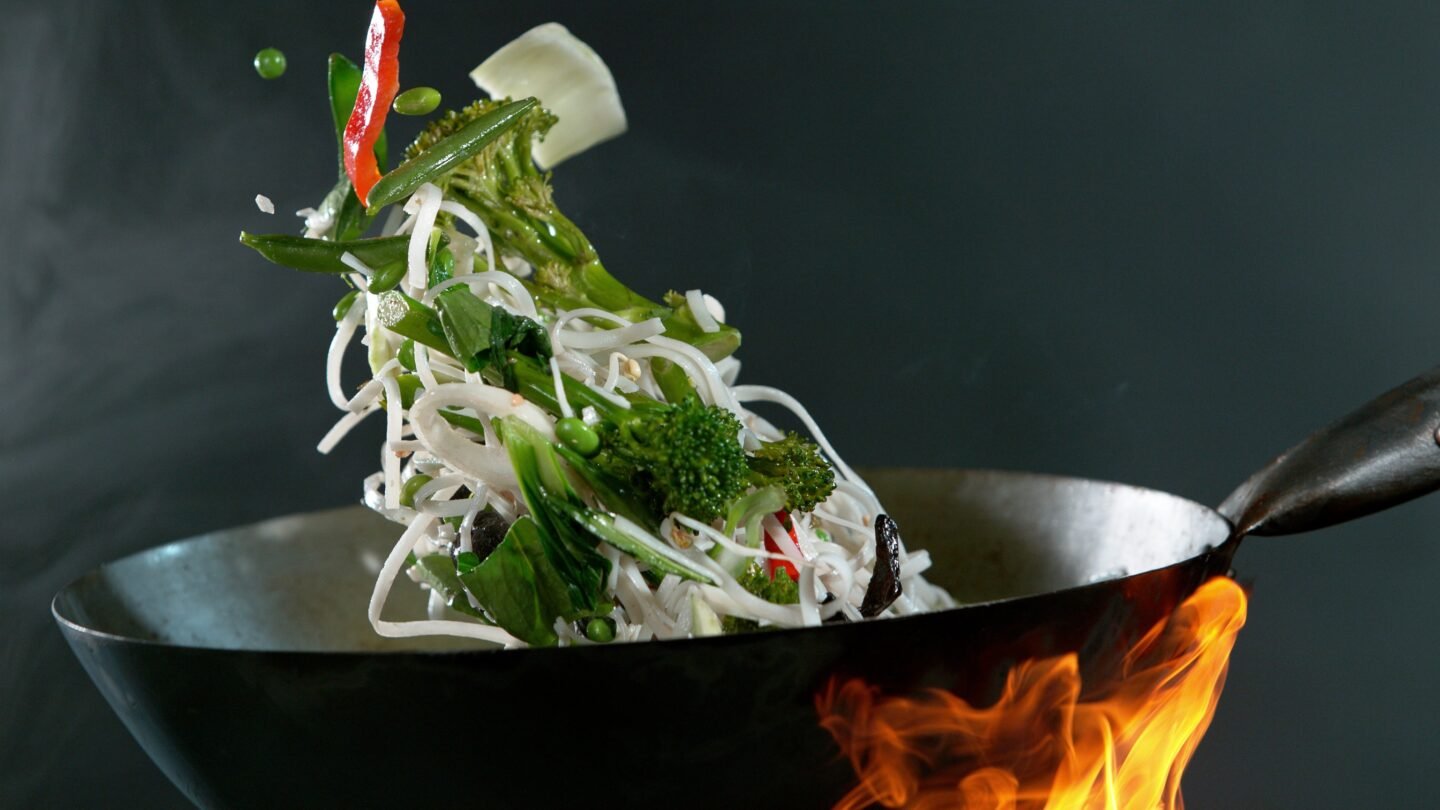 Carbon Steel
Carbon steel pans have a slick, nonstick surface as long as it's properly seasoned. This means you can cook with less oil, resulting in lighter and healthier dishes. Also, their nonstick surface will take on the flavors of your food over time, naturally seasoning successive dishes.
Cast Iron
Cast iron works much the same way as carbon steel pans in that they stay slick and nonstick as long as they are kept seasoned. The difference is that some cast iron pans come with a textured cooking surface. This is not ideal for most types of cooking in a wok, as it doesn't allow food to slide over the surface.
Maintenance and cleaning
Cast iron and carbon steel wok pans are maintained in much the same way through regular seasoning. This involves burning oil onto the pan's surface to create a protective coating. This coating prevents rust from building on the pan's surface while also creating a nonstick surface that's perfect for wok cooking.
Several layers of seasoning should be applied to a new wok; a fresh coat or two should be applied every three months after. When your wok is not in use, it should be left coated in a thin layer of freshly-applied oil as an extra defense against moisture.
Cleaning carbon steel or cast iron woks requires minimal effort. Just make sure to avoid soap or highly abrasive scrub pads, as these can mar the surface of your seasoning. Instead, a bit of water and a soft sponge is all you need.
Manufacturing
The fact is that not all woks are made the same way, even though they look similar. The manufacturing process behind a wok often says much about how it performs.
Carbon Steel
One of the advantages of carbon steel woks is that you have several types to choose from.
Among the highest quality are hand-hammered woks. These are created just as you may think by a trained craftsman pounding a piece of steel into a dome shape. The result is a wok with small facets across the surface, which helps food grip to the sides while cooking.
There are also spun woks, which are created on a lathe. Rather than a surface of small facets, these include shallow grooves across the surface, which work similarly. Spun woks are slightly cheaper than hand-hammered ones.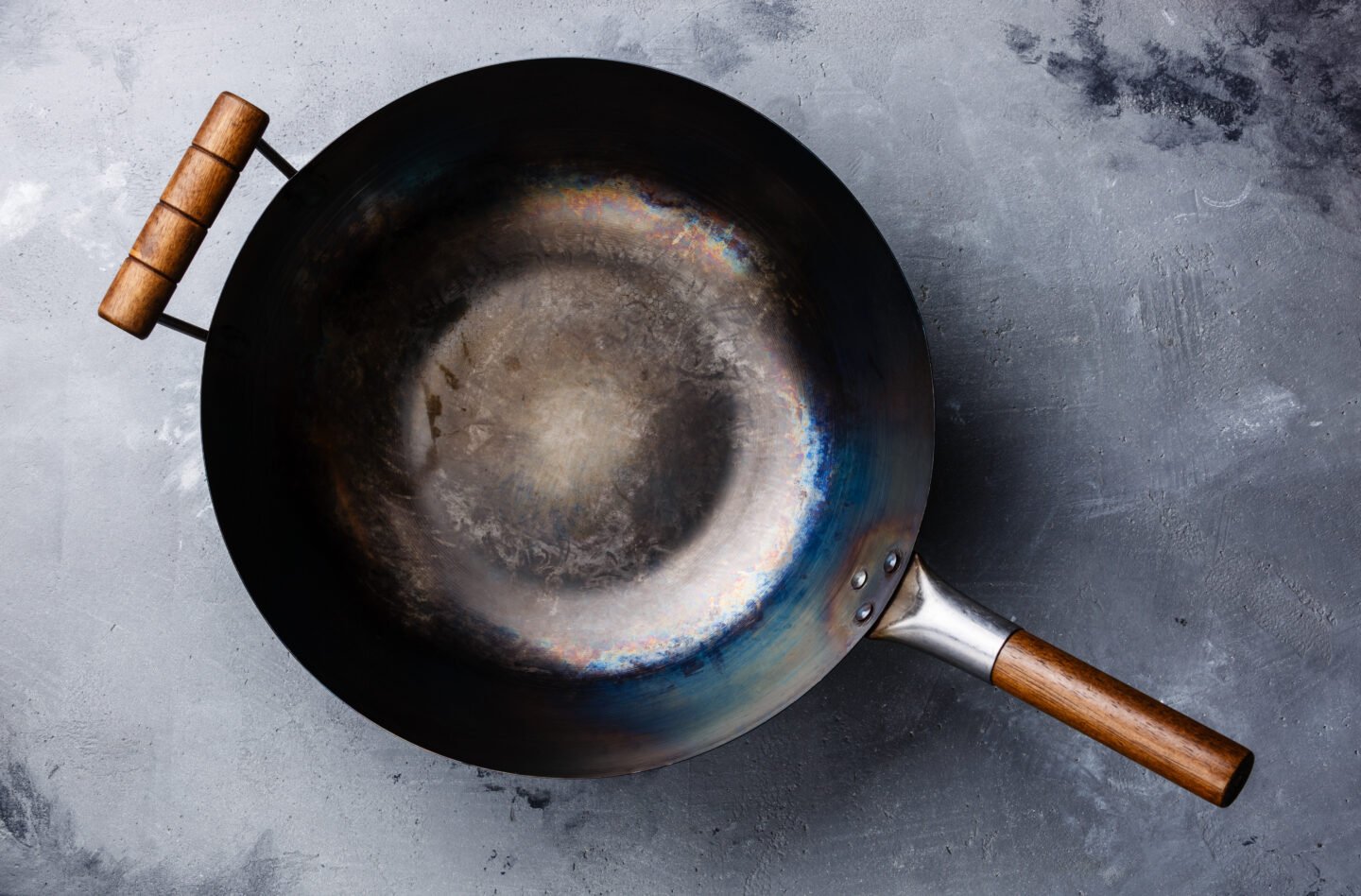 Cast Iron
By contrast, cast iron woks are always created the same way, through a casting process. This makes them extra durable, as there are no welds or weak points.
Weight
A pan's weight determines its overall design and what cooking styles it excels at. Your choice of material depends on what foods you want to cook.
Carbon Steel
Carbon steel pans are one of the most lightweight pans, at just a fraction of the weight of cast iron or stainless steel. This makes them a perfect choice for stir-frying, which requires fast and repetitive movements to do right. Because of their lower weight, a pow wok style pan is ideal, as it maximizes maneuverability with its long handle.
Cast Iron
Cast iron pans are some of the heaviest around, often weighing more than 10 lbs. Because of this, two sturdy handles are usually best for added stability when lifting. This type of wok is called Cantonese style and is actually the more traditional of the two.
Cantonese-style woks are an ideal choice for boiling, frying, and braising, taking advantage of the pan's increased weight to hold heat.
Cost
Even while carbon steel and cast iron wok pans are the same type professional wok chefs use, they are often very affordable. Generally, you can find a quality starter pan for $50 to $70, while high-end pans can cost twice that price.
Both types are also highly durable, meaning they're always a good investment as long as they are taken care of. However, cast iron woks are a bit more durable, especially when choosing a high-end model.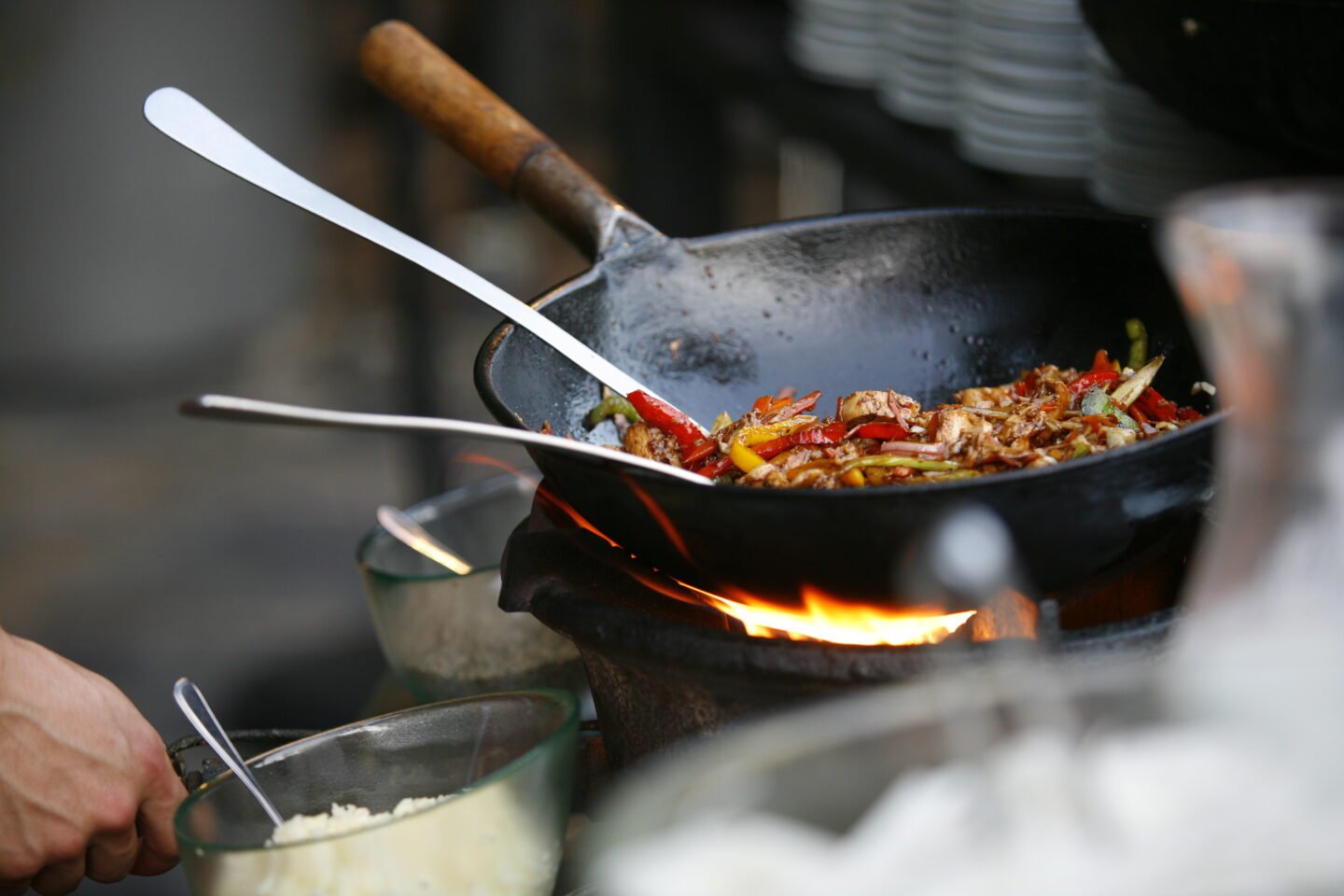 Frequently Asked Questions
Are carbon steel and cast iron made of the same materials?
Cast iron and carbon steel are similar in the sense that they are both ferrous metals. However, they are made and processed very differently. Cast iron woks are made by purifying iron ore and then pouring it into a mold. This results in a solid and durable piece of cookware.

On the other hand, carbon steel pans are made with an alloy composed of 99% iron and 1% carbon. While it might not sound like a big difference, adding carbon helps strengthen the metal.
Is carbon steel compatible with induction stovetops?
Since carbon steel and cast iron woks are both mainly made of iron, they can be used on any stovetop, including induction. However, there are other reasons why you may not want to use a wok on an induction range.

First, induction ranges are usually covered in a ceramic glass coating. This smooth surface isn't ideal for round-bottomed woks, which will have difficulty staying in place. You can use a wok ring to keep it in place, though when the pan isn't in contact with the cooking surface, it has a harder time heating up.

Flat-bottomed pans are also available, though this poses a problem too. Since the sides of the wok are so tall, they are often too far away from the induction stove's heating element. The result is an under-heated wok.
Why do professional chefs use carbon steel?
More than any other material, carbon steel is most favored by commercial wok chefs. There are several reasons for this.

First, they are lightweight and easy to work with. Since professional chefs are cooking all day, it makes sense to choose a lightweight pan that is easy to hold. Also, carbon steel pans heat faster, which is perfect for a fast-paced kitchen.

Second, carbon steel pans are relatively inexpensive. When a restaurant owner is looking to outfit their kitchen with a dozen or more pans, the lower cost looks attractive.

Finally, carbon steel pans are the ideal choice for stir-fry, which is commonly found in restaurants.