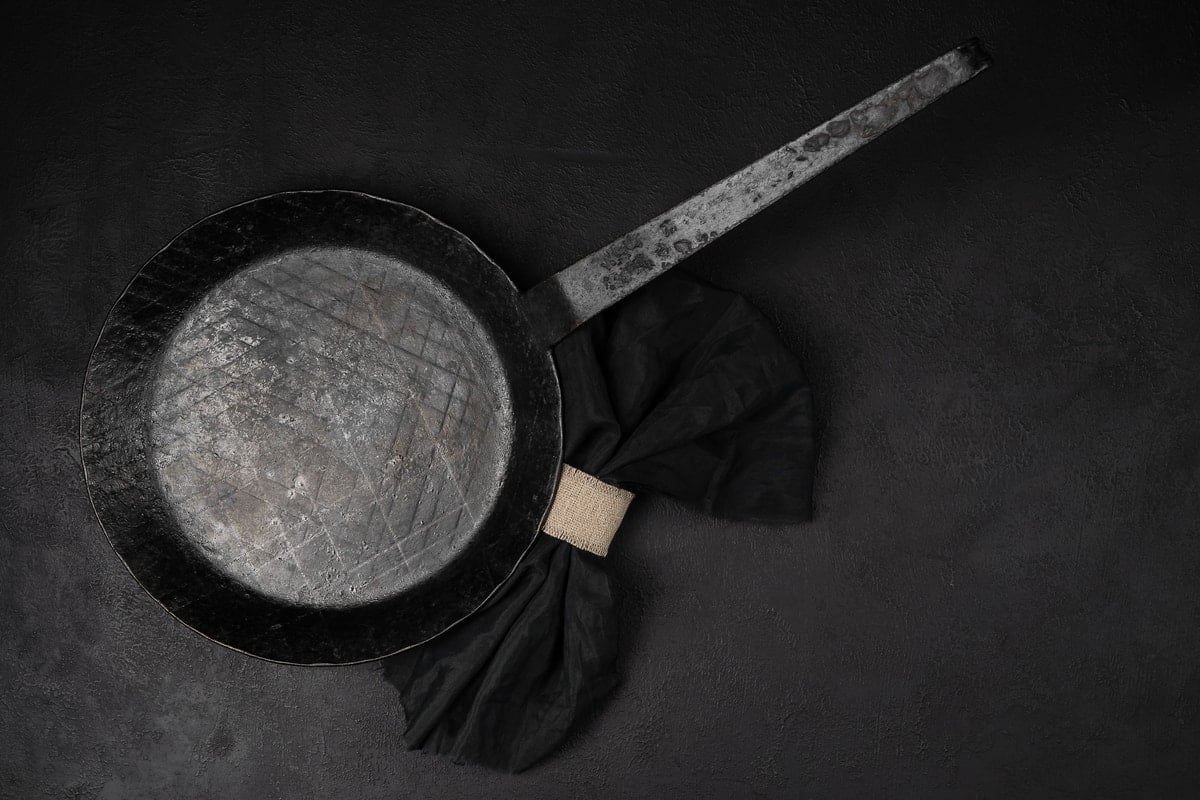 While every seasoned chef acknowledges the benefits of carbon steel, there are still some who shy away from using it. Part of the reason for this is because they see it as high maintenance when it comes to cleaning.
However, the truth is that carbon steel isn't more or less difficult than cleaning Teflon, stainless steel, ceramic, or cast iron cookware. It's just different. By learning how to clean a carbon steel pan properly, you can take advantage of all this material's benefits without any of the hassle.
Below, you can find a simple, step-by-step guide to cleaning your pan. Also, be sure to note what you shouldn't do, and check out our guide on long-term maintenance.
Table of Contents
Why it's Important to Keep Your Pan Clean
No matter what kind of pan you're using, it's always a good idea to make sure they stay clean. That way, they're always ready when you need them, and won't contaminate your cooking with yesterday's meal.
However, when working with carbon steel, ensuring your pan stays clean is even more important. This type of pan is much more prone to rusting than stainless steel, Teflon, or ceramic. Thus, maintaining a clean cooking surface is the best way to lengthen the lifespan of your pan and prevent irreparable damage.
How to Clean Your Carbon Steel Pan, Step-by-Step
The truth is that a dirty carbon steel pan is nothing to be afraid of. All this type of cookware needs is a short amount of time and attention after you're done using it. Follow these simple steps to have it sparkling once again.
Have Supplies on Hand
Keeping it simple is the best strategy when cleaning a carbon steel wok or pan. All you need to have on hand is a soft sponge, paper towel, and running water. For more serious jobs, you might also want to have a bristle brush or plastic scraper handy—just make sure they're not too stiff or sharp.
Wipe Down the Pan
Ideally, it's a good idea to wipe down your pan as soon as you're done using it. A paper towel or cloth dish towel should be perfect. This will keep heavy food particles from ending up in your kitchen drain.
Scrub With Water
Next, run a small amount of water into your pan, and use a soft sponge to loosen any other food debris that may still be on the surface. It is important to limit the amount of water, as excess moisture can cause a carbon steel pan to rust.
Also, remember to scrub your pan only as much as you need to remove the food. Excessive scrubbing can damage the protective coating of polymerized oil on the cooking surface.
Start with a sponge, and if necessary use a bristle brush or plastic scraper to remove all debris. Avoid using steel well, soap, or harsh chemicals.
Dry Your Pan
After all the food residue is removed, dry your pan over a burner set to medium heat. This should only take a minute or two—long enough for any leftover water to completely evaporate. Once it's gone, you can turn off the burner and allow your pan to cool where it is.
Store Appropriately
Don't forget that appropriate storage is just as important as the cleaning process.
After your pan is dry and cool, rub it down with a very thin coating of canola or grapeseed oil before storing it in your cupboard. This will help protect it against any moisture in the environment.
Generally, it's a good idea to avoid storing your carbon steel pan under your sink, or anywhere else where water may find its way onto your cooking surface. You should also take care when stacking pots and pans so as to avoid scratching any of them.
What to Avoid When Cleaning a Carbon Steel Pan
While the process of cleaning a carbon steel pan is relatively straightforward, there are a few things you need to avoid. Make sure you never expose your pan to any of the following.
Abrasive Scrubbers
One of the most common culprits that can cause damage to carbon steel pans is an abrasive scrubber. Rough sponges, very stiff brushes, and especially steel wool can all do serious damage to your cooking surface.
The reason is that carbon steel pans, like cast iron, have thin coatings of oil which allow them to maintain a slick surface. While effective, this surface can be easily damaged by improper cooking or cleaning methods. Rough scrubbers in particular can leave deep scratches where rust can get in.
Strong Cleaning Chemicals
Anything stronger than mild soap can strip away your pan's coating just as fast as an abrasive scrubber. If you're not sure whether a particular cleaner is right for your pan, it's better to avoid it altogether.
Soap
A bit of mild dish soap should be safe for your cast iron pan, especially if it has had time to build up a thick coating of oil. However, you should almost never need to use it. Remember: a carbon steel pan should be stored with a bit of oil left on it, so don't try to wash it off.
Soaking
Soaking or running water on your pan for too long can also damage it, whether you're using soap or not. In fact, with enough time, the water can seep into the surface of your pan, weakening its structural integrity.
Long-Term Maintenance
Now that you have the basics of day-to-day care down, let's go over some strategies for taking care of your pan over the long term.
Deep Cleaning
In some cases, you might find that burnt food won't come off the surface of your pan no matter how long you scrub with water. To remove it or other imperfections on your pan's surface, try this deep cleaning method:
Start by spreading a thin layer of kosher salt on your pan and put it over medium-high heat. Wait until your pan is fully heated, which should take around one to two minutes.
Next, use wadded-up paper towels to scrub the salt into the surface of the pan. This will work like sandpaper, removing food particles from the cooking surface but not damaging the pan.
Lastly, rinse your pan under a bit of water, and dry with paper towels. Once it's completely dry, rub it down with some vegetable oil before storing it.
Eliminate Rust When you See it
Rust is a big problem for carbon steel cookware, though it doesn't necessarily mean the pan is at the end of its life if you spot some. If you do, be sure to remove it quickly to prevent it from spreading.
This is the only time you should use an abrasive pad on your carbon steel pan. Use the rough surface of the pad to remove the rust, scrubbing vigorously until all of it has disappeared. When you're done, you will have to reseason the pan from scratch.
Reseason When Necessary
Even the most well-maintained pans need a little refresher every now and again. To keep your pan healthy, reseason it every two to three months or any time you find the cooking surface chipped or scratched.
Frequently Asked Questions
Take a look at some of the most commonly asked questions about cleaning carbon steel pans.
Can I soak a carbon steel frying pan?
It is important to avoid soaking a carbon steel pan under any circumstances. This can lead to rust, degrading the structural integrity of your pan. For this reason, it's also a good idea to avoid boiling or braising foods using carbon steel cookware.

Instead of soaking, run a small amount of water into your pan and rub gently with a sponge. This should be enough to remove any residue you find there.
Should I use soap on carbon steel?
It is safe to use a small amount of mild soap on carbon steel, though any stronger chemicals should be avoided.

While it is technically safe to do so, in most cases it won't be necessary. A carbon steel pan's slick surface should prevent food from sticking to it.
Can I put carbon steel in the dishwasher?
A carbon steel pan should never be put in the dishwasher. The combination of soap, high heat, and excessive water will damage your pan's coating.
What do I do if food won't come off my pan?
In some cases, food may stick to your pan so well that gentle scrubbing won't remove it. If you encounter this problem, take a look at the Deep Cleaning section above.
Should I use baking soda to clean my carbon steel pan?
While baking soda can be used with some pans to remove burned food that has stuck to the cooking surface, that is not the case with carbon steel. Baking soda can damage your pan in the same way as other chemicals and should only be used if you are planning on re-seasoning the pan immediately afterward.