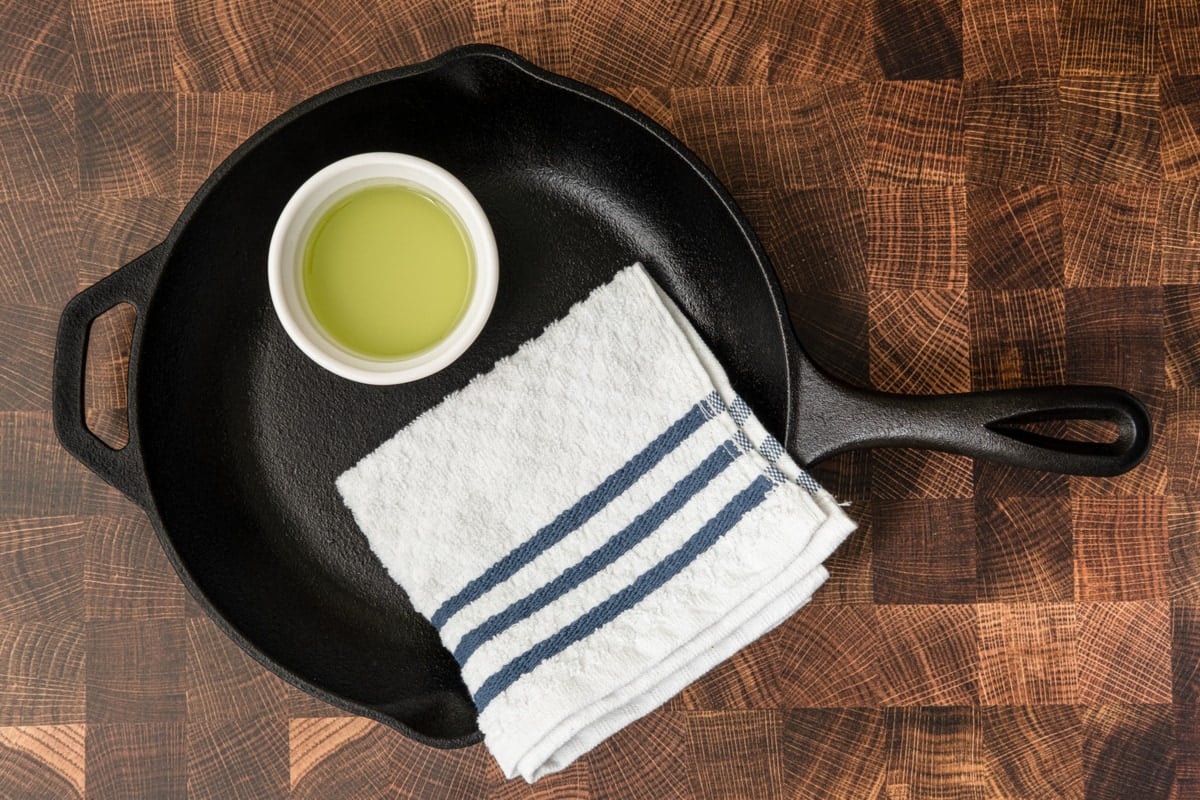 When we say "cast iron cookware lasts ages," that's actually being fair of its durability and dependability. This timeless kitchenware can last many decades and is often passed on from one generation to another. But while this is true, keeping cast iron cookware clear of rust and long-lasting takes a bit of work.
The easiest and most convenient way of prolonging its rust-free life is through frequent use. In fact, the regular use of cast iron cookware triggers a natural seasoning process. With each use, you add a layer of protection and lengthen the life of your cookware.
Unfortunately, cast iron may not be ideal for everyday cooking. Also, not all oils will work well with cast iron products. This is where cast iron conditioners serve their purpose. So what is a cast iron conditioner?
Cast iron conditioners are specifically formulated to season cast iron cookware. They are a combination of ingredients, mostly of oil substances, that create a non-stick surface that's perfect for cooking. But with a variety of choices, it can be difficult to decide which one to buy. To help you out, we have narrowed down the best cast iron conditioners in 2021.
Table of Contents
Best Overall: Camp Chef's Cast Iron Conditioner
Pros: All-natural ingredients, easy to use and apply, comes in two variations plus two packaging types, no need to bake the cast iron after treatment, does not color blend with iron and food, is non-stick
Cons: Its paste variant can be delicate to temperature changes
Cast Iron Conditioner by Camp Chef is a mixture of citric acid, vitamin E, and natural oils. Its natural oils include palm oil, coconut oil, and sunflower oil.
Camp Chef offers this conditioner in two variants: paste form and liquid form. The paste form comes packed in a plastic tube while the liquid form arrives packaged in a spray bottle. Apply the conditioner onto your cast iron cookware by simply spreading or spraying it.
Both variants come in a neutral color. This means color-blending is not an issue, unlike with red palm oil. Also, this conditioner does not leave a sticky residue.
Generally, you would need to bake your cookware after applying a layer of conditioner or oil. However, for specially-made conditioners like the Cast Iron Conditioner by Camp Chef, it is unnecessary.
Although both are easy to use, we give a slight edge to the liquid variant if you had to choose one. This is because the paste option is overly delicate to extreme changes in temperature. For instance, prolonged storage in a colder environment hardens the paste, while storage in a warmer environment affects its consistency.
That said, the conditioner's functionality is affected by neither hardening nor inconsistency. Plus, you can easily fix hardened paste anyway. A small nail can pierce blocked-off openings, and warm hands can control thickening paste.
Best Versatile/All-Around: Crisbee Cast Iron and Carbon Steel Seasoning
Pros: Comes in three options with different scents, is non-stick, suitable for both cast iron and carbon steel, the stick variant will not make a mess
Cons: Expensive, potential wastes for the stick variant
The Crisbee Cast Iron & Carbon Steel Seasoning comes in three packaging types: stick, puck, and tube. The stick variant is in a twist-up plastic tube — think of deodorants. Unsurprisingly, the puck variant is shaped like a hockey puck, with the conditioner puck wrapped in plastic inside a metal container. Both stick and puck variants are wax-like substances.
In contrast, the tube/cream variant packs the conditioner in liquid form. The tube and puck variants should also leave you with less wasted conditioner. A big disadvantage to the stick variant is how difficult it can be to use the conditioner that gets stuck in corners.
That said, the stick variant is a lot more orderly to use. It is mess-free and arguably easier to apply. Whether or not these advantages justify using the twist-up plastic tube option will depend on your preferences. Also, keep in mind that the plastic container of the twist-up tube can melt if it touches the pre-heated cookware for too long.
Aside from the three packaging variations, the Crisbee brand also offers different scents. These include the original fragrance, lemon, apple pie, and coconut. All options are non-stick and do a good job of keeping the cookware surface dry.
Furthermore, the Crisbee conditioner shows its versatility by its usefulness for both cast iron and carbon steel cookware. It is consequently the preferred choice for buyers with both types of cookware — two conditioners for the price of one.
Best Value: BuzzyWaxx Original Blend - Cast Iron and Carbon Steel Seasoning
Pros: Affordable, suitable for several types of kitchenware, honey scent
Cons: Difficult to use due to packaging
The BuzzyWaxx Cast Iron and Carbon Steel Seasoning is similar to the Crisbee offering but is sold at a much lower price point. Made of food-grade beeswax and stored in a round tin container, it is much like the Crisbee puck variant. The conditioner leaves a slight scent of honey during and after the seasoning process.
Also, like the Crisbee offerings, the BuzzyWaxx seasoning is versatile. You can use it on griddle cooktops, wooden kitchen tools, and gun stocks.
But, unlike the Crissbee puck variant, BuzzyWaxx doesn't come with a plastic wrapping. This presents some issues when trying to get the wax out of the tin container.
Cast Iron Conditioner Buying Guide
Choosing the best cast iron conditioner comes down to at least two things: preference and budget. Here is what we have to say about these two components.
Preference: Different brands offer cast iron conditioners in different forms, packaging, scents, and specializations. Choose the offering that suits your tastes and gives you the most enjoyable and stress-free experience. For example, if you hate handling liquid-form oil, then consider wax-form conditioners.
Do you prefer the convenience of using a twist-up plastic tube, or do you think that's wasteful? How about your local climate? Do you like paste-form enough to warrant some solidifying conditioners in cold climates?
Budget: Premium brands will have a few distinct advantages, such as the quality of oils used and convenient packaging. But, they all ultimately function the same way. So if your budget is tight, consider the bargain options or even the DIY route.
If you own a variety of kitchenware, you may also want to consider the versatile options that work not just with cast iron, but also with carbon steel and others.
Frequently Asked Questions
What is in a cast iron conditioner?
Cast iron conditioners are a concoction of different natural oils. Made of other cast iron-friendly ingredients such as beeswax, they are then molded and shaped into different forms. Some of the approved oil ingredients used by the popular manufacturers include palm oil, vegetable oil, coconut oil, canola oil, olive oil, and flaxseed oil.
How do you condition cast iron?
The pre-seasoning of brand-new cast iron cookware is not intended to last forever, and the application of conditioners will eventually be necessary. This is because conditioning keeps your cast iron's black patina surface non-sticky and rust-free. Follow these steps for proper conditioning:
While preheating the oven to 400 degrees Fahrenheit, wash the cast iron cookware with warm water and a small amount of dishwashing liquid or soap. We want to avoid submerging cast iron in the water.
Delicately wipe the excess water off. Make sure your cookware is completely dry before going to the next step, baking.
Place the cast iron cookware upside down on the oven rack and heat it for ten minutes. Lay down some foil on the bottom part of the oven to catch any oil drippings.
Remove the cast iron cookware from the oven and apply a thin layer of your favorite conditioner or seasoning. Keep in mind that a small amount is best, so wipe off any excess oil.
Place your kitchenware back in the oven and in the same position. Bake for one hour.
Repeat steps number 4 and 5 as desired. Repetition means infusing more layers, and that means more protection for your cast iron.
Let your cast iron skillet, pan, or griddle cool inside the oven.
Once it has completely cooled down, remove it from the oven and ensure the surface has no excess oil.
There are many more steps to take for long-lasting cast iron. See The Ultimate Guide to Cleaning and Caring for Cast Iron Cookware for more information.
How can you tell if cast iron is seasoned?
Well-seasoned cast iron has a smooth black patina look and an easy-release surface. You can certainly tell the difference between seasoned and unseasoned cast iron after cooking because food easily slides off well-seasoned cookware. Well-seasoned cast iron cookware will also be rust-free.
What do you need to season your cast iron cookware?
There are two ways to season cast iron. You can season by applying cast iron conditioner or by applying natural oils.
Palm oil, vegetable oil, coconut oil, canola oil, olive oil, and flaxseed oil are some of the recommended oils for seasoning. Of these options, flaxseed oil is considered to be the best option due to its excellent smoke point and high level of polymerization. You can read more about it here: The Best Oil to Season Cast Iron.
That said, cast iron conditioners are a special combination of different oils that work well with cast iron and other cast iron-safe ingredients. They are specifically formulated for the purpose, and manufacturers suggest using them on their own cast iron cookware products to ensure longer-lasting kitchenware with non-stick surfaces.