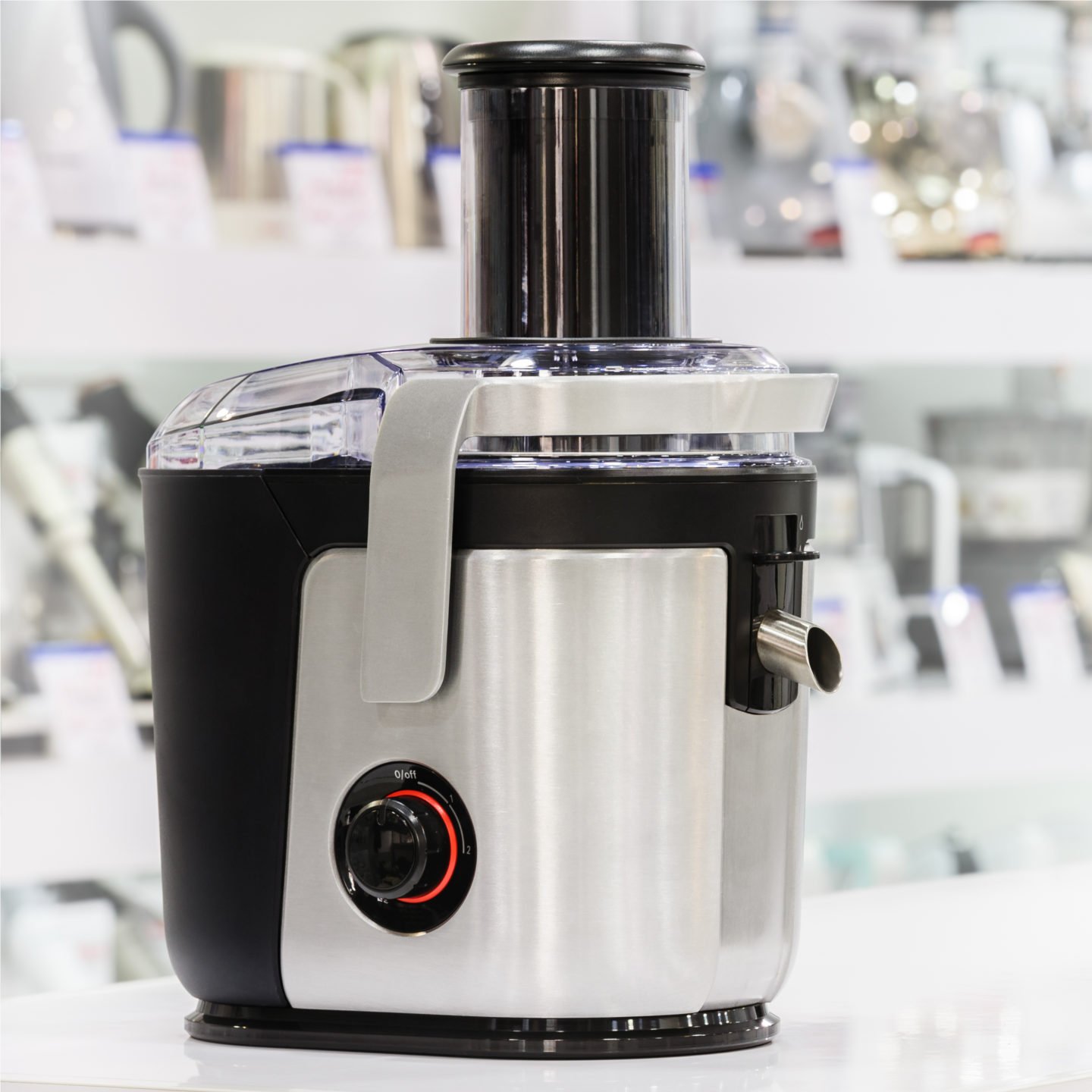 We all want to be healthy, but it can be challenging to achieve a balanced diet, especially for busy people. Hence, the juicing trend. Fruit and vegetable juice provides an easy way to get all the nutrients from the produce without cooking or eating them.
While others might say that juicing is an expensive habit, we beg to differ. Studies show that juicing at home is far more cost-efficient and effective than drinking store-bought juices. Choosing an affordable yet reliable juicer significantly helps, especially for beginners.
Of course, there are more expensive options in the market, but you can purchase high-quality models with great specs for under $100. In this article, we will reveal our top favorite juicers under $100 and provide you with a buying guide and answers to frequently asked questions.
Table of Contents
Overall Best: Breville BJE200XL Juice Fountain Compact
Breville BJE200XL Juice Fountain Compact
Built with a titanium disc and Italian-made filtering mesh, this 700-watt machine makes your juicing easy and fast.
Pros: 3-inch wide chute, compact design, juice jug with built-in froth separator, premium quality build
Cons: Limited 1-year warranty, oxidation on juice produced, one-speed setting
If you're looking for the best affordable juicer, the Breville BJE200XL Juice Fountain Compact is what we recommend. A 700-watt motor powers this machine. With just one click, the filtering basket spins at 14,000 RPMs, producing 250 mL of juice in just 5 seconds.
With its compact design, the Breville Juice Fountain Compact occupies only 10 inches of kitchen space. The exterior is made with plastic and metal, but the filtering system is built with a titanium disc and Italian-made mesh for pulp-free juice. Moreover, the 25-oz juice jug has a built-in froth separator that allows one last filtering before it reaches your glass, producing clear juice.
This juice fountain model's assembly, disassembly, and cleaning are straightforward. The removable parts are also dishwasher-friendly. Plus, it comes with a spatula and a cleaning brush to assist in removing any pulp that gets stuck.
Safety is also a great feature of this model. The cord wraps around the non-slip feet, and a safety lock is integrated, so you don't have to worry about missing pieces before starting your juicing session.
Since it's built to spin at a very fast speed, heat builds up, and oxidation in the juice is noticeable. Thus, the juice yield should be consumed immediately to prevent spoilage. Moreover, we also don't like that it comes with a limited one-year warranty. Although spare parts are available on their website, this juice fountain should be considered especially for beginners.
Best Juicer for Everyday Use: Hamilton Beach Two-Speed Juicer Machine
Hamilton Beach Two-Speed Juicer Machine
This model features an 850-watt motor with a two-speed setting and extra-wide feed chute that caters to whole fruits.
Pros: Strong motor, large juice jug, froth separator, easy cleanup, 3-year warranty
Cons: Moist pulp, produces a lot of heat when used
If you're looking for an affordable juicer that you can use daily, you can check out the Hamilton Beach Two-Speed Juicer Machine. This machine is powered by an 850-watt motor with a dual-speed setting that caters to soft and hard fruits and vegetables without clogging. It also comes with a 3-inch wide feed chute that allows big fruit and vegetable slices, saving you time.
This Hamilton juicer model's exterior is made of plastic, with a lidded 40-oz juice jug and froth separator that filters the extracted juice one last time before it is served. When it comes to cleaning up, this machine causes no hassle, thanks to the revolutionary Easy Sweep Cleaning Tool, which sweeps away pulp to decrease strainer cleaning time in half. The pulp bin, juice bowl, lid, and pusher are all dishwasher safe.
However, heat accumulates in the machine due to its fast speed, and oxidation occurs. This results in the shorter shelf life of the vegetable or fruit juice yield, rendering this model unsafe for batch juicing. User reviews also revealed that moist pulp is collected and that extra care should be observed when cleaning the parts as the plastic can easily chip off.
Best Juicer for Citrus Fruits: Tribest CS-1000 CitriStar Electric Citrus Juicer
Tribest CS-1000 Citristar Electric Citrus Juicer
Comes with an interchangeable ream to cater the smallest limes to giant grapefruits, this citrus juicer is perfect for your daily fresh citrus juice.
Pros: Easy operation and clean up, fast juicing, dual ream
Cons: Not advisable for batch juicing, produces a loud noise
The Tribest CS-1000 Citristar Citrus Juicer is a tiny citrus fruit juicer that operates at the press of a button. It is intended to extract as much juice as possible and has pieces that are easily accessible for cleaning. It's so simple and convenient that you can use it regularly to make fresh juice.
It comes with an interchangeable, BPA-free tiny ream and ream cap, allowing you to juice smaller citrus fruits as well as bigger ones such as grapefruits. The ream is removable in seconds and is ideal for any fruit size. Moreover, the stainless steel locking spout allows the juice to flow straight into the glass for uninterrupted operation while avoiding leaks or drips.
This juicer is intended for everyday usage in small batches, such as two individuals enjoying a glass or two of juice each. It was not designed for huge batches, such as juicing an entire bag of oranges all at once. It can handle a huge batch, but you'll need to stop frequently to wipe the pulp out of the juicer and drain the juice. Lastly, this small Citristar has a strong engine, and it can be loud and perhaps shake a bit when operating.
Best Value: Bagotte Compact Juice Extractor
Bagotte Compact Juice Extractor
With a 2-speed setting and stainless steel exterior, this centrifugal extractor has a wide chute and is perfect for daily juicing.
Pros: Stainless steel exterior, two-speed setting, safety lock and overheating protection features
Cons: Internal parts made of plastic, frequent motor interruption
If you're looking for a low-cost juicer, the Bagotte Compact Juicer might be the one for you. Although the 400-watt motor might not be the most powerful, this juicer has two speeds to juice both soft and tough produce. It comes with a 12-oz juice jug and a 40-oz pulp collector for continuous juicing.
However, at this price, you can't expect an all-steel machine. The filter system and the main body are made of stainless steel, but its other parts are mostly made of BPA-free plastic. That makes it unable to withstand the high temperatures of automatic dishwashers.
This model also has a safety lock technology that keeps the motor off until all the parts are placed properly. However, others might not be a fan of the automatic anti-overheating setting that stops the motor when the temperature reaches above 105°F. When this happens, you have to wait for the motor to cool down before you can use it again. Nonetheless, at its low price, testing it out will be a worthwhile experience.
Best Juicer for Beginners: Hamilton Beach Juicer Machine
Hamilton Beach Juicer Machine
Boasting its extra-wide chute and easy operation and clean-up, this juicer is undoubtedly best for beginners.
Pros: Easy operation and clean-up, wide chute, strong motor, 3-year warranty
Cons: One-speed setting, not suitable for green leafy vegetables
We recommend the Hamilton Beach Juicer Machine for everyday juice extraction. This model is powered by an 800-watt motor that operates at 12,000 RPMs, making everyday juicing possible with just a twist of its power button.
This machine is a member of Hamilton's "Beach Series," which features extra-wide chutes, eliminating the need for pre-cutting. You can easily feed an entire apple or large chunks of carrots and beets into the feed chute without any hassle.
However, this machine is built with only one speed setting, limiting it to hard produce, and not a good juicer for making sorbets and nut butter. The entire body is also made of plastic, and although they claim it to be dishwasher-friendly, placing plastic in hot temperatures damages its structure, resulting in leakage.
Nonetheless, with a three-year warranty, this inexpensive juicer is easy to assemble and operate and our recommended juicer for beginners.
Best Lightweight: Mueller Austria Juicer Ultra Power
Mueller Austria Juicer Ultra Power
This two-speed lightweight juicer powered by an 1100-watt motor has stainless steel blades that secure a fast and efficient juicing experience.
Pros: Powerful motor, dual-speed setting, anti-slip silicone feet, huge juice and container
Cons: Pulpy juice with a short shelf life
Weighing only 2.2 pounds, this Mueller Austria Juicer Ultra Power is our best lightweight juicer for this category. Despite its small size, this juicer runs on a 1100-watt motor that operates a dual-speed setting, spinning up to 18,000 RPMs, turning soft fruits and hard vegetables into juice within seconds.
When it comes to design, this model is a winner. With its 3-inch wide feed chute, 68-oz pulp container, 34-oz juice container, and a 48-inch power cord, you'll have a smooth juicing experience. Moreover, this is built with anti-slip silicone feet, so you don't have to worry about it moving around or making extra noise.
Another great feature of this model is its safety lock; it won't operate unless all parts are properly placed. This ensures safety for the user and the longevity of the machine.
However, this juicer's automatic overheating protection immediately turns the device off when there's too much heat. While this may be good for some, busy people might find this feature a hassle.
Best For Speed: Cuisinart CJE-500 Compact Juice Extractor
Cuisinart CJE-500 Compact Juice Extractor
With a motor that spins up to 19,000 RPMs, this speedy juicer provides your daily fresh juice within seconds.
Pros: Speed, large juice jug and pulp collector, adjustable juice sprout
Cons: Oxidation in juice, heat build-up
If you want an economical and fast juicer, the Cuisinart CJE-500 Compact Juice Extractor is the one to buy. With a 500-watt motor and an easy power button, you can juice as much as you want with this juicer's blades rotating up to 19,000 times a minute.
We appreciate this machine's compact design—with its black finish and silver accent, it fits every minimalistic kitchen. Despite its compact design, its pulp collector holds up to 40 ounces, and its juice jug can cater up to 16 ounces of juice. This model's installation, operation, and clean up is also straightforward, making it an overall user-friendly juice extractor. The removable parts are dishwasher-safe, too!
However, one problem is the short shelf life of the juice produced using this model. Additionally, the fast speed causes heat to accumulate, making it prone to oxidation and spoilage. But if you plan to drink the juice right after making it, this will work well for you.
Best Juicer For Aesthetics: Dash Deluxe Compact Masticating Slow Juicer
Dash Compact Cold Press Juicer
Its 130-watt motor spins at 80 RPMs to ensure every drop of juice is extracted, with a reverse button to prevent clogging.
Pros: Compact and aesthetic, slow rotation for high juice yield, easy operation and cleaning
Cons: Limited one-year warranty, not suitable for fibrous produce
We recommend the Dash Compact Cold Press Juicer if you want a tiny, aesthetically pleasing juicer that offers the best quality juice. This handy masticating juicer takes only 5 inches of counter space but provides a high juice yield and squeezes every drop of juice in your produce. The 130-watt motor operates at 80 RPMs, so you can expect a very dry pulp as a result.
This model also comes with a reverse button to remove any chunks that get stuck in the auger. Moreover, even with its tiny appearance, this model comes with a juice jug and pulp collector, plus a cleaning brush for a no-sweat clean-up.
However, our main concern with this product is its difficulty juicing fibrous fruits and vegetables, including some of the most famous juiced produce—pineapple and celery.
This juicer also comes with a short one-year warranty, which we dislike. Nevertheless, if you're looking for a masticating juicer that saves you both space and money, we still recommend the Dash Compact.
Best Juicer Under $100 Buying Guide
Purpose
When selecting a juicer, you should first consider your demands. Juicers are classified into four types: centrifugal juicers, slow masticating juicers, twin gear juicers, and juice presses. Each kind has advantages and disadvantages, and various brands provide different technology and features.
If you're looking for a quick juicer for everyday use, a centrifugal juicer is a fantastic option. However, if you have more time to devote to juicing and want to extract the most juice, you should consider slow juicers or a juice press.
There is a different juicer for citrus fruits, as well. So if you wish to drink fresh orange juice in the morning, you might check our top citrus juicer.
Speed
Masticating juicers extract juice by squeezing the produce. This process takes time, and most slow juicers operate at 50-110 RPMs. For masticating juicers, the slower, the better. These juicers guarantee a high juice yield but need longer to produce it.
On the other hand, centrifugal juicers operate up to 18,000 RPMs, guaranteeing fresh juice within seconds without the need for extra effort. However, due to their fast speed, heat accumulates in the machine causing damage to some of the juice's nutrients.
While there's still no evidence of the said damage, too much heat does affect the juice's quality.
Durability and Materials Used
Of course, we want the juicer we buy to last for years. When it comes to durability, we need to consider the filter mesh when purchasing a centrifugal juicer. Some fruits are naturally acidic, so look for an acid-proof mesh. There are also models with titanium or stainless steel filtering mesh, which is a great advantage.
The squeezing drill is another essential component of masticating juicers. While most models include plastic augers, look for one that is of good quality and does not chip easily to ensure a longer juicing experience. Do note that plastic augers tend to get deformed in hot water, so use tap or cool water when cleaning your plastic augers.
Design
The juicer's design is usually more than just its appearance. For instance, a large feed chute cuts your preparation time in half since you can feed bigger chunks into the machine. Some models also come with larger pulp collectors and juice jugs that allow longer continuous juicing, perfect for batch juicing.
You can also check the safety lock features on some juicers. This enables the user to ensure that the machine operates only when all parts are placed correctly.
Warranty
Most centrifugal juicers come with 1-3 years of company warranty, while masticating juicers usually have a longer warranty. Although most parts are available online, it's assuring to have a longer warranty in case of damage or malfunction.
Ease of Usage and Cleaning
Having a juicer that's easy to clean and use is important, especially for beginners. Finding a juicer that's easy to operate will cause no hassle and stress to new users. Centrifugal juicers are often easy to assemble, use, and disassemble. Some of them also have a reverse button that prevents the machine from choking.
It is also advisable to purchase a model with dishwasher-friendly parts to save you more time. While most companies state that their goods contain dishwasher-safe parts, it's vital to remember that hot water can distort the plastic. Also, some models come with a pulp spatula or a cleaning brush to make cleaning even easier.
Frequently Asked Questions
What is the most reliable juicer under $100?
Breville, Hamilton, Meuller, and Tribest are among the most reliable brands that offer juicers under $100. Of course, more well-known brands provide excellent quality juicers, but their price range usually plays around $400-700.
What is the most important feature to consider when purchasing a juicer under $100?
This depends on the purpose of the juicer. If you're after a juicer that will provide fresh juice within seconds, find a juicer with high RPMs. However, if you prioritize a maximum juice yield with long shelf life, you can consider trying out one of the best masticating juicer recommendations with lower RPMs.