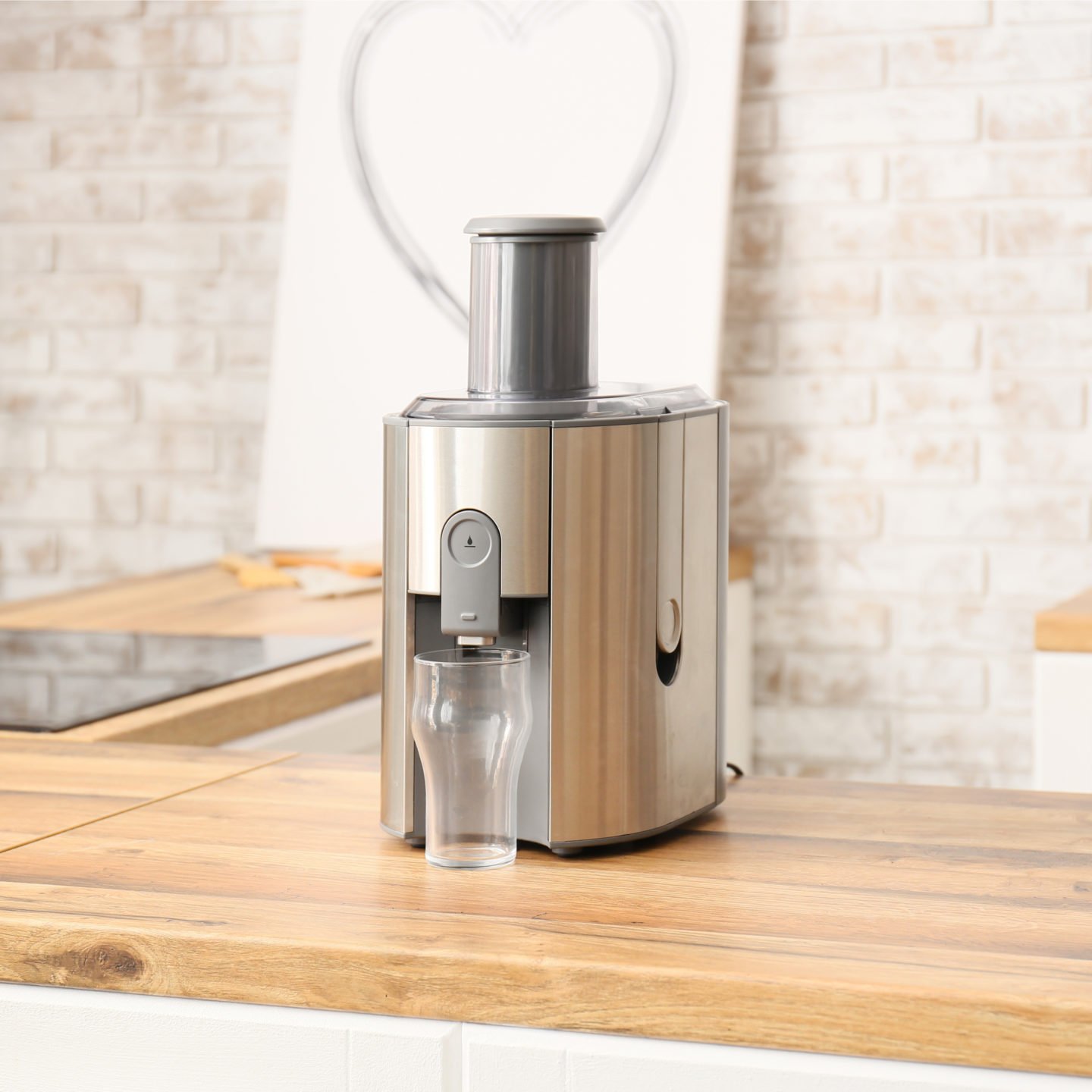 Nowadays, people love everything that offers convenience, especially when it comes to healthy habits. Juicing is undeniably one of the safest, easiest, and most satisfying trends that anyone can hop into.
However, most people see juicing as an expensive habit, and they settle for bottled juices instead. While some juicers cost up to $2,000, there are also reliable ones from trusted companies that you can purchase for under $200 and still enjoy the same benefits.
In this article, we have compiled our top favorite juicers under $200 and included a buying guide and frequently asked questions to help you find the best machine for your juicing journey.
Table of Contents
Overall Best: Breville BJE430SIL Juice Fountain Cold Centrifugal Juicer
Breville BJE430SIL Juice Fountain Cold Centrifugal Juicer
This model is our best affordable centrifugal juicer with cold spin technology and an Italian mesh filter.
Pros: Cold juice extraction system, large juice jug with froth separator, two-speed setting
Cons: Limited one-year warranty
The Breville BJE430SIL Juice Fountain utilizes cold spin technology, which sets it apart from other centrifugal juicers in the market. This technology lets the motor operate without producing much heat, transferring less than 1.8F of heat to ensure that no enzyme or protein is damaged in the juice.
This Breville Cold Fountain Juicer's 850-watt motor is set up with a two-speed setting—6,500 RPMs and 13,000RPMs. The higher setting is ideal for juicing hard fruits and vegetables, while the lower setting does well with soft fruits and green leafy vegetables. It also has a wide chute to facilitate easy feeding without prior cutting.
You'll also get a 70-fl oz juice jug designed with a mess-free spout, which has a sealed lid. This allows you to store your fresh juice in the refrigerator for up to three days if properly stored.
Its parts are not only easy to assemble but are also very easy to clean after use. It has a pulp ejecting mechanism and has a big capacity pulp collector, and you can wash most parts on the dishwasher's top rack.
However, we don't like this model's limited 1-year warranty, which is too short for such a machine. Although user reviews on this product are great, and spare parts are available online, the short guarantee is still concerning.
Best for Quietness: Cuisinart CJE1000 Centrifugal Juicer
Cuisinart CJE1000 Centrifugal Juicer
A 5-speed juicer that makes minimal noise when used, this versatile juicer deserves its spot.
Pros: 5-speed setting, quiet, strong motor, easy operation
Cons: Pulpy juice, short juice shelf life
The Cuisinart CJE1000 Centrifugal Juicer has a five-speed control dial that you can configure to process soft fruit, citrus, apples, leafy greens, and hard vegetables, consistently producing nutrient-rich beverages. It features a digital display and a 1000-watt motor. Depending on your juice needs, you can have it run up to 13,000 RPM.
It features a solid, durable, and substantial foundation that prevents loud noises and vibrations. Unlike other juicers, the Cuisinart CJE100's exterior components are unshakeable due to solid die-cast stainless steel.
Assembly, disassembly, and cleaning are the simplest tasks for this juicer. It has a one-of-a-kind design with massive, dishwasher-safe operational components. Although using the top rack of the dishwasher to clean the juicer is convenient, you should always clean it by hand as soon as possible to prevent fibers from drying on the mesh filter and blade. This model comes with a cleaning brush, too.
Despite its superior hardware and silent operation, this juicer has a few flaws. The filter does not catch all of the pulp, and customer reviews say that the extracted juice has a short shelf life, making it unsuitable for batch producing juice.
Best for Convenience: Breville JE98XL Juice Fountain Plus
Breville JE98XL Juice Fountain Plus
Built with a premium quality filtering system, detachable pulp container, and cord wraps safely around its feet, this model is undoubtedly the most convenient.
Pros: Convenient storage, two-speed setting, strong motor, easy clean-up
Cons: Limited 1-year warranty, not a good pair for green leafy vegetables
The Breville Juice Fountain Plus is your friend when it comes to convenience. It features a countertop-friendly design, with a detachable pulp container and cord that wraps around its feet for safe storage.
This model has an Italian-made, micro-mesh, stainless steel filtering basket to ensure pulp-free fresh juice. It also has a two-speed setting; the first caters to soft fruits and vegetables, while the second extracts juice from tough produce. This machine also includes a huge pulp container and a built-in froth separator.
Overall, this juice extractor is simple to clean. The blade and mesh chamber are the hardest to clean, but you may easily clean them with the provided brush. Remember to wash this component after each use properly. Doing so will keep the blade sharp and the mesh free of fibers for years to come, guaranteeing that the machine runs like new.
Unfortunately, this model only comes with a 1-year warranty. A longer warranty is essential for beginners because juicers include parts that may need to be repaired or replaced. And, if you want to produce green smoothies or sorbets, this juicer might not be the ideal choice.
Best Compact Juicer: Dash Compact Cold Press Juicer
SAVE 20%
Dash Compact Cold Press Juicer
This very small and lightweight cold-press juicer provides the best quality healthy juice for a very affordable price.
Pros: Maintains juice quality, space-saving, user-friendly, affordable
Cons: Small pulp exit hole, has difficulty juicing more fibrous produce like pineapple and celery, longer preparation and juicing time
If you want a compact yet aesthetically pleasing juicer, we recommend the Dash Compact Cold Press Juicer. It's a masticating juicer that weighs only 3.4 pounds and takes up only 5 inches of space. It's small, lightweight, and it ensures quality nutritious juice.
This tiny machine is built for heavy-duty operation and has a reverse button to help when produce gets stuck in the auger. According to customer reviews, this product is also a fantastic choice for producing nut butter. Out of the box, the juicer comes with a pulp collector, juice bottle, and cleaning brush for easy cleaning.
Our biggest worry with this product is that it is incompatible with fibrous fruits and vegetables, including two of the most well-known juiced fruits and vegetables—pineapple and celery. In addition, it comes with a one-year warranty, which we believe is insufficient.
Still, we recommend the Dash Compact Juicer if you want a masticating juicer that saves you both space and money.
Best Beginner Friendly: Hamilton Beach Premium Juicer Machine
Hamilton Beach Premium Juicer Machine
This machine comes with a wide chute, two-speed, and a large juice jug for continuous juicing.
Pros: Two-speed setting, foam-free juice, strong motor power, less mess, and easy cleanup
Cons: Lightweight, might move around while in use
If you're a beginner and want an affordable friendly juicer, the Hamilton Beach Premium Juicer Machine is what we recommend for you. This model is powered by an 850-watt motor that ensures maximum fresh juice yield with its two-speed setting that caters to soft and hard fruits and vegetables without clogging.
This machine comes with a large 40-oz juice jug that lets you continuously juice as much as you want. The juice collector also has a built-in froth separator, ensuring that the juice is froth-free. It also has a wide chute that allows large chunks of produce into the blades without the need for prior cutting, saving you more time.
What makes this a beginner-friendly juicer is its easy operation and cleaning. Between batches, the drip-free spout flips up to prevent leaks. The revolutionary Easy Sweep Cleaning Tool removes the pulp from strainers.
Plus, the pulp bin, juice bowl, lid, and pusher can all be washed in the dishwasher. If you prefer to do it by hand, the juicer comes with a cleaning brush to make the job easy.
However, this juicer is lightweight and does not have anti-slip feet. According to user reviews, this machine moves around too much and can even fall off the table or countertop when unsupervised. It also produces a loud noise, which you might want to consider.
Best for Leafy Greens: Omega H3000D Cold Press 365 Juicer
Omega H3000D Cold Press 365 Slow Masticating Juicer
This personal masticating juicer spins at 100 RPMs, ensuring proper juicing of green leafy vegetables.
Pros: High juice yield, quiet operation, less oxidation, BPA-free
Cons: Slow extraction rate, plastic auger, pulpy juice
Leafy green vegetables are hard to juice, but you can leave the job to the Omega H3000D Cold Press 365 Juicer. It operates at 100 RPMs and has a three-layered auger that ensures proper squeezing of your produce while maintaining a noise-free environment.
Masticating juicers are typically more expensive, but this model is pretty affordable. This is a horizontal masticating juicer; it features a cold press operation, where your leafy greens are squeezed rather than shredded. This assures no heat and oxidation to your vegetable juice so that you can retain the most nutrients.
Unlike other slow-masticating juicers, cleanup is relatively easy. You can safely clean the removable parts in a dishwasher. However, it is worth mentioning that this machine is mainly made of plastic, and placing the pieces in hot water can deform them and cause leakage when used.
Another drawback of this product is that its auger is made entirely of plastic. Plastic squeezing drills have a huge tendency to chip off or break. When that happens, juicing might not be as smooth as it used to be. However, these flaws are minimal, and this Omega juicer is undoubtedly worth the try for its price.
Best Citrus Juicer: Hurom CJ Citrus Juicer
Hurom CJ Citrus Juicer
It is made with an adjustable juice sprout that acts as a stopper when lifted, preventing any leakage.
Pros: Reamer extracting cone, adjustable juice sprout, durable and attractive design, easy to clean
Cons: Limited 1-year warranty
Like all the juicers in this brand, the Hurom CJ Citrus Juicer also promises quality performance, which is evident through user reviews. The one-size-fits-all finned cone grants the highest citrus juice yield from the smallest to largest citrus fruit, comparable to manual juicers without the need to exert manual effort.
It also features an adjustable juice sprout that you can maneuver depending on your liking and act as a stopper when lifted.
The construction quality of the Hurom Auto Citrus juicer is excellent and uses a variety of high-grade components, such as durable plastics and stainless steel. The handle and reamer cone are composed of plastic for convenience and comfort, making them lightweight and user-friendly. Aside from those, the entire body and pulp separator are made of stainless steel, assuring long-lasting performance.
The Hurom Auto Citrus juicer's handle also has a convenient spring function. This design swiftly returns the handle to its inactive position, allowing the user to work at fast rates without interruption. The handle also has a silicone grip that makes it comfortable to hold and operate, adding to its user-friendly function.
However, one drawback of this juicer is its limited 1-year warranty. A few reviews on this product also focus on the difficulty of juicing smaller fruits due to its finned cone. Nevertheless, most user reviews only speak great things on this automatic citrus juicer.
Best From Kuvings: Kuvings NJ-9500U Centrifugal Juice Extractor
Kuvings NJ-9500U Centrifugal Juice Extractor
It comes with a 3-year warranty and features a locking arm that won't allow the machine to operate without all the parts in place.
Pros: 3-inch wide chute, dual speed motor, dishwasher-friendly detachable parts, external pulp ejection mechanism
Cons: Loud and moves around the countertop when used
While Kuvings is well-known for producing reliable masticating juicers, the Kuvings NJ-9500U Centrifugal Juice Extractor is a centrifugal juicer that gives off the same reliable features. This machine is powered by a 350-watt dual-speed motor that spins at 9,500 and 11,000 RPMs, which can juice soft and hard fruit and vegetables in seconds without difficulty.
This model is designed with a 3-inch large feed chute that caters to whole fruits like apples, peeled oranges, pears, large chunks, or hard produce like carrots and beets. This feature enables the user to skip cutting and save time. Its filtering mesh is made using 3D stainless mesh, allowing proper filtering.
Another feature we like about this model is its safety lock which disables the machine whenever parts are missing or not appropriately placed. This assures the user that the juicing process will always be a smooth experience.
Moreover, this model isn't only straightforward to use and operate but is also easy to clean. The removable parts disassemble quickly and are dishwasher-safe. However, you should use low-temperature water to avoid damaging the parts.
Despite its seemingly perfect performance, this is a lightweight juicer, and it tends to move around and make a loud noise when in use. If you have kids or neighbors who might complain, you might want to consider something else.
Best Juicer Under $200 Buying Guide
Identify Your Needs
Identifying your needs should be the first thing to consider when purchasing a juicer. There are four types of juicers—centrifugal juicer, slow masticating juicer, twin gear juicer, and a juice press, with each type having its own pros and cons. Different brands also offer different technologies and features.
If you're after a fast juicer for everyday use, a centrifugal juicer is a good choice. However, if you have a little more time to devote to juicing, you should consider a masticating juicer or a juice press. This article has included both masticating and centrifugal juicer recommendations that are all under $200.
Durability
We all love machines that will last us years of service. Of course, we want to get the most of what we spent. Juicers can cost a lot, so you have to make sure it's durable before buying one.
For centrifugal juicers, it's good to consider the filter mesh. Some fruits are acidic, so securing an acid-proof mesh is a must.
For the best masticating juicer, the auger is the most crucial part, as this is where the squeezing happens. Most models have plastic augers, so try finding one with a good quality that doesn't chip off easily.
Horsepower Capability
The horsepower refers to the engine power of the juicers. If you plan to juice regularly, invest in a juicer with a powerful engine. However, if you juice too often, a modest engine will suffice. The more horsepower, the better.
Note that when looking for the finest masticating juicers under $200, a low-power motor is perfectly acceptable because they are sluggish yet effective in operation.
Centrifugal juicers need to be about 700 watts, whereas other juicer designs can function with 250 watts. Rest assured that all the juicers that we reviewed in this article pass this standard and more.
Design
We recommend looking at the chute size, pulp collector, juice jug, and safety lock features when it comes to the design. While different models have different features, these three make the juicing experience efficient. Some models have a narrow chute size that requires cutting the produce before feeding them into the machine.
In this review, the Kuvings NJ-9500, Hamilton Beach Premium Juicer Machine, Breville Juice Fountain Plus, Cuisinart CJE1000, and Breville BJE430SIL Juice Fountain all have a large feed chute.
Other models have extra-large juice jugs and pulp collectors that allow you to do batch juicing without the need to stop periodically. Others also have an external pulp collector that prevents the blades from getting blocked, ensuring continuous juicing. A safety lock is also a relevant feature as it assures the user that the machine is functioning well every time.
Ease of Usage and Cleaning
An easy-to-use juicer will help you get a lot done in a short amount of time. So, you'll want one that's simple to install and use. For example, variable-speed models should have a capability for exact speed adjustment.
Furthermore, the juicer shouldn't be difficult to disassemble, clean, and reassemble. Models with automated pulp ejection or reverse anti-clogging functions make work easier.
It is best to choose a model with dishwasher-friendly parts for easy cleaning. While most brands claim that their products have dishwasher-friendly parts, note that plastic can get deformed with hot water. Other models also come with a cleaning brush, which is a plus.
Frequently Asked Questions
Is a $200 juicer worth the money?
While there are more expensive models in the market, the juicers that we reviewed in this article offer excellent quality while staying in an affordable price range. These are masticating juicers and centrifugal juicers from trusted brands.
Which juicer is best for large batches?
When it comes to batch juicing, we recommend a juicer with a powerful motor that can withstand longer periods of operation. Centrifugal juicers are a great option to consider. With their fast rotations and powerful filtering system, you can quickly get a batch done within minutes.

However, make sure that you choose a heavy-duty machine for this job to prevent overheating and damage.