Spinach is a renowned superfood popular with health enthusiasts for its nutrient-dense, low-calorie content.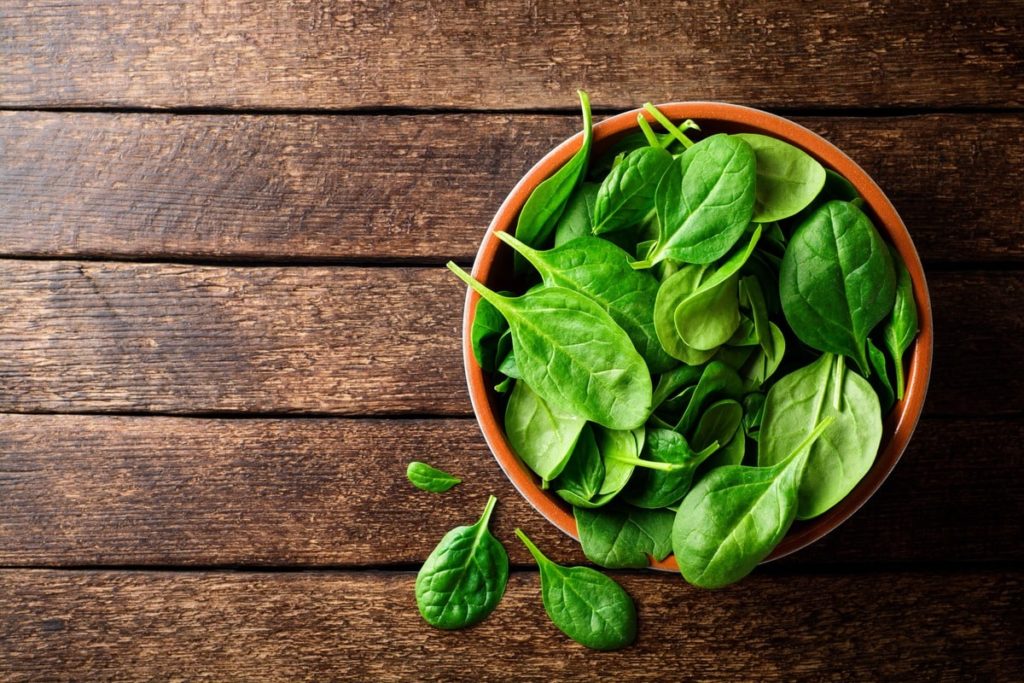 Experts say that including spinach in one's diet offers many health benefits for those who consume it responsibly. Indeed, studies have shown that spinach can improve eye health, keep bones healthy, lower the risk of iron deficiency anemia, help manage diabetes, keep you energized, and promote better heart health. Of course, moderation is key, so make sure to consult your doctor before including spinach in your diet.
In this article, we will dive into everything you need to know about spinach—where it originated, what the different types and varieties of spinach are, how and where it grows, its various health benefits, and of course, some of its health risks. At the end of the article, we will share with you some of the best nutrient-packed juice and smoothie recipes containing spinach.
Table of Contents
Origins of Spinach
Historians say spinach (Spinacia oleracea) originated in and around ancient Persia, known today as Iran, before it reached India and Nepal. According to written records, the Ancient Chinese found the green leafy vegetable in Nepal and brought it back to their country in the year 647. In China, this highly nutritious leafy green earned the name "Persian Green" or "Persian vegetable."
In the year 827, Saracens (Muslims in the Middle Ages) brought the veggie to Sicily. And, in the 10th century, written documentation notes spinach's first appearance in the Mediterranean region, where a great Arab agronomist referred to it as the "chieftain of leafy greens". Sometime in the next century, the Moors (Muslim inhabitants of the Iberian Peninsula) introduced spinach to Spain from North Africa. The spinach vegetable then crossed into Germany in the late 13th century before finally reaching America with the first New World settlers.
Interestingly, in 1929, the vegetable grew increasingly popular after Popeye the Sailor Man was introduced. Every time the cartoon character ate a can of spinach, his biceps would bulge and he would gain super-strength, which is how spinach became famous for its ability to make people strong.
Different Types of Spinach
According to experts, spinach has three main types: savoy, semi-savoy, and flat-leafed spinach. Furthermore, each type has a wide array of varieties under each. The three types vary in texture and in the shape of the spinach leaf. Additionally, gardeners grow each type of spinach for a specific use.
Savoy Spinach
First, savoy spinach has dark green, crinkled, and curly leaves. Supermarkets typically sell this type, so most people are more familiar with savoy than the other two. Those who grow savoy spinach know it to be very productive and find it the most cold-tolerant type of spinach. However, the crinkled leaves tend to grow close to the ground, which gardeners say makes cleaning it a chore.
Some of the most well-known varieties of savoy spinach include:
Bloomsdale, a classic, well-known variant that tolerates the cold better than other varieties. This variety produces a rich harvest during early summer. Gardeners grow this variety for its thick, succulent, savory leaves.
Regiment, another variety that produces large yields. This variety is known for its deep green leaves that stay tender even when they have grown large. Those who grow spinach recommend this variety for cooking and use in the kitchen.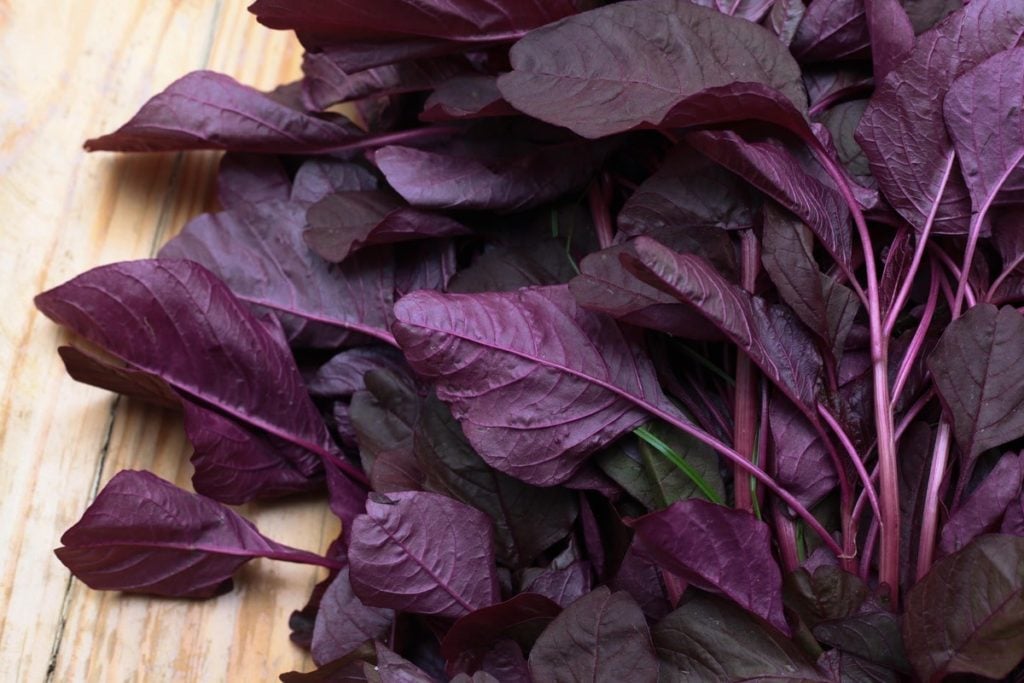 Semi-Savoy Spinach
Many home gardeners prefer growing semi-savoy spinach as it tends to grow more upright than the first type. This means that the leaves of semi-savoy spinach are easier to wash as they are often found higher than the leaves of the first type. Aside from that, semi-savoy spinach also tends to be more resistant to disease and bolting.
Some common varieties of semi-savoy spinach include:
Tyee, a variety known for its vigorous growth with dark green leaves that tend to grow upright. Gardeners say this variety can be grown throughout the year in mild-winter areas as they are bolt-resistant.
Catalina, a semi-savoy variety that has thick leaves with a distinct spear shape. Some gardeners recommend this variety for cooking as the leaves are succulent.
Indian Summer, a spinach variety known for its productiveness. With flattened, fairly smooth leaves, some may mistake this variety for flat-leafed spinach.
Flat-Leafed Spinach
Just as the name implies, smooth-leafed or flat-leafed spinach has smooth, flat leaves that gardeners consider the easiest to clean. This type is often grown to make canned spinach, frozen spinach, or processed spinach, but they are sold fresh as well. Some also prefer to use this type for soups and baby foods.
Smooth-leafed spinach has many varieties. The most common include:
Space, a hybrid variety that often shows vigorous growth. Those who grow this variety say that it bolts slower than most smooth-leafed spinach. It is known as a good spinach variety for freezing.
Red Cardinal, a variety easily distinguishable by its red veins and deep red stems. However, gardeners harvest these when young, as this variety tends to bolt faster than other green-leafed spinach. Red Cardinal spinach serves as a great addition to salads.
How and where is spinach grown?
Gardeners consider spinach an easy-to-grow vegetable. And, because it can be used in a variety of ways, it can be found in many gardens. Of course, fresh spinach is most often used as a food—whether raw or cooked. Gardeners consider spinach a cool-season crop best planted in the spring and fall. It can tolerate a hard frost, but it will not survive any exposure to sub-freezing temperatures. Common savoy varieties such as Bloomsdale and Regiment tolerate the cold better than other varieties.
At the same time, spinach remains very sensitive to heat. During cold weather, gardeners plant spinach in full sun, while in warmer climates, it should be kept under partial shade. Spinach leaves should be kept consistently moist, but not soggy, and it grows best in moist soil. Thus, one should regularly water planted spinach, especially during dry periods and heatwaves.
Finally, spinach can be harvested either as needed or all at once. You may pluck leaves when you want to consume them, starting from the outer layer to allow inner layers to develop. After washing the leaves thoroughly, you can eat the leaves immediately or use them in cooking. Additionally, gardeners recommend not waiting for the leaves to grow larger because bigger leaves tend to taste more bitter.
If a harvest resulted in too many spinach leaves, remove any excess moisture and then place them in a plastic bag or container with a paper towel. This will help absorb any leftover excess moisture. When kept properly, the dark, leafy green can last up to a week in the crisper.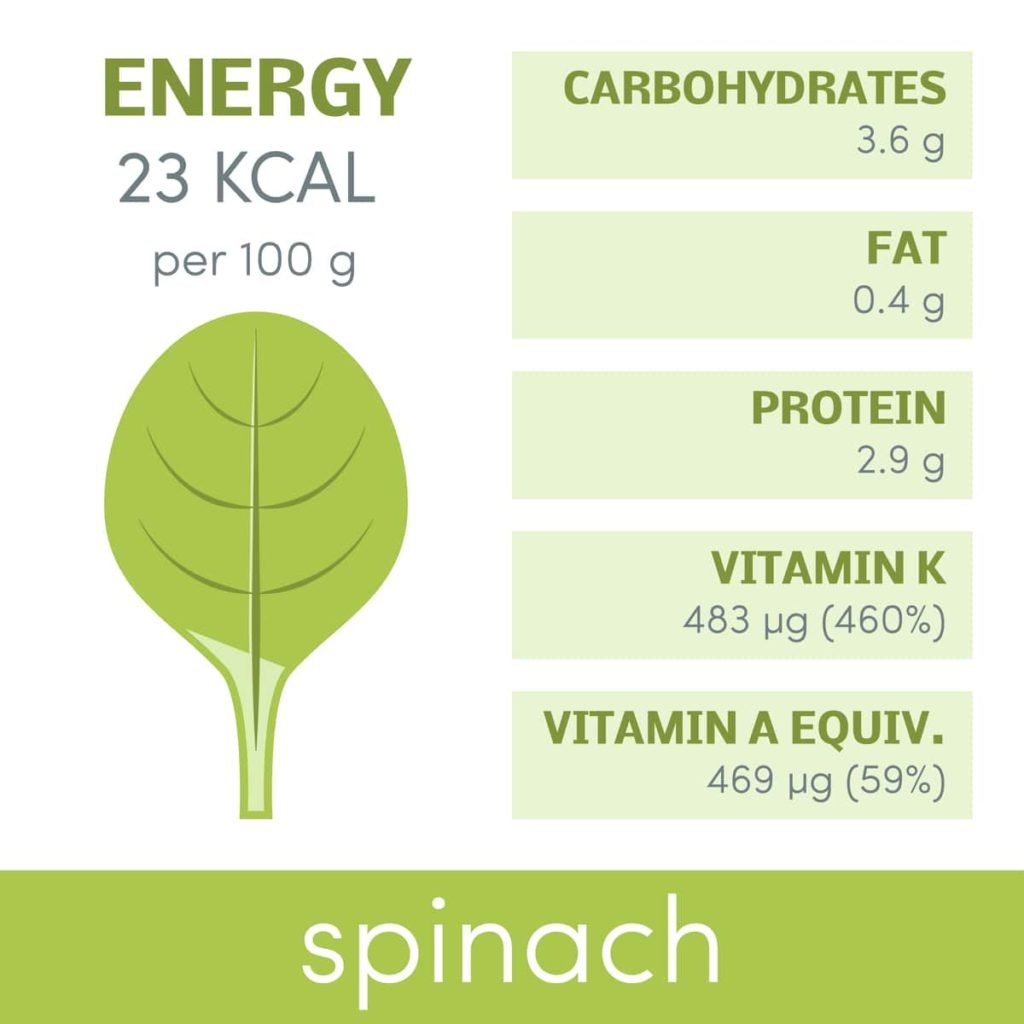 Why is spinach considered a superfood?
Spinach has long been recognized worldwide as a rich source of nutrients. It contains vitamin A, vitamin C, vitamin E, vitamin K, some B vitamins, calcium, potassium, folate, fiber, magnesium, manganese, antioxidants, and other essential nutrients. The dark, leafy green has a large nutritional value, especially when fresh, steamed, or briefly boiled.
According to the United States Department of Agriculture (USDA), 100 grams (3.5 oz) of raw spinach contains the following nutrients:
Calories: 23
Water: 91.4%
Protein: 2.86 grams
Carbs: 3.63 grams
Sugar: 0.39 grams
Fiber: 2.2 grams
Fat: 0.39 grams
Vitamin K: 460% of the recommended daily value
(Retinol) Vitamin A: 59% of the recommended daily value
Folate: 49% of the recommended daily value
Manganese: 43% of the recommended daily value
Vitamin C: 34% of the recommended daily value
Magnesium: 22% of the recommended daily value
Iron: 21% of the recommended daily value
Meanwhile, 100 grams of fresh, cooked spinach without added fat contains:
Calories: 27
Water: 89.56%
Protein: 3.36 grams
Carbs: 4.26 grams
Sugar: 0.49 grams
Fiber: 2.6 grams
Fat: 0.46 grams
Health Benefits
Spinach has long been considered a superfood because it contains, vitamins, minerals, antioxidants, vital plant compounds, and other essential nutrients that the body needs. It can help in diabetes management and in keeping bones, eyesight, heart, digestion, and immune system healthy. Additionally, despite its low-calorie content, spinach also helps keep us energized.
Helps Keep Bones Healthy
Experts have long ago recommended eating spinach for its vitamin K content. Indeed, a 100-gram serving of raw spinach contains 460% of the average adult's recommended daily value of vitamin K. Aside from its high potassium content, the National Osteoporosis Foundation (NOF) also recommends eating it for the magnesium it contains. The same 100-gram serving contains 22% of the recommended daily value for adults. And, experts say, getting enough potassium is important as it helps reduce the risk of developing bone problems related to age. In fact, a 2000 study found that elderly men and women who had a diet rich in vitamin K were at a lower risk of hip fractures than those who had a lower potassium consumption.
Lowers The Risk of Iron Deficiency Anemia
Health experts say that iron deficiency anemia is the most common type of anemia, and it affects women more than men. When a person's diet does not provide enough iron, the blood becomes unable to produce enough hemoglobin, a protein that provides oxygen to organs. With a 100-gram serving of raw spinach containing 21% of the average adult's recommended daily value of iron, both the National Organization of Women's Health and the National Heart, Lung, and Blood Institute recommend including spinach in one's diet to help prevent or treat anemia.
Strengthens Eyesight and Immune System
Dark, leafy greens contain high levels of chlorophyll and essential carotenoids, including beta carotene, zeaxanthin, and lutein. According to experts, all of these help prevent macular degeneration and cataract development. Aside from that, these health-promoting compounds also act as antioxidants and help reduce inflammation and lower the risk of developing cancer.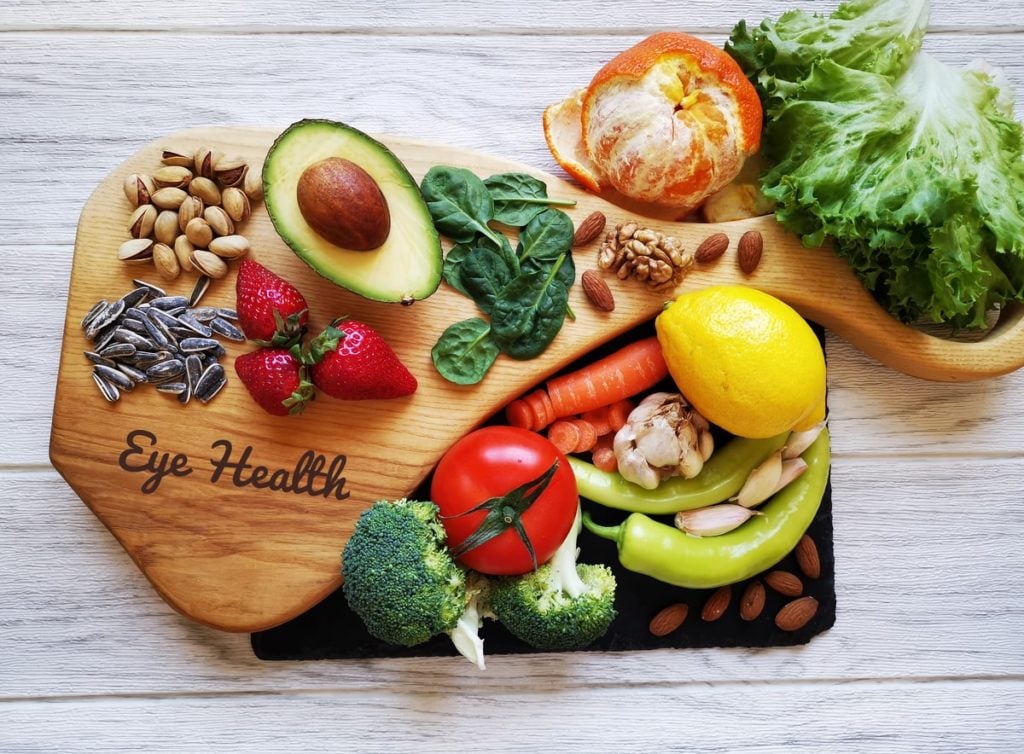 Helps Manage Diabetes
According to experts, spinach contains alpha-lipoic acid, a powerful antioxidant that helps lower blood sugar levels, increases insulin sensitivity, decreases peripheral neuropathy, and prevents oxidative, stress-induced changes in people with diabetes. Experts conducted a 2006 trial, which found that those who consumed 600 mg of alpha-lipoic acid daily for five weeks had better neuropathic symptoms, compared to those who were given a placebo. These neuropathic symptoms include numbness in one's feet and paresthesia, a tingling, pricking, chilling, or burning sensation.
Promotes Heart Health
We now know that spinach contains high levels of vitamin K, and the American Heart Association has said that potassium is an essential part of heart health. In fact, a diet rich in potassium can reduce a person's risk of stroke, lower their blood pressure levels, and reduce the risk of developing heart disease. Aside from that, spinach also contains nitrates, which further help keep blood pressure levels regular and help decrease a person's risk of heart disease.
Supports Energy Levels
Since the days of Popeye the Sailor Man, the spinach plant has been seen as one that can help restore energy, increase vitality, and improve one's blood quality. A 100-gram serving of raw spinach contains 22% of the average adult's recommended daily value of magnesium, which helps the body generate energy throughout the day. Spinach also serves as a great source of folate, a nutrient that helps the body convert food into energy to be used as needed.
Reduces the Risk of Developing Asthma
According to experts, the beta carotene that spinach contains also helps lower the risk of developing asthma. And, for those who already suffer through the condition, it may help improve their symptoms. In fact, a 1999 study found that taking a daily dose of beta carotene extract for a week helped some asthma patients. 20 out of the 38 patients with exercise-induced asthma did not suffer any symptoms during a seven-minute exercise session on treadmills.
Can you consume too much spinach?
Yes, which is why health experts recommend consuming spinach as part of a balanced, healthy diet. Suddenly increasing one's intake of spinach could lead to unintended effects. This is also why we always recommend consulting your doctor before making any changes to your diet.
Helps Blood Clotting
While this may be good for those with thin blood, it can be harmful to those taking blood thinning medication such as warfarin. The abundance of vitamin K that spinach contains plays a huge role in blood clotting, which interferes with the intended effect of blood thinning medication. However, experts say that this usually only occurs when eating large amounts of spinach, so moderation is key. Remember to consult your doctor before making any changes to your diet, especially if you are taking similar medication.
Contains Pesticide Residue
Spinach ranks second in the Environmental Working Group's (EWG) Dirty Dozen, a list that ranks store-bought produce according to the pesticide residue they contain. Studies have linked pesticide residue with some types of cancer and other health issues, which is why health experts recommend lessening your exposure to it as much as possible. Thus, they recommend buying organic spinach or growing your own. But, no matter where your spinach came from, make sure to wash it thoroughly before consumption or cooking.
May Lead to Kidney Stones
According to World's Healthiest Foods, a large number of oxalates accumulated in the bloodstream can crystalize, form kidney stones, and cause problems. Beets and other dark, leafy greens are known to contain oxalates, which can be especially harmful to those who have kidney or gallbladder problems. Of course, spinach remains a highly nutritious, leafy green despite this. Just make sure to consult your doctor so they can help you determine how to include spinach in your diet safely.
Adding Spinach To Your Diet
Now that we have learned some of the health risks and various health benefits of spinach, let us find out how to best consume it. Some studies have shown that eating the green leafy vegetable raw is the best way to preserve some of the nutrients it contains. In fact, researchers say that eating raw, chopped spinach is healthier because this releases more lutein from the leaves. Meanwhile, some health experts recommend consuming both raw spinach and using it in cooking.
Of course, personal preference also plays a part. Some health enthusiasts like to consume spinach raw in juices, shakes, smoothies, salads, and sandwiches. At the same time, some people prefer to cook spinach and use it to make highly nutritious leafy dishes. Baby spinach leaves make great additions to salads, while the larger, more mature leaves are best used in sandwiches, soups, sautés, and stir-fries. Additionally, some research shows that steamed spinach contains more folate than boiled spinach.
Furthermore, health experts say that adding spinach to your diet does not have to be difficult or extravagant. Once your doctor has said that eating spinach is not harmful to you, you can easily incorporate it into the recipes you already make. This can be as simple as adding a few handfuls into soups, sandwiches, salads, or any egg dish. You can also make spinach soup, spinach salad, creamed spinach, or prepare it as a quick and easy side dish by making sauteed spinach; simply sauté it in extra virgin olive oil. The seasoning you use is entirely up to you. Alternatively, you can also add a handful of spinach to your favorite juice or smoothie recipes. This may change the color, but not the taste.
Juicing
Some people like eating spinach as it is or using it to cook and make various spinach recipes, but others cannot stand eating it, whether raw or cooked. If you are one of them, you may want to try juicing spinach instead. Spinach contains 91% water, and it can help keep you hydrated, especially if you usually drink less than the recommended eight 8-ounce glasses of water per day. Additionally, the juice extracted from fruits and vegetables contains most of their vitamins, minerals, and essential nutrients.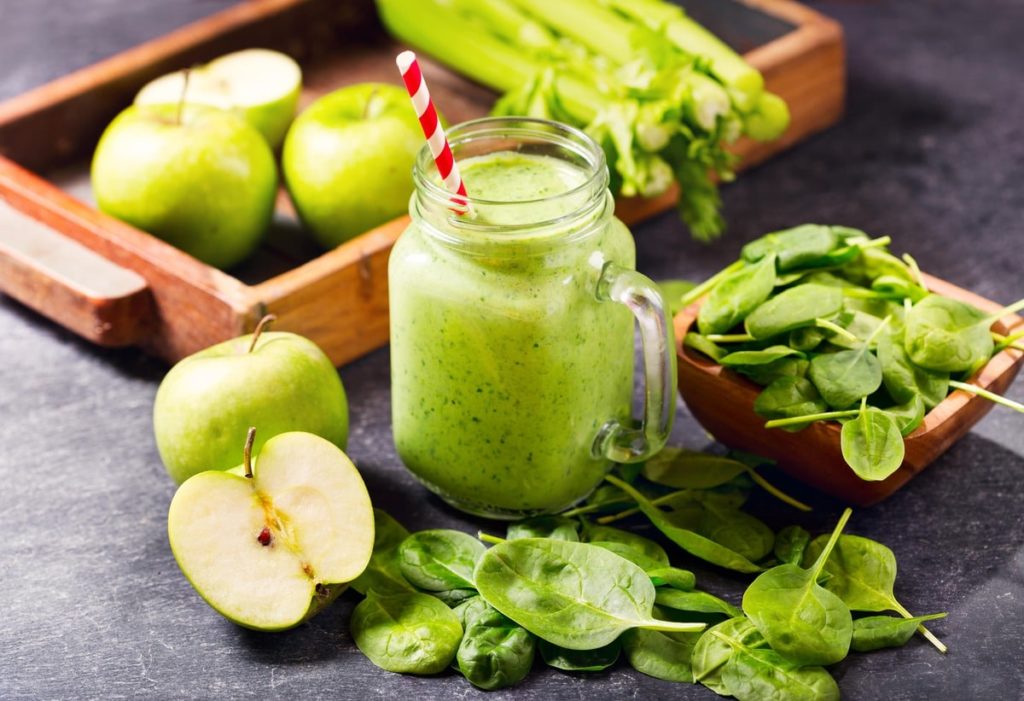 As juicing became more popular in the health world, more and more researchers sought to know what health benefits it actually provides. Today, several studies show that juicing enhances the absorption of nutrients, gives the digestive system a rest from digesting fiber, boosts the immune system, aids digestion, supports weight loss, and lowers the risk of developing some chronic diseases, such as cancer.
However, juicing fruits and vegetables causes the fiber they contain to get lost during the process. This may be beneficial for those who suffer from bloating and constipation, but others may see it as a downside. Additionally, some 100% fruit juices contain more sugar than sodas because it concentrates the fructose into the juice. To avoid blood sugar spikes, health experts recommend mainly juicing vegetables and adding a few slices of fruit to add some sweetness.
Sample Spinach Juice Recipes
If you have decided to try juicing after consulting your doctor, you might feel lost as there are many ways you can start. To help you out, here we recommend some of the best spinach juice recipes we could find:
Blending
For those who cannot stand the taste of spinach, blending can be another alternative. Just like juicing, drinking smoothies and shakes also keeps you hydrated while providing various health benefits. And, some individuals find it more convenient than juicing as it often takes less time to blend than to juice. For those often pressed for time, smoothies and shakes can serve as a convenient and healthy source of nutrition on the go.
Additionally, most health experts recommend blending over juicing as the fiber from the fruits and vegetables does not get lost in the process. This helps keep the digestive system healthy while keeping digestion regular, as well as curbing cravings by making you feel full longer. Aside from the fiber, the shakes and smoothies also contain all of the nutrients from fruits and vegetables. These essential nutrients all work together to boost the immune system, reduce bad cholesterol, and lower the risk of developing some chronic diseases.
On the other hand, blending may not be a good idea for some individuals. Because it contains fiber, those who regularly suffer from bloating, gas, and constipation may experience them more often after drinking smoothies. Additionally, each smoothie's nutritional values may differ from others. Depending on what fruits and veggies you blend, your smoothie may contain too many calories or carbs, or it can also be nutritionally balanced.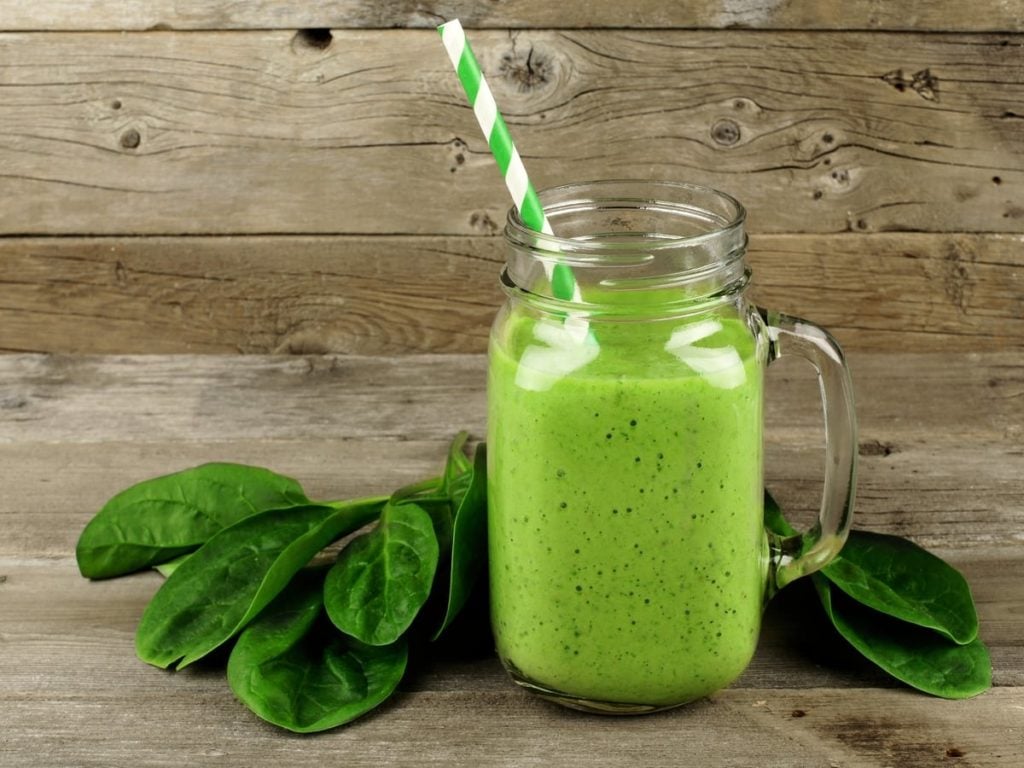 Sample Spinach Smoothie Recipes
If you own a blender but not a juicer, you might want to try out drinking smoothies first. To help you get started, here are some of the most nutritious spinach smoothie recipes that we recommend:
Sources:
https://blog.gardeningknowhow.com/tbt/learn-about-spinach-history/
http://www.vegetablefacts.net/vegetable-history/spinach-history/
https://historyshortnotes.blogspot.com/2011/06/origin-of-spinach.html
https://www.grow-it-organically.com/spinach-varieties.html
https://www.gardeningknowhow.com/edible/vegetables/spinach/growing-different-types-of-spinach.htm
https://www.newworldencyclopedia.org/entry/Spinach
https://www.grow-it-organically.com/growing-spinach.html
https://www.gardeningknowhow.com/edible/vegetables/spinach/how-to-grow-spinach.htm
https://www.goodhousekeeping.com/home/gardening/a20705736/growing-spinach/
https://www.almanac.com/plant/spinach
https://en.wikipedia.org/wiki/Spinach
http://www.nhlbi.nih.gov/health/health-topics/topics/anemia/treatment
https://www.livescience.com/51324-spinach-nutrition.html
https://www.healthline.com/nutrition/foods/spinach
https://www.medicalnewstoday.com/articles/270609
https://www.bbcgoodfood.com/howto/guide/ingredient-focus-spinach
https://food.ndtv.com/food-drinks/5-wonderful-benefits-of-spinach-you-never-knew-1765072
http://www.whfoods.com/genpage.php?tname=foodspice&dbid=43
https://www.health.com/nutrition/groceries/7-health-benefits-spinach
https://tastylicious.com/celery-everything-you-need-to-know-about-celery-good-and-bad/
https://www.mayoclinic.org/healthy-lifestyle/nutrition-and-healthy-eating/expert-answers/juicing/faq-20058020