Properly cooking fish is an art and one that requires skill and careful attention. If you haven't perfected your technique, the missing ingredient might be finding the best pan for cooking fish. There are plenty of options out there, which means everyone can find the one that fits their needs best.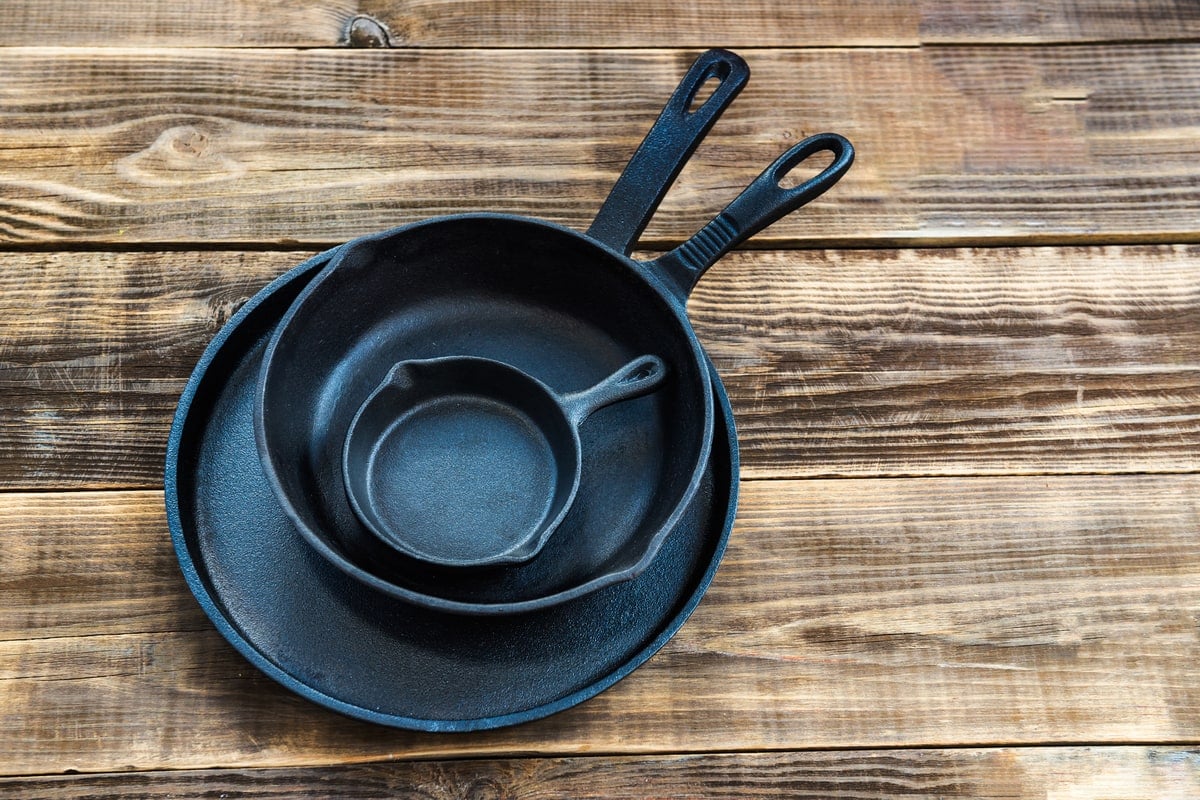 To find yours, start by looking at some of the options we've collected below. They've been selected from the best of the best by a range of criteria, including size, material, and cooking surface. Check out their pros and cons for yourself, and add one to your collection.
Table of Contents
The Best Pans for Cooking Fish
Best Overall: HexClad 12-Inch Hybrid Stainless Steel Frying Pan
Since fish can be so tricky to cook properly, it makes sense to invest in a pan that can deliver quality results without fail. There aren't many pans well suited to the job, though the HexClad 12 Inch Hybrid Stainless Steel Frying Pan probably comes the closest.
The reason for its success comes from its patented laser-etched hex surface. It looks stunning, but more importantly, it offers a dual surface that incorporates stainless steel and a nonstick coating. The stainless steel component makes the pan great at retaining heat while also lending durability, while the nonstick coating makes food easy to flip.
All of this adds up to fish that cooks perfectly without the usual hassle of flipping delicate fillets. It works perfectly, and with a 12-inch diameter, it is the ideal size for two to four fillets at a time.
Give this pan a try if you can invest a bit of extra money in it. It's indeed more than double the price of the average frying pan, but anyone who has used it will agree that it's well worth the money.
Best Stainless Steel: Misen Stainless Steel Frying Pan
SAVE 35%
Stainless steel is the material of choice for home chefs who want superior performance while cooking and less hassle when cleaning up. It's heavy-duty, versatile, and completely immune to rust. The Misen Stainless Steel Frying Pan offers all these advantages and more in a sleek and simple design.
The first thing you'll notice is the pared-down design of this pan. It's made of 100% stainless steel, with a slim handle attached with two rivets. That makes it extremely easy to clean and care for.
The stay-cool handle is a nice touch that prevents the all-metal grip from overheating even when cooking on high. It's attached with a pair of low-profile rivets designed to stay out of the way while cooking.
The only thing we didn't like is that it is heftier than most of the other pans on this list, making it difficult to maneuver while cooking. This extra weight comes from the 5-ply design, which helps the pan retain heat while cooking. While it's not ideal, it's still a perfect choice for fish fillets of all types and sizes.
Best Carbon Steel: BK Pre-Seasoned Black Steel Frying Pan
SAVE 8%
Carbon steel is a material commonly seen in the professional cooking world that is slowly making its way into home kitchens. The reason is that its lighter weight is easy to handle while offering a slick nonstick surface. The BK Pre-Seasoned Black Steel Frying Pan takes all of these advantages and packages them in a pan that's ideal for fish fillets.
Before investing in this or any carbon steel pan, it's worth knowing that they require a bit of extra maintenance than other materials. They need to be seasoned regularly; otherwise, they rust. The process isn't difficult, but it will take a few extra minutes each time you cook.
Luckily, this pan already comes pre-seasoned, saving you a bit of extra hassle when you first get it. That way, you can enjoy the nonstick surface right out of the box. Overall, this pan is a good choice for those that want professional-quality fish and don't mind a bit of extra maintenance.
Best Cast Iron: Lodge Cast Iron Grill Pan
SAVE 45%
Lodge Cast 10.5-Inch Iron Grill Square Pan
We loved the griddle design of this pan, which is a great way to keep your fish fillets from sticking.
Pros: Raised grills are ideal for fish, are long-lasting, and heat evenly.
Cons: quite heavy, prone to rust
Cast iron may be a bit less common than stainless steel or carbon steel, but it's not without its advantages. Its extra bulk helps ensure the pan always heats evenly and holds its heat throughout the cooking process. The Lodge Cast Iron Grill Pan incorporates raised grilles into its design, giving food cooked on it a bit of backyard barbeque flair.
This pan is made of a single piece of cast iron, making it extremely durable and easy to work with. The high sides help contain splatter, while the raised grill pattern adds flavor to fish by searing flavor directly into the meat.
Of course, the downside of this and other cast-iron pans is their weight. Six pounds may not sound like a lot, but it can give you a real workout when you're cooking with it regularly. But the added weight also means it's highly durable.
Add this pan to your collection if you're looking for something inexpensive that's made to last. It will give you professional-quality results, as long as you don't mind working with a bit of extra weight.
Best Ceramic: WaxonWare Granite Ceramic Nonstick Frying Pan
Ceramic cookware is a relative innovation with a few advantages that are especially helpful when cooking fish. Since seafood sticks easily to hot pans, its nonstick coating is a real asset. The WaxonWare Granite Ceramic Nonstick Frying Pan has an attractive black and white speckled surface with all the advantages of other ceramic pans.
The nonstick coating is entirely non-toxic and PFOA-free, making for safe cooking even when the pan starts to show wear. While it does scratch more easily than stainless steel or cast iron, the surface is much more resistant to damage than other types of nonstick coating.
Of course, you still have to limit what kinds of utensils you use with it. Generally, wood or plastic is best, which may pose a problem if you want to use a thin metal fish spatula.
Overall, you'll love this pan if you're looking for a versatile piece of cookware that simplifies cooking and cleanup. While it may not last as long as a stainless steel pan, the affordable price helps make it a better value.
Best Nonstick: MasterPan Non-Stick Stovetop Grill Pan
SAVE 23%
The fact is, nonstick pans come in all shapes and sizes, and if the ceramic option listed above isn't what you're looking for, this aluminum MasterPan Non-Stick Stovetop Grill Pan might be the perfect option. It has a dual-handle design that's perfect for use in the oven or stovetop.
The first thing you'll notice about this pan is its wide cooking surface lined with grilles. That makes it perfect for cooking fish, combining a grill top style with the high sides that help contain splatter.
Whether you want to use it on the stovetop or in the oven, the nonstick surface will keep your fillets from sticking. It's PFOA-free and completely non-toxic. The base of the pan is made of lightweight aluminum, which makes it easy to work with despite its larger size.
This pan is a great choice for those who want a low-hassle option that is versatile enough for stovetop or oven use. While it's not as durable as a pan made of heavier metal, its quality construction will keep it going for years.
Best Budget: CAROTE Nonstick Frying Pan Skillet
SAVE 43%
While a high-end pan is a great choice for someone with some experience with cooking seafood, those who are just learning might do better to start with a more affordable option. The a
A griddle is a great choice for cooking fish, as it allows you to get a deep sear in the meat without risking it sticking. The raised grills cook the meat thoroughly while also adding deep flavor, in much the same way as a backyard barbecue. The S-Kitchn Nonstick Grill Pan lets you get all the barbecue flavor right in your kitchen with a convenient design.
The cooking surface is 13 inches wide, making it one of the largest on your list. That makes it a good choice for cooking for a crowd, letting you fit up to six fish fillets at once. The entire surface is lined with raised grilles.
This pan doesn't have an elongated handle like many others, so it's not a great choice for quick flipping. However, its two handles make it ideal for oven use, giving you a firm hold when handling. Just remember to wear oven mitts!
You'll appreciate everything this griddle pan offers, whether you plan on using it in the oven or on the stovetop. Just remember that you'll need to stick with plastic or wood cooking utensils, as their nonstick surfaces tend to scratch easily.
Buying Guide for Pans for Cooking Fish
These pans may look simple at first glance, but there's more to them than meets the eye. To make sure you get the right choice for your kitchen needs, be sure to keep all of these criteria in mind:
Size
For most people, a 10-inch to 12-inch pan is the perfect size for cooking two or three fish fillets at a time. It's a good idea to get a slightly larger pan than you'd think, since fish fillets can be difficult to flip when your pan is cramped.
Nonstick Surface
A nonstick surface is crucial when cooking fish since the meat is so likely to stick. It also means you don't have to use as much oil when cooking, which makes for a healthier meal. The main downside is that it limits the kind of spatula you can use, and the best fish spatulas are often made of thin metal that will scratch a nonstick surface.
Material
Stainless steel, carbon steel, and cast iron are all good choices for a fish pan. Stainless steel is probably the easiest to care for, as it doesn't rust and is easy to clean. However, cast iron is great at retaining heat and can be a great way to cook a deeper sear into your meat.
Cooking Surface
When choosing your cooking surface, there are two schools of thought: a smooth-bottom frying pan and a pan with grilles. The smooth-bottom pan is ideal if you want to crisp the skin evenly, though you may risk the fillet sticking. On the other hand, the grill helps prevent sticking and adds extra flavor with extra searing.
FAQs
How do I keep fish from sticking to my pan?
Fish is notorious for sticking to pans, partly because some people hesitate to cook it. However, to reduce the risk of sticking, you have to heat up your pan a bit more. Set it to medium-high and make sure it heats up for two to three minutes to reach its maximum temperature before cooking in oil.

Also, a pan with a nonstick surface can be a big help if you're still having trouble.
Do I need to remove the skin from my fish fillet?
Fish skin doesn't need to be removed before cooking unless you prefer it that way. However, many people appreciate the flavor and texture of fish skin, especially salmon. To enjoy it to its fullest, press the skin side of the fish into the pan while cooking, so it becomes crisp and flavorful.
How long should you cook fish?
Cooking time for fish depends entirely on the size of your fillet. When cooking on the stovetop, a thicker fillet will take between five and six minutes per side, while a thinner one will be closer to two or three. A good rule of thumb in the oven is to cook your fillet for ten minutes for each inch of thickness.

Overcooked fish tends to get mushy, while undercooked fish will lack the flakiness that makes it so delicious.