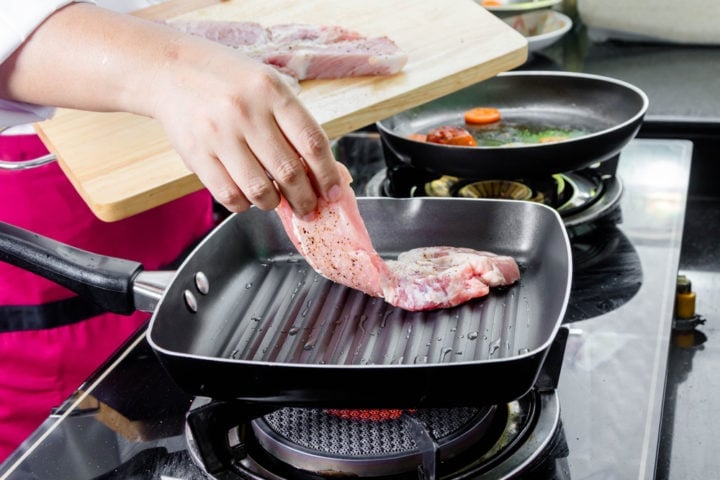 Backyard grilling is the perfect way to prepare meat in the summertime. With a deep, smokey flavor and classic black stripes seared onto meat, there's nothing quite like it. But what if you could get real barbecue flavor indoors, any time of year?
Stovetop grill pans are a unique type of cookware that lets you do just that. With a cooking surface lined with raised ridges, they simulate all the best parts of outdoor grilling. However, grill pans come in all shapes and sizes, and choosing the right one for your needs takes time.
That's why we've looked at all the top grill pans available today, choosing those we think are best. By looking at size, shape, material, and other kitchen-friendly features, we've narrowed our list down to the top 20. Take a look for yourself and see which best suits your needs.
Table of Contents
Best Overall: All-Clad Square Nonstick Grill Pan
The ideal stovetop grill pan should be easy to use, doesn't take up space in storage, and gets you the authentic grilled finish you crave. While many products offer some of these advantages, very few can claim to deliver on all three. The All-Clad square nonstick grill pan is a well-balanced grill pan that can satisfy all tastes and needs.
Its cooking surface is made of heavy-gauge, hard-anodized aluminum, making it durable and lightweight. That means it's both easy to handle and durable enough to stand the test of time.
Its durable construction is also an asset for oven use. It's safe to heat up to 500 degrees Fahrenheit, letting you mix and match cooking techniques. This is made possible by its stainless steel handle, which is securely riveted to the pan.
When it's time for cleanup, all it takes is a quick trip to the dishwasher, and your job is done. The advantage of aluminum is that you don't have to season or hand-wash. This is especially handy if you're cooking high-fat meats.
This stovetop grill pan is made to satisfy almost any home cook and is a great choice for beginner cooks and seasoned chefs alike. Its only drawback is that it doesn't offer the space a double-burner grill pan delivers. If you're cooking for more than two, a larger option may be a better choice.
Best Double Burner: Scanpan Classic Double Burner Grill Pan
If you're looking to recreate the outdoor grill experience inside your home, a double burner grill pan is the clear choice. The extra width lets you cook double the number of steaks, burgers, or sausages, with plenty of elbow room. The Scanpan Classic double burner grill pan is an excellent choice with a few helpful features.
If you've never used a reversible grill pan before, this one is worth a try. Simply put, it can be used on either side, with a full surface of raised ridges on one side and a half-griddle on the other. This lets you diversify your cooking when needed.
Its ceramic design lets you use it both in and out of the oven, adding to its versatility even further. Just keep in mind that it doesn't have a long handle, so oven mitts and a bit of caution are a must.
Its full dimensions are 18" x 10, which gives enough space to cook four steaks or six burgers at once. The ridges are nice and deep, which will help get those perfect grill marks on your meat.
Give this double burner grill pan a try if you need extra cooking space in and out of the oven. While it might be a bit more difficult to maneuver without a long handle, its overall utility will more than make up for it.
Best Single Burner Grill Pan: Cook's Standard Hard Anodized Grill Pan
While double-burner grill pans can be good for large families, smaller pans are much more convenient. They let you get all the flavor and texture of outdoor grilling with a small pan that can be easily cleaned and stored. The Cook's Standard hard anodized grill pan pairs a simple design with durable construction for a classic combo.
Even with its single-burner design, this pan is large enough for a pair of steaks and side veggies. The walls of the pan raise at a 90-degree angle to help contain grease and splatter. While they may encumber flipping a little, they're low enough that you won't be knocking them with your spatula.
The handle is easy to grip and is designed to cool naturally. While it will get hot when put in the oven, you will be able to handle it without difficulty during stovetop use. It's attached securely with a pair of stainless steel rivets.
The aluminum cooking surface heats quickly and evenly, letting you get a perfect sear. It's also highly durable, with a hard-anodized coating that stands up to scratches and dents.
This single burner grill pan is a good choice for small families who want a low-hassle option. However, if you're cooking for a crowd, a double-burner option may be the better choice. Also, don't forget that it's not induction compatible.
Best Cast Iron: BackCountry 10" Cast Iron Grill Pan
Cast iron is a classic grilling material, as it heats evenly and holds heat well. When used in an indoor grill pan, it also makes for durable construction with plenty of versatility. The BackCountry 10" cast iron grill pan pairs all of these advantages with a classic and functional design.
One of our favorite things about this pan is the dual-handle design which simplifies handling. On one end is an elongated handle for stovetop use. On the other is a shorter handle to help with lifting heavy loads.
Overall, the pan is made of a single piece of cast iron. That means there are no joints or rivets to come loose, making it highly durable. Keep in mind, though, that it also weighs a bit more than other pans.
Cast iron is also naturally nonstick when seasoned properly. It takes a bit of effort to maintain this seasoning, but it's well worth it. Over time, it can even add layers of flavor to your food as it cooks.
Try this pan for yourself if you love the durability and even heat distribution cast iron offers. However, don't forget that cast iron pans take a bit of extra care of maintenance. If you want a low-hassle pan, try another material.
Best Ceramic: GreenPan Ceramic Nonstick Grill Pan
Ceramic grill pans have the advantage of being both durable, lightweight, and nonstick. This makes them a great choice for indoor grilling. The GreenPan ceramic nonstick grill pan is a larger ceramic grill pan with a wide and sturdy design.
The large, round design of this pan makes it great for handling large amounts of food. The double handles allow you to grip it securely when moving in and out of the oven. It also contains food and splatter with its tall sides.
At 11 inches in diameter, it's wide enough to cook for a family of four. It's an excellent choice for single-pot meals since it can be moved seamlessly into and out of the oven.
The ceramic surface is extra-durable and perfectly compatible with metal utensils. Each of the mirror-polished stainless steel handles is secretly attached with a pair of rivets.
This pan is a good choice for those who want to balance low maintenance with high performance. Even though it's not the ideal choice for flipping and quick stovetop maneuvering, it still works perfectly well on any home range.
Best Aluminum: Cainfy Aluminum Grill pan
Aluminum pans are a popular choice because they're lightweight and inexpensive. When choosing an aluminum grill pan, it's a good idea to find one that has a bit of extra built-in durability. The Cainfy aluminum grill pan has just that, with a sleek design that's made to last.
One standout feature of this pan is its bonded steel base. This adds durability, prevents warping, and reinforces its aluminum construction. It also makes it compatible with induction stove tops for added versatility.
The aluminum cook surface is a perfect match for indoor grilling. It heats quickly and evenly, speeding up your cooking while letting you perfect your technique. It's also lightweight, under 5 lbs, with the lid included.
It includes a glass lid, which gives you a bit more options in terms of cooking methods. It's heat-proof and oven-safe, but keep in mind that it shouldn't be heated over 400 degrees Fahrenheit.
This pan is durable enough to stand up to regular wear and tear. However, because of its aluminum construction, it's never going to last as long as its cast iron counterparts. Make sure to take this into consideration before purchasing.
Best Nonstick: Lodge Cast Iron Grill Pan
Nonstick is the way to go when grilling steaks and burgers as it lets you get the sear you need without sticking. However, nonstick pans come in a wide variety, and not all are ideal for indoor grilling. The Lodge cast iron grill pan comes with a naturally nonstick surface that is scratch-resistant and PFOA-free.
Since this pan is fully cast iron, it is highly durable and resistant to scratching. The handles and cooking surface are single, solid pieces, meaning that there are no joints to loosen. Plus, it can be used in the oven without worry.
As long as you're able to keep the pan seasoned, scratches and rust should be no problem. The natural nonstick coating helps protect the pan from both, gaining layers after each time you use it.
The handle is large and easy to grip, while the ridges inside the pan are deep and cover the entire cooking surface. If you're worried about splatter, the high walls are ideal for containing mess, though they may get in the way when flipping.
Give this pan a try if you're willing to put in a bit of extra effort to keep it seasoned. However, if you're looking for a low-maintenance pan or aren't familiar with cast iron, ceramic or Teflon may be a better option.
Best Budget: Gotham Square Aluminum Grill Pan
You don't have to be a grilling pro to start cooking up backyard classics in your own kitchen. The right budget grill pan can get you quality results without blowing your budget. This Gotham square aluminum grill pan has plenty of professional-level features at less than half the cost.
This pan offers everything you need to start grilling indoors. A nonstick surface, durable construction, and oven-safe design are just a few of its best features. It also has a stay-cool handle design that doesn't get hot while cooking on the stove.
The coating is made of ceramic and titanium, which gives it its nonstick qualities. It's not exactly scratch-resistant, though it's tough enough to stand up to regular use in the short term.
The first time you use it, you'll see that it produces quality results. However, aside from cooking great food, it's also a breeze to clean up. It is completely dishwasher-friendly, saving you time after dinner is done.
This budget grill pan is a good choice for home cooks just trying indoor grilling for the first time. However, it may only last you a year or two, so once you have a bit of experience, a heftier option may be better.
Best High-End: Jean Patrique Whatever Pan
For those well-versed in the art of grilling, a high-end grill pan is a worthwhile investment. For a bit of extra money, you'll be rewarded with enhanced durability, improved heat distribution, and a more versatile design. The Jean Patrique Whatever pan offers a range of high-end features at a reasonable cost.
At first glance, this pan might look like it's made of cast iron, but in fact, it's 100% die-cast aluminum. This means it affords the durability of cast iron, at just a fraction of the weight. Best of all, it's not susceptible to rust and can be cleaned in the dishwasher.
Most aluminum pans can't be used on induction stoves. However, this one includes a bonded steel base that lets you use it on gas, electric, or induction stoves as needed.
When it comes to cooking, you'll be impressed by the even heat distribution this pan offers. This is another area the bonded steel base lends a hand. The pan also has deep ridges, which are designed to allow grease to drip away, just like an outdoor grill.
Give this pan a try if you're willing to invest a bit of extra money on premium features. However, it might not be the best choice for cooks with less experience. Also, its aluminum cooking surface might not be for everyone.
Best for Oven: Cuisinart Hard-Anodized Square Grill Pan
Most chefs agree that getting a perfect sear on your steak requires a combination of the stovetop and oven. However, not all grill pans are designed to do both, limiting your cooking options. The Cuisinart hard-anodized square grill pan is designed with versatility in mind, letting you use whatever cooking method you need.
While some pans' nonstick surface is prone to scratching, this one is made with durability in mind. The hard anodized surface ensures that it can be used for years without degrading. It's also nonstick, which helps when flipping burgers.
The handle is made of stainless steel, which is perfectly compatible with oven use. It's attached with two stainless steel rivets.
Since the cooking surface is made of aluminum, this pan heats quickly. In just a few seconds on the stove, it will be sizzling hot and ready for your meat and veggies. This also allows you to quickly preheat it in the oven.
This pan is the perfect choice for anyone who needs a good all-around pan that can be used in the oven. While it doesn't offer some of the more impressive features of some high-end pans, there's plenty to appreciate.
Best Round: Blue Diamond Cookware Grill
Grill pans come in all shapes and sizes, and the choice between square and circular is a matter of personal preference. The advantage of circular pans is that they heat more evenly and are easier to clean. The Blue Diamond cookware grill pan is an excellent example of a round grill pan with a quality design.
If you haven't tried blue diamond cookware before, this one may be worth your time. Their pans feature an extra-durable and heat conductive coating. They are also toxin and PFOA-free, unlike some other nonstick pans.
The glass lid is a nice bonus, which helps contain grease when cooking on the stovetop. However, keep in mind that the plastic handle means it shouldn't be used in the oven. The stainless steel handles and ceramic cook surface are completely oven-safe and dishwasher-friendly.
You won't be disappointed in this round grill pan if you're looking for a solid oven-friendly option. Even though it doesn't feature an elongated handle like other pans, its two short handles are great for oven use.
Best Stay-Cool Handle: Sakuchi Square Grill Pan
Grilling often requires high temperatures, which can be hard on home cooks. To make your indoor grilling easier, look for pans that feature stay-cool handles. The Sakuchi Square grill pan includes a stylish wood handle to ensure your hands stay safe.
The unique design is probably the first thing you'll notice about this pan. The ergonomic handle feels as good as it looks and keeps your hands protected. The speckled granite coating is another nice touch, which is highly durable for long-term use.
On either end of the pan are shallow spouts, which can be used to drain grease or other liquids while cooking. It's another nice touch that simplifies certain cooking tasks, although it means you can't fit a lid over the top. The walls are smartly angled outward, allowing them to contain grease while also staying out of the way of your spatula.
The cooking surface is made of granite-coated aluminum, which pairs durability with lighter weight. On the bottom of the pan, you can find a thickened steel base, which adds durability and heat retention.
Try this pan if you're looking for a stylish addition to your kitchen that brings plenty of versatility. Just remember that the wood handle isn't made to go in the oven!
Best Extra-Large: All-Clad Double Burner Grill Pan
Larger grill pans are a good choice if you're cooking for a large family or a get-together with friends. However, extra-large grill pans are susceptible to a few specific dangers, so it pays to choose wisely. The All-Clad double burner grill pan is a quality double-burner design that's made to satisfy.
This double burner grill pan is designed to fit over one-half of your kitchen stove, heating each end independently. This allows you to fit more food on your grill, just like an outdoor barbeque. The entire surface is hard-anodized nonstick aluminum, which is durable and lightweight.
The wide handles on either end of the pan allow you to pick up and reposition it easily. They are made of stainless steel and are securely attached to the ends with a pair of rivets. Both the handles and the cooking surface are oven-safe up to 500 degrees Fahrenheit.
Keep in mind that the handles are designed to contain drippings rather than splatter. If you're cooking high-fat meats in this pan, you will probably have to wipe down your countertops afterward.
You'll appreciate what this pan offers if you're looking for both quantity and quality. Since it will let you cook up to four steaks or six burgers at once, you'll never be wanting for space. However, it may not be worth the price if you're only cooking for two.
Best Compact: MasterPan Nonstick Grill Pan
Whether you're looking to take your pan traveling or just want to save some space in your kitchen cabinets, a compact pan is the way to go. However, how do you cut down on size without sacrificing cook space? The MasterPan Nonstick Grill Pan has a unique solution with its folding handle.
The handle is made of stainless steel and wood, which helps cut down on weight while protecting your hands from burns. While cooking, the handle locks in place securely. When it's time to store your pan, simply fold the handle inward to cut down on space.
Aside from its folding handle, there are plenty of other features to enjoy in this pan. It comes in 8" and 11" sizes, each with a pair of grease spouts on either side to help with draining. The hard-anodized aluminum coating adds durability without adding weight.
Even though the pan is aluminum, it's compatible with all styles of range, even induction. The steel-bonded bottom is what makes it induction-compatible while also adding durability.
Give this pan a try if you're looking for an innovative way to cut down on kitchen clutter. It may not be as durable as full cast iron pans, but it's tough enough to take some wear and tear.
Best Heavy-Duty: Bruntmor 10" Cast Iron Grill Pan
If you're planning on investing in a quality grill pan, it makes sense to choose one that will last. Luckily, manufacturers have found plenty of ways to improve the durability of cookware. The Bruntmor 10" cast iron grill pan is a hefty pan with a solid construction that won't let you down even after years of use.
The great thing about cast iron cookware is that it is usually constructed of a single, solid piece. This means there are no separate handles to come loose or break off. Also, compared to aluminum or ceramic, cast iron grill pans are highly resistant to warping.
It's a great pan for cooking heavier dishes, especially when transferring into and out of the oven. The double handles give you a firm grip and are large enough to grab even with oven mitts.
While this pan will require a bit of maintenance in the way of seasoning, it does come pre-seasoned. This will help save a bit of extra effort and let you use the pan right out of the box. As long as you refresh the seasoning once every few months, rust should never be a problem.
If you want a pan that you can rely on for years to come, give this one a try for yourself. Of course, the added durability adds a bit more weight, so if you're worried about handling, aluminum cookware could be a better choice.
Best Lightweight: S-Kitchn Grill Pan With Folding Handle
One of the best things about indoor grilling is that it simplifies prep and cleaning compared to barbecuing. A lightweight grill pan makes this even easier and even allows you to take your pan on the go. The S-Kitchn grill pan with folding handle offers a compact, lightweight design to take the hassle out of indoor grilling.
At just over two pounds, this pan is just a fraction of the weight of other grill pans. In addition to making it more portable and storable, it's also easier to maneuver. This can make all the difference when flipping peats or tossing vegetables.
The ridges coating the cooking surface are deep-set, which are perfect for getting a professional finish on burgers and steaks. At first glance, some people may worry that they could cause food to stick to the pan. Luckily, the nonstick coating makes it easy to flip and slide food.
The wireframe handle has a folding design, letting it collapse when it's time to store. This cuts down the pan's size drastically and saves you precious kitchen cabinet space.
Give this pan a try if you want a simple option that lets you try basic grilling techniques at home. However, if you are looking for more advanced cookware, you may have to spend a bit more money.
Best for Steak: ESLite Life Nonstick Square Steak Pan
There's no food better suited to grill cooking than steak, and with a grill pan, you can get authentic results indoors. Perfecting your steaks requires practice and also the right grill pan. The ESLite Life nonstick square steak pan comes equipped with everything you need to put the perfect finish on your steak.
The granite surface and raised ridges of this pan are made to replicate an outdoor grilling experience. The pan does this reasonably well, creating an authentic sear pattern on your piece of meat. The low sides may not be the best at containing splatter, but their low profile stays out of the way for flipping.
It's a good choice whether you're working with gas, electric, or induction heat. The reinforced steel bottom adds durability while also making it compatible with all types of ranges.
In addition to its quality craftsmanship, the pan includes a number of handy quality-of-life features. The two spouts on either end of the pan help drain grease. The wooden handle is another nice touch, which protects your hands from burns.
You'll appreciate everything this pan has to offer if you're a home cook looking to perfect their steak game. While great at what it does, keep in mind that it can only cook two steaks at once. If you're looking to really replicate the outdoor grilling experience, a double burner grill may be better.
Best for Veggies: Calphalon Hard-Anodized Aluminum Grill Pan
Grilling is for more than steaks and burgers. The char-blackened flavor that comes from a quality grill pan is the perfect complement to vegetables of all kinds. The Calphalon hard-anodized aluminum grill pan offers a simple design that's a perfect fit.
The first thing you'll notice about this pan is its high edges, which are designed to help contain food. This makes it a great choice for veggies and other loose foods that need to be stirred and tossed. In fact, this pan is a better choice than even an outdoor grill, as you won't have to risk losing small pieces between the ridges.
To facilitate moving food around the pan, the ridges on the cooking surface are a bit shallow. This may not be ideal for creating a thick, well-defined sear. However, it serves as a good compromise between a traditional pan and a grill pan.
The metal handle is another feature that adds to the versatility. It can be moved seamlessly in and out of the oven without risk of damage. When using it on your stovetop, the stay-cool design lets you use it without oven mitts.
If you want to try indoor grilling with a range of different foods, give this pan a try for yourself. In addition to veggies, it's also a good choice for steaks, burgers, or anything else.
Best Reversible Design: Traeger Reversible Griddle
The only downside of stovetop grill pans is that they are not always the most versatile pieces of cookware. Luckily, this problem is easily solved by reversible designs. The Traeger reversible griddle is a perfect example featuring a simple design that delivers plenty of utility.
With metal ridges on one side and a flat griddle on the other, this pan offers the best of both worlds. Anything from steaks to pancakes or eggs is possible, which helps you cut down on unnecessary cookware.
The grill side of the pan is lined with extra-deep ridges that are perfect for searing steak. It's the best way to get a professional finish on your food. Just keep in mind that they take a bit of extra effort to clean.
Give this pan a try if you're looking to go back to basics. There are no small parts or hidden features to figure out, making it a good choice for beginners and experts alike. However, if you want a bit more for your money, you may be better off with a more advanced model.
Best for Korean BBQ: TeChef Korean BBQ Stovetop Grill Pan
Korean barbeque is a culinary tradition with centuries worth of history behind it and a growing interest today. Giving it a try in your own kitchen isn't hard and only requires the right recipe and pan. The TeChef Korean BBQ stovetop grill pan takes care of half of that equation for you, with a unique design.
By far, the best feature of this pan is its unique swirled channel design. This is intended to collect and drain grease from your meat evenly, directing it away from your food as it cooks. This helps create a crispier texture that's essential to Korean barbeque.
The cooking surface itself is nonstick, which makes flipping easy and simplifies cleaning. You can wash it by hand in seconds or throw it in the dishwasher to save yourself the trouble. The nonstick coating is durable and completely PFOA-free.
If you're looking to give Korean barbecue a try for yourself, don't pass on this pan. The only factor to keep in mind is that, like all Korean barbeque pans, it contains a small hole to drain grease. You will need a separate drip pan to collect this and keep it from spilling onto your stove.
Stovetop Grill Pan Buying Guide
Grill pans come in great variety, letting you find the exact product you're looking for. However, with so many different options available, it's not always easy to find what you need. If you're still feeling lost, make sure to keep all of these features in mind.
Your Range
If you're using a gas or electric stove, any of the grill pans listed above will be compatible. However, if you're working with induction, this may not be the case, as only cast iron and carbon steel can be used. Some ceramic and aluminum pans are compatible with induction stoves, but only if they have a steel insert.
Material
Material may be the most important choice when choosing a pan, and the two main options are cast iron and aluminum. Cast iron offers durability and great heat retention, though it requires seasoning to protect it from rust. Aluminum pans are a better choice for those who want easy clean-up and low maintenance.
Single or Double Burner
Most of the pans listed above are single burner designs as they are a more practical choice for most cooks. However, if you're cooking for a larger family, a double burner pan may be better. These are made to fit over two burners at once, letting you heat each side independently.
Grille Shape
The distinctive feature of all grill pans is the raised ridges that line the cooking surface. Deeper ridges give a more defined sear, though they're a bit harder to clean. More shallow ridges are better for vegetables and can be easily wiped down by hand.
Oven Friendly
Often, the only way to get a perfect finish on grilled foods is to use both the oven and stovetop. If you're going for this combination approach, make sure you choose a pan that is oven-safe. That means avoiding pans with wood or plastic components.
FAQs
Grill pans have earned their place in the kitchen with a unique niche of their own. Learn more about these pans by reviewing some of the most frequently asked questions.