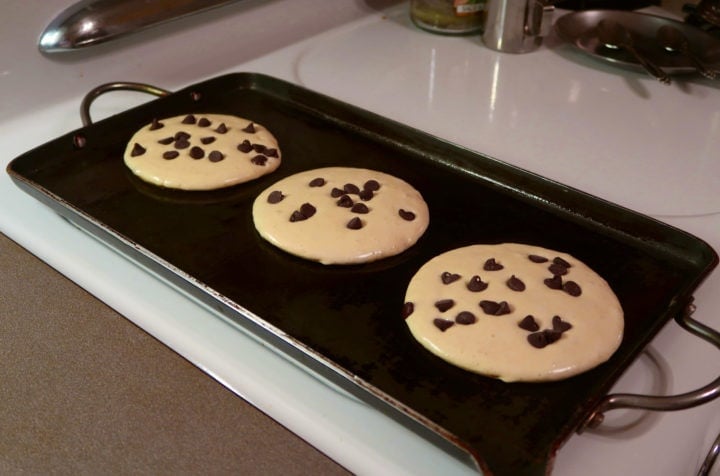 There's no telling when you're going to have your next craving for classic diner foods. There's just something about fresh-cooked pancakes or burgers that makes them irresistible, which may be why many diners are open 24 hours. But what if we told you that you could get classic diner foods any time you wanted, without leaving your home?
Stovetop griddles make this possible, with a unique design that simplifies your spatula work. They're an up-and-coming trend among home cooks that adds plenty of variety to your weeknight meals.
However, it may not be obvious which stovetop griddle is right for you. There is a wide range of options out there, each with their own advantages and disadvantages.
To help simplify your search, we have compiled this list of the best stovetop griddle pans on the market today. Taking into consideration factors like material, size, shape, and nonstick coatings, we narrowed down your options to the top twelve. Take a look at their pros and cons for yourself before making your decision.
Table of Contents
Best Overall: HexClad Hybrid Stainless Steel Griddle
Since stovetop griddles are so versatile, the ideal one should be designed to cook all kinds of dishes. The HexClad Hybrid Stainless Steel Griddle incorporates a patented design with quality craftsmanship for a truly versatile piece of cookware.
The HexClad pattern on the surface of this pan is more than just for show. It incorporates stainless steel for durability and aluminum for even heat distribution. It's scratch-resistant, oven-safe up to 500 degrees Fahrenheit, and fully nonstick.
Together, these qualities make it a great choice for burgers, eggs, and especially pancakes. The nonstick surface and even heat make it easy to flip and turn without ever burning food. With twelve inches of cooking space, you can fit four pancakes or six eggs at once, making it easy to cook for a crowd.
Once the cooking is done, the smooth stainless steel exterior makes cleanup easy. You can wash it by hand in minutes or place it in the dishwasher to save even more hassle.
If you're looking to invest in the latest cooking technology, you'll want to add this stovetop griddle to your cookware collection. Its durable construction and unique design make it well worth the higher cost. However, if you'd rather spend a bit less, there are plenty of other quality options at a reduced cost.
Best Aluminum: Cook N Home 02434 Heavy Gauge Aluminum Griddle
Aluminum is a classic choice for stovetop griddle pans, delivering even heat in a lightweight package. However, not all aluminum pans are created equal, and it's crucial to find a quality option to avoid warping or scratching. The Cook N Home 02434 Heavy gauge aluminum griddle is affordable and made to last, with a nonstick coating that's perfect for griddling.
At just 1.5 pounds, it's easy to see the advantages of aluminum cookware. Its light weight makes it even easier to handle while cooking, for a more fun and effective cooking experience. It's true that its cooking surface is a bit smaller than other pans, though it's still large enough to cook for a small family.
On the top of the cooking surface is a nonstick coating which makes it easy to flip pancakes and burgers. The bottom of the pan is lined with exposed aluminum to improve heat distribution even more. The pan is compatible with most stoves, but keep in mind that it can't be used with induction cooktops.
The plastic handle is ergonomically designed and well suited to griddling, keeping your hands protected from the heat. At the end is a hanging hole that simplifies storage.
Give this pan a try if you're looking for a budget option that doesn't skimp on quality. While it might not be quite as durable as pans made of other materials, it should still last years. If you'd prefer something even more durable, try a cast iron option.
Best Cast Iron: Le Creuset Enameled Cast Iron Griddle
When it comes to durability and heat retention, it's hard to beat cast iron. As long as you're willing to put in a bit of extra effort for cleaning and maintenance, they will prove to be lifelong kitchen helpers. The Le Creuset Enameled Cast Iron Griddle comes with all the advantages of a cast iron griddle, with a durable enameled surface.
If you've never worked with enameled cast iron, you're in for a treat. Like regular cast iron, it comes with all the durability and nonstick qualities you know and love. However, the enameled surface means you don't have to season it, making it much easier to care for.
The compact design is perfect for small batches of eggs or bacon, and the high sides help contain grease. It has superior heat retention and can be used on any cooking surface, outdoors, or in the oven.
The only thing to watch out for when working with enameled cast iron is to avoid heating it too much when the pan is empty. This can cause its enameled surface to crack. However, with a bit of care, it will last you years.
You'll love this pan if you're looking for a compact option that's made to last. However, if you are cooking for a large family, this may not be the best option. In that case, a double burner griddle will serve you well.
Best Ceramic: GreenPan Valencia Pro Ceramic Nonstick Griddle Pan
Ceramic cookware isn't as common as aluminum or cast iron, but offers a few surprising benefits when griddling. In addition to being nonstick, it's durable and safe with metal utensils. The GreenPan Valencia Pro ceramic nonstick griddle pan brings together all these benefits in a smart package.
The ceramic coating on this pan is PFOA-free, meaning it's safe for your body and the environment. It lends a nonstick surface that is slick enough to fry eggs without sticking. Unlike Teflon, it's safe to use with metal utensils, thanks to its diamond-infused material.
The stainless steel handle is designed to stay cool even while cooking at high heat. It also lets you put the pan in the oven up to 600 degrees Fahrenheit or clean it in the dishwasher. It's attached securely to the back of the pan with two stainless steel bolts.
The shape of the pan is designed with griddling in mind. The low sides stay out of the way of your spatula and are tall enough to contain drippings. At 11 inches wide, it's big enough to handle most daily cooking tasks.
If you've been wanting to try ceramic cookware for yourself, a griddle pan is a good place to start. It's a great choice for durability, even though it's not as nonstick as aluminum or cast iron.
Best Stainless Steel: 360 ID711-SQ Square Stainless Steel Griddle Pan
If durability is your priority, stainless steel is an option worth considering. It's just as tough as cast iron, except immune to rust and safe from scratches and dents. The 360 ID711-SQ square stainless steel griddle pan offers a straightforward stainless steel design that's made to last.
The best thing about fully stainless steel pans is how easy they make cleanup and maintenance. They can be put in the dishwasher when cleaning, never rust, and can be used on any cooking surface. And since they are so durable, you can count on hanging on to them for a lifetime.
When it comes to performance, you can expect great heat retention and even distribution. This helps prevent hot spots, making for more evenly browned pancakes and sausage. You can also put it in the oven at up to 500 degrees Fahrenheit.
The 360 store is so confident in their product that they offer a lifetime warranty. They proudly claim that their griddle is "the last cookware you will ever buy." While a bit more expensive than other pans, it's an investment worth making.
Try this pan for yourself if you're looking to invest in a pan that lasts. However, keep in mind that you will probably need to use a bit more oil when compared to fully non-stick cooking surfaces. If you want to cut down on fat, try a cast iron pan instead.
Best Low-Hassle: Cooksmark 1151013 Copper Griddle Pan
If you plan on griddling regularly, choosing a dishwasher-safe griddle is a good bet. Since this style of cooking uses a lot of grease, finding a way to avoid hours of scrubbing is well worth the extra investment. The Cooksmark 1151013 Copper Griddle Pan offers a sleek design that can be cleaned in a heartbeat.
Aside from being dishwasher-safe, there are plenty of ways this pan cuts down on hassle. Its slim profile makes storage a breeze, while the stainless steel handle is designed to stay cool while cooking. It also has a comfortable grip, making cooking even more fun.
The cooking surface is highly scratch-resistant, ensuring that it will last for years. It's completely nonstick, which makes for more lean cooking that requires less oil. The aluminum body of the pan conducts heat well, distributing it evenly over the cooking surface.
If you're looking for a low-hassle pan that won't break your budget, this one's for you. However, don't forget that its aluminum construction won't stand up to the wear and tear of stainless steel pans. For a more durable option, you'll likely have to spend a bit more.
Best Reversible: Lodge LDPKPLT Cast Iron Reversible Grill/Griddle
The best way to get the most functionality out of your griddle is to choose a design that can cook in more ways than one. A reversible griddle lets you cook with the classic flattop as well as a grill, doubling versatility. The Lodge LDPKPLT cast iron reversible grill/griddle
The advantage of a double-burner griddle is that it lets you turn out twice as much food as a regular pan. They're especially useful when cooking for parties or large families. The Chantal SLT60 Stainless Steel Griddle has an extra-large design as well as a few helpful features to simplify cooking.
This griddle is a full 9-inch by 19-inch, offering nearly 400 sq inches of cooking space total. This leaves plenty of room to turn out a batch of pancakes or burgers for the whole family. The double handles also ensure you can lift the pan, even when it's loaded with food.
The handles are conveniently located at opposite diagonals, making it easy to get a firm grip while staying out of the way. Still, their large size does mean they'll occasionally get in the way while cooking. Either way, their stainless steel construction means they're oven safe and easy to clean.
This double burner griddle is the ideal choice for anyone planning on cooking for a crowd. However, if you are usually only cooking for one or two people, you may be better off with a smaller option that can save you on storage space.
Best for Breakfast: ESLite Life Pancake Pan
There may be no meal more classic to griddle cooking than breakfast. Eggs, pancakes, sausage, and bacon can all be perfectly prepared on the classic flat top design. However, this ESLite Life Pancake Pan offers something a little different, with a unique design all its own.
This pan is a little different than the other options on this list, with a unique 7-mold design. The surface of the pan is lined with circular depressions, made to create perfectly uniform pancakes and eggs. Simply pour in your batter and flip when ready for consistent results every time.
It's true that this does limit the versatility a bit, though you'd be surprised you can cook in this pan. In addition to breakfast foods, vegetables, mini-burgers, and seafood are all possible. Just don't expect to make anything much larger than a fried egg on it.
The cooking surface itself features a granite coating, which is durable enough to stand up to long-term use while also staying nonstick. Under the coating is a die-cast aluminum body that helps evenly distribute heat. For the price, it's a highly durable pan that will serve you well for years.
Give this pan a try if you want an even easier way to make uniform pancakes for Sunday breakfast. Just make sure to take a close look at its design before buying. While great at certain breakfast foods, it may not be the best choice for all needs.
Best Dishwasher-Safe: OXO Good Grips Pro Nonstick Griddle Pan
One factor that buyers don't always consider is the clean-up after the meal. If you want to save extra time cleaning up after your weeknight dinners, make sure to find a dishwasher-safe option. The OXO Good Grips Pro Nonstick Griddle Pan is fully dishwasher safe, with a classic design that's extremely versatile.
In addition to being dishwasher-safe, this pan's aluminum construction makes it easy to care for. You don't have to worry about rust or scratching, thanks to the hard-anodized coating. And since it's nonstick, you'll never have to worry about scraping stuck food off the surface.
The only downside to aluminum construction is that it's not quite as durable as cast iron or stainless steel. However, it's plenty tough enough to be used for most daily cooking tasks, as long as you don't leave it on a hot burner for too long. When using it in the oven, it's safe up to 430 degrees Fahrenheit.
The nonstick coating is PFOA-free, meaning you can use it without fear of harming your body or the environment. The aluminum core beneath it evenly distributes heat and heats quickly, making for flawless performance.
You'll love this pan if you're looking for a way to cut down on after-dinner cleanup. In fact, it's a reliable and versatile option for a variety of different uses.
Best Budget: Granitestone Blue Nonstick Griddle Pan
Burgers and pancakes have never been refined foods, so it makes sense that it shouldn't take a complicated tool to make them. The truth is, while there are plenty of high-quality pans out there, not all of them have to break your budget. The Granitestone Blue nonstick griddle pan is an excellent budget pan that will let you perfect your griddling.
You'll be surprised at how much utility you can get out of such a simple pan. While it's design may look straightforward, there is plenty to appreciate. The first is the triple-layer nonstick coating, which is durable and extra-slick.
The stainless steel handle is another top feature, which is easy to clean and oven-safe up to 500 degrees Fahrenheit. Did we mention that it is fully dishwasher-safe?
The diamond-infused coating of this pan is also highly durable. It can be used with metal utensils and will last for years to come.
Try this pan for yourself if griddling is a newfound hobby that you're still mastering. While it doesn't have all the high-end features of some other options on this list, it won't let you down when it comes to the basics.
Stovetop Griddle Buying Guide
Choosing the ideal stovetop griddle is about knowing what factors to look for. If you're not sure where to start, review this stovetop griddle buying guide for some ideas.
Material
Most stovetop griddle pans on the market today are aluminum or cast iron. Of these two, aluminum is more lightweight, though also a bit less durable. Cast iron is the heavier option, though it also requires a bit of extra maintenance to keep it from rusting.
Less commonly, you may find ceramic and stainless steel pans, which are both highly durable options. To get all the details on your pan's material, make sure to check the product description carefully.
Size
On average, most single burger stovetop griddle pans are 11 inches long. This is an ideal size when cooking burgers or pancakes for a family of two to four.
If you need to increase your output, the best option is a double burner griddle. These sit over one half of your range, using the power of two burners to control heat on each side of the griddle separately.
Pan walls
The walls on griddle pans range from low to non-existent. This makes it easier to use a spatula to flip foods quickly. If you want greater maneuverability, go with lower sides, though higher sides are better at containing grease.
Handle
In most cases, a stainless steel handle is the most versatile option, as it lets you put your griddle pan in the oven. However, they can sometimes get hot while cooking, making it necessary to use a kitchen towel to protect your hands. Wood or bakelite handles can solve this problem, though they're not oven-safe.
Nonstick Coating
The best griddles feature a nonstick coating, which helps flip food without using excess oil. To protect your health, stick with coatings that are PFOA-free. Cast iron pans are naturally nonstick, with a coating of polymerized oil that adds flavor to your food.
FAQs
Still curious about stovetop griddle pans? There's always plenty more to learn. Take a look at these frequently asked questions for more information.