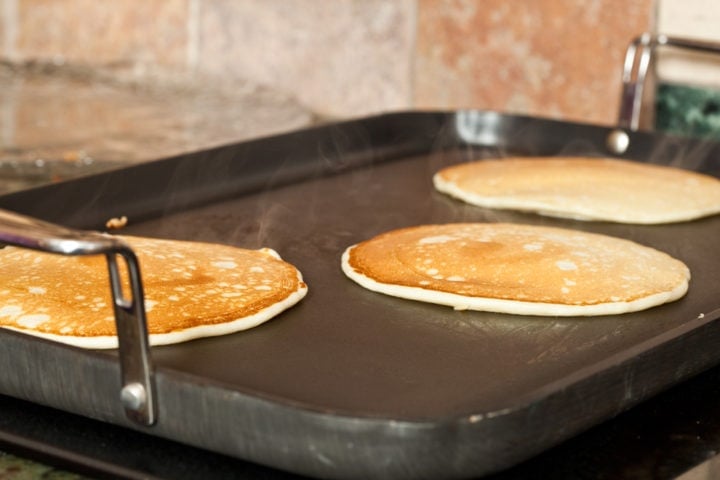 Griddling has long been a popular cooking method that's responsible for all our favorite diner foods. Burgers, pancakes, and fried eggs are all made possible on a wide, smooth cooking surface. While not everyone can have an industrial griddle at home, the fact is that griddle pans are becoming increasingly popular.
A griddle pan takes all the advantages of a restaurant griddle and packs it into a convenient size for home cooks. They come in many different varieties to suit all needs and tastes.
But how can a griddle novice choose the right cookware for their kitchen? The answer lies in knowing what factors separate the best pans from those that are simply average.
In this list, we rounded up 16 of the best griddle pans available today. By factoring in size, material, nonstick surface, handle design, and other factors, we're sure that these pans are made to satisfy. See whether they live up to your standards.
Table of Contents
Best Overall: ESLite Life Nonstick Griddle Pan
ESLITE LIFE Nonstick Crepe Pan
A nonstick granite coating really makes this griddle pan stand apart from the competition.
Pros: Wood handle to prevent burns, nonstick granite coating, die-cast aluminum body
Cons: Not oven-friendly, low sides can't contain much grease
The ideal griddle pan should strike a balance between utility, versatility, and ease of use. The ESLite Life nonstick griddle pan has all three, plus an original design that's well suited to a range of griddle menu classics. Best of all, it comes at an affordable price — a great treat for beginners and griddle experts alike.
Despite its affordable price, this pan is made of premium materials that give it a luxurious feeling. The wood handle is designed to protect your hands while griddling, but is also highly attractive. Meanwhile, the eco-friendly coating is visually distinctive and is perfectly nonstick.
A nonstick surface is essential for griddling, letting you flip burgers and pancakes with ease. It also simplifies cleanup, preventing food from sticking to or caking on the surface. You can also clean it in the dishwasher to save even more time.
Some cooks might prefer higher sides that help contain grease and splatter. However, when it comes to griddling, low sides are ideal. This helps them stay out of the way of your spatula to streamline flipping.
Almost anyone will appreciate the easy cooking, cleaning, and storage this pan offers. However, those hoping to cook six or more pancakes at once may find it a bit too small. If you're looking for a larger-than-average griddle pan, try a double burner option.
Best Budget: Granite Stone Diamond Blue Griddle Pan
One of the best things about griddle-cooked foods is that they are low cost and low fuss. Pancakes, eggs, and sausages are all perfect budget foods, so shouldn't the griddle they're cooked on be just as affordable? The is made with this in mind, delivering professional results at a fraction of the cost.
This pan delivers everything you need for griddle cooking. Its smooth nonstick surface, stay-cool handle, and lightweight design are just some of its top features. All of them are brought together in an attractive electric blue design.
One of the pan's highlight features is its granite-coated aluminum construction. In addition to creating a slick cooking surface, it also prevents scratches, extending the pan's lifespan. Even metal utensils won't damage the coating.
It's oven-safe and dishwasher friendly, making it a versatile and low-hassle piece of cookware. Once you have it clean, the low-profile design makes it easy to store in kitchen cabinets.
Try this pan for yourself, if you're just starting with griddling or only plan to do it occasionally. While it is relatively durable, it may not stand up to regular use as well as a cast iron or stainless steel pan. If you're going for durability, try one of those instead.
Best High-End: HexClad Steel Nonstick Griddle
HexClad Hybrid Stainless Steel Griddle & Non-Stick Fry Pan
This griddle pan certainly carves out its own niche with its original hex design that distributes heat well.
Pros: Original hex design, nonstick, great heat distribution
Cons: More expensive, handle rivets are attached to the cooking surface
While griddle cooking isn't complex, perfecting your technique is all about having the right equipment. Whether your specialty is burgers, pancakes, or another griddle menu classic, heat control is everything. The Hexclad steel nonstick griddle is a pan designed for griddle enthusiasts that's well worth the investment.
The hex design on the cooking surface is laser-etched for precision. While distinctive, it is for more than just decoration, giving the pan the remarkable qualities of both nonstick and stainless steel cookware. That means it has excellent heat retention and heat distribution while staying slick and nonstick.
The cooking surface is perfectly smooth, with a slightly raised rim around the edges. This makes flipping easy by staying out of the way of your spatula. The only design flaw is the pair of steel rivets that are attached to the cooking surface, which may catch food while cooking.
You'll appreciate what this pan has to offer if you've already tried budget options and are looking for something more. Of course, its high quality and added features do come with a higher price tag. If it's out of your budget, don't forget that there are plenty of quality pans in lower price ranges.
Best Double Burner Pan: Cuisinart Hard-Anodized Double Burner Griddle Pan
Cuisinart GG45-25 Hard-Anodized Nonstick Double-Burner Griddle
The large handles on this double burner griddle pan make it easy to hold and reposition, even with oven mitts.
Pros: Extra-wide design, large handles for easy gripping, higher sides to contain grease
Cons: Raised rim may get in the way of flipping, large design is harder to store
Especially when cooking pancakes, it pays to work in large batches. That's exactly how they do it in professional kitchens, where they have extra-large griddles to work with. The Cuisinart hard-anodized double burner griddle pan helps recreate this with a double-burner design that lets you cook in bulk.
This pan is 18 by 10 inches, giving you a full 180-square-inch of griddle space. That's enough for about eight pancakes or fried eggs at once! Also, since these foods are best served hot, a large-sized pan is essential when cooking for the whole family.
The way it works is by positioning each end over a separate burner on your stove. This allows you to heat different areas of your pan separately, much in the same way as an outdoor grill.
The handles on both ends of the pan are another nice touch. They make it easy to reposition the pan when needed, even when wearing oven mitts. The stainless steel rivets are securely attached to the pan's walls.
If you're cooking for a social gathering or large family, definitely try this pan for yourself. However, it may not be the right choice for everyone. Don't forget that it needs to be stored somewhere, so make sure you have enough cabinet space beforehand.
Best Cast Iron: Lodge Cast Iron Griddle Pan
Lodge Cast Iron Griddle with Silicone Hot Handle Holder
What gives this pan the edge is that it comes preseasoned, saving you time and effort.
Pros: Simple cast iron design, shallow ridge to contain grease, comes preseasoned
Cons: May be susceptible to rust, heavier than other options
Because of its durability and great heat retention, cast iron is a natural choice for griddle pans. The Lodge cast iron griddle pan is a classic design that offers plenty of versatility. It's a great choice for anyone who appreciates a bit of extra heft and durability.
The great thing about cast iron is that it basically has a nonstick surface without any chemical additives. Just remember to season it regularly with oil, and the slick surface will keep it protected from rust.
The simple design of this pan is ideal for a range of griddle-top foods. The slick surface is great for pancakes and stays non-stick so you can easily slide off fried eggs from pan to plate. The raised rim helps contain grease and makes it a good choice for searing burgers and other meats.
If you want to try a slightly different shape or size, Lodge also offers five similar cast iron griddles. Oval-shaped pans, fajita platters, and a variety of sizes will give you the same quality pan tailored to your needs.
Give this griddle pan a try, if you already have a bit of experience with cast iron and know how to care for it. Even though it comes pre-seasoned, keeping its coating fresh requires a bit of maintenance. If you prefer a low-hassle pan, then stainless steel is a better option.
Best Ceramic: Green Life Soft Grip Diamond Ceramic Griddle Pan
While ceramic griddle pans may not be the most common option, there are plenty of reasons to give them a try. They are durable, nonstick, and provide even heating. The Green Life soft-grip diamond ceramic griddle pan is an excellent example of a quality ceramic griddle pan, with a few useful surprises.
One of our favorite features of this pan is its soft-grip bakelite handle, which keeps hands cool during cooking. While other handles are attached with rivets that catch food and are difficult to clean, this one has none at all. This makes it easy to clean, whether by hand or in the dishwasher.
The sides are just the right height for griddling — low enough to stay out of the way of your spatula and high enough to contain drippings.
The ceramic coating helps protect the pan and also creates a PFOA-free nonstick coating. On the inside, the aluminum core helps distribute heat and cuts down on weight. This makes the pan both durable and easy to handle.
Whether you're experienced with ceramic pans or trying them for the first time, this one is a good choice. The only downside is that it has a plastic handle, which means the pan can't be used in the oven. However, as long as you have a cast iron option in waiting, you won't lose too much versatility.
Best Stainless Steel: 360 Square Griddle Pan
360 Square Stainless Steel Griddle
The ergonomic handle is very comfortable and definitely sets this griddle pan apart.
Pros: Highly durable, ergonomic handle, scratch-resistant
Cons: Interior rivets may catch food, food may stick
There's a reason why many industrial griddles are made of stainless steel. It's a great heat conductor, highly durable, and can be used in and out of the oven. The 360 square griddle pan is 100% stainless steel and fully takes advantage of this.
Advertised as "the last cookware you will ever buy," this pan is known for its durability. It's scratch-resistant, warp-resistant, and oven-safe up to 500 degrees Fahrenheit. While it may cost a bit more, it's certainly worth the investment.
While a cast iron pan may rival this pan's durability, it also comes with a lot of extra weight and maintenance. Unlike cast iron, at just three pounds, this pan is as easy to handle as any other. Plus, it can be put into the dishwasher and doesn't require any special maintenance.
If you've wanted to give stainless steel cookware a try, you'll love this griddle pan. The quality of the material speaks for itself; however, it does have some drawbacks. If you're worried about bits of food sticking to the surface or getting stuck into nooks and crannies you can't reach, then a ceramic pan might be a better option for you.
Best Reversible Design: Lodge Cast Iron Reversible Grill/Griddle
Griddles are already a versatile kitchen tool, but packing even more use into them is even better. Reversible pans give you twice the functionality in a small package, making them a great way to save money and cabinet space. The Lodge cast iron reversible grill/griddle
While griddle cooking is a great way to create delicious food, it also comes with a fair amount of cleanup afterward. That's why a dishwasher-safe griddle pan is always the best choice. The OXO Good Grips nonstick griddle pan is designed to slide easily into your dishwasher, saving time and effort.
It's the pan's aluminum cooking surface that makes it so easy to clean. Aside from being lightweight and great at retaining heat, aluminum is totally water-friendly. Unlike cast iron and carbon steel cookware, it requires no special maintenance or cleaning.
The design of the pan itself is also high-quality. Eleven inches of cooking space leaves enough room for four pancakes while staying small enough for easy storage.
The handle is made of stainless steel, which allows you to put it in the oven without worry. The stay-cool design protects your hands when cooking on the stovetop.
Try this griddle pan for yourself, if you prefer to spend your time in the kitchen cooking rather than cleaning. However, while its aluminum construction is ideal for the dishwasher, keep in mind that it might not last as long as cast iron. You may have to replace it in a few years.
Best for Induction: Aoorun Nonstick Crepe Griddle Pan
Induction stovetops work just as well for griddling as their gas and electric counterparts. However, not all pans are compatible with them, meaning you have to take extra care when making your selection. The Aoorun nonstick crepe griddle pan is an excellent induction-compatible design, with plenty of surprising features.
Right away, you'll notice that this pan looks a bit different from the others. The speckled granite coating is more than just for show, however, and helps the pan resist scratching. It also stays smooth and nonstick during cooking, which is essential for griddling.
The heavy-gauge aluminum keeps the pan from warping, even when cooking over high heat. The steel-bonded plate at the bottom helps in this regard, too. Having a pan that is highly heat resistant is good, but because of its wood handle you can't put it in the oven.
If you're working with an induction stovetop and are looking to try griddling, this is the pan for you. It's also perfectly compatible with other types of stoves, too. Plus, its low cost makes it an attractive option for just about anybody.
Best Single Burner: Goodful Aluminum Nonstick Griddle Pan
Goodful Aluminum Non-Stick Square Griddle Pan/Flat Grill
This sleek design comes in your choice of three colors, letting you customize it to your taste.
Pros: Ergonomic bakelite handle, comes with a spatula, available in three colors
Cons: Cooking surface may show wear over time, not good for cooking large batches
When cooking for just one or two, a smaller pan is usually the best option. Not only does it cost less, but it's also easier to clean and store while offering the same professional-level results. The Goodful aluminum nonstick griddle pan is a great single burner pan with a classic design.
One great perk of this pan is that it comes with a nylon spatula that's perfectly suited to the shape and size of the pan. This makes it a great choice for those who are griddling for the first time. The soft edges of the spatula are designed to keep the cooking surface pristine and unscratched.
The pan itself is made of heavy-gauge aluminum with a nonstick coating. This makes it easy to cook whatever you like without you worrying about warping your pan.
The handle is made of bakelite, which helps insulate your hands from the high heat of your stove. Perfectly molded to your hand, it's comfortable to use and easy to grip.
Give this griddle pan a try if you're looking for a basic option that gets quality results. However, if you're looking for upscale features or a larger cooking surface, you may have to spend a bit more.
Best Extra Large: NordicWare Two-Burner Griddle Pan
SAVE 35%
Nordic Ware Non-Stick Two-Burner Griddle
We appreciate the versatile design of this double-burner griddle pan, which can also double as a sheet pan.
Pros: 160 square inches of cooking space, durable aluminum construction, low sides make flipping easy
Cons: Handles are small, requires more storage space
Professional griddles are often two or three feet in width, letting cooks turn out large batches of burgers, eggs, and pancakes at once. While this isn't feasible (or probably unnecessary) at home, there are some definite benefits to owning an extra-large griddle. The NordicWare two-burner griddle pan is a full 16" x 10", giving you plenty of extra elbow room.
This pan may look a bit different than other options, as it has no handles or sides to speak of. While this may make it a bit more clumsy for you when you need to move it, it's ideal for griddling. The low, angled sides let you flip with your spatula easily.
The surface of the pan is made of heavy-gauge steel for durability, though the entire pan weighs only two pounds. The thick metal helps protect it from warping, while the nonstick coating is scratch-resistant.
When using it on the stovetop, you can fit the pan on two separate burners. While it gives extra cooking space, it also allows you to control each side of the griddle independently. The added versatility is ideal when cooking two different foods at once.
This is the ideal griddle pan for those cooking for parties or large families. However, unless you have a specific project in mind, you should think twice about investing in a large griddle pan. In many cases, a single-burner pan is a more practical option.
Best Compact: Le Creuset Enameled Cast Iron Square Griddle
Le Creuset Enamaled Cast Iron Square Griddle
This pan has exceptional heat distribution, making it a quality option even at its small size.
Pros: Even heat distribution, protective enamel coating, comes in a range of colors
Cons: May rust if it gets scratched, not dishwasher safe, a bit heavy
Compact griddles are a great way to get professional-quality results without eating up precious cabinet space. Especially if you're only cooking for one or two, they're the ideal choice to get started with. The Le Creuset enameled cast iron square griddle is more compact than other pans, at under 10 inches, with small-sized handles.
With its small size, this pan is designed to fit over a single burner for as much as two burgers, pancakes, or eggs at a time. Since it's less than 10 inches wide, it saves time when it comes to cleaning.
Unlike many of the pans on this list, this square griddle doesn't have an elongated handle. This may make it a bit more difficult for you to maneuver when cooking, but it also cuts down on storage space. Instead, it features two small hand grips that allow you to securely reposition it with two hands.
As always, it's important to remember the advantages and disadvantages of cast iron. The material of this pan makes it highly durable and great at retaining heat. However, it also makes it prone to rust if it isn't taken care of properly.
This is the ideal pan if you're traveling, going camping, or have limited storage space. However, at less than 10 inches, many cooks may find it a bit too small for more than a single breakfast.
Best for Pancakes: SENSARTE Nonstick Crepe Pan
SENSARTE Nonstick Crepe Pan with Spreader
We love the slim design of this crepe pan, which makes it easy to clean and store.
Pros: Granite coating, slim design, dishwasher-friendly
Cons: Bakelite handle can't go in the oven, not as durable as cast iron
The smooth surface of griddle pans is the perfect way to get uniform pancakes. If you're looking to improve your pancake game, look for a pan with a wide cooking surface and even heat distribution. The SENSARTE 10-inch nonstick crepe pan is the perfect pancake tool with plenty of surprising features.
The wide cooking surface and low ridges make this pan a perfect choice for crepes and pancakes. However, don't think that it's a mere unitasker, as it excels at all griddle classics. Burgers, sausages, and eggs are all a good match.
The ergonomic handle is one noteworthy perk, which keeps your hands comfortable while cooking. It's made of Bakelite, which insulates well against heat and is shaped to conform to your hand. It can't go into the oven, though it is removable when needed.
At the bottom of the pan is a bonded steel plate, which makes it induction-compatible. It also significantly improves the durability of the pan, helping it resist warping.
This pan is a great choice for pancakes, but it can also be used for any griddle food you think of. Its only drawback is that its 10-inch diameter will only allow you to cook two or three pancakes at once. If you're cooking for a larger family, you should probably consider a double-burner griddle.
Best for Burgers: Uniflasy Reversible Griddle Pan
Uniflasy Cast-Iron Reversible Grill & Griddle Pan
The reversible design of this griddle helps it stand out and allows you to get the perfect finish on your burgers.
Pros: Reversible design, cast iron construction, extra-wide
Cons: On the heavy side, susceptible to rust
Every experienced burger chef knows that the best patties are made on a flat-top griddle. Even cooking, high heat, and plenty of space add up to produce a classic flavor you'll never forget. The Uniflasy reversible griddle pan is a great option for anyone looking to recreate the experience of their favorite burger spot.
On one side of the pan, you have a classic flat-top griddle. It measures 10" by 16" — offering 160 square inches of cook space — which can fit up to 8 burgers at a time. Around the edge is a raised ridge designed to keep grease from leaking out.
On the opposite side, the cooking surface is split between a grill and a griddle. This is great for those who love the look and taste of grill lines on their meat. The combination design allows you to cook burgers and a side of veggies at the same time.
The overall design is simple, made of a single piece of cast iron. This makes it extremely durable as there are no bolts or rivets to come loose.
Try this pan if you're looking for a versatile piece of cookware that lets you cook burgers in more ways than one. Just don't forget that it's made completely of cast iron. That means it takes a bit of extra maintenance to keep it looking new.
Best for Eggs: Ninja Foodi Griddle
Ninja Foodi Grill & Griddle
What we love about this griddle pan is that it can be used on your stovetop and outdoor grill.
Pros: Can also be used on an outdoor grill, dishwasher safe, higher sides contain food
Cons: Handles can get in the way of flipping, takes up a bit more storage space
As simple as eggs are, there may be no other food that is more challenging to master. The perfect fried egg requires quality cookware that lets you manage the temperature with high precision. The Ninja Foodi griddle is the right tool for the job, with a wide nonstick surface.
Since this pan can be used indoors and outdoors, it's highly versatile. However, what makes it ideal for eggs is its wide cooking surface and raised edges. These allow you to make a large batch without worrying about runny whites or broken yolks running off the edge.
The wide handles are nice when you need to reposition the pan and are crucial when using it on an outdoor grill. However, some may find that they get in the way when flipping. Luckily, the wide cooking surface should still leave you plenty of room to work with.
The pan is made of stainless steel with a ceramic coating. This makes it highly durable and provides good heat distribution. The pan and handles are molded from a single piece of metal and won't come apart from repeated use.
If you're looking for a versatile griddle pan with a slightly different design, this is a good option to consider. However, just keep in mind that it takes up a bit of extra storage space. If you don't think you'll use it regularly, a standard frying pan can do the job for you.
Griddle Pan Buying Guide
Griddles may seem simple at first glance, but by now, you should know how much can be hidden behind their simple design. If you're still unsure which griddle pan is the ideal option for you, take a look at this list of criteria.
Size
Most of the single-burner griddle pans on this list range between 10 and 12 inches in diameter. This is a good size that allows you to cook three or four pancakes, burgers, or fried eggs at once. If you need a bit of extra space, a double-burner griddle will give you the bit of extra elbow room you need.
Material
Cast iron, aluminum, and stainless steel are the most common materials used in griddle pans. Cast iron is the heaviest and most durable of the three, but keep in mind that it requires regular seasoning to keep it looking new. Aluminum is the lightest and usually the least expensive, though it isn't always as durable.
Nonstick Surface
Aluminum and stainless steel pans are usually lined with a coating, which helps improve durability and makes them nonstick. Ceramic and granite coatings are both good options, as they are free from PFOAs and other harmful chemicals. Generally, it's better to stay away from Teflon.
Handle
Single-burner griddle pans usually have an elongated handle similar to a frying pan, which is easy to grab and reposition. Double-burner pans generally have two short handles on either end for stability. Either way, stainless steel or cast iron handles are ideal, as they can be put in the oven.
Cleaning and Maintenance
If you want to save on after-dinner cleanup, look for a griddle pan that is dishwasher-friendly. However, even if you have to hand-wash, most small nonstick pans only take a minute or two to get clean. If you're considering trying cast iron, don't forget that they are the most labor-intensive to care for.
FAQs
Are you interested in learning more about your home griddle pan? See what other cooks are asking.
What's the difference between a frying pan and a griddle?
While they are often used for similar applications, frying pans and griddles have several key differences. First, griddles usually have very low sides, which help ease flipping with a spatula. Second, griddles come in a wider variety, often square or extra-wide.

Generally, griddles are best-suited to foods that require extra cooking space and regular flipping. Pancakes, burgers, and fried eggs are all great examples. Frying pans are less useful for these applications, though they are also better multi-taskers.
Why is food sticking to my griddle?
Most griddles come with a nonstick surface, though even nonstick pans can sometimes stick. The most common reason for this is the nonstick coating degrading with wear and tear. For cast iron pans, you can simply re-season to restore the surface, though other pans will need to be replaced.

If your cooking surface is undamaged, then likely you need to use more oil. Foods low in fat need a tablespoon or two of oil to keep them from sticking.
What foods can I cook on a griddle?
The truth is that griddles are highly versatile and can be used to cook everything from pancakes to steaks. If you're looking for inspiration, just glance at the menu at your local diner. Eggs, hash browns, omelets, vegetables, french toast, and grilled cheese are all excellent examples.

The only foods you want to stay away from are ones that will create large amounts of liquid in your pan. This could run off the edges and make a mess.