Sweet, tangy, and available in a variety of different flavor packs, it's no secret why Skittles are so popular. Though when you're following a halal diet, you have to take extra care anytime you're trying a new snack. Many Muslims have found themselves wondering, "Are Skittles halal?"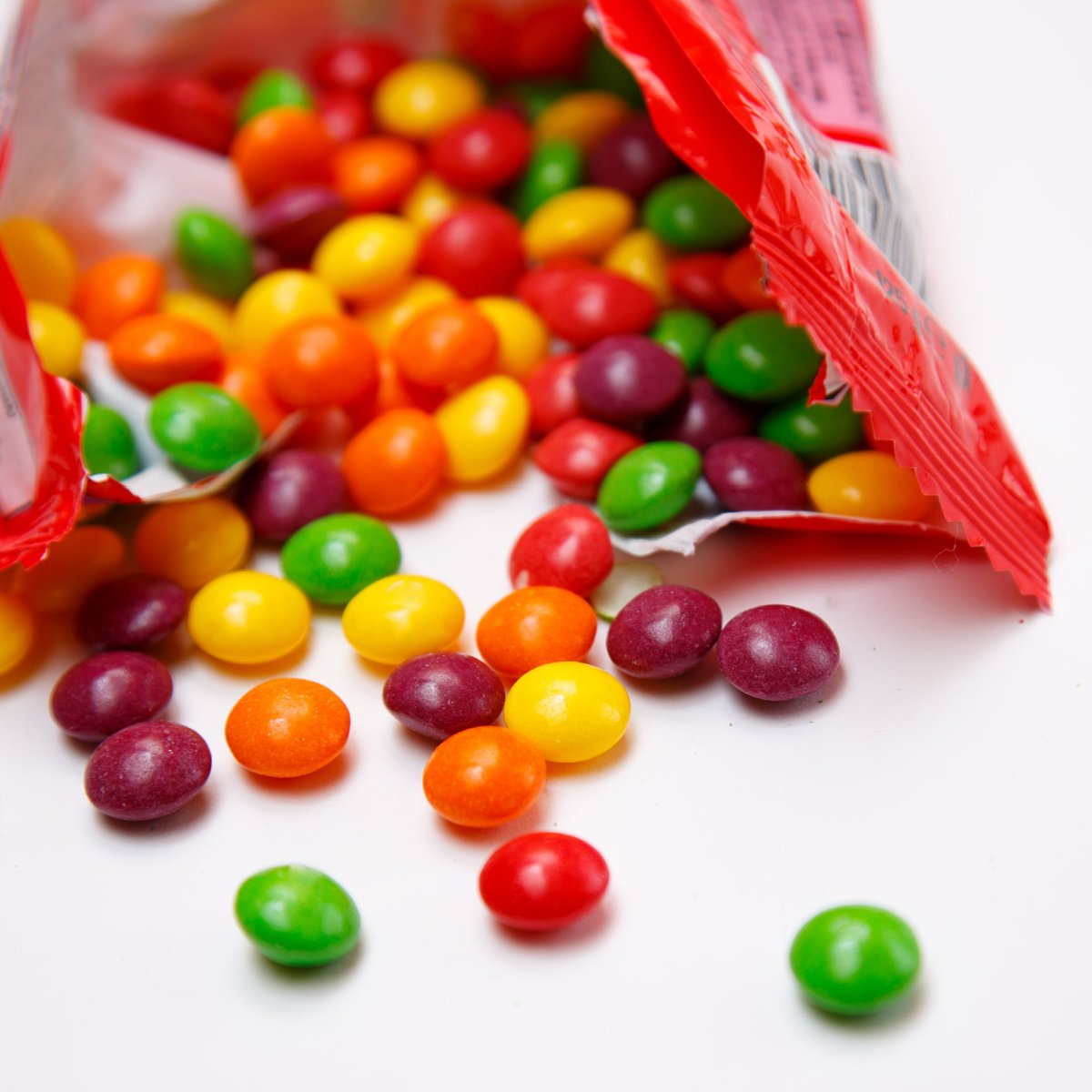 Luckily, these fruity little treats are unambiguously halal. While not halal-certified, they contain no alcohol or animal products of any kind. In fact, vegans enjoy eating skittles too!
For a complete breakdown of Skittles' ingredients, take a look at our complete guide below.
Table of Contents
Skittles Ingredients
Skittles are relatively simple confections, though they contain a few ingredients you might not expect. Just in case there are any that you don't recognize at first glance, we'll break down each one individually, so you know they're safe for a halal diet.
Corn Syrup
As one of the most common sweeteners in prepackaged foods, you're probably already familiar with corn syrup. It is the main source of sweetness but also helps give the candy a soft, smooth, and uniform texture. Best of all, it comes from corn, so you don't have to worry about any non-halal additives like bone char.
Citric Acid
While sweeteners like sugar and corn syrup contribute to the candy's sweetness, citric acid adds tartness to the flavor. As a bonus, it also helps preserve the candy, giving it a longer shelf life.
Citric acid comes from citrus fruits and is made in a way that doesn't use any haram ingredients.
Tapioca Dextrin
Also called tapioca flour or tapioca starch, tapioca dextrin is used in the adhesive coating on skittles. It gives the candy its characteristic sheen and smoothness. While some candies use a gelatin-based coating, Skittles opt for this halal-friendly alternative.
Tapioca products come from the cassava root, which is halal.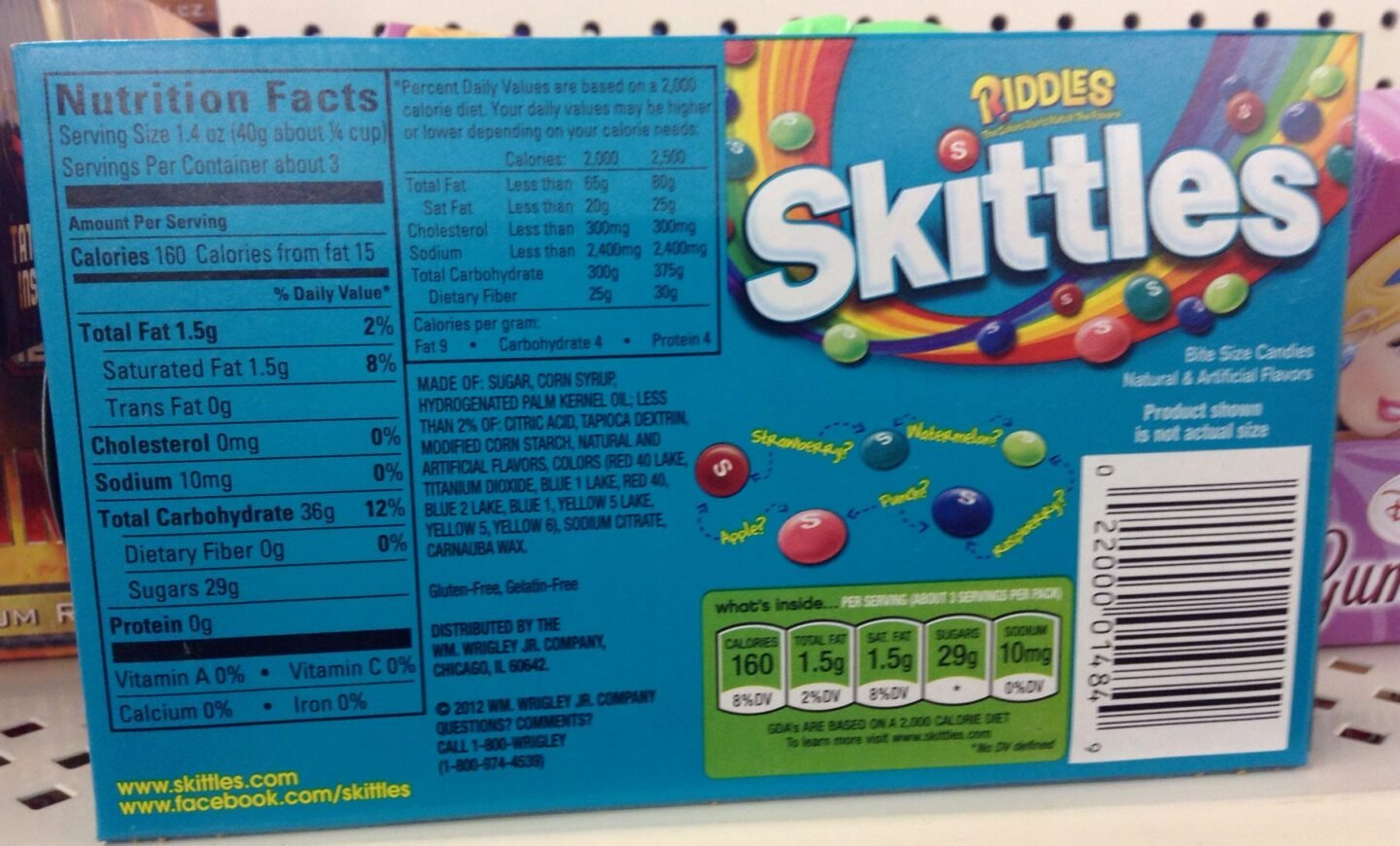 Modified Corn Starch
Just like corn syrup, this ingredient is derived entirely from corn, meaning it's 100% halal. It's one of the ingredients that gives the candy its characteristic chewy texture.
Carnauba Wax
Carnauba wax is another of the ingredients that helps add a smooth and shiny coating to candy, like Skittles. In addition, it also keeps the candy from melting or losing its color when held.
Carnauba wax comes from a type of palm tree and is also known as Brazil wax.
Sodium Citrate
Sodium citrate is a type of salt derived from citric acid. Just like regular table salt, it's used in small doses to help bring out the flavor of the candy. In this case, it adds a slight sourness to each of the flavors.
Since sodium citrate is an inorganic compound, it is completely halal.
Hydrogenated Palm Kernel Oil
Skittles don't have much fat in them, but a slight bit of hydrogenated palm kernel oil helps the texture of the candy. In just the right amount, it makes them slightly more chewy and stretchy. Unlike gelatin, which has some of the same effects, this oil is totally halal.
Colors
Some food colorings, like E120 red dye, are not halal because they contain compounds made from insects. However, none of the coloring agents used in Skittles do, making them halal-friendly.
Are All Skittles Products Halal?
The traditional Skittles and all of their alternative flavors are completely halal. However, that doesn't mean all products with the word "Skittles" on them are safe for Muslims to eat. There are a few specific products that should be avoided.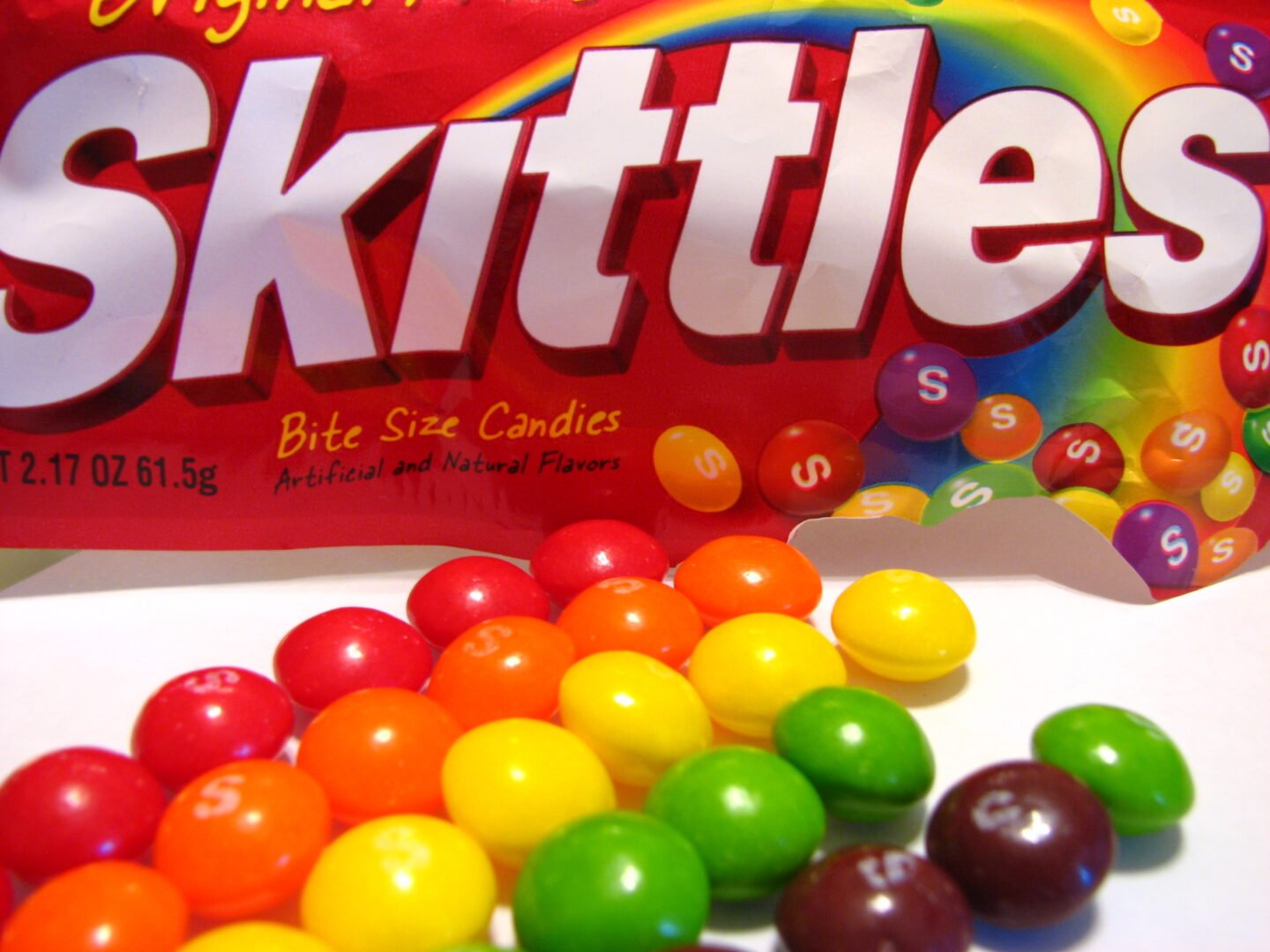 Specifically, Skittles gummies, as they contain haram ingredients. Like most gummies, they use gelatin to give them their elastic, chewy texture. Skittles Original Gummies, Skittles Wild Berry Gummies, and Skittles Squishy Clouds are all haram.
When in doubt, look at the texture of the candy. If they are soft and squishy, there's a good chance they contain gelatin. If they are firm or taffy-like, they most likely do not. You can also check the ingredients on the back of the pack to check for gelatin.
Other Halal Snacks
It's not always easy to tell which snacks are halal and which aren't. If you're looking for something to go with your halal skittles, try one of these.
Sour Patch Kids
Even though Sour Patch Kids have a gummy texture, they're actually halal. However, it depends on where you buy them, as certain countries use gelatin to make them. Learn more here.
Pop Tarts
Some Pop Tarts are halal, while others are not. To find a variety that's safe for Muslims to eat, stick with those that don't have frosting. See our complete guide to halal Pop-Tarts.
Oreos
As with Sour Patch Kids, whether or not a pack of Oreos is halal depends on what country it was produced in. To check for yourself, look for a halal certification stamp on the back of the pack. Learn more here.